Mexico is one of the most popular travel destinations for Americans seeking a fun getaway. Among the popular locations in Mexico that draw many American tourists, Tijuana is one of the most accessible.
Tijuana is just south of the U.S.-Mexico border and is only 30 minutes from San Diego, CA. Because of its proximity, many Americans want to visit Tijuana to experience another country's food, culture, and excitement.
Anytime you cross a national border, travelers are concerned about having the proper documentation. Having the wrong documentation can end a vacation before it starts.
This article will dive into the specific documents you need to cross the border to visit Tijuana and some of the fun things to do in Tijuana once you have crossed the border.
Crossing to Tijuana
The rules and regulations for crossing into Tijuana can be confusing. Not only can you visit by driving or flying, but not all documents are viewed equally by border control. Finally, this article assumes you are a US citizen to prevent any confusion. Rules for citizens of other countries are different.
Before 2009, you could enter Mexico without a passport. A US driver's license was sufficient documentation to cross the border. This changed when the Western Hemisphere Travel Initiative (WHTI) was passed on June 1, 2009.
U.S. citizens can only enter Mexico with a valid passport or passport card following this law change. If you are traveling by land, you can also use a valid Enhanced Driver's License (EDL) or Trusted Traveler Program card (NEXUS, SENTRI, FAST). However, if you are flying, you must have a passport.
EDLs are different than your standard driver's license. In addition to providing proof of identity, they also provide proof of US citizenship. Unfortunately, EDLs are not available in all states. Currently, only residents of Michigan, Minnesota, New York, Vermont, and Washington can get them.
Trusted Travel Programs issue cards once you have completed the application process. These programs are great for frequent travelers because they expedite the process of completing border control. However, you have to complete these programs prior to traveling.
Your passport must be valid when you cross the border. Additionally, I recommend your passport be valid for at least six months beyond the date you cross the border. This is not a requirement, but it may cause additional challenges at the border.
Thankfully, you do not need a visa to travel to Tijuana. US citizens are visa-exempt in Mexico as long as their stay is less than 180 days.
Crossing by Car
To drive across the border, you will need your passport, license, registration, and proof of insurance. Failure to have an updated version of your license, registration, and proof of insurance will result in border control turning you away.
If you are driving a rental car, you will also need a notarized letter from the rental company authorizing you to drive the car across the border. Crossing the border with a rental car can be a challenge. I recommend using your own car or taking a bus.
If you are an adult traveling with children, everyone in the vehicle must have their own passport. If the children do not have passports, they must have birth certificates or other proof of citizenship and a letter of permission from the non-accompanying parent or legal guardian.
If you are driving, you must have proof of auto insurance that is valid in Mexico. The best way to do this is to purchase Mexican auto insurance before crossing the border. You can also buy it at the border, but it is typically more expensive. US auto insurance is not valid in Mexico.
Crossing on Foot
If you are crossing the border on foot, you will need a passport or passport card. If you have a passport card, it must be the enhanced version. The standard passport card is only valid for land and sea travel, but not air travel. Beyond this, the same rules apply as traveling to Tijuana in a car.
Crossing by Plane
If you are flying into Tijuana, you will need a passport. A passport card is not sufficient for air travel. It is much easier to travel to Tijuana by airplane, but it is more expensive than driving your own car.
When you arrive in Tijuana, you will fill out a tourist visa form. You will also need to present proof of onward travel out of Mexico. This proof can be a return flight ticket or a bus or train ticket out of Mexico.
You will also need to present proof of sufficient funds for your stay in Mexico. There is no set amount, but I recommend at least $150 per day. You can present this in the form of cash, traveler's checks, or a credit card.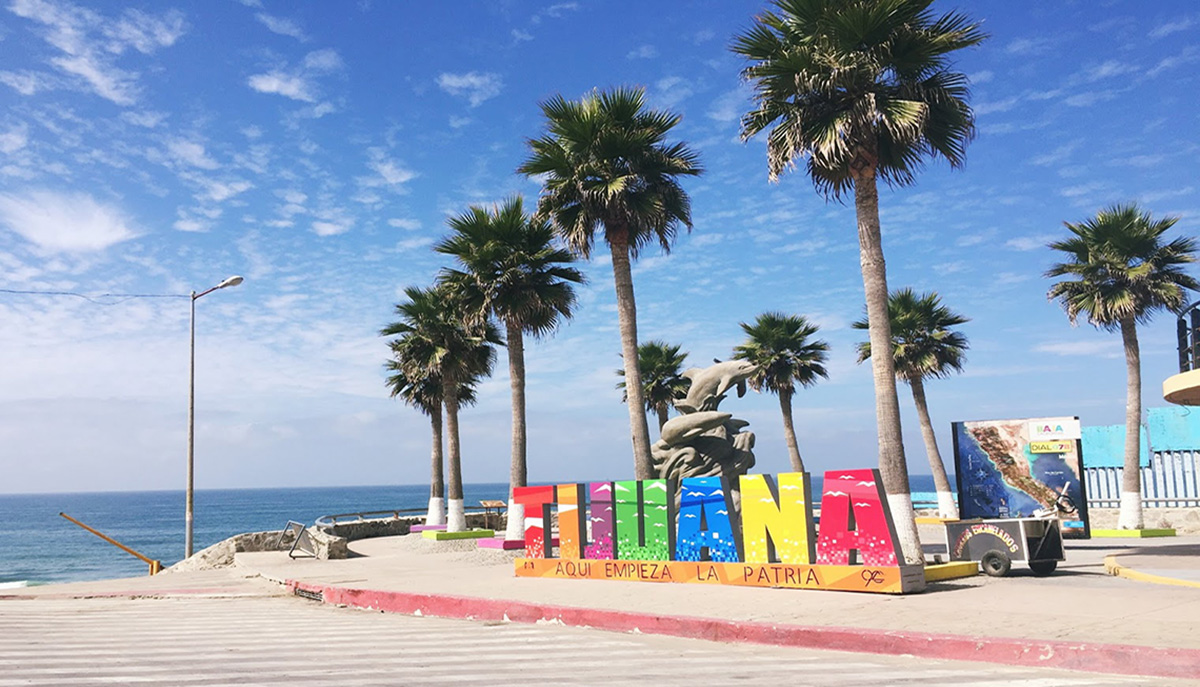 Crossing Back Into the US
Crossing back into the US from Tijuana has many of the same requirements as traveling to Tijuana. However, it generally takes much more time to cross back into the US than it takes to cross into Mexico.
Crossing by Car
If you're driving back into the US, you will need to have your passport and registration documents for both your vehicle and yourself. It would be best if you also had your insurance information readily available. The process is relatively straightforward but can be time-consuming, so it's best to be prepared.
Once you reach the border, you first need to go through Mexican customs. They will stamp your passport and inspect your vehicle. Once you're cleared, you will then proceed to US customs. They will ask for your passport and other documents and may also search your car. Be honest and cooperative with the officers, and you should have no problems.
Crossing on foot back Into the US
Crossing back into the US on foot is similar to crossing via car. You will need to present a passport or passport card at the border crossing. Your bags may be searched, but you will cross just fine as long as you are not carrying anything illegal.
Crossing by Plane back Into the US
If you're flying back into the United States from Tijuana, you will need a passport. You will have to go through customs and immigration in the US, and they will not let you in without proper documentation.
Why Visit Tijuana?
Before getting to the details of necessary documents for crossing the border into Tijuana, I want to talk about why to visit Tijuana in the first place!
Tijuana is known for its vibrant nightlife. If you are looking to let loose and have a good time, Tijuana is the place to be. The city has a wide variety of bars and nightclubs to keep you entertained throughout your stay.
In addition to its nightlife, Tijuana is also home to several historical and cultural sites. The city has a rich history dating back to the early 20th century when it was an essential stop on the Vía Norte Americana, the main route between Mexico City and Los Angeles.
Today, you can still see some of the city's historical landmarks, like the Hotel del Coronado and the Casa de la Cultura. The city is also home to the Museo de las Californias, a museum dedicated to the history and culture of the Californias region. If you are interested in Mexican culture and history, Tijuana is worth visiting.
Tijuana is also a great place to shop for Mexican art and crafts. The city's shops offer a wide variety of traditional and contemporary Mexican products, from pottery and textiles to jewelry and folk art.
Beyond the nightlife and culture, Tijuana is also known for its great food. The city has a rich culinary scene with a fusion of Mexican and American flavors. You can find anything from traditional Mexican dishes to more Americanized options.
There is also a wide variety of dining options. You can find everything from street food to fine dining in Tijuana. Mision 19 and La Querencia are internationally famous restaurants that you can visit while in Tijuana.
If you are looking for something a little more adventurous, I would recommend going on a food tour and trying out some of the outstanding street food in Tijuana. I promise you won't be disappointed.
Finally, Tijuana is a great place to shop. The city is home to many markets and malls where you can find great deals on souvenirs and other items. Plus, the cost of goods is much cheaper in Mexico than in the US to get a great deal on clothes and other things.
Wrapping Up
So, do you need a passport to go to Tijuana? The answer is yes…if you're flying. If you're driving or crossing the border on foot, you can get away with just a passport card. However, I always recommend bringing a passport to be safe. After all, it's better to have it and not need it than to need it and not have it.
I hope this article has been helpful. Safe travels!
More about our TFVG Author
A seasoned traveller, Dad, and avid sports tourist, James foundered The Family Vacation Guide to share his expert vacation experiences- especially when it comes to being a travelling family man.
Featured in Travel articles such as Travel + Leisure, TripSavvy and SFGate, you know you're reading some of the best vacation tips online.