A region with ancient origins, Albania is a fascinating country historically and geographically. From tall mountains to the coasts, Albania is an excellent place for a family vacation.
The weather varies greatly depending on elevation, but if you're looking for the best beaches in Albania, expect a warm Mediterranean climate along with some subtropical areas in the southwest.
Albania has two distinct coastlines, one along the Ionian Sea and the other along the Adriatic. The Adriatic Coast hosts sandy beaches, while the Ionian Coast has rocky shores littered with tiny pebbles.
There are plenty of swimming spots to enjoy along either sea, but we recommend visiting at least one in each area to see the diversity of the best beaches in Albania.
Borsh Beach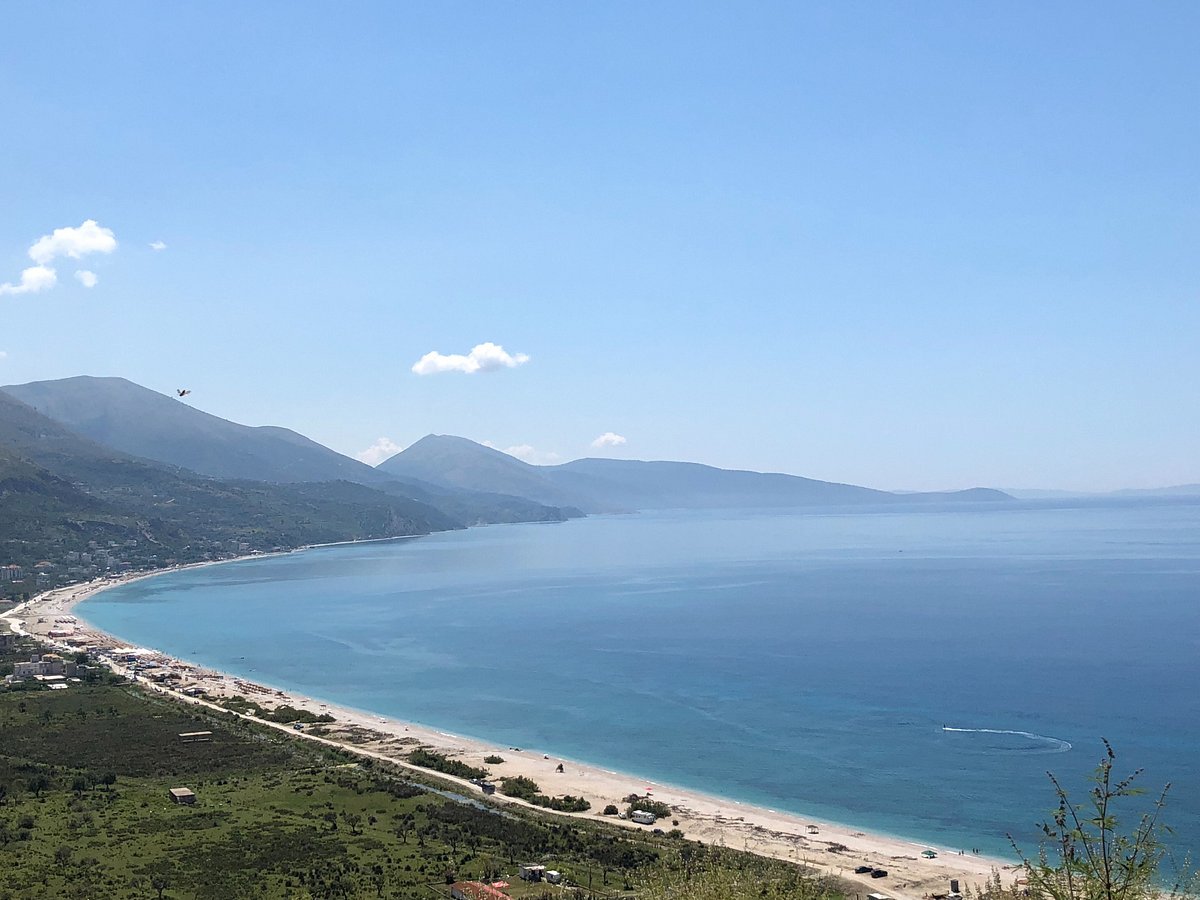 A small village on the Ionian Sea welcomes visitors to explore the area's beautiful natural and cultural sites. Borsh is not only famous for its beach but also for The Castle of Borsh, that's origins can be traced back to antiquity.
Since Borsh is a tourist hub, there are many places to stay and eat in the village, including lots of beachside options for lodging and dining!
Borsh Beach provides dozens of canopies with seating for guests, which is great since this beach is covered with small pebbles rather than soft sands.
Swim in the bright blue waters of this beach or grab a cocktail and just relax. There's plenty of room to rest and have fun at this Albanian tourist destination for the whole family.
Buneci Beach
Next on our list of the best beaches in Albania is Buneci Beach, which is around a thirty-minute drive from Borsh. These two beaches share many qualities like sparkling clear water and rugged hills up to the coastline.
One of the key differences between the two is that Buneci is significantly less busy. This beach is located between two villages rather than right alongside one. Expect a more isolated stay here, but the beach won't be deserted either.
There are fewer amenities beachside, but that's part of the appeal of Buneci! If you add this gorgeous beach to your itinerary, schedule some time to walk along the rocky shores and up through the hills for some panoramic views.
Despite being less populated than other beaches, there are some nice accommodations in the surrounding area, including two beachside resorts.
Dhërmiu Beach
Another pebbly beach on the Ionian Coast, Dhërmiu Beach, is a pristine place to spend a day on the water. Named after the nearby village, this beach is one geared towards tourists.
While this beach is popular, it certainly isn't overcrowded. The main area has a lot of places to eat, hotels to stay at, and beach clubs where you can rent seaside seating. However, there are isolated spots to find along the beach if you want some solitude.
Something to note if you're looking for a quiet vacation is that hundreds people like to have fun on this beach, including a music festival during the summer. There's still plenty of space for everyone here but be prepared to share space with active beachgoers at peak times for tourism.
Overall, Dhërmiu Beach provides a lovely place for everyone to enjoy the clear waters at this location.
Filikuri Beach
Filikuri Beach is one of the most secluded on this list of best beaches in Albania, but it's still worth the visit. However, getting to this beach can be a bit of a challenge.
Most people arrive by boat to this rocky beach against the cliffs, but it's also possible to hike to the location from Potam Beach.
The downside to the private location is there aren't any facilities at Filikuri Beach. Despite the lack of amenities, Filikuri Beach is one of the most peaceful beaches in Albania, making it an excellent stop for you and your family.
Since this beach is on the Ionian Sea, you'll be walking along a rocky shoreline. Bring reliable footwear, especially if you hike to this location.
Gjipe Beach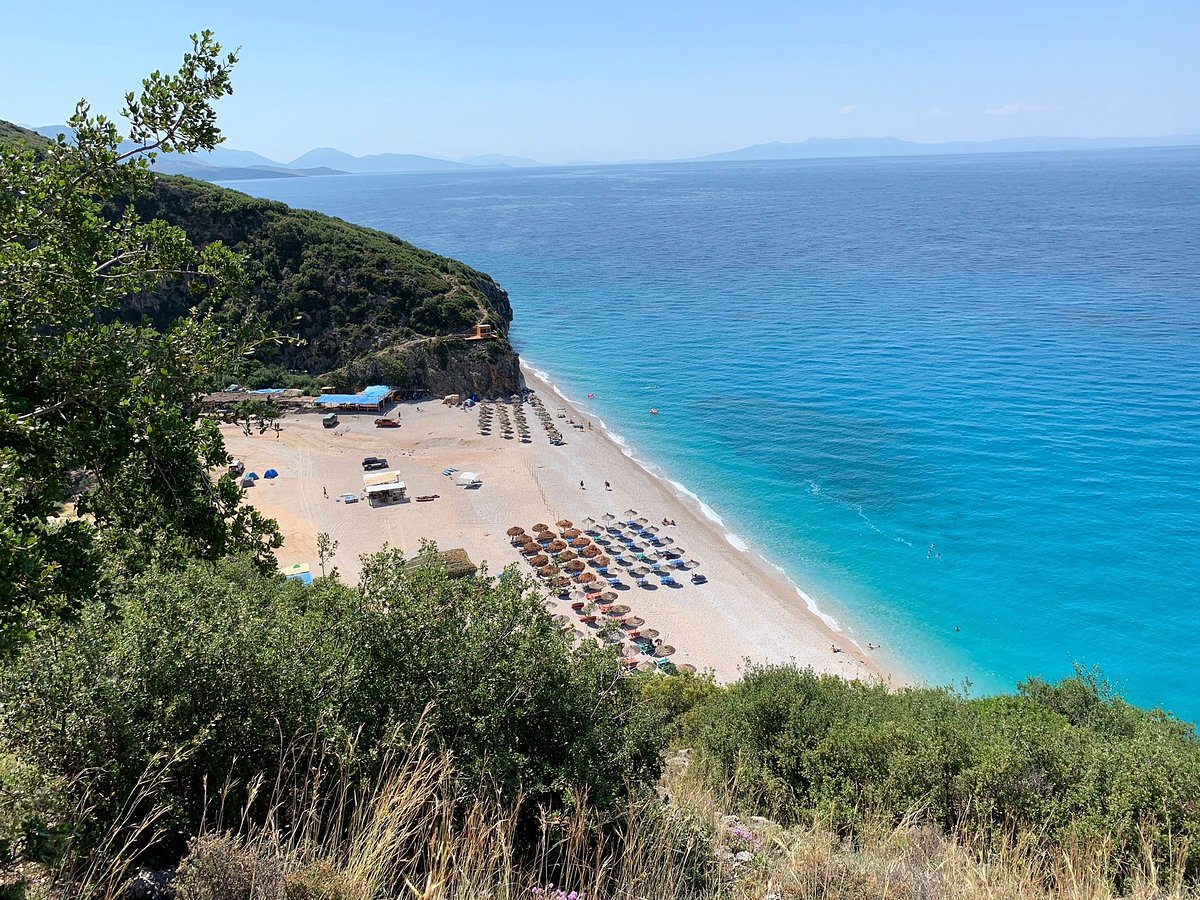 Another secluded beach along the Ionian Coast, Gjipe Beach, stands out from other beaches in this area for a few reasons. Despite being along the rockier coast in Albania, this beach has lots of white sand!
If you're driving to the beach, be prepared for a twenty-minute walk down to the water. Gjipe Beach has some facilities at the bottom, including restrooms, showers, and areas to buy food and drink.
Kids love Gjipe Beach for the caves along the cliffs at this beach. It's a very peaceful place to enjoy the crystal clear waters of the Albanian Coast.
From the beach, you can walk to the Gjipe Canyon, a great area to explore and climb impressive boulders – this is a fantastic place worth the visit if you stop at this beach.
Golem Beach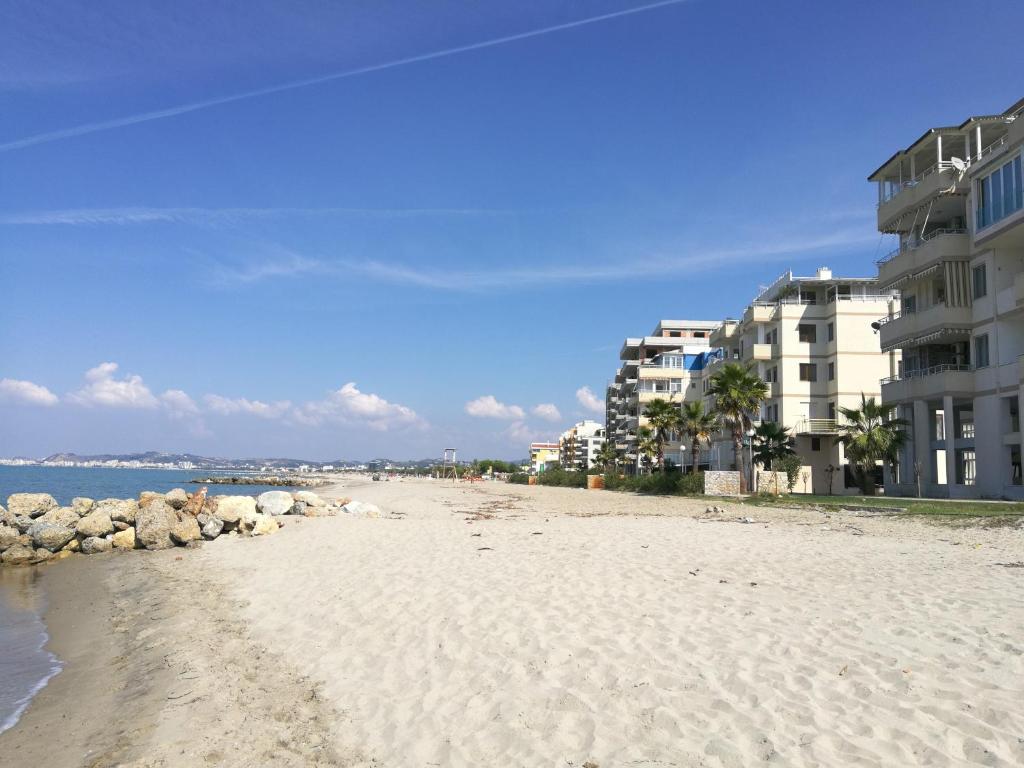 A long stretch of water along the Adriatic Sea, Golem Beach is sandy and highly developed. You'll find many resorts and hotels right along the coast, many of which provide complimentary seating on the beach.
The water here is shallower further out than beaches on the Ionian Sea, so it's an excellent place for lounging and relaxing. Many people bring floats to enjoy the water, but if you forget, keep your eyes open for vendors along the beach.
What visitors like most about this beach is the proximity to so many places to stay and eat. If you're in for an all-inclusive vacation, there are tons of nearby resorts right along this beach to choose from.
Even if you stop along Golem for a day trip, you're sure to enjoy the beach, just be prepared to share space with lots of other visitors.
Jale Beach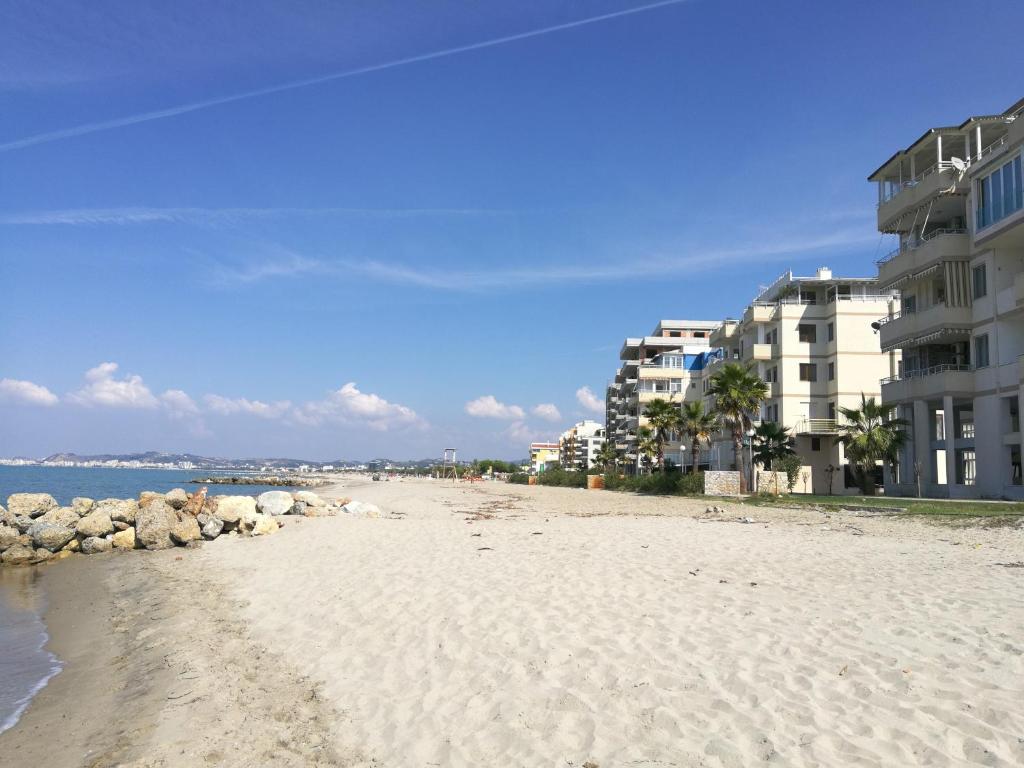 Jale Beach is another favorite among travelers to Albania. This area along the Ionian Sea is populated with places to eat and drink. There are several resorts on this beach as well.
The cliffs here come right down to the beach, creating small rocky coves in the water that are perfect for snorkeling!
The hills surrounding this beach make it look picturesque, so while this is a popular place, remember that this is a small beach. Arriving in the morning is an excellent way to get the spots you want at Jale Beach.
People flock to this pebble beach for brilliant views of the coastline. There's also camping available near and on the beach here. It's a beautiful place to spend some time right along the sea.
Ksamil Beach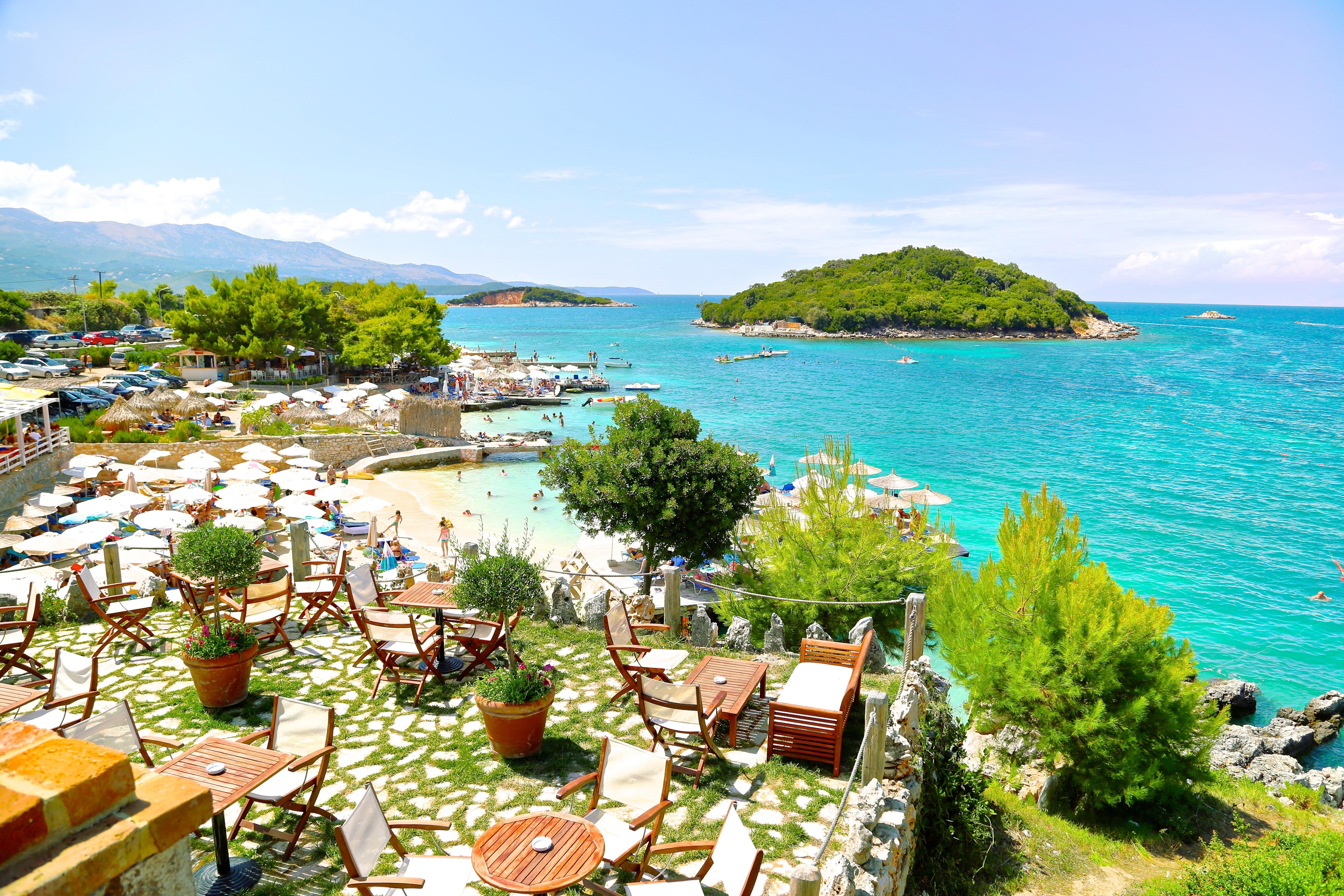 For a bustling experience along the shore of the Ionian Sea, visitors come to Ksamil Beach. The beach itself is breathtaking with crystal clear blue waters.
The water here gets deeper quickly, making Ksamil Beach one of the best for swimming. There are many amenities on the beach, too, if you want to kick back and relax.
The beach and town of Ksamil are a part of Butrint National Park. This park not only holds natural wonders like the beaches, hills, marshes, and forests but also ruins and structures from the history of the area.
Families should take some time to explore this park to learn more about this region's vibrant history and tour a reconstructed Venetian castle.
Livadhi Beach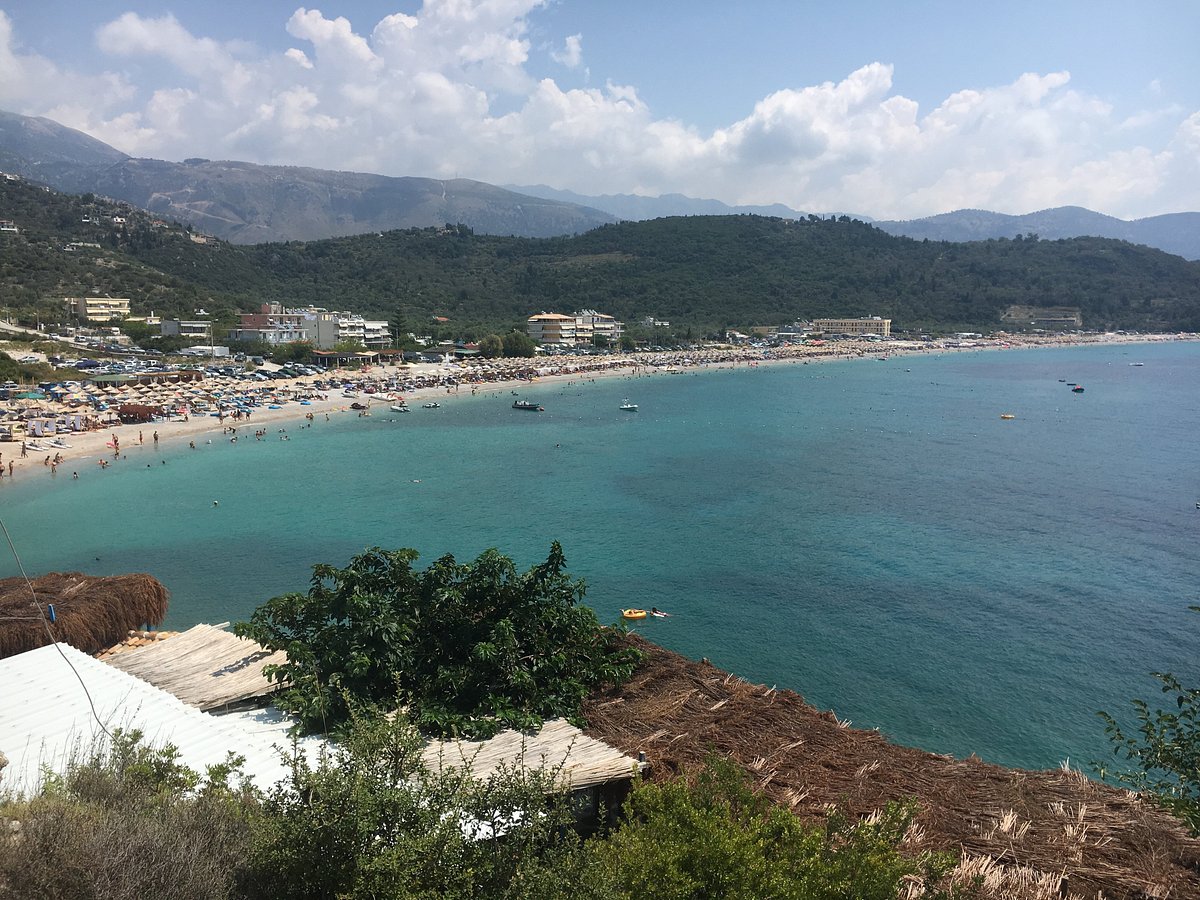 Livadhi Beach on the Ionian Sea is a secluded beach with many areas to explore. There are populated portions with hotels and bars, but the beach still has room for everyone.
Rockier portions of the beach are great for swimming, snorkeling, or jumping into the water. Many visitors opt to boat around this beach to observe sea caves and olive grove-covered hills.
Head up to the high cliffs above Livadhi Beach for a spectacular view below. The best spot for this is historic Himara Castle!
While parts of this structure dating back to ancient times are in ruins, other areas of the castle have been incorporated into the village here and are still in use.
Lukova Beach
This Albanian beach is spacious with plenty of seating to claim whether you'd like to rent chairs or bring your own. Many of the most popular restaurants are set up along the beach here too.
The rolling hills here give way to striking cliffs making for a unique shoreline. It's a great spot to try sea kayaking to see all the little alcoves.
The main beach has small pebbles and deeper waters than some of the other best beaches in Albania. So whether your family likes to swim or tan in the sun, there's something for everyone to do here.
Before heading down to the beach, look at the tiny Greek Orthodox church. Despite being so small, it's undoubtedly a picture-worthy stop to add to your list. You can also snap a picture below and get some of the beach's iconic cliffs in frame.
Narta Beach
Narta is a great lowkey beach for families with kids. There's lots of sand to play in alongside shallow waters making Narta Beach a great place to relax and have fun.
There are chairs available for rent at reasonable prices, and the parking is free. There are a few options for food and drink along the beach.
Narta is a great place to watch golden sunsets frame Sazan Island offshore. Plus, there are many forested areas next to the beach to see!
If you find yourself part of Albanian, check out St. Mary's Monastery, a restored building dating back to the 14th century. This island attraction is just nine miles north of Narta Beach and is accessible by bridge.
Palasa Beach
Palasa is a peaceful beach with few distractions from the area's natural beauty. The mountains frame the background of the beach but don't provide any natural shade, so bring an umbrella to this beach!
The water here sparkles and shines bright blue, but because of the shape of the land here, expect stronger waves than on other beaches. The rocky shore is one of the best places to watch the tide come in.
The nearby cliffs are worth visiting if you want to take a boat tour of the region. Many rock layers here make the area's geography so distinct.
Something else to anticipate is the further development of Palasa Beach. Down the shore, you'll find other beaches with more restaurants and hotels. This beach is a little more sparse in terms of amenities but might not be for long.
Pasqyrave Beach
A cliffside beach close to interesting offshore rock formations, including a small island, is the perfect Albanian beach for your vacation. Pasqyrave Beach has prime conditions for swimming and snorkeling!
The pebbly beach has lots of seating and a bar on-site, so there's less here as far as choice for food and drink but still some.
The drive down to the beach can be somewhat challenging. It might be better to park above the beach and walk down to save yourself the hassle.
Sunbeds and umbrellas are available for rent, and so are jet skis if your family is up for some high-speed adventure. If renting a spot doesn't sound like your style, head to the far ends of the beach to set up a place for yourself.
Qeparo Beach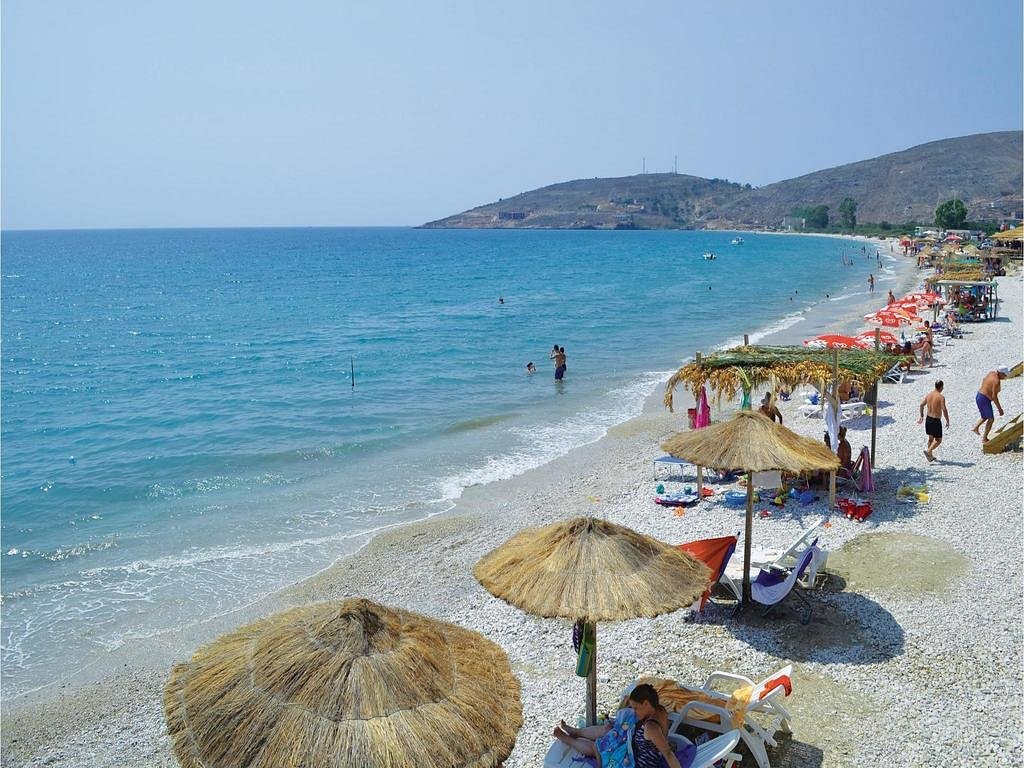 This beach is the centerpiece of Qeparo, a village built right into the cliffside above the sea. The village impresses before you even get to the shore with its architecture and brightly colored flowers.
Qeparo Beach is part of the region known as the Albanian Riviera, known for its beautiful vistas and vibrant tourist scene with lots of nightlife. The beach provides a refuge from the high-paced energy of some parts of the village.
There's ample space to rest here and room to set up your umbrellas. One of the best features here is the sandy beach itself. Most other beaches here are pebble covered, which is typical for the Ionian Sea.
Qeparo Beach is one of the best for views and taking walks along the line to look at the spectacularly clean waters and nearby hills.
Saranda Beach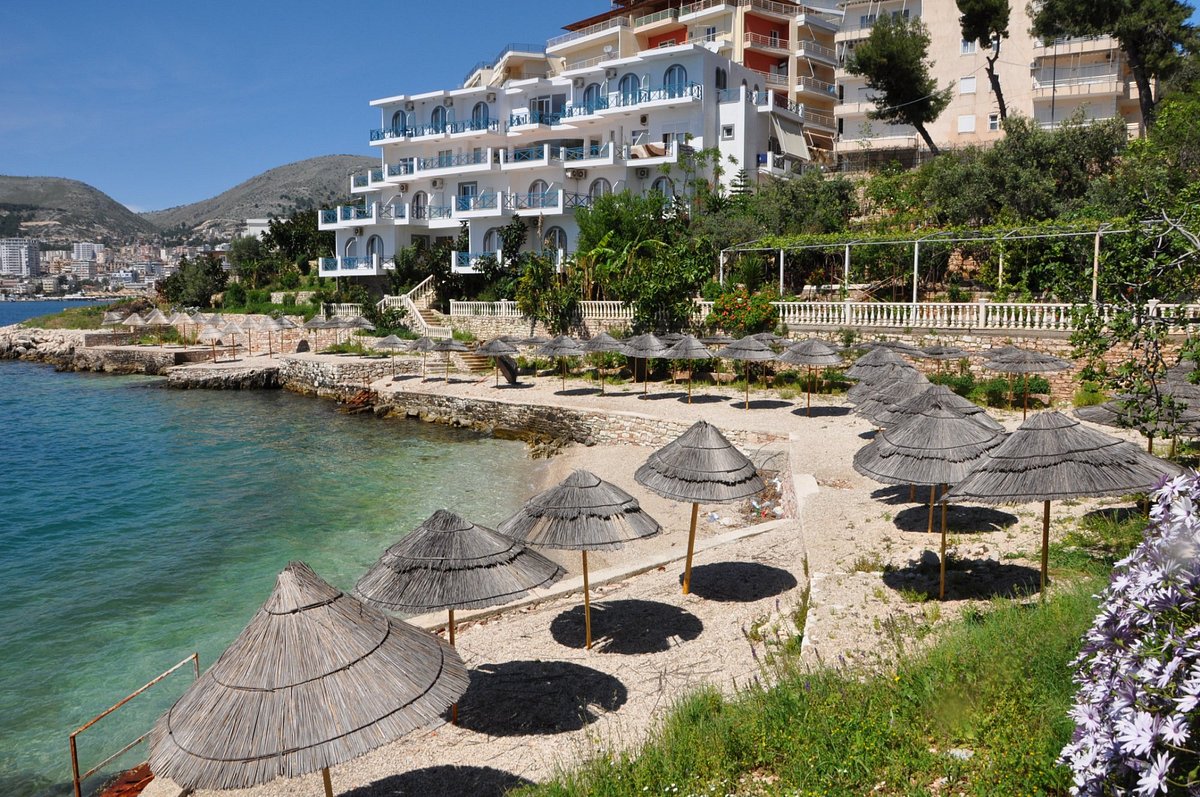 Saranda Beach stretches along the town of Sarandë, highly developed with vacation rentals and resort-style hotels. 
The beach isn't particularly wide, and each hotel has its area for seating, but there's still plenty of room to walk along the water. Many little shops, bars, and restaurants dot the beach walkways.
If you're traveling with kids who like boats, they will love this location! The Port of Saranda is adjacent to the beach, so you'll see everything from yachts to fishing boats here.
Head inland just a few blocks to discover some interesting archeological remains from centuries past. Saranda Beach is a great place to learn about Albania.
Shëngjin Beach
One of the most popular beaches in Albania, Shëngjin Beach, has lots of infrastructure up to the waters of the Adriatic Sea.
There are plenty of options for seating here, whether you're looking to rent or set up space for yourself. While most of this beach is highly populated, if you keep walking along the shore, there are some areas for families to spread out.
The sea here is shallow, and the shores are sandy – this is the perfect place to play and enjoy the water, but if you want to swim, other Albania beaches might suit your tastes better.
If you enjoy eating out on the water, there are many options at Shëngjin Beach, including local vendors selling snacks. While this beach may be crowded during the summer, it's worth sharing the space for all the amenities provided in this area.
Spille Beach
Spille Beach is an excellent place for families to lounge with lots of room to spread out. The area down to the beach is separated by a forest making the beach seem somewhat secluded from the rest of town.
These pine trees right next to the beach provide a great place to get out of the sun. It's a great place to walk and look around.
There are hotels and restaurants on this beach too, so expect a lot of traffic during peak times. On the plus side, there are lots of vendors, so if you forget anything on your way to the beach, you can probably buy it right on the sand.
Spille Beach ranks among the best beaches in Albania for its calm and warm waters, making it another great place to bring kids to swim!
Final Note
The best beaches in Albania are all over the country, from the rocky, rugged shores of the Ionian Sea to the sandy beaches of the Adriatic.
There's something along the Albanian coast to suit everyone's tastes, whether you like swimming, shopping, or eating out. Plus, beaches provide great starting places for unforgettable boating and snorkeling adventures.
In most cases, you won't be able to visit all these amazing beaches in one trip. Pick the ones that fit your family and save some time to check out this country's rich cultural heritage and the stunning Albanian Alps!
More about our TFVG Author
Ellie love to seek out an adventure with her travel buddy, Merlin the Dachshund. Being on the road is her vibe, and exploring out of the ordinary locations is dear to her heart.