Everybody loves a surprise trip to Disney World. Unfortunately, there are moments in life that interrupt our plans. Sometimes, you do not discover this until after you have already paid for your tickets!
Disney World tickets do expire. Fortunately, some workarounds might save you your precious time and money.
Nothing can be quite as disappointing as finding out your tickets are about to expire. Disney tickets can be pricey, so you should take the best steps to prevent this. Here is everything you will need to know about Disney tickets!
Disney World Tickets
Disney World is one of the most popular vacation spots in the United States. You can find it in beautiful Orlando, Florida, a metropolitan area with over 2.5 million residents. More than 50 million visitors come to the park every year. 
Common questions about Disney World include the following:
When do Disney World tickets expire?
How do I know if my tickets have expired?
When can I use my Disney World tickets?
How much are Disney World tickets?
How do I purchase Disney World tickets?
This article will answer all of these questions and more.
When Do Disney World Tickets Expire?
Disney World tickets expire whether you use them or not. Used tickets expire after the allotted time you purchased them. If you pay for a one-day ticket, it will only last you that day.
Partially used tickets expire after a specific time slot following the first day of use. Here is a guide to understanding how long you have before each ticket expires:
1-Day ticket: Expires the same day you first use it.
2-Day ticket: Expires four days after first use
3-Day ticket: Expires five days after first use
4-Day ticket: Expires seven days after first use
5-Day ticket: Expires eight days after first use
6-Day ticket: Expires nine days after first use
7-Day ticket: Expires ten days after first use
8-Day ticket: Expires 12 days after first use
9-Day ticket: Expires 13 days after first use
10-Day ticket: Expires 14 days after first use
When you buy a multi-day Disney World ticket, you receive a window of time after you first use it before it expires permanently. The park offers this window because they know visitors will want to spend some time at the hotel and different sections of the theme park on their trip.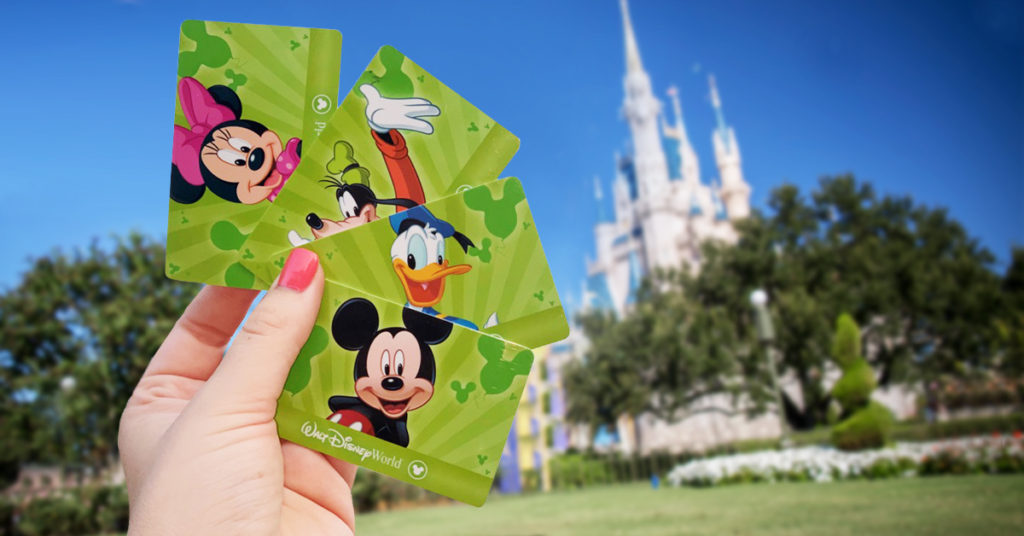 When Do Unused Disney World Tickets Expire?
If you do not use any of the days on your ticket, it will still expire. When you buy a ticket, it will usually list an expiration date. After this date, the ticket is null and void.
Unused tickets typically expire at the end of the coming year after you purchase them. If you buy a theme park ticket in 2022, it will not expire until the end of 2023.
Tickets do not always abide by this rule, however. Some have unique expiration dates depending on what kind and when you buy them. Always read the dates on your reservations before finalizing your purchase.
Do Park Hoppers Expire?
Park hoppers are subject to the same time slots as normal tickets. They allow visitors to visit more than one park on their vacation. There are four fantastic theme parks to choose from at Disney World in Orlando.
Details of when you can visit the park and how long depending on what kind of ticket you purchase. Regular Park Hoppers do not offer extra days on your visit, but the Park Hopper Plus Option does.
Park Hopper Plus Options and Water Parks
Generally, buying a Park Hopper Plus Option ticket will give you an extra day on top of your purchase. Remember that these options will also eventually expire, whether you use them or not.
Selecting the Water Park and Sports Option will also give you an additional day of fun. This option allows visitors access to the facility's water parks.
Park Hopper Plus Options are more expensive than regular Park Hoppers but are the most rewarding tickets you can buy. They include the perks of both the Park Hoppers and the Water Park and Sports Option.
What If My Unused Disney Ticket Expires?
If your ticket is both unused and expired, you can use the cost of that ticket towards a future ticket purchase of equal or greater value. This rule means that if you buy a $120 ticket and forget to use it, you can put that $120 towards another ticket worth $120 or more.
Please note that this rule only applies to tickets of equal or greater worth than the one that expired. If you pay $120 for a ticket and it expires, you will have to pay the full price for a new ticket worth $110, for example.
No Expiration Option
At one point in time, there was an option for customers to buy a no-expiration ticket. Unfortunately, this option is no longer available at Disney World as of 2004.
However, if you still have a no-expiration ticket you purchased before 2004, you can still use it whenever you please. These tickets are notably rare because they are nearly two decades old.
If you happen to have one of these exceedingly rare tickets, you might want to hold on to it for memorabilia! These items would make an excellent addition to anyone interested in preserving the 50-year legacy of the park.
How Do I Know If My Tickets Are Expired?
To find out if your Disney World tickets are expired, check online or in person with a Cast Member. There are several ways to see how many days remain on your tickets, including:
Emailing [email protected] with your phone number, full name, payment method, date and location of ticket purchase, purchaser's name, and a photo of the front and back of each ticket you bought.
Going to the park in person and checking with a ticket window.
Stopping by Guest Relations at Disney Springs and speaking with a representative.
Visiting a Disney Resort hotel and approaching a concierge desk for help.
Can I Refund My Disney World Tickets?
No, you can not refund your Disney World tickets. Unfortunately, tickets are non-refundable. You also cannot cancel your purchase.
There are specific incidents, however, that might cause the park to refund your tickets. In the event of a hurricane or inclement weather, Disney can refund you without additional charges. You will be responsible for calling the park and canceling your tickets.
You can also cancel hotel reservations depending on the time between ordering them and arriving. You can cancel a reservation online or over the phone with a representative.
Can I Give My Used Tickets to Someone Else?
No, you cannot give your tickets to someone else. Once you buy a ticket, it is linked with your name and is non-transferable. You can not let a friend or family member use the ticket.
If you purchase a three-day ticket and only use two of the days you paid for, you cannot let someone else use the remaining day. They will reject this ticket at the park.
How Much Are Disney World Tickets?
Make sure you view the prices carefully online before making your purchase. The cost of your Disney World ticket depends on several things, including:
The length of your trip: A one-day ticket usually costs around $109.00 per person ages ten and up. This price depends on the date you visit.
The day you visit the park: The cost of each date is different. Some days, a one-day ticket might cost as much as $134.00.
Park hopper options: A park hopper ticket lets you visit more than one theme park daily. It costs an extra $65.00.
Park hopper plus options: An expansion of the park hopper option. It costs an extra $85.00.
Every additional day costs extra, but the more days you purchase, the less the cost of each day becomes. If you buy a three-day ticket, for example, each day costs about $106.00. If you select a 10-day ticket, each day costs about $55.00.
How Do I Buy Disney World Tickets?
You can purchase tickets to Disney World online or in person. The website for Disney World in Orlando offers means of buying tickets for you and a group of friends and family.
The website also offers information on what tickets are available and what the park has in store for visitors this season.
You can also purchase tickets in person, but buying them this way can be inconvenient. You may find yourself waiting hours in line. We recommend purchasing your tickets in advance, so you do not have to wait around all day in the Florida heat.
Although Disney tickets expire, you have many options to work around this. Make your trip to Orlando one of the best you have had. Always plan ahead and keep yourself informed!
More about our TFVG Author