Everyone is a nature lover, but not all are outdoors people, meaning not everyone is ready to pick up and sleep on the cold hard forest ground. This is where glamping comes in. You get all the benefits of camping, such as being one with nature and exploring the wilderness without sacrificing your comfort.
After all, people are comfort creatures, and glamping or luxurious camping ensures you have everything you need and want while decompressing surrounded by nature. Some of the best glamping spots are located across California, as it offers various landscapes.
There is glamping in deserts, by the Pacific Ocean, and forests in California. With that in mind, let's see the best spots for glamping in California.
Dome in the Desert, Joshua Tree, CA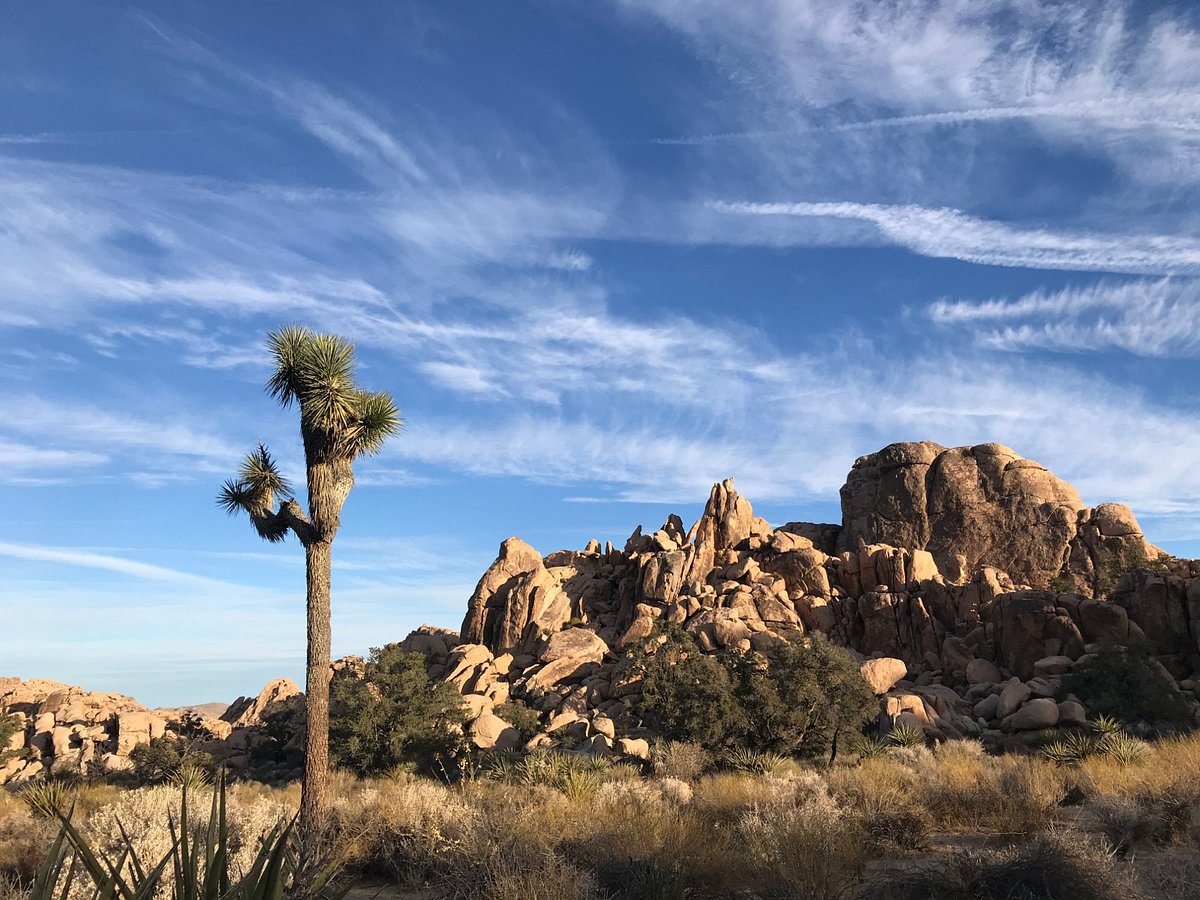 One of Joshua Tree's longest-lasting and most notable renovation projects is the Dome in the Desert.
Those who have stayed at the Dome in the Desert at Joshua Tree describe it often as an incredible experience that has inspired them spiritually and creatively.
The Dome in the Desert is a real haven for creativity meant to calm the mind. If stargazing in Joshua Tree, especially for those from Los Angeles, is not enough for you, then your creative juices might start flowing when trekking in the national park.
Even for a weekend, staying here gives you a chance to run with everything the desert has to offer. Just as creativity thrives in a limited environment, the finest vacations frequently lack luxuries.
Dome in the Desert is secluded and rests on multiple acres of land, allowing you privacy while still only a couple of miles from the Joshua Tree town center. There you will find restaurants, entertainment, and the Noah Purifoy Outdoor Desert.
Amenities
For those that want to escape their busy city lives and take refuge in nature to decompress, Dome in the Desert is the perfect spot. You will be connected with nature without sacrificing your comforts, which is the point of glamping.
The owners made Dome in the Desert a refuge where people can recharge from their busy lives. The cabin has bedrooms with king beds, a full kitchen, a bathroom, and free parking on the premises.
The amenities include air conditioning, heating, an indoor fireplace, a backyard, bathroom essentials, bed sheets, pillows, hangers, and a coffee maker. There is also safety equipment, including a carbon monoxide alarm, a smoke alarm, and a fire extinguisher.
Additional information
Safari Sunset Eco Glamping, Vista, CA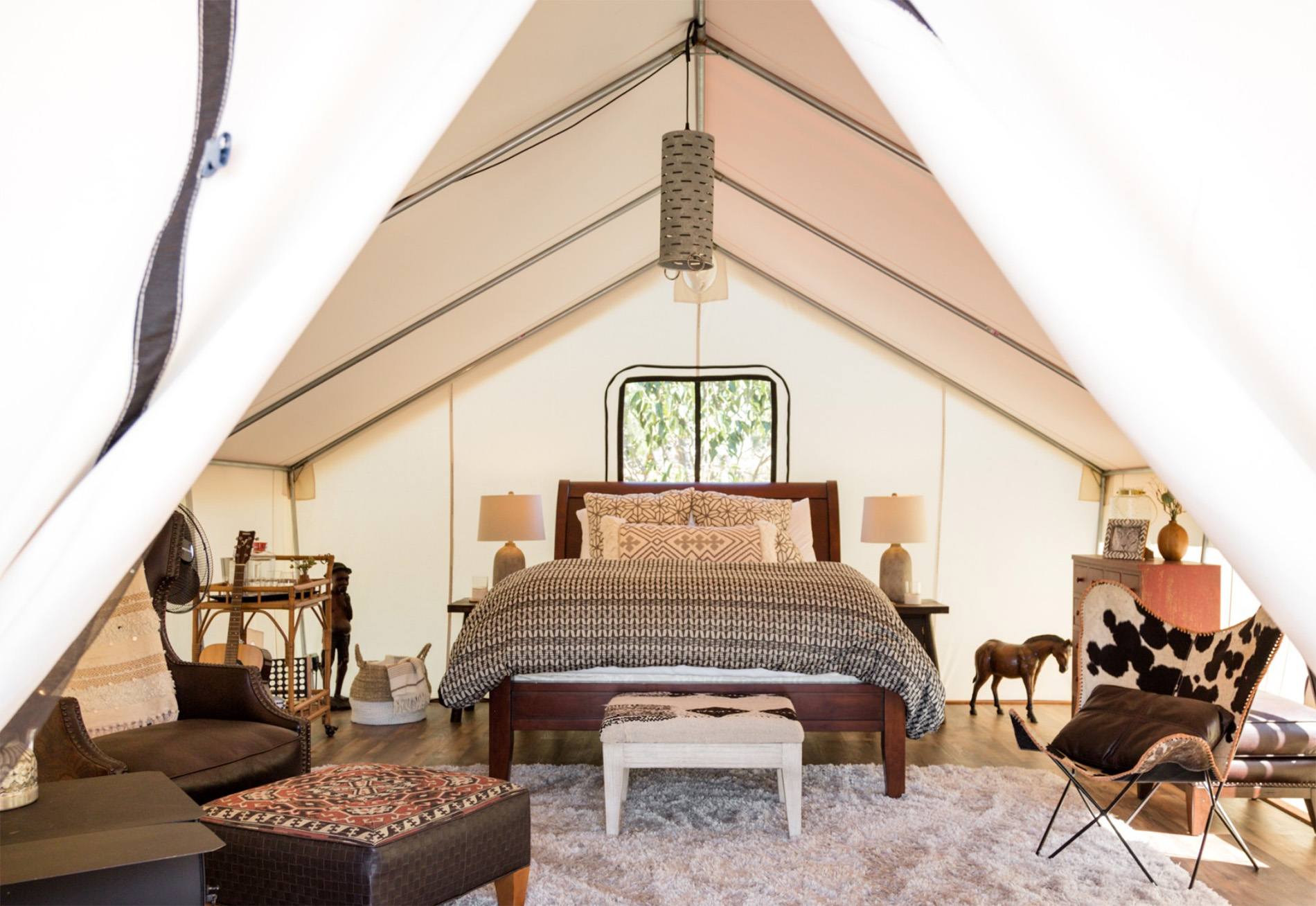 On this organic 2.5-acre property, which is surrounded by fruit trees, native sages, and South African Protea blooms, you may get a taste of Africa. Unwind and forget your worries surrounded by fruit trees, South African Protea flowers, and native sages.
This entire experience is in an eco-friendly tent, ensuring that you are one with nature and are not harming it. Experience the best glamping trip, lounge on the nearby beaches, enjoy the Temecula wineries and visit Safari Park and local microbreweries.
The luxurious glamping Safari tent is perfect for those going on a solo trip to spend some time alone. The tent is also great for couples looking for a romantic getaway under the clear California sky full of stars.
Amenities
Disconnect, relax, and rest in this luxurious African Safari eco tent with a solar hot water shower, rainwater collection, a cutting-edge compost toilet, solar power, a full kitchen, and a wood-burning stove.
Get some rest in your luxurious queen-size bed's plush sheets, and awaken to the sounds of nature. Enjoy the flower garden, or take some time to reconnect with yourself by reading some of the books provided.
Other amenities include a toaster oven, mini bar, patio, hammock, fairy lights, firewood, candles, Bluetooth speakers, electric fans, a coffee press, BBQ grill, dryer, and a blender. Plus, there is a first-aid kit, flashlights, a fire extinguisher, and free WiFi.
Additional information
Saddle Mountain Ranch, Carmel, CA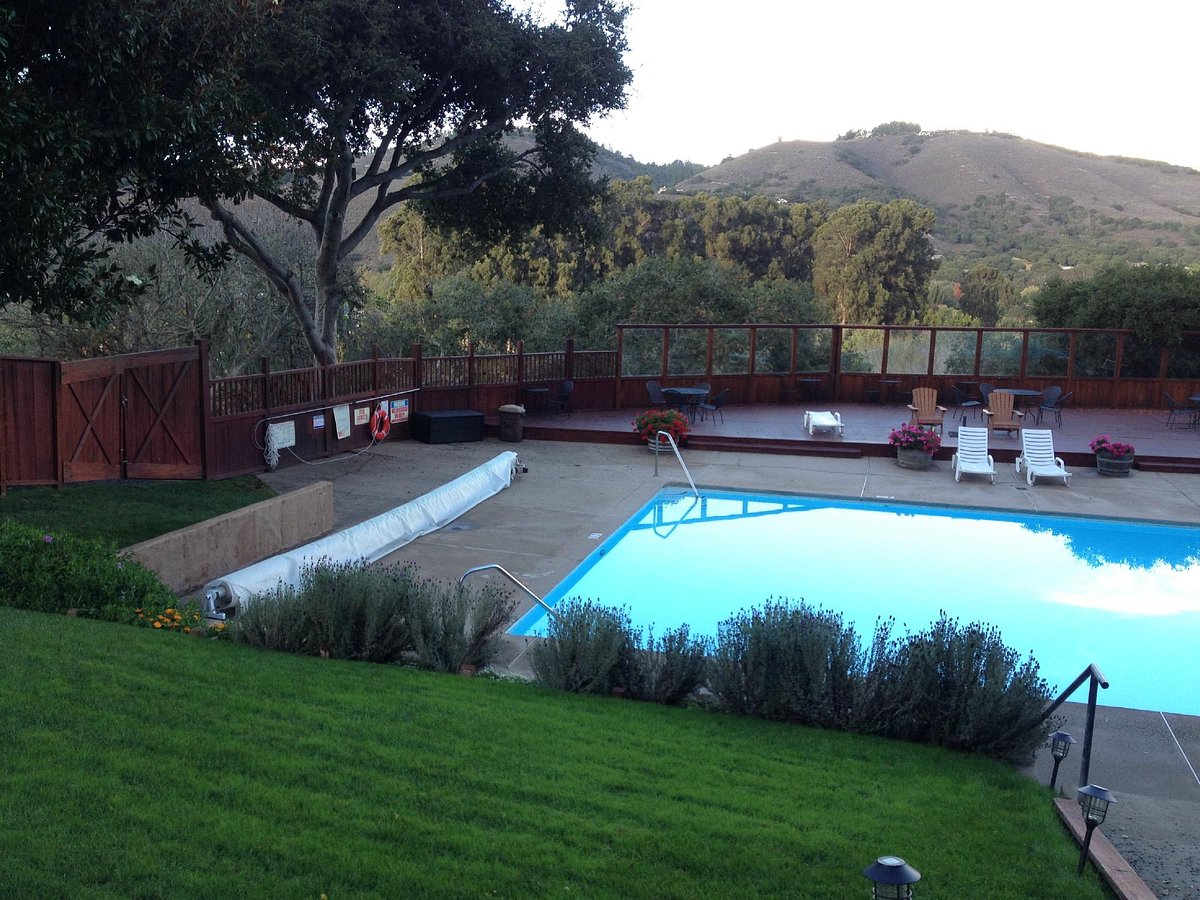 Privately owned Saddle Mountain Ranch is a campground that is tucked away in the hills above Carmel, California.
Saddle Mountain offers a fantastic clean, well-equipped camping area for anyone seeking more than just a place to pitch a tent or leave their vehicle for the night while hiking.
The property is located in the hills above Carmel Valley and is only a short drive from the freeway. It has a campground designed around a stunning, sizable pool area that overlooks a valley. There are tent campsites, cottages, and a trailer or van-friendly section with full hookups.
With Saddle Mountain Ranch's luxury tents, you get all the parts everyone loves about camping without getting dirty. Glamping here will allow you to enjoy a great view of the ocean.
Amenities
At Saddle Mountain Ranch, there are three types of tents available for glamping, Luxury Tent – Q, Deluxe, and Premium.
The amenities included are comfortable beds with high-quality linens, a BBQ grill, a table, chairs, a propane-burning fire pit, and all other campground amenities.
The toilets and showers are only a short walk from the tents. Guests also have access to Saddle Mountain's exclusive hiking trail.
The Luxury Tent – Q has one queen bed and can accommodate two.
The Luxury Tent – Deluxe has two queen beds for four people.
The Luxury Tent – Premium has one king bed and two queen beds for four to six people.
Additional information
Treebones Resort, Big Sur, CA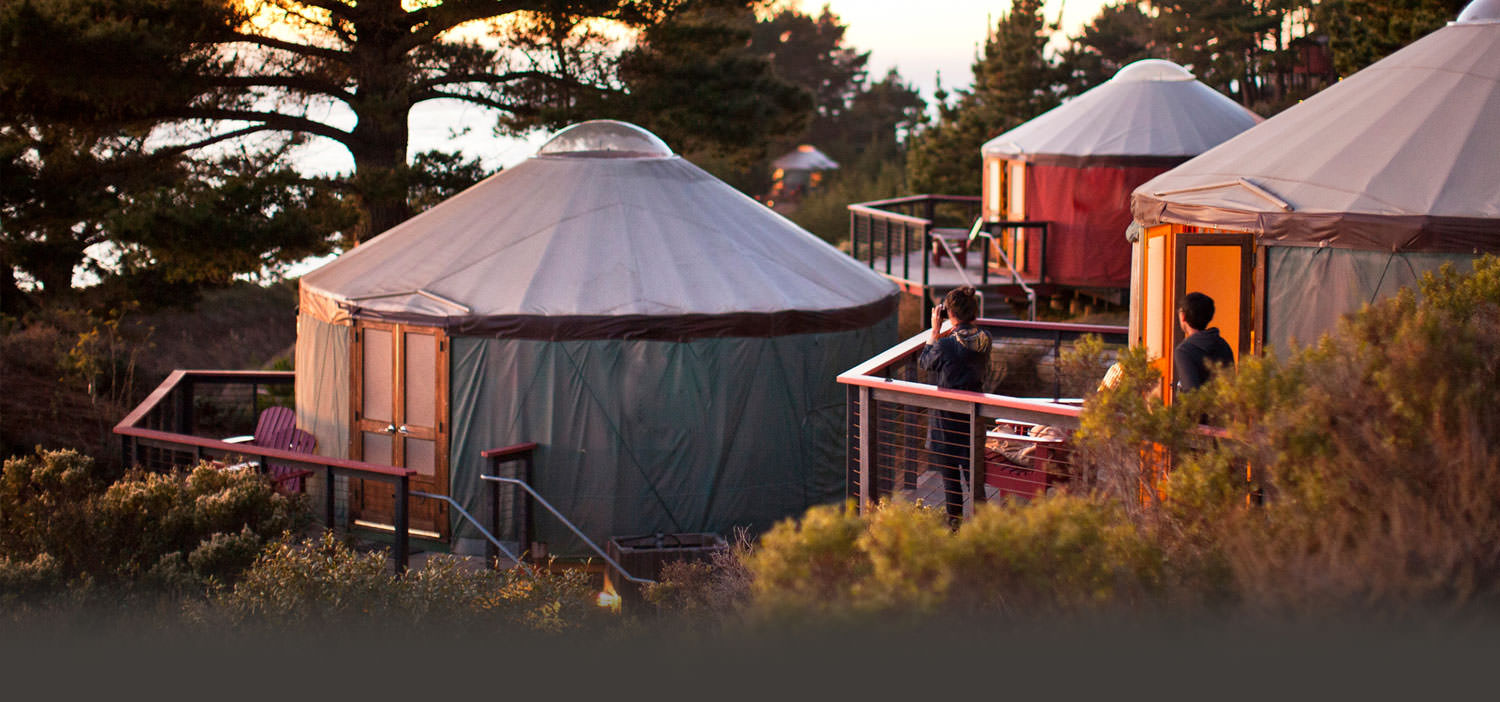 The next renowned glamping destination on our list, Treebones Resort, is situated at the southernmost point of Big Sur. It is unlike any hotel you have ever stayed in since it offers the ideal balance of comfort facilities and the beauty of being outdoors in nature.
Treebones has been a genuine Big Sur eco-resort for almost 20 years, working to leave as little of a carbon footprint as possible on this magnificent landscape. Treebones Resort is also on Tripadvisor's Best of the Best Travelers' Choice for 2022.
Three unique lodging options are available here: yurts, two autonomous tents, a human nest, and a twig hut. The eucalyptus branches in the human nest and the twig hut have been skillfully weaved into amazing sculptures that amaze visitors.
Amenities
As a premier glamping resort, Treebones provides its guests with a unique and luxurious experience.
There are yurts available with full and partial ocean views. Both are equipped with king beds with linens, comforters, and colorful quilts. Other amenities are a sink vanity with hot and cold running water, a bath, hand towels, reading lights, and a small table with chairs.
The Autonomous Tents provide guests with true luxurious glamping. Both have their private view of the ocean and are powered by solar energy. The amenities include a lounging area with a sofa, leather chairs, and an overhead fan. Plus, a fully equipped en-suite bathroom, a small fridge, heating, and luggage racks. Outside you get a private fire pit with chairs.
The human nest has ladder access, and you must bring your sleeping bags and pillows. Inside the nest is a full-size futon. The two-story twig hut also has a full-size futon. These structures provide the best views at Treebones Resort. The restroom facilities and cooking station are just a short walk from them.
Additional information
Rustic Forest Retreat, Forest Knolls, CA
The Rustic Forest Retreat yurt sits with a backdrop to the beautiful West Marin forest and the peaceful and friendly neighborhood. San Francisco is 45 minutes away from the retreat, and the beaches are only 30 minutes away.
In Forest Knolls, you will find yourself surrounded by a community of like-minded nature lovers, artists, and surfers while being far away enough to maintain your wanted privacy and peace.
There is a large network of incredible trails just five minutes from the yurt in the Samuel P. Taylor State Park. You will have access to activities like hiking, biking, swimming, and relaxing away from the hectic city life.
Amenities
This beautiful yurt has a spacious private backyard overlooking the picturesque West Marin forest. For optimal comfort for its guests, the yurt even has heating and air conditioning. In the yurt, the amenities include a queen bed, a futon, a dining table, a desk, chairs, and a fireplace.
The 30-foot screened deck connects the yurt to a trailer with a fully equipped kitchen and bathroom with a full-size shower, a tankless water heater, a toilet, and a sink. Next to the trailer is a connected shed with a full-size washer and dryer.
The glamping space is fenced at the top of a hill on the owners' property, meaning you will be away from any other buildings and can enjoy your privacy.
Additional information
Sonoma Treehouse Adventures, Occidental, CA
The Sonoma Treehouse Adventure is a brand-new activity offered by Occidental, California's Sonoma Zipline Adventures.
This journey, which combines one of their renowned eco-tours with an overnight stay in a treetop yurt, will leave you with memories to cherish forever.
This breathtakingly unusual treehouse experience is extraordinary on every level. The Sonoma Treehouses give nature enthusiasts an experience unlike any other in the state. Visitors will be allowed to spend the night in o a truly unforgettable encounter.
This one-of-a-kind event in one of these treetop yurts and zip through the forest on zip lines and bridges for a full day of adventure, which entails navigating 14 zip lines, two spiral staircases, eight sky bridges, and a thrilling descent to the forest floor.
Moreover, mid-afternoon sees the start of your journey with their renowned Forest Flight Tour. Transporting visitors at speeds of up to 30 mph and 200 feet above the forest floor.
Amenities
You will be led on a short hike to your treehouse following the flight trip. Before having a magnificent supper served right to your treehouse, you can unwind here.
After breakfast, visitors will take the longest and fastest zip lines on the Tree Tops Tour after leaving the treehouse complex. You will sleep a nice night in your treehouse and wake up to a hot breakfast and fresh coffee.
The treehouses have a king-size bed, two bunk beds, a kitchenette, and two chairs. If you want to combine adventure and Glamping, The Sonoma Treehouse Adventure is the perfect spot for you.
Additional information
Safari West, Santa Rosa, CA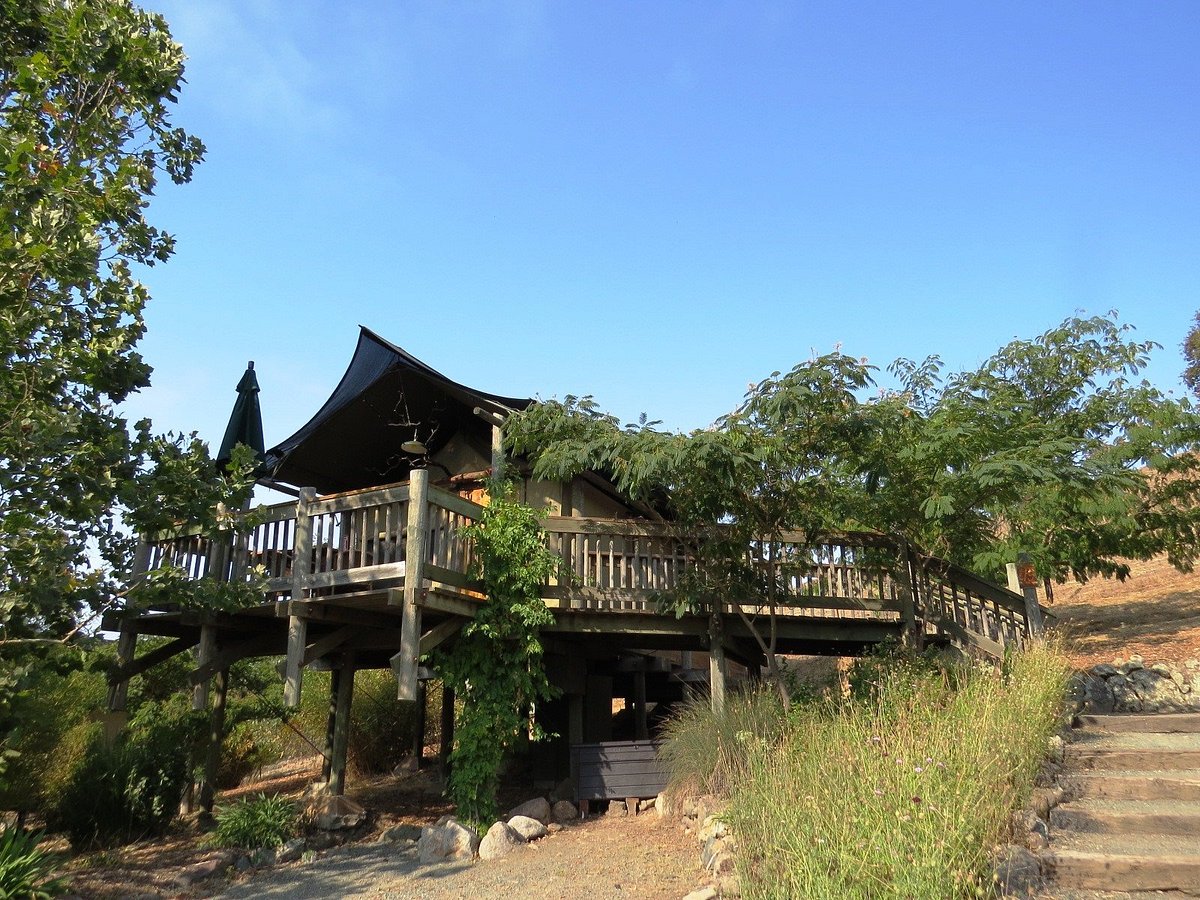 If you want to have a full safari experience without leaving the continent, Safari West is the perfect glamping spot for you. You may go on a Safari truck trip, stay the night in a Safari tent cabin, and eat while watching the animals at Safari West in Santa Rosa.
Safari West had rested on 400 rolling acres in the foothills of the Mayacamas Mountains since the 1980s when Peter Lang purchased the land. He bought the then-cattle ranch and turned it into a world-class conservation facility for his collection of exotic wildlife.
Safari West is on a mission to promote conservation and environmental education among individuals. Their priority is the growing animal population, which you can visit if you choose Safari West as your glamping destination.
Amenities
At Safari West, you will get the ultimate glamping experience by staying in a luxurious Safari West Tent. The luxurious tents are imported from Botswana and customized on-site.
Thirty glamping tents have a private viewing deck, en-suite bathroom, polished hardwood floors, ceiling fans, and rattan furnishings.
During the night, enjoy the sounds of the Sonoma Serengeti, and enjoy the continental breakfast Safari West provides in the morning.
If you are looking for more private lodging, Safari West also has cozy yet luxurious cottages that accommodate up to six guests.
The amenities include two bedrooms with a king and double bunk bed, a private bathroom, outdoor seating, and a kitchenette with a mini fridge, microwave, and sink. The cottages also have heating and ceiling fans.
Additional information
Ventana Big Sur an Alila Resort, Big Sur, CA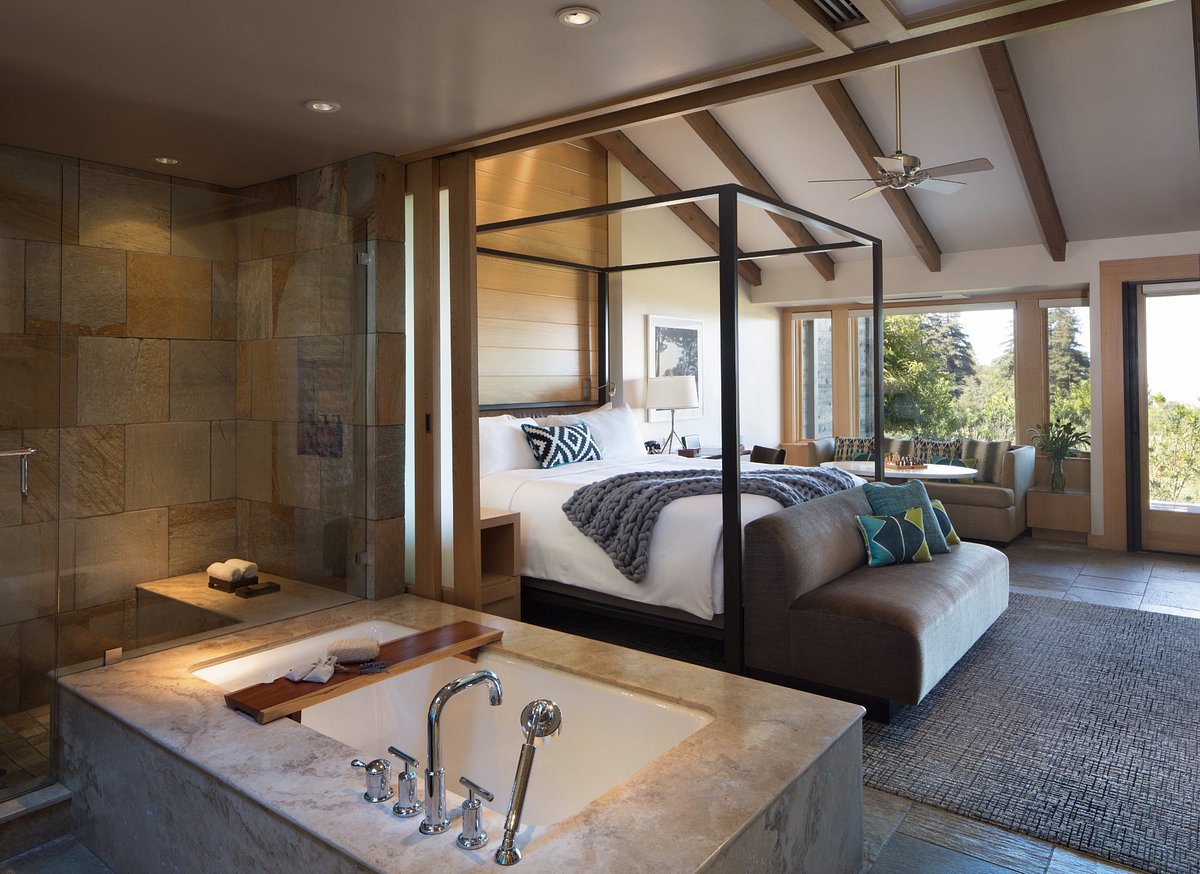 Ventana Big Sur, an adults-only Alila Resort, is situated next to one of California's most revered vistas and is surrounded by a lush forest and unspoiled shoreline.
The campground is a short drive from Pfeiffer State Beach, the famous Bixby Bridge, and the historic Point Sur Light Station.
Ventana Big Sur is dedicated to being the pinnacle of an environmentally friendly California getaway and is proactive in maintaining the famous Big Sur landscape.
In order to lessen traffic and car emissions, its green initiatives include a comprehensive property-wide recycling program, the utilization of native planting, the recycling of wastewater, and electric car charging stations.
The resort also gathers food from its organic garden, which is sustainably kept through composting. Glamping at Ventana Big Sur will fill you with inspiration and tranquility as you have never felt before.
Amenities
When glamping on Ventana Big Sur's 20-acre redwood canyon campground, you will have plenty of privacy and peace to relax and unwind. Ventana Big Sur's luxurious tent cabins have beds with custom-designed mattresses and premium linens.
The other amenities guests should expect are instant hot and cold water with sink, hand and bath towels, electric lamps, handheld lanterns, and power outlets with USB ports. On the deck are a wood-burning fire pit, a propane fire pit, two Adirondack chairs with pads, and a picnic table.
Guests staying in the glamping tents on the Ventana Big Sur resort also get access to the Big Sur Smokehouse for lunch and dinner.
Additional information
Conclusion
When it comes to glamping in California, these are the best spots that will provide you with the best experience.
From tents and cabins to treehouses, California has everything to offer those looking to escape the chaos of everyday city life and decompress.
So, choose the place that attracts you the most and enjoy your glamping vacation. Explore California's wilderness or lounge about on its beaches.
Whatever you choose, one thing is guaranteed you will have a great vacation!
More about our TFVG Author