Six Flags is a fun place to visit, but you can expect all different types of weather at the park depending on when you visit and what part of North America you're attending. So, you need to know what to wear to Six Flags and how it might change depending on the weather and season.
You also need to consider the shoes you wear to Six Flags, as the parks are big and you will be doing a lot of walking and standing. You also want to ensure your shoes stay on during all the rides you go on.
Finally, you might be wearing something different if you go to Hurricane Harbor, the Six Flags water park, compared to what you would wear at the theme park.
This article is the ultimate guide for what to wear at Six Flags. We will cover what to wear depending on the weather and what shoes you should do for your adventure. There is also information on what you should wear to Six Flags Hurricane Harbor and what you should avoid wearing at the park.
What to Wear to Six Flags in the Summer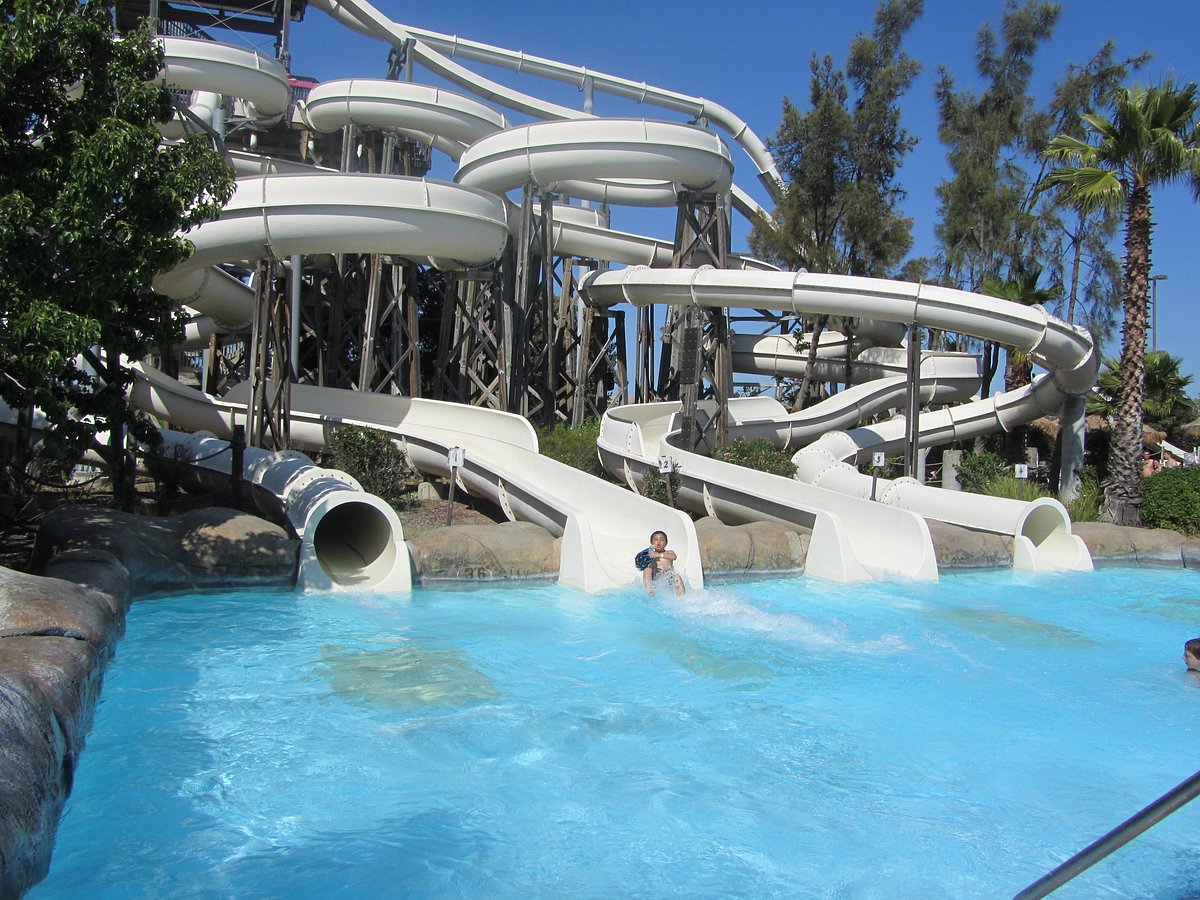 First, let's look at what to wear to Six Flags in the summer or whenever else you will be visiting when the weather is hot.
You want to wear light clothing that you will be comfortable in all day and not get too sweaty if the weather is hot. Shorts and a T-shirt or tank top are great choices. Just make sure you bring sunscreen to protect your skin. Or, you can wear light and flowy pants and a shirt if you want your skin to be protected from the sun.
If you do not want to sit directly on the rides when you are at Six Flags, wear pants that go down to at least your knees so you can sit with the pants between you and the ride. If you wear short shorts, your thighs will stick to the rides.
You should also wear a hat or sunglasses if the sun is bright and shining all day. Just be sure to take them off when it comes time to go on one of the rides, so you do not lose them.
But remember that it might be cooler when you first arrive or at night when the sun goes down than it is in the afternoon. So, if you expect only part of the day to be hot, wear layers or bring a light jacket.
What to Wear to Six Flags When It's Cold
On the other hand, it might be cold when you visit Six Flags, and you will have to dress differently than you would if you visited in the summer.
First, remember that most of the park is outside, so you must dress for the weather. In general, plan on being outside for the entire day and dressing for the weather. Then, you will be prepared for whenever you are outside, but you can also go inside a shop or restaurant to warm up.
You should also try to layer well so that you can take off some clothes when you go inside a restaurant or store or ride a ride that is inside. And if you get hot later in the day as it warms up or the sun comes out, you might also want to take off some layers.
If you expect to take off some layers throughout the day, make sure you have a bag or locker you can store them. Then, remember that it will likely get colder again once the sun sets, so you will want to get your layers back on later in the day.
Jeans or leggings and a long sleeve t-shirt or sweater are great bases for visiting Six Flags when it is cold. Then, bring a jacket or two that you can layer on top. You can always take off some layers if you get too hot, but you will not be able to suddenly get more without buying something if you do not dress warm enough.
You should also consider a winter hat and gloves if you are there when it is cold or if the sun is not out, making it feel colder. You also might have to wait in the shade for some rides, which also makes it feel colder than it is. As for shoes, a comfortable pair of sneakers or boots is your best option to keep your feet warm.
What Shoes to Wear to Six Flags
Finally, let's talk about shoes. Six Flags theme parks are massive, and you will quickly realize just how big they are if you have never been to one before. So, you should wear comfortable shoes at the park during your day.
There are two major factors you should consider when it comes to choosing shoes to wear to Six Flags: how comfortable they are and whether or not they will stay on your feet during rides.
First, bring shoes you will be comfortable walking in all day. You will walk around, standing in lines, and it will be a long day on your feet. While your feet might get hot in the summer, a good pair of sneakers is your best option. But you know what you are comfortable in and what shoes you have that you can walk in all day.
Second, you want shoes that will not fall off your feet when you are on a ride. If you are going on roller coasters or other rides where you are spinning upside down or where your feet are hanging off, make sure you have shoes that are securely on your feet so you do not lose them.
And you may be tempted to wear flip-flops or other loose-fitting shoes, which are allowed, but if you are going on any roller coasters, they might fall off. So, every time you go on a ride, you either have to risk your shoes falling off or take them off and put them in the storage area. If you are not going on any rides and you have comfortable flip-flops, you will be fine to wear them during your trip to Six Flags.
You might also want to plan where in the park you will go so you can then plan a route through the park instead of going back and forth across it all day.
What to Wear to Six Flags Hurricane Harbor
If you are visiting Six Flags Hurricane Harbor instead of the normal park, you will have to dress a little differently since Hurricane Harbor is a waterpark.
First, you must bring a swimsuit and a towel if you plan on going on any water rides or swimming in the pools. Wear any swimsuit you feel comfortable in, but make sure it is appropriate for a family-friendly water park.
And, you want something that will stay on if you are going fast down water slides or get splashed in the wave pool. Do not wear anything that might fall off. The last thing you need is to be stuck in the pool or at the bottom of a slide, searching for a part of your bathing suit!
But you will also need to bring clothes to wear over your swimsuit to wear while you are going into and leaving the park. Ensure you also have sunscreen, sunglasses, or a hat to protect yourself from the sun.
And, if you are planning on going on any non-water rides after you visit Hurricane Harbor, if you are at a park where the two are adjacent, you should bring dry clothes to change into after you leave Hurricane Harbor so you are not wet on the other rides.
As for shoes, sandals are best for at the waterpark so you can easily slip them on and off. But if you are going on roller coasters or other thrill rides after you visit the waterpark, you might want to have a pair of sneakers with you too.
What Should You Not Wear to Six Flags?
Above is everything you need to know about what to wear to Six Flags, but is there anything you should not wear?
First, as mentioned, you should avoid flip-flops and other shoes that could fall off your feet. If you plan to ride many roller coasters, you will have to take them off for every ride if you do not want to risk them falling off. It could get annoying if you have to take them off every time you ride.
Next, do not wear anything that is not family-friendly. Inappropriate attire includes shirts and hats with any graphic sayings or pictures on them. There are a lot of children at Six Flags, so inappropriate attire is banned at the park. If an employee sees anything inappropriate, the staff may kick you out of the park, so dress appropriately.
Finally, do not wear anything too warm to the park in the summer or whenever else it will be really hot. You will be outside for most of the day and do not want to overheat. Otherwise, you will not enjoy your day and may need medical attention if you push yourself.
More about our TFVG Author