Not everyone that enjoys the outdoors wants to spend their night on uneven ground in flimsy tents, which is why Glamping was invented. Glamping is short for glamorous camping, as it offers you all the best camping parts without any inconveniences.
Glamping has become incredibly popular among vacationers in recent years due to its comforting and relaxing atmosphere. You can seek out adventure and enjoy the marvels of nature without sacrificing the things you are used to.
Many retreats and resorts in Florida provide visitors with the best luxurious amenities while still letting them immerse themselves in nature. These are some of the best spots for Glamping in Florida.
Comfy Camping Glamping – Alafia River State Park, FL
A true glamping experience prioritizes comfort, and at Comfy Camping Glamping, your comfort is number one.
The luxury canvas bell tents are in the marvelous Alafia River State Park and have multiple screened windows, screen doors, and shade porches with chairs.
The entire campsite is powered by solar power. A single tent is powered by three solar panels and a battery system. The tents are installed on a ground tarp with a crushed sea-shell pad to deter bugs and for drainage.
There are two sizes available of the bell tents, 16 ft and 20 ft. The 16 ft canvas bell tents can accommodate a maximum of five people, while the 20 ft tents can fit up to eight people. Plus, the campsite is pet-friendly. If your pet is well-behaved, bring them with you at no additional charge.
Amenities
When we mention a memory foam queen-sized bed with a cooling pad and memory foam pillows topped with the softest linens, camping is not the first thing to come to mind. However, it is exactly what Glamping is, and all that is included in each tent at Comfy Camping Glamping.
If you rent a 20 ft bell tent, expect two memory foam queen beds. By the bed are two nightstands, and the tents are decorated with stylish tinted glass chandeliers, comfy throw rugs, safety equipment, and large coolers.
Enjoy warm nights by the metal fire ring included in the campsite under the starry sky while exploring Alafia River State Park in the mornings.
Additional information
Timberline Glamping – Hillsborough River, FL
Hillsborough River State Park is a short distance from Tampa's downtown. It includes seven miles of nature paths and excellent wildlife watching. And in the park, you will find the campsite of Timberline Glamping, the perfect place for those looking to experience luxury camping.
Timberline Glamping was officially launched in 2022 by Raz and Aleksandra Miles, a couple with great love for the outdoors. They launched Timberline Glamping for people to enjoy nature while being comfortable.
Timberline Glamping's big, fully equipped Safari Tents and Bell Tents combine luxury with the natural outdoors to provide large families or groups of friends with the extra space to glamp in comfort.
With hiking, riding, walking along the river rapids, fishing, discovering suspension bridges, picnicking beneath pavilions constructed in the 1930s, or kayaking class II river rapids, there is something for everybody here.
Amenities
At Timberline Glamping, you can choose between a bell tent, standard safari tent, double safari tent, and deluxe tent.
The bell tent features one queen bed, electrical outlets to charge your devices, a Keurig coffee maker, a mini fridge, rugs, lamps, a diffuser, A/C, and heating units. The Glampsite also includes a wood fire ring with a cooking grate, two chairs, string lights, and a picnic table.
The standard safari tent includes one queen bed and one bunk bed, plus all amenities included with the bell tent. Your Glampsite will also include two hammocks.
The double safari tent features two queen beds, two ceiling fans, and all the amenities included in the other tents.
Lastly, the deluxe safari tent includes a king bed, two bunk beds, your ceiling fan, and all the previously mentioned amenities.
Additional information
Enchanted Oaks Farm And Lakehouse – Ocala, FL
Enchanted Oaks Farm and Lakehouse provides a glamping option in its air-conditioned tiny homes, treehouse, or tiny lakefront homes. You will get the full camping experience with all of the luxuries of a hotel vacation.
You can also glamp in one of the two full-sized apartments housed in a former barn that has been air-conditioned. Enchanted Oaks Farm and Lakehouse provides access to activities like fishing in the lake or roasting marshmallows by the fire.
Be sure to greet the horses and a kangaroo living on the property, and you can even offer to feed them. Utilize the provided grill to prepare a traditional campfire dinner. Put your feet up on one of the communal patios or unwind in the hammock under the night sky full of stars.
Amenities
The Glamping options at Enchanted Oaks Farm and Lakehouse include three tiny cabins, three vintage campers, and two Hobbit Cottages, the tiny lakehouse, the loft apartment, and the farmhouse apartment.
The tiny cabins feature one queen bed, A/C, a small grill, a fire pit, two chairs, a large patio, and an outdoor kitchen. There are also two shared restrooms and a shared outside shower.
The vintage campers have one full bed, A/C, a fire pit, a picnic table, and a shared outdoor area with a grill.
The hobbit cottages feature one queen bed, a fire pit, and a table with two chairs. The cottages also provide access to the farm's animals.
The tiny lakehouse features one queen bed, a private lakefront dock, a patio, and an outdoor kitchen, plus two shared restrooms and an outdoor shower within a five-minute walk.
The loft has one bedroom, a living space with a kitchenette, a full-size fridge, a stove, a bath, and a private patio.
The farmhouse apartment has two bedrooms, a private screened porch, a bath, and a fully equipped kitchen with a grill.
Additional information
Westgate River Ranch Resort – River Ranch, FL
In the heart of Winter Haven, you will find the Westgate River Ranch Resort, providing excellent Glamping accommodations. This Florida property in Lake Wales has a mechanical bull, zip line, and rock climbing wall.
Guests can also play miniature golf and enjoy horseback riding. It takes eight minutes to drive to Lake Kissimmee. At Westgate River Ranch, visitors can take a riverboat trip or see a live rodeo every Thursday and Saturday. There is also a petting zoo on the property.
The Westgate Smokehouse Grill welcomes families daily with steaks, seafood, baby back ribs, and other dishes. A full bar is provided at River Ranch Saloon, and there is also a store with a deli there.
Amenities
If you want to feel like a real cowboy but enjoy all modern amenities, then Westgate River Ranch is the perfect Glamping spot. Stay in their spacious Glamping tents that are 384 square feet and can accommodate up to four guests and feature a private bathroom.
The Glamping tent amenities include a portable A/C and heating unit, two rocking chairs, a grill, a picnic table, a ceiling fan, board games, electrical outlets, a mini fridge, a microwave, one king, and two twin beds.
The luxury services include a delivered morning coffee service, luxury linens, towels, toiletries, and a campfire that is lit every night by the staff.
Additional Information
Fancy Camps – Santa Rosa Beach, FL
Based in stunning Santa Rosa Beach, Fancy Camps is a luxury camping organization that mostly collaborates with Topsail Hill Preserve State Park. Fancy Camps offers visitors a taste of traditional camping with all the luxuries and comforts of modern living.
Since 2015, Fancy Camps and Florida State Parks have collaborated innovatively to offer glamping services to visitors and serve as a compromise for those who want to vacation in nature but without the rough experience of regular camping.
Fancy Camps offers guests gorgeous 16 ft and 20 ft bell tents equipped with everything one needs to feel comfortable away from home.
Amenities
The amenities for each tent at Fancy Camps include one queen bed with fresh linen, heating, and cooling units, two bedside tables with lights, a table and two chairs, three kid sleeping bags, and extra outlets for charging your devices.
Outside is a picnic table, a fire ring, outdoor lounge chairs, a two-burner camping stove, firewood, and string lights. In comparison, the 20 ft bell tents are equipped with two queen beds and two picnic tables.
Every reservation includes bike rentals for your entire stay and one watercraft rental per day. So, book your next vacation at Fancy Camps and enjoy nature with all the comforts you would need.
Additional information
Treehouse at Danville – Geneva, FL
Only 45 minutes from Orlando lies the amazing Danville Treehouse. A three-story haven tucked away amid the oak trees near Geneva, Florida. Glamping in a fully tricked-out treehouse will bring you right to your childhood days.
However, what amazes visitors the most is the specially-made tree trunk elevator, which adds to the whimsical feel. It contains a typical fire tower staircase from a nearby fire tower that dates to around 1926 if you like to ascend and descend in a different method. A swing chair and table are on the upper deck, with a view of the entire property.
Amenities
The Treehouse at Danville has one bedroom with a queen Murphy bed and a full bathroom with a bidet. It has an accent light system, a panoramic window, a four-foot skylight, and a 14-foot ceiling.
It is housed in an 18-foot yurt. A kitchenette with a mini-fridge, microwave, and sink is also available. When the bed is elevated, the area transforms into a living room with a big flat-screen TV with Netflix, Amazon, and satellite channels.
The treehouse has three levels: the yurt deck with a gas fireplace, gas grill, and seating for four. There is a hot tub there that, it so happens, was formerly a jet engine. At night the hot tub is lit, which is located on the middle deck and offers a hot and cold outdoor shower.
Additional information
Twin Lakes Camp Resort – Defuniak Springs, FL
For those looking to unwind and go on a relaxing vacation, the Twin Lakes Camp Resort is the perfect spot. Twin Lakes Camp Resort is nestled between Holey Lake and King Lake, providing visitors with amazing views. Its location makes it perfect for Glamping.
The Resort's location also ensures that you do not hear any traffic during your stay and can fully relax and enjoy all the property amenities provided for comfortable Glamping. There are kayak and electric boat rentals available to guests who want to go fishing in the lakes or spend some time on the water.
Amenities
Twin Lakes Camp Resort truly puts the glamor in Glamping with its luxurious amenities. There are R13 and T-14 tents that can accommodate two adults and T-15 to T-21 Eco tents from Australia.
Every tent has a magnificent view of the lakes, one king bed with linens, microwave, A/C and heating units, a claw foot tub, sink, toilet, towels, mini fridge, two patio loungers, a shower, fire pit, lights, coffee pot, dimmable LED lighting, and a picnic table.
T-17, T-18, and T-21 tents have one king and one bunk bed. T-19 and T-20 tents have one king and two sets of bunk beds.
Additional information
Treehouse Cabin Retreat – Old Town, FL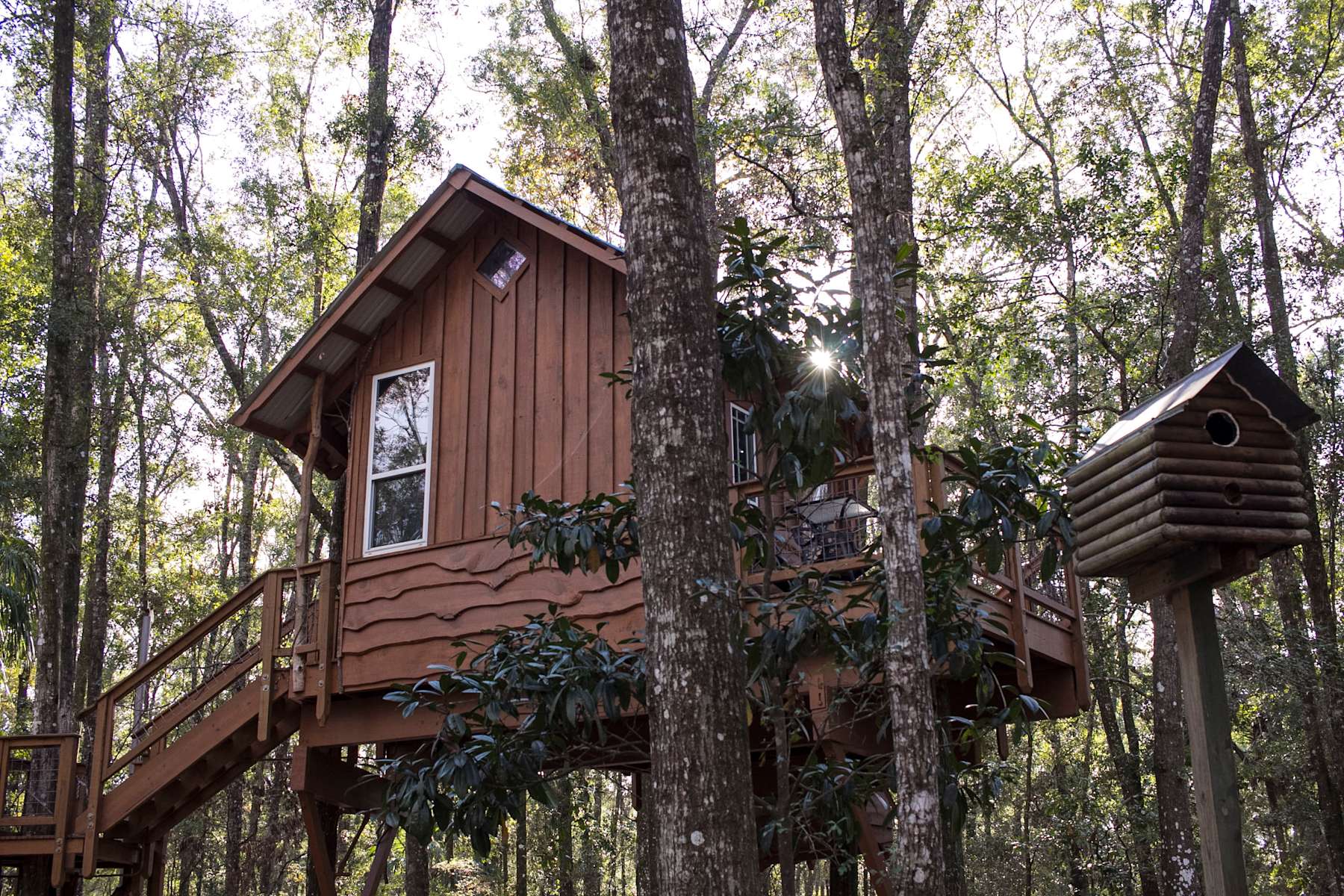 Last on our list is the Treehouse Cabin retreat in Old Town, Florida, located within minutes from the Suwannee River. The retreat provides a unique Glamping experience for all nature lovers.
The Suwannee River's marvelous freshwater springs offer visitors opportunities for swimming and paddling in the clear waters. You can enjoy an outdoor shower under the clear Florida skies, just you and the stars.
The Old Town neighborhood is compact and offers various outdoor activities. Fanning Springs and Manatee Springs State Park are close by.
Driving down to Suwannee or gorgeous Cedar Key, kayaking Hart Springs, hiking the Nature Coast Trail, or rowing or fishing the Suwannee River are all enjoyable excursions.
Within 45 minutes, there are also many more springs, parks, and activities. The Treehouse Cabin Retreat offers visitors a rustic cabin and a treehouse built by "The Treehouse Guys" from the DIY Network in 2017.
Amenities
The comfortable cabin features a loft with two beds, a bedroom on the ground floor with a queen bed, a full kitchen, and one bathroom inside and one outside. The kitchen is equipped with basic cooking supplies. Outside you will find a large grill near a fire pit with grilling tools provided.
The rustic treehouse features one queen bed on the main floor and a small loft for a single bed. There are also air conditioning and heating units provided. Along with bath towels and bedding, the hosts also provide paper towels, trash bags, some cleaning supplies, and hand soap.
Both the cabin and treehouse have TVs with DVD and VHS players, as well as a video library. The cabin and the treehouse are equipped with a smoke detector, fire extinguisher, and carbon monoxide detector for safety.
The hosts also provide a first aid kit to disinfect the wound if you scratch yourself while on a hike.
Additional information
Conclusion
There you have the best spots for Glamping in Florida. You will be able to enjoy the rivers and lakes and go on a hike, while at the end of the day, you unwind in a comfortable bed.
Each of the Glamping spots on our list provides its guests with the most luxurious amenities that make them feel right at home.
So, if you want a vacation that will provide you with both a relaxing time and an adventure, book one of the spots from our list.
More about our TFVG Author