Sometimes called the Hostess City of the South, Savannah, Georgia, is known for its incredible hospitality, historical significance, and beautiful landscapes. The city teems with some of the south's best architecture and carefully preserved art.
Taking your family to Savannah for a vacation allows you to learn, explore, and share unique experiences. Savannah is best known for its charm and safety, so you don't have to worry about taking young kids along for the adventure.
Tourists are encouraged to think about the best places to stay in Savannah for families with kids. Before making any reservations, consider each neighborhood's pros and cons.
Places To Stay in Savannah with Kids
Considered the oldest city in Georgia, Savannah is best known for its vibrant history. Old, well-preserved manors paint the town, giving visitors the impression of having stepped back in time.
With all the history and the range of activities, there are several great places to stay while visiting Savannah. Even if you have young kids in tow, you can be sure that you'll find suitable accommodations in a safe neighborhood with many great amenities nearby.
There are excellent museums, parks with updated playgrounds, trails to explore, and plenty of coastlines to visit when you're staying in Savannah. Let's take a walk through some of the best places to stay in Savannah with kids.
Historic District
You might think that all of Savannah is a historic district, but one area in particular bears this designation. And for good reason.
The Historic District is essentially the heart of Savannah. The city's pulse flows around it and feeds into it, bringing travelers and locals into the oldest parts of the city.
The Historic District is mainly made up of what used to be Savannah before the Civil War. The old city limits now make up one of the largest historic districts in the entire United States.
If you decide to stay in the old parts of Savannah, you're almost guaranteed to fall in love with the beautiful scenery, the abundance of entertainment, and the charming people ready to welcome you and your family.
Where To Eat
Stoner's Pizza Joint is the best quick, easy, and delicious option. Stoner's offers a great lunch menu with plenty of choices to please even the pickiest eaters in the crew if you want to order carry-out and eat at a pretty Savannah park.
If you're looking for something a little more traditional than pizza, consider swinging by the world-famous Clary's Cafe. This Savannah favorite will serve breakfast all day to ensure no one misses out on the most important meal of the day.
You haven't lived until you've visited a roadside barbeque shack in the south. Randy's Bar-B-Que is a local hotspot serving the most authentic version of barbeque imaginable, serving some of the tastiest cuts of meat you can find in town.
What To Do
Founded as part of the Savannah College of Art and Design, the SCAD Museum of the Arts is an excellent experience for anyone in your family who lives off creativity. SCAD offers a range of rotating exhibits and educational opportunities, ensuring there's always something to do.
The Mercer-Williams House was completed in 1868. It takes up an entire city block in the Historic District and is considered one of the most recognized homes in all of Savannah. It's definitely worth a visit!
Taking up over 30 acres, Savannah's oldest and largest park is Forsyth Park. It hosts some impressive features, including a luxurious fountain modeled after those found in Paris, France. There's a playground where your kids can blow off steam.
Savannah is known for having multiple squares throughout the city, and one worth visiting is Columbia Square. It was laid out in 1799 and now houses a fountain that once belonged to one of Savannah's first families.
The Cathedral Basilica of St. John the Baptist is a stunning piece of neo-gothic architecture that contributes a work of beauty to the Savannah skyline. The historic Catholic church is primarily known for the breathtaking murals contained inside.
When To Go
There's plenty of fun to fill your time in the Historic District. The best time to visit is probably March or April when flowers are starting to bloom, and the heat and humidity haven't set in yet.
Midtown
Midtown is a sprawling district. It contains numerous neighborhoods, bountiful amenities, and plenty of excellent restaurants. Midtown is particularly famous for housing a number of unique bakeries that are local Savannah favorites.
If you're staying in Midtown, you have a great selection of things to do at your fingertips. You're almost in the middle of the city, giving you access to entertainment and dining all around Savannah.
The oak-lined walking paths make up some of the best Midtown features. You can get anywhere on foot, always under beautiful Georgia trees. Even in the Georgia heat, you'll feel that sweet relief from the leafy cover.
Where To Eat
Your kids will love their experience at Betty Bombers. This retro diner and Savannah favorite features classic American diner food and model airplanes hanging from the ceiling. It's a great place to grab lunch for a full day of exploring.
Kayak Kafe Midtown has more of a New American feel than other restaurants around Midtown, but it serves a great selection of healthy food. The restaurant takes great pride in making all its food fresh every day.
If you want to treat your kids to a once-in-a-lifetime dining experience, make reservations at Elizabeth's on 37th. Hosted in an authentic mansion, the unique restaurant serves dinner in style with elegant dining tables and Savannah-themed decor.
What To Do
Do you have any history lovers in your family? How about railroad nerds? They'll both be happy when you take them to the Georgia State Railroad Museum. Situated in an old Central of Georgia Railway terminal and shops, the museum is perfect for kids of all ages.
You can explore well-manicured nature trails at the Savannah Botanical Gardens and visit a small archaeological site. The historic Reinhard House is also open for exploring, a preserved example of German farmhouses from the 19th century.
When your kids are tired of museums and the sweltering Georgia heat, consider dropping by DEFY Savannah. An indoor amusement park is an excellent place for the little ones to spend energy. From a zipline to dodgeball, there are all kinds of fun waiting at DEFY.
When To Go
You'll find cheaper accommodations in Midtown no matter what time of year you visit, making it a versatile choice. If you go in the late spring, you'll experience better weather and fresh flowers lining the city streets and parks.
Tybee Island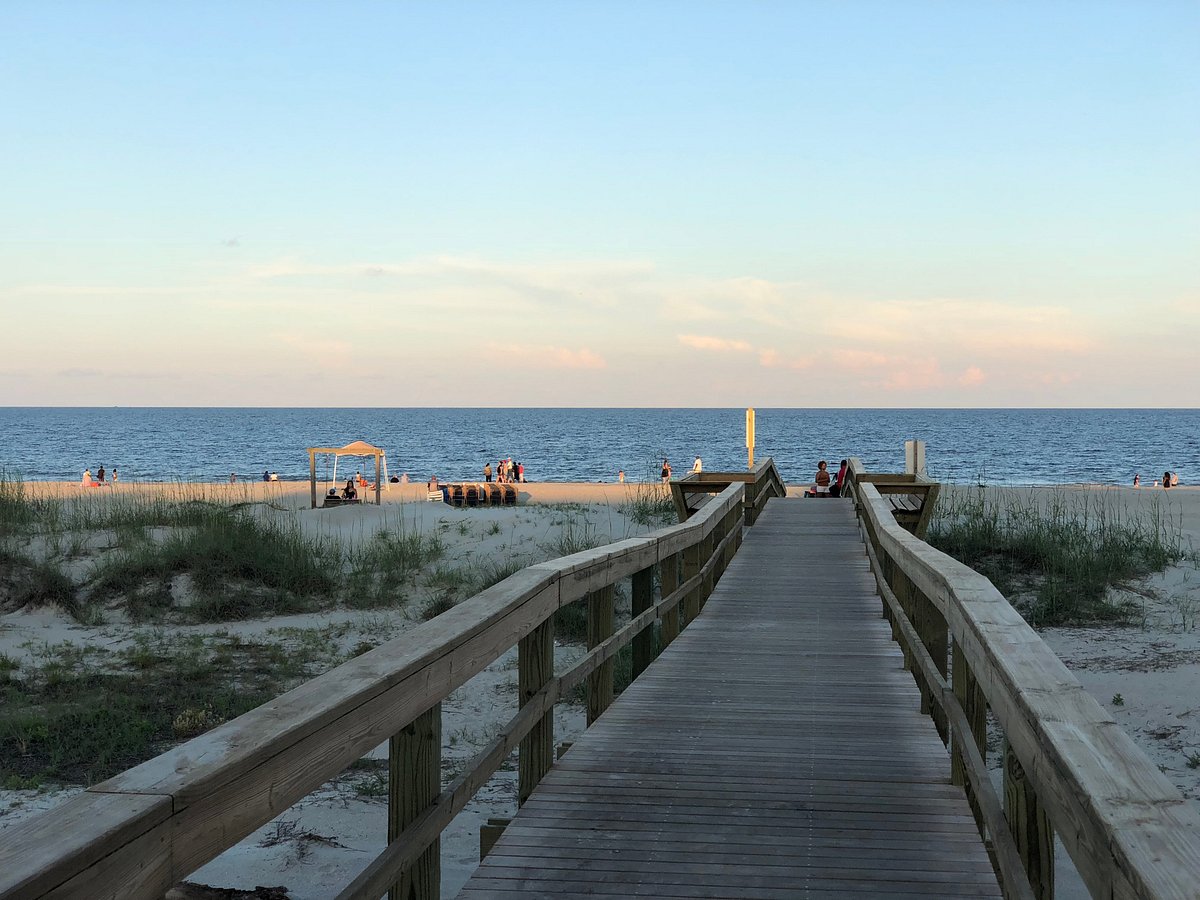 Tybee Island is a barrier island in the Atlantic Ocean that has served as a popular vacation destination since the 19th century. It's known for its wide beaches that are immaculate and stunning views of the sunrise on the horizon.
You're less than 20 miles from Downtown Savannah when you stay on Tybee Island. That makes it a perfect place to call home while you explore Georgia's oldest city. You can take in all that Savannah has to offer without staying in the heart of the town.
Tybee Island offers relaxation, seclusion, and a beach-like vacation for you and your family. Staying at Tybee while visiting Savannah truly gives you the best of both worlds.
If you're looking for a little seaside getaway with the kids, definitely consider booking your stay on the beautiful Tybee Island.
Where To Eat
Just because you're on an island doesn't mean the food options are inferior. Start your culinary adventure at The Crab Shack, the charming waterfront experience considered the best seafood in Savannah. With a kid's menu option, there's something for everyone to enjoy.
Fannies On the Beach is another wonderful choice for dining on Tybee Island. With a lively atmosphere and live music on the weekends, you'll feel like part of the community when you swing by for lunch or dinner.
AJ's Dockside Restaurant overlooks Tybee Creek, which feeds into the Atlantic. AJ's is a laid-back spot with delicious fried seafood and a bar option for the adults in your group. Best of all, you can rent a kayak and explore Tybee Creek!
What To Do
The anglers in your family will be pleased to know that they can fish right off the Tybee Beach Pier and Pavilion. Situated on the southern tip of Tybee Island, you can reel in everything from mackerel and bass to flounder and stingrays.
Mid Beach is the classic destination on Tybee Island. You'll notice it's not as packed as other famous beaches, but that's part of what lends to its charm. It's a beautiful, clean beach that's cared for meticulously and features sand dunes that you can explore.
Just because you're staying at the beach doesn't mean you'll be far removed from Georgia history. The oldest lighthouse in the whole state is on the island with you! Visit the Tybee Island Light Station and Museum to experience history dating back to the colonial era.
Fort Pulaski is close to Tybee Island, making it worth a few hours of your time. It's one of the best-preserved examples of masonry fortifications in America and hosts guided tours that take you inside the fort and tell its colorful history.
Finally, you need to stop by Tybee Island Memorial Park. There are volleyball, basketball, and tennis courts open to the public until 10 p.m.
When To Go
If you're interested in visiting Tybee Island, the spring and fall feature perfect weather conditions. If you want to avoid big crowds of other tourists, consider booking your stay in October or November.
City Market
The City Market is the most unique location on this list. Instead of a district or neighborhood, staying in City Market means booking a hotel close to the open-air market that has been operating since the 1700s.
Savannah is famous for its two-block extravaganza of a local city market. Situated on West Bryan street, between Ellis Square and Franklin Square, you'll find a charming marketplace with shops, restaurants, and local artists on display.
You'll love looking out your hotel window and seeing the bustling market beneath you. You'll find a wide range of curios when you explore the market.
Make sure you check your calendar for special events that might be taking place during your stay! City Market parties are some of the best around.
Where To Eat
Wet Willie's is a local favorite for market-goers. If you're in the mood for a quick bite while exploring the market or need a tasty frozen drink to cool you off, you can find it all at Wet Willie's.
A few blocks south of the City Market, you'll find the Maple Street Biscuit Company, one of the best breakfast spots in Savannah. Famous for their fried green tomatoes and maple tap coffee, you'll have a great time at the Biscuit Company.
Finally, you'll want to check out Goose Feathers Cafe & Bakery. No matter where you stay in Savannah, Goose Feathers is worth visiting. You won't find European-style baked goods this good anywhere else.
What To Do
Savannah has the special distinction of hosting the only American Prohibition Museum in the country. Right next to the City Market is a place filled with the rich history of rum running, gangsters, speakeasies, and more. It's easy to have a good time at the Prohibition Museum.
Another museum in the area that you should check out is the Ships of the Sea Maritime Museum. Hosted in a home from the 1700s, you can explore the history of seafaring vessels from the 18th and 19th centuries.
The Savannah Waterfront is only a few blocks north of the City Market, so take the kids to the sites there when you've finished perusing. You'll find unique cafes, quirky shops, and beautiful views of the Savannah River.
When To Go
Visiting Savannah in the early spring will ensure you have the best weather and reasonable prices. If you go in March, you'll probably beat the big tourist rush that tends to happen later in the spring.
River Street
Just up the road from the City Market is River Street, a bustling portion of Savannah that overlooks the Savannah River. You can find cute bakeries, fun drink hotspots, unique shops, and plenty of accommodations for you and your kiddos.
The best way to experience River Street is to park your car and walk the street. It might take you a few hours to get from one side to the other, but you'll have the best time.
Staying on River Street gives you access to Savannah's best attractions. You can visit museums or graveyards, drink at a local pub, and even take advantage of riverboat cruises along the Savannah River.
No matter why you came to Savannah, you'll instantly fall in love with the River Street area, especially if you decide to stay there.
Where To Eat
The first place to stop for a bite when you stay along River Street is the famous Leopold's Ice Cream. Serving Savannah residents the best homemade ice cream since 1919, Leopold's is a Savannah favorite that serves ice cream and other sweets, soups, sandwiches, and fresh salads.
Huey's sits right on the river, giving you great views of the beautiful Savannah while you enjoy a classic American meal. Inspired by the cuisine of New Orleans, Huey's is a southern cafe that serves fresh seafood and delicious drinks.
Boar's Head Grill & Tavern claims to be the first restaurant on Savannah's River Street. Whether that's true or not, the tavern is an excellent place to stop for lunch or dinner on the river. Make a reservation to ensure you have a comfortable place to sit.
Finally, make sure you stop by The Cotton Exchange Tavern at least once during your Savannah vacation. Famously operating in what used to be a cotton warehouse, you'll love the historic feel and the friendly atmosphere.
What To Do
It's hard to pick just a few things from all the activities around you on River Street. The Waving Girl Statue is a great place to start. The statue commemorates Florence Martus, a lonely local girl famous for waving at the ships as they came in in search of her lover.
The Riverstreet Boardwalk is an obvious choice since you can access it right next to the Waving Girl. Strolling along the boardwalk will give you some of the best views of the river and take you past some of River Street's best shops and restaurants.
Reynolds Square dates back to the 1700s and gets its name from John Reynolds, Georgia's first Royal Governor. There's also a statue of the famous founder of Methodism, John Wesley, who preached at a church in Georgia.
Finally, you must check out the Historic Steps on the waterfront. It gives you access to the cobblestone street that traces the wharf. Be careful, especially if you have little kids in your group: the 33 steps are known to locals as the Stone Stairs of Death.
When To Go
Visiting in the early spring or late fall will give you greater freedom to move around the city without swarms of other tourists. You'll also miss the sweltering Georgia heat and humidity that plagues the town every summer.
Victorian District
Staying in the Victorian District will give you constant access to incredible walking tours around some of Savannah's most beautiful homes.
The Victorian District is a great place to stay if you want to expose your kids to a different way of life for a while. You can tour the area on your own or sign up for guided tours to learn about the stunning architecture.
Where To Eat
Your first stop for food should be Etta's Southern Cafe & Winery, a charming bar, and grill where you can get traditional southern meals served with a smile. Sometimes they even have live music to keep patrons entertained.
Located on the east side of the Victorian District, Peking House is a small Chinese restaurant that offers the basics. It's an excellent place for those who know exactly what they want. It's also considered the best Chinese food in Savannah.
You won't find a more fun, unique environment than the Fork & Dagger Diner. With a Latin twist on classic diner food, you'll have an experience there that you'll never forget.
What To Do
The best thing to do in the Victorian District is to walk the streets and allow yourself to go with the flow. If your kid sees a house they'd like to check out, take a few minutes. If a museum looks interesting, pop inside for a bit. You won't regret taking your time.
There are also many ghost tours that you can sign up for when you're visiting the Victorian District. If you have older kids in your group, they might enjoy the eerie stories and the cemetery visits.
When To Go
The best time to visit the Victorian District in Savannah is the late fall. You can see the colors changing, avoid the bigger crowds, and enjoy a more temperate climate.
Hilton Head Island
Hilton Head Island is the only place on this list that's not in Georgia. Just over the border in South Carolina, Hilton Head is a great vacation spot on its own and full of fun outdoor activities to keep you and your family occupied.
In just under 50 minutes, you can be in Savannah if you travel by car. So if you're more interested in camping, boating, and swimming but want to take a day or two to explore Savannah, Hilton Head is the perfect place for you and your crew.
Staying on Hilton Head Island ensures you'll have a marvelous time away from the city's bustling life. You can spend your days on the beach or exploring the local wildlife refuge and take advantage of the relaxed local eateries in the evenings.
Hilton Head Island is a great place for families, with a laid-back atmosphere and plenty of friendly locals who are more than obliged to give you directions when needed.
Where To Eat
One of the best fresh seafood joints on the island is Black Marlin Bayside Grill, an unassuming restaurant with outdoor seating and the friendliest staff. You'll find live music there some nights, and there are always frozen drinks to keep the adults happy.
The Sandbar offers a lively environment with Southern and Caribbean-influenced meals made from the freshest ingredients. It's a family-friendly environment that even provides coloring pages to keep your little ones entertained while they wait.
If you want classic American barbeque, you should check out Big Jim's BBQ, Burgers, and Pizza while staying in Hilton Head. Serving delicious cuts of meat and some of the best pizza, your kids will have a blast at Big Jim's.
What To Do
Fish Haul Beach Park is different from an urban park that you might find in a big city somewhere. It's a quiet, peaceful, secluded stretch of beachfront that overlooks Port Royal Sound. You can hike, watch for birds, swim, or relax in the South Carolina sun.
Harbor Town Lighthouse is not as old as other lighthouses in the area, but it plays a critical role in ensuring ships make it safely to the harbor. Your kids will love climbing the steps to the top! Most people recognize the lighthouse like it's Hilton Head's mascot.
Another local beach worth checking out is Burkes Beach, located just off William Hilton Highway. With outdoor showers and seasonal lifeguards, Burkes Beach offers more amenities than other beaches and is usually a little more crowded.
If you need a break from swimming and sunbathing, take your kids to the astounding Coastal Discovery Museum. Situated on 68 acres of stunning ecosystems, you can explore old buildings, learn about the environment, and even see wildlife like alligators!
Take some time to drive to Pinckney Island National Wildlife Refuge while visiting Hilton Head Island. It sits on over 4000 acres of land and hosts a vast array of wildlife. You can hike or bike through the refuge and even go saltwater fishing.
Of course, set aside time to drive into Savannah for a day or two! No visit to Hilton Head Island is complete without a trip down to Georgia.
When To Go
Late fall is usually the best time to visit Hilton Head Island. The weather is temperate, the crowds aren't too big, and the accommodations are affordable.
Savannah, Georgia: Final Thoughts
Staying in Savannah, Georgia, means staying in the heart of Georgia's historical center. As the oldest city in the state, there are few places that are richly decorated in state pride as Savannah.
You'll instantly fall in love with the priceless architecture, the quirky local shops, the Victorian homes, and the friendly people you'll meet along the way.
Savannah truly offers something for everyone. The history nerd has plenty of museums, the energetic have beautiful city parks, and the nature lovers will find trails abounding in Savannah and all around, including on Tybee Island.
If you're considering a trip to Savannah, take advantage of this list and check out some of the best places to stay with your kids. It will be a trip everyone in your family will remember for years.
More about our TFVG Author