Atlanta, Georgia, is a city that is rich in history and fun activities. The city offers many shopping places and is home to excellent coffee shops.
Here you can view amazing street art and enjoy visiting tourist attractions such as the Georgia Aquarium, the botanical garden, the Fernbank Museum of Natural History, and many others.
Atlanta is also the place where you can try delicious Southern food before you continue to explore the beauties of the city. Below, you can find the best chicken and waffles in Atlanta to experience the perfect combination of sweet and sour.
Atlanta Cuisine
The capital city of the US state of Georgia is a place with many attractions you can put on the bucket list.
From the Atlanta History Center and Stone Mountain Park to the Ponce city market and the Atlanta Zoo and so much more, Atlanta is a place that has something to offer for every visitor.
Atlanta also offers Southern specialties mixed with a plethora of diverse international cuisines, including Korean, Latin American, Malaysian, and Vietnamese.
Fried chicken with waffles is a staple dish to find here, but the place is also known for barbeque, burgers, chili dogs, and many innovative desserts and sweet treats.
Buttermilk Kitchen
Buttermilk Kitchen is known as one of the top spots for the popular dish chicken and waffles. The breakfast spot provides a traditional version of chicken and waffles and offers many other delicious meals.
The fried chicken is tasty, while the waffles are freshly poured with maple syrup and powdered sugar. You can also ask for rye whiskey syrup for an additional $1.
The restaurant is placed in a charming blue house and has a modern and cozy interior. Buttermilk Kitchen's staff is also very friendly and efficient. Given the tasty meals and the friendly service, the restaurant is often full, especially on the weekend.
ABC Chicken and Waffles
As the name itself suggests, ABC Chicken and Waffles is a place where you can enjoy this delicious meal. The restaurant offers a variety of chicken and waffle options such as 'The Southern Pico', 'The Dirty Bird', and a Kids Plate.
Here you can also order 'The Classic' with two fried chicken breasts as well as two Belgian-style waffles with syrup, or opt for 'The So Fresh', served with fresh berries and vanilla yogurt.
The dish is available for takeout and dine-in, and the restaurant offers many other delicious options for brunch. You will get fast and friendly service when it comes to this incredible restaurant.
Ms. Icey's Kitchen & Bar
Sweet potato waffles with crispy fried chicken, this sweet and sour combinatioareis available at Ms. Icey's Kitchen & Bar. The serving comes with three pieces of chicken as well as a plantain waffle and brown sugar butter.
Ms. Icey's Kitchen & Bar offers classic American Southern food and Caribbean cuisine. It has a modern and industrial interior and offers dine-in, takeaway, and delivery options.
The restaurant also provides vegetarian-friendly food options and fast and friendly service.
Waffle Bar
Waffle Bar allows visitors to create their own waffles and chicken dish. Here you can order waffles in a traditional style or create unique options, such as Strawberry Cheesecake, Cinnamon Toast Crunch, Spinach Parmesan, and My Momma Pudding, to name a few.
After you select a waffle option, you can then order wings or vegan tenders that will go well with the tasty meal. This restaurant has several service options and an option to order online. If you are in Atlanta, you can visit Waffle Bar and enjoy a unique chicken and waffle experience.
Home Grown GA
If you are looking for a breakfast place offering Southern comfort food, then Home Grown GA may be what you are looking for. The family-friendly restaurant has an extensive menu, including mouth-watering chicken and waffles.
The chicken has an excellent flavor and texture, and the waffles contribute to its deliciousness. Home Grown GA has a retro-country aesthetic and doesn't disappoint when it comes to atmosphere, service, and prices.
On the menu is American cuisine, and Home Grown GA caters to all customers as it offers vegetarian-friendly, vegan options, and gluten-free meal options.
South City Kitchen
South City Kitchen is a staple in Atlanta when it comes to the best chicken and waffles in Atlanta. Among their specialties is the juicy Springer Mountain Farms fried chicken combined with buttermilk waffle topped with Vermont maple syrup.
Chicken and waffles are served during brunch hours here, and enjoy every bit out on the patio or indoors. You can come across this chain of restaurants in a couple of locations, each restaurant with a modern and sophisticated style.
Highland Bistro
The Highland Bistro is a place to try the bistro's signature cornbread waffle served with crispy fried chicken strips, Bourbon maple syrup, and pink peppercorn honey butter. Here, the friendly staff and the owners want to make every guest feel welcome.
Highland Bistro serves comfortable Southern food, offers online delivery, and creates custom menus for private events according to guest restrictions. The bistro has a cozy environment and a great sitting area outside.
Toast On Lenox
Toast On Lenox is a brunch restaurant where you can try mouth-watering food for the soul and amazing cocktails. Their fluffy and soft waffles are served with vanilla creme and a caramel rum sauce and come with ideally seasoned wings.
Toast On Lenox offers a pleasant atmosphere for eating brunch and attentive service. The restaurant also enables you to order online to enjoy different meals from its extensive menu.
Johnny's World-Famous Chicken & Waffles
Johnny's World Famous Chicken and Waffles, as the name suggests, is one of the best stops in Atlanta where you can try this popular dish.
The restaurant offers its signature menu, which includes red velvet waffles as well as crispy and juicy fried chicken.
This restaurant is co-owned by a celebrity chef famous for her culinary ventures and delicious recipes. Johnny's World Famous Chicken & Waffles also gives the guest an option to customize their Southern staple meal and mix plain or bacon-flavored waffles, sauces, and other add-on sides.
Gocha's Breakfast Bar
Gocha's Breakfast Bar is a place to try your favorite Southern food. The crunchy chicken mixed with the soft waffles can be an ideal delicious combination to try, along with other pescatarian and vegan-friendly dishes.
Gocha's Breakfast Bar offers a modern and friendly atmosphere and exceptional service. Here you can also host special events and enjoy all the specialties provided by the culinary professionals.
The Breakfast Boys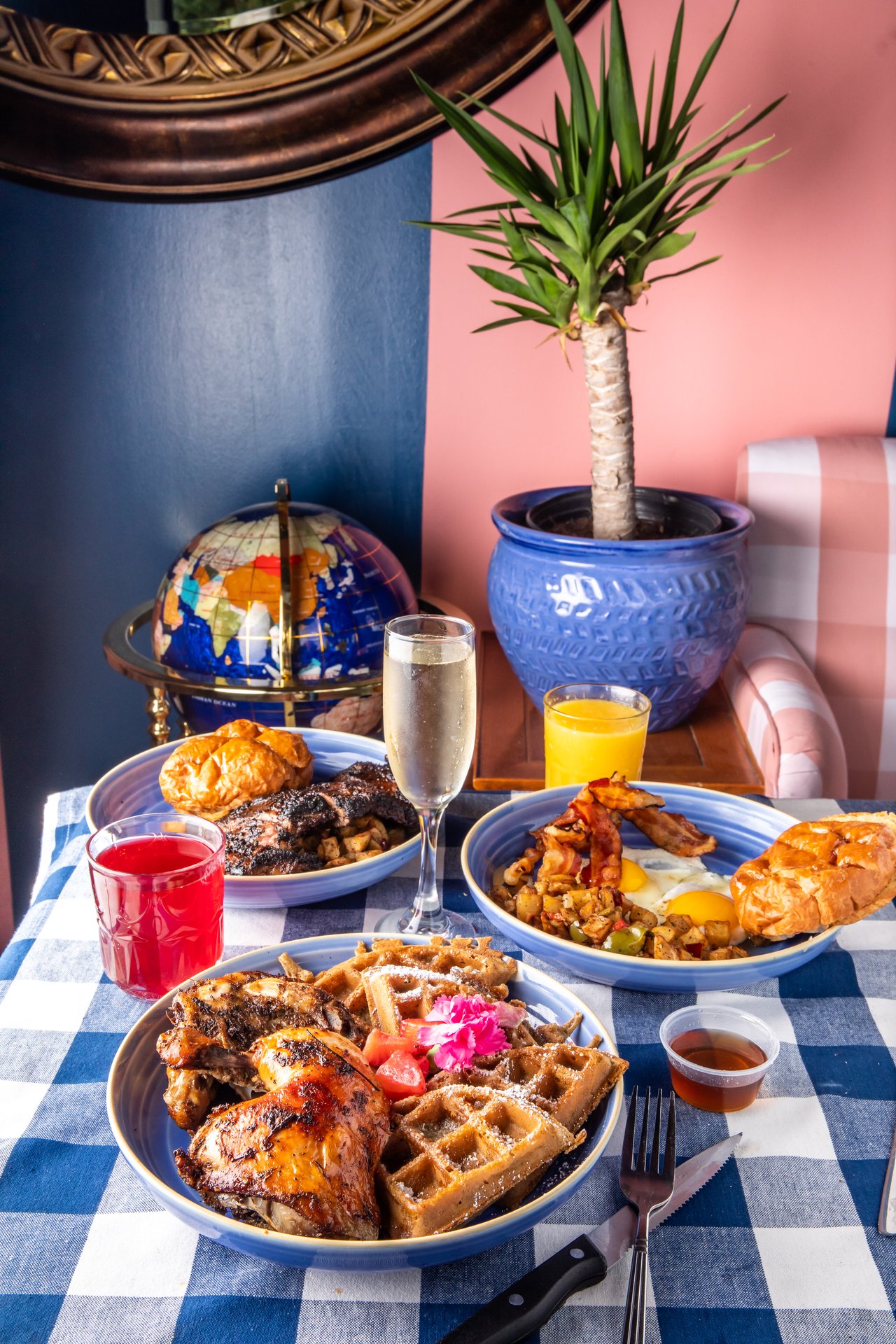 The Breakfast Boys is a brunch restaurant with its own twist regarding chicken and waffles. Here you can try the so-called Jerk Chicken & Sweet Potato Waffles.
The dish is made with crispy half chicken combined with a sweet potato waffle served with sage butter, apple cider syrup, and edible flowers on top.
The restaurant provides a cozy atmosphere and aesthetic interior in blue tones. The service is fast and friendly, and you can also order online if you would like to order something from their appetizing menu.
Bantam & Biddy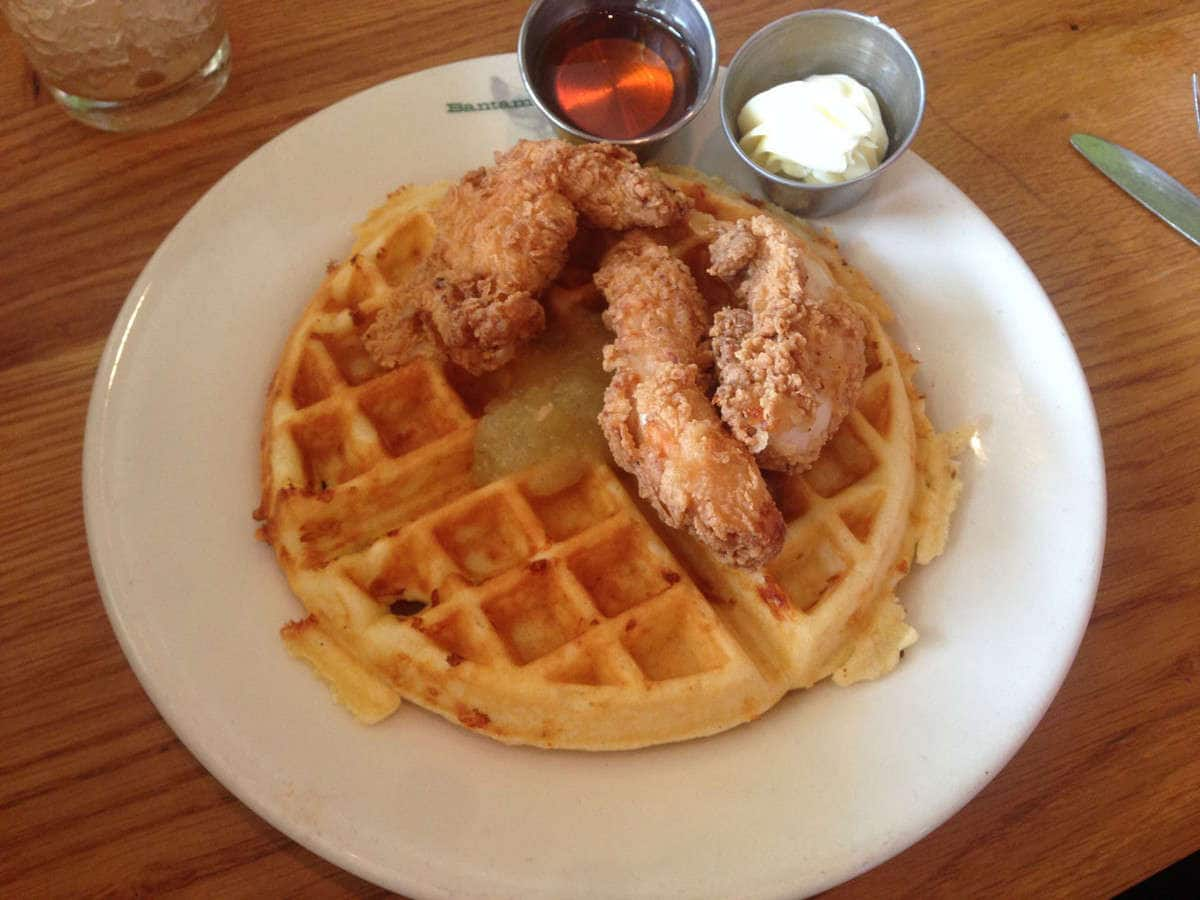 Bantam & Biddy is a restaurant with several locations that offer fried chicken and cheddar waffles with honey butter and topped with maple syrup. The restaurant specializes in chicken dishes, so it is no surprise that their dish is among the best chicken and waffles in Atlanta.
Bantam & Biddy also offers banana bread waffles combined with fried chicken tenders. The restaurant has a covered patio for outdoor dining and a cozy atmosphere. The restaurant has an expansive menu with a variety of dishes.
Southern Queenz
Southern Queenz is a restaurant where you can taste unique waffle options. On the menu is Kirkwood chicken and waffles made with fried chicken wings, assorted berries, powdered sugar, and house syrup.
You can also taste the delicious Cookies and Cream chicken and waffles made with fried chicken, oreo cookies, whipped cream, and caramel drizzle, or opt for peach chicken and waffles created with peach puree, graham cracker crumble, and caramel drizzle.
The strawberry cheesecake chicken waffles are another delicious dish by Southern Queenz with fried chicken wings, strawberries, cream cheese filling, and strawberry syrup powder sugar. You can also get Fruity Pebble waffles and chicken or waffles only and enjoy the pleasant atmosphere and exceptional service.
Grits & Eggs Breakfast Kitchen
Grit & Eggs Breakfast Kitchen offers a range of dishes made with fresh and delicious ingredients. Here you can taste a fluffy Belgian waffle that is garnished with homemade glaze, strawberries, and blueberries.
The waffle is topped with three golden brown fried chicken wings and served with butter and syrup. To go with your dish, you can also order a variety of iced and hot beverages and enjoy the pleasant environment.
Conclusion
In this post, we recommended some of the best chicken and waffles in Atlanta. These are excellent spots for brunch and dining, whether you are a local or visiting the beautiful city.
All of them offer incredible food, a pleasant ambiance, and fast and friendly service, so choose the best spot for you based on your liking and share your experience with us. Atlanta is a city with a lot to offer and incredible cuisine, so it's guaranteed you're going to have a good time.