If you're wondering if it snows in Georgia, wonder no more! The Peach State is known for its beautiful southern charm and hot, humid summers, but many people don't realize that it does, in fact, snow in the winter.
Well, we're here to clear things up for you! In this blog post, we'll really dig into the question of whether or not it snows in Georgia and provide information about when and where it occurs.
So, Does It Snow In Georgia?
The answer is yes! While it's no winter wonderland, the state receives a few inches of snow each year. Snowfall typically occurs in December, January, and February. However, it isn't limited to these months and can even happen as early as October and into April, particularly in the northern and central parts of the state.
December
Snowfall in Georgia starts to become more common in December, with most of the north seeing a few flakes by the end of the month. The temperature varies between highs of 55 degrees Fahrenheit (13 degrees Celsius) and lows of 36 degrees Fahrenheit (2 degrees Celsius).
While it's not a guarantee, especially in the southern half of the state, there's a chance you'll see some snow in northern Georgia if you visit in December. In fact, early December is usually when ski resorts in Georgia, like Pebble Creek in Gwinnett, begin to open for the season. So if you're looking for a good time to hit the slopes, this is it!
January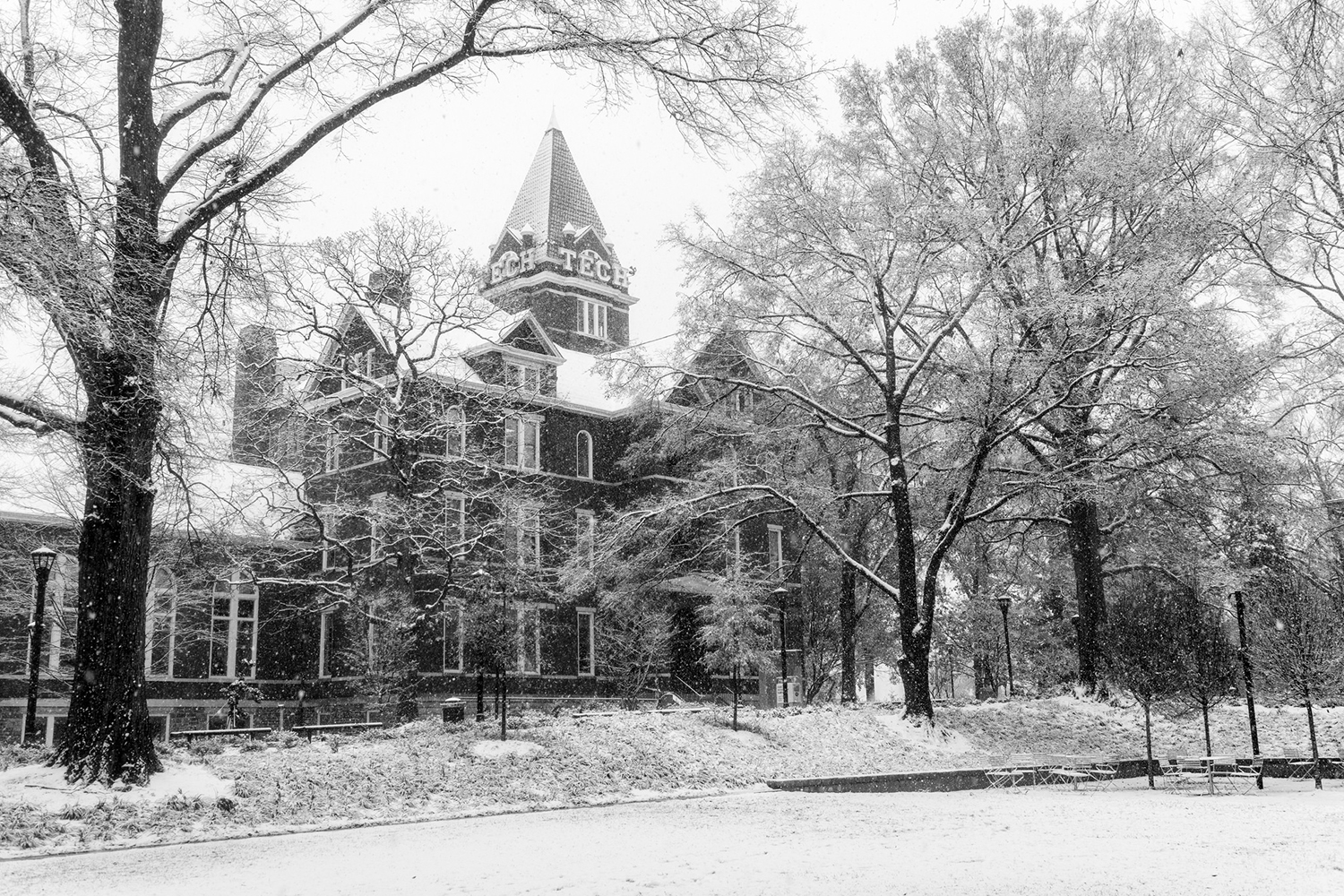 Now we're getting into the months where you're more likely to see some snow when visiting Georgia. January is generally the most chilly month of the year, with highs ranging from 52 degrees Fahrenheit (11 degrees Celsius) to lows of 34 degrees Fahrenheit (1 degree Celsius).
Most northern and central cities see a few inches by the end of the month. But if you're just dying to have some wintry fun in Georgia, Margaritaville at Lanier Islands offers their License to Chill Snow Island to travellers looking for snow tubing, ice skating, and snowball fights!
February
February is typically the snowiest month in Georgia. Many northern and central cities see several inches of accumulation; however, the snow doesn't last long as temperatures start to warm up by the end of the month. By February, temperatures range from 57 degrees Fahrenheit (14 degrees Celsius) to 36 degrees Fahrenheit (2 degrees Celsius) in the northern part of the state.
On the other hand, Southern Georgia experiences temperatures of 41 degrees Fahrenheit (5 degrees Celsius) to 64 degrees Fahrenheit (17.8 degrees Celsius). So if you're hoping for some snow, you're not likely to find it in southern Georgia in February.
Where Does It Snow In Georgia?
Now that we've answered whether or not it snows in Georgia, you might be wondering where exactly it snows. While some snowfall is expected in the northern and central parts of the state, it rarely occurs in the southern regions.
Here are some of the snowiest cities in Georgia:
Blairsville
Suppose you're searching for a winter escape to the outdoors in the heart of North Georgia's Blue Ridge Mountains. In that case, Blairsville is the place to be! This captivating city sees about 4 inches of accumulated snow each year and there are plenty of winter activities to be enjoyed.
Blairsville's outdoor activities are enticing and romantic; this Georgian treasure is peaceful, uncrowded, and breathtakingly beautiful. For nature-lovers and outdoor enthusiasts, you'll find no shortage of delightful sights to explore.
It's easy to lose track of the hours in this charming mountain town, where the ancient Blue Ridge sparkles with Cherokee Indian history. With its verdant forests, babbling creeks and streams, and high peaks, Blairsville provides the perfect opportunity to escape the bustle of city life.
Blue Ridge
Although a visit to Blue Ridge in the winter may seem like an odd choice, it's a great time to go! Despite an average annual snowfall of 4 inches, the town is filled with Christmas spirit, and the scenery is beautiful when lightly dusted with snow.
Blue Ridge is the perfect place if you're looking for a slightly different winter getaway. You'll be amazed at how much there is to do and see in this popular tourist destination – including winter activities like skiing, tubing, and snowboarding.
And if you need a day of relaxation and pampering, kick back at one of the many full-service spas, such as Serenity in the Mountains. With so many options, you're sure to find the perfect way to spend your winter vacation.
Dahlonega
Dahlonega is officially the snowiest city in Georgia. Each year, the city gets close to 6 inches of snow. So if you're planning on visiting Dahlonega in the winter, be prepared for a chilly experience!
However, that doesn't mean you can't enjoy your time in Dahlonega. In fact, there are plenty of winter activities to keep you busy, like experiencing live music and theatre, local shopping, and dining. Or, if you prefer, heritage museums, tours, and seasonal festivals are also abundant.
Or, if you're looking to experience some cosy winter relaxation, Dahlonega provides just that. The city is home to mountain resorts, like the Dahlonega Resort and Vineyard, and cabins rentals that offer breathtaking views, hot tubs, and roaring fireplaces.
Dillard
If small-town charm, hospitality, and stunning mountain beauty are your thing, consider visiting Dillard! This quaint city is located in northern Georgia and sees around 5 inches of snow each year.
While in Dillard, immerse yourself in a vibrant music and theatre scene, shopping and dining, and enjoy wine-tasting from local breweries. Plus, browse through tons of Georgia-made goodies to find the perfect souvenir!
Also, plan a trip to the Dillard House for a taste of their famous Southern-style cooking. And while you're there, why not experience the tranquillity of the surrounding Georgian mountains as you take a scenic farm tour on horseback?
Ellijay
Visiting Ellijay during the winter is a treat for the senses! In North Georgia's Appalachian Mountains, the city receives a light blanket of snow each year, around 3 inches falling on average.
If you find yourself in Ellijay, be sure to go on a scenic drive or hike through one of the many trails in the Chattahoochee National Forest. You can also go sledging or tubing in the mountains. Or, for a more laid-back experience, visit one of the many apple orchards in the area and sip fresh apple cider.
If you're looking for a winter getaway that's a little off the beaten path, Ellijay is the perfect destination. With its striking scenery and plethora of activities, you're sure to have a memorable trip.
Mountain City
Mountain City accumulates approximately 5 inches of snow per year, so if you're looking for the perfect place to experience winter in Georgia, this could be it! Located in the north of the state at the head of the Little Tennessee River, Mountain City is a picturesque Georgian town you won't soon forget.
And just a short drive from Mountain City is Black Rock Mountain State Park, the most elevated state park in Georgia. A trip there reveals the beautiful views that Georgia's Blue Ridge Mountains are known for. On a clear day, you can see over 80-miles into North Carolina, Tennessee, and South Carolina.
Mountain City is also home to the Foxfire Museum, dedicated to preserving the Appalachian culture and heritage. The museum features woodworking, metalworking, weaving, sewing, and broom-making exhibits, along with over 20 historic log structures.
Rabun Gap
If you're ready to embrace the cold and catch some snowflakes, head to Rabun Gap! Nestled in the Blue Ridge Mountains, Rabun Gap sees around 5 to 6 inches of snow per year.
While in Rabun Gap, be sure to visit the Hambidge Center, a retreat for artists, writers, and creative thinkers. The centre is nestled on 600 wooded acres and includes the Hambidge House, Rock House. This isn't any old house but a working mill, complete with waterfalls, and gorgeous scenery.
Final Thoughts
As you can see, it does snow in Georgia! December, January, and February are the best months to experience snowfall in the state. What's more, there are so many places to enjoy the winter weather, especially in the northern parts of the state. While it may not offer a ton of snow, it's still enough to have some fun in, without running the risk of being snowed in.
But with so many magical places to visit during the winter, it's hard to decide where to go! However, each city has its own unique charm and activities to keep you busy and make your vacation memorable. So, whether you're looking for a small-town experience or an outdoor adventure, you'll find it in Georgia.
Snow or no snow, there's always something to do in the Peach State – so, what are you waiting for? Start planning your trip today!
Check out these other fantastic travel articles about Georgia:
More about our TFVG Author
Ross lives for the sun, sea and SNOW! Anything involving a snowboard, polarised shades and sheddin steep peaks, he is there.