Inviting waters, historic sites, and gorgeous beaches make Greece a perennial holiday destination. Greece has plentiful all-inclusive resorts, ideal for adults and children. Keep reading to discover 15 of the best all-inclusive resorts in Greece for families.
Atrium Palace Rhodes
The five-star resort is considered one of the best luxury hotels in Greece. Located in Kalathos Village, Atrium Palace Rhodes combines Greek and Italian styles. The enchanting all-inclusive resort has excellent accommodation options.
The resort boasts of a huge spa and several restaurants that serve international cuisines. Order fresh seafood when you visit the resort. Mediterranean cuisine is the most popular in the beachfront resort. On the far end, you will find two pool bars where you can relax as you enjoy beverages.
All guest rooms at the Atrium Palace are beautifully decorated and offer stunning views of the bay. The family suite is spacious, featuring four beds (two of which are sofa beds), free WiFi, and satellite TV.
Atrium Palace has well-maintained gardens ideal for going on adventures with the family. You can book double rooms or sea view villas if you want to experience the sea breeze at night.
There is an entertaining "animation team" present at the hotel six days of the week. This lively group organizes various activities for children of all ages, such as swimming, mini-golf, and a kids disco. In addition, there is a playground perfect for younger kids.
Mitsis Laguna Resort and Spa
Mitsis Laguna has been offering top-notch services since 2011. The premium resort has more than 350 luxurious guest rooms and seven five-star restaurants, including the Wine and Sushi Bar. Like other all-inclusive resorts in Greece, Mitsis Laguna has a spa and transfer services.
Their family rooms offer various views, including stunning Cretan Sea panoramas, and can accommodate up to four people. These units feature two satellite televisions, high-speed internet, two separate sleeping areas to give everyone privacy, and controllable air conditioning.
Mitosis Laguna maintains a kid's club for ages four to 11. It runs from 10 am to 6 pm, providing a range of supervised activities. In addition, there is a playground, a game room, a freshwater pool, and multiple waterslides.
The main restaurant will spoil your family with world-class services. It serves international and local meals in a buffet style. You can choose between salads, hot and cold dishes, and different types of fruits grown in Greece.
Kiani Beach Resort Family All Inclusive
Located in Chania, Kiani Beach Resort is the ultimate destination for a family retreat. Both kids and adults use the all-inclusive resort. The state-of-the-art facilities at Kiani Beach ensure an unforgettable family vacation, complete with a crystal clear swimming pool.
The restaurants offer fresh cocktails and delectable meals, along with numerous entertainment events, such as magic shows, quiz nights, and karaoke.
In addition, the resort has safe ramps and elevators, allowing your kids to play as you enjoy wine at the main bar. There are also other numerous fun activities like:
Animation programs
Open-air theater
Swimming in the kid's pool
The rooms are well-furnished while also featuring televisions and WiFI. Each also comes with elegant touches, like wood and glass elements. What's more, you'll have access to air conditioning and stunning views overlooking the sea or the gardens.
Eden Roc Hotel
Eden Roc Hotel is a family resort that boasts understated elegance and unmatched luxury. Guests can choose between suites and spacious bungalows. All rooms are close to the beach, so you can view the sunset in the Mediterranean.
This hotel features an Olympic-size swimming pool surrounded by deck chairs and another swimming pool shared between bungalows. Next to the waterfall is a kid's pool, where your little ones can swim safely as you enjoy the pleasant sea atmosphere. The resort also has a private pebble beach perfect for children to explore under supervision.
All of their units sleep a minimum of three guests, with bungalows accommodating four people. WiFi is standard, as are concierge services and televisions. The cuisine here is diverse, with plenty of flavors to delight adults and kids.
Creta Maris Beach Resort
Creta Maris Beach Resort is only a few minutes from the beach. The beach resort has six outdoor swimming pools and one indoor pool. Kids can also swim at the heated swimming pool.
The fitness studio is equipped with the latest fitness equipment. Each room has a satellite TV, WiFi, and coffee-making machines. You will have a sea view from the balcony. The resort recently renovated all rooms and included an air conditioning system.
You will have a variety of dining options at the six restaurants, while there is a spa providing face and body massages.
Young children will enjoy the kids' club, while there are tennis lessons, mini discos, and other supervised activities. Other essential facilities include a diving center and a charming playground. Teenagers are also catered for with their own dedicated club.
Lyttos Beach Resort
Lyttos Beach Resort is one of the best all-inclusive resorts in Greece for families. It is located on a long stretch of sandy beach, surrounded by more than 200 palm trees. In addition, the beach resort features multiple swimming pools and tennis courts.
Some rooms at Lyttos resort have private pools, but the rates will be higher. Each unit has an air conditioning system and a large satellite TV. There is also a mini-fridge and coffee maker in the kitchen.
Guests choose between traditional Greek dishes or international cuisine. The main restaurant will provide your kids with a menu more suited to their tastes. This resort also has five bars with panoramic sea views.
The resort's popular sports facilities include a basketball and two football courts. Be sure to take your kids to the kid's pool or club. Like other all-inclusive resorts in Greece, Lyttos holds night entertainment shows. If you're more sporty, your family can rent bicycles for an adventurous trip through the local area.
It's worth noting that Lyttos is a few kilometers from the main shopping center. Parking is available inside or outside the resort premises. Besides swimming and bike riding, you can kayak or sail in the clear Mediterranean waters.
Michelangelo Resort and Spa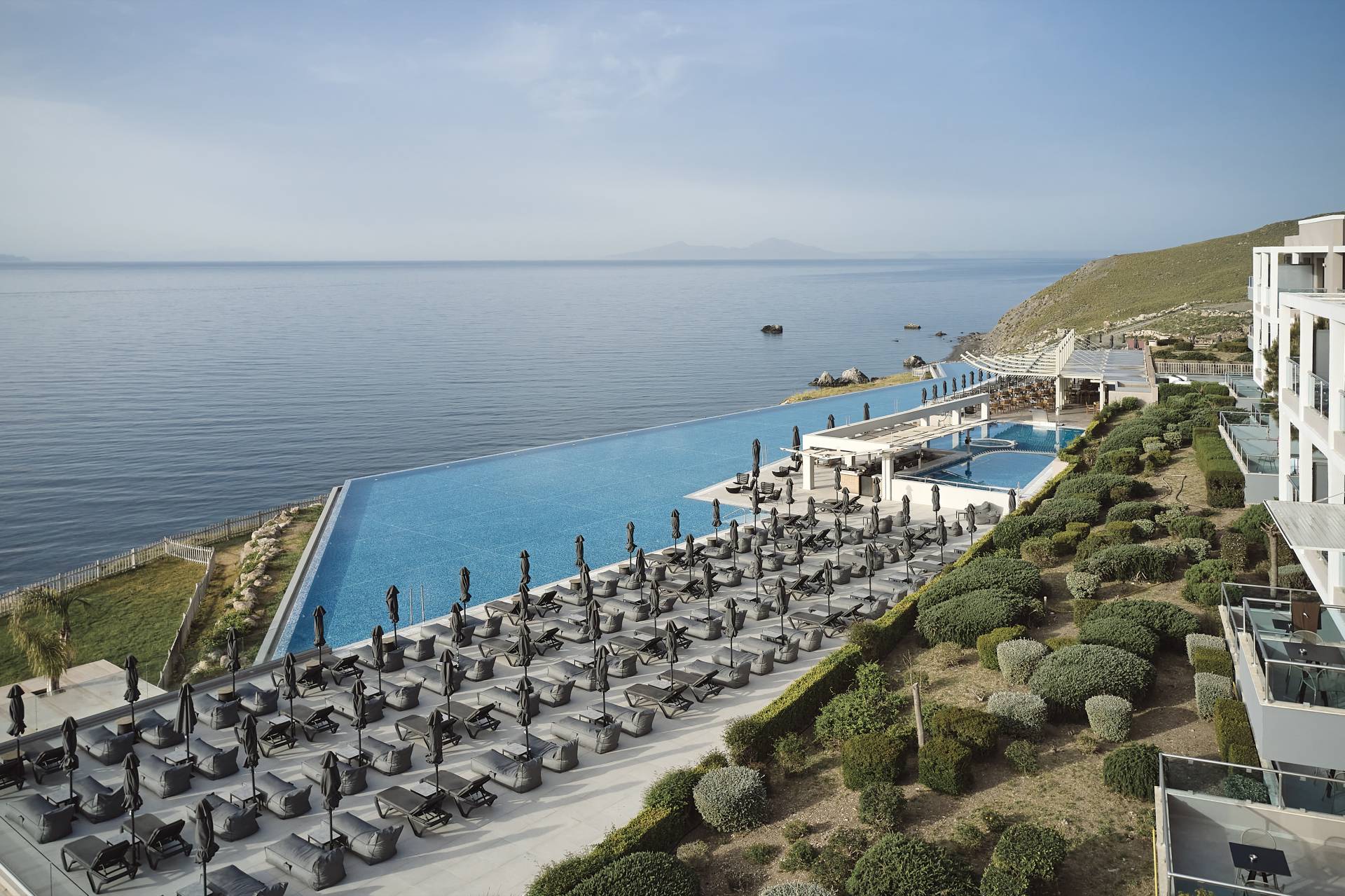 The ultra-modern, five-star Michelangelo Resort and Spa has every essential amenity an all-inclusive resort should have. There is a kid's pool, three outdoor pools, a sauna, and a steam room where you can indulge yourself. Elsewhere, the massage center offers discounted sessions and there are flawlessly manicured gardens to admire.
Rooms are well furnished and have clear views. If you are a digital nomad, Michelangelo Resort has free high-speed Wi-Fi and televisions.
Most standard rooms include a seating area and air conditioning system. The staff are always on hand, ready to provide amenities like bathrobes, slippers, and a safe to keep your belongings safe. There are multiple bars and restaurants on-site, serving a variety of cuisines and drinks.
Leisure facilities at Michelangelo Resort include mini-football and a tennis court. The fitness center has every piece of equipment necessary to keep up with a healthy lifestyle.
Pegasos Deluxe Beach Hotel
Pegasos Deluxe Beach Hotel has been offering exceptional services to customers since 2011. This resort has a private beach area and an Olympic-sized swimming pool, where you have complimentary access to umbrellas and beach towels. High-speed Wi-Fi is available throughout the resort.
Rooms in Pegasos are elegantly furnished and feature air conditioning systems. You can view the mountain and sea from the balconies. These rooms are spacious, can hold up to five people, and feature essentials like a fridge, coffee maker, juicer, and microwave.
The whole family will get to be active at Pegasos, with options to play various games like basketball and beach volleyball. The resort often hosts music nights and daily shows. Your kids can play at the waterslides or playground. The beach resort is located two kilometers from the airport and has enough parking for your friends.
Stella Palace Resort and Spa
Stella Palace is the perfect gateway to explore Crete Island. This resort boasts a unique combination of colors and materials evoking traditional Greek styles. Parents will adore the resort's two lagoon pools and five bars.
Stella Palace Resort's water park has everything for your kids: aqua towers, waterslides, pools, activity stations, and circular tubes. Out of the water, children will still be entertained by staff from the kids' club and snack bars.
Adults (and little ones) can also have fun playing tennis, soccer, mini-golf, or take in a show at the amphitheater. Alternatively, unwind at the wellness center to receive special treatments and relaxing massages. If you're feeling peckish, there are four restaurants to choose from, with many dishes drawing on local Cretan ingredients.
Family rooms come in multiple configurations. For instance, one unit features a private hot tub while another has a sharing pool with floor-to-ceiling windows. All rooms have satellite television, WiFi, and air conditioning as standard.
Dimitra Beach Hotel and Suites
Dimitra Beach Resort, on the island of Kos, offers magnificent views of the Aegean Sea and a private beach. The resort premises include three restaurants, bars, lounges, and a mini-market. Dimitra serves a variety of Mediterranean dishes at their on-site dining locations.
Other notable leisure facilities include tennis and basketball courts. More relaxing options include The Therme Spa and a massage pavilion right next to the pool. Kids will get to play at the on-site playground or swim at one of three pools built for little ones. There is also a daily disco for children, babysitting services, and a club for supervised activities.
All rooms have WiFi, televisions, and spectacular scenery. The deluxe family suite sleeps four (two adults and two children), with separate bedrooms, two TVs, controllable air-conditioning, and a fully-furnished, spacious balcony.
Astir Odysseus Kos Resort and Spa
World-class services and quality food go hand in hand at Astir Odysseus Kos Resort and Spa. Astir Odysseus, which opened in 2009, is located on Kos and is 20 kilometers from the airport.
The staff at the resort is polite and helpful. Rooms are clean, furnished, and spacious. On-site restaurants and bars offer diverse menus, with options to appeal to all ages. Taverna Argo serves guests a barbecue buffet for lunch. You can also have international dishes at the restaurant. To enjoy coffee or cocktails, visit the pool bar Dawn or head to Sirens.
In addition, Astir Odysseus offers a hot tub for its guests. There are numerous fun family activities available, like cycling, swimming, and fitness classes. Children have access to the mini club, featuring crafting, board games, sports, and painting. There are even lessons to teach little ones how to grow vegetables!
Maisonettes and suites at the resort are spacious. Each suite has an LCD satellite TV and WiFi. Coffee and tea-making machines are also available to guests in their rooms. However, some units share a swimming pool.
The Village Resort and Waterpark
Village Resort and Waterpark is within walking distance of Hersonissos. Its beautiful buildings feature captivating tree paths and lots of green space. Besides the main outdoor swimming pool, Village Resort has a kid's pool, a lazy river, and a private pool near the rooms. The private room is adult-only swimming and open only at night. There is also a wellness center and spa.
The waterslides here are super fun for adults and kids, especially during summer. Of course, this resort organizes lots of activities for the whole family, So, if you don't like mini-soccer, the resort's animation team plans lots of entertainment.
For a more relaxed experience, try out their spa and wellness center. If you want to venture further afield, Crete Aquarium and Knossos are nearby. Kids are catered for in every respect, with even snack bars on hand ready to serve popcorn and slushies.
Rooms have an LCD TV, WiFi, and air conditioners. Living units have a private bathroom and a balcony. For added convenience, Village Resort provides free shuttle services from the airport.
Rhodes Bay Hotel and Spa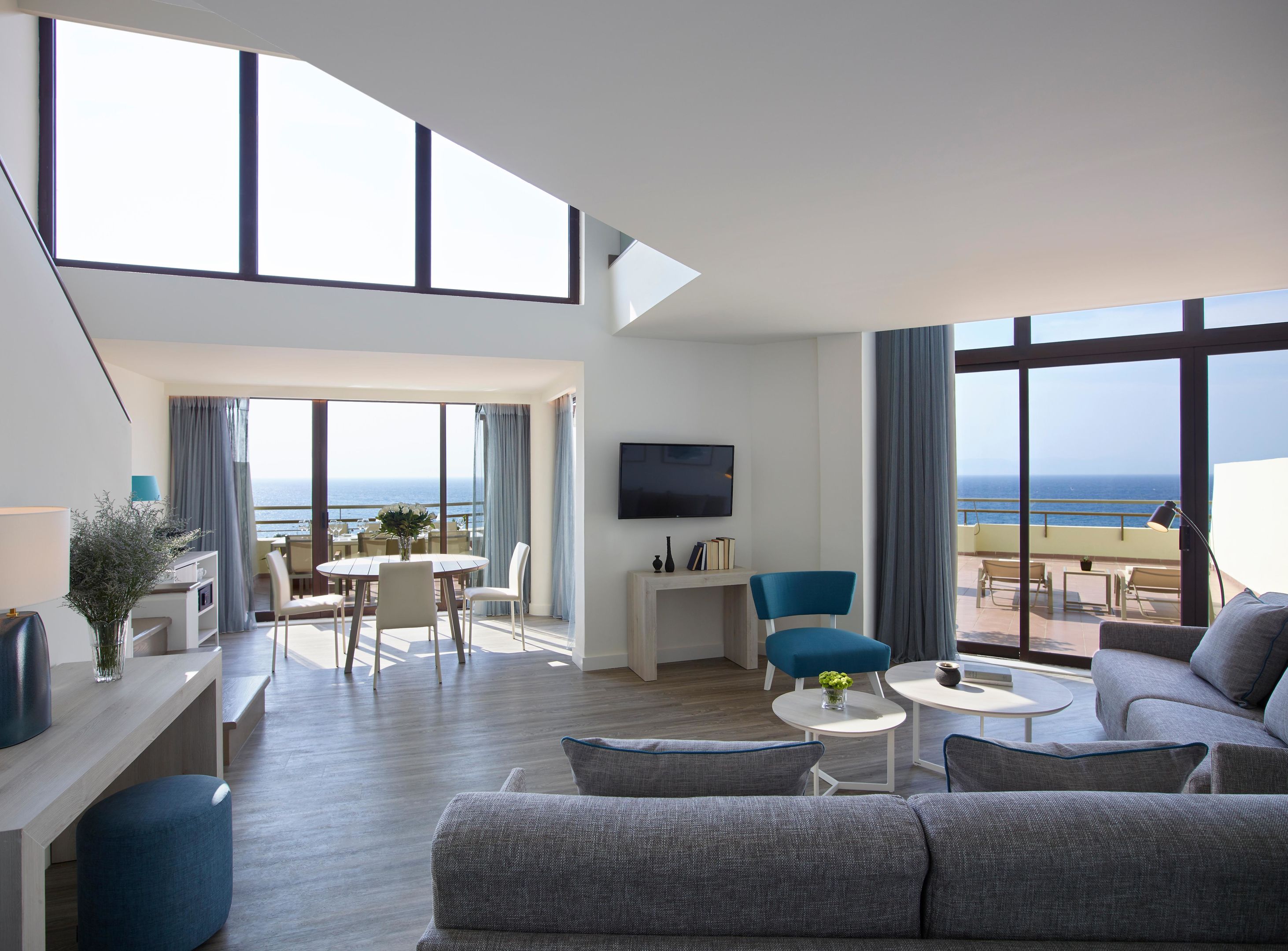 Formerly known as Amathus Beach Hotel, Rhodes Bay Hotel will not disappoint if you want your family to have a memorable vacation in Greece. You won't want to leave the resort, with access to a private sand beach, several outdoor pools, and a children's pool.
Overlooking the majestic Aegean Sea, Rhodes Bay Hotel maintains bungalows, deluxe rooms, and suites. All units feature WiFi and satellite television, while the bungalows and suites come with balconies as standard.
The resort's bars and restaurants offer a taste of traditional local cuisine and more international flavors. There are spa facilities, a gym, and a tennis court. Yoga classes are organized weekly. For children, Rhodes Bay maintains a kids' club, providing supervised activities in and out of the water.
Star Beach Village and Water Park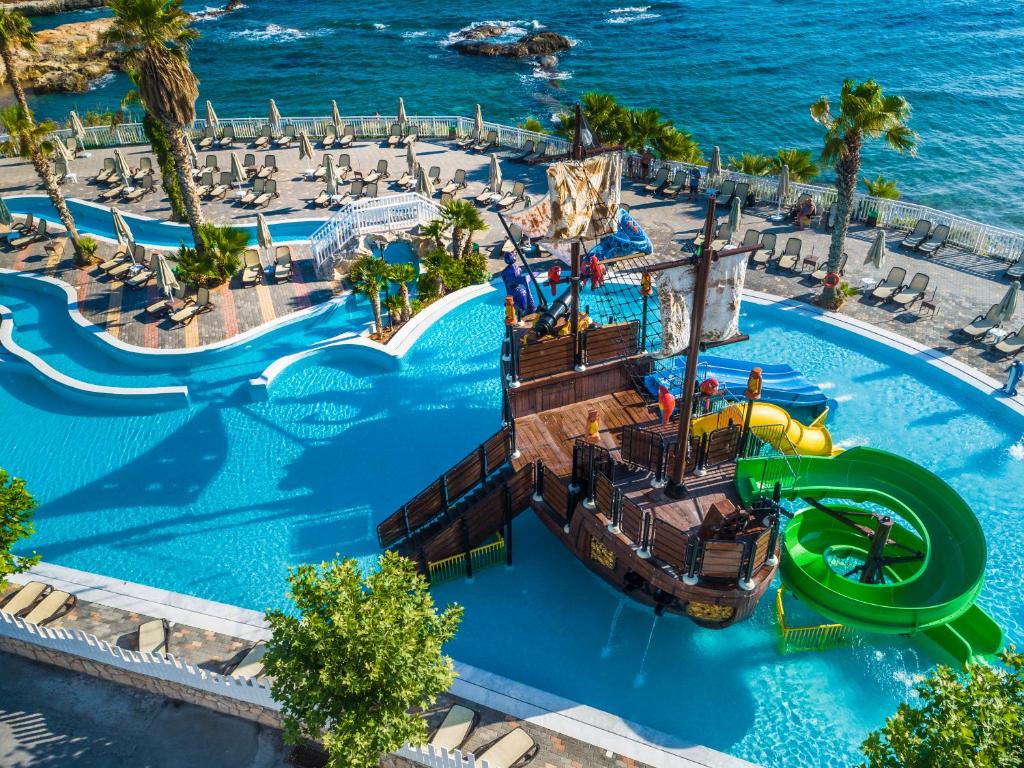 Star Beach Village and Water Park is located on beautiful white beaches at Hersonissos, Crete. There are endless family fun activities, particularly at the spectacular water park and waterslides. If you'd rather relax, the park also features serene lazy rivers.
Star Beach spa aims at providing its customers with high-quality personalized services. There are daily activities for the whole family, as well as magic shows, dances, and live music.
This resort is 70 acres in size, with an acre reserved for VIP guests. have free access to swimming pools and slides in the resort. The resort is 70 acres in size, and only one acre holds the VIP section.
You must pay 30 euros in the VIP zone to book your family slots. Star Beach offers free Wi-Fi and safe deposit boxes in all guest rooms. Other facilities in the resort include:
Basketball
Fitness gym
Mini football
Beach volley
Standard family rooms can sleep six people (four adults and two children) and feature WiFi, satellite televisions, and either a terrace or balcony.
Olympic Palace Resort and Convention Center
For refined elegance and the best Greek hospitality, choose Olympic Palace Resort and Convention Center. Olympic Resort is a few minutes shy of Rhodes International Airport. The resort is on a long coastline, where guests can view the magnificent water.
Olympic Palace also has an array of amenities and numerous dining options. Family rooms are spacious and well-furnished. Each has individually-controlled air conditioning, high-speed WiFi, and satellite televisions. Depending on which room you choose, you'll have either mountain or sea views which you gaze at from a comfortable balcony or veranda.
There are plenty of on-site facilities for all ages, with spas, restaurants, pools, tennis courts, and more. As well, the staff organizes daily activities, including water polo, soccer, and volleyball. Kids will love the supervised mini club and playground, which feature lots of entertaining activities. If that's not enough, the Olympic Palace even maintains its own escape room!
Final Thoughts
Family vacations are fun, but they can be stressful when searching for the best all-inclusive resort. This list is here to help by identifying only the best all-inclusive resorts in Greece for families. Each has unique attractions, beautiful rooms, spectacular views, and numerous amenities to thrill kids and parents alike. So, all that's left to do is to choose your resort and start packing!
More about our TFVG Author