Experience incredible weather all year long in Bermuda while snorkeling in transparent, shallow waters safe enough for the entire family. Prepare to soak in some of the world's desirable beaches, from adventurous activities to laying on the sands.
If you've been planning a tropical getaway to beautiful Bermuda, here are eight of the best beaches in Bermuda to visit for your next family vacation.
Warwick Long Bay Beach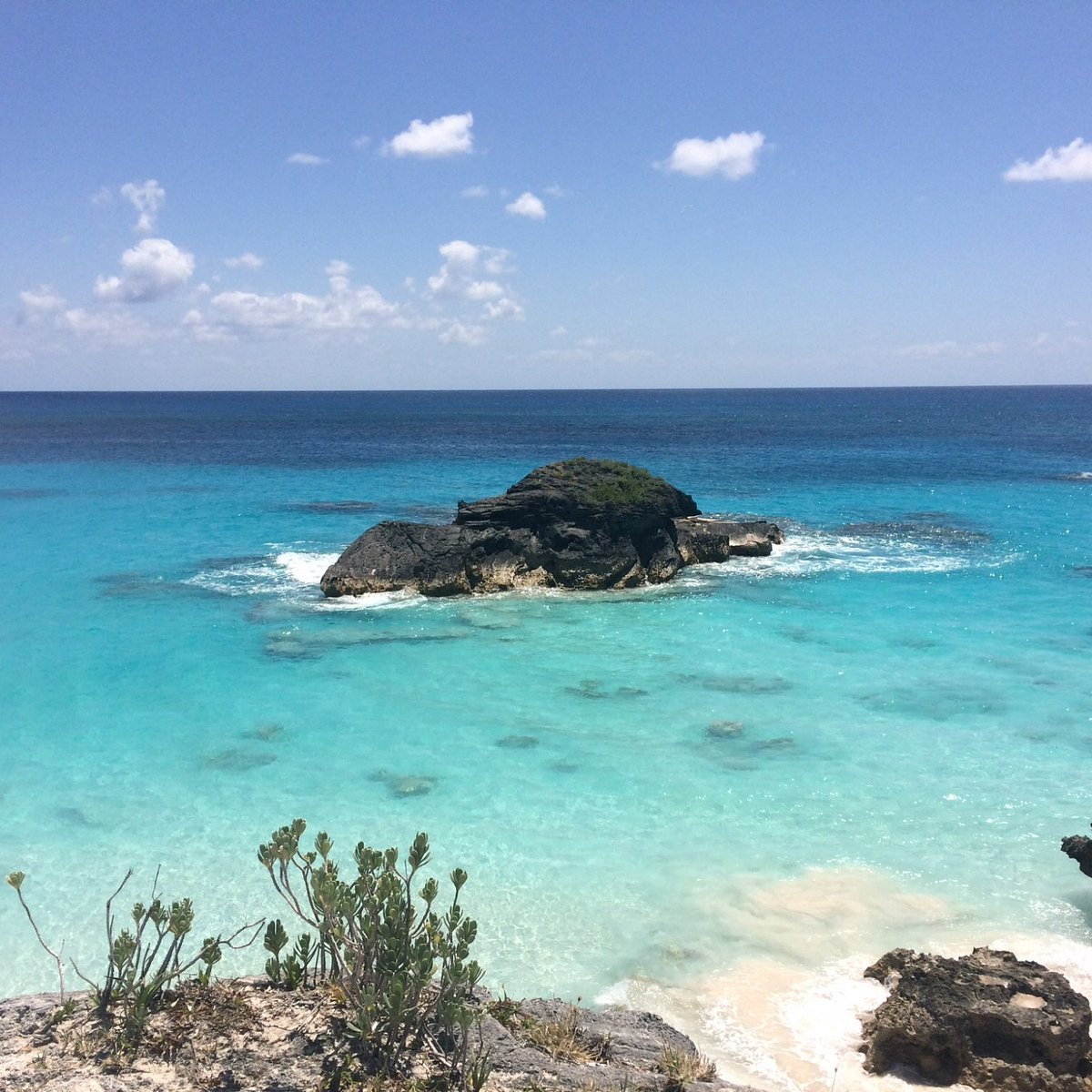 Famous for its clear, turquoise water and pink sands, Warwick Long Bay Beach is the longest beach in Bermuda at a half-mile long. The pink sand pigment is from bits of coral and shells. Since coral surrounds the beach near the shore, it's an excellent spot for snorkeling due to its smaller waves.
Swim next to tropical fish with vibrant colors, including the parrotfish. Yet, beware as there's a steep drop area when you swim. Other beach activities include walking, jogging, and horseback riding near limestone.
If you prefer a relaxed, laid-back vacation, there's plenty of room to lay on the beach. Aside from lounging, there are tide pools, coves, and a lot of scenery to enjoy.
There are no showers or changing areas at Warwick Long Bay. However, nearby bathrooms, concession stands, and gear rentals for snorkeling are nearby. Since it's a secluded beach, bringing essentials and water is a good idea.
Trails also connect to nearby beaches, such as Chaplin Bay and Jobson's Cove. South Shore Park is down the road with restrooms, a lunch cart during the summer, and a playground.
Warwick Long Bay Beach is for you if you want a private getaway with scenic views and activities.
Horseshoe Bay Beach
Near Warwick lies the tourist location near the South Shore, Horseshoe Bay Beach. Horseshoe Beach is excellent for swimming, volleyball, visiting caves, and snorkeling. The beach is perfect for all ages, from families with young children to older generations.
You can get to the beach by driving or taking a bus from the Royal Naval Dockyard or Hamilton. Morning is the best time to look at the rock formation, so arriving at sunrise is your best bet.
For the avid snorkeler, prepare to see a range of fish, including:
Angelfish
Parrot fish
Wrasse
Snappers
Sergeant majors
The Reefs Resort and Club and the Fairmont Southampton are popular hotels nearby. While Horseshoe Bay Beach is beautiful, it's crowded during the height of cruise ship season. Plan your trip from December to April if you want to visit during the off-season.
Horseshoe Bay includes Port Royal Cove, also called Horseshoe Cove, which is 40 yards away and is an excellent area for calmer waves, shallow waters, and young kids. Family-friendly amenities include the following:
Parking lot, entrance
Sun canopies
Nature trail guided tour
Snack bar, burgers, and sandwiches
Gulfstream, restaurant
Concessions for treats, snow cones
Umbrella, equipment rentals
Restrooms, showers
Lifeguards available from May to September
Aside from convenient treats and beach essentials, Horseshoe Bay holds BeachFest each summer. Other annual activities include the Sand Sculpture Competition and Bermuda Kite Festival.
As a precaution, there can be unpredictable large waves and on-shore jellyfish. While jellyfish can sting, some are also poisonous.
Some nearby attractions include the Gibbs Hill Lighthouse, a quick one-mile bus ride from Horseshoe Bay Beach. The lighthouse, built in 1846, is one of the oldest cast-iron lighthouses in the world. With 185 spiral stairs, you'll love the view overlooking the South Shore, Royal Naval Dockyard, and the City of Hamilton.
Additionally, you don't have to worry about food as there's dining at the bottom of the lighthouse. Indulge in family-friendly options, including sandwiches, pizza, seafood, and pasta.
Horseshoe Bay Beach is incredible for sightseeing, yearly activities, and family amenities.
Jobson's Cove Beach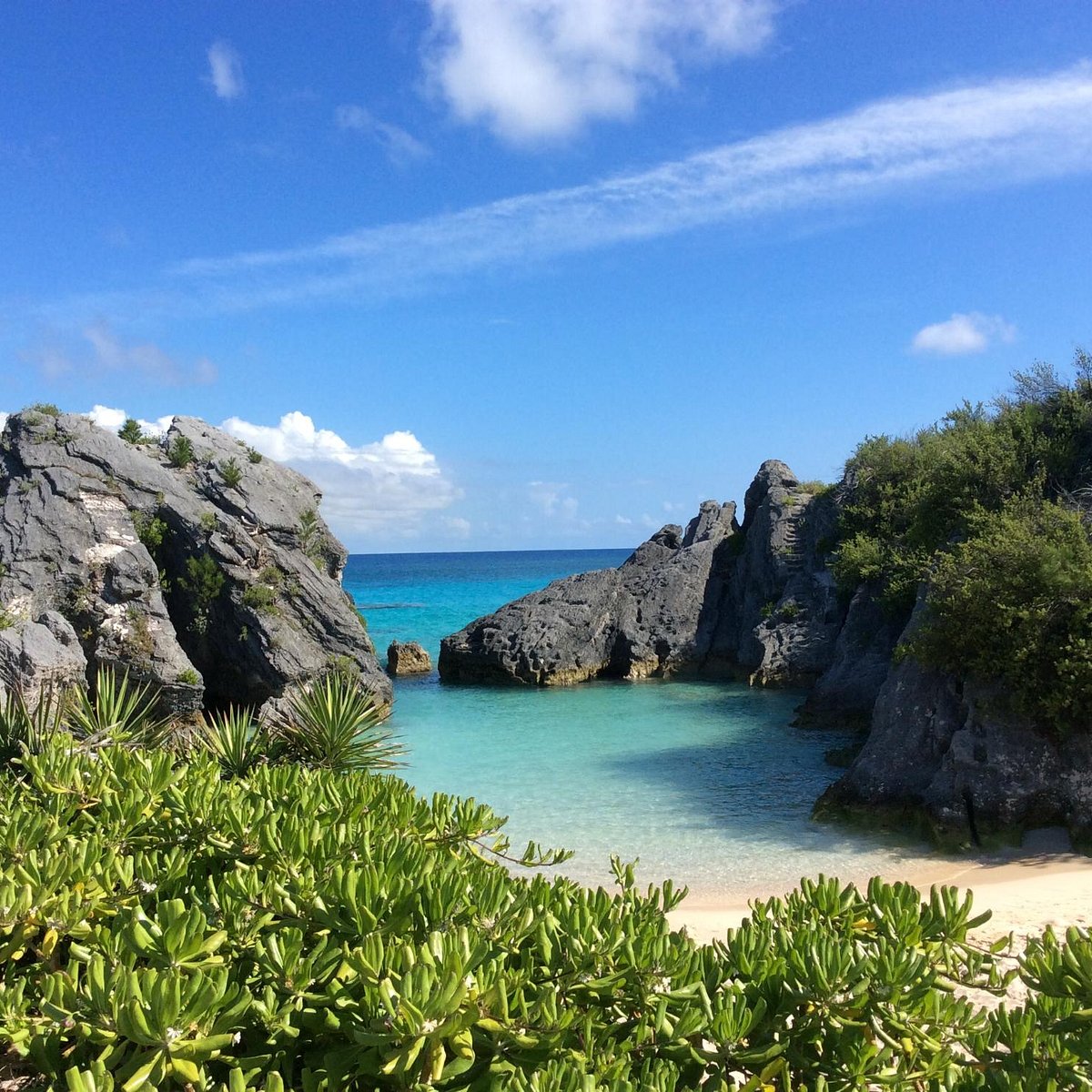 Another nearby beach is Jobson's Cove Beach, located within South Shore Park and west of Horseshoe Bay. Jobson's Cove is a wedding proposal hot spot, next to its clear blue water, pink sands, limestone, and volcanic rock formations.
If you are feeling a little daring, climb on the top of the rocks as you gaze upon the Atlantic. Of course, safety is first, but you'll enjoy the pictures and memories for years.
However, the Cove is also great for kids, as the shallow water and the lagoon resembles a swimming pool. You'll also love seeing tropical fish as you snorkel. If you love horses, horseback riding is accessible on the trail as well.
While there is no rental equipment or changing areas, Warwick Long Beach Bay is a short walk away.
For food options, you can either walk to beaches nearby or bring your own. Restaurants close to the area include the following:
Ocean Club, 0.8 miles
Mediterra, 0.8 miles
Windows on the Sound, 0.8 miles
Waterlot Inn, reservations only 0.9 miles
Rum Bum Beach Bar, 0.7 miles
Gulfstream, 0.6 miles
Enjoy live entertainment at the Jasmine Cocktail Bar and Lounge inside the Fairmont Southampton. Also in the hotel is the Boundary Sports Bar, which includes big-screen televisions.
Overall, Jobson's Cove Beach includes a variety of restaurants and impeccable views.
West Whale Bay Beach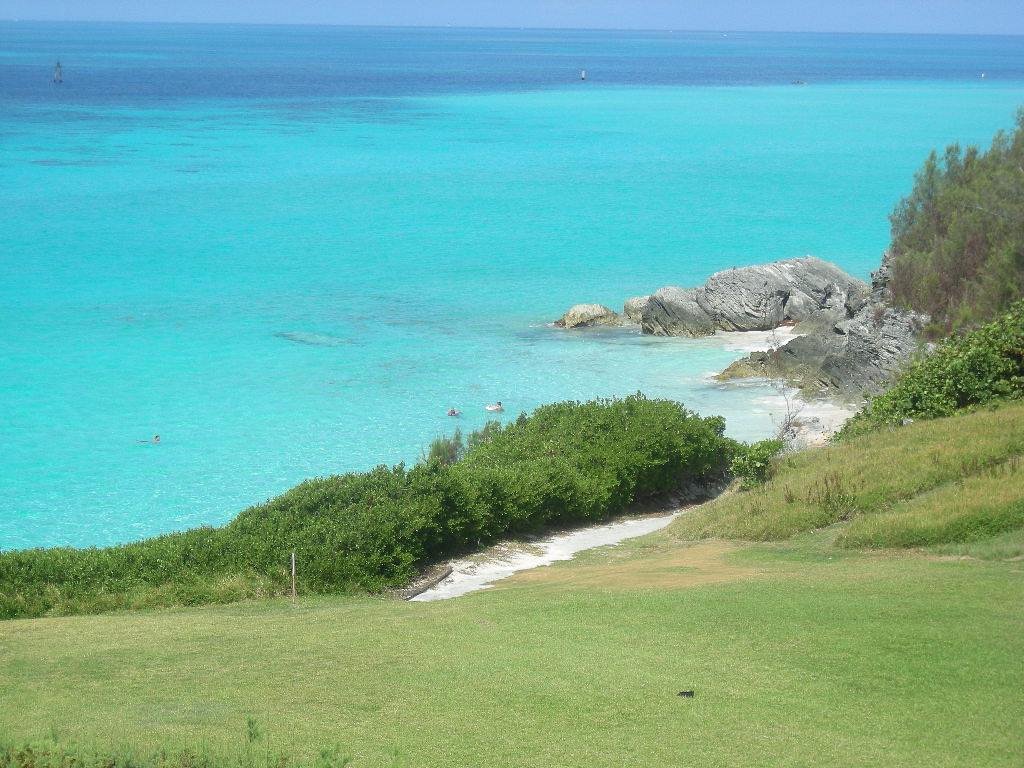 Located near Southampton Parish, West Whale Bay Beach is a quaint place to visit. The beach includes pink sand, turquoise water, cliffs, and whale watching during the spring.
Many humpback whales arrive between March and April, and the beach is one of the best locations to spot these incredible whales, even from the shore. It's best to look in the early morning or evening, and don't forget your binoculars!
Wildlife on West Whale Bay also includes bonefish and barracudas and is a great fishing spot. Also, the beach has shallow waters, which is excellent for young kids, especially during low tide. Camping is also a summertime option, with toilets, picnic tables, a golf course, and incredible sunsets.
If you need more food options for your campsite or picnic, there's the Somerset MarketPlace. For dining, visit the Bella Vista Bar and Grille, less than half a mile from the beach. From West Whale Bay, you can stay at the Pompano Beach Club hotel, which is less than a mile away.
From magnificent whale watching to camping, West Whale Bay Beach is great for catching an incredible sunset.
Church Bay Beach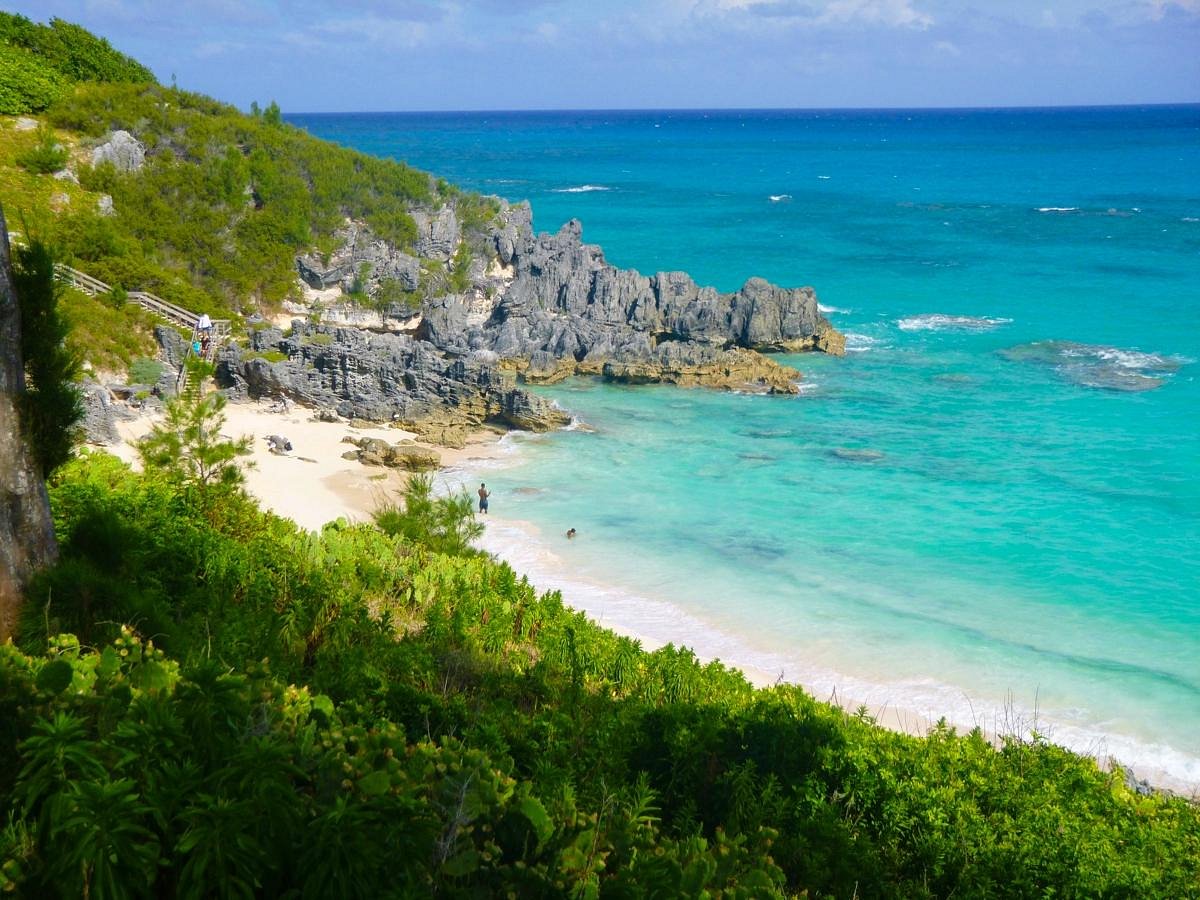 With close coral reefs and water that looks like an aquarium, Church Bay Beach is one of the best Bermuda beaches for snorkeling. Located on the South Shore, a half-hour from Hamilton, the beach contains a large variety of marine life.
Examples of diverse marine life at Church Bay include:
Bonefish
Angelfish
Butterflyfish
Flounder
Trumpetfish
Hogfish
Parrotfish
Various coral
Urchin
You can rent equipment, find restrooms, picnic tables, plenty of shade, and grab a bite to eat at the concession stand. With a park at the top of the hill, it's a convenient area.
If you book your vacation during the cooler months, it is crucial to look out for jellyfish. The water can get deep, so if you have children, stay close. Also, since the rocks are sharp, it's wise to invest in swim shoes and avoid sunglasses on the beach.
If you don't like snorkeling, you can enjoy the following attractions:
St. Anne's Church
Port Royal Golf Course
Bermuda Golf Academy
While Church Bay Beach is small, it's an ideal location for snorkeling, golfing, and essential amenities.
Tobacco Bay Beach
Next to Church Bay is Tobacco Bay Beach. In the 1600s, sailors found tobacco growing, which is how the beach got its name. Now, the beach is a Bermuda National Park filled with shallow waters and is excellent for the following activities:
Swimming
Paddleboarding
Snorkeling
Kayaking
Floats, noodles for kids
You can rent equipment here at one of the kiosks. There is also a restaurant for all ages, with food options including wings, sandwiches, and nuggets. Adults can enjoy tropical drinks on the beach, and there are plenty of fun and nighttime activities such as live music and bonfires.
Tobacco Bay Beach provides handicap-accessible bathrooms with changing tables. The beach also includes towel rentals and umbrellas.
Nearby attractions include the Historical Society Museum, Somer's Garden, and the Bermuda Perfumery. There's also the Unfinished Church. The church's construction started in 1874 to replace the damaged St. Peter's Church. However, the church never saw completion.
There are many places to enjoy food and beverages, including:
Temptations, breakfast, snacks, sandwiches, 0.5 miles
Wahoo's, seafood, 0.6 miles
Griffin's Restaurant, casual, 0.6 miles
The Wharf, waterfront restaurant, 0.6 miles
Tempest Bistro, a french restaurant, 0.6 miles
Whether you are looking for attractions, dining options, or beach rentals, Tobacco Bay offers many choices.
Clearwater Beach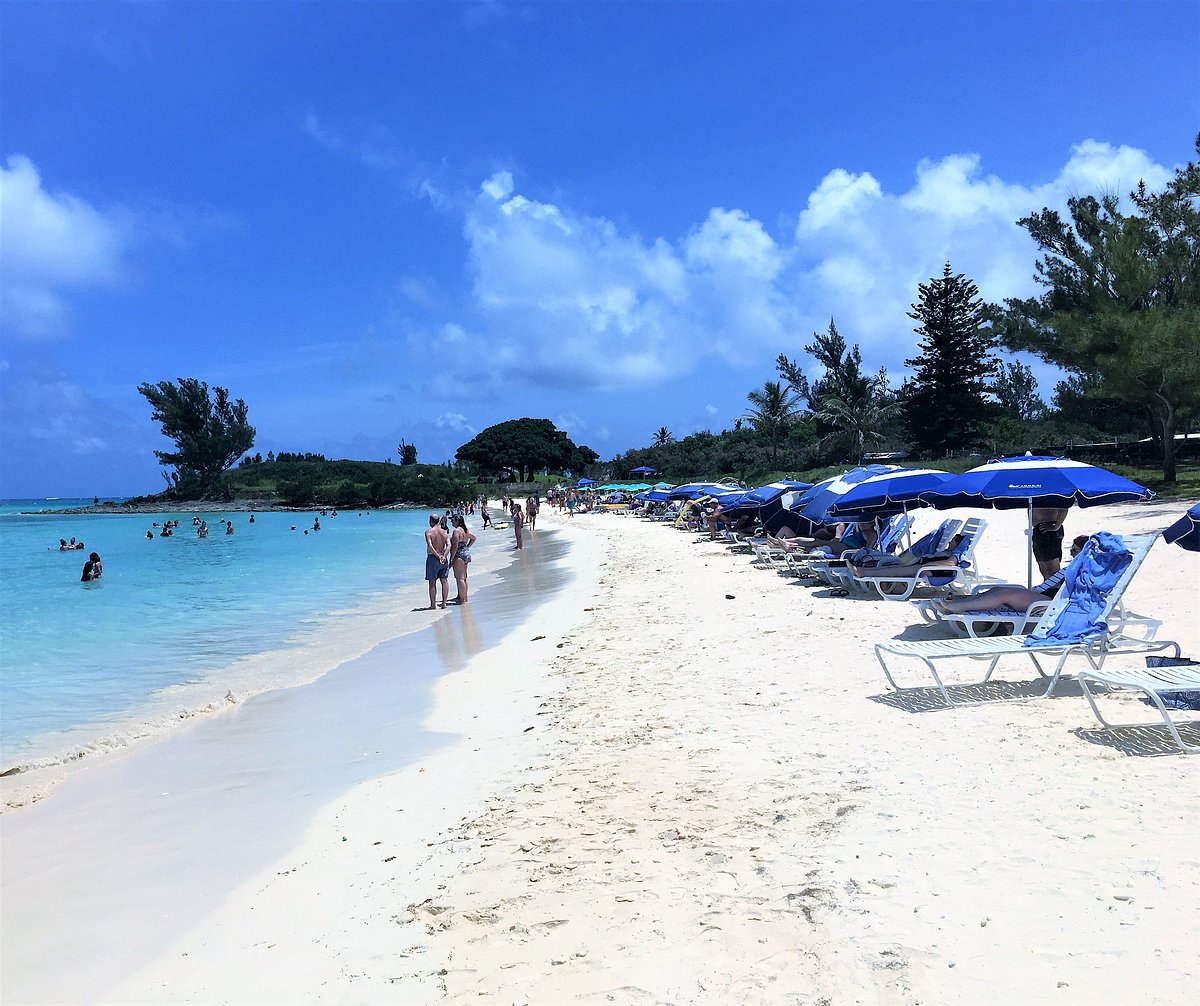 Clearwater Beach is a manufactured area created in the mid-20th century and a United States military base until 1970. The beach spreads twelve acres on the east end, near St. Davids on Cooper Island's Road. The beach is excellent for walking and lying on the white sands.
Partake in whale watching from the observation tower. Experience private grottos, swallow waters, tide pools, and walking trails perfect for birdwatching. While there are no coral reefs, there are turtles and shells in the water if you love snorkeling.
Beach necessities include picnic tables and toilets. You can also feel safe as there are seasonal lifeguards. Kids can play on the playground and enjoy the rollerblading rink. Plus, you can see St. David's Lighthouse for a great view. Close attractions include Cooper's Island Nature Reserve and Turtle Bay Beach.
The Cooper's Island Nature Reserve has seabirds, crabs, and ancient cedar trees. While the reserve was private, it reopened in 2011. Now, the area includes nature trails and is a great day-trip option. For an overview, the wildlife observation tower is a remarkable sight on the island.
On your Bermuda vacation, Clearwater Beach is a newly constructed beach filled with white sands and sights for the nature lover.
Shelly Bay Beach
Visit a family-friendly beach with light sands, trees, and calming waters. Shelly Bay Beach is near Hamilton and is excellent for young families. Step on the boardwalk, and make your way through a nature reserve. You will also find a playground with slides, swings, and picnic tables.
You can sit in a tidal pool or snorkel on a shallow reef. Attractions include the Railway Museum and Railway Trail. Also, the Bermuda Aquarium, Museum, and Zoo is a short walking distance away from Flatts Village.
Prepare to spend at least two to three hours enjoying the three-in-one attraction, which includes over 200 marine life species. If your kids are younger than five, they will get in for free. Enjoy the following:
Eels
Tigerfish
Parrotfish
Lobsters
Crabs
Turtles
Iguanas
Kangaroos
Lemurs
Crystal Cave is also near the area in Hamilton Parish, which is one of the largest caves on the island. While it formed during the Ice Age, the cave discovery came in 1907. See the stalactites and stalagmites up close and personal while viewing the clear waters of Cahow Lake.
Next to Crystal Cave is the Fantasy Cave, which opened in 1914, and reopened after the second world war. When you enter, the walls look like frozen waterfalls. For a complete history, guided tours are available, which are excellent for adults and kids. Plus, there's an ice cream shop nearby.
The Shelly Bay Market Place is a mile away if you need extra essentials. The Market Place has a grocery store, pizzeria, and clothing and offers laundry services.
At Shelly Bay Beach, there are many family-friendly activities around the area. You'll spend hours on the boardwalk, playground, trails, museums, and caves.
Final Takeaways
Bermuda contains some of the cleanest beaches in the world, with their white to pink sandy shores that you and your family can relish. There are also plenty of exciting nearby attractions, no matter which Bermuda location you choose. Your family can enjoy incredible snorkeling, fishing, and swimming while surrounded by marine life.
Book your next family vacation now and visit one—or all—of these eight beaches in Bermuda!
More about our TFVG Author