Historic and lovely Cornwall, England, is one of the top destinations in the country. Cornwall has everything from stunning nature and long stretches of beautiful beaches to world-class tourist destinations. These 16 of the best family hotels in Cornwall will help you and your whole family make the most out of your Cornwall trip.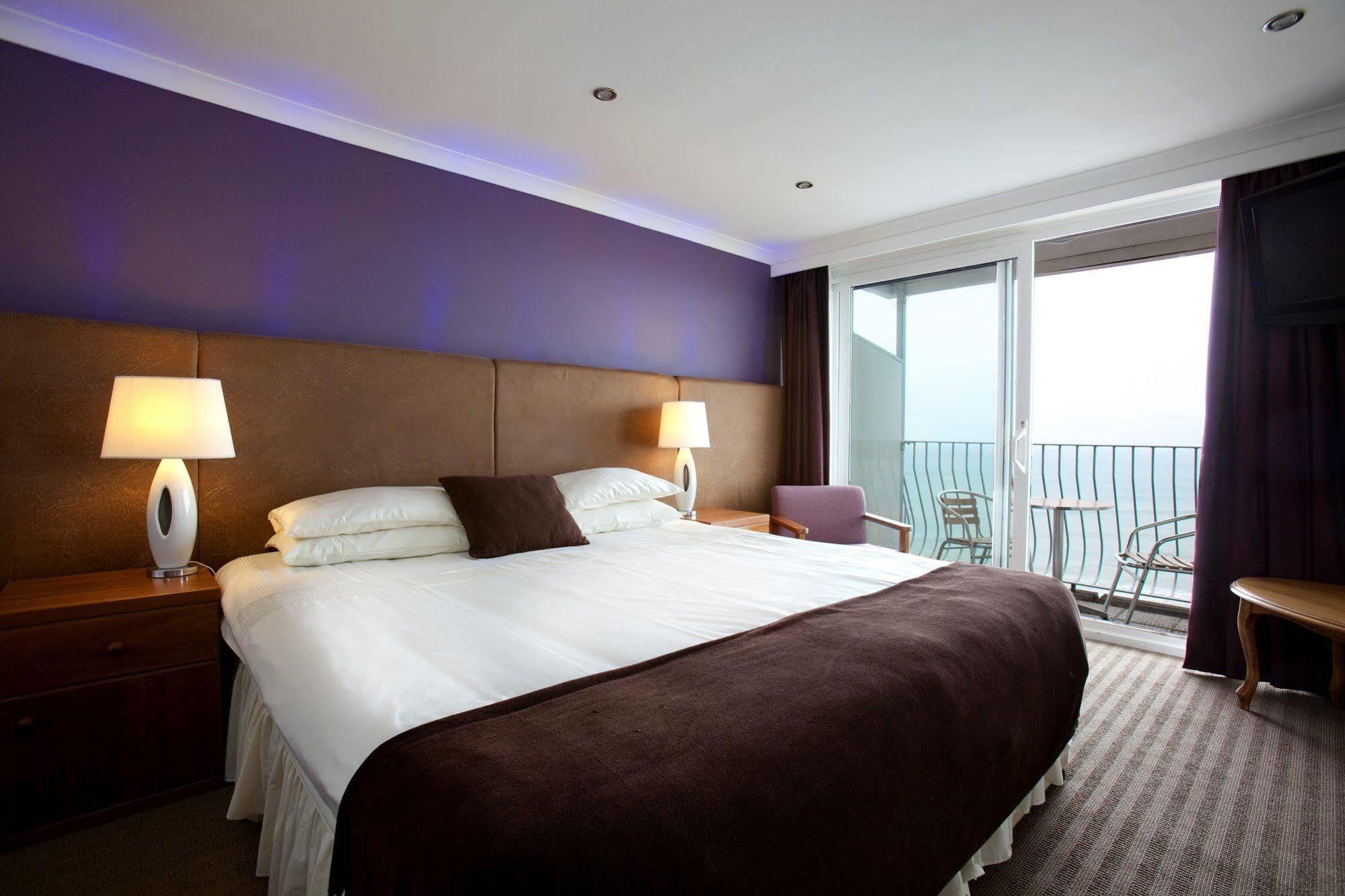 The Esplanade Hotel is an excellent pick if you are looking for a great family-friendly option in Cornwall. Between the four-star experience and the fantastic location, this accommodation indeed does have it all. The rooms are spacious enough for your entire family, and even picky eaters and little kids will love the Ocean View Restaurant. In addition, there is a luxe indoor heated pool and designed play areas for your little ones.
The reception lounge is a great place to meet fellow travelers if you want to socialize with other guests. One of the biggest draws has got to be the Quicksilver Surf School. Learn how to ride the waves or relax on beautiful Fistral Beach. The Esplanade Hotel is clean, and you will find all the amenities you need. Plus, the staff is excellent, accommodating, and can help you find good things to do in the surrounding area.
Address: Fistral Beach Esplanade Road, Newquay TR7 1PS, United Kingdom
If you are looking for well-appointed rooms and homestyle accommodation in Cornwall, England, Hotel Tresanton should be on the top of your list. The rooms at Hotel Tresanton are second-to-none, with desks, separate sitting areas, and massive flat-screen televisions. It is the ideal spot to mix work and play since you can get a little privacy and check emails if necessary. There is high-speed WiFi, too, so you will always stay connected.
The comfort of guests is top-of-mind at Hotel Tresanton. There is someone at the front desk day and night, plus regular room and concierge service. Enjoy free breakfast and complimentary parking, too. Since Hotel Treasanton is close to everything, you will find family-friendly dining options and local attractions such as Lamorran House Garden and St. Mawes Castle nearby.
Address: 27 Lower Castle Road, St Mawes TR2 5DR, United Kingdom
St. Ives Harbour Hotel & Spa offers scenic views and direct access to Porthminster Beach, where you and your family can explore Godrevy Lighthouse and take a stroll on the idyllic shore. This family-friendly destination is close to a charming historic district full of winding cobblestone streets and plenty of dining options. There is also an on-site spa and pool, plus authentic English tea and dining on-site.
With 46 rooms, it is a moderately-sized hotel. You and your family will get all of the service and amenities you expect from a larger hotel but still feel like it is an intimate and family-oriented experience. Many rooms at St. Ives Harbour Hotel & Spa have balconies, perfect for sipping a morning cup of coffee and gazing over the harbor.
Address: The Terrace, St Ives TR26 2BN, United Kingdom
This hotel and spa is another great family-friendly option that is perfect for your next holiday in Cornwall. With eclectic, fun decor and access to beautiful Mawgan Porth beach, it is a hidden gem that will delight everyone in your party. The decor is a lovely fusion of Californian and Danish architecture set against a beautiful backdrop of the English seaside.
There are two restaurants on-site, one offering more family-friendly, casual fare and the other for intimate dining. One of the biggest perks is the communal spa. You and your whole family can enjoy the sauna and steam room, and older children and teens can partake in spa treatments. This hotel and spa is an ideal getaway for families with older children who want an intimate, health-focused, quiet vacation away from the hustle and bustle of big cities.
Address: B3276 Trenance, Mawgan Porth TR8 4BU, United Kingdom
The Royal Duchy Hotel's biggest draw is that it manages to hit the right note between convenience and comfort. There is universal free WiFi, flat-screen televisions and amenities in the room, and concierge service. The hotel also has an on-site pool and free parking.
Although there are plenty of things to do at The Royal Duchy Hotel itself, there is also the matter of its great location. The Royal Duchy Hotel is near Pendennis Point, one of Cornwall's biggest draws.
There is also great dining nearby, plenty of historical and relevant places to visit, and a lovely promenade where you and your family can people-watch and soak in the best of the British seaside. So, if you are looking for a convenient place to rest your head while exploring this region of Cornwall, consider giving The Royal Duchy Hotel a try.
Address: The Royal Duchy Hotel Cliff Road, Falmouth TR11 4NX, United Kingdom
Cornwall's Holiday Inn Express is part of a larger chain of international hotels and adheres to the same excellent standard. With an on-site restaurant, bar, complimentary WiFi, and a lovely garden where you can interact with other guests, it has plenty of amenities right on-site. The rooms are also exceptional. You will find plenty of family rooms large enough to host any size group.
This Holiday Inn Express prides itself on offering the highest customer service possible. The front desk is open day and night, and there is a place for you to store your luggage before or after check out. Every room has ample space to store your belonging, plus a kettle and a safe for jewelry or personal documents.
Other perks include complimentary breakfast, a picnicking area, kid-friendly meals, and public parking. There is also an ATM at the hotel. If you want to travel with your furry friend, call ahead and request a pet-friendly room.
Address: Cornwall Services, St Austell, PL26 8UF, United Kingdom
Mullion Cove Hotel & Spa is a luxurious place to enjoy a family-friendly vacation in Cornwall, England. You and your family will find everything you need in your room, including complimentary WiFi, a television, and small amenities. If you need anything, the front desk at Mullion Cove Hotel & Spa will be happy to accommodate you.
In addition to the spacious family-friendly rooms, Mullion Cove Hotel & Spa also has a beautiful terrace and plenty of social areas, including a huge pool and dining options. You can also arrange to leave your bags in a secure location before or after check out. With free parking, room service, and plenty of things to do on-site, Mullion Cove Hotel & Spa is a true winner.
If you want to venture out of the spa grounds, check out Mullion Cove, Gallery Anthony, or The Marconi Center. You and your family can also stroll along the stunning Lizard Peninsula and catch an incredible sunset or sunrise.
Address: Mullion Cove, Lizard Peninsula, Mullion TR12 7EP, United Kingdom
Hotel Meudon is just a few minutes from the beach, and you'll experience the best British hospitality in a stunning, family-friendly location close to just about everything. Hotel Meudon is close to the Falmouth and Helford Rivers and on Bream Cove. Since Hotel Meudon has a slice of private beach, you can enjoy a quiet and peaceful beach day without having to contend with the crowds.
The rooms at Hotel Meudon come with free WiFi, televisions, separate sitting areas, and high-end toiletries. Some rooms have balconies overlooking the sea, many of which are large enough to accommodate smaller families. There's also plenty of dining on-site and a high-end bar for adults.
If you and your family love nature, Hotel Meudon is a must-visit. Not only will you stay in style, but you can also partake in fishing, snorkeling, and other water sports on the cove itself. It is a beautiful, relaxing, and rejuvenating place to stay.
Address: Maenporth Road, Falmouth, TR11 5HT, United Kingdom
If you are looking for Cornwall accommodation on the beach, Natal House Bed & Breakfast has you and your family covered. This intimate, authentic bed and breakfast will give you a glimpse into genuine English hospitality and put you right in the heart of everything. Every room has amenities, a television, and a designated sitting area. You and your family will enjoy a complete English breakfast in the morning with vegetarian options available.
Natal House Bed & Breakfast is conveniently located near several Cornwall towns, like Looe and Plymouth, and there is plenty of shopping, dining, and entertainment nearby. Natal House Bed & Breakfast is an excellent option for families looking for a relaxing vacation in the English countryside and to see authentic local culture.
Address: The Coombes Polperro, Polperro, PL13 2RH, United Kingdom
You'll find The Headland Hotel and Spa mere minutes away from Fistral Beach, so if you're interested in a family-friendly vacation with lots of surf and sun, put this one on your "must visit" list immediately. One of the unique aspects of The Headland Hotel and Spa is that it's situated in a stately Victorian-style building, but it has all of the amenities and services you'd require or want from a five-star experience.
Enjoy the spa, surf school, and golf course when you visit, but make sure that you schedule plenty of time to soak in those fantastic sea views. It's also close to Newquay, and you and your family can enjoy a full and fun day of exploring before heading back to The Headland Hotel and Spa for some well-deserved pampering.
The on-site Aqua Club has six pools, plus a steam room and sauna. There's plenty of dining on-site, including both family-friendly and high-end options. You'll get complimentary WiFi everywhere, plus laundry access. Essentially, The Headland Hotel and Spa has all of the comforts of home, plus a boutique spa experience.
Address: Headland Road, Newquay, TR7 1EW, United Kingdom
The Sands Resort Hotel is a short walk away from Cornwall's north coast, with plenty of beach access, swimming pools on-site, and tons of family-friendly activities to keep you and your whole group entertained. In addition, there are tennis, mini-golf, and spa services, plus an on-site hair salon specializing in haircuts for kids, men, and women.
Every day, you'll enjoy a full breakfast with hearty British fare and continental favorites like yogurt and croissants. There are kid-friendly dinner and lunch options available, too, plus tea and coffee in every room and complimentary WiFi throughout the hotel.
If you want to venture off-site, you will find the Blue Reef Aquarium, Dairyland Farmworld, and the Newquay Zoo just a few minutes away. You can also visit the biggest greenhouse in the world at The Eden Project, a mere 30-minute drive from Sand Resort Hotel.
Address: Watergate Road, Newquay, TR7 3LX, United Kingdom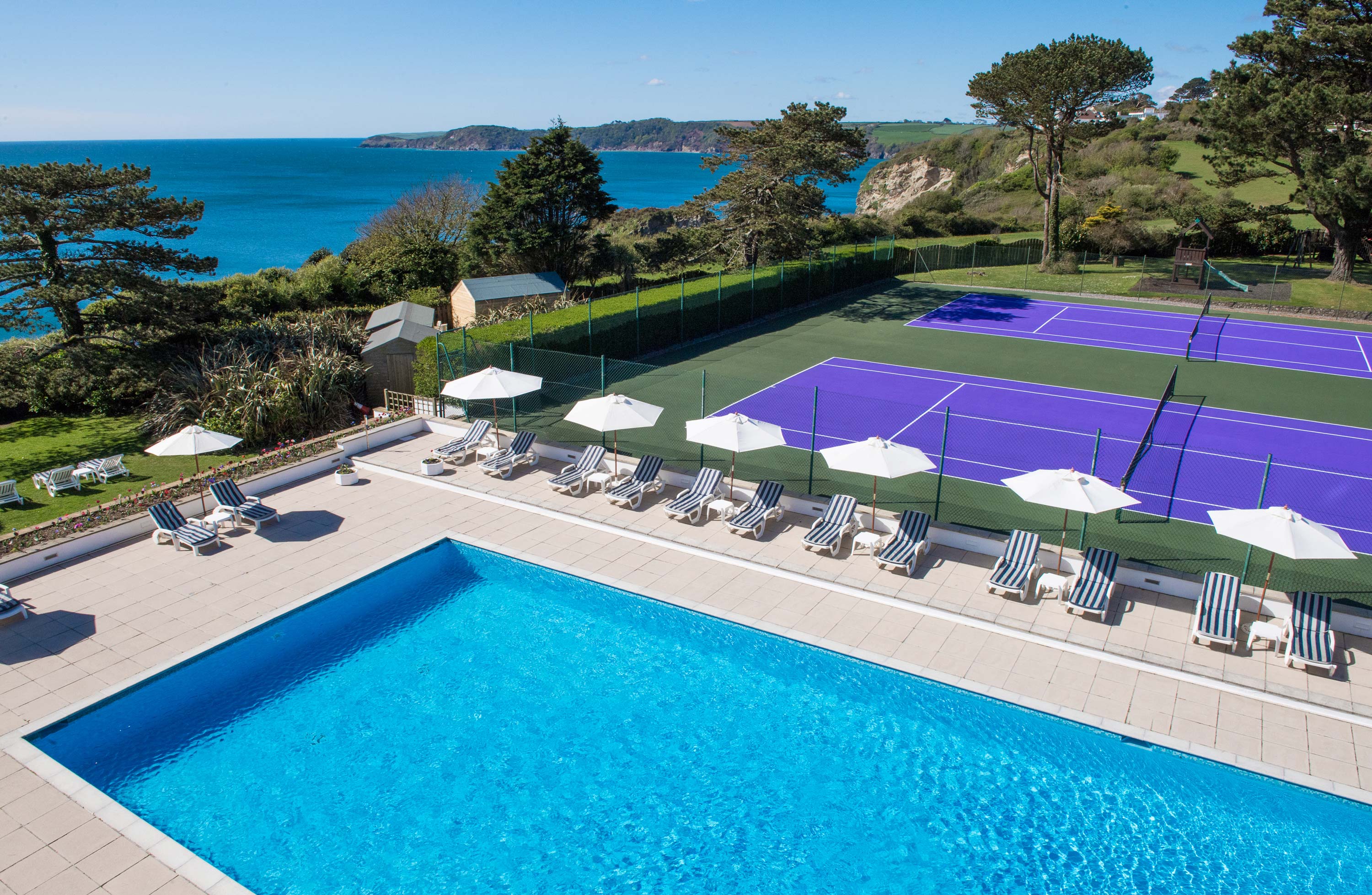 The Carlyon Bay rooms feature air conditioning, flat-screen televisions, and free WiFi. It is a luxury hotel with a family-friendly, casual, and friendly vibe catering to every taste, need, and style. So, if you want a spot where you can feel right at home while having the luxury at your fingertips, give The Carlyon Bay a try.
The Carlyon Bay offers complimentary room and concierge services, breakfast, and free parking. There are also plenty of popular Cornwall tourist attractions, including St. Austell Market House, Pinetum Gardens, The Carlyon Bay, and Holy Trinity Church. The proximity to local attractions and The Carlyon Bay's commitment to excellence and service make it one of Cornwall's top accommodation destinations.
If you have questions about what's around, talk to the friendly staff or concierge at The Carlyon Bay.
Address: Sea Road, St Austell PL25 3RD, United Kingdom
Sure Hotel Collection by Best Western Porth Veor Manor Hotel is in the northern part of Cornwall. You'll enjoy stunning beach access, friendly accommodations, and consistent WiFi throughout your stay. Comfort and tranquility are two of the hotel's mandates, making it a great place to go if you want to explore nature and the idyllic Cornwall countryside and then come home and relax in style.
Many of the hotel's rooms have sweeping views of the beach, and each one is perfectly appointed with fresh linens, televisions, and amenities. In addition, there's an on-site bar and lounge area featuring a lovely fireplace and conservatory, plus a swimming pool and gardens for socializing with other guests.
You will also enjoy free parking and reasonably-priced breakfast, including a menu of kid-friendly fare.
Address: Porth Way, Newquay, TR7 3LW, United Kingdom
This boutique Cornwall guesthouse is relatively close to the beach and features many things to do on-site, like a swimming pool and darts. After a long day of exploring Cornwall, you and your family can enjoy competitive fun in the game room or relax in OYO Minerva Guesthouse's spacious rooms. Each room has a television, kettle, and plenty of toiletries, so you'll feel right at home.
One of the significant draws of OYO Minerva Guesthouse is its proximity to various attractions. First, it's right in Newquay, so you can walk outside the gates and find tons of shopping and dining. Plus, it's close to Fistral Beach, the Newquay Zoo, and the train station.
Adults will love OYO Minerva Guesthouse's well-appointed bar with many local beers and wines. If you and your family want to be super adventurous, check out the nearby Newquay Activity Center and partake in canoeing or kayaking.
Address: 2/3 THE CRESCENT, Newquay, TR7 1DT, United Kingdom
Just 20-minutes from the beach, The Britannia Inn & Waves Restaurant is a full-service accommodation with a bar, lounge, restaurant, and garden right on-site. It is also very family-friendly, with a playground and huge family rooms capable of hosting any size family in style.
There's also regular, family-friendly entertainment in the evenings, and on-site food, including English breakfasts. There is a nearby golf course, broadcasts of live sports, and regular music at The Britannia Inn & Waves Restaurant. If you want to leave the resort, you'll find plenty of things to do. You and your family will be close to all of the action, including Porthpean Beach.
Address: The Britannia Inn & Restaurant Ltd, St Austell Rd, Tregrehan, Par, PL24 2SL, United Kingdom
Carbis Bay Estate has you and your family covered for exemplary service and a lovely, family-friendly stay. The staff are superb and can help you plan your vacation to the last letter. Additionally, there are plenty of things to do at Carbis Bay Estate, including a lovely on-site swimming pool and dining options.
Make sure that you check out nearby Carbis Bay Beach when you visit. It's great for swimming, strolling, and sunbathing.
Address: Carbis Bay, St Ives TR26 2NP, United Kingdom
Final Thoughts
There are many attractions to visit and activities to do for you and your family in Cornwall, England. Lodging in at one of these best family hotels in Cornwall will surely enhance your stay in this beautiful yet remote English countryside.
More about our TFVG Author