For travelers that want to explore a one-of-a-kind vacation destination, the city of Dubai in the United Arab Emirates offers a world of luxury, adventure, and family-friendly fun.
According to the Mastercard Global Destination Cities Index, Dubai is the 4th most popular city to visit for a vacation.
This breathtaking seaside city offers miles and miles of pristine beaches, crystal clear warm waters, luxurious hotel accommodations, and plenty of activities you and your family will love.
While Dubai is undoubtedly glamorous and awe-inspiring, it is also an extremely child-friendly vacation spot. You will find plenty of activities geared towards younger ones. Better yet, children are bound to receive a warm welcome anywhere they go in Dubai.
Many of the hotels in Dubai provide plenty of child-centric activities that will delight the youngest members of your family.
Below you will find 13 of the best family hotels in Dubai where your little ones will make magical vacation memories that last a lifetime.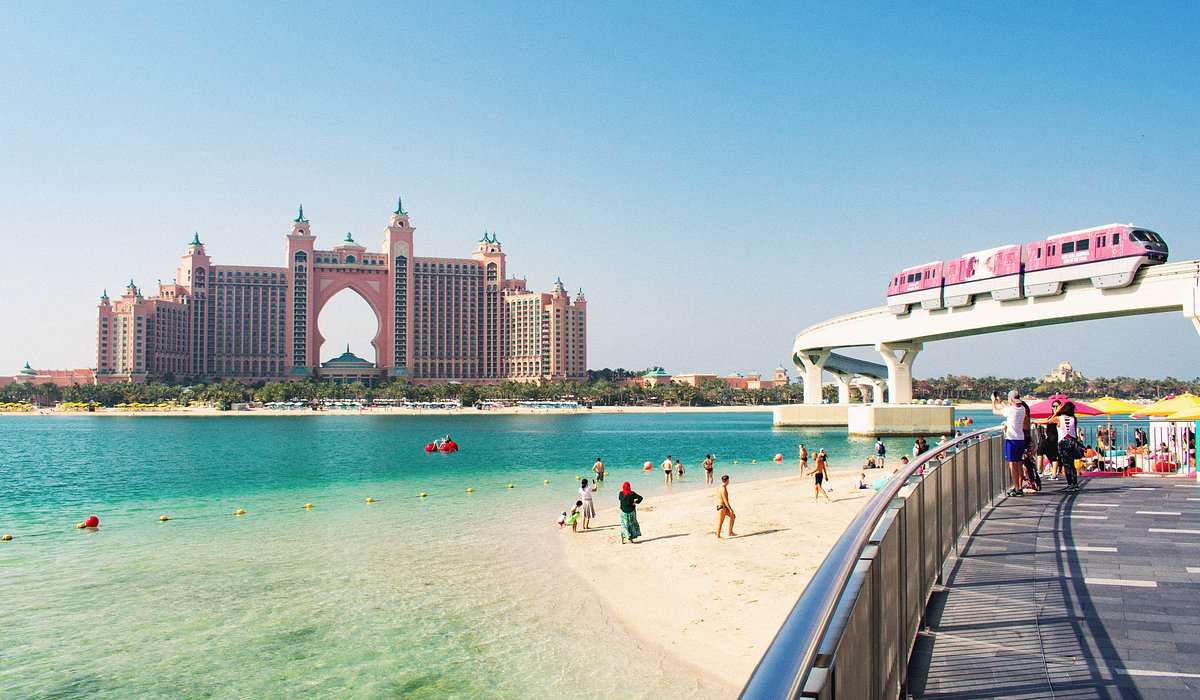 Located in the famous Palm Jumeirah archipelago, Atlantis Dubai is one of the most kid-friendly resorts to visit in the City of Gold.
All children below 14 enjoy complimentary stays and dining at the Atlantis all summer. You and your whole family will enjoy exploring the world's largest waterpark, where you can find endless water slides and fun attractions your kids will never forget.
The hotel also offers exciting watersports and an aquarium to delight kids of all ages. You can get up close and personal with bottlenose dolphins and fur seals at Atlas Village.
You and your kids can get a behind-the-scenes tour of the aquarium and its 65,000 different marine animals in the Ambassador Lagoon. If your family feels even more adventurous, you can suit up and dive to the depths of the aquarium.
There is an Atlantis Kids Club on-site with fun and exciting kid activities for children ages 4 through 12. There is also a program called The Zone for teens ages 13 through 17.
Once you stay at Ceasar's Palace Dubai on Blue Waters Island, you will immediately understand how it earned a spot as one of the best family hotels in Dubai.
The first thing you will see when you arrive will be the long stretch of pristine private beach boasting some of the best Arabian Gulf views you can find. It's also hard to miss Ain Dubai next door. Ain Dubai is the world's largest observation wheel with 360-degree views of the city from high in the air.
Watching a sunset from the Ain Dubai will be a moment none of your family members will ever forget.
Inside the hotel are five temperature-controlled pools, 12 world-class restaurants, 495 rooms, the award-winning Qua Spa, and specifically designed kids and teens clubs for your younger family members.
The Empire Club caters to kids ages 3 through 12 and offers age-specific entertainment for your kids in a safe, supervised environment.
Your older kids will love to check out ROAM, the hotel's teen-centered entertainment space created with modern teenagers in mind. They can immerse themselves in a high-tech atmosphere with several game zones and plenty of virtual reality thrills.
When you want to stay at one of the most unforgettable family hotels in Dubai without breaking the bank, Rove at the Park hotel could be the perfect choice for your next getaway.
At Rove, you can find life-sized LEGOS®, thrilling roller coasters, discounted designer shopping, and even wet and wild slip and slides for the kids to enjoy.
The hotel is located between The Outlet Village and Motiongate Amusement Park. The Dubai Marina and Jumeirah Beach Residence are close by as well.
Kids will go wild for the nearby Legoland waterpark, and the whole family will love the glitz and glamor of the adjacent Bollywood Park. If you want to travel a bit further to the Burj Khalifa or The Dubai Mall, there is a metro station close to the hotel for your convenience.
30% of the rooms at Rove are interconnecting, so you can keep your kids close and also enjoy your personal space when you want it.
At the Westin Dubai Mina Seyahi Beach Resort prepare to be blown away by the hotel's beautiful Jumeirah Beach location. With its sprawling seaside views and a seemingly endless list of amenities, you will never want to leave once you have arrived.
Your kids will go crazy for Jungle Bay Waterpark, located on the bay of Mina Seyahi. Inspired by the Cyclades, Jungle Bay offers plenty of fun for every family member.
There's a Lighthouse mat racer ride, a unique Aqua Play structure, gentler slides for younger kids, and even a wave pool for all ages.
Beyond the waterpark, you and your family can explore plenty of private Jumeirah Beach shorelines as you swim in the waters of the Arabian Gulf and lounge in the sun-kissed sand. You can even try new and exciting activities! A few of these include:
Paddle boats
Stand-up paddle boarding
Kayaking
The Westin Dubai Beach Resort and Marina keep kids in mind. It was designed to engage and enthrall the younger ones in your family and instill a love of travel in young minds.
There is even a Kid's Club for children ages 4 through 12 located at the resort's sister property, Le Méridien Mina Seyahi Beach Resort & Marina. The Kid's Club has specially tailored food menus, two shady children's pools, and endless games and activities for your kids to enjoy.
Another lovely resort located on the beautiful Jumeirah Beach is the world-class Jumeirah Beach Hotel. Located only 2 minutes away from the shoreline, this family-friendly Dubai hotel is a great place to bring your whole family on a picturesque getaway.
You and your loved ones of all ages will be surrounded by 5-star luxury on the hotel's private beach. You'll also find five different swimming pools and more than ten restaurants and bars to explore as well.
Jumeirah Beach Hotel guests have unlimited access to the Wild Wadi Waterpark, where you will find plenty of wet and wild thrills to explore and enjoy.
Many of the restaurants on Jumeirah Beach offer children's menus for younger ones to order from, while older guests tickle their palettes with international cuisines.
The Address Dubai Mall hotel is a chic, stylish, elegant choice for guests who want to touch up their Dubai stay with a bit of class. You can bask in one of the world's most cosmopolitan cities while enjoying the benefits of traditional Arab hospitality.
Address Dubai Mall is located in the center of Downtown Burj Dubai, near the world-famous Burj Khalifa. It is attached to the Dubai Mall, giving guests direct access to one of the world's largest shopping and entertainment centers.
Best of all? If you choose to stay at the Address Dubai, kids stay free! Unlike other family hotels in Dubai, the hotel offers babysitting services so you can enjoy your vacation knowing your precious ones are in good hands.
The kids will enjoy one of downtown Dubai's largest open-air lap pools, and the whole family will love dining at the hotel's lovely pool-side restaurant. Kids can frolic in their splash pad and private cabanas and help your family enjoy some much-needed quality time.
Children up to 12 years old can experience the Qix club at the Address Dubai. It is a children's club featuring a variety of kiddie entertainment like educational games and craft sessions overseen by a team of childcare professionals.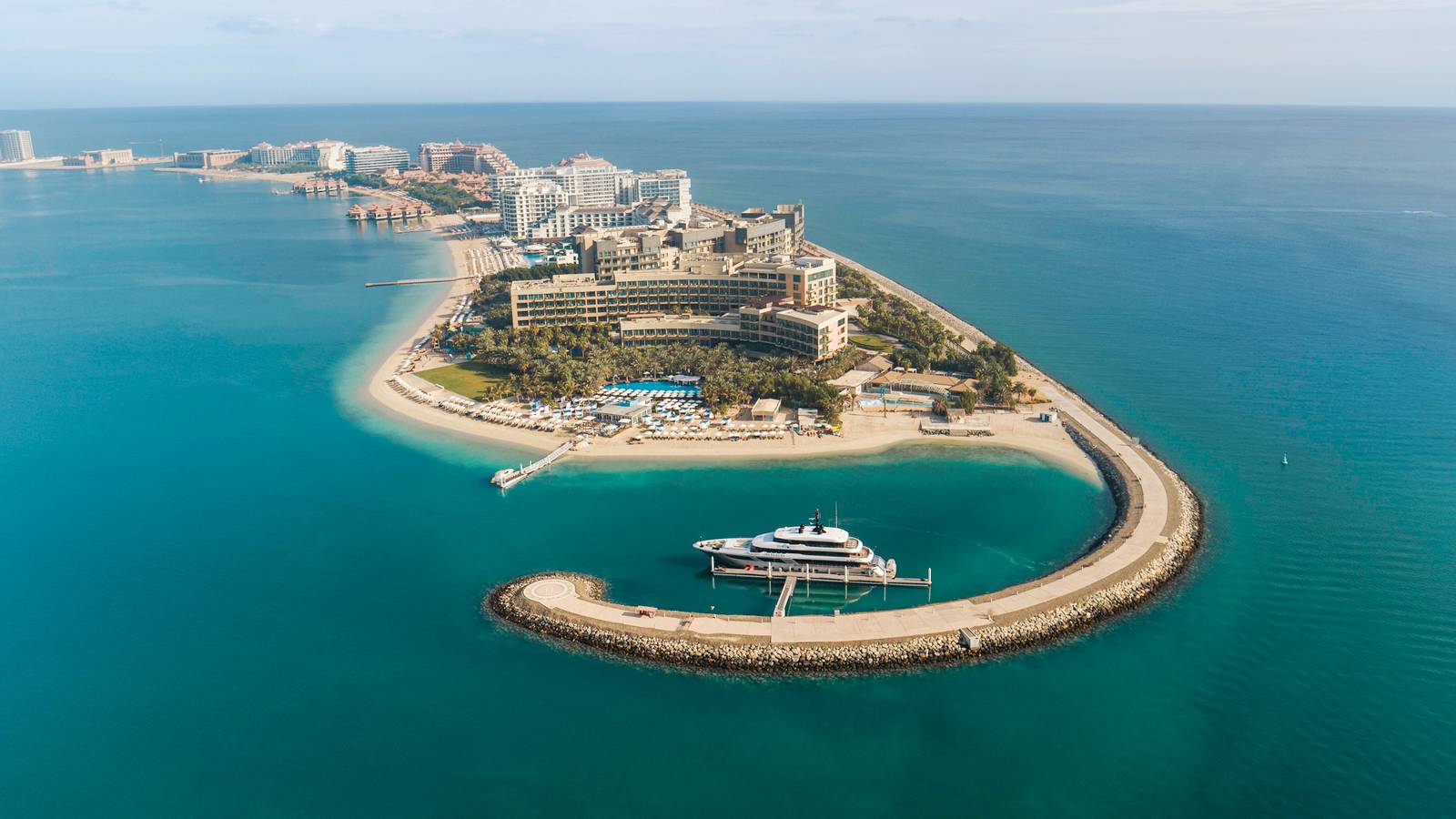 Rixos The Palm is another excellent choice for family hotels in Dubai located on the Palm Jumeirah. Spend your vacation surrounded by panoramic views of the sparkling Arabian Gulf alongside the iconic Dubai skyline.
Rixos is ideally located on the eastern end of the Palm Jumeirah, so your family is close to all of Dubai's most popular tourist locations and entertainment centers. You can quickly reach the Mall of the Emirates, the Dubai Mall Burj Khalifa, Dubai International Airport, and Dubai harbor.
This hotel is a beautiful place to bring your children of all ages. The younger ones can enjoy their time at the Rixy Kids Club, which includes a private children's swimming pool and plenty of fun activities to try.
There are magic shoes, treasure hunts, pool games, talent shows, cooking classes, arts and crafts, and lots more fun things to do. Your little darlings can spend hours building in Brickland, enjoy an archeological dig at the beach, or watch a movie in the kid's movie theater.
Sheraton Mall of the Emirates Hotel connects directly to the iconic Mall of the Emirates, so your family will enjoy easy access to more than 600 retail brands along with thrilling attractions like Magic Planet and Ski Dubai.
Using the adjacent metro station, you and your children can reach downtown Dubai, Media City, Burj Khalifa, and Dubai International Airport within minutes.
The hotel has 481 rooms and suites that offer picturesque views of the world-famous Dubai skyline and breathtaking sea views.
You will love the hotel's rooftop swimming pools and the luxurious Shine Spa. Your kids will love Dreamscape, a visceral VR experience where children ages ten and older can explore an immersive virtual reality world.
There's even a bowling alley where the whole family can compete and spend hours of fun together in Dubai's most advanced bowling destination. It is routinely voted one of the top ten things to do in Dubai, so your family won't be disappointed.
Aloft Dubai is located over Dubai Creek, straddling the line between old and new Dubai. The creek is a saltwater tidal inlet and waterway that runs through parts of Dubai.
Dubai International Airport is only a short distance away, as is the City Center Deira mall. There are also shuttle services available that transport guests to the beautiful La Mer Beach.
Your kids will love watching movies in the hotel's outdoor theater venue, and the whole family would love a day at the Dubai Creek Golf and Yacht Club. The hotel is also close to kid-approved attractions like the Dubai Aquarium and Underwater Zoo.
There are four restaurants to choose from, along with an outdoor pool, free parking, free wifi, and free airport shuttle service.
For anyone looking to find a peaceful, private getaway that the whole family will love, the Ritz-Carlton Dubai offers all that and much more.
Located alongside the Arabian Gulf, the legendary name of this hotel should speak for itself. The Ritz Dubai is a one-of-a-kind luxury resort that sits on an immaculate private beach. It boasts sea-facing rooms and suites alongside an extensive list of amenities for delighted guests to enjoy.
When you stay at the Ritz Carlton Dubai, you can explore excellent restaurants, relax in the on-site spa, stroll lavish gardens, peruse luxury shopping options, and explore the beautiful Dubai Marina.
Family members of all ages will love playing on the tennis courts, sand-skiing, falconry tours, paragliding, desert driving, and sailing.
The youngest travelers can have a ball at the Ritz Kids Club, where they will enjoy a dedicated playroom and daily fun activities to introduce them to Dubai through play and learning. They will also have fun with sand castle building and craft making.
Dubai has plenty of all-inclusive hotels and resorts, but the Jebel Ali Beach Resort could easily be crowned the ultimate vacation spot in Dubai, especially for families with children.
This 5-star beachfront hotel sits beside the breathtaking shorelines of Dubai and features three different hotels. The resort spans over 1 million square miles of land and includes private beaches, a championship golf course, tennis courts, horse-riding, a shooting range, and watersport activities.
You can find more than 25 restaurants and bars, so there's bound to be something to please every appetite. You can also explore a picturesque marina and sail out in a pleasure boat or even a super yacht.
Younger visitors will go nuts for the mini-golf course, and everyone will love swimming in the resort's seven temperature-controlled swimming pools.
Parents can rest easy, leaving their kids at the Pirates and Mermaids Kids Club. Here, children up to 12 years old can ride ponies, play tennis, and enjoy a host of other kid-friendly activities with secure supervision.
Located right in the middle of Jumeirah Beach Residence, the Hilton Dubai Jumeirah provides the perfect vacation spot for travelers of any age.
Your family will fall in love with the Hilton Dubai's private beach, where they can participate in lots of fun activities like jet skiing, parasailing, and snorkeling. For the foodies in your family, delight your taste buds at one of 12 unique restaurants where you can finally realize your culinary dreams.
Or simply unwind and relax at The Spa to forget all the stress and worry of your day-to-day schedule. If it's shopping you want, you and your family can head out to nearby Dubai malls within just a few minutes.
Be sure to take in some famous Dubai sights and attractions along the way!
There's a dedicated kid's club called Kidz Paradise at the Hilton Dubai Jumeirah, where children can dance, paint, play sports, and watch movies. There is also a game room where older kids can kick back and relax daily from 9 am to 10 pm.
The Centara Mirage Beach Resort will fill every family member with a sense of awe and wonder at this luxury getaway on the Deira Islands waterfront.
Spend your vacation surrounded by mythical Thai and Arabian designs in this lush and exotic paradise. Your children will love the resort's cliff jumps, water play area, lazy river, and water slides.
There are more than 600 rooms and suites with a choice of seaside and city center views, and some rooms even have bunk beds to delight the little ones. They can swim for hours in Centara's beachfront swimming pool or participate in three age-specific Kid's Clubs.
The hotel features a family-friendly lounge, a delightful candy-theme kiddie spa, and a beautiful outdoor playground. Even interconnecting rooms are available to keep your kids close while enjoying some peace.
Your Final Takeaways
Dubai is a genuinely larger-than-life vacation destination, but it's also an excellent getaway for the smallest members of your family.
In Dubai, you can experience an exotic, adventurous, luxurious vacation as a family without worrying about keeping your children entertained.
Once you visit the jewel of the Arabian Peninsula, you will soon understand why this city is such a uniquely perfect place for family fun.
Visit one of these fantastic family hotels in Dubai and see how much your kids love it and how they will beg you to come back for your next vacation.
More about our TFVG Author