Edinburgh is a family-friendly city with amazing sights and parks. Many hotels are next to some top city attractions, views, and restaurants. See excellent places for all ages to visit!
From luxurious to cozy boutiques, there's a hotel for all families, depending on your vision, needs, and budget. So, let's uncover ten of the best family hotels in Edinburgh as you prepare to book your flights for your next family vacation.
Dunstane Houses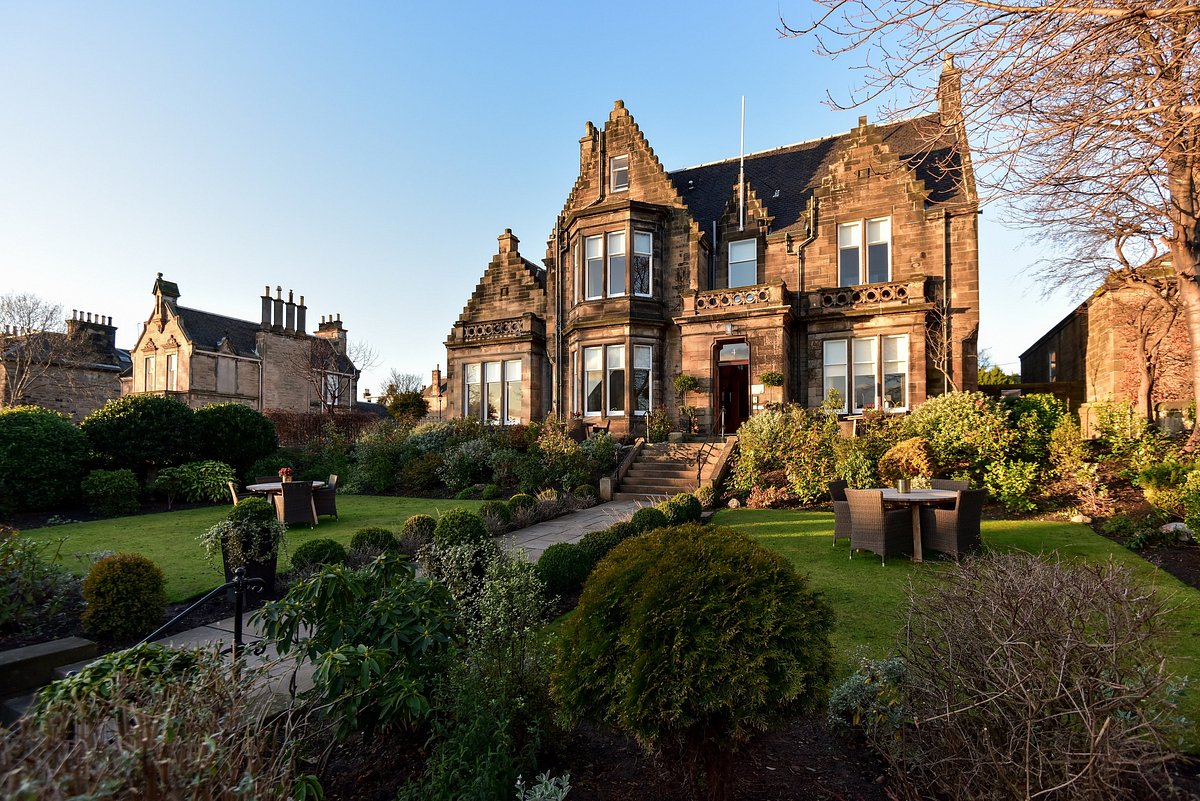 First on the list is the welcoming and spacious Dunstane Houses. Feel right at home at this family-friendly boutique hotel with 35 available rooms. One of the best things about the Dunstane Houses is the quiet location, yet it's near major attractions such as:
City Centre
Murrayfield Stadium
Holyrood Palace
You may want to book a luxury king room if you have a larger family and receive fold-away beds! However, you can still request cots no matter what room you book. Overall, the hotel is very accommodating to kids.
Another perk of the hotel is the continental breakfast buffet! Feast on Scottish cheeses, natural yogurt, fresh pastries, fruit compotes, smoked salmon, scrambled eggs, and Loch Fyne kippers.
Be sure to check out the family glamping package. The fun package includes in-room tents, activities, and plenty of bubbles!
The glamping package includes a two-night stay in a luxury king room or a double in one of the Orkney Suites. The package also includes the following:
Full breakfast
Backpack with surprises per kid
Free room service
Complimentary parking and WiFi
Hot chocolate and shortbread for kids
Afternoon tea at 12pm-5pm
With many services for your family, the five-star Dunstane Houses won't disappoint!
Ibis Styles Edinburgh Centre St Andrew Square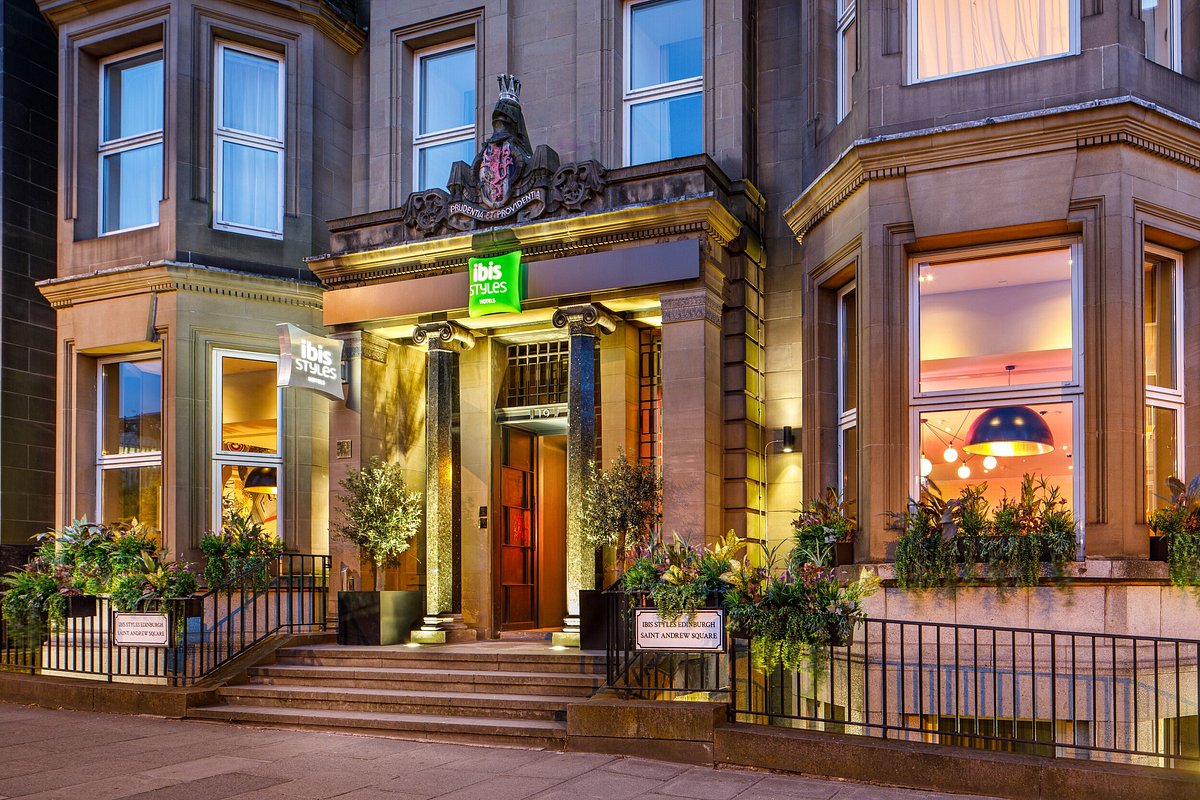 The three-star Ibis Styles hotel is located in central Edinburgh near Princes Street and has a boutique atmosphere. It's also a short distance from the Waverly train station, less than a mile from Edinburgh Castle.
Hotel rooms offer free WiFi, flat-screen televisions with children's networks, and double and single bed options for your family.
You'll enjoy the complimentary breakfast, coffee, tea, and even hot chocolate in the lobby during the day. There's also a restaurant on-site so you won't go far for fantastic food! There's something for everyone to eat at this International-style restaurant, from vegan pizza to spicy nachos.
But, the best part of Ibis Styles is the stunning decor and design. The interior is sleek yet colorful, with plenty of artwork and beautiful plants scattered around.
The Rutland Hotel
The Rutland Hotel is another boutique stay for you and your family located on Princes Street. There's a lot to see, as the hotel is close to the castle, Edinburgh Zoo, picturesque gardens, diverse dining options, and shopping.
Also, the hotel offers a breakfast bar filled with a complete Scottish breakfast, porridge, Eggs Benedict, and pastries. The best part is that breakfast lasts until 11 am!
Hotel amenities include the following:
Full kitchen
Cable
Internet
Room service
Living room space
Separate bedroom space
Supervised activities for kids
For a money-saver, you'll save 20 percent when dining at their restaurant, Kyloe. Plus, in upgraded bedrooms, you can receive extra beds. Your kids will also receive toy boxes for free and baby monitors if needed!
Save money on your next family stay while enjoying everything the city has to offer nearby.
Cheval Old Town Chambers Edinburgh
The Cheval Old Town Chambers is a contemporary condo-hotel in Edinburgh with 50 rooms and an excellent location for walking to the nearby sites. Located on the Royal Mile, the rooms are ideal for families.
It's a family-oriented place with privacy curtains, and rooms fit two children, included with a king mattress. There are also three-bedroom rooms and penthouses that hold up to six people if your family needs additional space. The Cheval is a mix between a hotel and New York loft apartments with plenty of iconic scenery.
There's a restaurant inside with coloring books and a kid's menu for your little ones. If you want to explore, there are hundreds of other restaurants around the area too!
Rooms also include:
Separate living area
Dining area with kitchens
Fridge and freezer
Dishwasher
Washer and dryer
Nespresso machine
Enjoy the brickwork, drapes, and bathtub as you and your family feel comfortable on your next getaway.
The Balmoral Hotel
The Balmoral is on Princes Street with incredible castle views. Your family will love the indoor swimming pool and afternoon tea under a chandelier, and you can also stay in the famous JK Rowling Suite!
From the classic castle view suites to the classic, deluxe, and executive rooms, there are different options depending on the budget and family size! Each carefully decorated hotel room has countryside elegance.
You can feel confident bringing young kids and your baby. Bedrooms include baby cots and bed linen. Also, many amenities are available upon request, such as night lamps, play mats, and motion mobiles.
Your baby will receive complimentary baby lotion and rubber ducks for bath time! Meals are free as well as the following:
High chairs
Baby crockery
Bibs
Bottle warmers
Changing mats
Keep your older kids preoccupied with coloring books, cards, magazines, and newspapers. For meals, kids receive 50 percent off in the hotel's restaurants, including room service.
Bedroom goodies include linen, laundry bag, backpack, and hangers for your kids. Your family will receive extra beds by request and interconnecting rooms. There's also a 24-hour babysitting service if you and your significant other want to roam the city or have a special occasion to attend.
You'll see an intricate design that looks right out of Hogwarts, with a clock tower and balconies. If you're a book lover or a huge Harry Potter fan, this family hotel is for you!
Norton House Hotel and Spa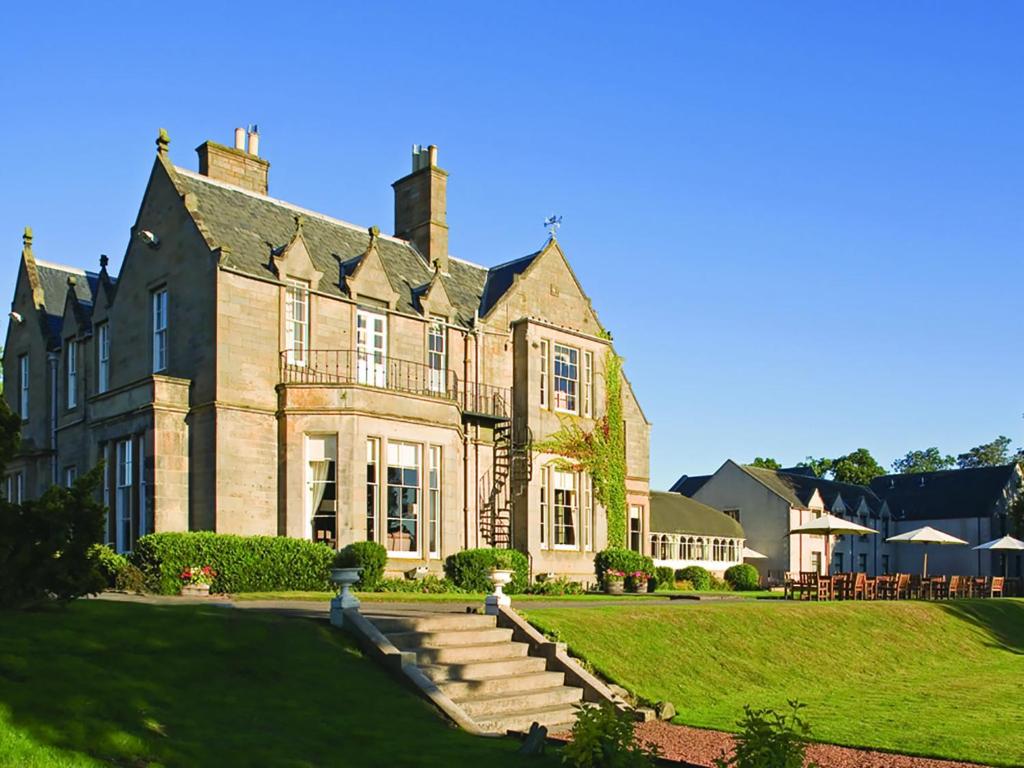 The Norton House is an excellent choice for your family. While it's in Edinburgh, it's on the outskirts, but it's only a bus ride away from the city's famous attractions! Experience the countryside with Edinburgh city center just eight miles away.
At the Norton House Hotel and Spa, choose between junior suites, classic, and executive rooms. You and your family will also soak in an indoor, heated pool while dining in two restaurants. Other hotel amenities include electric car charging, complimentary parking, a private health club, and a luxurious spa.
The location is excellent for kids as there's land to play outside and kid-friendly food options at the hotel. Plus, kids three and under stay at the hotel for free, including all dining. While you'll pay for lunch and dinner, older kids cost 50 percent less than adults.
Not only is Norton House a dog-friendly hotel, but there are five great spots around the area to walk your dog, including the following:
St Andrews' Beaches
Cramond Promenade
Yellowcraig Beach
Harlaw Reservoir and Pine Forest
Falkirk Wheel
The 1800s hotel is a beautiful choice while vacationing in Scotland. Discover mounted ceilings and elegant tiles as you make the Norton House your home away from home.
The George
The George is located in the city's heart and is a fantastic family spot with interconnecting rooms, kid menus, and welcome gifts upon arrival! Built in 1775, this townhouse-turned hotel won't disappoint!
The hotel includes soft color palettes with hints of marble, oak, and brass. Your family will room in single, double, or suite options with incredible plasma television. The hotel also has a bar, coffee shop, and restaurant for convenience.
Other amenities include the following:
Nespresso machines
Snack box
Breakfast
24-hour room service
Housekeeping and dry cleaning
Gym
Nearby attractions include a quick five-minute walk, including the National Museum. The Edinburgh Castle is also a ten-minute walk from the hotel.
Radisson Blu Edinburgh
The Radisson Blu is another excellent possibility for your family for a cheaper alternative without losing a great location! The four-star hotel is in the center of the Royal Mile near the castle.
Stay near attractions including the Scottish Parliament, shopping areas, Holyrood Palace, Holyrood Park, and Princes Street.
The Radisson Blu has a variety of rooms and suites for families. With 238 rooms, the hotel provides a sleek and modern appeal. Rooms include a flat-screen television, WiFi, and even a pillow menu! That's right; you choose which pillow is best for you!
Your entire family can stay in one room, and cots are available. Other kid-friendly activities include the following:
PlayStation 4
Activity pack with crayons and games
Plush toys
Indoor swimming pool
Kids under the age of 12 stay for free when sharing a room with adults. Also, baby cribs are available upon request when booking your stay.
However, the hotel isn't just for the kids! Adults will love the sauna, steam room, and gym; the spa provides massages and manicures. When staying at Radisson Blu, you'll see robes, slippers in your bathroom, 24-hour room service, and on-site parking.
Customize your stay while providing fun, comfort, and adventure in one of the best family hotels in Edinburgh. There's something for everyone at the Radisson Blu!
Waldorf Astoria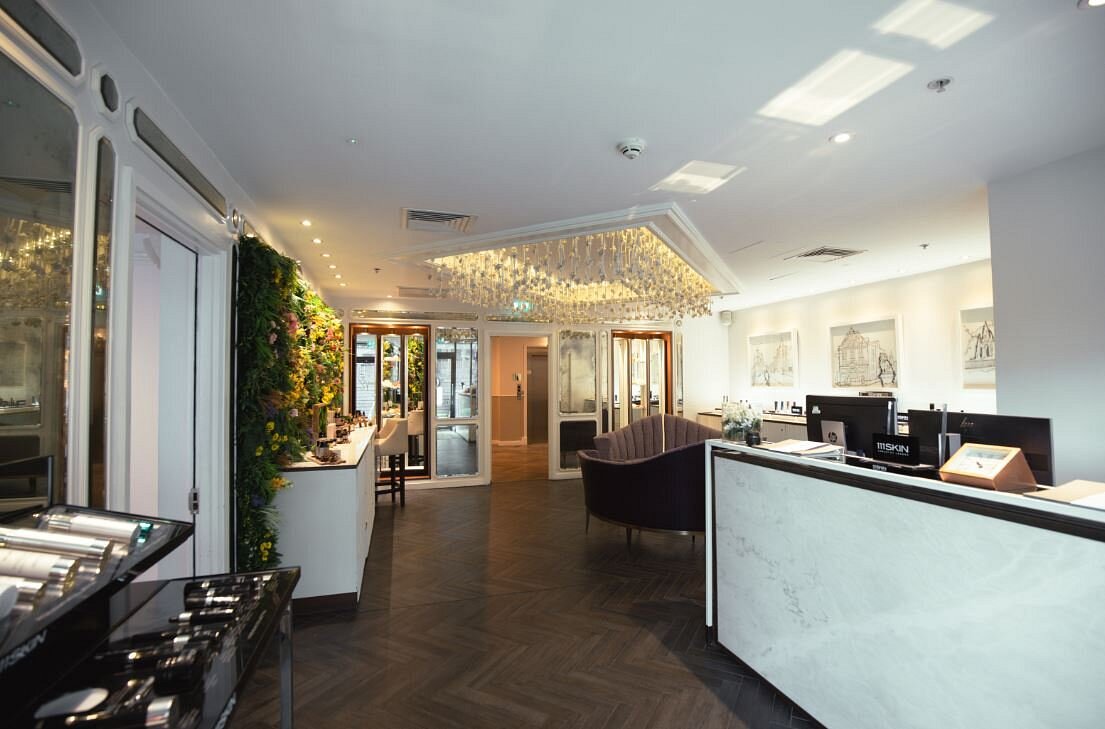 Built in 1903, the Waldorf Astoria is an Edinburgh treasure and one of the best picks for excellent castle views. Located on Princes Street, the Victorian hotel is an old rail station.
Stay in connecting rooms overlooking the Princes Street Gardens. Kids will love the indoor pool and great kid-friendly restaurants surrounding spacious rooms and the hotel. In addition, kids five and under receive a free, complimentary breakfast buffet!
Adults will love the steam room, whirlpool, sauna, on-site restaurant, and bar. The Caley Bar contains over a hundred whiskies!
Waldorf Astoria hotel amenities include room service, free WiFi, digital key access, and non-smoking rooms. There's also a huge gym that's two floors.
Nearby hotel attractions include the following:
Edinburgh Castle
Palace of Holyroodhouse
National Gallery of Scotland
National Gallery of Modern Art
National Portrait Gallery
The iconic hotel is a landmark city a mile away from Edinburgh Old Town and the Royal Mile. Indulge in afternoon tea, champagne, and whiskey, and enjoy fun and relaxation with your family.
Holiday Inn Express Edinburgh Royal Mile
Last on the list is the Holiday Inn Express. Stay at the three-star hotel with all the necessities for your family! Five minutes from Princes Street by walking, the hotel is in the middle of Edinburgh near the Royal Mile. Many cinemas and restaurants are nearby across the street.
The Edinburgh Castle is about a ten-minute walk from the hotel, and the Royal Botanic Garden is around a half-hour by foot. So prepare to see the floral clock as you walk near the Princes Street Gardens.
Take advantage of hotel perks like complimentary breakfast while feasting on muffins, croissants, scrambled eggs, bacon, and sausage.
The Holiday Inn Express includes air conditioning, LCD televisions, free WiFi, daily housekeeping, a computer station, a gym, and a 24-hour front desk, with complimentary newspapers in the main lobby. Also in the hall are soft drinks, coffee, tea, and even alcoholic beverages for the adults.
It's good to know that dry cleaning and laundry are available if needed. Also, the entrance is well-lit at night, which is excellent for your family's safety.
Explore the city of Edinburgh by staying in a modern Georgian hotel within walking distance of family-friendly attractions!
Final Takeaways
Edinburgh is a great city for your entire family. From food, scenery, and relaxation to adventure, there are many family hotels in Edinburgh to stay at for your next getaway.
Sleep in luxury or a cozy room as if you're in the country. Ten of Edinburgh's most welcoming family hotels include many delicious food options and recreational activities while right in the city's heart.
Each hotel contains specific perks for the whole family and many activities to enjoy. With this list of the best family hotels in Edinburgh, you're ready to embark on your next holiday and make lasting memories with your loved ones!
More about our TFVG Author