If you're considering a family trip to Ireland, you've likely been researching lodging in the area. Hotels can make or break a family vacation, depending on several factors such as size, location, and access to quality amenities.
Perhaps you're looking for a tranquil forest retreat or sunny beach getaway. Maybe it's just essential that you're near a pool. Whatever you're searching for, Ireland can surely accommodate your family. Here are 13 of the best family hotels in Ireland.
Druids Glen Hotel & Golf Resort
A trip to Ireland wouldn't be complete without visiting Dublin. This historic city is the capital of the Republic of Ireland and bursting with incredible sights, dining, and entertainment for your family to experience.
The Druids Glen Hotel & Golf Resort is just twenty minutes away from exciting attractions like the Squirrel's Scramble, an outdoor tree-adventure park that your kids will love. If you want to stay closer to your room, however, the hotel has plenty to occupy everyone in your family.
Take your kids for a stroll around the walking trail, or let them burn some energy off at the playground. If you're looking for some splash time, you can take advantage of the hotel's pool. Don't forget to take some time for yourself and practice your swing on one of the two vast golf courses.
Spacious, comfortable rooms can accommodate two children and two adults. Enjoy complimentary wifi, coffee, tea, and satellite television. Your family will feel right at home at this high-end retreat.
Kelly's Resort Hotel & Spa
This breathtaking waterfront resort is perfect for enjoying a sunny holiday with your family. Kelly's Resort Hotel and Spa is located in Wexford, overlooking the beautiful Irish Sea. Conveniently situated near incredible activities for people of all ages, this is an excellent place for families with young children to get their fill of playtime.
Travel just 16 minutes to Playzone, an indoor play park designed to keep your kids occupied for hours. Or stop by the Irish National Heritage Park and teach your kids about Ireland's ancestry. There's so much to do in the area that you'll have no trouble finding ways to keep your family entertained.
Back at your hotel, your family won't have to miss a beat and keep the fun going all day long. Hit the pool or enjoy an afternoon on the pirate ship and playground. Plus, you can drop your little ones off at the playroom and enjoy personal time at the gym, spa, or hair salon.
When everyone's had their fill of fun, you can head back to your airy and comfortable room featuring plenty of sleeping space, free wifi, laundry service, and complimentary breakfast.
Fota Island Resort
Cork is a gorgeous, lively city in southwest Ireland. Waterfront views, historic charm, and modern-day entertainment abound, making it the ideal place for a family to stay and play. At the Fota Island Resort, you'll be in the center of the action, ensuring that you and your family have ample opportunity to experience everything.
Just 13 minutes away, you can visit the Fota Wildlife Park and let your kids spend the afternoon learning about our fantastic world. Or head to the Monkey Maze, where your kiddos can run themselves silly.
Back at the resort, you can find activities suited to various ages and interests. The Fota Island Resort offers exhilarating experiences for the entire family. Go on an Adventure Quest and hunt for treasure. Or send your kids to day camp and relax at the spa.
When it's time to head back to your room, you'll be able to spread out in one of the spacious family rooms. Help yourself to complimentary wifi, television, coffee, and tea. Or, upgrade your family to a lodge. You'll still have full access to the hotel amenities without sacrificing any home conveniences.
Ferrycarrig Hotel
There is never a shortage of things to do in Wexford, so staying at the Ferrycarrig Hotel is ideal for anyone looking to take their family on vacation. This riverfront lodging provides a stylish atmosphere, generous amenities, and plenty of comfort for everyone in your party.
You'll be just 10 minutes from the popular attraction, Leisure Max, an incredible activity complex with recreational options like laser tag and bowling. Or, admire some of Ireland's natural beauty at the Carrigfoyle Activity Center.
If hauling your family around town isn't your idea of relaxation, don't worry. The hotel has fun for children of all ages. Swim in the pool, run around the outdoor play area, or send your kids to the kids club. Meanwhile, you can take advantage of the hotel's gym, spa, or sauna.
After all that fun, you'll need a place to lay your head. Choose from 102 rooms and suites that overlook the River Slaney Estuary. If you upgrade to a "plus" room, you can take advantage of 50-inch UHD televisions, Netflix streaming, tea, and coffee. Talk about a great way to end the day!
Treacys West County Hotel
A family vacation to Ennis is worth consideration, and Treacys West County Hotel can help make it memorable. You'll be just five minutes from Planet Entertainment Centre Ennis, a great place to engage in exciting activities like bowling, pool, and a playground. Or, take a walk around town and discover all the excellent shopping and dining.
Back at the hotel, you can send your kids to The Mini T's Club, where they can participate in arts and crafts, treasure hunts, movie nights, and much more! You can reserve a babysitter at reception if your little ones are too young to join the kids club.
Back in your room, take advantage of spacious floor plans, modern decor, and access to hotel amenities. The Family Triple Room offers one double bed and two single beds. The Family Bunk Room consists of a double bed and bunk beds for your kids. Whichever you choose, you can count on complimentary wifi, television, tea, and coffee.
Delphi Resort Hotel & Spa
Ireland is a wild and beautiful place. The Delphi Resort Hotel & Spa puts you within arm's reach of some of the best natural wonders Ireland offers. If you want your family to experience some open-air recreation and sunshine, this is a great place to stay.
Thirty minutes away, you can explore the Connemara National Park, an incredible place to hike and enjoy the sights. If you want a more sophisticated side of the landscape, check out the Kylemore Abbey & Victorian Walled Garden to admire the flower beds and manicured lawns.
Back at the resort, you can engage in various family activities, including water sports, land sports, and even a summer camp. Go zip-lining, shoot a bow and arrow, or book a kayaking trip.
Your schedule might be a little busy, but eventually, you'll need somewhere to sleep. Book a family room that sleeps up to four. Or, book a loft suite that sleeps up to four and features two levels with a bedroom, living area, and bathroom.
Newpark Hotel
Kilkenny is a city in southeast Ireland that calls to mind a time of castles and cobblestone roads. This medieval town is home to some of Ireland's most fascinating history and the Newpark Hotel.
The St. Mary's Medieval Mile Museum is seven minutes away, an interactive museum set in a converted 13th-century church. If you're looking for something a little more adventurous, try the Castlecomer Discovery Park. Take a ride on a zipline or let your kids wear themselves out on The Bouncing Net.
Suppose you don't feel like traveling, no problem! Take your children and visit the wildlife farm—peacocks, alpacas, and ponies all call this farm home. Or, drop them off at the Krazy Cats Kids Club. Then you can take a well-earned break at the hotel's spa or spend an afternoon at the bar.
Of course, when researching family hotels in Ireland, your accommodations will likely be at the top of the list. At Newpark Hotel, there are deluxe and superior family rooms available. Interconnecting room options provide space and privacy for families with older children. Each family room has a television, wifi, coffee, and tea.
Hayfield Manor Hotel
This converted manor is an incredible location for families seeking an upscale atmosphere with historical flare. Hayfield Manor Hotel is on Cork, Ireland, a gorgeous waterfront city in southwest Ireland.
Just 4 minutes away is Fitzgerald's Park. Roam the lawns and enjoy the fountain, sculptures, and museum. If outdoor activities aren't your things, take your family to No Escape, and try to break free from one of three themed escape rooms.
Once you make your way back to the hotel, you can continue the fun with a visit to the bird aviary. Or, take a dip in the pool and let your kids work out some of their energy. With luxury amenities for your little ones like cookies and milk at bedtime and mini bathrobes, your kids will experience the same grandeur as any other guest.
At this luxurious hotel, your accommodations will live up to the rest of your experience. Book a family room that sleeps up to four guests. If you need more space and privacy, ask about rooms with interconnecting bedrooms.
Mulranny Park Hotel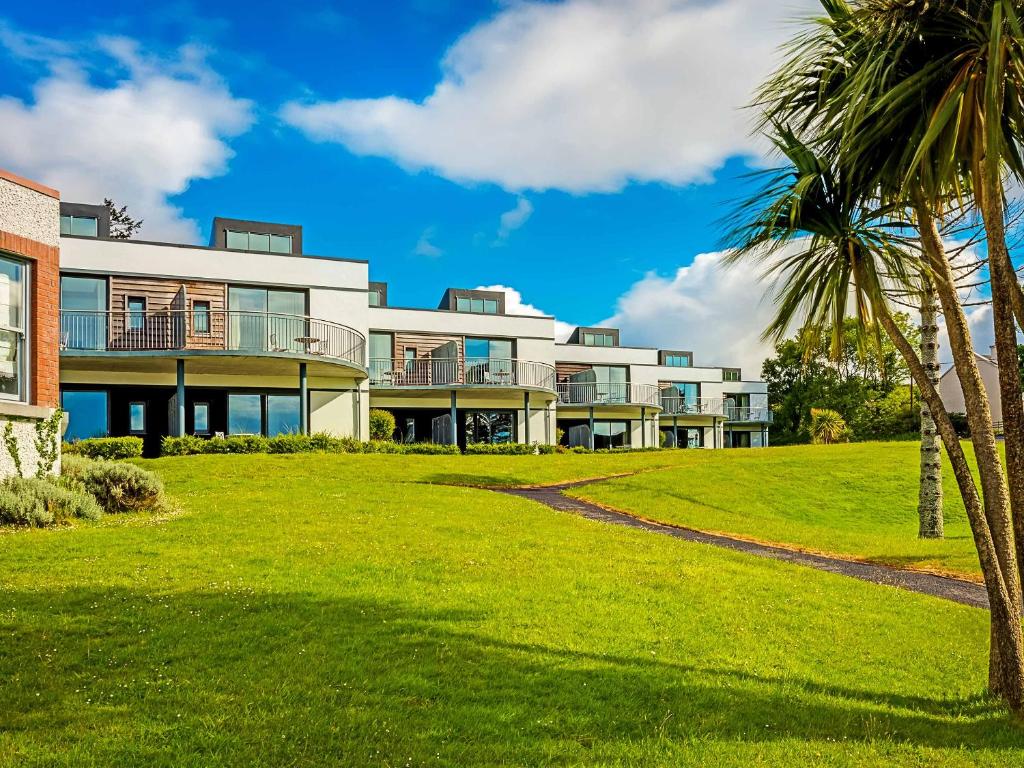 Sweeping landscapes and waterfront views await you at the Mulranny Park Hotel. Located in the enchanting seaside village of Mulranny, staying in the Mulranny Park Hotel will make a trip to this refreshing destination an experience to remember.
Just 16 minutes away is the Wild Nephin National Park. Take your family to see the beautiful Irish wilderness. If you're interested in an indoor setting where your kids can play, check out The Wild West. This western-themed play park is an excellent place for your children to burn some energy and engage their imagination.
If you decide to stay at the resort, there are plenty of activities to participate in just a short walk from your room. Play on the beach, walk a fairy trail, or take a safari. You can even drop your children at the Great Fun Kid's Club and spend a day in the pool or work out at the gym.
Once you're ready to hit the hay, head back to one of the incredible family rooms. Standard family and superior-sized family rooms are available for your party to rest. You can sleep up to six and enjoy complimentary amenities like wifi, satellite television, tea, and coffee.
Mount Juliet
If you want to take your family on an adventure to Kilkenny, Ireland, you'll want to consider Mount Juliet. This elegant estate fits in perfectly with Kilkenny's romantic scenery. Your family will love this hotel's high-end amenities and sophisticated atmosphere.
When planning a day of activities for your little ones, you'll be happy to discover that The National Reptile Zoo is just 23 minutes away. Or, enjoy the Woodstock Gardens & Arboretum and spend some time with nature.
Once you've returned to your lodging, you won't have to cut the fun short. Try out excellent activities like fishing, archery, and browsing the gardens. If you prefer some time in the water, spend an afternoon in the pool.
When you get back to your accommodations, relax in one of the family rooms. Admire gorgeous views, take advantage of the wifi, or enjoy a cup of coffee right from the comfort of your room.
Inishowen Gateway Hotel
On the Inishowen peninsula, you will find the Inishowen Gateway hotel. This stylish inn is the perfect place to bring your family if you want to introduce them to the stunning natural beauty of Ireland.
Less than 30 minutes away is Far and Wild. Hike, bike, or paddleboard with your family and enjoy Ireland's picturesque beauty. Or visit Creggan Country Park. Engaging in water sports and other outdoor activities will keep your family entertained for the entire day.
If you decide you'd rather stay close to your room, the hotel has excellent on-site options like walking paths and swimming. There's even a children's pool for your kiddos to expend some energy during your visit.
Once you're ready to head back to your room, you won't be lacking in space or luxury. Choose from standard-sized rooms to interconnecting suites that sleep up to six people. Wherever you choose to lay your head: enjoy television, wifi, tea, and coffee.
Diamond Coast Hotel
In the peaceful town of Enniscrone, your family can find plenty to do and enjoy during your vacation, and the Diamond Coast Hotel can provide excellent accommodations during your stay. Whether you want to stroll the sandy beaches, shop, or dine, this town has it all.
About ten minutes away is Tom Ruane Park, where your children can exercise on the playground and run around the wide green areas. Otherwise, you can head to Funny Bone's Activity Centre for indoor entertainment.
Of course, not every vacationer wants to travel far from the hotel. If this is you and your family, the Diamond Coast Hotel has excellent amenities and activities for families. Play in the games zone, practice surfing, or hang out at the aqua park. If you're looking for a little personal time, drop your children off at the kids club.
During your stay, you'll have plenty of rooms to choose from, depending on your family's needs. The spacious family rooms can sleep up to eight people and have fantastic amenities like television, room service, and tea and coffee.
Amber Springs Hotel and Health Spa
If you want a truly luxurious experience on your trip, consider staying at the Amber Springs Hotel and Health Spa. A journey to Wexford is always guaranteed to be a blast for your family, and at this hotel, it's sure to be one to remember.
You'll be within reach of incredible entertainment like the Tick Tock Activity Farm. This is a great place to introduce your children to farm animals or let them run around on the playground. Or head to Pirates Cove for amusement for the entire family. Bowl, go-kart, or break some records in the arcade.
Of course, the hotel doesn't need much help in the entertainment department. Your kids can take advantage of the gamers zone with an indoor playground or catch a movie. You can even play a round of mini golf and connect with your competitive side. Or, drop your children off at the kids club and spend a few hours at the spa.
Generous floor plans and interconnecting family rooms are available to accommodate your entire gang. Relax in front of the television, have some tea or coffee, and lie back on this luxurious retreat.
Final Thoughts
Ireland's enchanting landscapes, entertainment, and accommodations make it a great destination for your next family getaway. Whether you want your kids to experience more of nature or you want to find a great place to relax, you can't go wrong with one of these luxurious retreats.
Don't wait. Book a room today at one of the best family hotels in Ireland.
More about our TFVG Author