Portugal is ranked among the best vacation destinations in the world. Madeira island in Portugal is famously known as the birthplace of world-renowned footballer Christiano Ronaldo.
Traditionally, this Portuguese island has appealed to many, partly because of its comfortable subtropical climate. This is influenced by its proximity to Northern Africa. Since you are almost guaranteed sunshine, there is no reason why Madeira should not be part of your main travel destination.
It is the perfect destination for a winter break or anytime if you are looking for an exciting and relaxing holiday with your family.
Besides the glorious climate that Madeira offers, its social atmosphere and world-class hotels will guarantee you exceptional value for your money. This guide takes you through some of the best hotels to stay in with your family in Madeira.
Reid's Palace, Funchal
Reid's Palace, Funchal, will provide you with an exciting experience in Madeira. Whether you are thinking of enjoying family feasts under palm trees or paying a visit to the yearly Flower Festival, your stay at Reid's Palace would be worth it. There is so much to do with your family since the hotel features a hive of happenings on Madeira island.
Your family will fancy the flavourful festivals and action-packed adventures, allowing you to experience the best that Madeira has to offer.
Reid's Palace is a good choice for a memorable family holiday in Portugal. The hotel offers luxury accommodation, daily breakfast, a 50% discount on rooms for children under 17, and complimentary dining for children aged six and below.
These discounts on meals and accommodation can ensure you save some money to have fun visiting exotic places and attending the yearly festivals on the island. Kids have their own space to enjoy themselves. Reid's Palace offers exceptional luxury services that are hard to replicate. You and your family will definitely enjoy your stay here.
Address: Estrada Monumental 139, Funchal, Madeira
Saccharum – Resort and Spa – Savoy Signature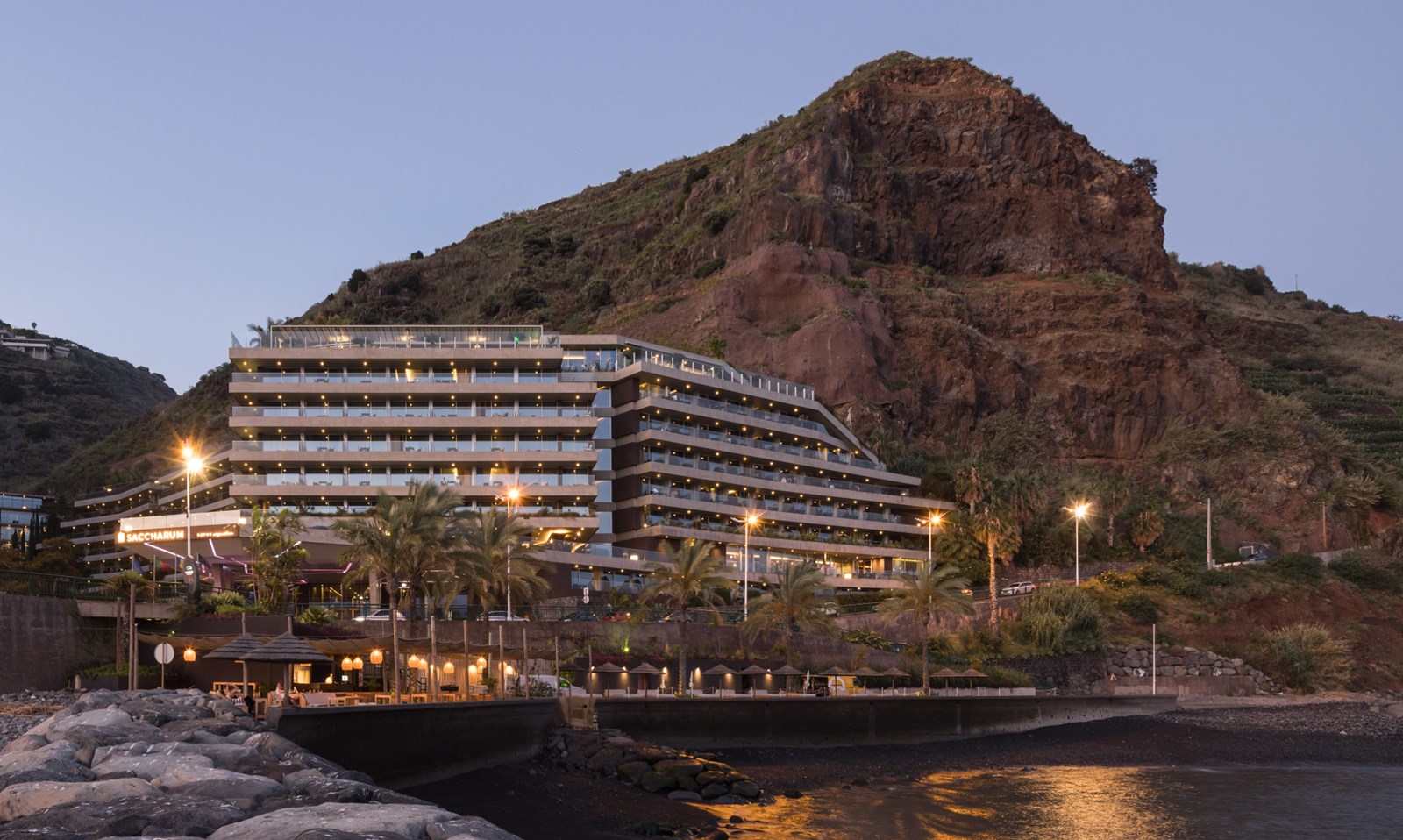 Saccharum – Resort and Spa – Savoy Signature is another great place to stay with your family. The property is just minutes from Calheta Beach. It is a 5-star hotel that features conference rooms and a rooftop pool.
The artistic appeal of the hotel, coupled with its Genius discount offers, will lure you to settle for this hotel. Its classy services guarantee that your kids can enjoy some of Madeira's best world-class catering services. If stunning views are a thing to go by, your family will treasure the unique experience Saccharum Resort and Spa offers.
The zen-like experience the hotel offers is commendable. It is beautiful, clean, and quite classy. This is the ultimate getaway that will guarantee your family remembers forever. Besides spending quality time in the hotel, you can also visit Funchal, the island's capital.
There are so many exciting activities to enjoy in Funchal, including full-day tours, whale watching, 4WD tours, art galleries, and more. These activities will provide you with just the wild experience you and your family need on Madeira island.
Address: Rua da Serra d´Agua, 9370-071 Calheta, Portugal
Savoy Palace Hotel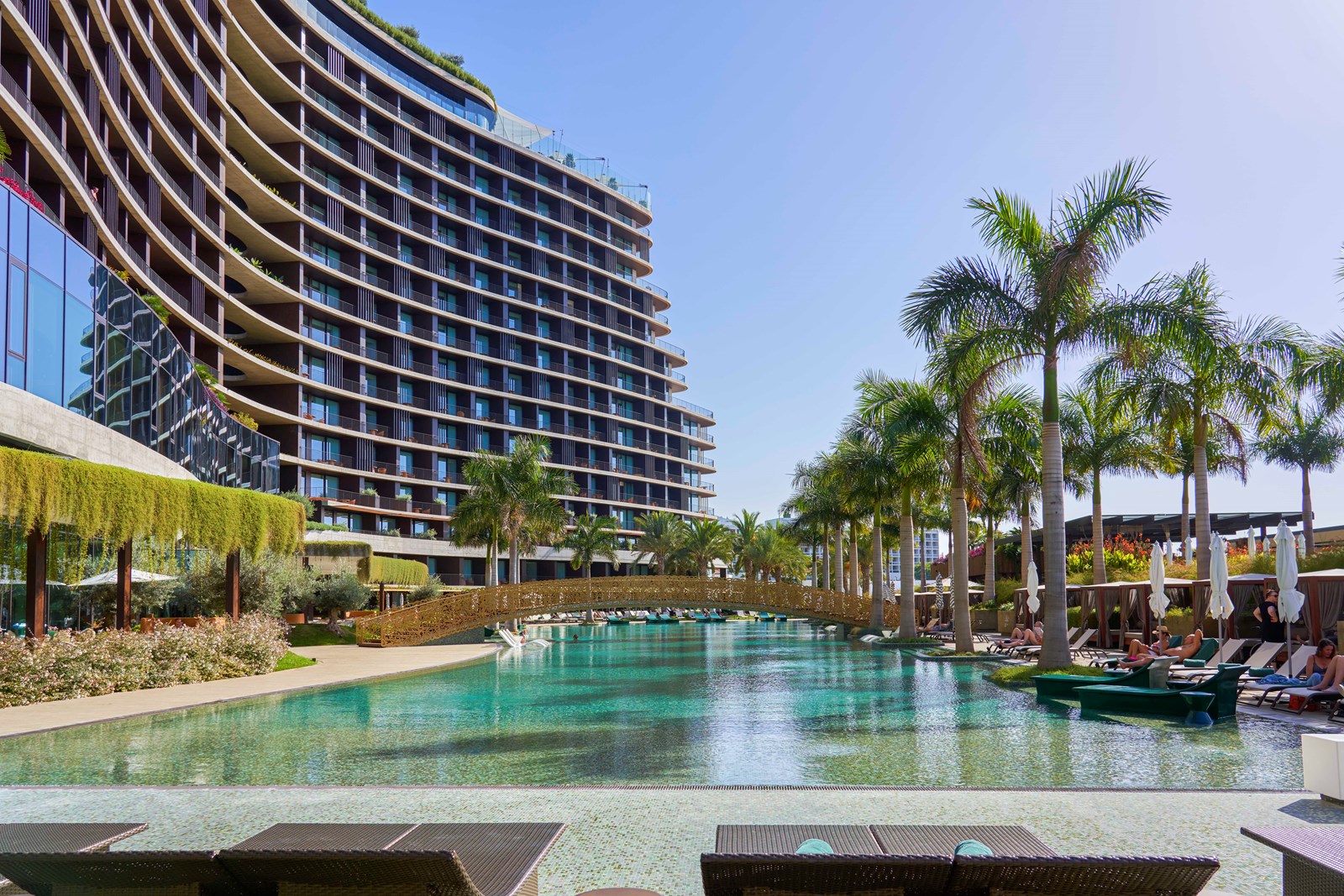 Savoy Palace Hotel is located at the heart of Funchal, and it is another recommended hotel for families. Some rooms open up to the beautiful Madeira island side with the best view of the city. Savoy Palace brings a unique mixture of contemporary and traditional features, so the hotel is designed to provide you and your family with a unique and pleasurable experience.
The hotel features a bar, restaurant, garden, and a shared lounge. It also offers a fitness center, an outdoor swimming pool, and evening entertainment to guarantee you wind up your day in the best way possible. Some of the family rooms are fully equipped with a kitchen, a microwave, a dishwasher, and a fridge.
Exciting places of interest near the hotel include Madeira Casino, Marina do Funchal, and Mar Avenue. It is an ideal accommodation for couples and families looking to savor the good moments Madeira has to offer.
Address: Avenida do Infante N. 25, Se, 9000-022 Funchal, Portugal
The Cliff Bay Hotel
The Cliff Bay Hotel is a 5-star hotel located close to the sea. If you are looking for a family-friendly place to relax, this is the place to be. You can wine and dine at the Il Gallo d'Oro restaurant, a 2-Michelin-starred exquisite place. The surrounding gardens with plenty of hidden corners deliver an elegant view of the Funchal bay.
Some of the property amenities include a pool, a bar and lounge, a game room, and a fitness center. Babysitting services are also provided just in case you need to leave your kids and tour the surrounding places. Room features include a private balcony, minibar, room services, a flat-screen TV, etc.
Address: Estrada Monumental, 147, Funchal, Madeira
Hotel Quinta Do Furão
Hotel Quinta Do Furão is the right place to get both comfort and good taste. The hotel features remarkable views of the northeastern Island of Madeira. While it is a 4-star hotel, it does not disappoint since it offers elegant rooms, which were recently renovated in 2020. Every room is tailored to your needs, guaranteeing you feel at home. The rooms have a balcony view that opens you up to characteristic vineyards.
In terms of food, your family will enjoy the wide selection of international gourmet cuisine and typical Madeiran dishes. How about relaxing at the wellness facilities like a sauna or massage room or even exercising in the fitness room? All these facilities are dedicated to giving you an experience worth remembering.
Address: Achada Do Gramacho, 9230 – 082 Santana, Portugal
Three House Hotel
Three House Hotel is not just a hotel; it delivers beyond to ensure you experience a lifestyle that suits your holiday needs. The hotel is like a second home located at the heart of Funchal.
It features everything you could want in a luxurious hotel, including an outdoor swimming pool, a restaurant, a bar, and a fitness center. Each room opens its windows to provide a superb view of the nearby city. All guests have access to a terrace and a garden.
Your family needs are also considered since some rooms are fully furnished with a kitchen with a dishwasher, a kettle, a minibar, and an oven. The area provides a spectacular cycling environment, and if you love playing table tennis, there are entertainment areas to enjoy yourself.
Points of interest within the area include Sao Tiago Fort, Cathedral of Funchal, and Marina do Funchal.
Address: Rua Brigadeiro Oudinot 2, Santa Maria, 9060-209 Funchal, Portugal
Solar Do Ribeiro
Solar Do Ribeiro features luxurious apartments that overlook Funchal and Madiera's beautiful coastline. Each apartment is given the perfect finish with chic-white furnishings.
These apartments deliver a unique sense of stylishness with their modern finishings. The spacious outdoor facilities combined with the picture-perfect view of the sea is something that will take your breath away.
Each apartment provides guests with everything you might think of in a classy accommodation. They feature a kitchen area with a microwave and a dishwasher, giving you the independence to prepare your own family meals.
Apart from enjoying the beauty of the sea, you can join other guests in hiking or strolling around the nice gardens. Other interesting places near the hotel include Madeira Botanical Garden, Sao Tiago Fort, and the Cathedral of Funchal.
Address: 30 Rua Conde Carvalhal, Santa Maria, 9060-182 Funchal, Portugal
Santa Cruz Village Hotel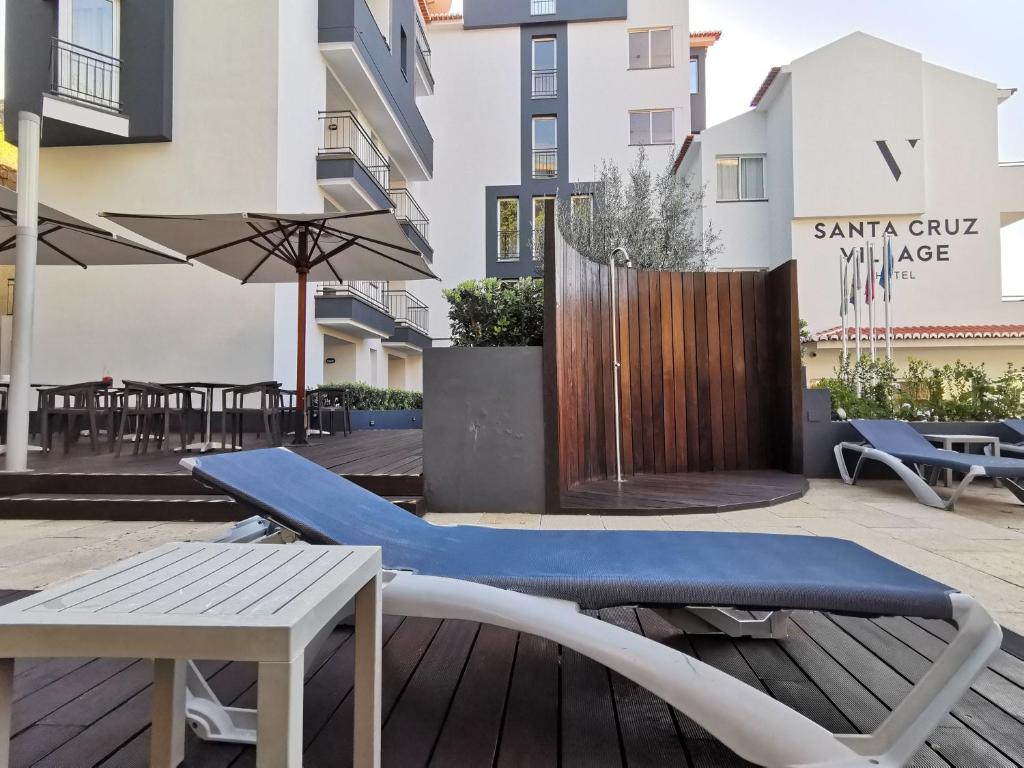 Santa Cruz Village Hotel is another beautiful family-friendly hotel that is located just 2 minutes away from the beach. The hotel offers an outdoor pool, a mini-market, a bar, and a restaurant. Each room has its own balcony and is equipped with a private bathroom.
Children can enjoy themselves in the games room. Guests can enjoy the beautiful surrounding environment as they hike in groups. Golfing is another exciting activity that guests use to kill time.
The cozy atmosphere of the rooms delivers the best holidaying experience. They are fitted with a flat-screen TV. You can choose between a single room, twin junior/double room suite, or double/twin superior room.
What's more, Santa Cruz, Portugal, is a leading tourist center, making it an ideal place to relax and unwind with the rest of your family.
Address: Rua Do Bom Jesus, nº 22, 9100-152 Santa Cruz, Portugal
The Golden Residence Hotel
The Golden Residence Hotel is ranked among the best family hotels in Madeira. One main aspect that makes this hotel stand out is its spacious environment. The hotel features a swimming pool, spa, health club, and meeting room.
The spa area is a great place to be if you want to relax and enjoy some pampering from professionals. Moreover, this spot features a sauna, a closed jacuzzi, and a Turkish bath, which will surely lure couples to enjoy their time here.
Since pets are part of the big family, the Golden Residence Hotel provides you with pet-friendly rooms to ensure your pets are part of the fun. A pet kit is offered as part of the package, including a blanket, a feeder, and a suitcase.
Address: Rua do Cabrestante 25, Funchal, Madeira 9000-105 Portugal
Heritage Apartments
Situated in Madeira's capital city, Funchal, Heritage Apartments is just what your family needs when you do not want to compromise on quality but are still within your budget. It is a family-friendly hotel that offers accommodation with ample parking space and free WiFi.
The individual units feature a private bathroom with a hairdryer and a flat-screen TV. Some rooms also offer a kitchen with a dishwasher, a fridge, and a microwave. Since these are apartments, they are an ideal choice for families who enjoy wining, dining, and exploring nearby places.
The homely environment allows you to tour popular destinations, including Sao Tiago Fort, Madeira Casino, and Mar Avenue.
Address: Rua Conceicao 93, Funchal, Madeira 9050-026 Portugal
Pestana Carlton Madeira Premium Ocean Resort
Pestana Carlton Madeira Premium Ocean Resort is a charming, luxurious hotel recommended for families. It is a 5-star hotel at the heart of Funchal. The view of the sea, swimming pool, garden, and Funchal Bay give the hotel a unique aesthetic appeal. The resort is only ten minutes from the city center, which gives you ample time to engage in the city's exciting activities.
Your family can have fun at the hotel's two large outdoor swimming pools, which offer access to the Atlantic ocean. The dive center is a fancy place for kids and adults to experience underwater adventures and participate in boat excursions.
Pestana Carlton also features a spa, an indoor swimming pool, and relaxation rooms. These are areas where you can take advantage of their Magic Spa treatment. Free WiFi, two bars, and four restaurants are other facilities the hotel offers.
Address: Largo Antonio Nobre, No. 1, Funchal, Madeira 9004-531 Portugal
Pestana Royal All Inclusive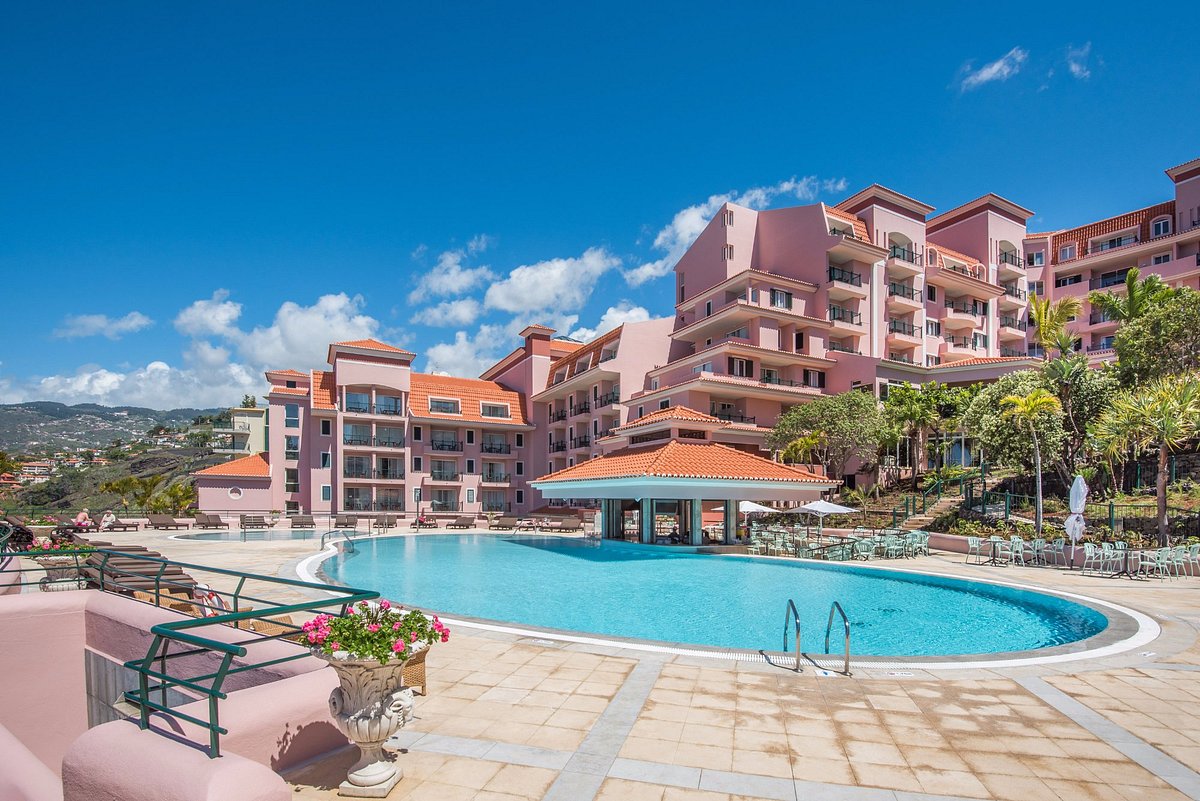 Pestana Royal All-Inclusive features an all-inclusive family hotel in Funchal. It is just two minutes away from Funcha's largest beach, Formosa Beach. This is a great place to enjoy the panoramic sceneries of the Cabo Girão Hillside.
While enjoying your stay at the hotel, you can take advantage of the two outdoor swimming pools, a spa that features an indoor swimming pool, three treatment rooms, and an open-air solarium. You can also enjoy maximum relaxation services with Magic SPA massage/treatment.
Kids have their specific place to get together and have fun since the hotel features a Kid's Club. Adults can play mini-golf or tennis. Pestana Royal All Inclusive offers a relaxed atmosphere to guarantee that you and your family enjoy your stay.
All rooms feature free WiFi, flat-screen TVs, and stunning views.
Address: Estrada Monumental 275, Funchal, Madeira 9000-250 Portugal
Final Thoughts
The 12 featured hotels here are the best ones your family can choose from. Besides looking for hotels in Madeira that are within your budget range, you should focus more on what you get in return. Arguably, the best choice is one that will not compromise the quality of services and facilities it offers.
More about our TFVG Author