A popular travel destination in the Mediterranean, Majorca lies just off the coast of Spain. With diverse geography, including mountain ranges, cozy countrysides, and sandy beaches, families can find various activities to keep them busy during weekend getaways or week-long summer vacations.
This spectacular island offers something for everyone but is especially kid and family-friendly. From unbeatable, picture-worthy locations to a packed agenda, Majorca is the best place to spend a vacation with loved ones. Your family can find the right place to stay to experience the local beaches and Mediterranean cuisine or go diving off the coast with this list of the best family hotels in Majorca.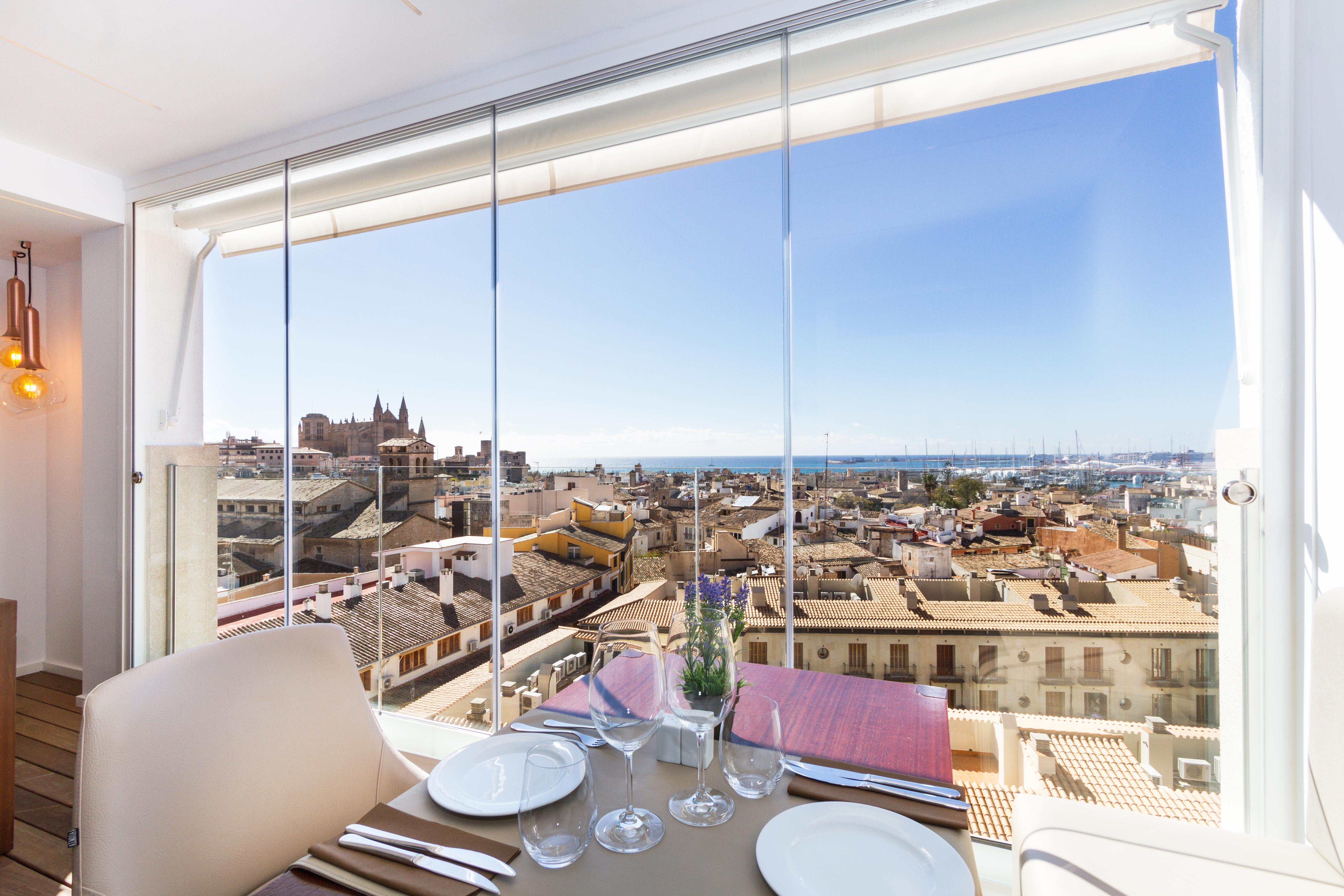 Located in Old Town, a suburb of Palma de Mallorca, this beautiful, family-friendly hotel is right near the beach and filled with a variety of activities for the family. With gorgeous terrace views of the Cathedral of Santa Maria, Hotel Almudaina features modern suites for families of up to four people. Enjoy the local coffee shops and restaurants that are all within walking distance of the hotel.
Amenities of the Hotel Almudaina include digital television sets, wireless internet, concierge services, and over 70 air-conditioned accommodations. This hotel is smoke-free, making it an excellent destination for kids and families to come and relax and take in the gorgeous views. Adults can take advantage of the bar and lounge with a rooftop terrace, while the kids can explore the natural beauty of Palma de Mallorca.
Marriott's Club Son Antem is a breathtaking luxurious resort that is perfect for vacationing families. This hotel offers exquisite villas accommodating families of six to eight. These villas are located in Talaiots Capocorb Vell village and come with fully equipped kitchens, a washer and dryer, and exclusive private balconies.
Within the resort, families have access to a pool and spa, a fitness center, and a golf club, along with a kids center. Whether you want to brush up on your golf game or hang out with the kids at Pepe's Place, Marriot's Club has something for everyone in the family.
Indulge in the local cuisine at the marketplace or check out a local hotspot called La Terrassa Mediterranean Bar & Grill. Marriott's Club is just a short drive from Palma de Mallorca and the local beaches where kids can build sand castles and adults can sunbathe. There are lots to do in Majorca and the surrounding areas, including checking out local shops, taking tours of castles and cathedrals, and much more.
A quick five-minute walk to Alcudia beach, the resort Zafiro Palace Alcudia offers stylish rooms built to fit your family of four or more. Each suite has a built-in kitchenette and a private terrace. This resort is a swimmer's paradise, with six pools, rooftop rooms with adjoining jacuzzis, and suites with direct access to the waterfront.
A water slide, playground, and pirate ship round out the hotel's kid-exclusive club for children aged four to 16. Parents will love the kid-friendly activities for the kids and the more adult features so they can relax at the spa, four restaurants with the swim-up and poolside bars, or the adults-only pool.
Local attractions include Xara Gate and the Roman Remains of Pollentia, along with Alcudia Port. Tons of water adventures await the family with kayaking, snorkeling, and scuba diving at the local Hidropark.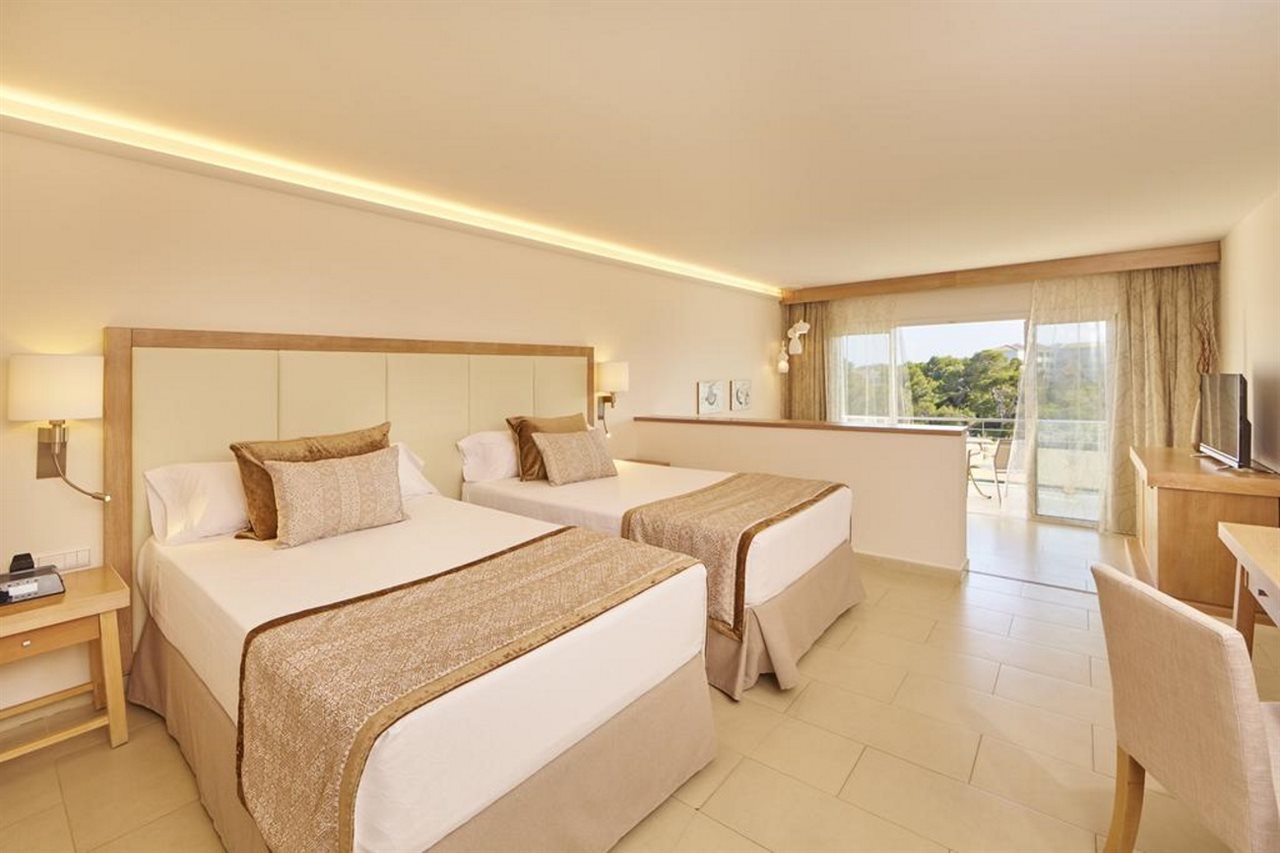 Located in Portopetro, Blau Porto Petro Beach Resort and Spa features sprawling, gorgeous grounds with access to the adjacent beaches Caló de Sa Torre and Cala Mondrago. Offering suites that cater to families of up to five people, Blau Resort has a variety of family-friendly activities.
With three pools, eight tennis courts, a hangout for children, and a gym, there is something for everyone at Blau Porto Petro. Guests have a ton of options for activities, including horseback riding, snorkeling, basketball, and volleyball, along with cycling and hiking. Other amenities include wireless internet, flat-screen televisions in each room, an onsite gift shop and private parking, and gorgeous overlooking views of the pool and garden areas.
More amenities and activities include:
24-hour golf cart transportation services
Bicycle and car rentals
Bicycle station for cleaning and repairs
Onsite hairstylist
With live entertainment each night and a 15-minute walk to the Palma Aquarium, kids and parents will love staying at Iberostar Selection Playa de Palma. Located in Palma de Mallorca, this modern, waterfront property caters to families of four with adventurous outdoor activities and access to nearby local activities.
Families can enjoy windsurfing, sailing, snorkeling, and more at Playa de Palma. Take an eco-tour or get out and be one with nature via nearby hiking and biking trails.
Adults will love the full-service day spa, fitness center, and sauna. Iberostar offers over 180 air-conditioned accommodations, along with rooms that open to spacious balconies with gorgeous views. Other amenities of this fabulous resort include wireless internet, LCD televisions with satellite channels, and much more.
Situated on Cala Blanca beach, the Fergus Style Cala Blanca Suites offers a family-oriented experience perfect for vacationing kids and adults. Within walking distance of nearby shopping, this resort has a natural beauty that features exquisite suites with whirlpool tubs, balconies with sun loungers, and daily entertainment guests can watch from their rooms.
Local water parks such as Katmandu Park and Western Water Park give families with children or adults who love to swim a chance to ride slip-and-slides and other fun activities. Other amenities of Fergus Style Cala Blanca Suites include two bars and lounges, LCD televisions with satellite, wireless internet, an indoor and outdoor pool, a kids club, and a kiddie pool.
Exploration around the hotel is easy, with these places within a five to 10-minute walk from Fergus Style Cala Blanca Suites:
Square Santa Ponsa
Platja de la Punta dels Gats
Platja Monte de Oro
Santa Ponsa Beach
Jumeirah Port Sóller Hotel and Spa sits abutted the cliff's edge overlooking the town of Port de Sóller and offers deluxe accommodation for families of up to seven. This hotel has suites that feature seaside views along with views of the nearby Tramuntana mountains.
Children will love Barbaroja's kid club with games and activities for ages three to 12. Another kid-friendly activity is nearby at the Balearic Museum of Natural Sciences and the Museu de la Mar, where families can learn more about the world around them.
Adults can relax at the hotel, which hosts several wine-and-dine options, including a vineyard with winery tours and a tasting room, along with two different restaurants and three bars. After a wine tasting, pamper yourself with a hot stone massage and facial at the hotel spa.
Located by Alcudia Port, PortBlue Club Pollentia Resort and Spa offers vacationing families the natural beauty of the area with tranquil rest and a relaxing spa getaway. The hotel offers three separate pools, four bars, tennis and squash courts, and a kids club with a playground.
Hidropark is nearby, with Alcudia Beach and Playa de Muro just down the road. Outdoor activities include windsurfing, scuba diving, hiking, biking, and more. Afterward, indulge in whole-body treatments and facials at the hotel spa, along with a manicure or pedicure. Check out the gym to participate in a water aerobics class or yoga, basketball, and volleyball.
Nearby attractions are within walking distance of the hotel, including Bahia de Pollensa, Platja del Corral de Bennàssar, and Playa de Can Cullerassa. Enjoy a meal via one of three onsite restaurants while you vacation at the PortBlue Club Pollentia Resort and Spa.
Considered a quiet getaway spot, the Maristel Hotel and Spa offers exquisite family suites for up to six people with views of the sea and the mountains. Stationed in the historical district of Estellencs, this gorgeous smoke-free hotel features onsite pampering spa services that adults can relax in while kids play on the boardwalk.
Nearby adventures await with rock climbing and kayaking or scuba diving at the Pas de Ratta. Other amenities at the Maristel Hotel and Spa include laptop-compatible safe and plush bathrobes, luxurious bedding with Egyptian cotton sheets, digital television, and both wired and wireless internet access.
Head into Palma de Mallorca to sight-see and visit the popular Western Water Park or Ferrocarril de Sóller Train Station. Local notable places around the Maristel Hotel include Torre des Verger and La Trapa. Maristel Hotel and Spa offers a vintage style with professional service and traditional values for all its guests.
Mon Port Hotel and Spa is set on luxurious grounds surrounded by mountains. Located in Andraitx, this historic hotel features suites for families of up to four people and has a dedicated kids club with a playground area and a large three-level split pool.
The Port of Adriano is a 20-minute walk from the hotel, but other activities abound with shorter walking distances, such as the Cala Fonoll and Arte Casa Gallery. Travelers can explore Santa Ponsa Beach and Playa de Magaluf or take kids to the local water parks, including Western Water Park and Katmandu Park.
Outdoor activities include kayaking, scuba diving, mountain biking, and hiking local trails. Various amenities include body treatments at the Blue Spa Wellness Center, facials, manicures, pedicures, pilates, and other aerobic activities.
Gavimar La Mirada Hotel is located in Santanyi and features suites along with apartments for longer stays. Perfect for families who need one to two bedrooms, facilities include kitchens and balconies with over 120 air-conditioned accommodations. Electric kettles, wireless internet, flat-screen televisions with satellite channels, and clothing irons and ironing boards are available to guests.
Kids will love going to the kids club, the playground, and other children-friendly entertainment programs. Other amenities include a fitness center, two pools, a poolside bar, and a deli and snack bar. Several beaches are within walking distance, including Caló des Pou beach and Porto Cari Port.
Recreational activities are within a short distance, such as:
Caló des Pou
Caló de ses Egos
Caló de ses Dones
Cala d'Or Marina
Cala Gran
Kids will love staying at Belmond La Residencia, where there is a kids club where they are introduced to pottery and cooking classes or taking tennis lessons. Babysitters and nannies for small children are available upon request so that adults can indulge in massages, body wraps, or manicures and pedicures at La Residencia Spa.
Located in Deia between the mountains and the beach, Belmond La Residencia accommodates families of all sizes with large, luxurious suites. The Balearic Museum of Natural Science is nearby, along with the Ferrocarril de Soller Train Station and Museu de la Mar. Outdoor activities include scuba diving, windsurfing, snorkeling, and mountain biking.
Enjoy Mediterranean cuisine at the three different restaurants at the hotel, or visit the garden, library, and other shopping areas that Belmond La Residencia has to offer. Local churches, such as the San Juan Bautista Church, are a five-minute walk from the hotel.
Combining tradition with modernity, Hotel Portixol offers laid-back family fun with restaurants and activities within walking distance. Enjoy some of Spain's best cuisine scattered right around the Hotel Portixol. Suites come with terraces that overlook the gorgeous views of the bay of Palma.
Amenities include air-conditioned accommodation, kitchens with separate dining areas, and smart televisions. Outdoor activities are available onsite and nearby, with Playa Ciudad Jardìn and shopping districts within walking distance. Hotel Portixol claims to bring function and flair to family vacations with a simple mixture of Scandinavian themes and Mediterranean culture.
Kids and adults will love staying in the breezy rooms and walking and having fun on the beaches nearby. The Hotel Portixol features a large restaurant and a conference or meeting facility. Whether you love windsurfing, hiking, or enjoying a fine dining experience, Hotel Portixol has it all.
Robinson Club Cala Serena is great for families who love playing sports such as tennis or exploring the outdoors by hiking, biking, or scuba diving. The kids club is for ages three and up, and a babysitter is available upon request.
The beachfront location means water activities are plentiful, with Cala Serena and Cala Ferrera Beach within walking distance. Adults will benefit from the onsite spa and can treat themselves to a massage, a manicure, or a pedicure, along with yoga classes and other aerobic activities.
Robinson Club Cala Serena also features wireless internet, a terrace and a garden, and a kids playground, along with spacious suites with balconies. Local activities are all within a ten to fifteen-minute walk, including:
Cala Serena
Caló des Corral
Cala Sa Nau
Cala Ferrera Beach
Cala Gran
Meliá South Beach Resort is located in Calvia in between the Puerto Portals Marina and Port of Palma de Mallorca. This resort offers luxurious and contemporary suites, with private lounge areas and six outdoor pools. Meliá South Beach Resort features Spain's largest soft play area perfect for kids ages two to 12.
Enjoy water activities such as kayaking and scuba diving, or visit the Western Water Park and Katmandu Park. Adults will love the onsite sauna, fitness center, and other spa services like hot stone massages, Swedish and Thai massages, facials, and reflexology.
Other amenities of this south beach resort include wireless internet, irons, ironing boards, hair dryers, bathrobes, slippers, deep bathtubs, and rainfall showerheads in each suite. Meliá South Beach has over 250 air-conditioned accommodations, along with rooms with full balconies, premium bedding, and flat-screen televisions.
The beaches of Playa de Muro and Alcudia are nearby the Son Brull Hotel and Spa, along with HidroPark and Placa Major. Families can enjoy snorkeling and other water activities before going on a hiking adventure through the lush, green hills.
Adults can take advantage of the winery or play a round of golf at the Son Brull Hotel before relaxing with a full body scrub or body wrap at the spa. The onsite health club offers yoga classes, and there is a poolside bar with an adjacent garden and terrace.
Amenities of this hotel include wireless internet, a library, and dry cleaning and laundry services. Children over six can enjoy camp activities, including kayaking and zip-lining. While adults savor the rest of the hotel, a nanny service is available.
Family-Friendly Hotels in Majorca
From the Maristel Hotel and Spa to the Hotel Almudaina, there are tons of family-friendly hotels in Majorca to choose from for your next vacation.
From kids' clubs and playground areas to waterfront activities and museums, you can find something for everyone in the family to love. These hotels offer large, luxurious suites with balconies and sometimes even full kitchens so you and your family can feel at home while traveling and soaking up the Mediterranean culture.
More about our TFVG Author