Whether you're planning a short family break or an expanded family vacation, you want to find the perfect place it stays. Northern Ireland is one of the best places to visit for a family vacation, with plenty to see and enjoy. And northern Ireland has plenty of beautiful choices for families of all forms, sizes, and ages.
From exploring the coastline and relaxing on beaches to exploring the region's rich history, there are tons of trails, attractions, and experiences throughout the entire region. Younger kids will enjoy fairy walks and children's museums while adults can explore historic locales and local culture.
Getting the proper hotel means your family can enjoy this incredible region without worrying about anything else. And many hotels and resorts cater to families all over Northern Ireland. So, research before booking, and you can find the perfect base to explore.
Lusty Beg Resort, Fermanagh
While the name may not seem child-friendly, the resort certainly is. And barring any awkward questions, children of all ages will enjoy Lusty Beg Resort because it's packed full of child-friendly activities.
There is a fairy trail (with an accompanying booklet), archery, clay pigeon shooting, kayaking, a Water tour, a nature trail, a spa, a play area, and an activity center where regulars have children's events. The resort is also dog friendly so that you can bring every member of your family along.
You can rent cabins or get ensuite courtyard rooms, making it perfect for families of all sizes. It's just a short ferry ride from Boa Island, making it the ideal island getaway. They have a special offer for families, and this resort is sure to put a smile on everyone's face while you enjoy the natural beauty of Lusty Beg Island.
Marine Hotel, Ballycastle
The Marine Hotel in Ballycastle is known for perfect beach days and lovely accommodations. Accommodations include family rooms, interconnecting rooms, and even family rooms in their coveted Beach House that offer direct access to the beach. And they love hosting kids.
Of course, fantastic rooms aren't all the Marine Hotel offers. Nearby attractions and amenities include mini-golf, the ever-popular Rathlin Island, a play park, and Sheans Horse Farms, many of which can be booked right from the hotel.
If you visit between April and September, pick up a Penny Puffin Points card before visiting the bird sanctuary to see the puffins. As you learn about the birds, you'll fill out your card and can bring it back for free ice cream! The perfect activity for teaching children about wildlife.
With so many activities and points of interest nearby and fantastic rooms and child-friendly activities, Marine Hotel is one of the best places for families to stay in Northern Ireland.
Roe Park Resort, Limavady
If you're looking for a good location for exploration and want some luxury on the side, Roe Park Resort has you covered. Its location allows you to explore everywhere from the historic Derry-Londonberry to Ballycastle and the countryside. It's close to the beach, and there's plenty to see around the resort.
The Roe County Country Park is next to the hotel, which has fishing, canoeing, and hiking trails. The hotel also boasts award-winning restaurants with a tea service, kids' menus, a golf course, and a spa. However, that's only if you have time to enjoy the hotel and how much touring you'll be doing with all the attractions like the Giant's Causeway.
Not to mention the variety of available rooms, from junior family rooms that can have two adults and two children to self-catering lodges you can rent. With plenty of rooms available and fantastic service, you simply can't beat the welcoming energy of Roe Park.
Jury's Inn, Belfast
There's no better place to base yourself in Belfast than Jury's Inn. This centrally-located hotel is perfect for exploring the city while offering plenty of kid-friendly amenities to keep them entertained.
All family rooms come with pull-out beds so those little ones can stay close to their guardians, and their on-site restaurants come with kiddie menus so you won't have to split meals. Rooms also come with big screens and free wifi to keep them from getting bored. That is if they have the chance to get bored while visiting all the attractions in the city.
There are tons to see and do in Belfast, like children's museums, parks, the Titanic Museum, and historical landmarks, so you'll likely be too busy exploring the city to get bored in the hotel.
Slemish Barn, Ballymena
If you're looking for a peaceful family retreat, Slemish Barn has you covered. Located in the countryside between Broughshane and Carnlough in an area known as the Braid, it's the perfect place for a quiet countryside getaway.
They have dorm and bunk rooms that can be rented individually or together, making it great for extended family vacations or reunions. While it's not as well known as other hotels on this list, its flexibility and quiet nature are ideal for rest and different from the others on this list.
It also makes for a great base, as you can explore most of Northern Ireland from this location, and it's even said St. Patrick used to live in the nearby mountains.
Maldron Hotel, Belfast
Another great hotel to stay in Belfast is the Maldron Hotel, as it's near parking and public transport if you don't want to rent a car on your trip. Not to mention how much they love to host families.
The Maldron Hotel has extra-large family rooms for extra-large families and regular-sized family rooms, and interconnected rooms. Their delicious restaurant has a kid's menu, and all rooms come with complimentary free wifi.
Not to mention all the kid-friendly activities in the city, museums, golfing, excursions, and more. The Maldron Hotel is perfect for youngsters of all ages, and you can book several things right from the hotel.
Killyhevin Lakeside Hotel and Lodges, Enniskillen
Suppose you want to explore the Fermanagh Lakelands while indulging in all the luxury and activities a full-blown resort offers. In that case, there's no better place to stay than Killyhevin Lakeside Hotel and Lodges.
Killyhevin is a playground for both children and adults, as their amenities include a playground, picnic area, kids pool, spa, horseback riding, canoeing, fishing, hiking, golfing, wifi, babysitting services, children's TV, and entertainment, plus all the attractions in the Lakeland area like boat rides, Castle Coole, and more. So much more.
The resort has everything you could want, plus things you didn't even know you wanted, making it a perfect resort getaway for the entire family. With so much to see and do, you'll be busy from the first to the last day of your vacation.
You can book deluxe family rooms or one of the lodges and get cots for huge families and infants. Even dogs are welcome with an additional charge, making this a truly perfect family destination.
Canal Court Hotel, Newry
Canal Court Hotel in Newry is considered one of the best hotels in Northern Ireland, and it's no wonder. They have tons of options for relaxation with a spa, jacuzzi, heated indoor swimming pool, sauna, and just an area explicitly for relaxation.
Their child-friendly offerings are sparser but still impressive, with a kiddie pool near the adult pool for easy supervision, free wifi, and child-friendly restaurant offerings. However, the real draw for the hotel is the area, with tons of attractions and events in nearby towns and cities for the best family vacation.
Family rooms can accommodate extra beds or cots for more prominent families or families with infants; however, ensure you specify ahead of time.
Titanic Hotel, Belfast
If you or your children are history fans, you'll find no better hotel than the Titanic Hotel in Belfast. The hotel is located in the old offices and workspace of Harland &Wolff, the builders and designers of the Titanic itself. It's next to the Titanic Experience, a museum celebrating the tragic vessel.
Half-hotel and half-museum, the Titanic Hotel features over 500 displays of artifacts, artworks, and photographs of the Golden Age of Ocean Travel, the period when the Titanic was built and sunk.
While its history can wow kids, it also has amenities suited for them, with kids' afternoon tea, free wifi, and TV. You can get family, interconnected, and twin rooms, with cots available for larger families.
Slieve Donard Hotel, Newcastle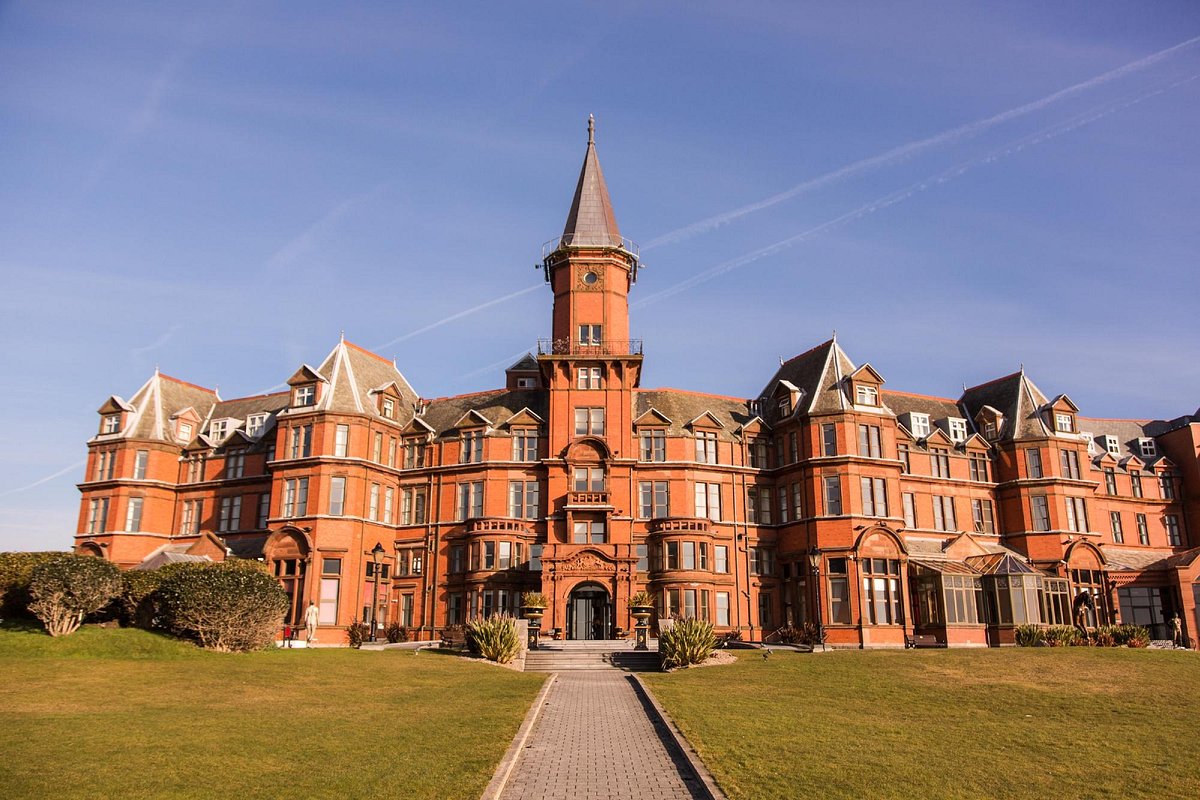 Slieve Donard certainly deserves its spot as one of the premier hotels in northern Ireland. With plenty of amenities and nearby attractions for the entire family, you'd be hard-pressed to find fault with this gorgeous area and hotel.
They have family rooms perfect for families of all sizes, a swimming pool, a spa, and one short walk away is Newcastle beach, perfect for a warm summer getaway. Not to mention the nearby playground and museum that is perfect for smaller children.
More adult attractions include a spa, and golf, with more historic attractions nearby. What makes Slieve Donard truly special is the luxury and the most exemplary service available in Northern Ireland.
More about our TFVG Author