Scotland is a popular destination for travellers from around the world. Tourists come to experience the lively music culture, beautiful landscapes, interesting architecture and history, and hearty food.
The hotel or bed and breakfast you decide to make a home for the extent of your vacation can make or break the trip. After all, when traveling with your family, you want a place to stay that will keep the kids entertained. Of course, parents need their own amenities, whether it's luxury spas or golf outings.
From golf estates to private bed and breakfasts, Scotland has it all. Great food, beautiful landscapes, and rich history are waiting for you. Check out this list of 12 of the best family hotels in Scotland, and pick the one perfect for you!
Auchrannie Resort is a ferry ride away from the mainland on Arran Island. This resort has two swimming pools, a sauna, steam rooms, and health suites that you and the kids will enjoy. Their large indoor game hall is a great place to spend the afternoon playing with the family.
Rooms vary in size, but even the standard variants are spacious. The "Superior" rooms come with "bon bon" bunk beds, ideal for children. However, consider the "Executive" option to give your kids more privacy with their own separate bunk room. WiFi and LCD televisions are available no matter what you book.
Let the kids experience Scottish culture on Arran Island with Auchrannie Resort's range of activities. For instance, try your hand at archery practice where the friendly instructors will help you every step of the way. Or, take an e-bike ride to explore the scenic country roads.
For younger kids, Auchrannie Resort has a three-tier Playbarn, which will entertain the kids for hours. There is also an outdoor play area, including a sand pit and picnic area. What's more, there is free WiFi, big-screen televisions, and even "The Trough," serving kids lots of snacks and drinks.
Let the kids experience some Scottish culture and history at Gretna Hall. This local, family-owned business has been open for four generations and has been at the heart of Gretna Green weddings since 1886. It sits on ten acres of gardens, which are stunningly beautiful and are bound to enchant children of all ages.
Family rooms come with double beds and bunks, all featuring free WiFi and televisions. Gretna Hall Hotel has a restaurant and lounge bar, with a diverse selection of modern and traditional dishes. You and the kids will enjoy the events and theme nights Gretna Hall puts on throughout the year.

Gretna Hall is a short walk to the Famous Blacksmith's Shop, where your kids will have the chance to see blacksmithing in action.
Argyll Hotel, overlooking the Sound of Iona, has great food and attentive service, making it the perfect home away from home on your family vacation.
Take a break from technology when you come for a cozy stay at Argyll Hotel. The lounge is stocked full of books to enjoy on a rainy Scottish afternoon.
This rustic hotel has a cozy, contemporary feel when you enter the rooms. Family rooms are available for a cozy stay. Keep in mind that the owners have elected not to equip their rooms with televisions, while WiFi is also limited. This is to encourage guests to embrace the area's many attractions.
Indeed, the surrounding areas have lots of activities for the kids, making the Argyll Hotel an excellent basecamp. Enjoy wild Scotland with outdoor opportunities, including wildlife spotting, hiking, and geology. Learn the history of the area at museums or take part in making your history by creating Scottish crafts.
If you have an avid reader in the family, Argyll Hotel is a great spot to stay. They hold multiple writing retreats throughout the year where your children could meet their favorite authors!
The boutique Airds Hotel is in Port Appin in the heart of the Scottish Highlands. It is a serene destination for a magical family getaway.
This hotel has rooms and suites but also offers holiday cottages. These cottages feature one or two bedrooms and allow for privacy for your family vacation. For the rooms, expect to have complimentary WiFi, smart televisions, and comfortable Vi Spring beds kids will be thrilled by. Many of the rooms feature unforgettable scenes of Loch Linnhe.
The area surrounding The Airds Hotel is rich with activities suitable for all ages. Outdoor enthusiasts will love enjoying the scenery, hiking, biking, rock climbing, and seafaris. If your family loves being in the water, take advantage of the scuba diving opportunities offered at the center 45 minutes from the Airds Hotel.
There is a fine-dining restaurant within the hotel, offering five-star meals. Or, treat your loved ones to a memorable afternoon tea experience handcrafted by the attentive staff.
Take a trip to Portpatrick and stay at Knockinaam Lodge. This luxury boutique hotel (the only one of its kind in Dumfries and Galloway) is known for its array of craft whiskey but it is very much family-friendly.
Knockinaam might be historic but its rooms are much more modern. Depending on which room you choose, your family could get a spectacular panorama of the nearby bay or even views reaching all the way to the Irish coast.
The kids will love the access to the private beach. Otherwise, babysitting services are available to parents after 6 pm so you can enjoy a romantic evening alone.
A night out with the kids is fun, too, especially at the nine-hole miniature golf course in nearby Portpatrick.
Head out to Stranraer to Agnew Park to enjoy an afternoon on the pedal boats. The kids will get a kick out of pedaling away on the boats.
Bring the kids to stay in a real-life castle in Ayrshire at Glenapp Castle! This luxury five-star hotel provides an intimate level of service and attention to detail that has landed it a spot as one of the best family hotels around. Breathtaking gardens, forests, and seascapes have you feeling like you're in paradise.
Its period furnishings and decorations are evocative and harken back to ancient Scotland. Despite its historical origins, Glenapp maintains modern, sumptuously furnished rooms with WiFi, televisions, and gorgeous views.
The kids won't get bored with the many activities on site. You can introduce them to traditional games like boules and quoits, not to mention tennis, croquet, mountain biking, and archery.
The nearby forests and gardens are ideal for inquisitive kids, while the sea, lochs, and rivers are excellent spots for a family adventure. Elsewhere, there are multiple historic sites perfect for educational detours.
Want to stay at a friendly, luxurious Scottish country hotel? Head out to Trigony House nestled in beautiful woodland in the heart of Dumfries and Galloway. It boasts rustic charm, friendly local staff, and dogs are welcome.
Local activities will keep the whole family busy. There is a luxurious spa, while the kids could spend an entire afternoon riding horses through the countryside. If animals aren't your family's thing, nearby adventure playgrounds will keep the kids busy for hours. Drumlanrig Castle is a favorite among the playgrounds in the area.
Trigony House maintains an on-site restaurant with a charming kids' menu. All rooms have WiFi, comfy beds, and are even supplied with homemade shortbread for a quintessential Scottish experience.
On the southern edge of Perthshire sits The Green Park Hotel. This well-established, family-run hotel has loads of small-town charm in Pitlochry.
The hotel boasts three acres of beautiful grounds and has a lochside position overlooking the gorgeous Loch Faskally. Its location on the edge of distance gives you some privacy from the hustle and bustle of the town but allows for easy access to shops and restaurants.
The Green Park Hotel features individually-furnished rooms, televisions, WiFi, a dining room, and a bar. Children will find the surrounding gardens delightful, and they may even get to spot some local squirrels and other wildlife. When you're done, enjoy a night out with the family at the nearby Pitlochry Festival Theatre. The "theatre in the hills" has a host of concerts, plays, and workshops!
If you're looking for traditional Scottish fare, The Green Park Hotel offers lovingly-crafted cuisine freshly prepared from local produce.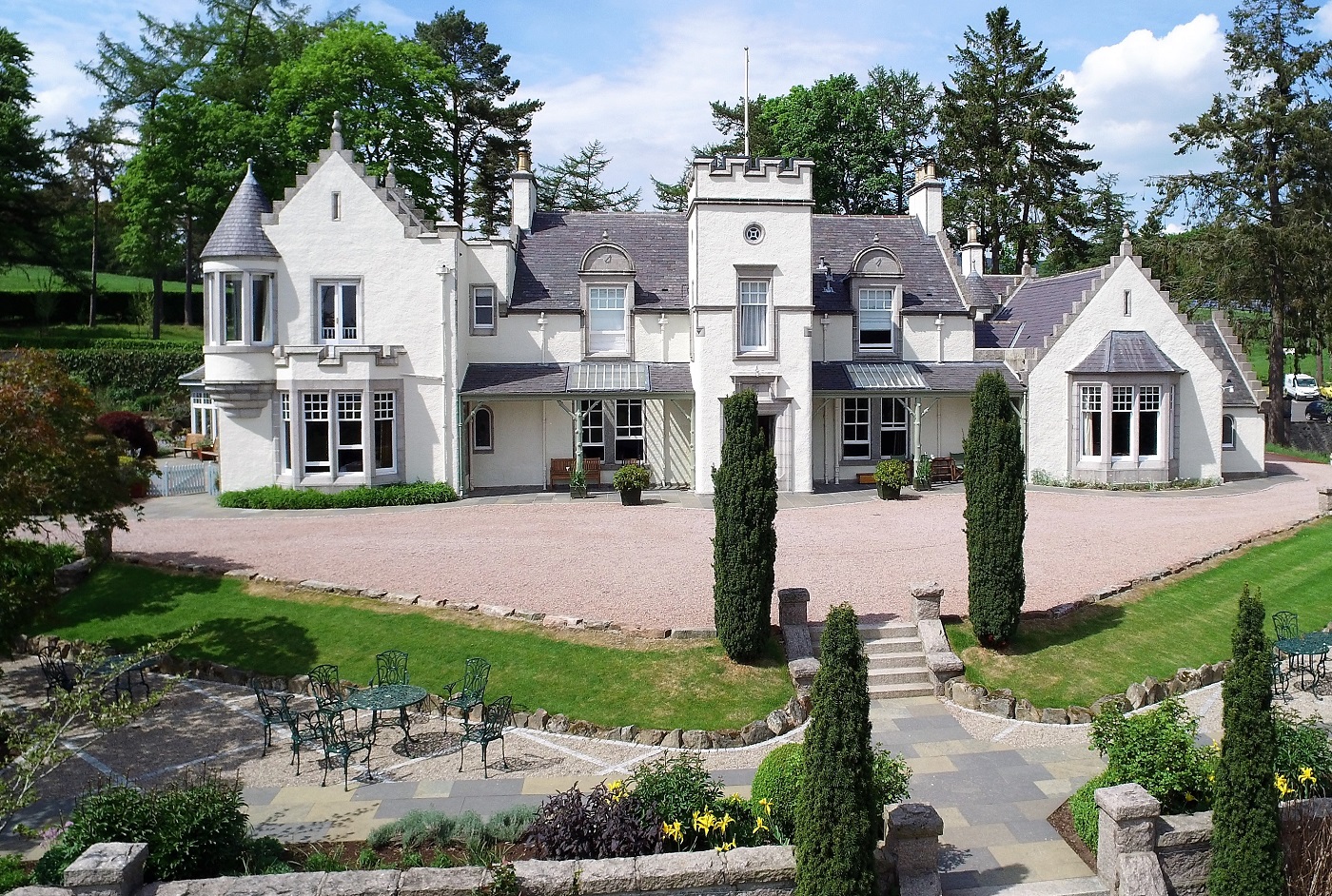 Take a step back in time in the Scottish Highlands at the Douneside House Hotel. This country house hotel has a rich history that everyone in the family will love.
Stay in one of the 14 guest bedrooms in the country house, or book a guest cottage to house the whole family. Each guest cottage has unique features that will keep your Scottish getaway exciting while all come with WiFi.
The hotel boasts 17 acres full of outdoor adventure. So, you can enjoy hiking in the majestic countryside or fishing in the river. Sports fans can spend a day enjoying the local golf course.
When it's time to relax, head to yoga classes to set your mind straight. The kids' favorite spots will be the play park and swimming pool! Let them splash and frolic all day before they come and join you around the fire pits.
The children will also adore the gardens, as there is much to explore, from numerous plants to diverse wildlife.
What's better than a hotel? A bed and breakfast! Bring the family to Ullapool to enjoy an authentic lochside bed and breakfast experience with spectacular views.
The Harbour House is located a short stroll from the center of the picturesque village of Ullapool. Enjoy shopping, cafes, bars, restaurants, and a leisure center that your kids are bound to love.
Harbour House provides a fully-cooked breakfast every morning on the property, and all rooms have WiFi access. This is an ideal basecamp if your family is nature-orientated as you can set out on adventures and even have the chance to encounter animals like seals and sea eagles.
Ullapool is located on the world-famous North Coast 500 route, also known as Scotland's Route 66. This route is full of history that the whole family will enjoy digging into, while the port has activities for everyone.
Gleneagles Hotel is a luxury country estate offering experiences for the whole family. There are ten restaurants and bars on-site that are the perfect backdrop for special family celebrations, post-round drinks, and romantic dinners.
At Gleneagles, you can take advantage of a selection of spacious family rooms, featuring spectacular views overlooking the grounds. Many of these rooms are interconnected, so your family can make whatever arrangements they want.
No matter your children's ages, Gleneagles has multiple entertainment options, including the Little Glen for ages two to eight and The Den for older kids. The former is a fully-supervised adventure zone. As well, you will have access to babysitting services, allowing you to explore at leisure.
Three championship courses will also have your golf-loving family happy! Gleneagles is the only venue in Europe to have hosted both the Ryder and Solheim Cups. More than 850 acres of hill, field, stream, and green is perfect no matter if you're a beginner or an expert!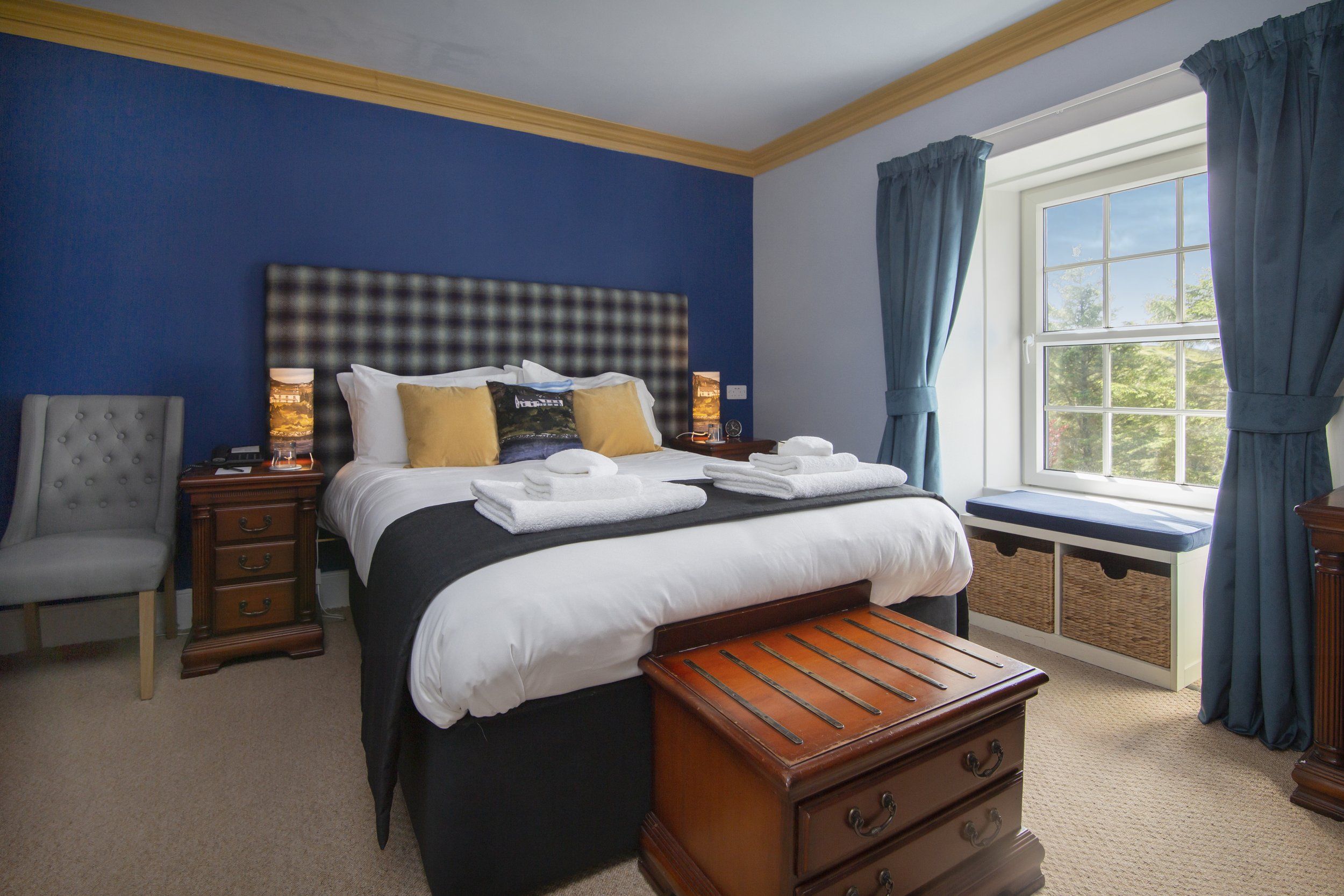 Nestled on the coast of northwest Sutherland sits Eddrachilles Hotel. This hotel in the northwest Highlands is an ideal spot for a peaceful family staycation, adventures in the Far North, or family celebrations.
In the 1800s, Eddrachilles Hotel was built for the Church of Scotland. It is filled with windows offering guests gorgeous views of the island-studded Badcall Bay, all the way to the rugged Assynt Coastline. Indeed, six out of every ten rooms at Eddrachilles will provide a stunning seaview.
Each room features ensuite facilities, Freeview-enabled televisions, USB charging points, and WiFi. In addition, Eddrachilles has a lounge bar with an impressive selection of Scottish whiskey. If you want to take your family exploring, you can immerse yourself in three acres of beautiful grounds that lead to the shoreline.
Final Thoughts
From evocative hotels in the Highlands to luxurious boutique destinations, Scotland has something for everyone of any age. So, bring the whole family to discover the delicious food and welcoming hospitality that awaits in the best family hotels in Scotland.
More about our TFVG Author