One of the most critical items to implement into any family vacation is opportunities for downtime. Whether it is watching television, taking a nap, or reading a book, taking time to decompress from all the activities will help your trip go as smoothly as possible.
When you are traveling with children, they are more often than not uninterested in taking a nap or reading a book. You may be able to get them to tune into some TV, but what most commonly gets them excited is swimming.
Finding hotel accommodations with a swimming pool will provide respite from the heat and can act as a way for children to release some of their pent-up energy and sink into a relaxing state. Parents enjoy this, too, as they can lounge next to the pool with their feet up while the children entertain themselves.
When preparing to take a trip to the United Kingdom with your family, it can be overwhelming to pinpoint the best options when it comes to accommodations. Through this comprehensive guide, we help you select one of the best family hotels with swimming pools in the UK.
A stay at the Shangri-La The Shard will not only give you access to a swimming pool for the children, but you will be in the presence of the highest hotel infinity pool in London. Located on the 52nd floor, you and your family have a fantastic view of the city while relaxing in the water. The swimming pool is indoors with floor-to-ceiling windows surrounding it. While it is still high, you may feel more secure with it being closed off to the outside.
To swim in the Sky Pool requires a reservation. When traveling with children, it is essential to remember that there are set hours for them to swim throughout the day. Two hours are allotted in the morning and two hours in the late afternoon. With its close proximity to the spa, this setup allows for a quiet experience for those receiving treatments.
The Shangri-La The Shard is housed in the iconic Renzo Piano building. Occupying floors 34 through 52, each room has an exquisite panoramic view that overlooks the entirety of London. Families will enjoy being close to many of the city's amenities and having the option of dining in the hotel with the two restaurants available to guests.
If you are traveling near your child's birthday, take advantage of Shangri-La The Shard's unique birthday celebration. For an additional fee, the hotel staff will arrange a small fete with a superhero theme and can even bring in entertainment, activities, and a birthday cake.
The Doric Hotel in Blackpool is a literal children's paradise. Offering not one but two pools, as well as a jacuzzi and sauna, are just the beginning. With an indoor and heated outdoor pool, you and your family can enjoy a swim no matter the weather. When doing laps outdoors, you are privy to the poolside bar, where you can get refreshments while enjoying the water.
In addition to swimming, the Doric Hotel has a game room on the premises and a sunbathing patio. The staff has made every opportunity available to guests to be able to enjoy their time away and create long-lasting memories.
You will find the Doric Hotel along the Queens Promenade, with access to and views of the Irish Sea. Located north of Manchester, Blackpool is situated right on the coast, with miles upon miles of the sea surrounding the city.
Other amenities available for families include the family suite, which consists of a separate sleeping area for children. Within this area is a separate television for them to enjoy their own programming while the parents take in their preferred shows on the other side of the room.
Within the Lake District is the Ambleside Salutation Hotel, which has many amenities that parents and children alike will enjoy. North of Blackpool and adjacent to the Yorkshire Dales National Park, you are surrounded by nature and the beautiful landscape it provides.
You and your family will get to take all that in during your stay at the Ambleside Salutation Hotel. Located in the spa, you will find a roomy indoor pool with ample lounge furniture accompanying it. Guests at the hotel must reserve daily times for swimming to avoid the area becoming overcrowded. Allowing a few groups at a time allows everyone to have the best experience possible.
The village that surrounds the hotel is quaint and homey. If you want to check out the surroundings before your visit, you can view the area in real-time via the hotel's webcam. You will see traditional brick buildings and people milling about with their days.
The rooms at the Ambleside Salutation Hotel offer a significant size as well as luxury furnishings. Many of the spaces have floor-to-ceiling windows to capture the views of the village. You and your family can fill your days with hiking, fishing, boating, and kayaking, and then return to the hotel for a leisurely swim or a spa treatment to wind down your day before enjoying an exquisite dinner at one of the hotel's restaurants.
Going back to the London area, we come to another top-notch accommodation that will meet the swimming needs of your family. The InterContinental London – The O2 is located on the Greenwich Peninsula and overlooks Canary Wharf and the River Thames. You can take in those views from many of the rooms within the hotel.
Guests love the InterContinental London – The O2 because of its proximity to the O2 Arena and its expansive heated indoor pool. Having a space to enjoy and relax, no matter the weather, is a comfort to many travelers with kids. You can even take the time to lounge in one of the luxuriously plush chaises on the exterior of the pool.
Next to the pool is the spa. When visiting, you can receive various treatments to elevate your vacation experience. The hotel also offers special perks for children who stay, which vary throughout the year. Children and parents alike will enjoy the many restaurants on-site that offer a variety of menu items suited for even the pickiest eaters.
With incredible views, a fantastic pool, and just steps away from the hustle and bustle of the city, you and your children will be amazed at every turn during their stay at the InterContinental London – The O2.
Continuing in London, we come to The Montcalm Marble Arch. Sitting right in the middle of all the prestigious areas of the city, the luxury hotel has many spa features that your whole family will love. You will feel like luxury in a highly sought-after area of London, and the incredible hotel accommodations will exponentially add to that feeling.
Their beautiful indoor pool is ideal for having a fun time or getting a workout in by swimming laps. Accompanied by ergonomic chairs along the edge of the swimming pool, you can bring down your favorite read and enjoy your time relaxing by the water while supervising your young travelers as they splash about in front of you.
In addition to the pool, you can find a steam room, sauna, and a monsoon shower that offers both hot and cold bursts of water. It is important to note that you must reserve a time in advance for all the listed offerings. Doing so allows you to have an experience that is not rushed or where you have an extended wait. It is a win-win for all with this system.
To make your vacation the ultimate picture of relaxation, The Montcalm Marble Arch offers 24-hour room service and two in-house restaurants. You can even stop in for afternoon tea during your stay, giving yourself an immersive British experience.
Not only does the iconic Park Plaza Westminster Bridge Hotel have a pool, but it also has a massive swimming pool nearly 50 feet in length! The pool size allows large groups to have a great time without worrying about disrupting someone else. Children love it because it gives them ample space to goof around and splash!
The Park Plaza Westminster Bridge is truly a kid's hotel as they take every step imaginable to ensure that their youngest guests are comfortable during their stay. When a family checks in, the front desk associate will have a goody bag for each child filled with fun trinkets and treats.
Following that, the hotel offers family-friendly rooms that feature a kitchenette and additional sleeping spaces. All rooms offer a double bed and a couch that opens up to another double bed. Each family room is the perfect size for four individuals and provides enough space for everyone to move freely around the area.
Lastly, the hotel has worked alongside its dining staff to create kid-friendly menu items. The last thing that the Park Plaza Westminster Bridge wants is for parents to have to deal with mealtime arguments with their youngest travelers.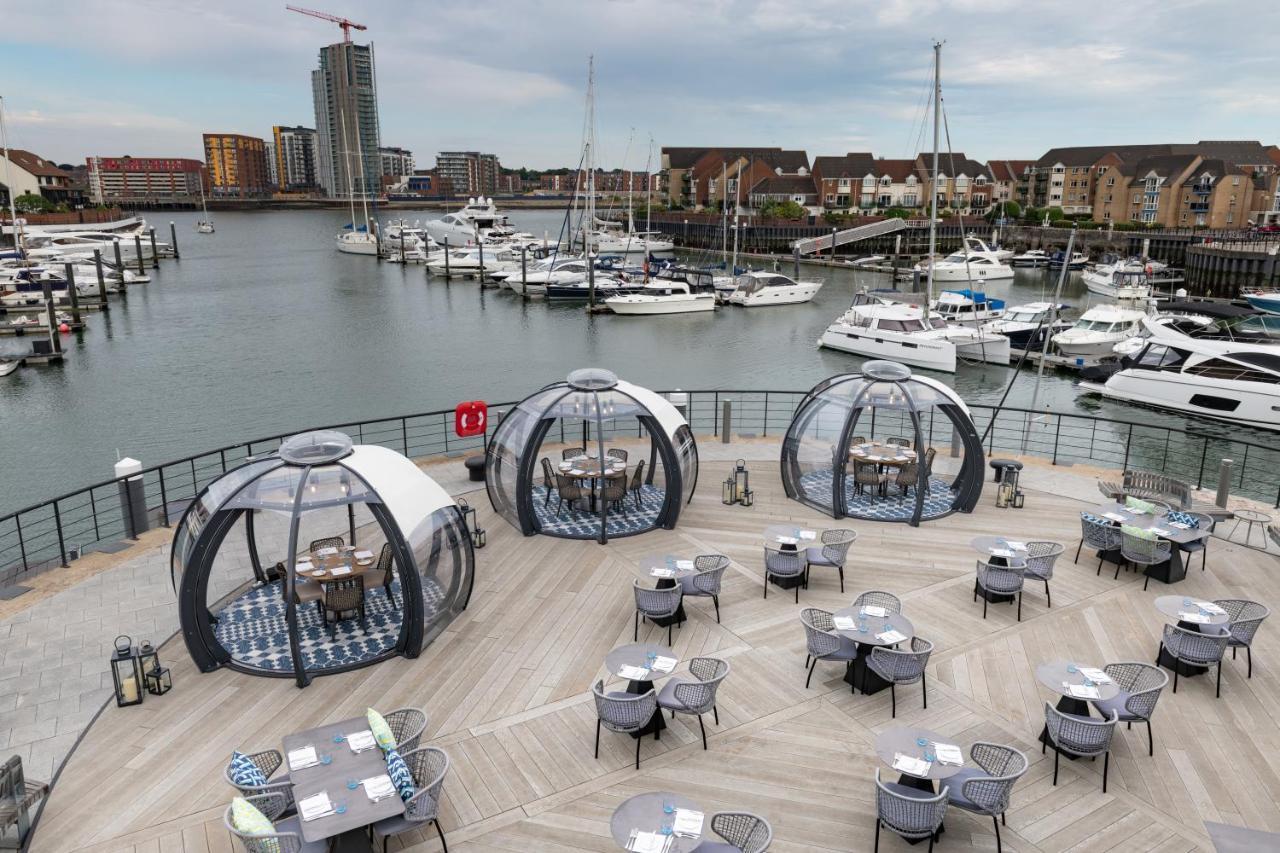 As hard as it is to believe, the wow factor at the Southampton Harbour Hotel and Spa is not the swimming pool. It is the exterior! The hotel is located on a marina and is designed to look like a yacht! With floor-to-ceiling windows surrounding the building and a layered level look, the hotel blends right in with all the expansive ships parked around it.
However, this is not to say that the Southampton Harbour Hotel and Spa indoor pool is not impressive. The beautifully tiled room is the perfect setting for the long and narrow spa pool. Surrounded by an array of lounge chairs, you are all set up for a relaxing afternoon with your whole family. Keep in mind that there are designated swimming times for children, and all people under 18 require adult supervision while in the pool.
Another experience that will have your family on the edge of their seat is the Queen of the Ocean Immersive Experience. As a theater and dining opportunity, you and your family can relive the last 24 hours on the Titanic. This show is likely only suitable for older children due to the dramatic scenes, so you will want to plan accordingly.
While staying at the hotel, you can dine at one of their many restaurants and take in the beautiful Southampton area. The area has many fun activities to enjoy during the day, and the hotel provides the perfect environment to relax the night away before the next day of fun.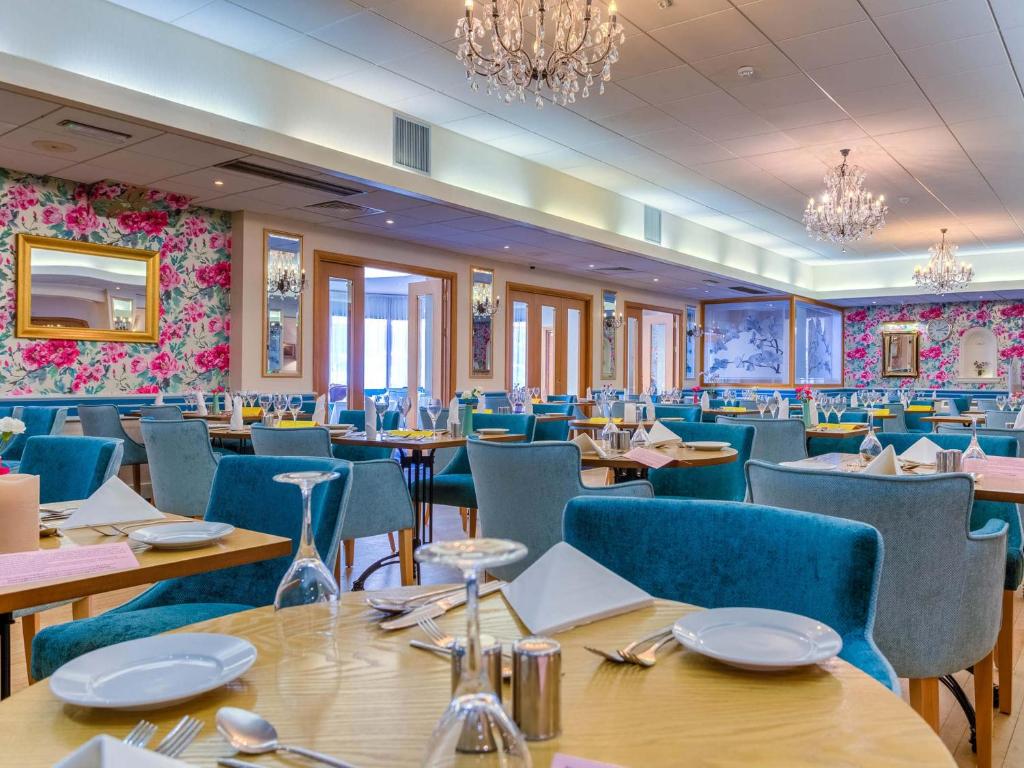 Located in South Devon is the Langstone Cliff Sea View Hotel. Near a large national park and surrounded by 19 acres of woodlands, including a substantial amount of greenery and water, the hotel is the perfect place for your family to stay when venturing to the area for a visit or vacation.
The hotel is family-owned and operated and prides itself on being a place for families to come together and build memories. The owners feel so strongly about this that they allow children to stay free and enjoy free pre-booked meals! An affordable vacation never looked so good.
Don't worry; the fun does not end there. You will find two swimming pools for your family to enjoy, both heated, with one being indoors and one out. They also have table tennis, a tennis court, table football, an on-site golf practice area, indoor and outdoor children's play areas, and nightly entertainment that caters to the younger crowd!
When it comes to school breaks in the United Kingdom, the Langstone Cliff Sea View Hotel staff puts their full effort into making schoolchildren's experience as great as possible. All of the amenities have made such an impact that previous generations that enjoyed the hotel during their school breaks are now bringing their children to enjoy the same fun activities they once did.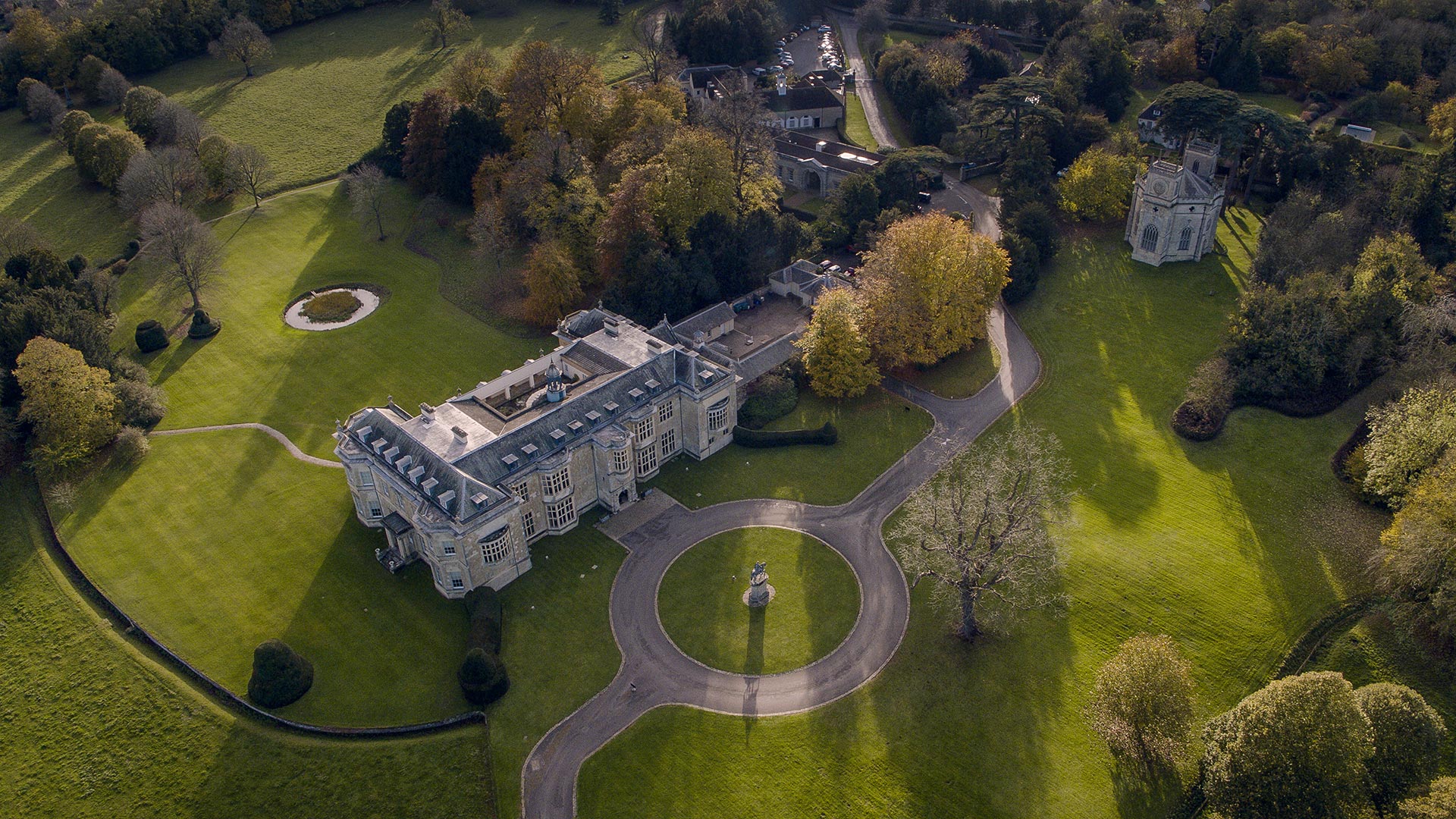 While it may not officially be considered a castle, everything about the Hartwell House Hotel screams medieval living. The gorgeous exterior makes you and your family feel like royalty as you roll up, but the indoor swimming pool gives you an even stronger feel. With deep red walls and a room that takes up two full stories, you will feel like you are swimming in a private and elegant home.
The pool is large and can accommodate many groups. If you feel as though you need a break, you can lounge on one of the many chaises near the edge of the water. The chairs are right next to the exterior facing windows, so you can be warm by the sun's glow as you watch your children splash and be merry.
While the hotel is family-friendly, one nuance to their reservation policy is that children must be over six years old. Due to the smaller size of the hotel, having young children can cause distractions to other guests. Additionally, many decors are not suitable for toddlers and babies due to the fragility and age of the items.
One of the nice perks of the Hartwell House Hotel is the block of reserved rooms for families. These rooms are more prominent and open up into the expansive garden area. With this easy access, your children can run in and out as they wish, taking advantage of things such as the outdoor tennis court and the lush green courtyard.
You may think you want to stay at the Chewton Glen Hotel and Spa in New Milton for the swimming. And that may very well be the case for you and your family, as they offer two swimming pools, one being a hydrotherapy variety with jets throughout and the other being an outdoor heated option. They also offer an outdoor hot tub.
But what will excite you just as much about lodging at Chewton Glen Hotel and Spa is the real-life treehouses you can stay in if you choose. The main building has beautiful architecture and lovely rooms accommodating your entire family. However, the treehouse option gives you a literal bird's eye view during your stay.
On top of that, the hotel caters to families. They have a kids club for parents to utilize for some kid-free downtime, and they also offer special classes for the youngest guests, including a cooking course. New events continually pop up from time to time, but it is safe to say that the staff will provide an exciting experience for your little ones.
When it comes to lodging, you can choose between various room styles, including a hotel suite with built-in bunk beds for your little ones to use on their vacation. Additionally, you can select a room that opens up to the croquet lawn. With several family-focused restaurants on-site, you will have the ability to create memories with your family every step of the way during your stay.
There will be no mistaking which building is The Royal Crescent Hotel and Spa because it is shaped like a crescent. In taking two mansions and connecting them, the owners created a massive crescent shape to utilize as a top-notch hotel in Bath.
When staying at the hotel, you and your family have your choice of two different swimming pools. There is a relaxation pool and a Vitality pool with jets. You are also given access to a steam room and sauna for the duration of your stay.
The Royal Crescent makes every effort to provide an excellent experience for your children. Their resident housekeeper will bring child-style toiletries for their use at bathtime and special treats to discover upon returning to the room. She will also get teddy bears and story books for those under 12 years old to enjoy throughout their stay.
Another exciting feature of The Royal Crescent Hotel and Spa is the fact that they rescue hedgehogs. The groundskeepers will teach you about the different mannerisms of the animals and instruct you on how to spot their feeding stations. Learning while on vacation has never been so fun!
Last but not least, the hotel has a designated outside area with many different styles of yard games. Children can have their run of the site and try out a new activity. Afterward, they can order from the special children's tea menu for an afternoon snack.
In Summary
Traveling throughout the United Kingdom provides an arsenal of experiences you did not know you needed. Each area is unique in what they offer, with some having a busy city life and others giving you tranquil nature vibes. No matter where you and your family go, you are constantly surrounded by beautiful architecture.
When traveling with your family to new destinations, it is vital to include blocks of time where everyone can relax and decompress. This activity takes form in many different ways, including watching television, reading a book, or taking a swim.
Finding a top-notch hotel in the United Kingdom with a high-quality swimming pool can be challenging. With all the features and amenities that accommodations offer, you have to wade through extensive lists and photos to see if what they have lines up with what you need. To help in your research, we have compiled this guide of 11 of the best family hotels with swimming pools in the UK.
You will see in this list that the accommodations are found throughout the country. While there are several in London, you will also see options in Bath or Blackpool. Each hotel offers a variety of amenities that cater to traveling families. However, the common denominator among all of them is that each establishment offers a high-end pool experience for your family. All your water activity needs will be covered between lap pools, infinity pools, hydrotherapy, and hot tubs.
More about our TFVG Author