No extended vacation to Europe is complete without visiting Crete, the largest and most populous of the Greek islands in the Eastern Mediterranean. Its beautiful beaches and ancient ruins are highlights you and your family won't want to miss out on during your stay.
Check out our list of the best family resorts in Crete if you're looking for a lovely place to stay while exploring the island.
The first destination we recommend is Creta Maris Beach Resort, located in Limenas Chersonisou, about 25 minutes west of Heraklion International Airport. This family resort has a lovely waterfront view of the Bay of Malia and is close to the beach.
Rooms come in varying sizes and designs, with connecting family suites being ideal if you're looking for a room that accommodates up to four people. These non-smoking rooms have free high-speed Wi-Fi, television, at least one bathroom with a tub, and a terrace or balcony with scenic views of the resort's garden.
Creta Maris Beach Resort has on-site restaurants with waterfront views that immerse you in the island's beauty as you dine on local dishes, like dakos or sarikopitakia.
This resort has plenty of fun things for your kids, including a water park with twisting waterslides and an outdoor playground for children ages four to 11. It also has several recreational sports options for guests to try out, such as tennis, basketball, mini football, and boccia.
Fodele Beach & Water Park Holiday Resort is a five-star hotel with a homely atmosphere and breathtaking seafront views that families will enjoy if they're looking for a place to stay on Crete's northeastern coast. It has an exclusive Kids Club with play areas and craft centers for your children to enjoy.
Their seafront family room has a queen-sized bed and two sofa beds ideal for families of four. Other amenities include an electronic safe, WiFi, televisions, a mini bar, daily housekeeping, and a private balcony with waterfront views.
This resort has several indoor and outdoor activities that any family member can enjoy. Their beach volleyball court is a great way to enjoy Crete's warm sun and fresh air, while their indoor game room is ideal for anyone interested in billiards or arcade games.
Their on-site water park has several water slides that offer thrills for parents and children alike. It also has a Windmill snack bar perfect for the whole family to unwind and enjoy small refreshments with bayside views.
Don't forget to visit their Basilikos restaurant for breakfast, lunch, and dinner buffet options if you're looking for cuisine with unique international flavors. Elsewhere, there is a wellness center for a relaxing manicure, pedicure, or body massage.
Minos Beach Art Hotel is located in Agios Nikolaos. This resort incorporates a stylish architecture reminiscent of Eastern Crete's fishing villages to give guests an authentic sample of island culture.
They offer a wide selection of rooming options with unique designs for families interested in a luxurious experience. Their bungalows feature views of the sea or the resort's gardens, while their villas have private pools.
Treat your family to an authentic Mediterranean dinner at Minos Beach's on-site restaurant, La Bouillabaisse. We recommend trying their grilled octopus, sweet pumpkin ravioli, or sea bass ceviche.
If your family wants to stay active, play a few rounds of tennis on their courts or visit the Pelagos Dive Center to water ski, windsurf, or scuba dive in the Mirabello seabed. This resort also offers spa services and treatments for guests who prefer something more relaxing.
Some nearby attractions you should consider checking out include Crete Αquarium and the Cretan Olive Oil Farm.
You can find the Ammos Hotel in Chania, a short distance from the Old Venetian Harbor and the Archaeological Museum of Chania. This quaint waterfront hotel is a great vacation destination for families looking for a quiet place to unwind before and after sightseeing.
You can choose to book a sea view and garden studio, deluxe sea view studio, or garden view suite. These rooms have a modern aesthetic and vary in size. For example, the garden view unit has a bedroom with a queen-sized bed, two sofas, a kitchenette, and a furnished terrace or balcony. Keep in mind that all of the hotel's rooms lack a television, but you can request one for your family.
Ammos Hotel has a parent-supervised child's play area for families with younger kids available most of the week. The hotel is within walking distance from Glaros Beach, so you're welcome to enjoy the sun, sand, and waves near the bay.
Complimentary breakfast is available every morning until 11:30 AM. If you're interested in having dinner at the hotel, try their moussaka, chicken souvlaki, or kalitsounia. They also have a kid's menu, with delicious dishes like fish sticks, mac & cheese, or pizza.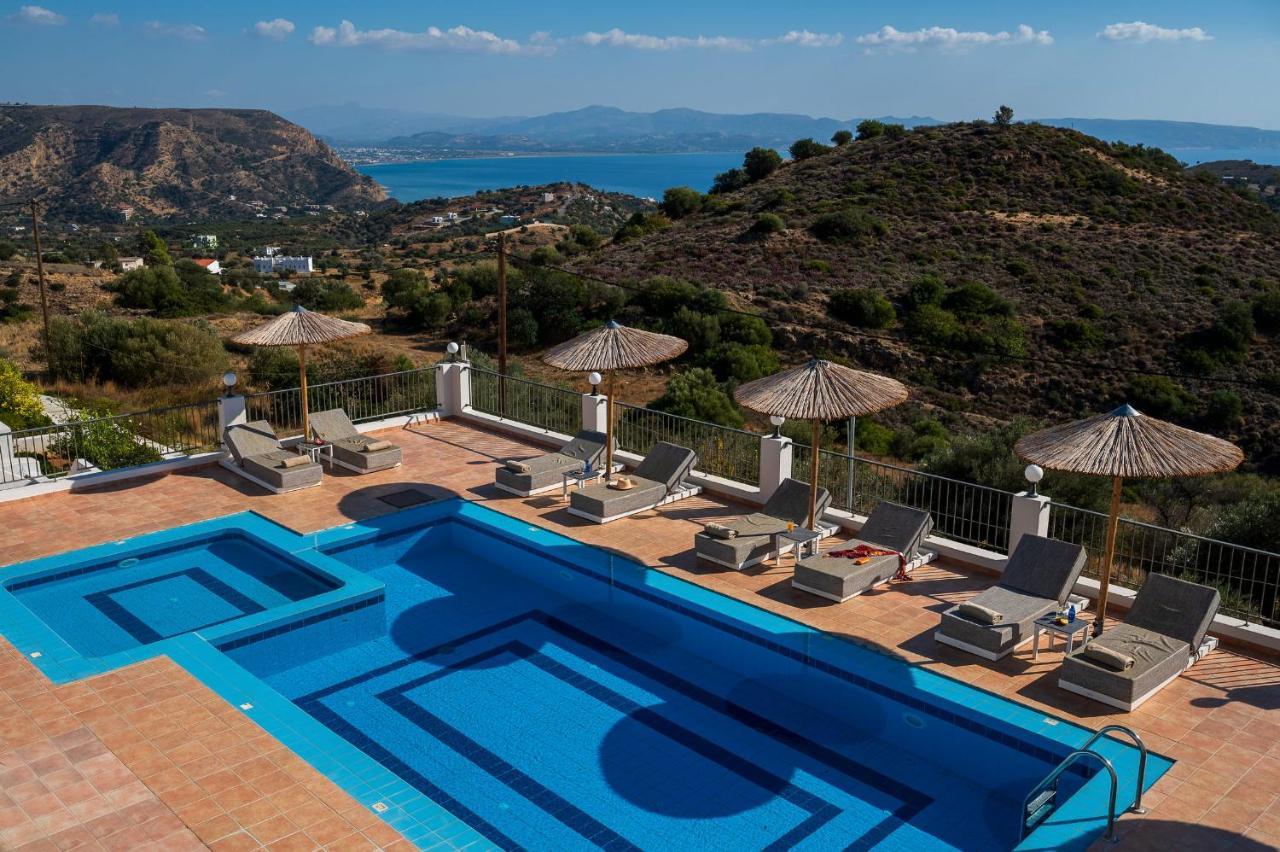 Located on the island's southern side, overlooking Ormos Mesaros, Lenikos Resort is one of the best family resorts in Crete. The property stretches over ten acres of land in the heart of Rethymnon.
Each rooming option has a unique blend of luxurious and minimalist designs that enhance its relaxed vibes. The hotel's units can hold between two to five people, depending on your preferences. These rooms have a private terrace, a full kitchen, WiFi, satellite television, and a lovely view of the sea, garden, or pool.
Their culinary team prepares a complimentary breakfast for guests using fresh, local ingredients. If you'd rather explore, there are numerous nearby eateries with impressive lunch and dinner menus, including Avil Taverna, Romantika, and Madame Hortense.
Although this family resort doesn't have a water park, it has three outdoor swimming pools and a playground to keep the little ones entertained.
If you and your family prefer staying in a resort with a more casual atmosphere, Corinna Mare Suites & Studios might have the accommodations you desire. You can find this family resort near Chania's coastline, minutes from Apostoli Beach.
They offer over 50 suites and studios as rooming options. Some can hold up to three or four people, while others have space for six guests. One of their most popular units, the family maisonette with seafront views, has a bedroom, kitchenette, a balcony on the ground floor, and a bedroom and veranda on the upper floor. All rooms have satellite television and WiFi.
An American-style breakfast is available from 8 AM to 11 AM for families craving a morning pick-me-up. If you stop by later in the day, the resort's Corinna Star Restaurant serves mouth-watering Mediterranean specialty dishes.
There are two outdoor swimming pools, ideal for cooling off after a long hot day, and a playground for kids. Parents can enjoy a refreshing cocktail or coffee at the lounge bar by the pool. Elsewhere, there are ice creams and milkshakes sure to delight the little ones.
For the ultimate relaxation, try the resort's pilates classes or visit the sauna and spa facilities.
If beachfront views are not essential, consider Delina Mountain Resort, located in Anogia, Rethymno. It has an upscale vibe and plenty of spa amenities for stress relief.
Each room has a queen-sized bed, fireplace, WiFi, television, hydromassage bathtub or shower, and a scenic view of Psiloritis Mountain's snowy peaks. Their largest option, the deluxe master suite, measures 40 square meters and can hold up to five guests.
This resort has several facilities with a natural ambiance. Consider ordering coffee or tea from their traditional cafe before taking a walk near Venetian Lake or going to their gift shop and purchasing a Cretan souvenir. There is also a heated indoor swimming pool and even a stone theater that hosts multiple events in the summer. Lastly, the resort maintains a small stable with cute animals, which will delight children of all ages.
Some nearby landmarks that you shouldn't miss out on include the Skinakas Observatory, The Wooden Sculptures Museum, and Chainospilios Cave.
Gianoulis – Almyra Hotel & Village is near the southern coast. You can find it in the town of Ierapetra, within walking distance from Megali Paralia Beach.
The best rooming options for a family of four are their family annex, junior suite, or family bungalow with garden view. These units, which come with televisions and WiFi, usually have a double bed with a sofa or four single beds. In addition, ground-level rooming options are ideal for families with strollers.
This resort has several age-specific kids clubs where young children, ages four months to 11 years, and teenagers can participate in a wide selection of daily activities, including treasure hunts and pottery classes.
Some amenities that might resonate with you include an outdoor pool with a waterslide, a fitness center with weights and a treadmill, free Wi-Fi, spa services, breakfast and dinner buffets, and a bar by the beach and pool.
The closest restaurants offering authentic Greek cuisine you can find by this resort are Taverna Nikos and Koralli Restaurant & Poolbar.
Located near the coast of Hersonissos, within walking distance from the Aquaworld Museum and Lychnostatis Open Air Museum, Star Beach Village & Water Park is one of the best all-inclusive family resorts in Crete.
Guests have free access to the resort's water park with several swimming pools, waterslides, a beach volleyball court, and a lazy river. If you prefer something more thrilling, you can also participate in water sports, including jet skiing and bungee jumping. After a long week, consider using their spa services to treat yourself to ultimate comfort.
Star Beach Village & Water Park has almost 400 rooms available for guests. These units have unique decor, differ in size and boarding capacities, and offer scenic seaside or garden views. Their standard family room has a main bedroom with a double bed or two single beds, a children's room with two single beds, television, and WiFi.
This family resort has several on-site restaurants and bars for anyone seeking quality drinks and dishes. Don't miss out on their breakfast buffet and authentic Asian or Cretan fare.
Euphoria Resort can be found in Kolymbari, a few minutes away from Kolymbari Beach. It has a lively and modern atmosphere that kids will love and keep them from getting bored.
Their Kid's Club offers daily summertime activities, including evening soccer and movie nights. Teenagers ages 13 and over are eligible for Euphoria Resort's ClubVibe if they're interested in outdoor pursuits.
Their family rooming accommodations offer seaside and poolside views. Infants up to one year of age and first-born children up to 12 years old can stay for free.
You can sample many international dishes here, from Mediterranean and Italian fare to Asian fusion cuisine and steakhouse favorites. They also offer a la carte kid's menu and buffet options.
If you prefer doing something extra by the pool, there is water volleyball and Aqua Zumba. In addition, Euphoria maintains a fitness room with exercise machines and weights. The activity doesn't stop there as your family will have the chance to play tennis and soccer, and even participate in traditional Greek dancing.
Blue Marine Resort & Spa has a relaxed atmosphere and beachfront views. It's located in Kritsa, a short drive away from the historic Tou Listi o Spillos.
Their family sea view rooms have a spacious balcony with a great view of the clear sea and can accommodate up to four people. They also offer rooms with mountainside views.
There are plenty of things to do at this resort, from sports like volleyball and aerobics to live dance or comedy shows. Kids ages four to 12 can spend time at the resort's Mini Club or children's playground.
You can find several restaurants throughout the resort. Indulge in traditional Greek fare for breakfast, lunch, or dinner at their main on-site restaurant. Or, experience their Italian and Asian eateries offering beautiful views of Mirabello Bay.
Located in northeastern Crete, the aptly-named Elounda Bay Palace Hotel is another excellent family resort option for anyone interested in a refined setting overlooking the Mediterranean Sea.
Their rooming accommodations are split into three tiers: Splendid Club, Gold Club, and Platinum Club. Their family garden view room is ideal for two to six guests and has a queen-sized bed, two twin-sized beds, television, WiFi, a private balcony, and two marble bathrooms.
This resort has several swimming areas, including an outdoor seawater pool, a heated indoor pool, and a freshwater kid's pool. At the Water Sports Center, you can try out scuba diving, sailing, water-skiing, or fishing. You can also spend hours exploring their gardens, playing tennis, or checking out the shopping arcade with the kids. Otherwise, there is a supervised club for younger children.
Parents can enjoy refreshing cocktails at their nautical-themed bars, including one decorated with three sails. In addition to its four on-site restaurants with children's meals, Elounda Bay Palace Hotel also offers in-room dining services.
Conclusion
Several family resorts in Crete offer a wide selection of facilities, services, and accommodations that will match your family's needs, from the most upscale hotels to more casual destinations. The ones offering lovely beachfront views let you appreciate Crete's beauty on the brightest days.
Several of them have inclusive activities for everyone in your family to participate in, while others have areas designated for specific age ranges. No matter which one on this list you choose during your next vacation, you can expect plenty of fun and relaxation.
More about our TFVG Author