Between its consistently sunny weather, outstanding beaches, and tourist-friendly policies, Spain has been a great place to visit for years. Here are some of the best family resorts in Spain.
Hotel Fariones
Hotel Fariones is easily one of the best family resorts in Spain, functioning as a full five-star facility. It's also quite shiny and new after a renovation that finished in 2020. Amenities include plenty of pools, access to activities like boating and windsurfing, easy access to several beaches, and an on-site ATM if you need cash.
Room features include extra-long beds, soundproof walls that mitigate the noise from being close to the airport, whirlpool bathtubs, and special safes for laptops. It has over one hundred restaurants within 0.3 miles and is friendly for walking around, so you don't need to rent a car to have plenty of fun.
Despite its quality, Hotel Fariones is a little better for families with older children. It doesn't have child-focused services like babysitting, though you may be able to arrange for something through the concierge if necessary. It's a great resort by every regular metric, but the lack of support for the youngest guests means it's not quite perfect.
Hotel del Juguete
Hotel del Juguete is a child-focused resort destination, which is immediately obvious from the first moment you step inside. The walls are covered in kid-friendly art, and rooms come with a selection of thematic toys to support different interests. There's a slightly frightening amount of variety here.
In many ways, Hotel del Juguete is a single large playground for active children. It's best for families whose kids are energetic and want to play all the time. Quieter children may not enjoy things as much, so they'll do better at a regular resort.
It's almost impossible to overstate how much this hotel caters to children, but it doesn't entirely ignore adults. The restaurant offers Mediterranean food for all ages, and there are plenty of activities outside the resort to enjoy.
One thing to keep in mind here is that Hotel del Juguete caters a little more to Spanish-speaking visitors. Toys are universal and don't require any language skills, but being a little more fluent in Spanish will help here.
Mar Hotels Playa Mar & Spa
Playa Mar & Spa is a comfortable and kid-friendly resort just 50 meters from a beach. It has indoor and outdoor pools, but also a section with water slides to ensure more entertainment. Every room comes with either an extra bed or a sofa bed, which makes it much easier to fit the whole family in one room. Floor plans are generally bright, open, and inviting.
Playa Mar & Spa is disability-friendly, with the Premium Junior Suites on the ground floor suitable for guests with reduced mobility. There are only six of these, but that's usually enough to ensure there's always one available.
The food is neat, too, with a buffet-style restaurant featuring show cooking. Playa Mar & Spa is particularly good for visitors who love food because it has themed dinners during the week that can let you taste things from all over the world. A snack bar and a theater bar provide additional options for adults.
Although not quite as kid-focused as Hotel del Juguete, Mar Hotels' Playa Mar & Spa location is easily one of the best family resorts in Spain and suitable for visitors with children of any age.
Hotel Don Pepe Gran Melia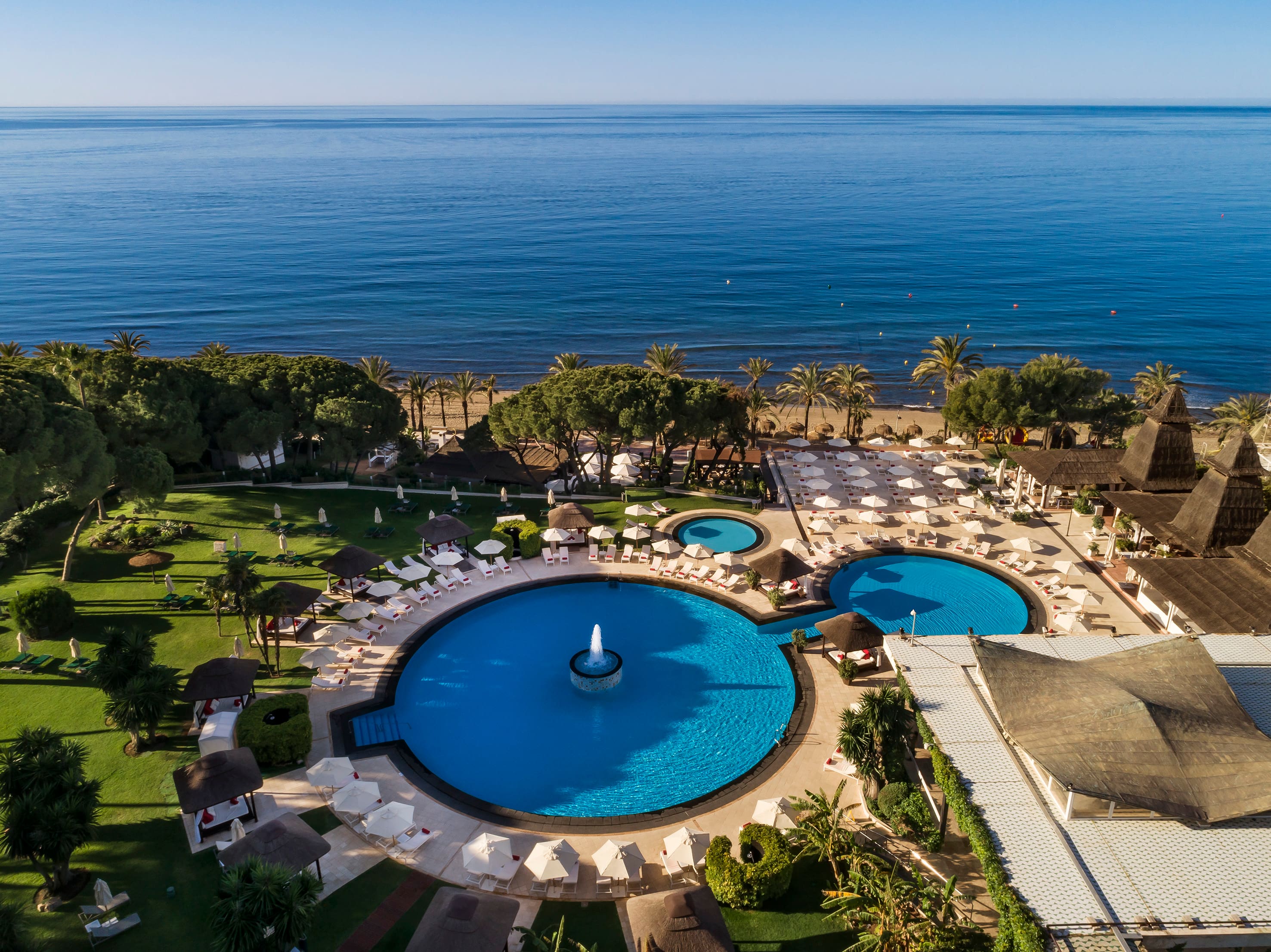 Hotel Don Pepe, from Gran Melia, is a five-star resort in Marabella. Just a few steps from the beach, it features luxurious lounge areas around its outdoor pools and several room levels for different experiences.
However, what makes it one of the best family resorts in Spain is its Kids Club program. This club includes several children-specific services, including access to a babysitter who can keep an eye on things and a games room where kids can have fun. One outdoor pool is specifically for children, while the heated indoor pool is adults-only.
Hotel Don Pepe is also suitable for guests with disabilities, all wrapped up in outstanding personal service. Together, these details make Hotel Don Pepe a fantastic choice for families and easily one of the best options in the country.
It's worth noting here that babysitting services are what usually take resorts to the next level. Traveling with a child is hard enough, but when you may have some language barriers on top of that, it gets even harder. Having someone who can take care of a kid while you're doing other things gives you far more freedom and flexibility.
Don Carlos Resort & Spa
Don Carlos is another five-star resort in Marbella. If you're noticing a pattern in the locations here, that's because Marbella is a particularly tourist-friendly destination and one of the best areas in the country to visit on vacation.
Don Carlos has a gorgeous on-site tropical garden, close to the pools, as well as a restaurant offering Thai cuisine in the evenings. Thai food is quite popular in Spain thanks to some overlap in tastes, so the restaurant adds an extra touch of internationalism to your dining opportunities.
While this hotel caters to older guests, it is kid-friendly with things like child-focused games and activities. Rooms feature air conditioning and private refrigerators to help beat the heat, while the overall hotel is quiet and offers excellent views of the ocean.
Club Hotel Aguamarina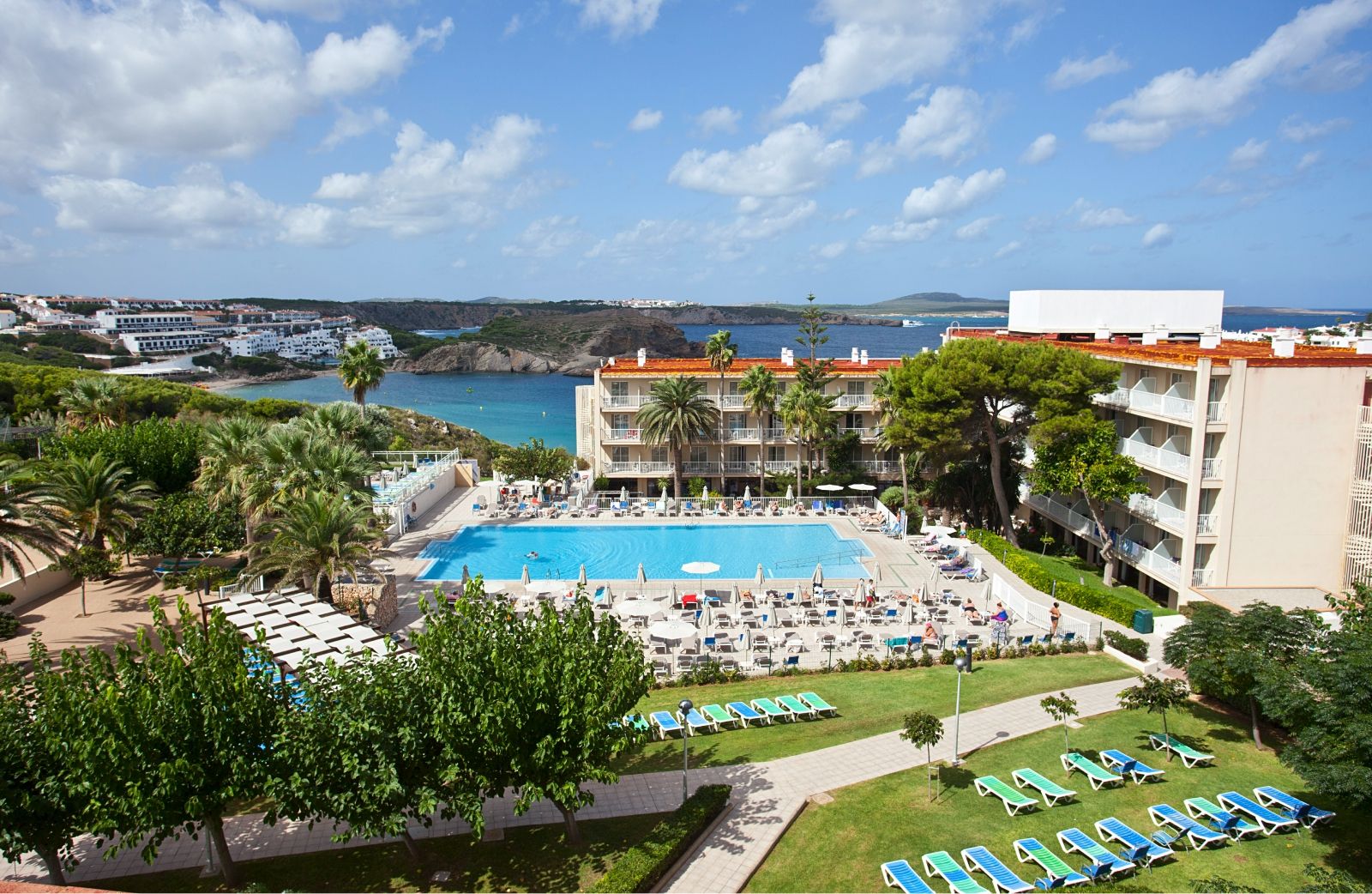 Club Hotel Aguamarina is much bigger than it may look at first. Although not as luxurious as some of the other family resorts in Spain, only reaching three stars, it has a wide selection of activities for guests to enjoy. These include mini-golf, children's areas, themed swimming pools, water slides, a games room, and more.
In short, rather than emphasizing service and decorations, this resort focuses on creating things for guests to do. Children often have a hard time at luxury-focused resorts, which discourage being too loud, so in some ways, this hotel is much better for children than most of the competition.
Services at Club Hotel Aguamarina include currency exchange, stroller rentals, an on-site supermarket for meals, free cots, daily room cleaning, and even medical service. International television is available, while the dining areas have snacks like chicken nuggets, onion rings, and fruit.
As if all this wasn't enough reason to choose Club Hotel Aguamarina, it's set on a quiet beach with fewer visitors and priced competitively. This hotel has many options and entertainments that aren't available at more luxury-focused resorts, so if you're looking for fun more than pure comfort, this is an excellent place to start looking.
Iberostar Selection Lanzarote Park
Iberostar's Lanzarote Park location is an affordable five-star resort with a wide selection of different rooms to meet different needs. Families will want to focus on the aptly-named Family Rooms, which have two twin beds and two sofa beds. These rooms come with several view options, and the unlimited purified water is a nice touch.
The Lanzarote Park resort is also great for food lovers, with two on-site restaurants and five bars. Entertainment for children includes a special park, an activities program, waterslides, a miniature disco area, a games room, and more. Few resorts can boast the same number or quality of kid-friendly options as Lanzarote Park.
Iberostar is actively working to support a circular economy, in part by removing all single-use plastics and replacing them with either compostable or reusable options. They also use renewable energy sources and have electric-car charging stations if you happen to have one of those.
This resort has a full array of luxury options at different price points, so it's available even to budget-focused travelers. Most five-star resorts focus on the wealthiest travelers, so Lanzarote Park's wider spread and huge array of services make it a solid contender for any list of destinations.
Grand Palladium Palace Ibiza Resort & Spa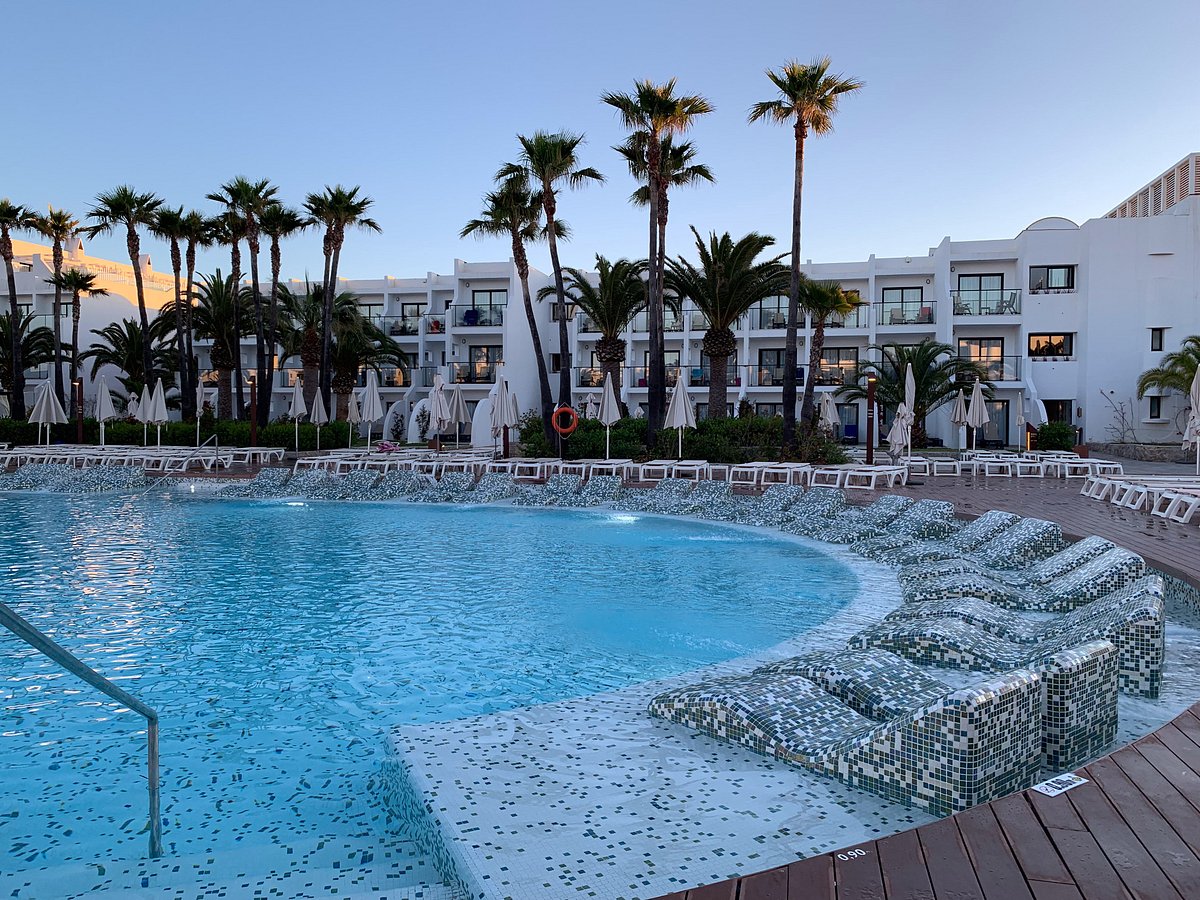 The Grand Palladium Palace may not look too much like a castle, but this five-star family-friendly location is a great place on the coast of Ibiza. Family visits start with the Superior rooms, which can hold two adults and one child, though suites sleeping up to six guests are available if needed.
Services here include several pools, each of which has child-friendly areas to ensure even younger visitors can enjoy them. The pool in the Mini Club is particularly appropriate for younger swimmers, while older guests can enjoy massages and umbrellas that help block out the sun.
The Baby Club is an extra service for children starting from one year old. Run by nannies with experience in childcare, this service provides recreational and educational activities for up to two hours at a time, giving you a chance to relax elsewhere.
Dining options at the Grand Palladium Palace include Italian, Mexican, and Mediterranean dishes as the highlights, with a few international selections at La Sal. That last restaurant has opportunities for chefs to cook right in front of you, providing added entertainment with your meal. A large selection of bars, including some with American fare, complete the list.
Overall, the Grand Palladium Palace has an excellent selection of food, rooms, and child-friendly entertainment. With those factors in mind, it ranks comfortably among the best family resorts in Spain.
Magic Robin Hood
If that name sounds a little unusual for a resort, it's not just you. The Magic in the name is the resort brand, while Robin Hood is the specific location.
Magic Robin Hood is a medieval-themed destination based on the classic stories of Robin Hood. A combination of luxury hotel and water park, this location features numerous large slides, a huge pool, zip lines, a climbing wall, archery, mini-golf, a wooden castle, and even electronic entertainment.
Kids will have plenty to keep them occupied here, so you can spend the entire vacation without leaving the resort. Adults aren't ignored, though, and can enjoy a spa, a lounge, and several special theme bars.
Magic Robin Hood knows its clientele, and its options cater heavily to travelers with children. It has some options for large families, but it also has services that cater to single parents. Many hotels focus exclusively on families with both parents present, so Magic Robin Hood's thoughtfulness here sets them apart from the crowd.
All of the resorts on this list are excellent destinations, but Magic Robin Hood stands out as an exceptionally good option. Its mix of large play areas, modern entertainment, and family-friendly atmosphere mean it's safe and affordable.
Spa Hotel Ciudad de Teruel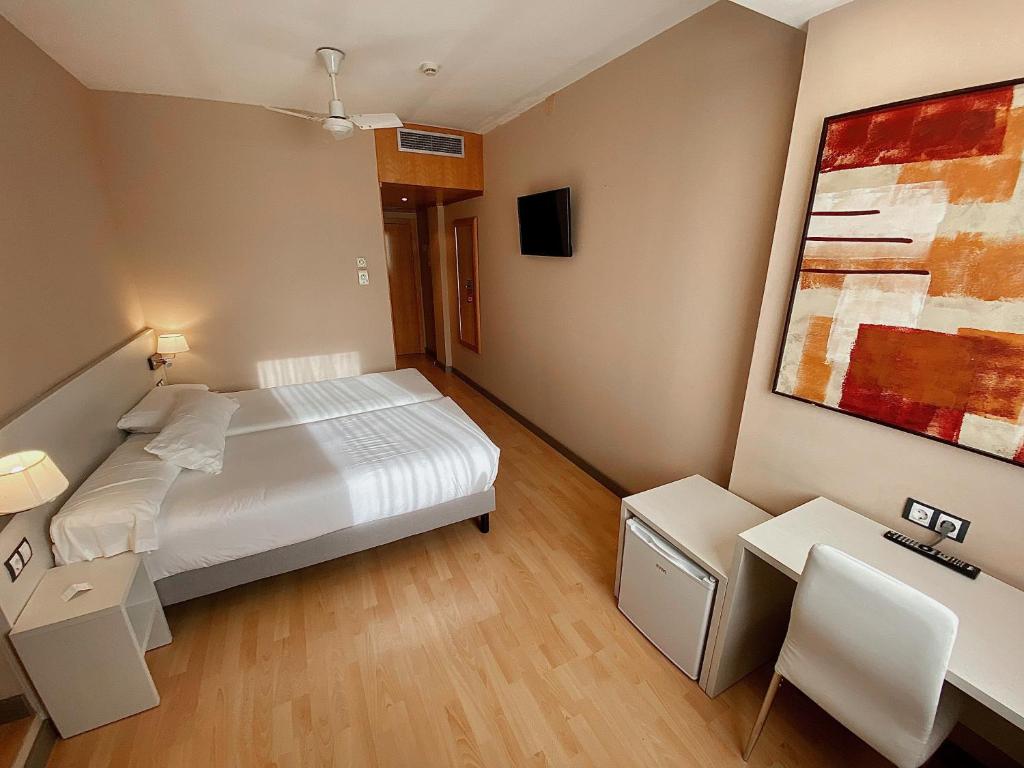 Many children love dinosaurs, and if that's true of your kid, consider picking Spa Hotel Ciudad de Teruel as your destination. It's only a few minutes away from Dinopolis, one of the world's largest museums of paleontology. The hotel itself has a dinosaur-themed children's water park, complete with pools, slides, and a games room.
Cinema and disco rooms offer more fun for adults, while a large free buffet ensures you have food at any time. A thermal circuit and massage services help complete the experience.
Spa Hotel Ciudad de Teruel isn't quite as large or luxurious as some of the other options on this list, but luxury isn't what most kids want. Rather, it's easier to judge this resort on its kid-friendly services, which are heavily dinosaur-themed and the primary reason to pick this over any other destination.
Hotel Rosamar Garden Resort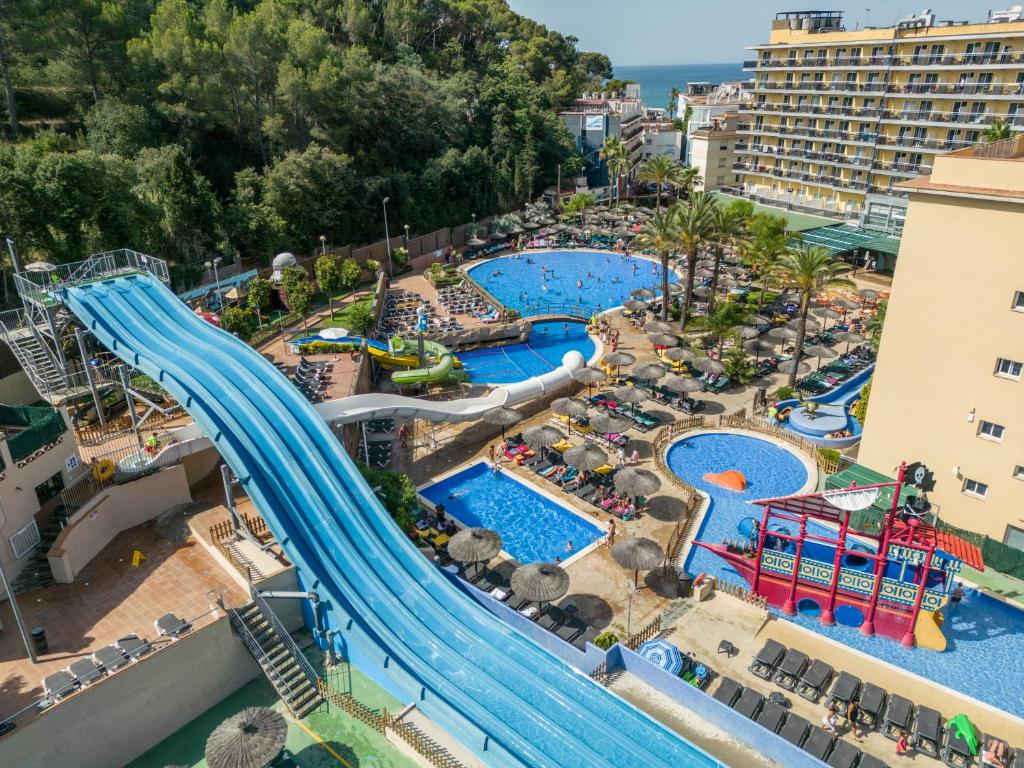 Hotel Rosamar Garden Resort is a four-star location in Lloret de Mar. Like Magic Robin Hood, this resort heavily emphasizes the outdoor waterpark and entertainment area. This area includes a child-friendly pool, water slides, outdoor sports, and even a multi-lane racing slide.
As the outdoor entertainments imply, this is a family-focused resort, with relevant rooms starting at sizes for one adult and one child. Although not as luxurious as some other locations, these rooms are extraordinarily affordable per night while offering access to extensive on-site entertainment options.
Most families will want to start with the double standard rooms (two adults and one child), but larger apartments are available if you want to live at the resort for a little while. Hotel Rosamar Garden Resort doesn't have any truly luxurious furnishings, but that's fine because it's not a resort where you'll want to stay inside.
This location is relatively disability-friendly. Visitors with mobility challenges may not be able to enjoy the water park to the fullest, but room features like walk-in showers provide a lot of help and support.
Fuerte Conil-Resort
Fuerte Conil-Resort is a four-star location right on La Fontanilla Beach, one of the largest and best in Spain. The resort and its surrounding area emphasize classic Spanish architecture and cuisine, allowing you to enjoy Spain's culture to the fullest while you're there.
Rooms are spacious here, with the smallest rooms available with sofa beds on request. The family rooms fit four people normally, with an option for an extra cot if needed. The family rooms also have two separate bedrooms, allowing some extra privacy while you're there.
One thing this resort includes that many others don't is your choice of pillow styles. Fuerte Conil-Resort has four pillows for different sleeping styles, including those who prefer sleeping sideways, anyone who changes position a lot, and anyone who wants ergonomic pillows to support their neck.
The overall resort has six pools and a jacuzzi area. It doesn't have an on-site golf course, but it does have discounts to nearby courses if you want to head that way. El Buche, the on-site restaurant by the pool, has a selection of tuna and rice dishes to enjoy.
Gran Castillo Tagoro
The Gran Castillo Tagoro in Lanzarote is a child-friendly destination, featuring a large playground suitable for younger visitors and elaborately-lit trees that brighten up the night. The facility features six pools, including one for kids, and a dedicated playground known as Castleland. Notably, this area includes a babysitting service so you can drop kids off for a while.
Several on-site restaurants offer Italian and international fare, while an adults-only restaurant offers a space away from kids if you want to take advantage of that. It also has four bars, and many rooms have hydromassage showers to help you relax. Even better, there's a movie theater where you can catch some of the latest releases.
Other activities include archery, bike tours, stand-up comedy shows, a game room, themed dinners, a kid-friendly buffet, free parking on-site with reservations, and a steam room. The largest rooms can hold up to four adults and two children in reasonable comfort.
The Gran Castillo Tagoro offers a solid balance of size and services at a competitive price. The base room rates are acceptable on almost any budget, though some of the activities at the resort have additional charges and that can push the pricing up.
Servatur Waikiki
If the name isn't enough of a hint, Servatur's Waikiki resort is a Hawaiian-themed four-star resort offering all-inclusive services for guests. The general rooms fit three to five people, with traditional amenities like wi-fi internet, air conditioning, and flat-screen televisions.
Food is mainly available through a buffet-style restaurant, which has three theme days each week showcasing meals from around the world. Lunch starts at 1 and dinner at 6:30, both of which are a little later than some guests are used to, so keep that in mind.
Other entertainment available here includes a movie room, a lounge specifically for teenagers, several game consoles, a stage, and several bars. Resort services include currency exchange, cleaning service, late check-out options, and baby cots available on request.
One thing to note is that this resort is a little further from the beach than some others. The water is still within comfortable walking distance for most people, but this isn't a resort that's immediately adjacent to the coastline. That's an important detail if you want to relax on the sand instead of by a pool.
Best Lloret Splash
Best Lloret Splash is an accessible resort in Lloret de Mar with a large pool area and a respectable water park. Although not on the scale of some other resorts, the multiple slides and pirate ship playground offer a lot of space to move around and have fun.
Rooms here are also family-friendly, with many sleeping four to five people with no difficulty. Limited parking is available on-site, but you can reserve a spot if you need to park a vehicle there. Best Lloret Splash also has a paid games room with some added entertainment.
Two other details make this hotel stand out from many other resorts on this list. First, it has some gluten-free products and can cater to guests with that dietary restriction. It's also a Heart Safety Hotel, with an AED on-site to help address medical emergencies.
Landmar Hotel Costa Los Gigantes
Landmar's Costa Los Gigantes is one of the best family resorts in Spain's Canary Islands area, serving as an all-inclusive destination. Dining options are quite flexible here, with the buffet-style Tiede Restaurant including Mediterranean, Hindu, and Mexican options. The Nautilus Bar next to one of the pools offers barbecue-style lunch, while several bars offer drinks.
In the evening, children can enjoy a mini-disco area with great views. The children's area includes a large, covered play area to explore, while plenty of seats and umbrellas give you space to relax. A luxurious spa offers another place to unwind while you're in the area.
Room options are flexible, but visitors with younger children should consider the Landi Village room. These feature some kid-friendly gifts and activities featuring the resort's mascot, plus reserved hammocks, extra play equipment, and more. It's a great touch for families who want to give their kids the best experience at a resort.
Considerations For Traveling To Spain
Unsurprisingly, Spanish is the most-common language when you're traveling to Spain, and you're going to have an easier time if you're at least modestly fluent. However, travel resorts cater to people from outside the country, so many staff members are at least passingly fluent in English.
If you're not confident in your Spanish, consider buying a travel phrasebook. These books can help you get around and ask for help if necessary. Some people use digital phrasebooks or live translation systems, and those work, but they rely on having a charged smartphone or another device available. Physical books don't require power and are a reliable backup.
Like many countries in Europe, Spain currently uses the Euro as its primary currency. Most upscale resorts can handle currency conversions on-site. If they can't, they probably know several nearby places that can. Spanish resorts tend to be quite affordable, especially compared to places like Hawaii, so they're popular among budget-focused travelers.
Most family resorts in Spain are close to the beaches, especially on its western coast. It may be a little harder to find something inland, but such resorts do exist.
Children may have a slightly tougher time going to family resorts in Spain than in some other places. They won't be able to communicate with all employees or some other guests as easily, especially if they're not old enough to use phrasebooks. If you're traveling with particularly young kids, look for resorts that are specifically English-friendly.
Finally, Spain is mostly disability-friendly, with many resorts and beaches featuring flat paths or ramps to help any mobility-impaired visitors. There are still some resorts that aren't disability-friendly, though, so make sure you check each location's information if this is relevant to your trip.
Frequently Asked Questions
Here are some common questions people have about visiting family resorts in Spain.
Is Spain a good place to visit with kids?
Yes. Whether you're staying entirely within a family resort or going to explore the countryside, Spain has plenty of entertainment and activities for kids.
Make sure to double-check sleeping arrangements before you reserve a room at a hotel. Some hotels need to bring in sofa beds or child cots before you arrive.
What should I know about eating in Spain?
Eating in Spain isn't quite like dining in some other countries. Some resorts may serve meals at times and sizes that visitors may be more familiar with, but others will maintain Spanish traditions.
In traditional areas, most people eat lunch as the largest meal of the day, and it can take as long as an hour and a half to get through it. Breakfast and dinner are much lighter, with dinner often coming past 9 PM.
Much of the country shuts down to rest after lunch, and people will often take a brief nap known as a siesta. Resorts will often continue providing services during this time, but anywhere outside the resort may shut down during the time after lunch and you should plan your activities accordingly.
Will it be too hot in Spain?
Spain is a relatively hot country, to the point that people take a siesta to help avoid working in the intense mid-afternoon heat. However, air conditioning is universal at upscale resorts, so rooms tend to stay cool. Most resorts also benefit from some cooling from their pools and water features, which makes them even more comfortable.
If you're worried about temperatures, you can look up the average seasonal temperatures at any resort you want to visit and start planning your vacation around that.
More about our TFVG Author