Are you planning on taking a family trip to the UK? Where you decide to stay can have a significant impact on your vacation. To help you decide, here are some of the best luxury family hotels in the UK.
How We Picked These Hotels
We use several factors to determine which luxury family hotels in the UK to recommend. These include user reviews, awards and certifications, amenities and services, location, reputation, and any unique factors that set the hotel apart from others.
Pricing is not a factor in our recommendations unless it seems egregiously high because all luxurious hotels are expensive. However, this guide is for family hotels, so friendliness towards children is a must. Services like free cribs, on-site babysitters or playrooms, and entertainment areas earned extra points in our evaluations.
One other thing to be aware of is that most luxury family hotels in the UK are in London. There are comfortable hotels and resorts elsewhere, but the top locations cluster towards the heart of London. To balance this out, we chose several locations specifically because they're not in London, even though their services aren't quite as luxurious as the nation's top locations.
Now that you know how we picked the hotels, let's get into the reviews.
Arguably the most luxurious hotel in England, Hotel 41 isn't quite like anywhere else in the country. The name comes from its address at 41 Buckingham Palace Road in London, where it directly overlooks the residence in question. As a hotel next to one of the most significant places in the UK, it benefits from the area's exceptionally tight security.
Hotel 41 has a close connection to The Rubens (of which it was originally part), and to this day it has a wide selection of in-house dining options, an upscale lounge, and two team members providing service for each guest. This means that there is always someone available to help with whatever you need.
Hotel 41 is small for a luxury hotel, with just 30 individually-designed rooms available. It's impressively dense with its decorations, using a chic style that includes globes, marble busts, paintings, and more.
Pets are allowed here. The suites feature Savoir beds, which are handmade luxury mattresses. For context, even the cheapest Savoir bed costs over $12,000, which contrasts with the cheap memory foam toppers most hotels use.
Hotel 41 doesn't have the same array of child-friendly services that would make it a perfect family-friendly hotel, though, in fairness, its size constraints also make it difficult to do much more than it already does. It's still a genuine 5-star hotel in perhaps the single best spot in London, though, and it's a good standard for judging luxury at any other hotel.
The Royal Lancaster London is one of the larger hotels in the area, offering 411 rooms and suites in multiple styles. Family travelers can start with the Classic Family rooms, which combine two of their Classic rooms. One has a double king bed, while the other has two twin beds, offering both space and privacy.
As a two-room setup, these rooms include two television and separate bathrooms. Amenities include all standard hotel options, plus free baby cots, multinational plug sockets, a sewing kit, and even a tray with a shoe shining kit.
All rooms feature allergy-free designs, soundproofing for privacy, blackout curtains, air purifiers, separate dining areas, bottled water, and air conditioning.
The Royal Lancaster London also has an exceptionally high number of on-site amenities, ranging from electric vehicle charging stations to massages, currency exchange, private check-in, and pedicures.
Family benefits include a kid-friendly buffet and kid meals, high chairs, access to children's television networks for entertainment, and strollers. The Royal Lancaster London also has special diet menus and can accommodate many requests or needs.
Although not quite as luxurious as Hotel 41, the Royal Lancaster London is objectively better for families with younger children and an excellent choice for most visitors.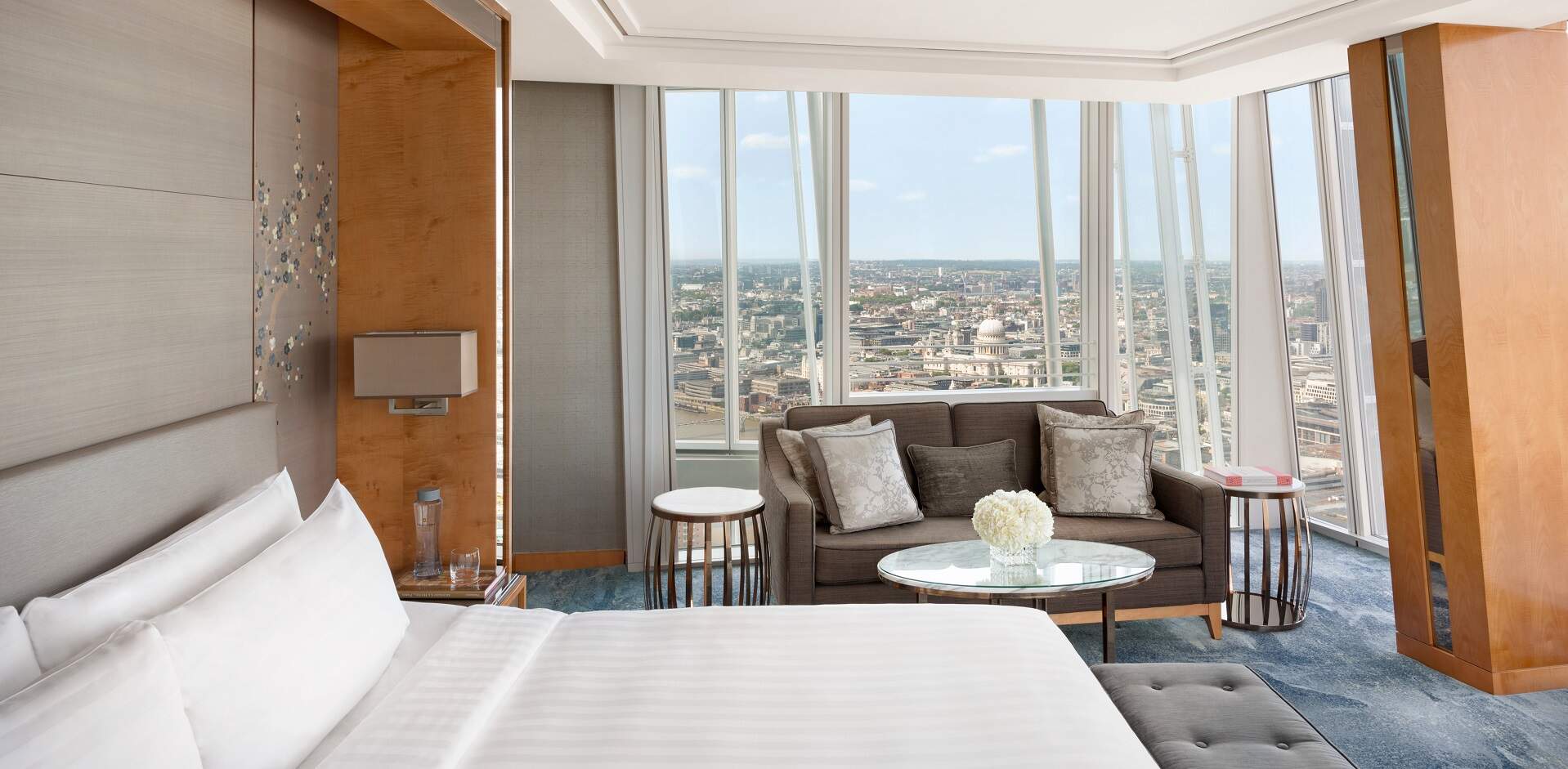 Occupying 18 floors of The Shard in London, Shangri-La is a tall, luxurious destination with 202 rooms, three restaurants, and the highest hotel infinity pool in the city. Many rooms have floor-to-ceiling windows with sophisticated decor and artwork across the walls.
Bathrooms include heated floors and mirror-embedded televisions so you can keep enjoying your favorite shows. Children get additional benefits if you're a member of the Shangri-La Circle program, including complimentary all-day buffets for up to two children under 7.
Hotel amenities include the indoor heated pool, valet parking, breakfast in rooms, and special diet menus. For families, this hotel offers access to children's television networks and babysitting. That last option is vital because it makes it much easier to enjoy some time alone. Unfortunately, it's a rare service even at upscale hotels.
Room types include a selection of city and landmark views. Much like the Royal Lancaster London, Shangri-La The Shard doesn't quite match Hotel 41 in terms of pure luxury, but it is family-friendly and a 5-star hotel in its own right.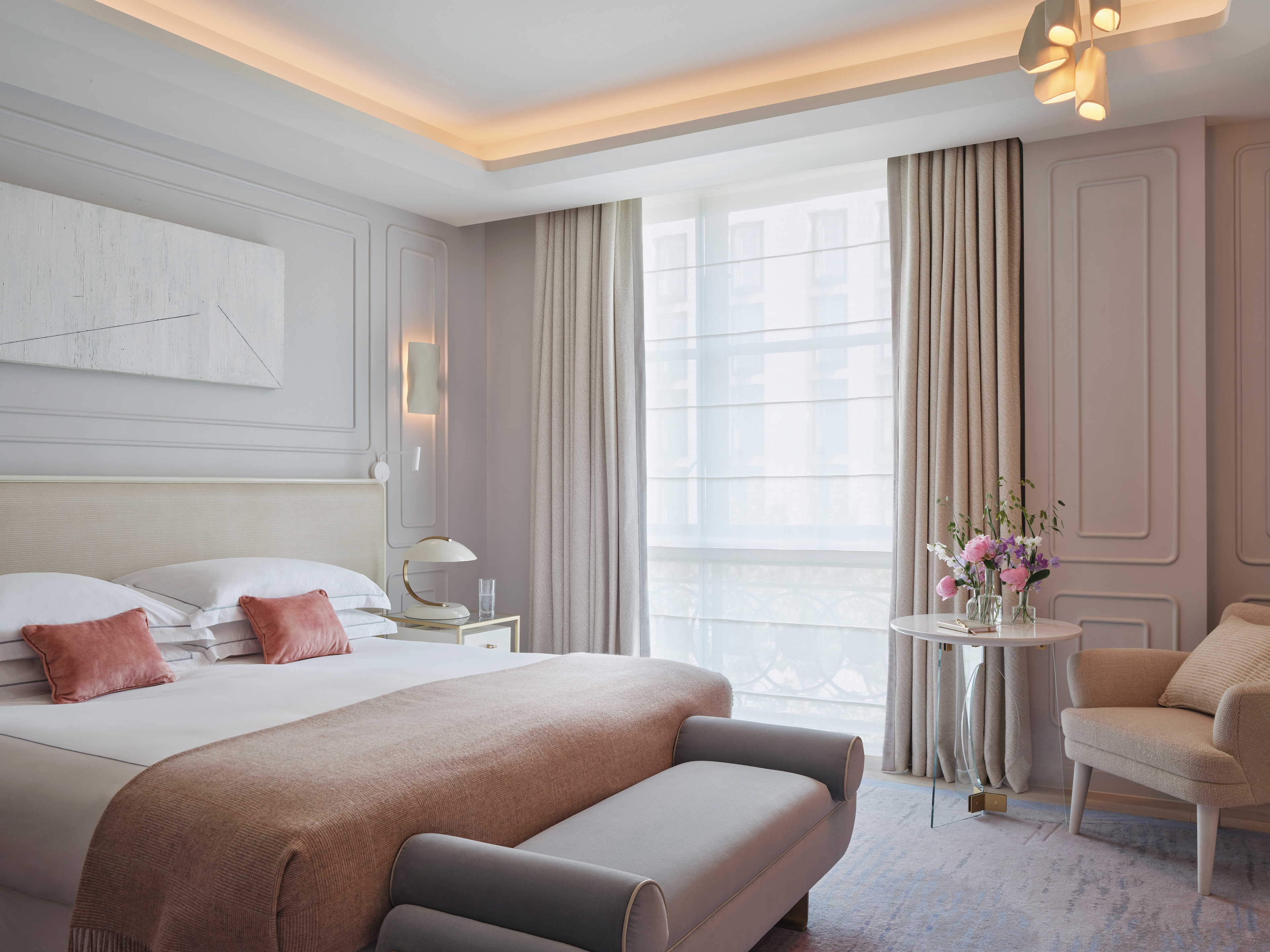 One Aldwych is an unusual privately-owned hotel. Many luxurious hotels are part of larger chains that can provide services and opportunities that are difficult for a solo hotel to manage, but One Aldwych stands out among the crowd thanks to its history and high-quality services.
The whole hotel is impressively flexible, with both adjoining rooms and extra beds available to fit bigger groups. One Aldwych also provides cots and bed rails on request, making it suitable for travelers with particularly young children. Children can enjoy personal welcome gifts, miniature bathrobes and slippers, and children's menus for dining.
The Health Club part of the hotel includes a large chlorine-free swimming pool, with projections of exotic fish and underwater music that help elevate the overall experience. If you need extra laundry services, kids get half off, and the hotel uses a particularly skin-friendly detergent.
One Aldwych does not have on-site babysitting, but their concierge service can arrange for this. Other amenities include spa services, an excellent bar, and private check-ins. The room decor is tasteful, with light-colored furniture and relatively open floor plans. A sauna and steam room are available, though children aren't allowed into those.
Old Aldwych itself is set inside the heart of London, within a casual ten-minute walk of numerous theaters, opera houses, art galleries, and dining. Together, this helps make it a luxurious destination for families of all sizes.
Overwater Hall is one of the best luxury family hotels in the UK that isn't in the middle of London. It's actually in Ireby, to the northeast of the Isle of Man, and not particularly close to any of the UK's major cities.
The estate itself is set on 18 acres of well-tended gardens and woodlands, with the primary building a delightful 18th-century country house. Overwater Hall has eleven primary rooms, although only some of these have space to give extra beds to families. Several rooms have a split base that can separate into twin beds if desired.
As a smaller hotel, Overwater Hall decorates each room individually, so you have a genuine choice about the decor. Most of the rooms are on the upper floor of the estate, but the Garden Room is on the ground floor and is suitable for visitors with mobility challenges.
Amenities include in-room breakfast, free parking, a bar area, and easy access to hiking. High chairs are available, as are various books, DVDs, and music options suitable for children. Overwater Hall can accommodate many special diets, and it has an on-site restaurant for food. This estate is dog-friendly, too.
Officially, Overwater Hall is a 3-star hotel. It doesn't display some of the extremes of luxury that other locations on this list do, but the tasteful decor and family-friendly services make it an outstanding retreat if you're looking for a hotel in the UK that's not in the middle of a city.
The Hari is an upscale hotel in Belgravia, a district of London immediately southwest of Buckingham Palace and on the eastern side of Hyde Park's southern edge. The Hari is a trendy, modern five-star hotel, with 85 well-designed rooms that include plush upholstery, marble bathrooms, and plenty of art along the walls.
Most rooms at The Hari only sleep two people, but you can book adjoining rooms to make things easier overall. Many chambers feature plush couches underneath the window, offering a pleasant location to read or relax, while blackout curtains in front of the couch mean it's possible to do so in the early morning hours without disturbing others.
Hotel amenities include airport transportation, access to a bar, a fitness center, and an on-site restaurant. Like other luxury hotels in London, The Hari can accommodate most special diets with advance notice, while its place within easy walking distance of many of London's top attractions makes it an ideal location for exploring London.
The Hari isn't quite as child-friendly as some other locations on this list, and it's probably not a good hotel to book if you have infants or particularly young children. It's a better hotel if your children are at least into their teens and capable of behaving themselves.
More a resort than a hotel proper, Gleneagles Hotel is easily one of the best hotels in Scotland. Set in Auchterarder, Gleneagles Hotel has 205 bedrooms and 28 suites, with a wide array of options for families. Choices include multi-bedroom suites, large single bedrooms with extra beds or cots, or interconnecting rooms that offer some privacy.
Gleneagles Hotel offers different suggestions based on the age of children, with those 15 and up doing better in different rooms than anyone younger. The two-bedroom Whisky Suite is particularly notable because it can fit up to three children, which is more than many other hotels.
Gleneagles Hotel has quite a lot of entertainment, too. Golf World rates it the #1 choice in the UK and Ireland, with literally world-class facilities and forty different courses. You can also enjoy everything from shooting and fishing to off-road driving, horseback riding, and lawn games.
Together, Gleneagles covers about 850 acres, most of which are active entertainment for visitors. The meals are excellent, too, with a mix of fine and casual dining. They're even willing to cook meals with the fish you catch, so you have a much closer connection to your food than usual.
On top of all this, Gleneagles offers some surprisingly competitive rates. Most stays start around $700 per night, which is entirely acceptable for luxury accommodations. All things considered, this is a surprisingly cheap stay considering the sheer amount of activities available. If you're looking for a luxury hotel in Scotland, Gleneagles Hotel is the place to start.
Can you honestly tell your family that you had the best stay in the UK if you never slept in a castle? If the answer is no, Rowton Castle may be the place to go. A combination of luxury hotel and deluxe wedding venue in Shropshire's countryside, Rowton Castle is an elegantly-furnished location with 19 individually-decorated rooms for guests to enjoy.
This hotel doesn't have quite as many services as some other locations, although you do get the standard array of meeting rooms, banquet areas, laundry service, and so on. Most rooms in the castle only sleep two adults and one child, but the Classic Double & Single room can handle up to three adults and one child (or two adults and two children), making it the best family option.
The entire estate is comfortably calm, with a good feeling of getting away from the world. Each room does have a flatscreen television for entertainment, but for the best experience, consider spending time and exploring the grounds.
Rowton Castle's focus on weddings also gives it an opportunity that few other hotels can match: renting the entire castle for your wedding and letting new and extended family members stay the night after your ceremony. That takes some planning ahead, and it won't be cheap, but Rowton is just big enough to support such things.
Literally The Four Seasons Manor, this luxurious hotel from the Belmond group in Oxfordshire is a mix of British and French delights. It features 32 individually-designed rooms and suites, with features ranging from sturdy air conditioning and VIP facilities to wake-up service and bottled water.
The rooms are creative and comfortable, but mostly focus on single large beds with a possible option for a single guest bed, so this hotel is best for three-person families. Anything past that and you should expect to rent more than one room.
With that said, the real reason to visit this hotel is the dining. Le Manoir Aux Quat'Saisons earned two Michelin stars when it opened in 1984, and it's maintained them since. Getting stars that quickly is quite unusual for restaurants, though you'll need to book several months ahead of time if you want to get lunch.
This hotel has a children's menu. As with most of the finest dining locations, the menu may change depending on what ingredients are available. However, you can broadly expect meals to include a starter dish, a main course, and a dessert for even the youngest guests. Adults can get 6-7 course dinners. Spa and massage services are also available here.
What To Expect From Luxury Family Hotels In The UK
Luxury family hotels in the United Kingdom mostly fall into two major categories.
First, there are the central London hotels. These can be quite sizable in their own right, but they have anywhere from dozens to hundreds of rooms. While the decor may be tasteful, rooms are rarely too large unless you get a suite. However, they do tend to have excellent dining and easy access to some of the most popular attractions in the city.
The other luxury family hotels are essentially country estates. They usually have large, open grounds and are well away from towns. Countryside locations are better for longer, lower-tech stays, and may feature opportunities like horseback riding or golfing. They aren't necessarily cheaper, but when you consider extra activities, they tend to be a good deal.
You may see hotels calling themselves Grade II buildings. This is a reference to the UK's Listed Buildings system, and broadly covers any building of architectural or historic significance.
Most luxury family hotels in the UK can accommodate special dietary needs on request. However, they may not have building plans that are accommodating to individuals with disabilities. This limit is particularly true for older homes, castles, and estates. Modern hotels are usually friendlier to anyone with disabilities. If this is relevant to your family, call the hotel.
Finally, valet parking is common, but private parking in London usually requires an additional fee. This isn't problematic if you can afford to stay at a luxury family hotel in the first place, but tight constraints mean it can be troublesome to rent yourself.

One thing to remember about navigating London is that its streets and layout don't match the neat grids of many modern cities. You may have a hard time driving yourself around. Fortunately, most luxury family hotels have car hire and taxi services that specialize in transporting foreigners.
More about our TFVG Author