Do you have an inexplicable desire to spend time in nature but do not like dealing with bugs, getting dirty, and being exposed to bad weather and wild animals? If that's the case, then glamorous camping, aka glamping, is the ideal setting you're searching for.
Glamping combines camping with comfort, so this stylish camping provides you with many advantages. To be more precise, glamping means that you'll have access to Wi-Fi, a comfortable bed, and even a decent bathroom. But you probably know all of this, and what you want to discover are the best spots for glamping in New England.
Well, you're reading the right article because below, you'll find 10 of them and everything they offer, so let's start.
New England consists of six states, all rich in greenery and wonderful scenery. So whether you choose to spend a couple of days in Connecticut, Maine, Massachusetts, New Hampshire, Rhode Island, or Vermont, each of these states allows you to center yourself, swim in the lakes, and enjoy the peaceful nights near a fire pit.
Therefore, if you want to get in touch with nature, recharge your batteries, and take a break from the loud and fast city life, learn more about the best glamping spots in New England.
The first recommendation in this article is the luxury Normandy Farms Campground, where you'll have the time of your life. Spending time in the wonderful Normandy Farms, you'll be able to relax in the beauty of the woods while having everything you might need on this adventure.
This amazing glamping spot is located in Foxborough, Massachusetts, and it's great for everyone who wants to enjoy various activities, as there are plenty of them to choose from. Moreover, this is an accessible campground that welcomes people with disabilities and is pet-friendly, allowing you to bring your furry friends.
Accommodation
In Normandy Farms, you'll find different types of accommodation, so let's see what you can choose from. By choosing a deluxe cabin, you'll get a queen bed, a pull-out couch, a fireplace, a grill, a TV, a private bathroom, and a kitchen, so you'll feel most comfortable. By renting a yurt, you can expect to get all the necessities for your stay, such as a TV, an AC, a bathroom, and a breathtaking view over the pond area. The rustic safari tents will provide a unique experience, and the pop-up rentals are another unique way to experience glamping.
Activities
If you're planning to bring your pet, you'll be delighted to know that Freedom Tail Park is a fully equipped dog park where your furry friends will have lots of fun. Also, if you're coming with your kids, the two playgrounds will be the place they won't want to leave.
In addition, the creative arts center is great for expressing your creativity, and the football, volleyball, and soccer fields are great if you love sports.
Amenities
Wi-Fi
Fitness center
Wellness center
An outdoor pool and hot tub
Free Parking
Additional information
Another place to experience amazing glamping, stargazing, and peaceful nights beside a fire pit is booking a tent in the Craftsbury Farmhouse in Vermont. Surrounded by tall trees and greenery, with a big private yard, there's no doubt that you'll find the peace you're looking for.
The Craftsbury Farmhouse has a king-suite studio apartment and a two-bedroom suite. Nothing beats the unique and cozy tents that are the pure definition of glamping, so let's see what they offer.
Accommodation
The Craftsbury Farmhouse offers very cool canvas tents that are weatherproof and big enough for two people. Every tent has a queen-sized bed, table with chairs, towels, and LED lanterns. They come with a microwave, a refrigerator, and a coffee maker, so you can enjoy your coffee relaxing in front of your tent next to the fire pit.
Activities
There is a wellness center on-site that offers pilates, massages, and acupuncture, and you can also attend outdoor wellness classes. The classes include fitness and yoga outdoors, so, at the same time, you'll be able to enjoy the surrounding nature. Equally important is mentioning the many walking trails leading you through the untouched nature. Also, you mustn't miss taking a dip in the nearby river, Whetstone Brook.
Amenities
Internet
Sauna
Hot tub
On-site spa and cafe
Outdoor fire pit
Additional information
The next beautiful spot which provides exciting glamping and maximum enjoyment is the Tamarack Lodge located among the greenery of Voluntown in Connecticut. The area is peaceful and great for a quiet glamping of two.
The Beach Pond Lake is next to the Tamarack Lodge so you can enjoy the amazing view any time of the day. Because of this, the resort is often used for weddings and different events, but still, people love glamping here, so let's see why.
Accommodation
Tamarack Lodge has spacious and comfortable tents equipped with all the necessities you might need. The Bell Tents are great for two people and are best for experiencing glamping. Each tent has zippered screen flaps and a fire pit.
The cozy queen-sized mattress will give you the comfort you lack when camping, and the charging station is great for keeping your devices' batteries full, so you'll stay in touch with the outside world.
Activities
If you're looking for peacefulness and tranquility, the Tamarack Lodge is the best place to choose. Sitting in front of your tent, beside the fire pit, enjoying the starry nights and the sounds of nature, is something you'll appreciate very much.
You'll have access to kayaks and boats, or you can participate in different lawn games, so you'll have plenty of fun while staying there. Also, the many woodland trails are great for a daily walk to explore untouched nature. Often, live music events can make your night even more joyful, so there's no doubt that you'll enjoy your glamping in Tamarack.
Amenities
Internet
Outdoor event space
Charging station
Wood bundle for the fire pit
Luxurious linens
Additional information
The Sandy Pines Campground is one of New England's best places for glamping because of its incredible location. Placed between the forest and the beach, you can imagine everything you can do while staying there.
Sandy Pines Campground provides glamping facilities for families and couples. There are various glamping rentals, so keep reading to learn more about them and easily find what you're looking for.
Accommodation
If you want to share this adventure with your significant other, you can decide between staying in safari tents, unique retreats, hideaway huts, or camp cottages. The comfortable full-sized bed and the fire pit in the outdoor seating area will provide you with relaxed nights no matter which of these four accommodations you choose.
For glamping with your family, you can choose between family safari tents for a family of five and family camp cottages for a family of four. These accommodations have everything a family might need for a fulfilled stay, such as a king-size bed, two twin-sized beds, AC, a fire pit, and an outdoor seating area.
Activities
You won't miss having fun while staying in Sandy Pines Campground. The Goose Rocks Beach is within walking distance from the campground, so thanks to the amazing Sandy Pines Campground's location, you'll have the pleasure of visiting one of the prettiest beaches in the area.
Then, the Kids' Kraft Sessions will awaken the creativity in the children, and the playground is the perfect place for running and having fun. In addition, Sandy Pines is the road for kids biking, so you can rest assured that they won't ever feel bored.
Amenities
Heated saltwater pool
Playground and lawn games
Bath amenities
Paddle boards and kayaks for rent
Laundry facilities
Additional information
Any nature lover and adventurous person who wants to go glamping but do that in a unique way must book a stay in the Comfy Dome. So if you're up for trying a very different way of glamping, this spot will exceed your expectations.
The stunning nature and the incredible views make it hard to leave this place. But that doesn't mean you shouldn't visit it. Besides, what makes it even more attractive is that pets are welcome for an additional fee, and if you bring a service animal, that's free of charge.
Accommodation
The rooms at Comfy Dome are actually clear domes that give you an incredible look at everything around you. They're eco-friendly, affordable, and equipped with all of the essentials. Plus, they're heated, so don't worry. You'll feel comfortable and cozy at all times.
There's no doubt that your stay will be comfortable thanks to the queen-sized bed. The bathroom is shared but heated and has all the necessities inside. You'll have a personal fire pit and two outdoor chairs, providing maximum relaxation and enjoyment.
Activities
Thanks to the closeness of the lake, you'll be able to enjoy it by renting a kayak or simply taking a walk by it. There are plenty of safe trails for hiking and even more near-located breweries and wineries where you can taste the amazing local drinks. So if you're up for some fun, you can find great climbing spots.
Amenities
Private parking
Outdoor fire pit
Solar power system
Solar light
Additional information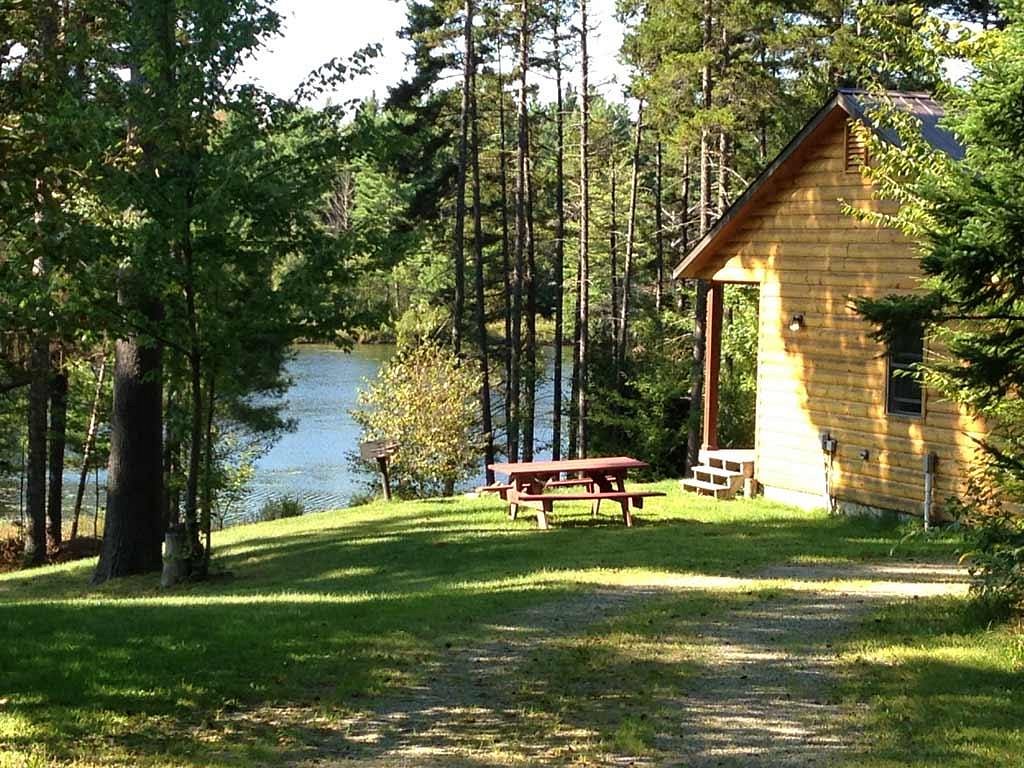 The next incredible spot for glamping in New England is Sterling Ridge Resort located in beautiful Jeffersonville, Vermont. The Sterling Ridge Resort is one of the greatest places to go glamping in New England and enjoy the beautiful nature while having all the comforts that make glamping better than simple camping.
Plus, some of the rustic cabins in Sterling Ridge Resort are dog-friendly, so you can enjoy the serenity this area provides with your four-legged friends.
Accommodation
The cabins in Sterling Ridge Resort are perfect for glamping. You can choose between studio cabins and one, two, or three-bedroom cabins. That's the best part about this resort accommodation, even if you plan on glamping with your family. They're warm and cozy and have a covered porch, so you can enjoy nature even when it's raining.
Activities
There are plenty of adventures you can enjoy at Sterling Ridge Resort. For example, you can go biking, or you can go hiking during the warmer months. Also, you can enjoy riding a canoe or kayak if that's something that you want to try.
If you're planning to visit this place in the winter, you can go ice fishing or take a unique hike through the snow. So no matter the season, Vermont and Sterling Ridge Resort offer plenty of activities all year round.
Amenities
Fireplace
Free Wi-Fi
TV and DVD player
Fully equipped kitchen
Porch and grill
Fire pit
Free Parking
Additional information
The wilderness surrounding the following glamping spot is amazing, making it very popular and visited. The Terramor Outdoor Resort is another amazing glamping spot you should consider visiting. The Terramor tents are placed across Mount Desert Island, so you'll enjoy the surrounding greenery and nature.
The accommodation is amazing, and even though we're talking about tents, these tents are high-class, which means they have electricity, Wi-Fi, and private bathrooms.
Accommodation
Some tents come with bunk beds so each of your family members can get the space they need. The screened windows will make you feel like you're outside in nature while enjoying all of the comforts these tents offer.
The maximum number of people that one tent can accommodate is five. Bayberry and Hemlock tents are great for couples who love the mixture of adventure and romance, and the king bed and the outdoor fire pit will make your stay unforgettable.
For the families, the Moosewood, Birch, and Alder are tents that provide more space and ultimate comfort for everyone.
Activities
There are plenty of things you can do during your stay at the Terramor Outdoor Resort. You can take a walk on the trails of Acadia National Park and explore the hidden beauty of the seaside villages of Maine. Or, you can visit the historic lighthouses of Maine or start discovering the space by attending a stargazing event organized by the resort. The night is also filled with live music, campfires, and crafted cocktails, so the fun is never left out.
Amenities
Pool
Hot tub
Campfire
Bar
Outdoor grilling area
Additional information
The next glamping spot in New England is Crofter's Green, offering delightful mini-houses in the middle of the charming Montgomery Center in Vermont. If the name sounds familiar, that's probably because you've already heard it before, as this is a beautiful destination chosen for many weddings.
You can visit and book a stay in Crofter's Green with your family, or you can come with your partner. The eye-catching cottages have different sleeping capacities, suitable for everyone, so let's take a look at them.
Accommodation
Some of the cottages in Crofter's Green can accommodate up to four people, and some are built for only two. The private bathroom and the private kitchen are fully equipped, so you'll have all the essentials. These tiny houses have everything you might need to feel at home. Also, some of the cottages are pet-friendly, so if you're planning to bring your pet, make sure to book a pet-friendly one.
Activities
During your stay at Crofter's Green, you can enjoy playing an eighteen-hole disc golf course or search for other interesting activities in the area. This place is so peaceful and beautiful, so it's the perfect choice for everyone who wants to escape from the city chaos and recharge their batteries in nature. You can explore the surroundings via the many hiking trails, chill next to the fire pit, or simply unwind in the hot tub.
Amenities
Fully equipped kitchen
Outdoor Grill
Hot tub
Fire pit
Additional information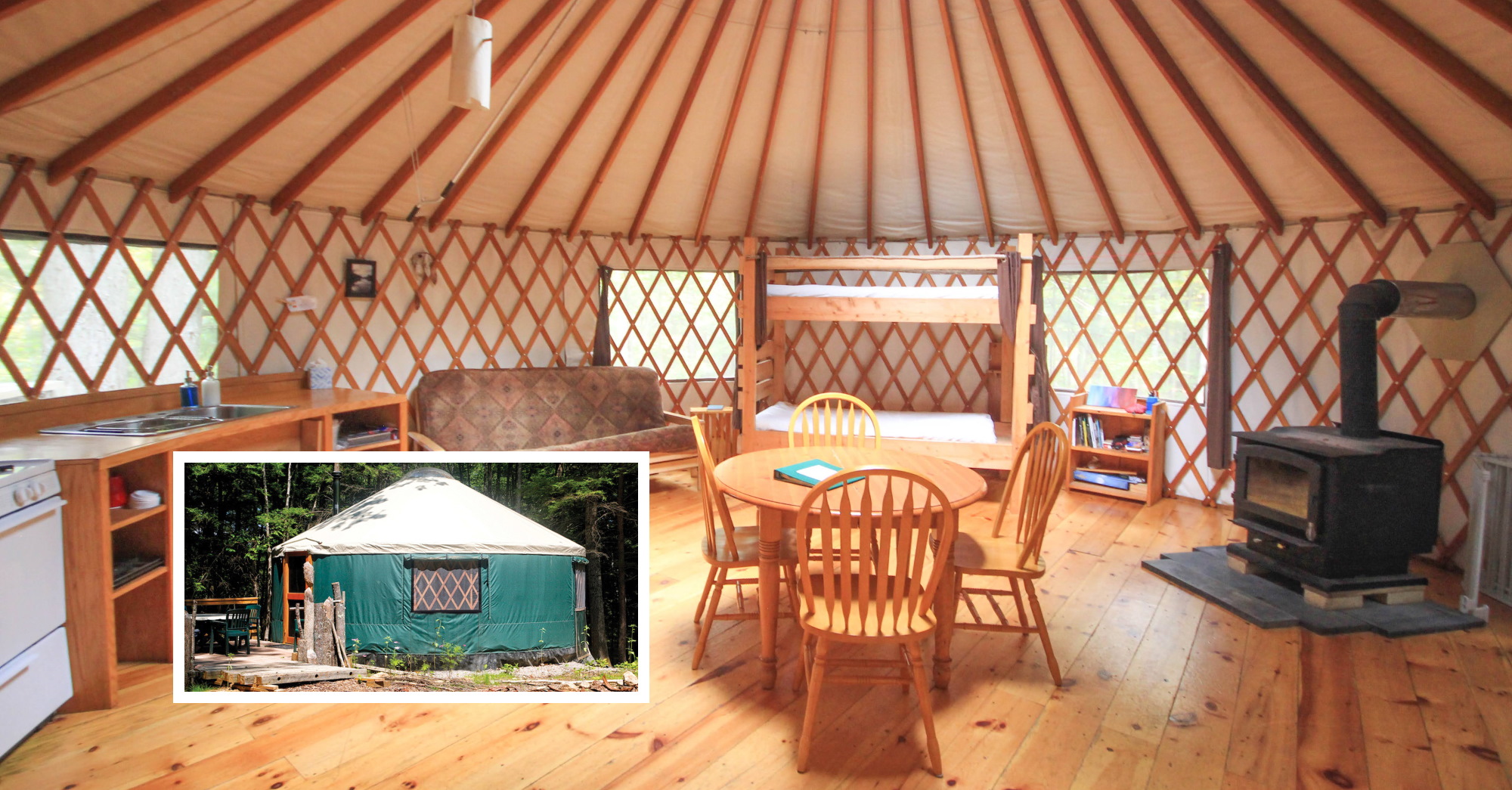 Have you ever stayed in a yurt? Do you know how interesting it's to stay in a round tent? If not, you must spend at least one night in such accommodation, and the best ones in New England are the Maine Forest Yurts in Durham. They're family-friendly and dog-friendly, and you don't have to pay anything to bring a kid or a dog with you.
Plus, the Maine Forest Yurts are located right on Runaround Pond, so this is the perfect spot to relax and let yourself into the tranquility of nature. But let's take a more detailed look at the accommodation.
Accommodation
The Maine Forest Yurts are unique and very comfortable, and they'll provide enough space for every member of your family. Each yurt is fully furnished and has a kitchen with all of the necessities you might need. Also, the yurts have bunk beds, a gas stove, a wood stove, a futon, and a composting toilet.
Activities
If you're adventurous, you'll greatly enjoy various activities, such as skiing, kayaking, hiking, etc., during your stay at these lovely yurts. Thanks to the closeness of the pond, if you visit this glamping spot in winter, you'll be able to enjoy the amazing view and even ice skate on the frozen pond.
Amenities
BBQ gas grill
Outside sun shower
Outside fire pit
Additional information
The tenth fantastic spot for glamping in New England on this list belongs to Under Canvas Acadia, a resort that offers stylish and cozy accommodations. As you can conclude by the name, this resort is located near Acadia National Park, so you'll have the chance to visit it.
Under Canvas Acadia has various types of tents, so whether you're searching for a glamping accommodation suitable for the entire family or just for two, you'll find the proper tent in this resort.
Accommodation
Under Canvas Acadia has all kinds of tents; bigger ones are more suitable for families and smaller ones for couples or smaller families. You can stay in a regular suite which can accommodate up to four people. Also, the Stargazer with Kids Tent and the Deluxe with Kids Tent is big enough for a family of four.
But, if you're coming with a more prominent family, the Suite with Kids Tent can accommodate up to six, and the Cadillac Mountain Suite is big enough for a family of seven. If you're planning a romantic getaway just for you and your partner, Stargazer and Deluxe tents would be the ideal choice.
All of the tents have comfortable king-sized beds and private bathrooms. Also, they have a private deck and lounge where you can relax anytime.
Activities
Under Canvas Acadia has plenty of activities, so there's something for everyone. You can start the day with some morning yoga or spend the night listening to live music or relax by the nightly fires. Also, you can go cycling or join a guided hike and discover the beautiful surroundings of this resort.
Amenities
On-site dining
USB battery packs
Outdoor lounge chairs
Private deck with firepit
Additional information
Final Thoughts
You don't have to give up spending time in nature if you don't like camping. Glamping is the perfect alternative to provide you with all the comforts you need.
Glamping is something everyone should give it a try at least once in their lifetime. The chances are you'll probably fall in love with it, and you'll immediately start planning your next trip.
To summarize, glamping in New England is perfect because there are plenty of remarkable places to visit. So, pick one from those mentioned above and prepare for adventure.