Roller coasters are the undisputed champions of amusement park entertainment. Ride manufacturers, mechanical engineers, and park creative teams constantly strive to build bigger, faster, and taller coasters to satiate riders' endless thirst for thrills.
From the least tall (because there are no short stacks here!) to the tallest, these are the highest roller coasters in the world. Riders will need a strong stomach and nerves of pure steel to take them on. But, of course, ensure that you are medically healthy enough to ride these coasters safely: you should be thrilled and even exhausted, but not hurt!
How many have you been brave enough to ride? Check these coasters out, and then mark them off on your checklist until you can brag that you have reached the highest heights that a thrill ride can take you.
Orion (Kings Island)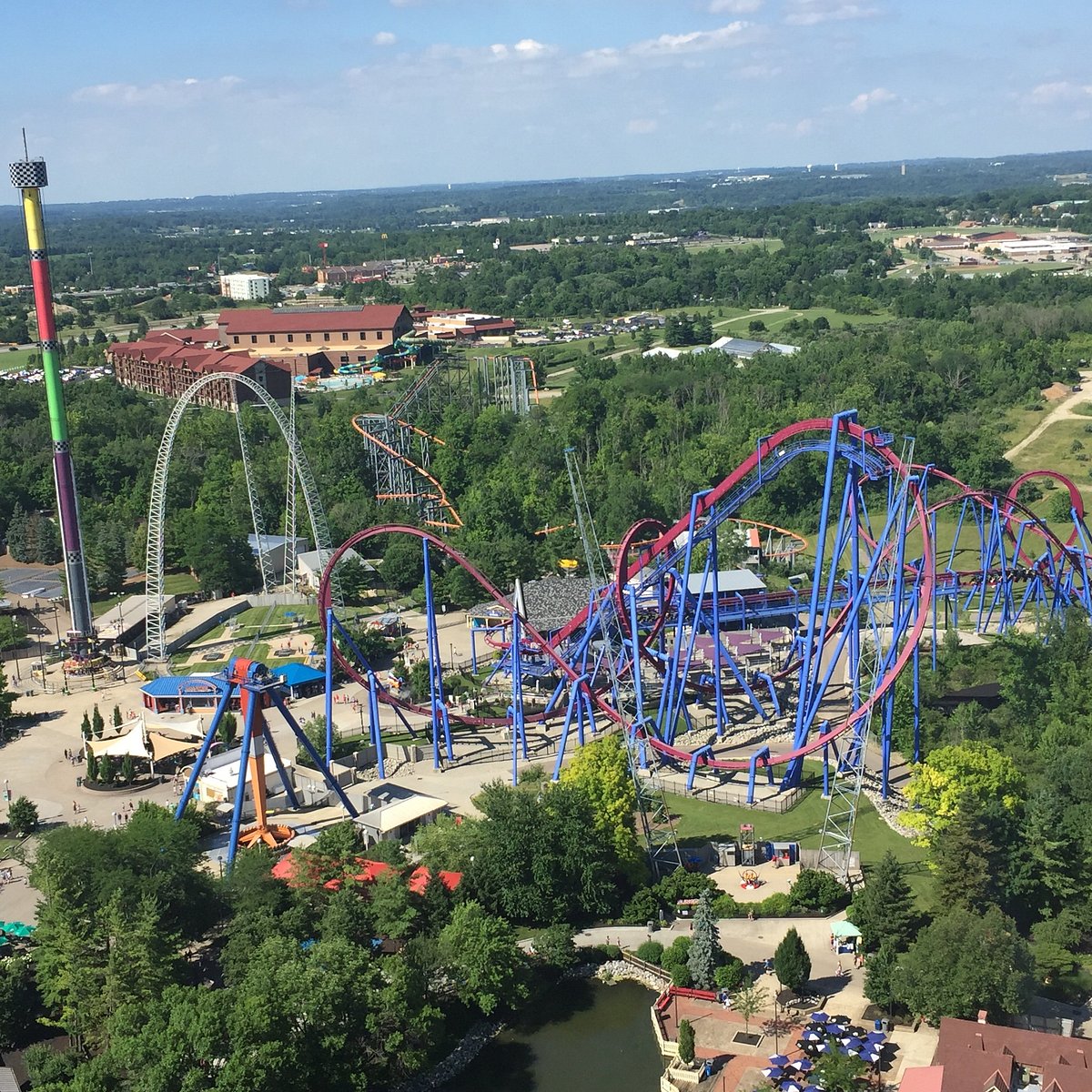 Last but certainly not least in the rankings, Orion opened on Kings Island in Mason, Ohio, on July 2, 2020. One of the most recent additions to the world of roller coasters, Orion quickly made its mark with a maximum height of 300 feet (about 91 meters). This inducts it into the elite ranks of the giga coaster, a rare and incredibly intense creation that is 300 feet or taller.
Orion challenges park guests to come aboard and "break the scream barrier." Its storyline involves scientists from the fictional Project X Initiative, who are trying to build a fast and strong vehicle to brave the perils of space and reach new planets. The ride's 5,321 feet (1,622 meters) of track consist of exhilarating lifts and drops with tons of airtime, simulating an exhilarating trip through outer space.
Many fans of Kings Island may miss the roller coaster Firehawk, which was originally situated in the area of the park where Orion now stands. However, Orion makes up for the loss of the previous coaster with its record-breaking soaring heights and intense speeds.
When even the last ranking coaster on the list is so monumental, you know there is an exciting lineup of essential rides to check out. Read on!
Intimidator 305 (Kings Dominion)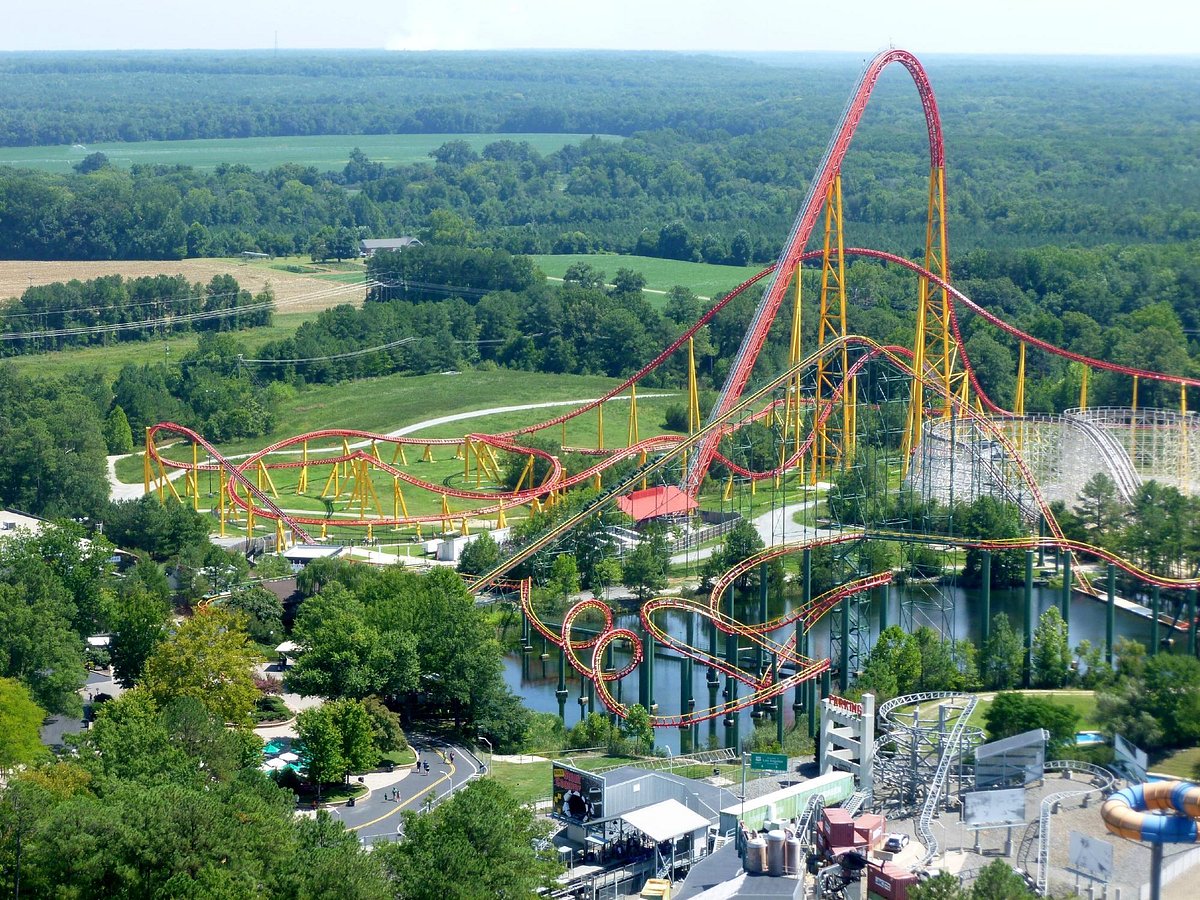 True to its name, Intimidator 305 is considered by many park guests to be the scariest ride at Kings Dominion Park in Doswell, Virginia. It gets the back half of its name from its maximum height of 305 feet (about 93 meters), making up most of its 300-foot initial drop.
Intimidator 305 towers over every other ride in the park, including its observation deck known as the Eiffel Tower. It draws the gaze of every guest with its eye-popping red and yellow coloring. Its layout takes inspiration from NASCAR racing. Once riders strap in, they are treated to a voice announcing, "Gentlemen, start your engines!" and the satisfying revving of a mighty engine.
Once riders are over the first lift hill, they are fired directly into a series of high-speed bunny hills, sharp turns, and head-spinning twists. Ever since its first opening on April 2, 2010, Intimidator 305 has done for coasters what its namesake Dale Earnhardt did for NASCAR races: create a fast, fierce, and unforgettable experience on the track.
Millennium Force (Cedar Point)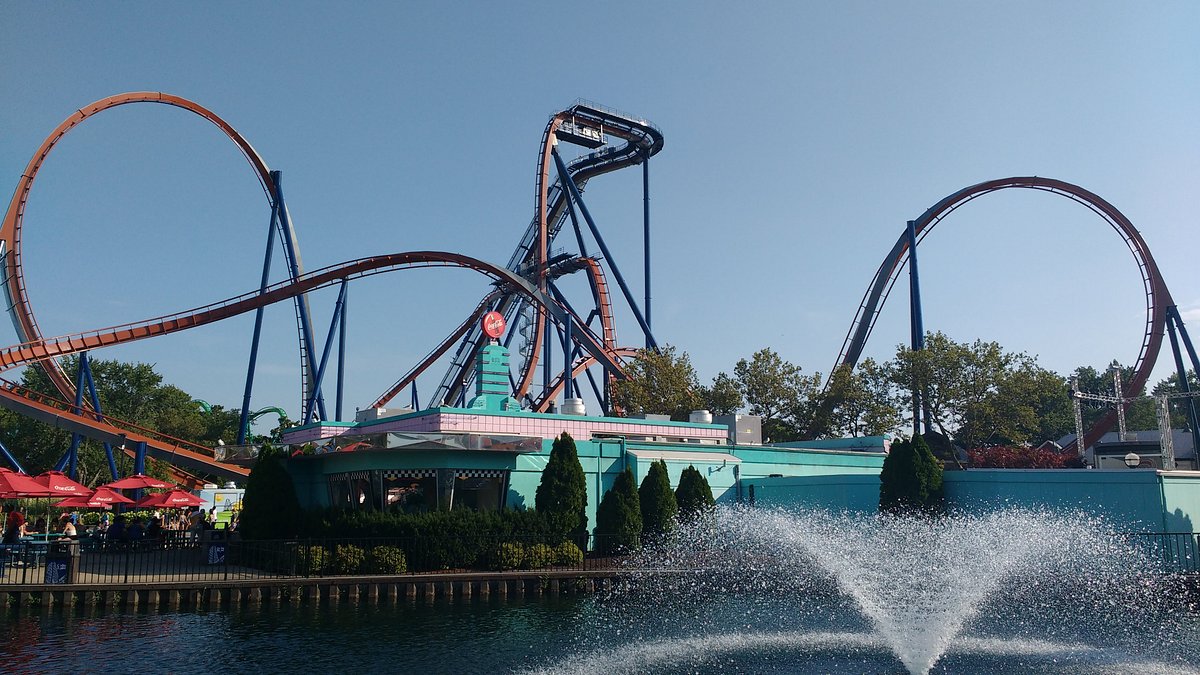 In operation since 1870, Cedar Point Amusement Park in Sandusky, Ohio is one of the United States' premier thrill ride locations. One of its most outstanding achievements is the roller coaster Millennium Force, which forever altered the world of amusement parks when it opened on May 13, 2000. Though many of its initial world records have since been broken by other coasters, it still stands as an incredible engineering achievement.
It is the first-ever giga coaster: a roller coaster whose height reaches up to 300 feet (91 meters). Millennium Force exceeded this definition right off the bat with a maximum height of 310 feet (about 94.5 meters). At 93 miles per hour (about 150 kilometers per hour), it propels riders over huge hills, through high banking turns, and around tight twists.
In one of its most famous hills, riders are dipped over the park's lagoon for a moment of zero gravity. Done up in bright, flashy primary colours, Millennium Force is the flagship ride of Cedar Point's standout collection of roller coasters. After dark, guests are treated to the striking sight of the coaster lit up against the night sky.
Leviathan (Canada's Wonderland)
Canada slid into the global top ten on May 6, 2012, with the opening of Leviathan, the tallest and fastest roller coaster in the country. Though it falls just short of measuring up to a certain bigger dragon later on the list, it stands above the rest of Canada's Wonderland in Ontario and the entire Great White North at 306 feet (about 94 meters).
With its sea-green color, enormous body, and cars painted with scales and menacing yellow eyes, Leviathan is styled after the great and terrifying sea serpent of ancient mythology. At a thrilling 92 miles (148 kilometers) per hour, it starts with an 80-degree drop from its peak into a series of steep banked turns and hills.
Two of the coaster's biggest turns take riders right over the park's main entrance and parking lot. It creates a striking image and gives incoming guests the best taste of the thrills awaiting them inside Canada's Wonderland.
Steel Dragon 2000 (Nagashima Spa Land)
Japan earned several spots in the global rankings on August 1, 2000, a Year of the Dragon. The Steel Dragon 2000, one of the earliest giga coasters to be built, has its lair in Nagashima Spa Land in Kuwana, Mie Prefecture.
It remains the longest roller coaster in the world at a free-wheeling 8,133 feet (2,479 meters) and makes this list with its height of 318 feet (97 meters) tall. Millennium Force held the record for the world's tallest giga coaster when it debuted, but Steel Dragon 2000 snatched the title three months later.
Its silver and red length stretches across the park like a flexible dragon stretching and twisting its body through the air. Riders will be taken up colossal hills, rush down hundreds of feet, and thrown into an intense figure-eight helix twist and the two dark tunnels that end the ride.
In 2013, the ride received refurbishment including new trains. While it is still a sit-down coaster, the seats are now large, upright, and open to the air instead of sequestered in the walls of a car. It more accurately simulates the flight experience and increases riders' enjoyment of Steel Dragon 2000's considerable airtime.
Fury 325 (Carowinds)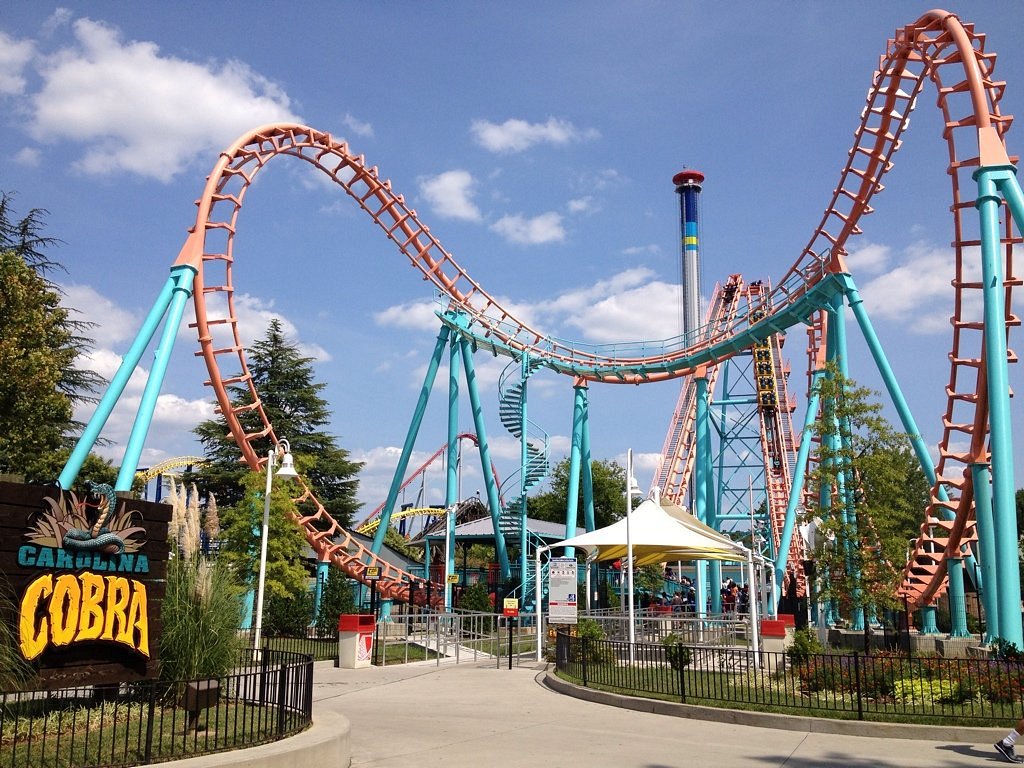 Opened on March 28, 2015, Fury 325 is the pride of Carowinds Amusement Park in Charlotte, North Carolina in the United States. Standing at an impressive 325 feet (about 99 meters), the height that gave it its name, the coaster holds the honors of being the tallest, fastest, and longest giga coaster and the longest steel coaster in North America.
Bright and blue as the sky, Fury 325 gives riders many thrills in its mile-and-a-quarter run. Its initial 85-degree drop leads into wide sweeping barrel and horseshoe turns, S-curves, and a towering camelback hill. The coaster is themed after a dangerous insect's quick, sharp maneuvers after its prey. Its lengthy track suggests a fast and intense persistence predator as well.
On this open-air coaster, riders will feel the sun on their face and wind the entire 3.25-minute ride. Its famous "Hive Dive" segment swoops riders underneath a bridge where other park guests pass by. They might try to wave, but the car is rocketing away to the curves, twists, and turns awaiting them in this thrilling experience.
Red Force (PortAventura World)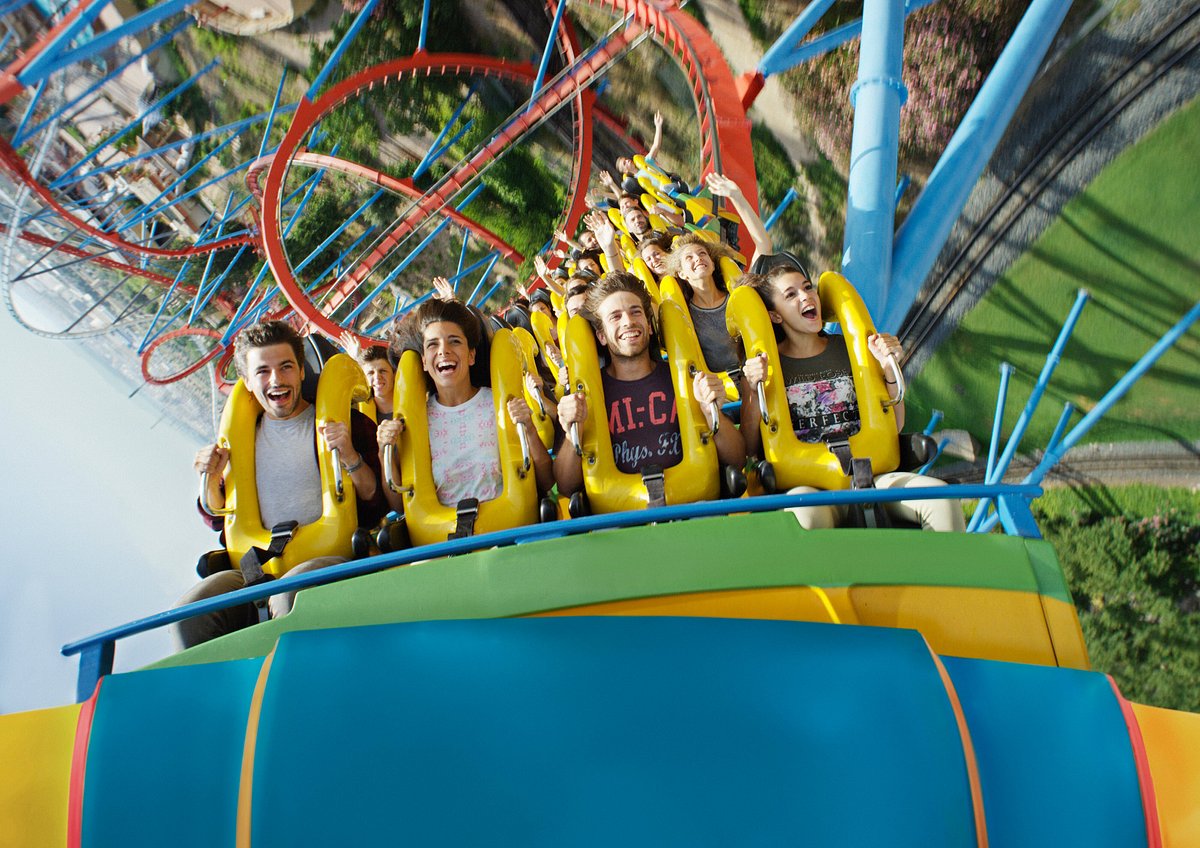 The greatest force to be reckoned with in Spain's PortAventura World, Red Force opened on April 7, 2017. Standing proudly beside the park's Thrill Towers, all three bearing the standard of a speeding horse, Red Force holds the honor of being both the tallest and fastest roller coaster in Europe.
The highest point of the 367-foot (112-meter) roller coaster is the Summit of Ferrari Land. It is also the tallest giga coaster in the world and achieves the fastest LSM launch in the world: 180 kilometers per hour in five seconds flat. Red Force intends to give its riders an experience to surpass even the greatest Formula One races, even providing them with pairs of dust goggles. It more than delivers on that score.
A single ride on Red Force is a 39-second test of endurance and courage. It has no inversions, only a rocket launch straight upward and a breathtaking plummet down. Even so, many consider it the best ride at PortAventura World for sheer height and speed.
Superman: Escape from Krypton (Six Flags Magic Mountain)
One of many rides at Six Flags parks themed after DC superheroes, Superman: Escape from Krypton opened in 1997 under the much less enticing name Superman: The Escape. Though it has since been surpassed, when it first hit the scene in California, it was the tallest coaster in the world.
While its top speed of 100 miles per hour even (160.9 kilometers per hour) matches Australia's Tower of Terror II, another 1997 premiere, it towers above the other rides to reach an astounding 415 feet (about 126 meters) into the sky. Painted in sleek silver and white, the coaster takes riders on a mission through Superman's Fortress of Solitude and out of the planet Krypton before it explodes.
After its 2011 refurbishment in which it received its new name, it became even more enticing. The coaster lets riders experience what it must be like to fly like the Man of Steel. Strapped in lying down, riders soar upwards on a 90-degree vertical angle until they are eye-to-eye with of Superman positioned above them at the top of the tracks.
Two tracks run parallel, which means two riders can fly like heroes together. If you enjoy double-track coasters and unique ride positioning, give Superman: Escape from Krypton a try.
Top Thrill Dragster (Cedar Point)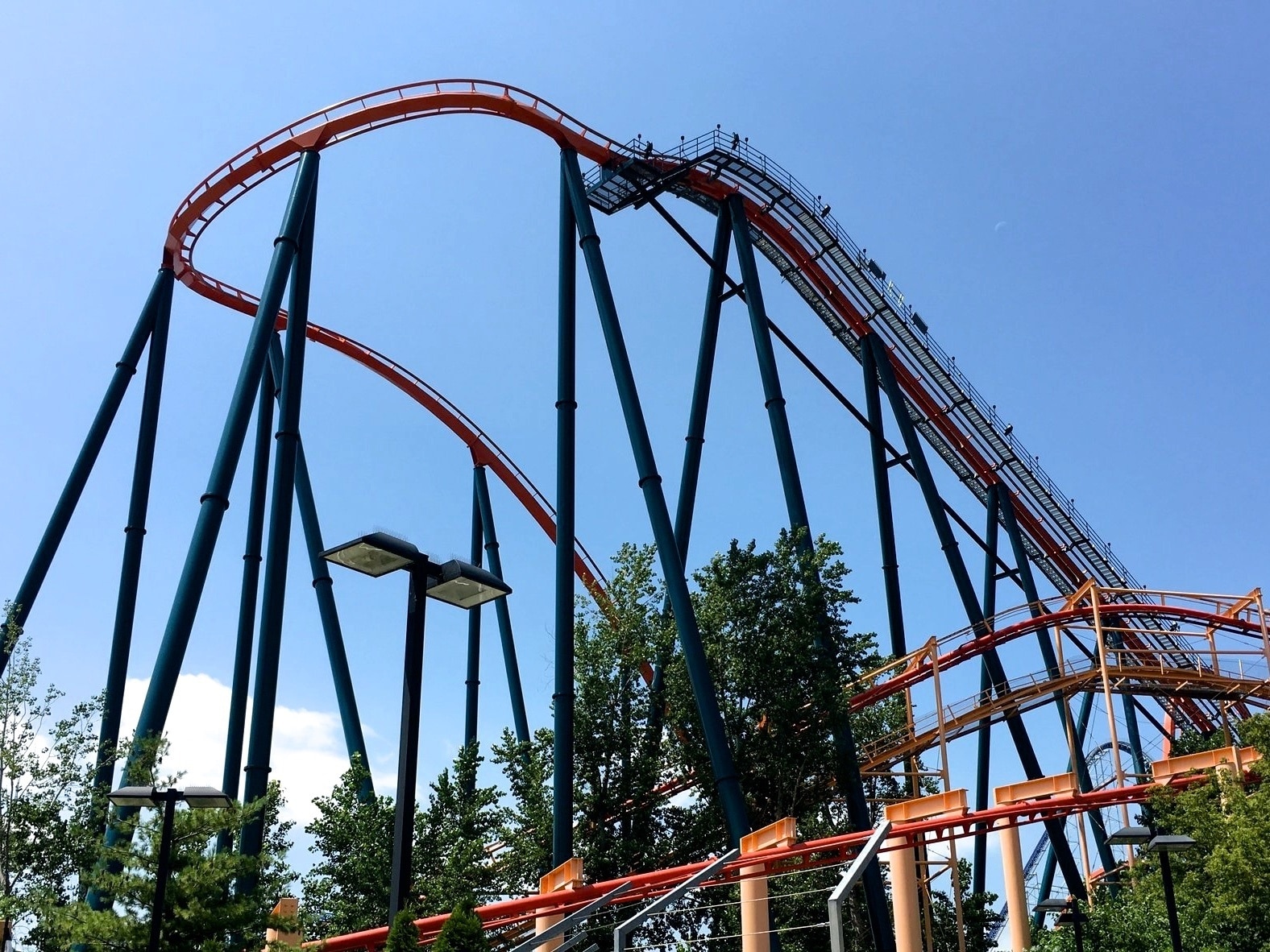 On May 4, 2003, Cedar Point introduced this record-breaking coaster. Top Thrill Dragster rules the park with furious speeds and a silver-medal height. Like Millennium Force three years earlier, it created a new classification of coaster: the strata coaster, defined by reaching heights of 400 feet (about 122 meters) or higher.
The experience of riding Top Thrill Dragster is short but unforgettably sweet. The ride is one of the shortest coasters at only 17 seconds. The coaster hurtles riders 420 feet (about 128 meters) into the sky and spins them 270 degrees down to the finish line. At speeds of 120 miles per hour, it's a heart-pounding race with the wind.
Top Thrill Dragster is themed after a professional racetrack, painted bright red and yellow, with a stoplight at the beginning of the track counting down to go time and an exiting building painted like the checkered flag. If you're a fan of race cars and want a taste of the speed your favorite drivers reach on the track, Top Thrill Dragster is for you.
The coaster held the record for the tallest coaster ever built for over two years until one newcomer kicked it out of the top spot.
Kingda Ka (Six Flags Great Adventure)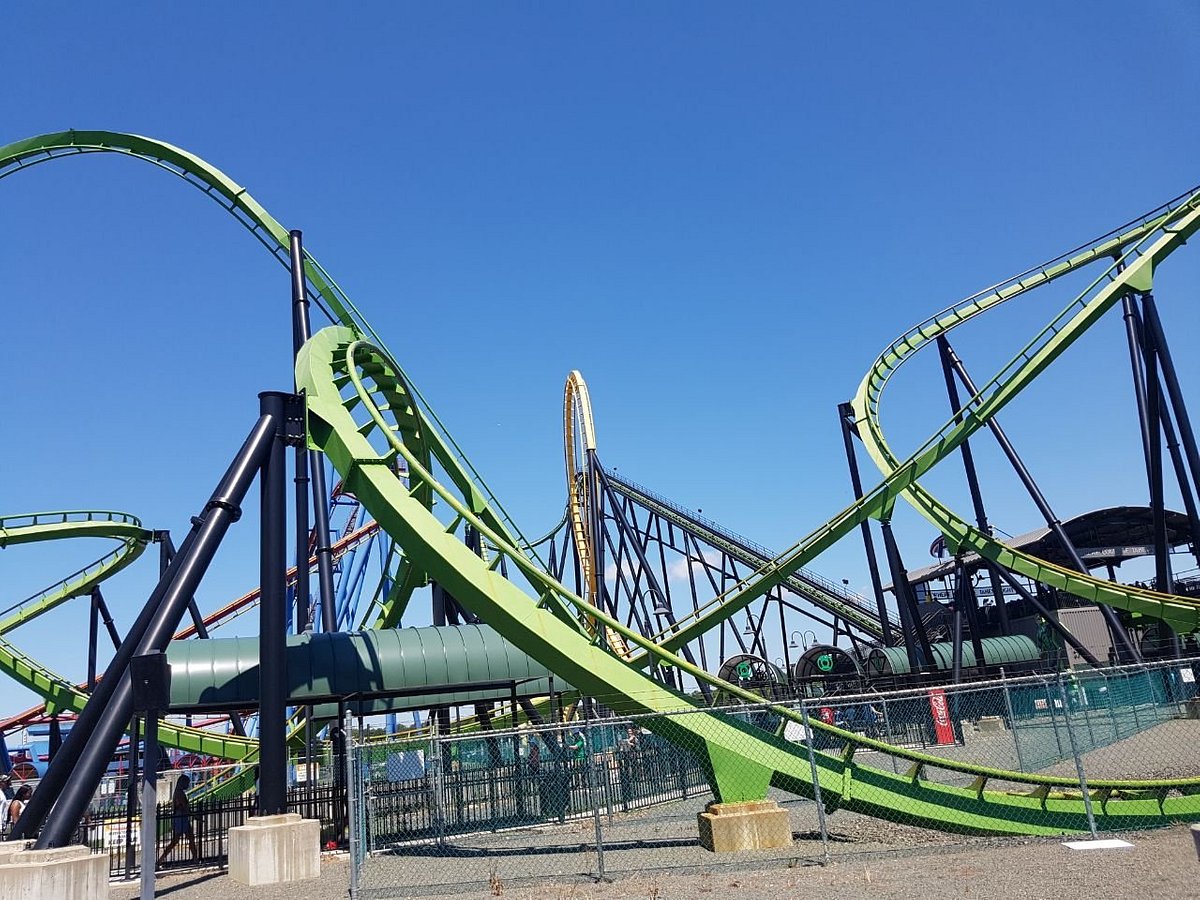 Ever since its opening ribbon was cut on May 21, 2005, Kingda Ka at Six Flags Great Adventure has lived up to its name. It is the tallest roller coaster in the world, clocking in at 456 feet (about 139 meters) tall.
Its design is simple but intense: a single top hat in which riders go straight up and then are hurled back downward in a 270-degree spiral and tossed over a nearly 130-foot (about 40-meter) spiral for good measure.
Height is not the only way Kingda Ka stands out among the world's coasters: it is also the fastest coaster in North America. To shoot riders 45 stories up into the sky in mere seconds, a coaster also needs powerful speed. Kingda Ka rockets its riders up its infamous 90-degree lift hill at 128 miles per hour (about 206 kilometers per hour).
Only Ferrari World's Formula Rossa in Abu Dhabi in the United Arab Emirates outdoes it on the world stage with its top speed of 149 miles per hour. But for five years before the new king arrived, Kingda Ka reigned supreme.
What Next?
While these are the rankings as they stand today, parks and creators have not yet reached the highest heights a roller coaster can take them. Records cannot stand forever. Roller coasters in particular often lose their "best in the world" status to newcomers mere months or even weeks after their debut.
Kingda Ka has been the tallest roller coaster in the world for over seventeen years, but soon a new heir may come to the throne.
A roller coaster called Falcon's Flight is under construction now and set for public release in 2023. This coaster will be the latest and greatest in Six Flags parks' legendary achievements in thrill rides. It is being built near Riyadh, Saudi Arabia, at Six Flags Qiddiya, a new park that is itself an achievement: the first Six Flags park ever in Saudi Arabia.
Falcon's Flight will solidly thrash all other roller coasters in the world in height, length, and speed. Riders will be shot at whirlwind speeds through a two and a half-mile (four-kilometer) track, reaching maximum speeds of up to 155 miles per hour (about 250 kilometers per hour). Passenger railway trains regularly match that speed!
However, what is most important to this list is Falcon Flight's staggering projected height of 525 feet (about 160 meters), blowing even the most massive strata coasters out of the water. Such wild drops and hills will be made possible using state-of-the-art magnetic motor acceleration and electromagnetic propulsion launch systems.
While we must remember that the finished products may not necessarily pan out as planned, Falcon's Flight intends to be a roller coaster experience unlike any other.
Even if you have traveled the world and dared to reach the highest heights a roller coaster can bring you, you can take your completed checklist and make your way to Six Flags Qiddiya in the next year. Falcon's Flight will test the courage and endurance of even the most seasoned roller coaster enthusiasts.
In the world of coaster construction, the sky is the limit: maybe one day, riders will be queuing up for a coaster that reaches above the clouds!
More about our TFVG Author