To get a one-of-a-lifetime safari experience, you do not have to travel long distances or go overseas. There are plenty of drive-thru zoos in the US that enable you to encounter exotic species from the safety and comfort of your own car.
If you are an adventurer looking forward to experiencing wildlife, here are our recommendations for the best drive-thru zoos, safaris, and wildlife preserves to have an exciting road trip.
African Safari Wildlife Park in Port Clinton, Ohio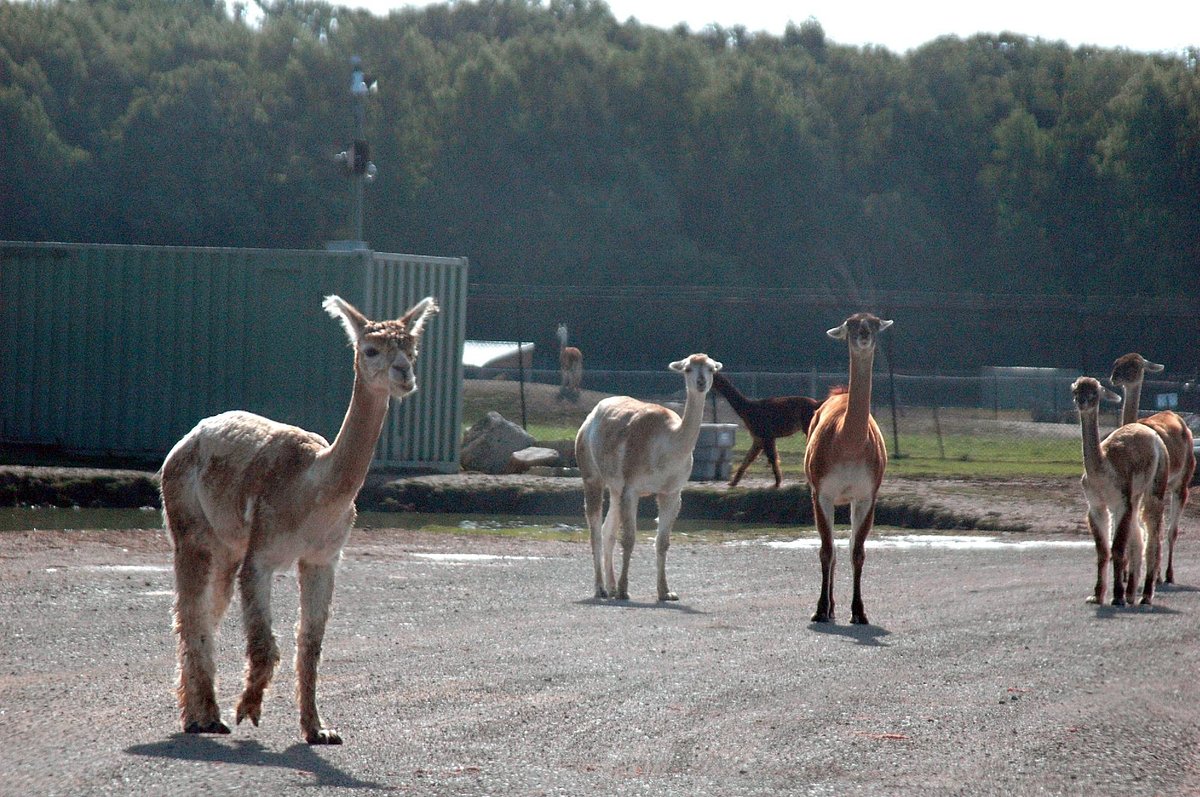 From alpacas, emus, llamas, zebras, and giraffes to fallow deer, white bison, and a variety of wild birds, visiting the African Safari Wildlife Park can be an unforgettable experience. This drive-thru safari is home to a lot of unique species and puts animal safety and health as its top priority.
Here, you will also come across many species of wildflowers and plants. The safari offers various activities, including a walk-thru safari in spring, giraffe encounters, a safari cafe, and gem mining. It provides an adventurous experience and enables visitors to get up close and personal with hundreds of animals from around the world.
Website: www.africansafariwildlifepark.com
Cost: Ticket prices range from $14.95 to $29.95; free for children of 2 and under
Note: While the African Safari Wildlife is open the whole year around, there are certain animals you can only view during the warm months, which is something to consider when going.
Wildlife Safari in Oregon
In the Wildlife Safari in Oregon, you can come across a variety of species, including Tibetan Yanks, camels, African elephants, hippopotamuses, and American alligators. The accredited safari has one of the most successful cheetah breeding programs in the US, which you can support with donations.
Hop on the safari tour vehicle and meet and feed one of the most adorable animals, like red pandas or get closer to the king of the jungle and head to the elephant barn to meet with these animals and take a photo. The Wildlife Safari in Oregon offers a lot of activities and safari events.
The Safari includes bused or open-air adventures through the park's drive-thru, which is very exciting, but you can also sign up for activities such as hippo encounters, tiger feed, walking with cheetahs, and more.
Website: www.wildlifesafari.net
Cost: Drive-thru safari tickets range from $17.95 to $23.95
Note: This is an excellent 60-90 minutes experience for families. The tour features diverse wildlife from the US, Africa, and Asia.
Bearizona Wildlife Park in Arizona
The Bearizona Wildlife Park provides a natural, spacious environment. The visitors drive through the largest ponderosa pine forest and view various animals in their natural habitats from their own private vehicles.
Jump on the Wild Ride bus with their tour guides and get familiar with each animal that you encounter along this 3-mile safari. During your drive, you can also get off the bus for a unique backstage experience and view the wolf training sessions.
On this journey, you can witness a broad range of animals, such as black bears, Alaskan tundra wolves, reindeer, arctic wolves, mule deer, and so much more. The mission of the zoo is to promote the preservation through educational encounters of North American wildlife.
Website: www.bearizona.com
Cost: Ticket prices range from $20 to $50; free for children of 3 and under
Note: Aside from the exciting drive-thru, you can also scroll through the park, enjoy unique animal encounters and dine in their themed restaurant.
Phoenix Zoo in Phoenix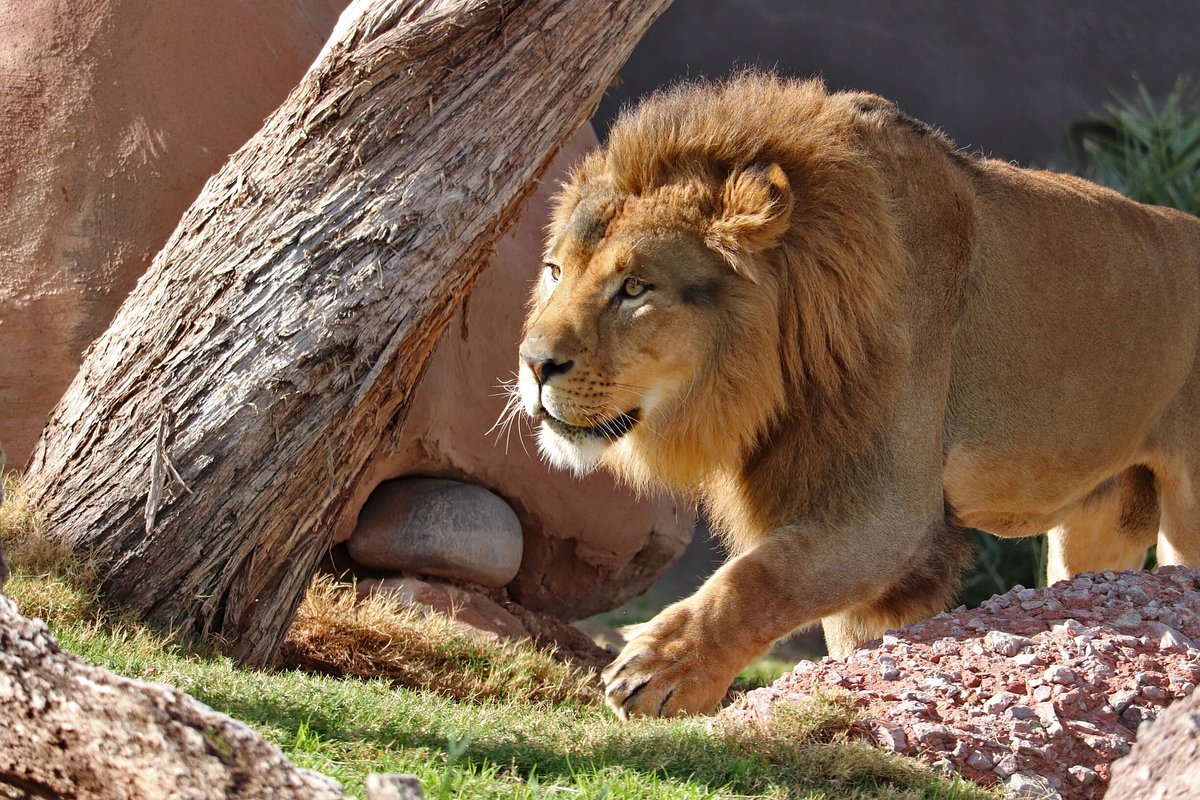 The Phoenix Zoo cares for more than 3,000 animals, including endangered species. Their guided drive-thru tours cover a wide range of animals, which makes it a thrilling experience. There are also plenty of fun daily activities happening in the zoo, including camel rides, giraffe encounters, and others.
During the tour, you will drive past the main areas of the zoo, including the Africa Trail, where there are rhinos and zebras, and the Tropics Trail, where you will witness elephants and tigers roaming around.
The Arizona Center for Nature Conservation also features discovery tours, backstage and premium adventures, as well as custom guided tours. Among the animals you can come across at this zoo are Asian elephants, coyotes, Mexican grey wolves, white-faced Saki monkeys, cheetahs, flamingos, and more.
Website: www.phoenixzoo.org
Cost: $65 per vehicle
Note: The number of vehicles per day is limited, so make sure to get tickets on time.
Pine Mountain Wild Animal Safari Park in Georgia
Among the best drive-thru zoos in the US is the Pine Mountain Wild Animal Safari Park in Georgia. The safari park allows visitors to encounter more than 120 species of animals, including lizards, wolves, ostriches, parrots, lemurs, and many others.
You will travel down a 2.5-mile trail and view a wide variety of animals along the way. To experience the excitement of the safari, you can use your own vehicle, rent one or get into a bus for a guide.
Aside from seeing the wild animals, this drive-thru zoo enables horse riding adventures and exclusive animal encounters that allow you to interact with some of them. This is an animal-friendly park for visitors of all ages, where you will have a chance to meet some of the zoo's friendliest animals.
Website: www.animalsafari.com/georgia-park-home-about-us/
Cost: Adult (ages 13-64) – $29.00; junior (ages 3-12) – $24.00; senior (age 65+) – $24.00
Note: You can feed the animals with only park-purchased food.
Custer State Park Resort in South Dakota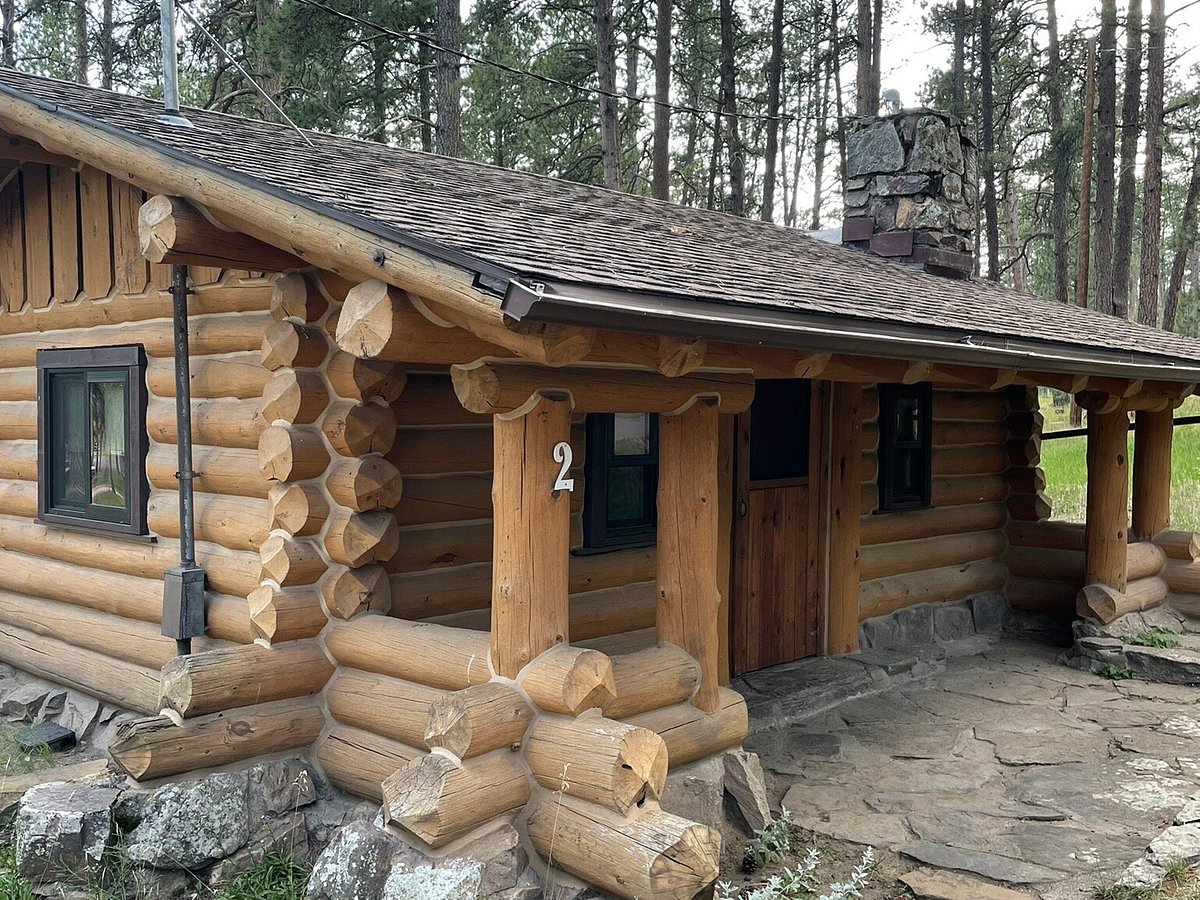 Go through the park in an open-air jeep or your own vehicle to look for prairie dogs, buffalos, elks, and pronghorns. The guided tour takes around two hours and features guides that share historical and educational stories about the wildlife and the park. The tours depart from 8 a.m. until 6 p.m. every day and offer breathtaking views of nature.
Website: www.custerresorts.com
Cost: Adults – $68; Children (under 12) – $58
Note: You need to make a reservation to get a drive-thru experience.
Lion Country Safari in Loxahatchee, Florida
Despite the name, the Lion Country Safari is home to more than 1,000 animals. During the 4-mile-long drive-through, you can view animals from six different countries, such as lions, zebras, giraffes, white rhinos, chimpanzees, and more.
All of the animals roam in naturalistic habitats. The Lion Country Safari was the very first drive-thru safari park in the United States, as it was established in 1967. After you finish the drive-thru, you can also enjoy activities like boat rides, carnival rides, and water attractions.
Website: www.lioncountrysafari.com
Cost: $34-$45
Note: The safari preserve is divided into seven natural habitats you can visit.
Lee Richardson Zoo in Garden City, Kansas
The Lee Richardson Zoo offers visitors a drive-thru of the park to view wild animals. The zoo is home to over 300 hundred native and exotic animals, including lions, alpacas, Amur leopards, camels, bison, bobcats, elk, giraffes, jaguars, sloth bears, and much more. Each animal is an ambassador of its counterparts, promoting the conservation of wild animals.
Website: www.leerichardsonzoo.org
Cost: $10 per vehicle, pedestrian entry for free
Note: The Lee Richardson Zoo is open the whole year around
Natural Bridge Wildlife Ranch in San Antonio, Texas
Start your adventure with the 450-acre safari drive-thru in San Antonio, Texas. Here visitors can interact with animals and look at picturesque views that resemble safari in Africa. You can view over 40 species of animals from the comfort of your own vehicle and roam around the trees and the hills within the ranch.
The safari covers 6 miles and provides 1-2 hours of an incredible experience. You can also get a guided tour from animal specialists and feed the animals. During the guided tours, the visitors can learn more about the animals and come across ostriches, giraffes, zebras, buffalos, and other animal species.
Website: www.wildliferanchtexas.com
Cost: Adults (12-64 years) – $28.99; children (3-11 years) – $19.99; seniors (65+years) – $25.99
Note: Check your map before the visit, as there are different routes to take.
Southwick's Zoo in Madison, Massachusetts
Among the best drive-thru zoos in the US is Southwick's Zoo which enables visitors to go on a self-driven tour of the 200-acre park. On such a 45-minute tour, you will come across various wild animals and download an audio tour as well.
After the journey, the visitors can also order takeaway from the restaurant, go on rides and visit attractions, or book a giraffe, rhino, or sloth animal encounter.
Website: www.southwickszoo.com
Cost: $60/car
Note: The guests should arrive 30 minutes before the selected tour time.
Arbuckle Wilderness Park in Davis, Oklahoma
Go on a safari-like experience as you drive through 200 acres in the beautiful Arbuckle Mountains and come across hundreds of exotic animals roaming free. This park is also a home for reptiles and is filled with diverse creatures from over five continents.
Llamas, giraffes, donkeys, camels, deers, yaks, zebras, and more; you can enjoy feeding animals from the comfort of your own vehicle. The Arbuckle Wilderness Park provides an exciting adventure for guests of all ages.
Website: www.arbucklewildernesspark.com
Cost: Adults – $16.99; kids (4-11) – $14.99; senior citizens – $14.99
Note: The drive-thru safari is open every day.
Safari Lake Geneva in Lake Geneva, Wisconsin
The wildlife preserve known as Safari Lake Geneva is home to animals from all around the world. You can drive through this safari park as many times as you want and view the variety of animals that are free to roam.
Moreover, you can also purchase a bowl of grain and feed the animals as you come close to them. Here you can drive your own vehicle or rent a Zebra van if desired. You can opt for a solo trip or bring your whole family for a unique safari adventure.
Website: www.safarilakegeneva.com
Cost: Adult (ages 16+) – $21.95; children (ages 3-15) – $14.95; infants (ages 2 and under) – free
Note: The giraffes may not be visible during unpleasant weather.
Conclusion
If you are on a hunt for drive-thru zoos and safaris for an unforgettable experience, you can choose the one that appeals to you the most from our list. The zoos are home to a wide number of animals which we often see on TV, and they also offer many activities for their visitors, including special animal encounters.
More about our TFVG Author