Connecticut, the Constitution State, has plenty to do and see all year round. So, it is no surprise that it is a popular vacation destination for families. If you are thinking of visiting the state, you'll likely be on the lookout for the perfect place to stay. With that in mind, we have curated a list of ten of the best Connecticut family resorts ideal for all ages.
If you are wondering where to disconnect and recharge in Connecticut, USA, and do it in a fun way, then this guide is for you. Let's delve into our handpicked family resorts.
Mystic Marriott Hotel and Spa
The Mystic Marriott Hotel and Spa in the Groton area is just five miles from the Mystic Aquarium and Mystic Seaport. Due to its proximity to Mystic's kid-approved maritime attractions, the hotel is usually busy on the weekends catering to the large influx of visitors.
Expect onsite dining, including a chic steakhouse and Starbucks. The restaurant serves primarily American cuisine. though nearby New London has plenty of eateries, too. The notable amenities include an indoor gym, an Elizabeth Arden Mynd Spa, and an indoor pool.
Your kids can relax after a day of making splashes in the pool or the arcade. The hotel rooms have complimentary Wi-Fi, flat-screen smart TVs, and a mini-fridge.
Mystic Marriott does not skimp on its offerings. Complimentary parking and a free shuttle service are part of the additional package. The shuttle operates over a five-mile radius, which means you can access the USS Nautilus without having to incur fuel costs.
The Mystic Marriott has a non-smoking, no pets allowed policy, so keep that in mind before traveling.
Mohegan Sun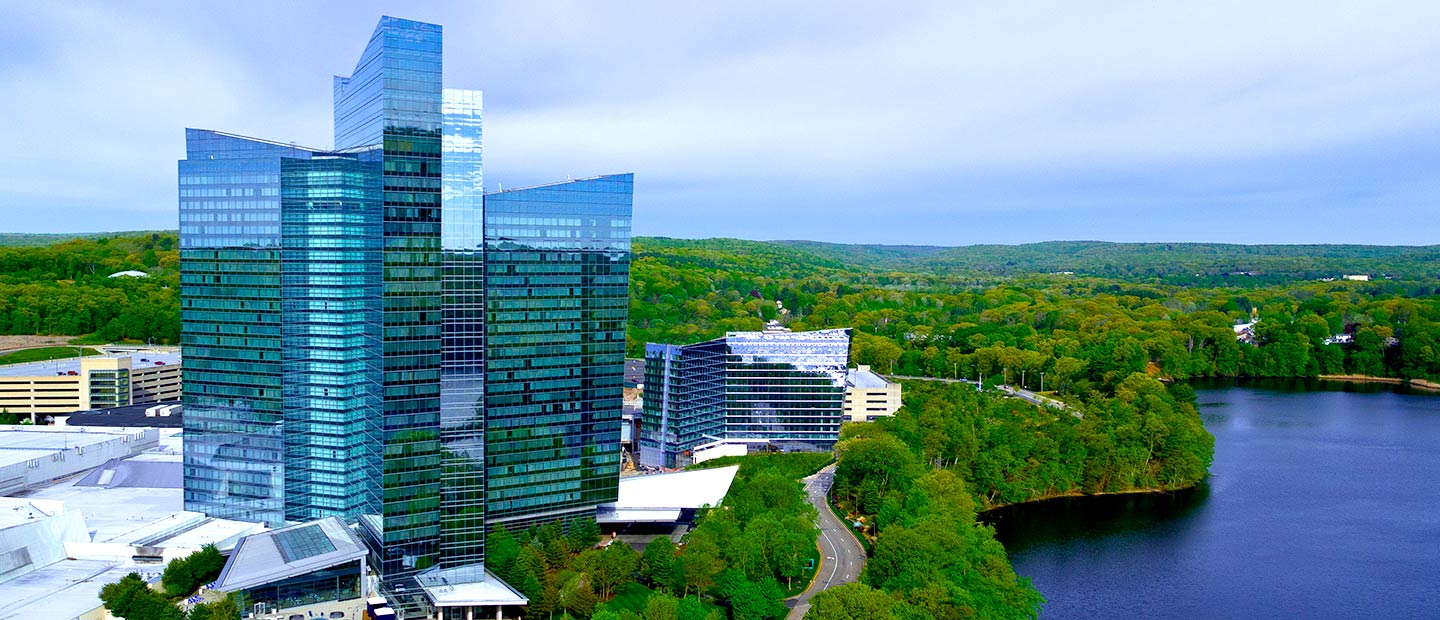 Mohegan Sun, situated in the village of Uncasville, is the ultimate kids' getaway resort, with an array of fun-filled activities. The hotel has over 46 dining options, family rooms, suites, houses, and entertainment joints. It accepts young kids from six weeks onwards.
The Mohegan Sun and Foxwoods are neck and neck for kid-friendly sites. Mohegan Sun's unique offerings are the Kids Quest arena, a nonviolent arcade, video games, a café, a gym, a basketball court, etc. There is also a kids club to keep more active children occupied. In addition, parents can leave their kids with approved babysitters onsite.
Adults are not left out. They can enjoy casinos, the Mandara Spa, steam rooms, and multiple restaurants. In terms of capacity, larger families may want to choose the Earth Tower Suite, with two bedrooms, a living room, four queen beds, and a sofa bed for families. The housekeeping services are first class, and, of course, rooms are stocked with TVs and Wi-Fi.
Hyatt Regency Greenwich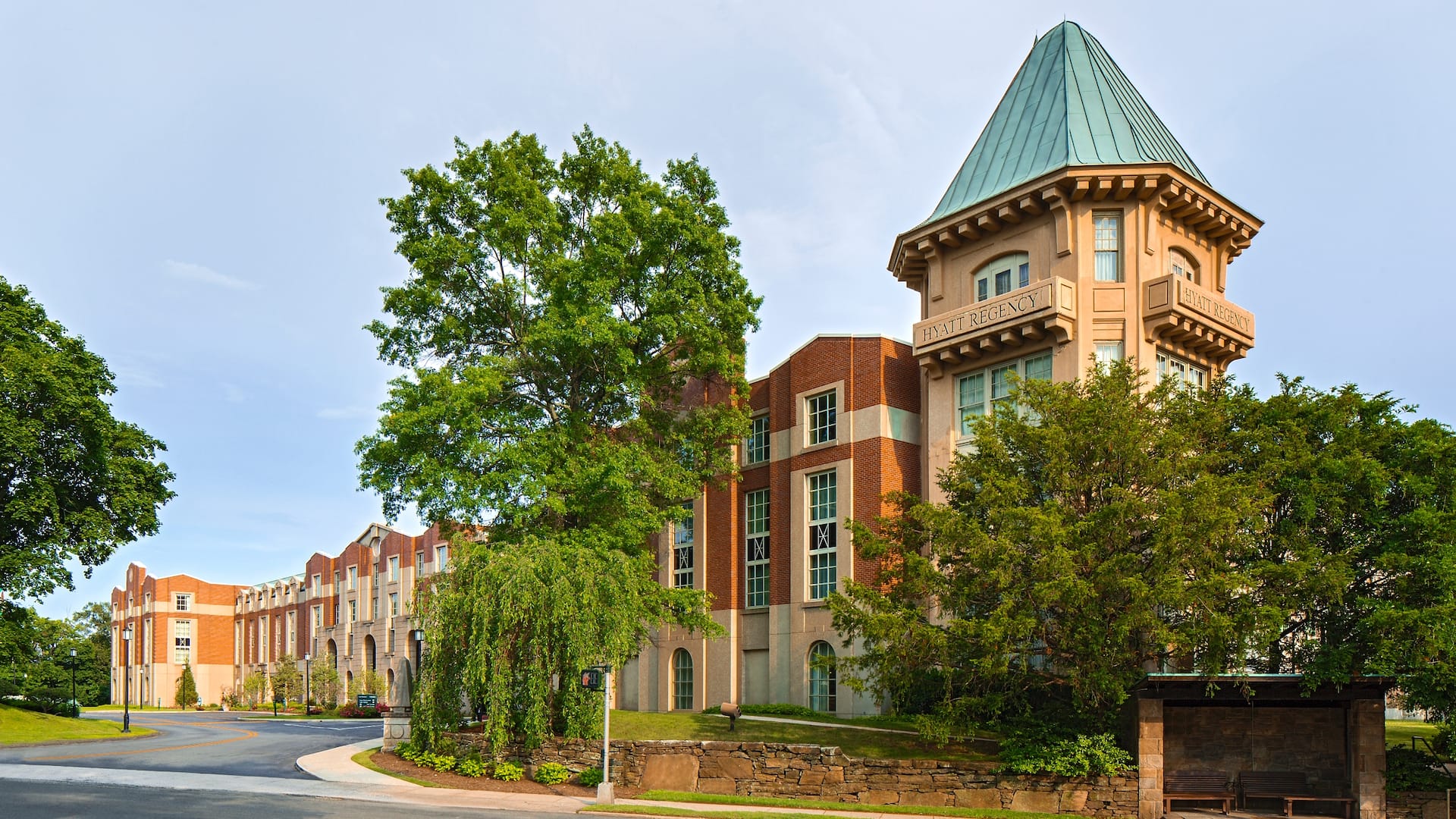 Hyatt Regency Greenwich in Old Greenwich blends sophistication and greenery into a scenic resort ideal for educational vacations and upscale retreats. In particular, families love the skylit atrium and exploring the flora the hotel offers.
The resort is conveniently located, making it an excellent base camp to go on adventures in the picturesque town while taking in the sights, museums, and galleries. The must-visit Audubon Center for kids has story corners, puppet theaters, and friendly animals (nothing that can eat your kid) that kids can interact with.
Hyatt Regency Greenwich is pet friendly and has onsite accommodations and exceptional dining options. The uptown life of New York is a short drive from the hotel.
Hampton by Hilton Shelton
Hampton Inn by Hilton Shelton is a mariner's paradise as the Inn's most popular attraction is a 150-foot indoor water slide. Enjoy one of the best waterpark hotels and visit the nearby Barnum Museum and Beardsley Zoo.
Complimentary breakfast for the whole family sets your day in the right gear. Indoor pools and the slides make it a go-to resort for any upcoming Michael Phelps.
Rates for the Hampton Inn by Hilton Shelton vary depending on seasons and hotel pricing structure. You can reserve a spot and pay when you stay.
Water's Edge Resort and Spa
Water's Edge Resort and Spa in scenic Westport is a beach resort full of activities and accommodations for the whole family. The resort has indoor and outdoor pools, a tennis court, temporary art galleries, a golf course, a spa, a playground, and other amenities that will keep everyone engaged and relaxed.
Kids have a diverse menu, while parents can dine at the Seaview Bistro or visit other nearby restaurants. While kids spend time at the playground, parents can unwind with an exfoliating scrub and massage at the spa.
A family that sticks together will enjoy the lanai suite that's 65 square meters and has two twin beds, a queen, and a sofa bed. Every room has reliable and fast Wi-Fi.
With so much to do and plenty to see, Water's Edge Resort is one of the finest Connecticut family resorts around. It is an excellent choice if you are looking for a more laid-back vacation. Be sure to take your kids to nearby Gillette Castle Park.
Heritage Hotel & Conference Center
As the name suggests, the Heritage Hotel in Southbury has endless activities suitable for either laid-back family retreats or lively vacations. The site has indoor and outdoor pools, a golf course, a hiking trail, antique shops, and workout facilities.
Take advantage of the free Wi-Fi to check out nearby skiing sites or visit the New England-themed pub for those 21 and older. Kids can splash about in the salty outdoor pools and frolic in the vast gardens, while adults get to grab a manicure or massage at the spa.
Rooms are attentively furnished, with comfortable beds and 40-inch flatscreen televisions that have access to cable. Every room has air conditioning, mini-fridges, and guests can request a microwave oven.
New Haven Village Suites
New Haven Village Suites is a two-minute drive from the New Haven city center, with a village-style setting and modern facilities suitable for large families. The site has nonsmoking rooms and family rooms equipped with a kitchenette and flat-screen TV (with access to premium channels like ESPN).
Enjoy a complimentary breakfast buffet for the whole family and dine onsite for an evening meal. The suites offer shuttle services to tour the local area and explore New Haven's many attractions. In addition, New Haven Union Railway Station is nearby for those wanting to travel further afield, such as to Yale University.
New Haven Village Suites is pet-friendly and offers cribs (on request), air conditioning, laundry facilities, Wi-Fi, a fitness center, and complimentary parking. The premises also feature a charming outdoor courtyard.
Interlaken Inn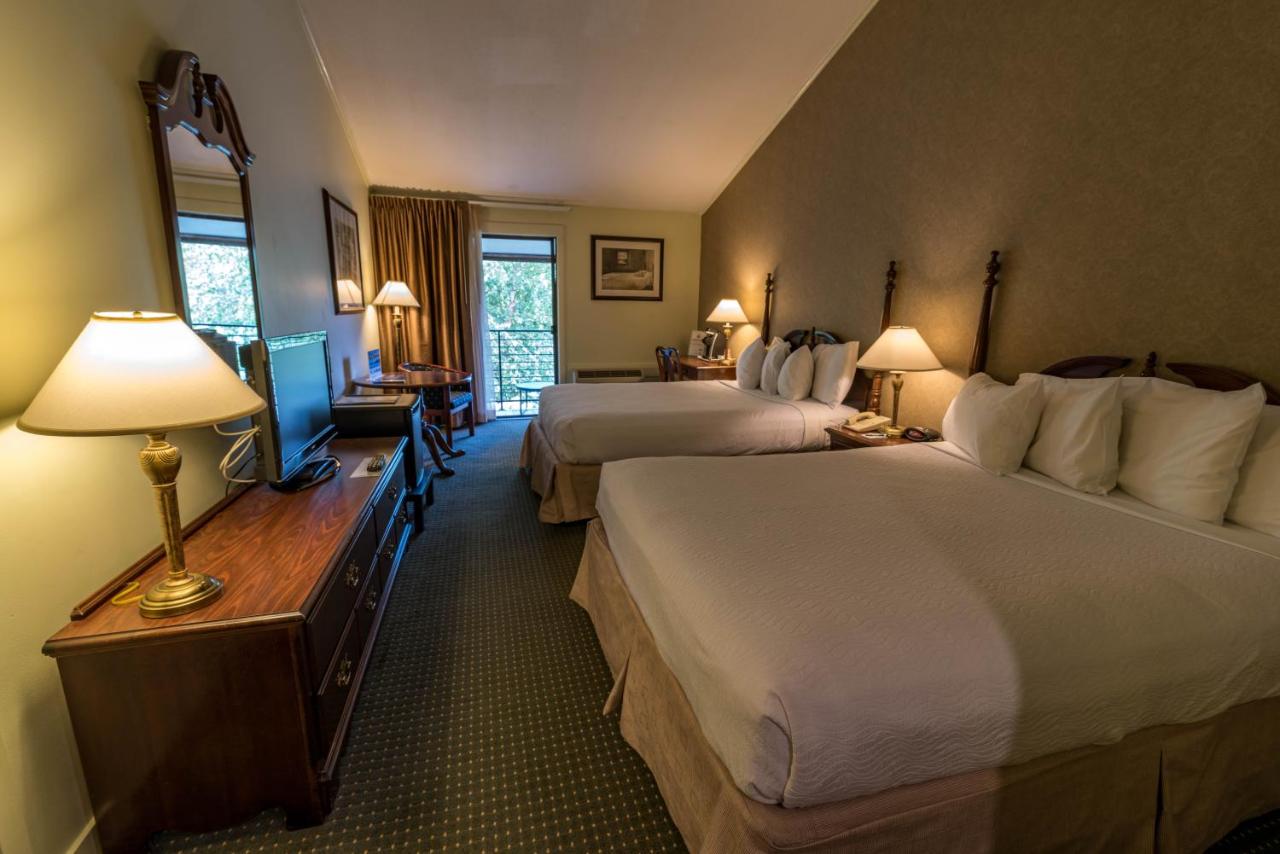 Interlaken Inn in Lakeville is nestled between two lakes and offers year-round activities ideal for a family vacation. The Inn sits on 30 acres and has standard accommodations, suites for larger families, and impressive lakeside cottages.
Your kids can enjoy the heated outdoor swimming pool while you get a massage at the spa. In addition, your family will have access to the tranquil Lake Wononscopomuc, tennis courts, peaceful sculpture gardens, a fitness room, and a games room full of things to do.
Interlaken Inn is situated in The Berkshires, an area famed for its natural splendor and many attractions, such as the Kent Historical Society, Ashley's House, and the KidsPlay Children's Museum.
Elsewhere, you will find ziplining facilities, horse riding, and golf. Try kayaking on the lake or compete in a canoe race with your family. There's so much to do at Interlaken Inn for visitors of all ages.
Mayflower Inn & Spa
Explore the 58 acres of manicured lawn and first-rate accommodations at the Mayflower Inn & Spa in the serene town of Washington. Indoor, outdoor pools, spas, and fitness centers are some of the amenities visitors enjoy.
Mayflower has complimentary fitness classes, Wi-Fi, and sites for dining alfresco. What's more, you can partake in recreational activities such as swimming, hiking, antique shopping, viewing art galleries, and biking. Choose from deluxe guestrooms and larger suites ranging from 550 to 1,200 square feet.
The Mayflower Inn & Spa has multiple dining venues, with an emphasis on harnessing local, farm-fresh ingredients and celebrating New England cuisine.
Hilton Mystic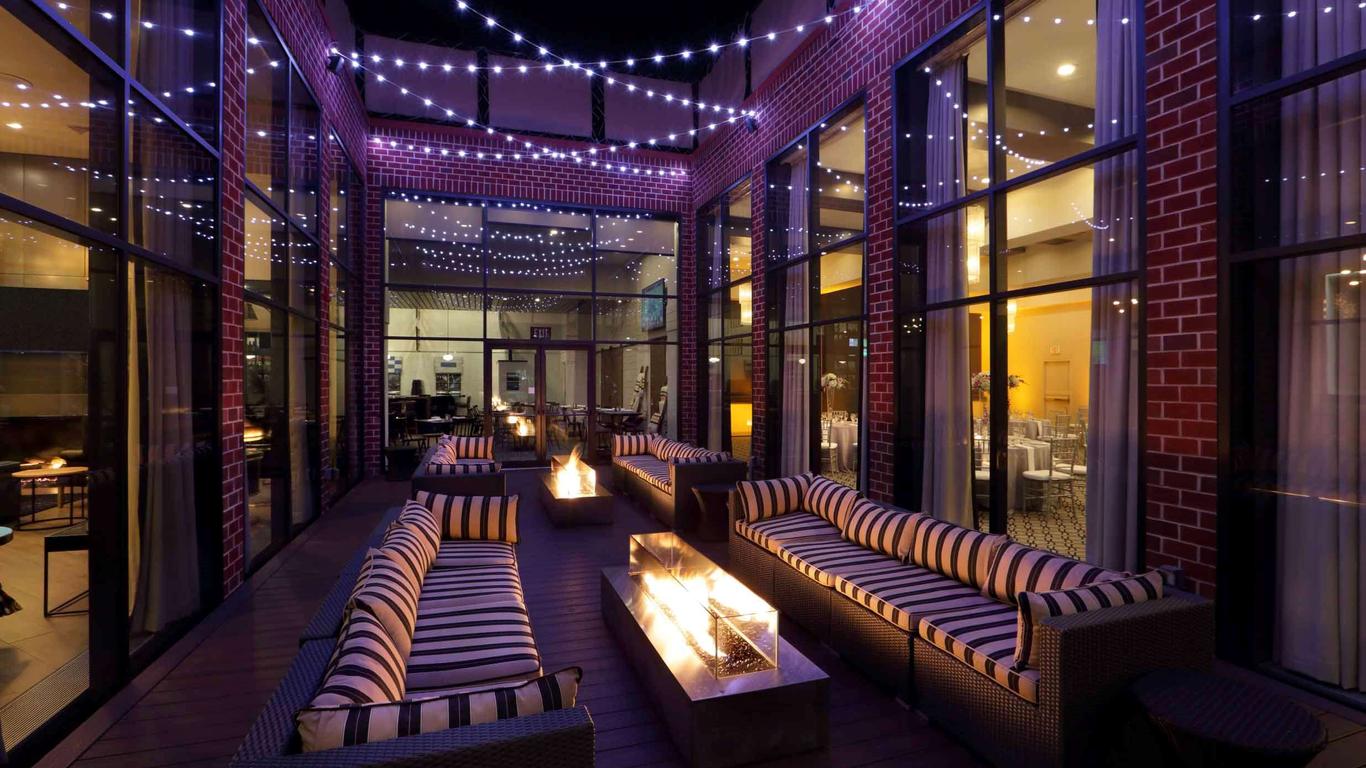 Mystic is home to many resorts but one of the standouts is the Hilton Mystic. It boasts unrivaled service and is only a three-minute walk from the very popular Mystic Aquarium. The Foxwoods Casino is also just a 20-minute walk away.
The hotel has complimentary Wi-Fi, parking, free parking, an onsite restaurant and accommodations, an indoor pool, and a fitness center as notable amenities. Kids can visit the nearby Mystic Aquarium, escape rooms, and Institute for Exploration.
The hotel hosts a happy hour for alcoholic beverages and cocktails, as well as evening entertainment and themed dinners. This Hilton features connecting rooms and a lovely outdoor courtyard with firepits and the chance to watch dive-in movies in the pool.
Conclusion
Our ten handpicked Connecticut family resorts are ideal for all ages. Each has its own advantages, with some bristling with activities while others benefit from a convenient location. Pick one that tickles your fancy and book. Now you have the knowledge to decide where to retreat with your family this summer.
More about our TFVG Author