Are you and your family traveling to Phoenix, Arizona? Would you like to maximize their experience while minimizing the cost? Then you've come to the right place.
This guide will take you through the affectionately named "Valley of the Sun." As one of the most populated cities in the US, it has no shortage of fantastic destinations. From excellent contemporary art to quiet hiking trails, there's something for everyone.
We'll take you through some of its best free attractions that you and your family can enjoy for free. Who says traveling has to be expensive anyways?
Arizona Capitol Museum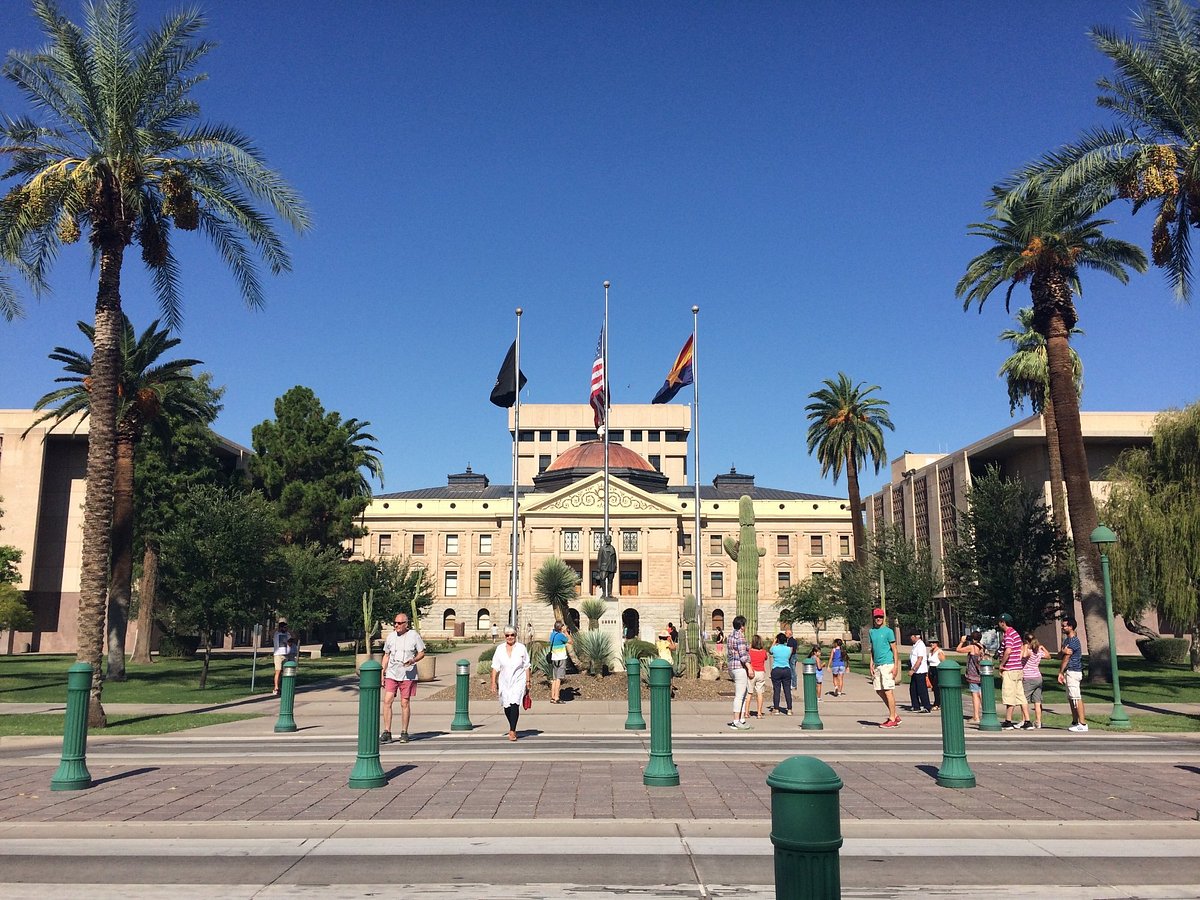 Open times: 9 AM to 4 PM, Monday to Friday.
Contact number: +1 602 926 3620.
The Arizona Capitol Museum is one of Phoenix's prime (free) destinations. You should go on a self-guided tour of this museum if:
You're looking for free things to do in Phoenix.
You're a history buff.
You'd like to know a bit more about the history of Arizona.
You want your kids to learn more about history.
You like museums in general.
The Arizona Capitol Museum is extensive, encompassing four floors with 20 exhibitions. Previously, this stone building was used as the state capitol. As you walk through the museum, you'll find flags documenting the state's history.
You'll also discover the congressional chambers and offices that have been restored to match their historical significance. Those interested in World War II can also peruse the USS Arizona display.
Here they'll find survivor recollections, artifacts, and other historical significance. Anyone with a specific interest in Pearl Harbor may also enjoy the related exhibitions in the Arizona Capitol Museum.
Traveler's tip: Peruse the gift shop, which is open between 10 AM to 2 PM on weekdays. You might find something you like.
Arizona Military Museum
Open times: 1 PM to 4 PM, Saturday and Sunday.
Contact number: +1 602-267-2676.
This museum is dedicated to the interpretation and preservation of the military history of Arizona and the Southwest. It's among the best free things to do in Phoenix.
It was built in 1936 during the Great Depression. The building was initially used by the National Guard and then as a maintenance shop for a POW camp. The Arizona Military Museum is full of history. We'd recommend that you give it a visit if:
You love learning about history.
You'd like to educate your family on military history.
You're a university history major interested in learning more about military history.
Who says that trips can't be educational? The destination is perfect for people with a love of learning and reverence for military men and their efforts.
The exhibitions are compelling, with various military vehicles and equipment displays. This includes artillery, helicopters, and tanks. You'll also appreciate the displays about the history of the Arizona National Guard and the role of Arizona in World War II.
A personal touch is added to the exhibitions, with stories from members of the Guard and their families. This brings it all together, from the factual to the personable.
Traveler's tip: Look through the exhibits and displays here. There is a wealth of information on offer.
Children's Museum of Phoenix
Open times: 9 AM to 5 PM on Monday; 9 AM to 4 PM on Tuesday to Thursday.
Contact number: +1 602-253-0501.
The Children's Museum of Phoenix is something kids can enjoy. With interactive exhibits, the museum allows your children to learn and play – the best way to learn, in fact!
Take your kids here if:
They're young (ten or younger) and would find a more traditional museum boring.
Your kids have been complaining and need some proper stimulation.
You're looking to get some great photos of your happy kids.
There are many exhibits for kids, including Pedal Power, the Art Studio, and Building Big. These are just a few exciting, interactive, hands-on exhibits.
If you have time, visiting the Children's Museum of Phoenix is a must.
It has an excellent reputation for providing an engaging experience for kids. The museum is also known for its helpful and friendly staff and excellent educational resources.
Traveler's tip: While the museum is not strictly free, it offers free admission on the first Friday of each month between 5 PM and 9 PM. Check with the museum to ensure this is still the case when you plan to go.
The Gallery at Phoenix City Hall
Open times: 10 AM to 2 PM, Monday to Friday.
Contact number: +1602-262-4637.
Among the best free things to do in Phoenix, this downtown gallery features work exclusively from the municipal art collection. We suggest visiting it if:
You admire art in all its forms, be it sculptures, photographs, or paintings.
You're looking to enjoy group or solo shows by local artists.
You're interested in hearing talks from local artists.
The collection at this gallery consists of about one thousand different works, dating back to 1915. It highlights the exceptional projects commissioned by the Phoenix Public Art Program.
Traveler's tip: Contact the gallery for information about events and exhibitions.
Papago Park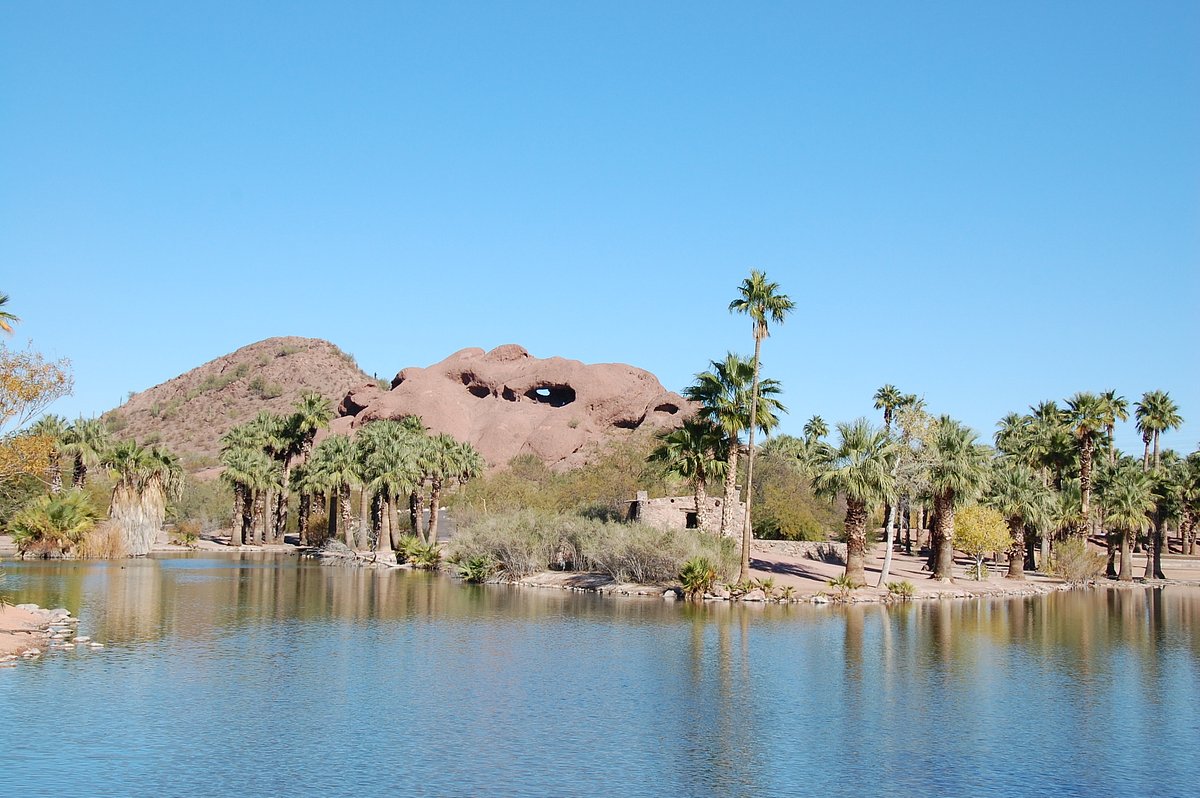 Open times: 5 AM to 11 PM, Monday to Sunday.
Contact number: +1 602-495-5458.
Papago Park is a desert park previously a reservation for indigenous people. And at another time, it was a prisoner-of-war camp, and it was even a fish hatchery during the Great Depression.
The park certainly has some history. However, today, it's none of those things. Instead, it's a popular tourist destination boasting a botanical garden (which we'll cover next) and a golf course. It's also home to many desert plants and lakes and is one of the great free things to do in Phoenix.
This huge municipal park has its own baseball field and many museums. You can even enjoy some hiking trails if that's up your alley.
Visit Papago Park if you're looking for:
Over 1,200 acres of exploration.
Somewhere to explore nature's beauty.
A central destination to enjoy many other attractions of the Valley of the Sun.
Traveler's tip: Make sure to wear closed shoes as there are a lot of paths and trials that you can enjoy.
Desert Botanical Garden
Open times: 8 AM to 8 PM, Monday to Wednesday/Friday and Saturday; 8 AM to 9:30 PM on Thursday (times may be subject to change).
Contact number: +1 480-941-1225.
Boasting among the world's most significant collections of desert flora, the Desert Botanical Garden is well worth a visit. It offers tourists some great free things to do in Phoenix. Visitors can enjoy:
A calm and tranquil environment to soothe the body and mind.
Visually appealing wildflowers and fauna to admire.
A place to collect their thoughts.
Apart from being an excellent walking trail in terms of aesthetics, Desert Botanical Garden also offers an exciting history lesson. The botanical garden illustrates how plants were integrated into Native American life.
While we have included this on our list of free things to do in Phoenix, free admission to the garden is only on the second Tuesday of every month. Keep that in mind when you plan to go!
Traveler's tip: Festivals occur throughout the year, so make sure to contact the garden to see on which days these are happening.
Goldfield Ghost Town and Mine Tours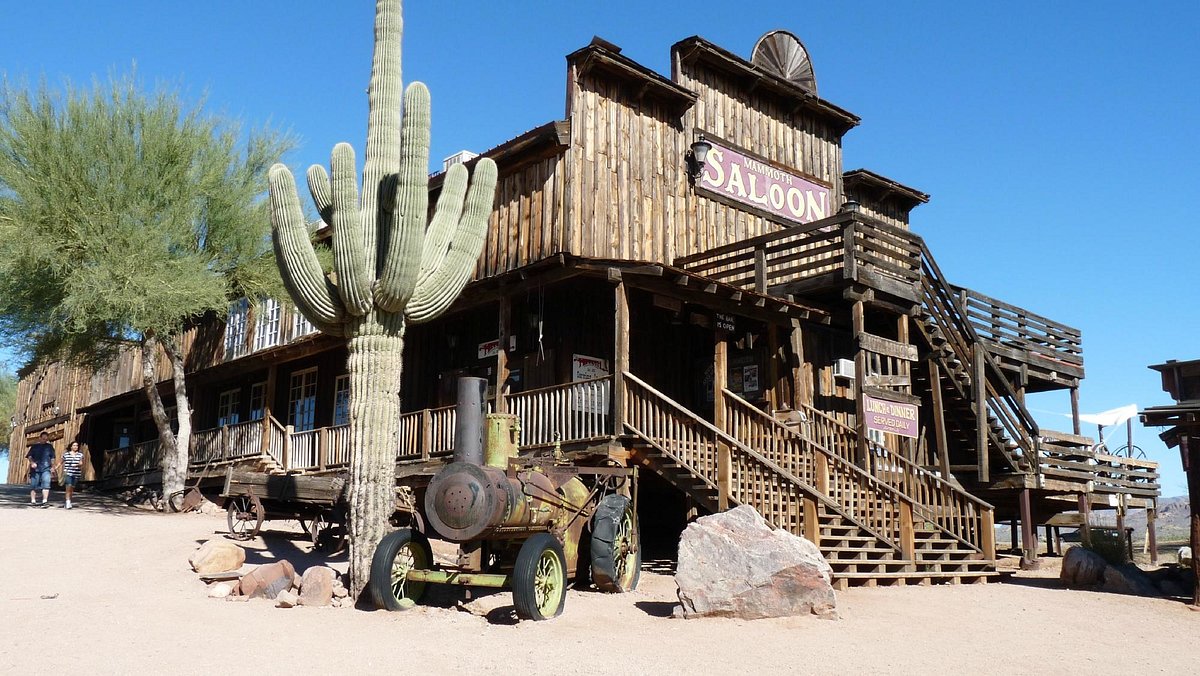 Open times: 10 AM to 5 PM, Monday to Saturday.
Contact number: +1 480-983-0333.
While the Ghost Town and Mine Tours are located just outside of Phoenix, this tourist attraction is well worth a visit if you're in the area.
While previously a ghost town, the Goldfield Ghost Town has now been restored. It features a jail, a schoolhouse, and even a museum with artifacts from the original town.
Visitors can enjoy train rides, a shooting gallery, or a petting zoo. They can also take part in mine tours. These take you through the mine in Superstition Mountain, where tourists can see the tunnels which once held gold.
There are also gold panning demonstrations, which tourists can engage in to find gold. The only downside is that many of the attractions at the Goldfield Ghost Town won't be available for people who come in for free.
Traveler's tip: We recommend carrying some cash on you so that you can enjoy the paid attractions here.
Apache Trail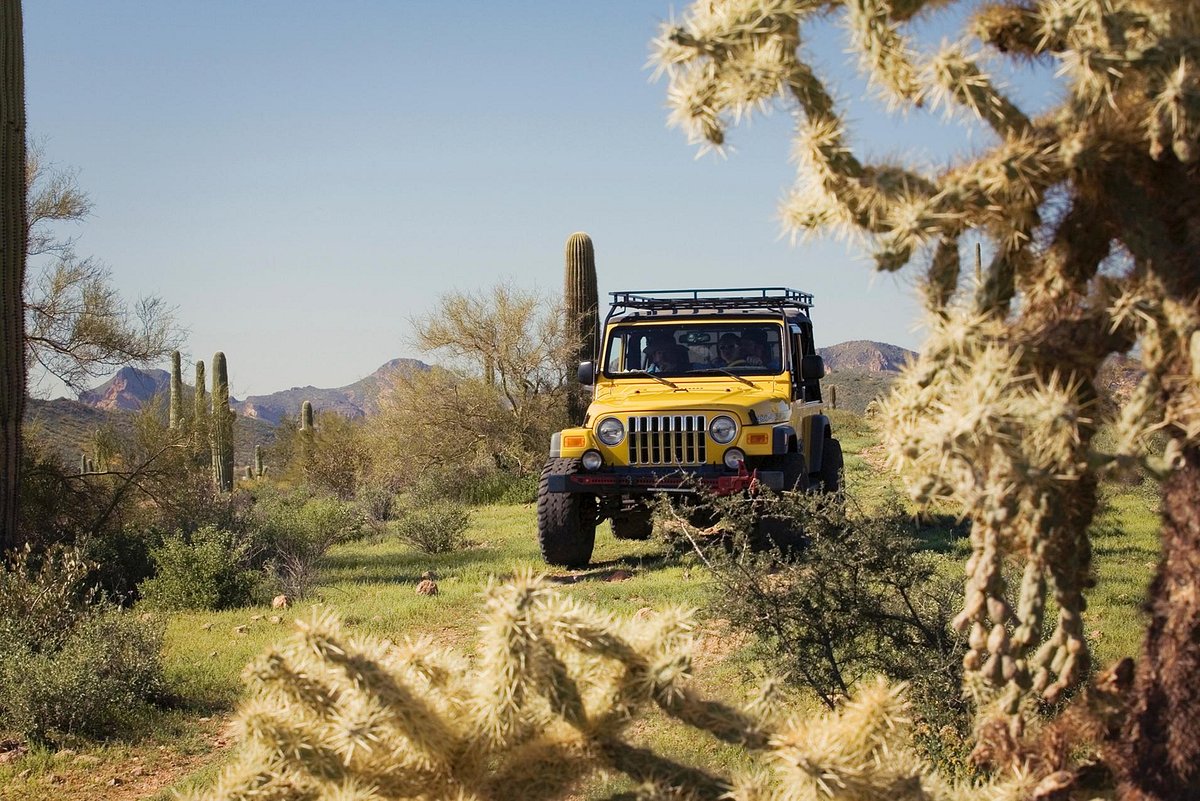 While you'll likely spend a bit on fuel (so not technically free of any costs), the Apache Trail is well worth driving through.
Among the best free things to do in Phoenix, the picturesque views you'll appreciate through the 40 miles of desert fauna, flora, canyons, and formations make it well worth it. Remember that this trail may not be passable in certain weather conditions. So make sure to consult weather forecasts before planning the drive.
In addition, there has been damage in some regions of the trail, so it may be closed off at certain parts.
Traveler's tip: If you're willing to pay, there are tour guides that can take you on the Apache Trail and who know where you can and can't drive.
Mesa Arts Center
Open times: 12 PM to 5 PM, Tuesday to Saturday.
Contact number: +1 480-644-6500.
We'd be remiss not to mention the Mesa Arts Center on our list of free things to do in Phoenix. This award-winning art center has received international acclaim through its' engaging, diverse, and relevant art pieces.
The Mesa Arts Center boasts unique facilities, boasting five different art galleries, four theaters, and 14 art studios. So along with stunning art, this center is home to the performing arts.
It's a top-rated destination that we couldn't recommend enough.
Give this destination a visit if:
You're passionate about art and art galleries.
You want to introduce your children to the unique culture of the art community.
You're looking for an intellectually stimulating trip.
The Mesa Arts Center even offers workshops and art classes in different disciplines, such as dance, music, and visual arts. This is available for all ages.
Traveler's tip: Phone the staff of the Mesa Arts Center in advance to enquire about any upcoming unique events or exhibitions.
Enchanted Island Amusement Park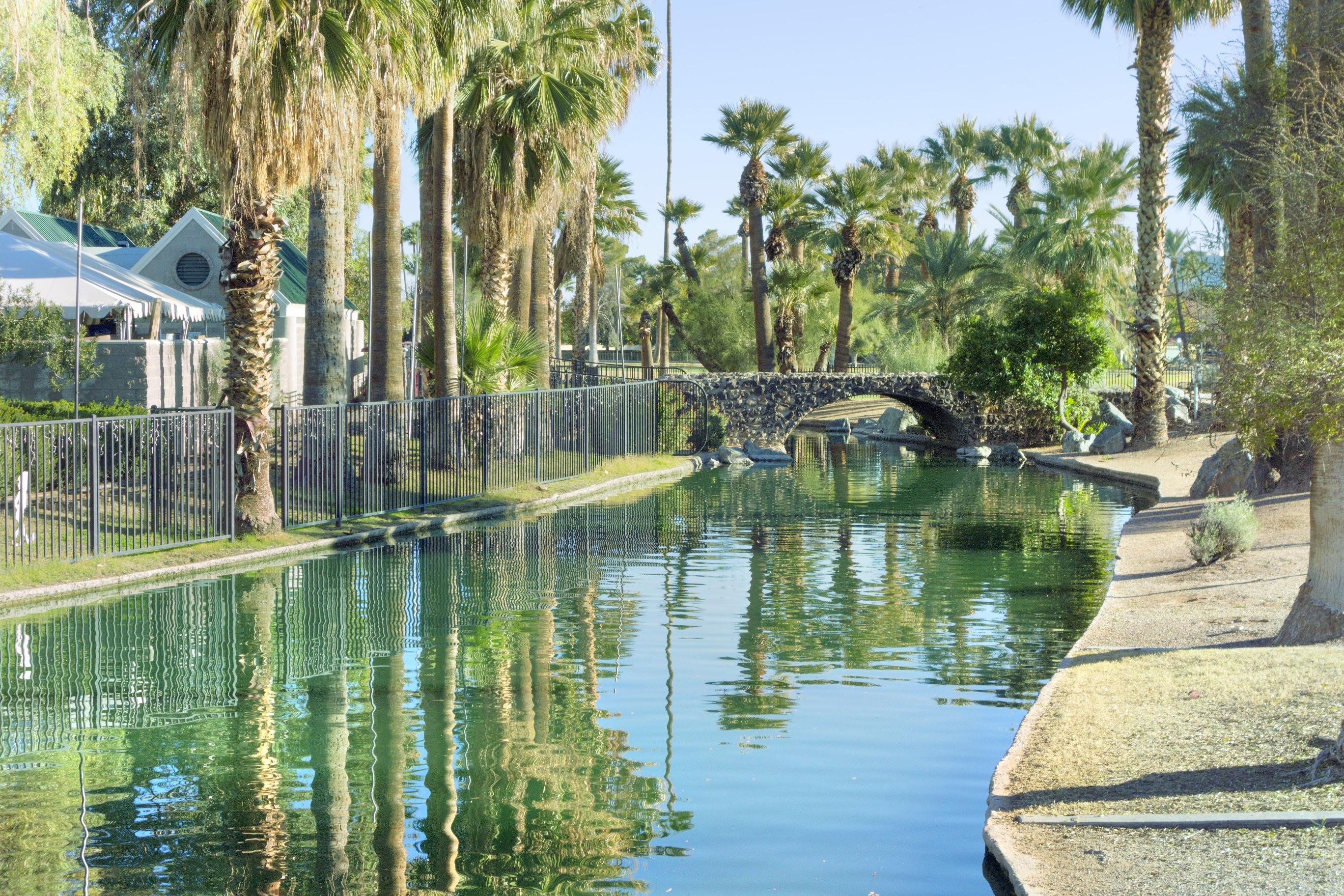 Open times: 11 AM to 6 PM, Monday; 11 AM to 5 PM, Tuesday to Thursday; 11 AM to 4 PM, Friday.
Contact number: +1 602-254-1200.
This amusement park is a must-visit on any family trip. While we've mentioned quite a few educational options (i.e., museums), it's essential that the kids get to enjoy something a bit more exciting. They're on holiday, after all.
The amusement park includes a variety of rides such as a roller coaster, Ferris wheel, and of course, tamer "kiddie" rides.
We'd highly recommend this as one of the best free things to do in Phoenix for you, if:
Your kids need to burn off some energy.
You're a thrill-seeker yourself and enjoy amusement park rides.
You're looking for an element of fun for your trip.
Traveler's tip: While there is free admission, if you'd like to take part in the rides, you will want to have some cash on you. You can also opt for an all-day or even an all-year pass.
Sahuaro Ranch Park
Open times: 6 AM to 10 PM, Monday to Sunday.
Contact number: +1 623-930-2820
While not exactly in the city itself, the Sahuaro Ranch Park is worth a visit (and it's only 9 miles away anyways) if you're looking for free things to do in Phoenix or the Phoenix area.
Located in Glendale, the park has a collection of structures and buildings that, at one point, was an actual functioning ranch. However, this was back in the 19th century.
Tourists looking for a historic and recreational experience should visit. We'd also suggest the drive if:
You're looking to have a picnic. The park boasts various picnic tables (although it's first-come, first-served!).
You want to visit somewhere that the whole family can enjoy. This is truly an ideal location with a playground for kids of all ages, dog parks, and sports fields.
You're looking for some peace. This family-friendly destination is ideal if you're tired of the hustle and bustle and want to enjoy some quiet.
And if you're looking to enjoy a nice quiet walk, the park also boasts several walking trails.
Traveler's tip: Be sure to phone in to find out if any special events will be held any time soon. The park often hosts concerts and festivals and even the occasional educational program.
Artlink First Fridays Tour
Open times: 6 PM to 10 PM on the first Friday of each month.
While perhaps not for everyone, this is undoubtedly a unique experience worth experiencing. But what is it exactly?
Well, the Artlink First Fridays Tour is an "art walk." It's a free (and self-guided) tour of downtown Phoenix businesses, studios, and galleries. It allows art lovers to see the work of international and local artists. Why wouldn't we mention it as one of the great free things to do in Phoenix?
But are these downtown Phoenix destinations family-friendly? While there may be contemporary art that isn't designed or even suitable for children, you can still enjoy it with your kids if you choose where you go a bit more carefully.
There might be many exhibits that children could appreciate aside from contemporary art, such as certain cultural or historical ones (so there's still something for everyone to enjoy!).
And instead of driving yourself or walking around all morning, you can take a free shuttle bus to downtown Phoenix. That's right. There are several shuttle bus locations that can help you along on this tour.
Traveler's tip: Research child-friendly exhibitions and galleries beforehand to ensure this trip is appropriate (and enjoyable) for everyone.
Fiesta Bowl Museum
Open times: 8:30 AM to 5 PM, Monday to Friday.
Contact number: +1 480-350-0900
Why not bring the family to the Ziegler Fiesta Bowl Museum for something a little different? If you've never heard of it, the Fiesta Bowl is a college football game played yearly in Phoenix, dating back to 1971.
The museum commemorates this tradition, boasting exhibitions of the teams and players that have participated. It also covers the history of the venues where it's been played.
We highly recommend that you visit this museum if:
You're a big sports fan.
Your family is equally enthusiastic about football.
And you love learning about history.
Come here for free with your family and enjoy a football-filled morning (or afternoon). Relive history in a unique way.
Traveler's tip: If someone in your family isn't particularly interested in football, but loves shopping, then you could suggest that they go to the fashion square while you spend time at the museum. It's a win-win!
Shemer Art Center
Open times: 10 AM to 3 PM, Tuesday to Saturday.
Contact number: +1 602-262-4727.
The Shemer Art Center was founded back in 1971. It was named after prominent figures in the art community at the time, the Shemer family.
This is unique in that as much as it is an exhibition; it also provides opportunities for artists to sell their work. The center also hosts a pottery studio, art studios, and galleries.
And if you and your family come at the right time, you may enjoy exciting free events and exhibitions from local artists.
The venue is even available as a rental facility for corporate functions, weddings, and parties.
You should visit the center if:
You and your family are passionate about art.
You might be interested in purchasing some art pieces for your art collection.
You're curious about booking the venue and want to see it yourself.
And while entrance to the center is free, it may be in good faith to donate (if you can afford to, of course). The suggested donation is $7 per person and $10 per couple.
Traveler's tip: You might be interested in booking yourself and your family into an art class at the center. Both youth and adult classes are available.
South Mountain Park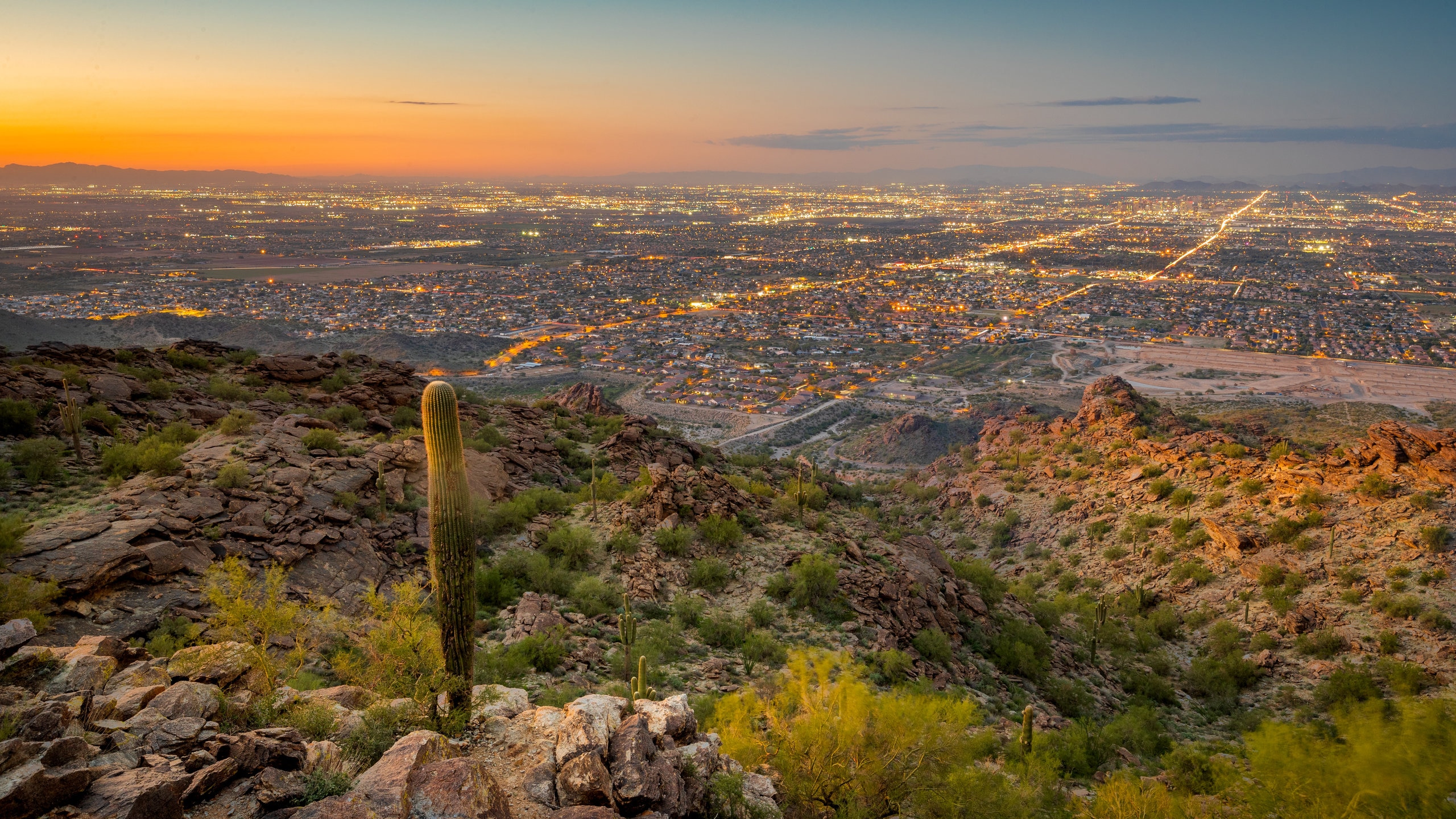 Open times: 5 AM to 7 PM, Monday to Sunday.
Contact number: +1 602-495-5458
As one of the biggest municipal parks in the State of Arizona, South Mountain Park is somewhere you should drop by if you can find the time (mainly because the park entrance is free).
Boasting more than 50 miles of trails and over 16,0000 acres, South Mountain Park has no shortage of space to explore and appreciate.
You can opt to hike, take your mountain bikes up with the family, and even go on horseback rides.
And while taking the trail, you might even run into some petroglyphs. These were left by the Hohokam people, who lived in the Gila and Salt River Valleys many centuries ago.
And in addition to this, there are other things that make this destination feel extra special. Travelers have noticed how wild and remote it all feels, giving the feeling of "being away from it all."
If you and your family are looking for a trip like this, arrange a day, you'll not regret it.
Traveler's tip: Wear comfortable closed shoes if you plan to take the trails to keep your feet protected.
FAQs
Is the Phoenix Art Museum free?
General admission to the Phoenix Art Museum is free. However, to enter special exhibitions, you'll have to pay. In addition, paying for tickets at the Phoenix Art Museum will even let you skip the line during those busy hours.
How much is the zoo in Phoenix?
Unfortunately, going to the Phoenix Zoo is not free. For adults (14 and over), booking a ticket online will cost them $37.95. And booking a ticket for a child (three to 13) will cost $27.95. It's slightly more expensive to book at the zoo itself than it is to book online.
How much is a helicopter ride in Phoenix?
In case you'd like to know, helicopter rides in Phoenix are costly. A helicopter ride in Phoenix could cost from a few hundred dollars to more than one thousand.
Are children allowed in casinos in Arizona?
Typically, children are not allowed on the casino floor in Arizona. They may, however, be permitted in entertainment or dining areas.
More about our TFVG Author