Phoenix is the capital of Arizona, also known as the Valley of the Sun. Known for warm weather and sunshine all year long, there's much to get into when you take a trip to the town. Take a journey around the Desert Botanical Gardens, Phoenix Zoo, or even view the city from above during a hot air balloon tour. 
While you're having fun in the sun and enjoying the bustling nightlife, it's essential to have a quality hotel or resort to return to. Whether you have a small, mid-sized, or large family, we've rounded up 13 of the best family hotels in Phoenix to accommodate you and your loved ones.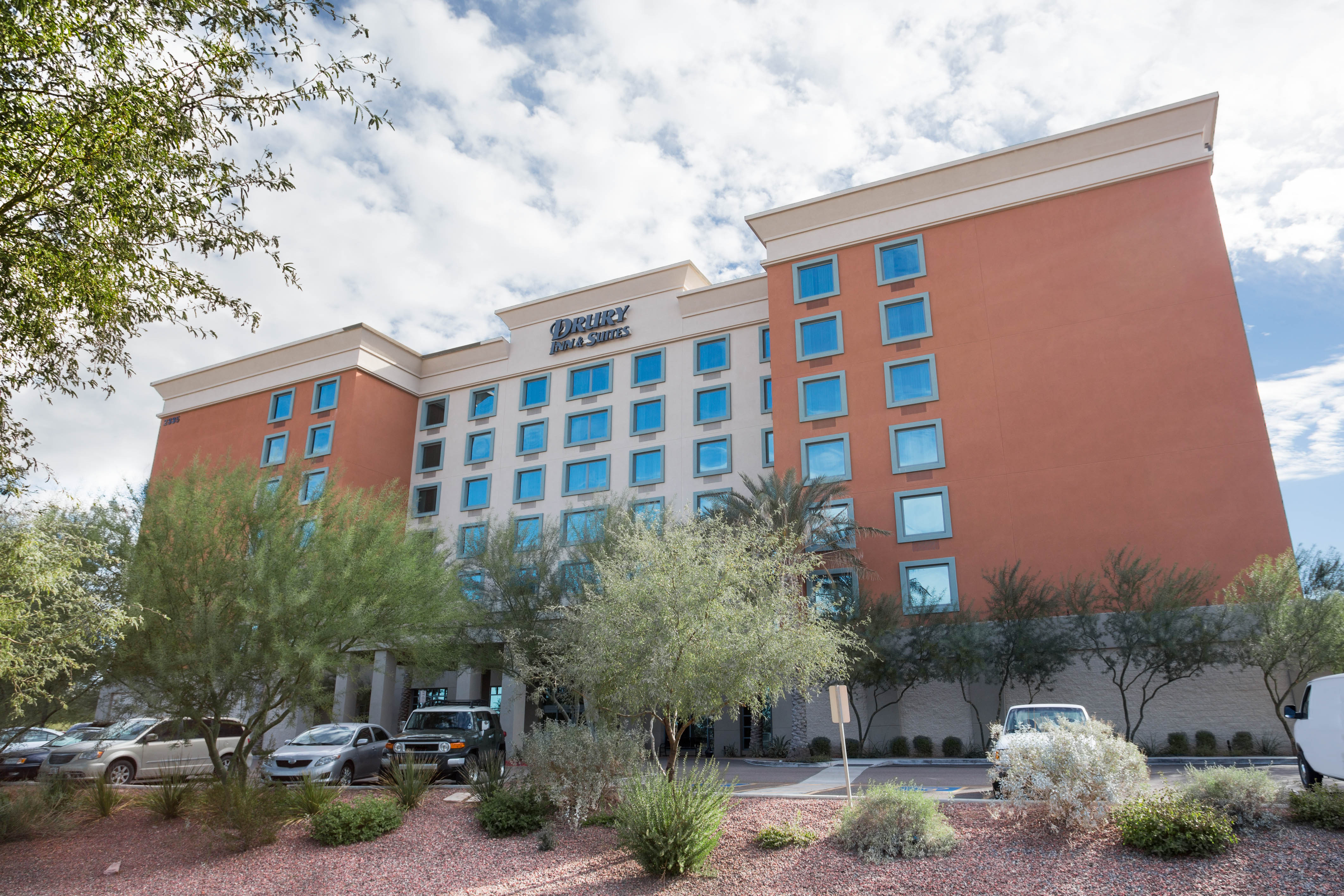 The Drury Inn & Suites Phoenix Happy Valley is about thirty minutes away from downtown Phoenix. This hotel offers a beautiful view of the mountains in the Phoenix Sonoran Desert Preserve. Nearby attractions include riding mountain bikes and going horseback riding throughout the year.
What makes Drury Inn & Suites a top hotel for families is the many complimentary amenities and space available to guests. This location serves a hot and fresh breakfast every day of the week as well.
They also offer snacks and drinks at 5:30 p.m. each day, known as their Kickback service. Additionally, they have a restaurant and lobby bar on-site, perfect for families with small children and don't want to go far for food. Other amenities at this pet-friendly hotel are a partially covered whirlpool and pool, a fitness center, and free WiFi.
The rooms come with comfortable beds, separate spaces for sleeping for small to mid-sized families, TVs in each room, a microwave, refrigerator, iron and ironing board, coffeemaker, and hairdryer. This is a great family hotel for relaxation that is chock full of convenient accommodations.
At the JW Marriott Resort & Spa (Phoenix Desert Ridge), you get plush lodging, five different restaurants, a day spa, and a golf course. Top all of that off with 24-hour room service, and you've got an excellent destination for families of all sizes.
There are also five pools to use and a lazy river. The hotel has a Kids Splash Pad so the little ones can get in on the fun with an area made just for them. Families can also rent private cabanas for an even better experience.
The rooms are beautifully structured, having luxury bedding, spacious living arrangements, floor-to-ceiling windows, and a great view of the mountains.
Many aspects that are perfect for families include the game room, car rental service, video games, babysitting service, full breakfast (for a fee), dry cleaning, and more. With so much access to convenient services and amenities, guests will feel that they can relax and enjoy creating memories.
Nearby are family-friendly attractions such as the Phoenix Zoo, Dave and Buster's, the Desert Botanical Gardens, the Children's Museum of Phoenix, and the Grand Canyon.
The name Waldorf Astoria oozes elegance and charm. Guests can expect a luxurious stay in a classy and prestigious hotel. While being comfortable and plush, there's plenty to do for everyone in the family.
There are five restaurants, eight pools, two golf courses, a spa, and many curated shops at the disposal of groups, couples, and families. There's a lot of space to move around. Families with younger children and older kids alike can participate in activities like exploring the botanical gardens, playing corn hole, tennis, giant chess, cricket, or just relaxing in the coffee shop.
The rooms are large and comfortable, with some options for two-bedroom suites available. The mini-fridge has water, soda, and other items to purchase, and standard amenities such as a hairdryer, workspace, flat-screen TV, and more come with the booking. The staff often plans special activities just for families, such as movie night by the pool.
The AC Hotel by Marriott Phoenix Biltmore is a family-friendly location with a stylish design in the heart of Biltmore. There are numerous places to eat and shop, and lots to see nearby.
Activities that you can do with the whole family include hiking Camelback Mountain, visiting Chase Field, exploring the Desert Botanical Gardens, and more. Smaller children will love the Musical Instrument Museum, and there are a few play areas also.
The rooms are modern and comfy, with free WiFi, a Smart TV in every room, a lot of natural light, and standard amenities. Each room and suite has a hairdryer, coffeemaker, work desk, iron and ironing board, and a mini-fridge. Guests also get a complimentary free hot breakfast each morning. Cribs or playpens are available upon request.
The AC Hotel is also pet-friendly, and the staff is always willing to go above and beyond to help accommodate families and make sure that they are satisfied during their stay.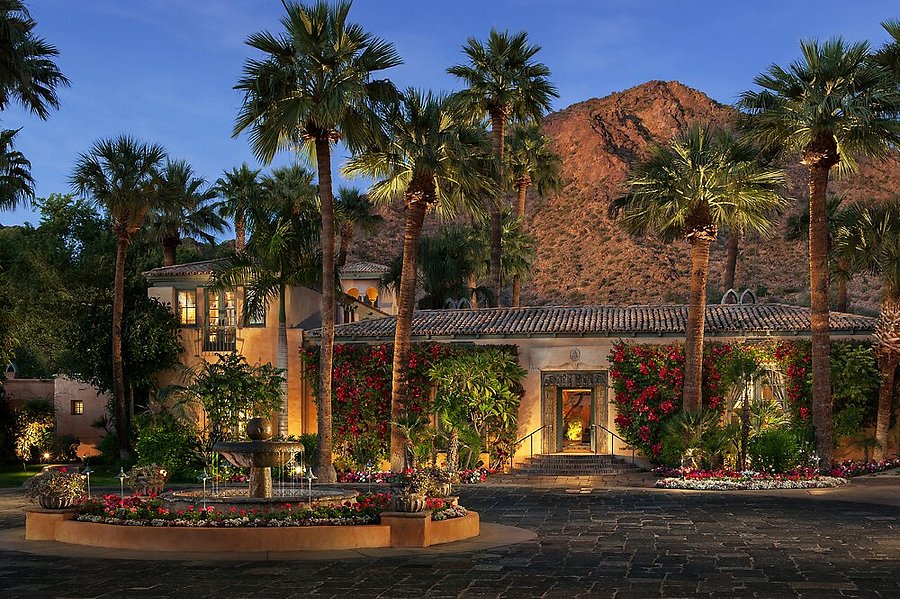 The Royal Palms Resort and Spa is an exquisite Spanish-style colonial estate with an exotic landscape sitting on nine acres. Upscale doesn't begin to describe such a charming and elegant establishment with equally impressive five-star dining, lounge area, on-site spa, pool, and poolside bar.
There are 119 recently remodeled rooms, villas, casitas, and more. Families of all sizes have options, some of which include private patios that are fully-furnished, gorgeous views of Camelback Mountain, and luxuriously soft linens.
Aside from the extravagant landscape, Royal Palms also offers trail kits for guests that want to take the family for a hike. The kit includes a trail map, a granola bar, bottled water, and Resort bikes. With so much to do on such a large property, there's no doubt that families can find a variety of activities to do together or individually.
The Hampton Inn & Suites in downtown Phoenix offers suites and contemporary in standard rooms in a laid-back setting. They have free WiFi, a complimentary hot breakfast, and also a bar and gym on-site. The Phoenix Convention Center is only a mile away, where families can see various events.
The hotel is only four miles from the Phoenix Sky Harbor Airport. In their lobby and lounge area, there are snacks and drinks available for your enjoyment. The Suite Shop and Business Center stay open for 24 hours each day, and if you need to reserve a meeting room, you can inquire at the front desk.
Room service is also provided in the instance that families are tired after an adventurous day and don't feel like frequenting the hotel's restaurant. Amongst the other amenities, housekeeping is available upon request, and it's a complimentary service. Additionally, smoking is not allowed in the hotel.
If you are coming down to visit your student at ASU, the Hampton Inn & Suites can provide pleasant accommodations to make your stay enjoyable.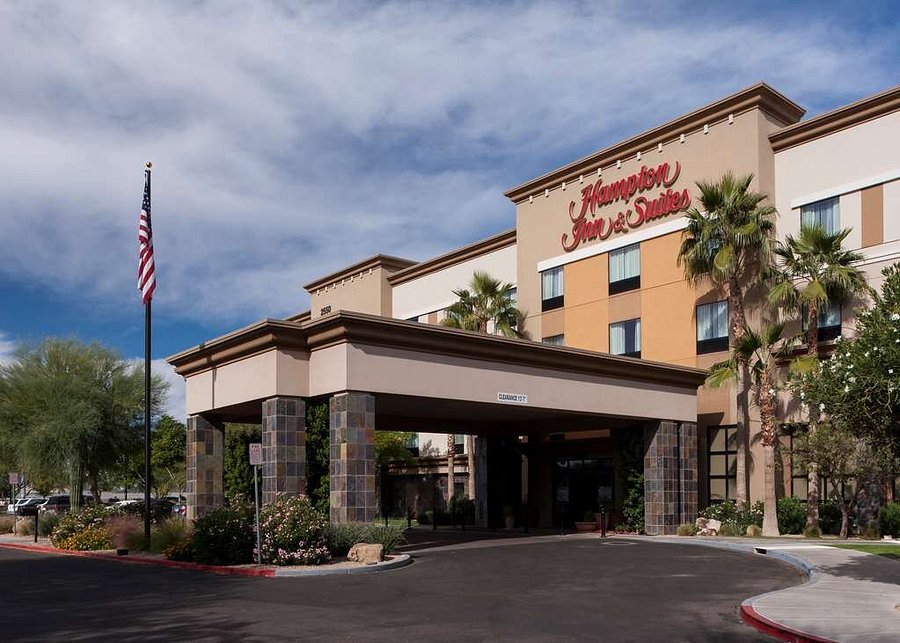 Phoenix North/ Happy Valley hotel is a modern and beautifully constructed hotel conveniently located just three miles away from one of the funner attractions, Wet'n'Wild Phoenix water park. Moreover, this establishment is only four miles away from the Adobe Mountain Desert Railroad Park.
The rooms have a modern and sleek design. Each typical room gives free access to WiFi, coffee makers, desks, and even custom-designed beds. Additionally, suites have both mini-fridges and microwaves inside of them.
Amenities from the Hampton Inn & Suites include hot breakfast, local shuttle service, and free parking. There's even a gym, an outdoor pool, a meeting room, and a business center.
Try out these exhilarating and adventurous attractions on your next trip to Phoenix: Hurricane Harbor Phoenix water park, Castles N' Coasters, Cave Creek Regional Park, and more.
The Hampton Inn Phoenix/Anthem is located just off Interstate 17. The hotel is inside of a beautifully constructed southwestern-style building. The rooms are low-key, and they are all furnished with customized beds.
There is free WiFi, access to a mini-fridge, a microwave, and even a coffee maker inside the rooms. What's more, some rooms come with pull-out sofas and whirlpool tubs inside of the room.
There are some complimentary amenities that guests can look forward to, including hot breakfast, parking, and weekend breakfast bags that you can take on the go. Moreover, there's an outdoor pool and a gym for those looking to keep on their fitness. Finally, there's a business center and two meeting rooms that you can take advantage of if need be.
Family's will love the location because there are many nearby attractions to visit, such as Hurricane Harbor Phoenix (water park), Lake pleasant, Cave creek museum, and much more.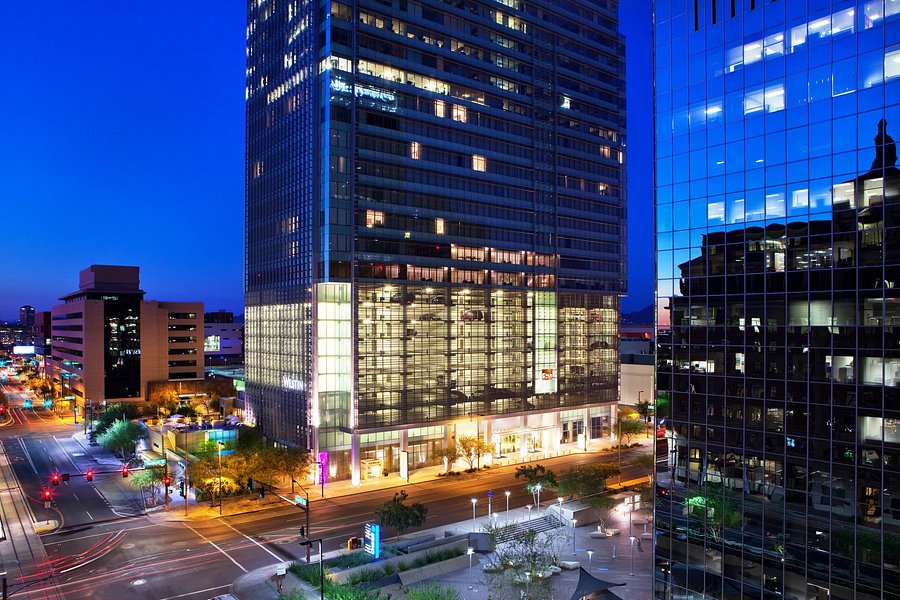 What can only get described as a classy hotel, the Westin Phoenix Downtown hotel is only an eight-minute walk from the Phoenix Convention Center, where many events take place. The Westin is also only a six-minute walk away from the symphony hall.
The rooms are stunning thanks to their beautiful windows that reach from the floor to the ceiling. All rooms come with iPod docks, flat-screen TVs, coffee makers, and access to WiFi (for a small fee).
However, the clubrooms grant you access to a lounge that comes with a complimentary continental breakfast and evening snacks to boot. Additionally, the clubrooms offer free Wi-Fi as well. As far as suites go, they come with free-standing tubs and sitting areas as well.
The Hotel has a restaurant that specializes in elegant and contemporary American cuisine. Additional amenities include an exercise room, patio with a fireplace, and quality outdoor pool.
The Hampton Inn Phoenix-Biltmore is located in the East Village and is just seven miles from Old Town Scottsdale and less than a mile from the Biltmore Fashion Park. You could walk to the park if you don't mind walking a bit.
The rooms in the hotel are simply refined, and the rooms are decorated with fanciful earth colors. A typical room will grant you access to free Wi-Fi, a full desk for work, pull-out sofas, microwaves, and flat-screen TVs with HD channels.
Not all—but some rooms even come furnished with mini-fridges. With the suites, you can expect a convenient living space and luxury whirlpool tubs.
Additional amenities include a breakfast buffet, weekday breakfast bags to go, parking, and shuttle service. There's also a fitness center to take advantage of, as well as an outdoor pool and a business center if you happen to need the space.
The Homewood Suites by Hilton Phoenix North-Happy Valley is located just off Interstate 17. This is a peaceful hotel that only offers suites, and it is only four miles from Deer Valley Airport and just three miles away from loads of fun that you and your family can enjoy at the Wet'n'Wild Phoenix water park.
A casual studio at this hotel provides dining tables, pull-out sofas, free Wi-Fi, kitchenettes, and flat-screen TVs. However, suites with one to two bedrooms have separate living rooms.
The Homewood Suited provided local shuttle service, free parking, a hot breakfast, and even a light dinner with drinks from Monday-Thursday. What's more, there's a 24/7 convenience store with a grocery shopping service that guests can enjoy. There's a gym, a sports court, a business center, and an outdoor pool.
You and the family are sure to enjoy the many nearby entertaining attractions such as the water park Hurricane Harbor Phoenix, Castles N' Coasters (amusement park), The Musical Instrument Museum, and more.
The Embassy Suites by Hilton Phoenix Scottsdale is an upscale all-suite hotel. This hotel overlooks the Stonecreek Golf Club. The luxurious stay is just eight miles away from the Phoenix Mountain Preserve.
The views are amazing from your balcony or patio; you can see the mountains or the beautiful golf course. The suites have mini-fridges, pull-out sofas, microwaves, and a coffeemaker. WiFi is available as well.
Additionally, you can enjoy a complimentary made-to-order breakfast. Furthermore, there's a restaurant/bar on-site which serves American cuisine. Family's can enjoy the outdoor pool, or if you're big on fitness, you can go to the fitness center.
Nearby attractions are in abundance near this hotel; you are sure to find something for you and your family to enjoy. Here are a few attractions to consider: the OdySea Aquarium, Phoenix Zoo, CamelBack mountain, and more.
Fairfield Inn and Suites Phoenix Midtown is a modest hotel with a peaceful environment. This hotel is a mere 13-minute walk away from the Phoenix Art Museum and just two miles away from the Phoenix Convention Center.
Each casual room comes with coffee makers, flat-screen TVs, and Free WiFi. Additionally, there are even microwaves and mini-fridges that you can enjoy. On the other hand, the suites come with pull-out sofas, separate living areas, and additional flat-screen TVs.
Regarding amenities, there's a hot tub, guest laundry facilities, a convenience store, a business center, and an outdoor pool. You can also use the local shuttle, and there's free parking too.
Fortunately, there are family attractions to enjoy during your stay at the Fairfield Inn. Here are a few fun attractions you can consider visiting: the Arizona Science Center, the Phoenix Zoo, The Enchanted Island Amusement Park, and much more.
More about our TFVG Author
A seasoned traveller, Dad, and avid sports tourist, James foundered The Family Vacation Guide to share his expert vacation experiences- especially when it comes to being a travelling family man.
Featured in Travel articles such as Travel + Leisure, TripSavvy and SFGate, you know you're reading some of the best vacation tips online.