With beautiful warm weather, incredible views of mountains, canyons, deserts, and endless outdoor activities for any age, Arizona is a great place to plan a family vacation with memories that will last a lifetime.
If you're planning a trip to Arizona with kids, there are so many options for family-friendly resorts that have something for the whole family.
From luxurious spas to kids clubs to family water parks, Arizona family resorts have everything you'll need to keep the whole family happy.
Here is a guide to 14 of the best family resorts in Arizona to help you plan your next family vacation.
This beautiful 5-star resort on the base of Camelback Mountain is the perfect way to keep everyone entertained and happy on a family vacation.
The spacious palatial suites and casita rooms, as well as the abundance of options for both adults and children of all ages, make the Phoenician a perfect resort for a family getaway.
The Phoenician has amenities that everyone in the family will love, including a luxury spa, golf course, nine swimming pools, and eight dining venues.
And with a backdrop of mountains and the Sonoran Desert, you can take in the incredible views while exploring the region and taking advantage of all the family-friendly outdoor activities Scottsdale has to offer.
The resort also includes a range of kid-specific activities for children of all ages. Families can visit the pool's Kid Zone, complete with a treehouse, bridge, slide, and splash pad, or stop by the Funicians Club for scheduled daily programs, including games and arts & crafts.
There are also several family-friendly signature events, such as painting parties or poolside games.
If you want a more luxurious experience with options for everyone in the family, the Phoenician is an excellent choice for a family resort on your next vacation.
The historic Hacienda Del Sol Resort is ideal for any family looking for luxury while maintaining a rustic western ambiance. Nestled on the base of the Santa Catalina Mountains, this resort provides guests with luxurious rooms, breathtaking mountain and desert views, and rich history.
Hacienda Del Sol is a family-friendly resort with several amenities and events that will keep the whole family entertained. However, the resort itself may be a better choice for older children.
There are two restaurants with options for kids' meals, live music and art events, two pools, and a desert botanical garden.
There are also extensive possibilities for outdoor exploration just outside of the resort. You can explore the mountain and take in the landscape through guided hikes or horseback rides or discover the shops and museums of Tuscan.
The authentic Old West experiences paired with modern luxuries of Hacienda Del Sol will give your family a unique and memorable family getaway.
The Great Wolf Lodge is one of the most kid-oriented resorts you can find. With all of the entertainment and attractions geared towards kids, the Great Wolf Lodge creates a mesmerizing and memorable experience for children of all ages.
The large, spacious rooms provide your family with the perfect place to relax after a day of enjoying all of the resort's activities and events. You can even select a room with a cave or cabin-themed sleeping area with bunk beds that any kid will love.
Great Wolf Lodge offers countless kid-friendly entertainment throughout your stay, including an indoor water park, climbing wall, mini-golf, bowling, arcade games, and an interactive magic quest throughout the lodge. There are also several options for dining, drinks, and dessert.
After all the excitement and adventure your child experiences at the Great Wolf Lodge, your family can wrap up the day with some more interactive events such as storytimes, family yoga, or nighttime dance parties.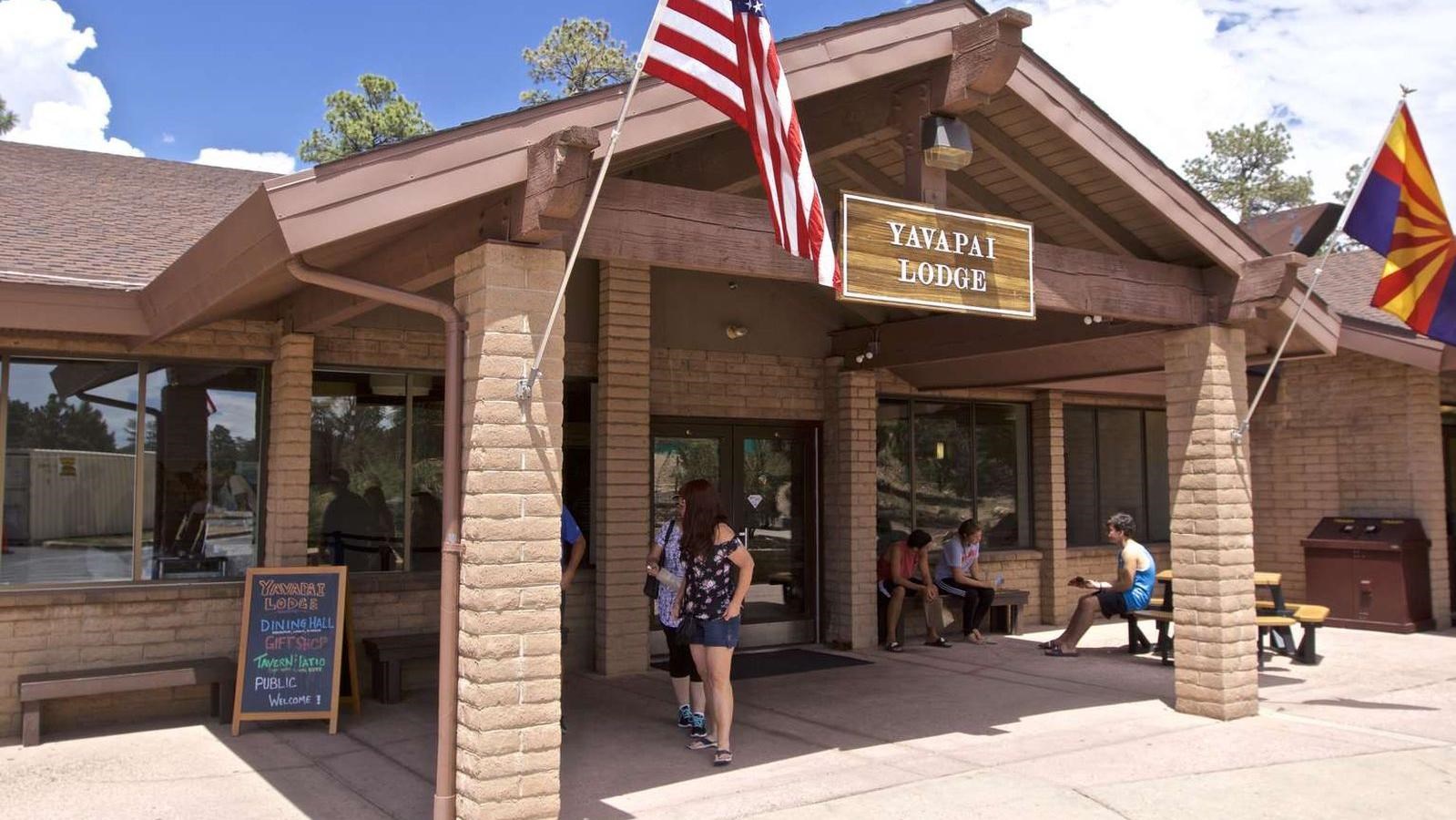 If you're looking for a place to stay directly inside Grand Canyon National Park, Yavapai Lodge is a fantastic family-friendly resort. With only a short walk to the South Rim of the canyon, this resort provides a convenient and relaxing place for you to stay while exploring the park.
The lodge has two complexes to choose from. Yavapai Lodge East comes with air-conditioning and has multiple options for large families. On the other hand, Yavapai Lodge West doesn't come with air-conditioning but has pet-friendly rooms for families traveling with their animals.
These complexes are separated by the Market Plaza, where you can find on-site restaurants and shops, and board games available to play. The Yavapai Lodge also hosts free movie nights every Wednesday with child-friendly movies and popcorn.
With the ease of accessing Grand Canyon National Park, as well as all the on-site activities and dining, the Yavapai lodge is a perfect place to return to after a long day of outdoor adventuring.
Located at the base of Pinnacle Peak and surrounded by scenic hills and desert views, the Four Seasons Resort Scottsdale maintains the luxury and leisure that parents love with a huge range of kid-friendly activities. With so much to explore, there's something at this resort for every member of the family.
The large casita-style rooms and suites are designed to bring the natural beauty of your desert surroundings to you, with floor-to-ceiling windows and a furnished patio.
You can sit around a patio firepit casita room that's spacious and comfortable enough for large families, or, for a more luxurious alternative, you can stay in a suite with garden showers, an outdoor living area, and a private patio pool.
There are plenty of family-friendly areas on-site, including a family game room and a children's pool. This resort is also home to Kids for All Seasons, a complimentary camp with daily programming.
Your kids can play and learn with capable counselors and other children while exploring the resort's other amenities, including the restaurants and bars, pool, fitness center, and spa.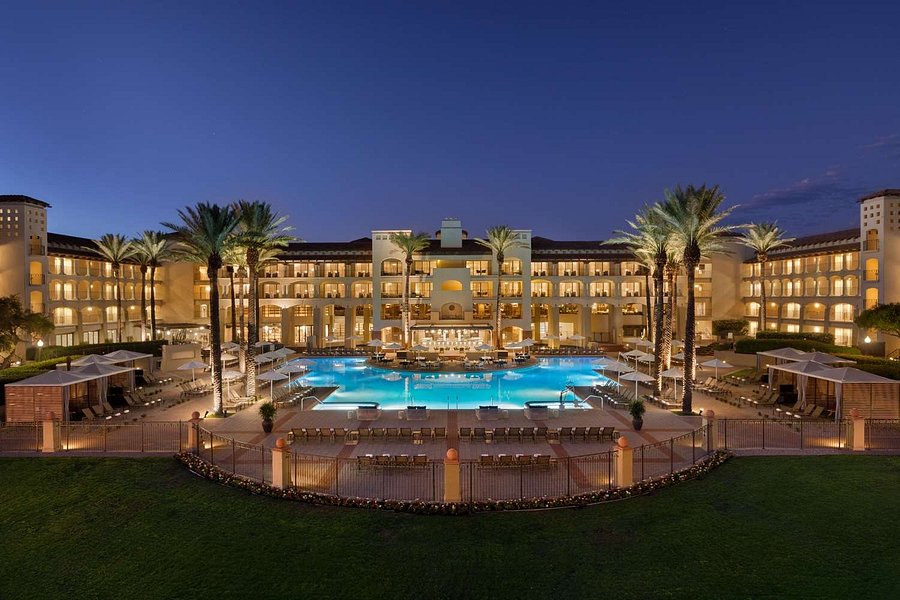 Surrounded by the nature-filled landscape of the Sonoran Desert, the views of the Fairmont Scottsdale Princess are hard to beat.
Featuring a vast, expansive property and beautiful Spanish Colonial-style architecture, this resort provides guests with family-friendly amenities that will help the whole family relax and unwind.
Families have a choice of six kid-friendly pools with a white-sand beach, splash-pool, and water slides. On the grounds, you can find garden walking paths and fire-pits to sit around as a family, as well as four different restaurants to choose from.
If you want to make a visit to the spa or swim in one of the adult-only pools, you can drop your kid off at the Trailblazers Kids Club, where counselors lead them in games, swimming, sports, or nature walks.
At the Trailblazers Recreation Center, families can participate in interactive activities together, and kids can play arcade games, make crafts, and more with the friends they make.
With so many kid-friendly attractions, you can spend quality time with your family while enjoying everything this resort has for visitors of all ages.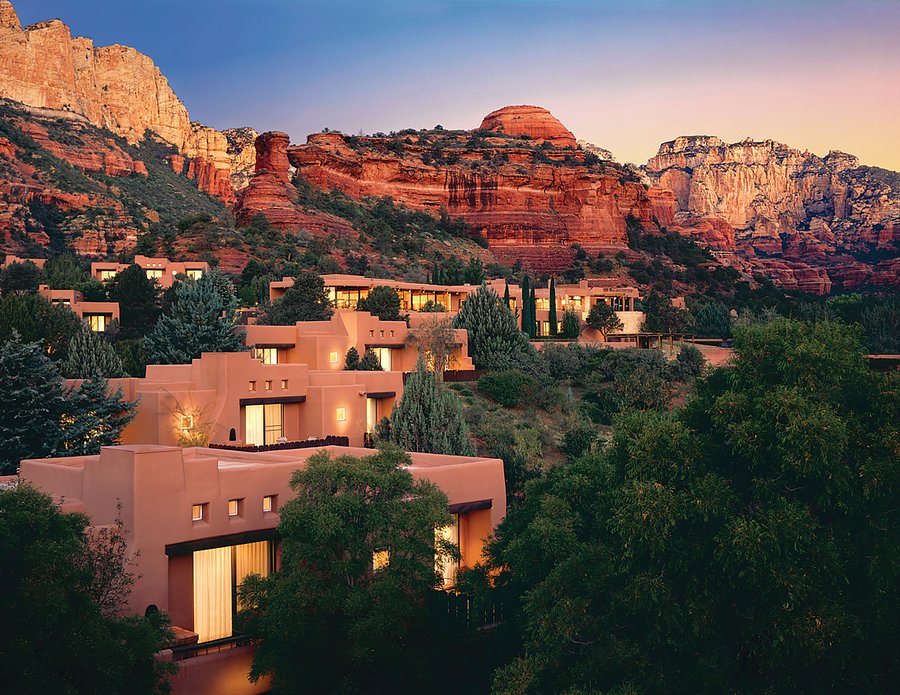 You and your family can experience unique outdoor adventures and connect with nature at the luxurious and secluded Enchantment Resort.
With a backdrop of the red rocks of Boynton Canyon, the resort boasts stunning views and several outdoor adventures for both children and adults.
Improving mindfulness and tranquility is a major focus at Enchantment Resort. Guests can take advantage of the spa suites, fitness events, and mindfulness and wellbeing practices to fully kick back and relax on a family getaway.
The activities and design of the resort also incorporate Native American culture and practices. You'll be able to learn more about Native American spiritual ceremonies while practicing mindfulness or participating in guided tours.
Children have the opportunity to play and learn about the region's culture at Camp Coyote. Counselors are trained to supervise kids during daily activities designed for children, such as nature walks, scavenger hunts, arts and crafts, and more.
With so many unique programs, your family will never run out of things while staying at this resort.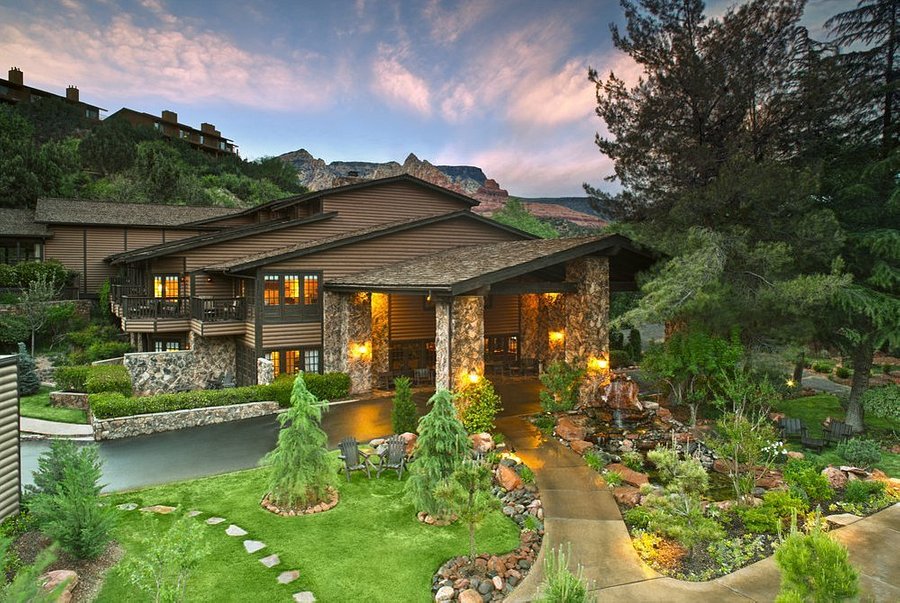 L'Auberge de Sedona is another great resort for any family looking for a quiet, calm vacation surrounded by nature.
The resort is located on the banks of Oak Creek and surrounded by red rocks, creating gorgeous views that you can enjoy from any of the cozy cottages or lodge-style guest rooms.
The whole family will love the delicious food at Cress on Oak Creek, the on-site restaurant. The outdoor dining puts you right alongside the creek, so you can take in the views and tranquil outdoor setting during family meals.
Families can hang out by the pool, explore local art, participate in yoga classes, or go stargazing with astronomers.
There are also many outdoor activities nearby in Sedona, including ATV rentals, canyon tours, hiking, horseback riding, or hot air balloon rides. In the mornings, kids can also help feed the ducks in the duck pond.
While there aren't child-specific programs, L'Auberge has numerous different ways to allow you to spend quality time with each other in a peaceful, tranquil setting.
Junipine Resort, located on the banks of Oak Creek, is a perfect choice for nature-loving families that still want a luxurious resort stay. If you're looking for a quiet, cozy getaway where you can spend quality time with your family, this may be the best resort for you.
Visitors stay in large, upscale creek homes, which are tucked away in a secluded wilderness setting for additional tranquility and privacy throughout your stay.
Their casual on-site restaurant offers patio seating along the creek and indoor dining with fireplaces for colder nights.
There are a variety of food options along with a kids' menu, so there is something for everyone to eat. The resort is also close to many hiking trails, fishing areas, off-road jeep tours, and more to explore.
In this peaceful wilderness environment, it's easy for you and your family to unplug, unwind, and enjoy the scenic views and outdoor adventures.
This luxury hotel, located along the base of Camelback Mountain in Paradise Valley, provides its guests with incredible amenities, seclusion, and tranquility among the beautiful natural landscape.
With two golf courses, six restaurants, garden terraces, and desert trails throughout the grounds, the resort has various activities for both parents and children. The heated outdoor pool is family-friendly, with a separate childrens' pool and play area.
There's no doubt that the incredible mountain views will make you and your family want to spend your whole stay outside near the natural landscape and scenery.
The resort makes this easy by providing outdoor seating and fireplaces to comfortably sit and appreciate the remarkable views.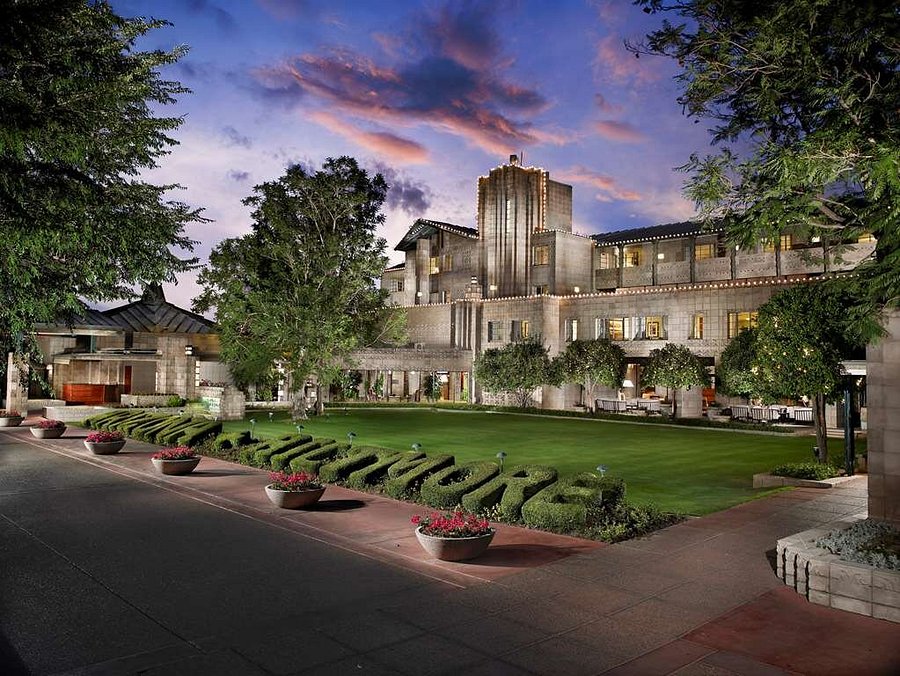 This luxury resort has many amenities for families and children, making it a perfect place to stay for a fun and exciting family vacation. You can choose between a large number of room designs, including suites, villas, and cottages, all of which provide more than enough space for families to spread out comfortably.
Resort amenities include a spa, fitness center, five restaurants and bars, tennis courts, and more. There's also so much to see just walking through the resort, with incredible scenery, stunning 1930s architecture, and gardens and sculptures.
The property has a playground and kids' camp to keep children entertained. However, the real draw for families can be found at one of the seven pools on the property.
One of the family-friendly pools is home to a 92-foot twist water slide and other water features for kids to have fun and escape the Arizona heat. There is also a splash pad for younger kids and a swim-up pool bar for parents lounging at the pool.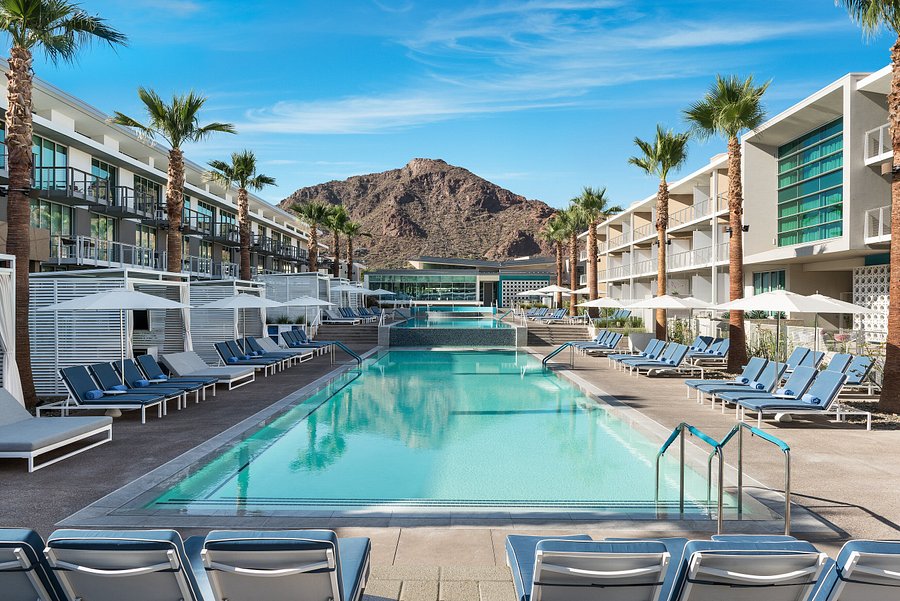 Located just a few miles from downtown Scottsdale in the shadow of Camelback Mountain, you and your family will never run out of fun activities at Mountain Shadows Resort.
The resort was rebuilt entirely in 2017, giving it a modern atmosphere paired with the 1950s original design that made it a common stop for old Hollywood stars.
You can select your accommodation from six different room styles designed to complement the desert setting of the resort. All varieties of rooms are upscale and spacious, so families can comfortably spread out and have their own space.
While the resort doesn't host any kid-specific programs, there are plenty of amenities for family members of all ages. These include two restaurants, a golf course, a fitness club, and a pool with modern waterfall features.
Whether you're lounging by the pool or playing golf on the par-3, 18-hole course, the mountain backdrop will provide unforgettable views and a memorable stay for you and your family.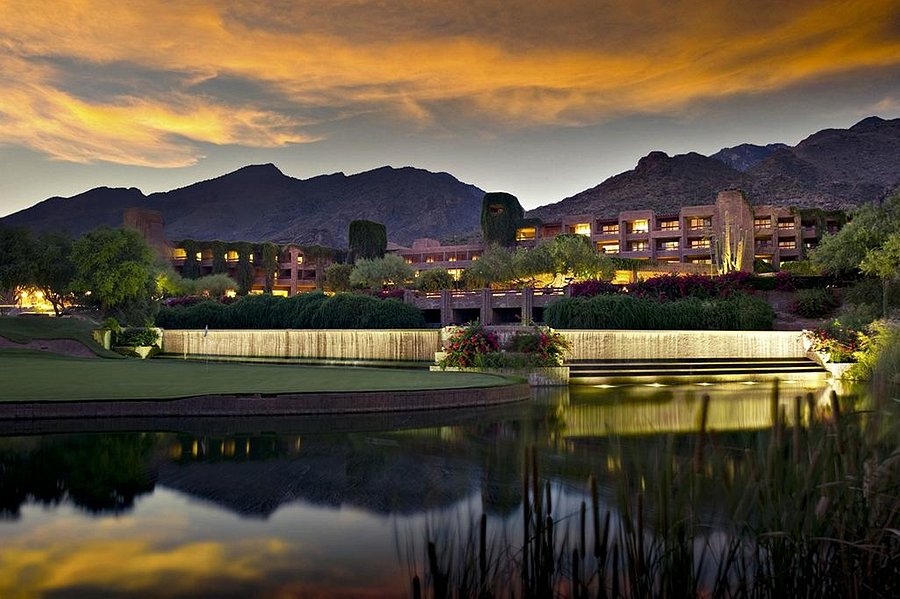 This 600-acre golf resort nestled in the Saint Catalina Mountains is a perfect luxury resort for any golf enthusiast. Guests at this lodge can access two 18-hole championship golf courses along the scenic mountain landscape.
Even if golf isn't for the whole family, plenty of family-friendly sports and entertainment throughout the grounds. The property also has tennis and pickleball courts, two full-sized pools, a shallow kiddie pool, a spa, and a restaurant.
After a long day of outdoor fun, you can continue to admire the views from your room. The suites feature kitchenettes, dining areas, and a private balcony or patio, where you can sit outside and see the mountains and desert vistas.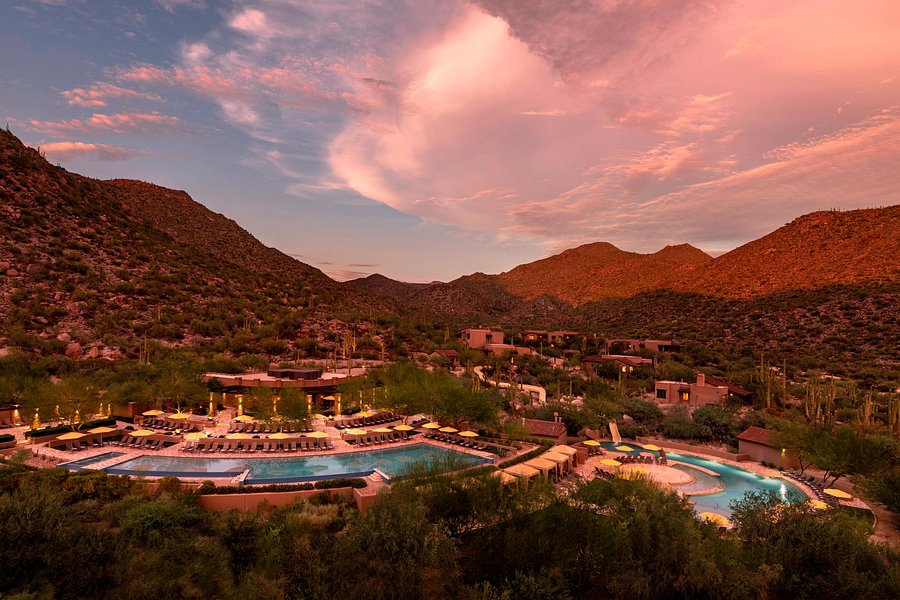 This secluded resort in the canyons of the Tortolita Mountains allows families to enjoy a quiet and peaceful retreat with plenty of family-friendly activities to participate in.
The casita rooms and suites all incorporate the scenery of the Arizona desert through natural materials and earth tones, and guests have access to a private terrace to view the mountain scenery from the comfort of their room.
Amenities include three golf courses, a luxury spa, multiple on-site restaurants, and three swimming pools, one of which has a 235-foot water slide.
The resort also offers significant recreational opportunities for families and children. You can play tennis, explore the 20 miles of hiking and biking trails, or participate in guided hiking and adventure programming.
The Ritz Carlton offers daily kid-specific activities with the Ritz Kids Ranger Program. Through games and outdoor adventures, kids learn more about deserts, wildlife, and the region's history.
For parents who want a quiet night out, children can attend the Ritz Kids Night Out, where they will be supervised for dinner, arts and crafts, a movie, or arcade games with other kids at the resort.
With both kids programming and family-friendly adventures, this resort allows families to fully experience an exciting and luxurious vacation with amenities that keep everyone happy and entertained.
More about our TFVG Author
A seasoned traveller, Dad, and avid sports tourist, James foundered The Family Vacation Guide to share his expert vacation experiences- especially when it comes to being a travelling family man.
Featured in Travel articles such as Travel + Leisure, TripSavvy and SFGate, you know you're reading some of the best vacation tips online.