If Arizona is at the top of your holiday destinations, then this article is for you.
Set amongst the gorgeous Arizonan landscape, these 11 hotels have something for everyone!
Whether you're planning a family vacation, romantic couples' getaway, or a guys' golf trip- there's a hotel in here for you!
Great Wolf Lodge Arizona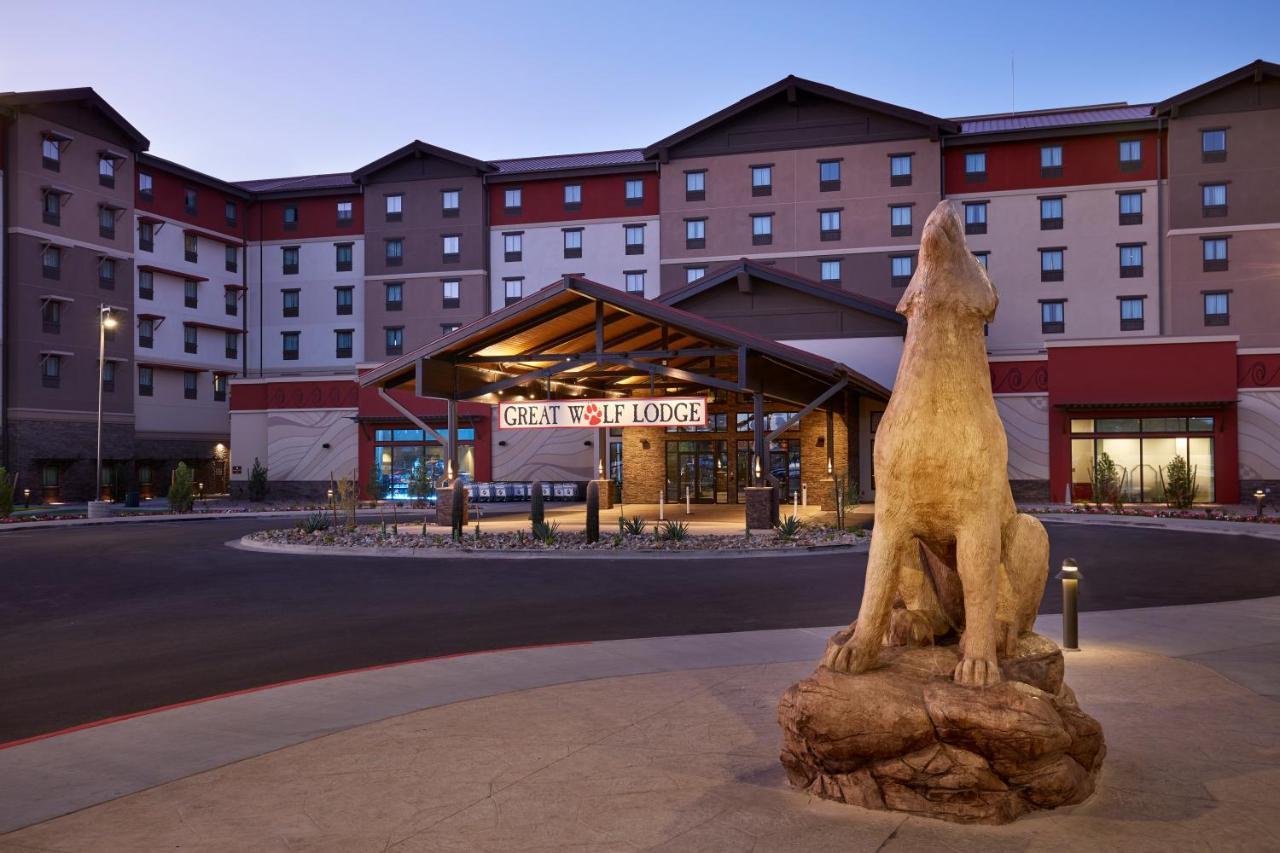 An outdoor adventurer's dream, the Great Wolf Lodge Arizona is a fantastic place to take the whole family.
Designed with children in mind, this lodge offers animal-themed rooms and suites for all ages.
Great Wolf Lodge's main event is its indoor waterpark.
Kids can spend all day playing in the multi-level splash-loaded treehouse, catching waves in the five-foot deep wave pool, floating down the lazy river, or riding down one of six exhilarating water slides.
However, the fun doesn't stop there.
Great Wolf Lodge also offers magical quests throughout the lodge, as well as a climbing wall, ten-pin-bowling, and mini golf!
Kids have the chance to build their own bears, undergo an interactive mining experience, play in the northern lights arcade, or challenge themselves to the Howlers Peak rope course. There truly are endless options here!
If you're after a relaxing vacation lying in the sun, Great Wolf Lodge Arizona probably won't tick every box.
However, for parents who want to treat their children to an activity-packed holiday, Great Wolf Lodge Arizona should definitely be at the top of the list.
One thing's certain: The kids will never be bored at this holiday lodge!
Westin Kierland Resort and Spa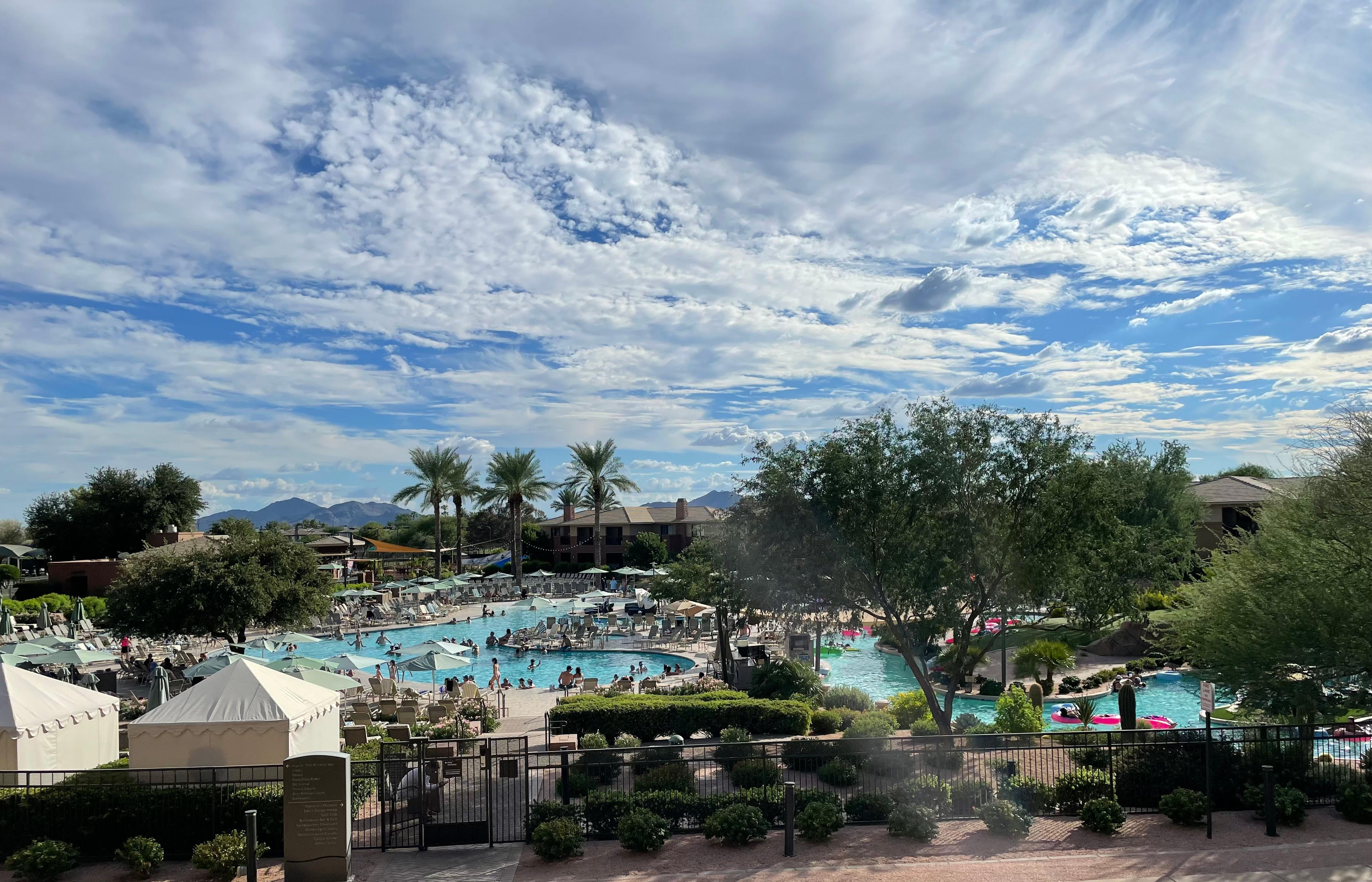 Perfectly positioned for day trips and exploration, this resort is a four-star destination that's ideal for the whole family. Westin Kierland Resort and Spa are 730 acres of world-class amenities.
Complete with an adventure water park for the kids, features include the Kierland FlowRider flow-board simulator that lets you surf in the desert, a lazy river, and a 110-foot-long water slide for you to ride down!
Plus, there's also a whirlpool and an adults-only pool for some relaxing away from your offspring.
Guests can also enjoy an award-winning eighteen-hole golf course, fitness studio, and full-service day spa and salon.
The resort also offers a 5K running concierge, complemented by yoga and mindfulness classes throughout each day.
If a waterpark isn't enough, Westin Kierland Resort and Spa has a family Kids Club to keep children busy all day long.
The resort is also located an easy walk away from Kierland Commons and Scottsdale Quart for a shopping excursion.
Westin Kierland Resort and Spa is truly a serene oasis waiting to be discovered. Perfect for families, guests will always find something to do when staying at this beautiful locale.
JW Marriott Desert Ridge Resort & Spa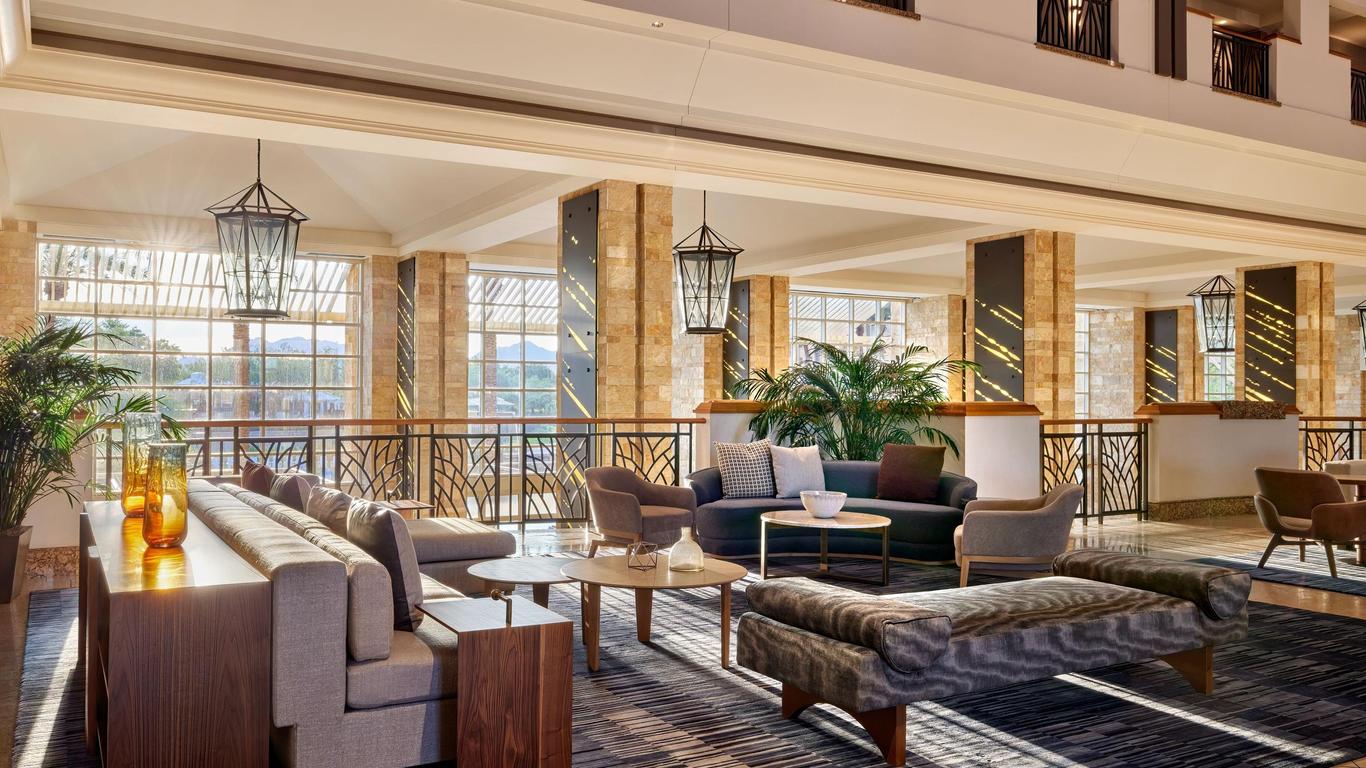 For a luxurious, family-friendly, and jam-packed stay, look no further than the JW Marriott Desert Ridge Resort & Spa. This AAA-Four Diamond award-winning resort has something for everyone!
Boasting five pools, seventeen pickleball courts, two eighteen-hole golf courses, and six restaurants, the JW Marriott Desert Ridge Resort & Spa really is fun for the whole family. Spend the day staying active, or relaxing by the pool- or do both!
Keep children occupied with the Kids Club, two whirlpools, a lazy river, and a serpentine water slide.
Day excursions of hiking and horseback riding are also available for some unforgettable family memories. Additionally, there's a babysitting service available to let parents have a break as well.
Parents after some peace and quiet can unwind at the full-service spa, and stay fit in the adult-only lap pool.
If you're after a day of relaxation by the pool, there are private cabanas (and even poolside suites) available for that extra touch of luxury.
At the end of a long day, choose between six spectacular restaurants- one of which features the flavors of celebrity chef Angelo Sosa at Tia Carmen.
You'll even be able to enjoy breathtaking vistas of the magnificent Sonoran Desert via floor-to-ceiling windows once you've retreated to your room! The JW Marriott Desert Ridge Resort & Spa really does have something for everyone.
The Wigwam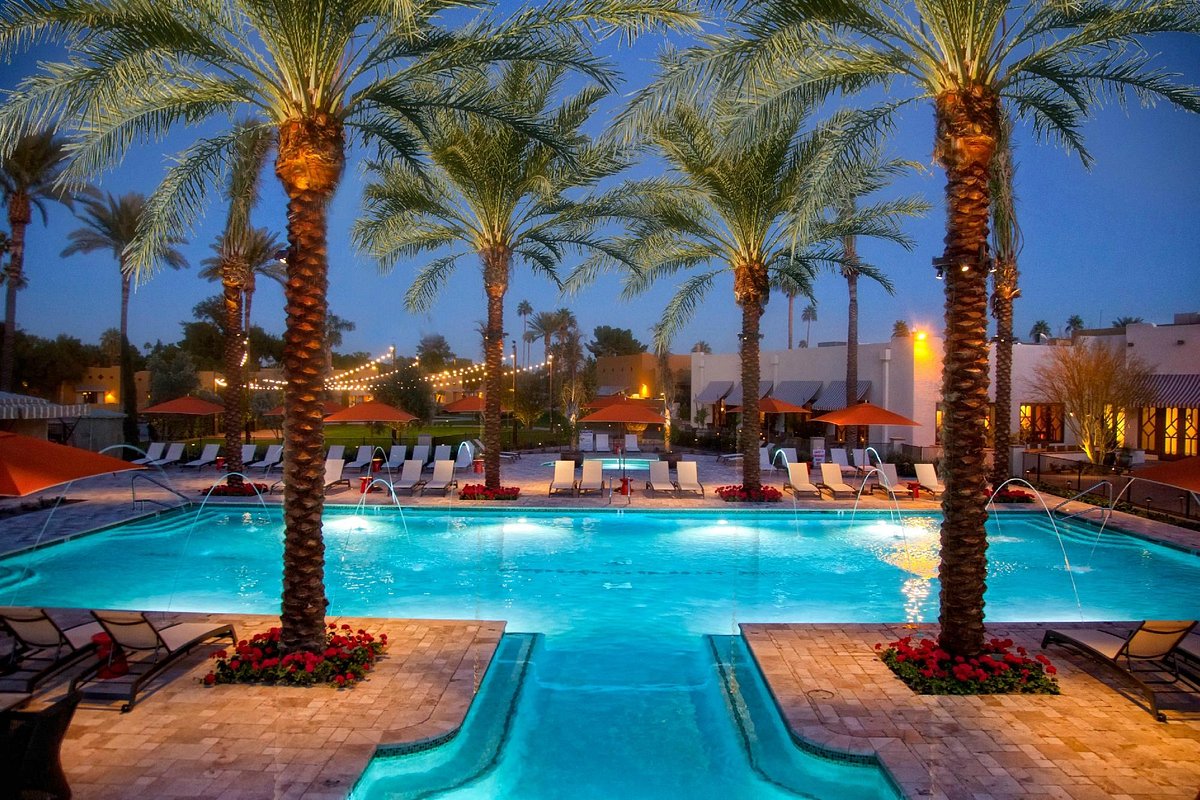 A slice of luxury in the Sonoran Desert, The Wigwam is an AAA Four Diamond retreat. Tucked in the Sonoran Desert, exquisite landscapes are reason enough to visit this opulent location.
Spend your days unwinding by one of three pools, and relax in a wonderful spa while sipping a poolside cocktail.
The kids can hang out at the tower pool, jumping into twisting water slides from the height of a 25-foot column! Meanwhile, parents can relish some peace and quiet in the grownups-only oasis pool.
For golfing enthusiasts, The Wigwam is the ideal retreat. Boasting three eighteen-hole courses, these championship-level grounds are the perfect place for guests to practice their swing and introduce the whole family to The Game.
The resort also offers four dining experiences, as well as a unique market to grab your morning coffee.
There's live music on offer at Litchfield's and Wigwam Bar, and poolside dining and famous burgers are also among the plentiful options.
Relax at the Lemond Aveda Salon, play a game of tennis, or take advantage of the fitness center. There's also a custom-built, regulation bocce ball court, bikes, and yard games for any and all outdoor aficionados.
The Wigwam is truly kitted out with all of the top amenities and experiences. Magnificent for families, it's an all-inclusive stay!
Arizona Grand Resort and Spa
Another lavish option that makes this list is the Arizona Grand Resort and Spa.
This AAA Four Diamond all-suite resort aims to provide guests with that "Home-away-from-home" experience.
Their Water Oasis has been voted by the Travel Channel as one of the country's top water parks- and with good reason.
This facility covers all the bases. Kids can splash around in their giant wave pool, slide down an eight-story water slide, and float through a 950 ft lazy river when they finally run out of energy.
Families can stay cool together in private poolside cabanas before heading to the next round of fun!
Children shouldn't be the only ones enjoying themselves, and the Arizona Grand Resort and Spa offer an adults-only heated pool for parents to soak away their stresses.
Located right by the idyllic South Mountain Preserve, Arizona Grand Resort and Spa offer guests gorgeous views and spacious rooms.
Guests can spend the day being pampered at the Arizona Grand Spa, and finish off a hectic itinerary with delicious cuisine from one of six delicious dining options.
Make sure to get your daily steps in at Arizona Grand Resort and Spa's 20,000-square-foot athletic club! Voted one of the Top 10 Fitness Facilities in the State, this athletic club offers the latest training equipment for all guests.
A truly luxurious stay awaits you at the Arizona Grand Resort and Spa!
Arizona Biltmore, A Waldorf Astoria Resort
Arizona Biltmore, A Waldorf Astoria Resort is a glamorous treasure trove of activities and excitement.
With an extensive events calendar, guests can enjoy the full Waldorf Astoria Resort experience!
An undeniable standout of your stay will be the Paradise pool and Twist water slide- aptly monikered"A pool for the whole family".
The Twist water slide is a dual racing slide, with an extraordinary loop shape and towering top platform to provide ultimate thrills!
There's also a triple waterslide, splash pad, swim-up bar, hot tub, air-conditioned cabanas, and poolside rooms for you to enjoy.
Guests will feel absolutely spoiled for choice with seven swimming pools, a full-service spa and salon, a state-of-the-art fitness center, seven restaurants, two golf courses, and five retail shops.
With all of it within the picturesque grounds of Arizona Biltmore, A Waldorf Astoria Resort, it really is a dream holiday destination!
London Bridge Resort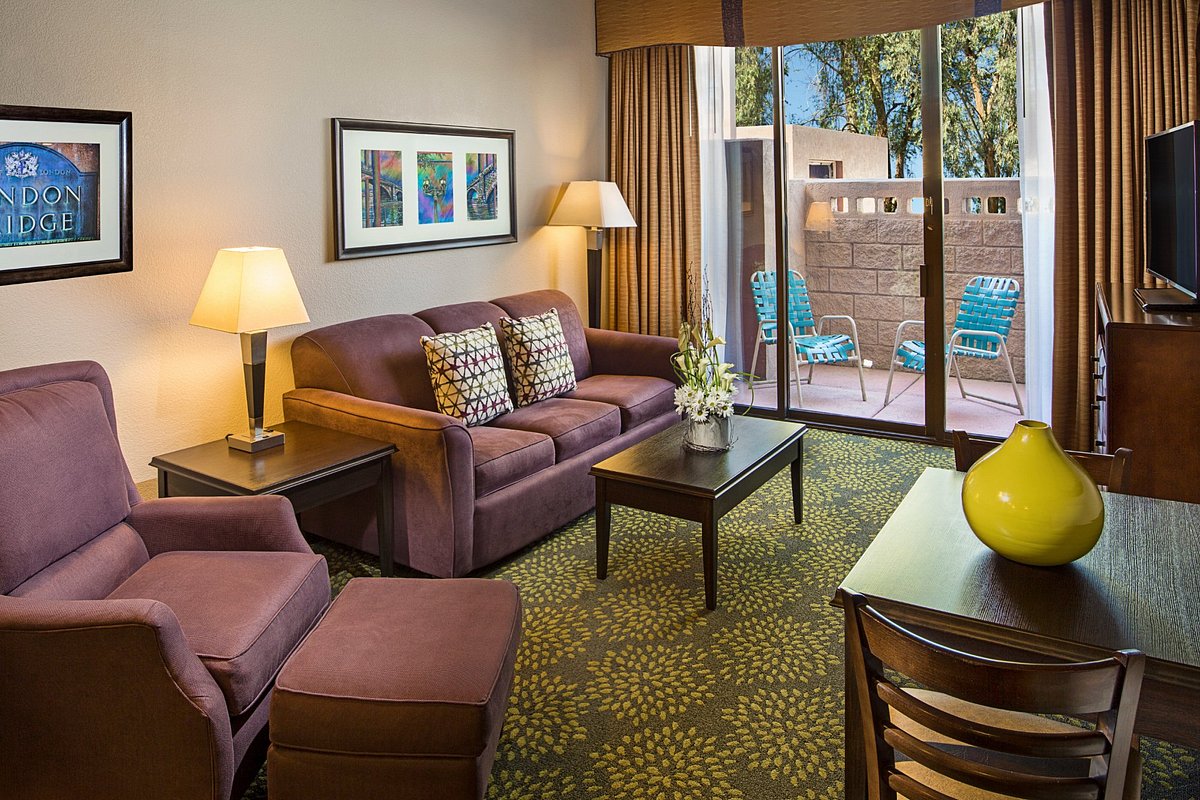 Set by Lake Havasu, the London Bridge Resort offers an experience like no other. Unmatched views, resort-style rooms, and an extensive list of activities are on offer for guests who stay here.
The resort boasts three swimming pools, and kids can hang out in one of two family fun pools located on the splash pool deck, or relax in the hot tub.
To top it off, the splash pool deck also features a 94-foot water slide! Water adventures don't stop there: The onsite marina has boat equipment for rent, which includes jet skis(!) and canoes.
Enjoy Jeep tours through the Sonoran Desert, or spend the day shopping at Uptown McCulloch Main Street District, the English Village, and the shops at Lake Havasu.
Visit the London Bridge Day Spa inside the English Village for a well-deserved day in, or go for a rewarding hike in the mountains!
London Bridge Resort has a fully-equipped fitness center to ensure guests keep fit during their stay.
You'll also have access to a nine-hole golf course, marina, and awesome nightlife at Kokomo Havasu.
There's a wonderful selection of restaurants, casual poolside dining, and a pizzeria amongst other delicious options.
Finally, a very thoughtful addition to every room is the kitchenette- giving guests the ability to prepare light meals by themselves!
Hilton Phoenix Tapatio Cliffs Resort
The Hilton Phoenix Tapatio Cliffs Resort is perfect if you're looking for a mountainside getaway.
Set amongst the beautiful Tapatio Cliffs, this resort offers stunning views and activities for the whole family.
The resort features an award-winning golf club, with stunning views of the Sonoran desert and lush Phoenix North Mountains.
There are four beautiful restaurants, including an outdoor café offering guests snacks and cocktails by the water, as well as an AAA Four Diamond restaurant with a breathtaking panoramic view of the Arizonian landscape.
For some fun in the sun with the family, look no further than The Falls Water Village!
Explore acres worth of pools, enjoy scenic waterfalls, and fall asleep under sun-drenched terraces.
Children can adventure down the 138-foot enclosed water slide, and splash around in sparkling, free-form pools.
Treat yourself to the full-service spa packages and salon services on offer, and stay active in the fully equipped fitness center!
The activities don't stop there, as the Hilton Phoenix Tapatio also has guided hikes, poolside yoga, and hourly poolside games to keep you busy till your checkout day.
Hyatt Regency Scottsdale Resort and Spa
It's the Hyatt Regency Scottsdale Resort and Spa's combination of luxury and family-friendly fun that makes it one of the best holiday destinations in the state.
Nestled amongst the McDowell Mountains, this destination resort is designed with adventure in mind.
Kids can splash around in the 2.5-acre "Water playground," complete with 10 pools to explore, a 3-story high-speed waterslide, and a white sand beach.
The Hyatt Regency Scottsdale Resort and Spa also offers pet-friendly accommodation to bring any furry family members along on holiday, and it provides guests exclusive access to the Gainey Ranch Golf Club.
In the daytime, guests can stay active by playing tennis, touch up on their golf skills with 1:1 lessons, or let out some energy by climbing the 28 feet high Rock Climbing Wall!
Five wonderful restaurants are available at the resort.
During the day, guests can enjoy food and cocktails by the pool from the H2Oasis and The Grotto. Once the sun goes down, enjoy live music with their meal at Canyon Market, or dine on delicious authentic Japanese cuisine at Noh.
A great destination for families and couples alike, Hyatt Regency Scottsdale Resort and Spa offers nothing but the very best!
Pointe Hilton Squaw Peak Resort
Hilton Phoenix Resort at the Peak (formerly Pointe Hilton Squaw Peak Resort) is just a short drive away from Phoenix Mountains Preserve.
The star attraction of this resort is the four-acre River Ranch Water Park. This water park comes complete with waterslides, water features, and a lazy river!
You can pick up a poolside snack from Slim Pickens and relax away from the sun in an airy cabana.
Guests can rest at the Tocasierra Spa, or choose to have a workout at the Phoenix Health Club. There are also three restaurants to choose from at the end of each busy day.
Regarding other activities, the resort also offers mini golf and is just a short distance from some beautiful hiking tracks.
A stay at the Hilton Phoenix Resort at the Peak will delight children and adults alike!
The Phoenician, a Luxury Collection Resort
The Phoenician is as luxurious as its name suggests.
This AA Five Diamond resort has nine different dining options, an eighteen-hole golf course, and a Kids Club to keep the little ones entertained!
A large collection of pools awaits the resort's sun-soaked guests. There's a kid's zone with a treehouse, swaying bridge, and sails included- not to mention the 197 ft twisting water slide!
A true oasis, The Phoenician also has private cabanas and a complex complete with a tranquil Mother-of-Pearl pool. Best of all, these water activities are set against the beautiful backdrop of the idyllic Camelback Mountain.
For the adults who deserve some time to themselves: Send your kids to the Funicians Club for the day, and while away the hours on the eighteen-hole golf course or at the full-service spa! Luxury awaits.
More about our TFVG Author