Don't let the name fool you; Pismo Beach in California is a city, not a beach. The town is a collection of beaches, wineries, shops, and parks-everything you need for a great vacation. Pismo Beach spreads the length of California's Central Coast, offering visitors a wide array of terrains. Hoping to hit the beach? Pismo's got you. Are you looking for somewhere green to relax? There's a Pismo park for that.
We've collected the 16 best beaches in Pismo Beach to help you plan your California vacation.
Dinosaur Caves Park
Don't be frightened by the name; there's no danger at this Jurassic park.
The best park for land lovers, Dinosaur Caves has no water access but still provides beautiful views of the ocean below.
The Park covers 11 acres and sits on top of a bluff.
With its unique statuettes and equipment, the playground will delight children of all ages. The park contains:
A dinosaur statue
Two dolphin statues
Three dinosaur egg statues
Three seal statues
A tire swing
A tot swing
The USS Imagination
Dinosaur Caves provide excellent opportunities for:
Walking
Photography
Jogging
Fishing
Visitors praise Dinosaur Cave's scenic views, located on idyllic walking trails.
The Park is grassy, with plenty of trails for hiking, walking, and enjoying the scenery. Visitors can easily hike down to the water after enjoying the attraction.
Dinosaur Caves Park provides picnic tables for snacks and pleasant outdoor lunches.
The Park is close to fellow listed parks, Margo Dodd, Eldwayen, and Elmer Ross Beach, so visitors can take in several locations in one day.
Dinosaur Caves has restrooms and free parking.
Address: 2701 Price Street, Pismo Beach, CA
Elmer Ross Beach
Elmer Ross Beach keeps it simple in the best possible way.
Located in Pismo Beach's Shell Beach neighborhood, Elmer Ross is sometimes called Shelter Cove. This alternate name is a nod towards the fact that waves don't break violently at Elmer Ross Beach, owing to the protection afforded by rocky crags.
Elmer Ross is hidden beneath a sharp bluff and has stairs and ramps that lead to the beach.
Visitors enjoy the beautiful, scenic views the park offers.
At low tide, Emler Ross has tide pools and caves to explore.
Bring along snacks to enjoy in the gazebo, where you can enjoy the scenic view of the beach.
The beach sits beneath large cliffs, allowing leashed dogs to wander the sandy shores.
Address: 2651 Price Street, Pismo Beach, CA
Spyglass Park
Spyglass Park is a tiny treasure. Only 4.5 acres, the attraction has:
Parking
A playground
A grassy area
Restrooms
Picnic tables
Accessible facilities
Spyglass offers beautiful ocean views as well as access to tide pools, caves, and a mile and a half of beach.
The blufftop park is located in Shell Beach.
The beach isn't accessible at high tide, but when the tide is out, the tide pools are fun for the whole family to explore.
Simple but charming, Spyglass Park is seldom crowded. It is an excellent place for families to spend a quiet day picnicking and exploring.
The Park provides visitors with:
Picnic Tables
Barbecues
Restrooms
Benches
Address: 2549 Spyglass Dr., Pismo Beach, CA
Spiral Staircase Beach Access
Spiral Staircase Beach Access is the most visually arresting beach on our list. What could be more whimsical than a staircase leading to nowhere?
Something of a hidden treasure, Spiral Staircase Beach Access is only accessible by kayak.
The titular staircase was damaged by storms and is no longer usable.
The beach vanishes beneath the high tide, but Spiral Staircase Beach Access provides access to sea caves during its usable hours.
Also called the "Stairway to Nowhere," Weird California and Roadside America both cite the Spiral Staircase Beach Access as a unique visit.
A strange and anachronistic site, the spiral stairs reach high into the sky.
Address: 2575 Price Street, CA
Silver Shoals Park
We return to the Shell Beach area to check in at Silver Shoals Park, a green area with beautiful views.
The descent to the beach is steep, so plan accordingly.
Wait until the tide is out and explore Silver Shoals' myriad tide pools or just take in an ocean breeze while you stroll the Shell Beach sands.
Between its tables and barbecues, the Park is equipped for all your picnic needs. Leashed pups are welcome to enjoy the day with their families.
Check out Silver Shoals Park for:
Tide Pools
Picnics
Photography
Address: Shell Beach Road and North Silver Shoals Drive, Pismo Beach, California
Eldwaylen Ocean Park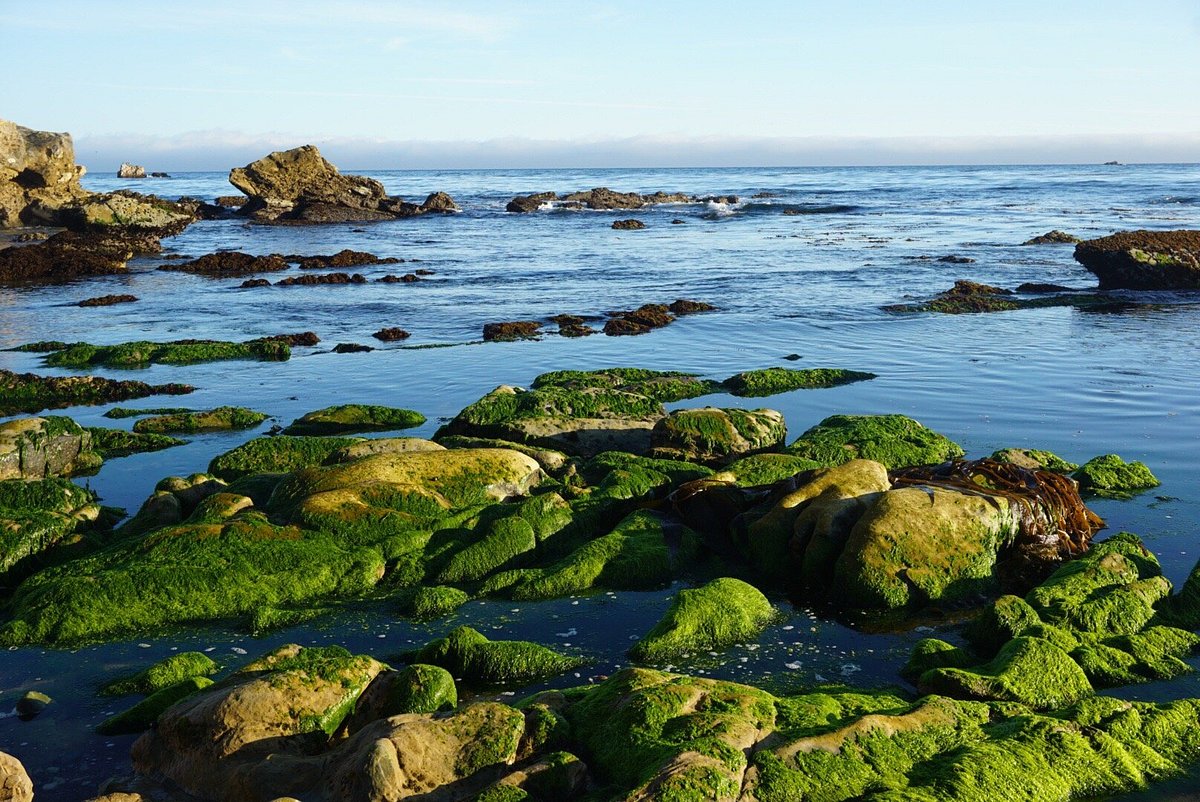 A simple staircase separates Eldwaylen Ocean Park from the sandy shores of Shell Beach. Relax at the one-and-a-half-mile grassy park, then descend the stairs to explore tidepools.
Kayakers love to depart from Eldwaylen's narrow shores to better explore the caves and inlets. 
Eldwaylen has ample free street parking and permits your four-legged buddies, provided you keep them leashed.
Bring your dinner because the Park provides:
Picnic Tables
Benches
Barbecues
Address: Ocean Boulevard and Morro Avenue, Pismo Beach, California
Memory Park
Memory Park is an excellent spot for those who appreciate the image of each more than the sand and the water. The rocky cliffs prevent visitors from accessing the shoreline but not from enjoying its sight.
Bring your lunch to the grassy Park and watch the water as you feast at one of the picnic tables. Should you decide that you'd like to enjoy the beach, simply walk over to Spyglass Park or Eldwayen Ocean Park for beach access.
Also called Point Vista, Memory Park provides:
Picnic Tables
Barbecues
Benches
Bring your furry friends-Memory Park is open to dogs as well as humans.
Address: Seacliff Drive, Pismo Beach, California
Margo Dodd Park
Margo Dodd Park is a photographer's dream come true. The picturesque Park sits on top of bluffs, overlooking the ocean. Fancy up your Instagram page with shots of:
Wildlife
Landscape
Marine Life
Once you've taken all the pictures you want, use the beach access to visit the tidepools and try some snorkeling.
Margo Dodd Park offers excellent opportunities for birdwatching. The Park also offers:
Picnic Tables
Benches
A Gazebo
Rock Arches
Address: Ocean Boulevard and Seaview Avenue, Pismo Beach, California
South Palisades Park
You can't beat a classic, and South Palisades Parks is as classic as they come. Green, scenic, and ideally located, South Palisades offers visitors beautiful views and convenient beach access.
The Park is one mile long and perfect for leisurely strolls. Sitting atop bluffs, South Palisades overlooks the water, offering ample opportunity for photography and simply enjoying the area's natural beauty.
The beach is easily accessible via a centrally located staircase. Descend the steps to enjoy unusual rock formations and tide pools.
The Park offers:
Picnic Tables
Hiking Paths
Benches
Leash up your dogs for a walk along the bluffs.
Address: Beachcomber Drive, Pismo Beach, California
Ebb Tide Park
If you're looking for quiet and serenity, Ebb Tide Park is the place for you. The secluded little spot hides behind townhouses while still providing a calming ocean view.
Ebb Tide is the picture of simplicity. With some grass, some trees, and a scenic view, the Park is an oasis for those seeking a peaceful place to hide out. Edd Tide is near Spyglass Park and Dinosaur Caves Park, so you can hop over to either location when you finish your meditation.
Address: 319 Ebb Tide Lane, Pismo Beach, California
Vista Del Mar Beach
Vista Del Mar Beach makes you work for it, but the rewards outweigh the cost. Vista Del Mar Beach is a quiet, narrow shoreline where visitors can enjoy pleasant strolls or explore the rocky terrain.
However, reaching the sand requires a little effort. Visitors must hike down a trail, walk over railroad tracks, then head down a bluff. Parking is free, but leave your pups at home. Visitors seeking out variety can easily walk to either San Onofre Beach or Gaviota State Beach from Vista Del Mar.
Address: 300 Vista Del Mar Avenue, Pismo Beach, California
Wilmar Stairs Access-Pismo Beach
Wilmar Stairs Access may test your cardio, but enjoying the hidden treasures is worth the extra effort. White cliff walls, secret coves, and powdery sands all sit at the bottom of the wooden staircase.
The Pismo Beach Pier is a mere hop, skip and jump away from the Stairs, so if you tire of that area, you can visit without moving your car. Speaking of cars, Wilmar Stairs access has plenty of free street parking available.
The Wilmar Stars section of Pismo beach is quieter and more isolated, allowing plenty of privacy for sunbathers and beach strollers. Feel free to bring your leashed dog for a pleasant walk on the sand.
Address: 305 Wilmar Avenue, Pismo Beach, California
North Beach-Pismo State Beach
Pack your tents and coolers, we're headed to North Beach-Pismo State Beach! While there, check out the nearby butterfly colony. The campground is conveniently located near beaches, the Pismo Beach Pier, and a boardwalk.
Pismo offers plenty of activities for the intrepid camper or the passing day visitor, including:
Clam-digging
Fishing
Hiking
Kiteboarding
Walking
Hiking
Birdwatching
Surfing
There is a nominal fee to camp, but day visits are free. Bring your pups along so they can enjoy the sunshine too, but make sure to keep them on their leashes.
Pismo provides:
Bathroom
Showers
Walking trails
Address: 399 South Dolliver Street, Pismo Beach, California
Pismo Beach Pier Beach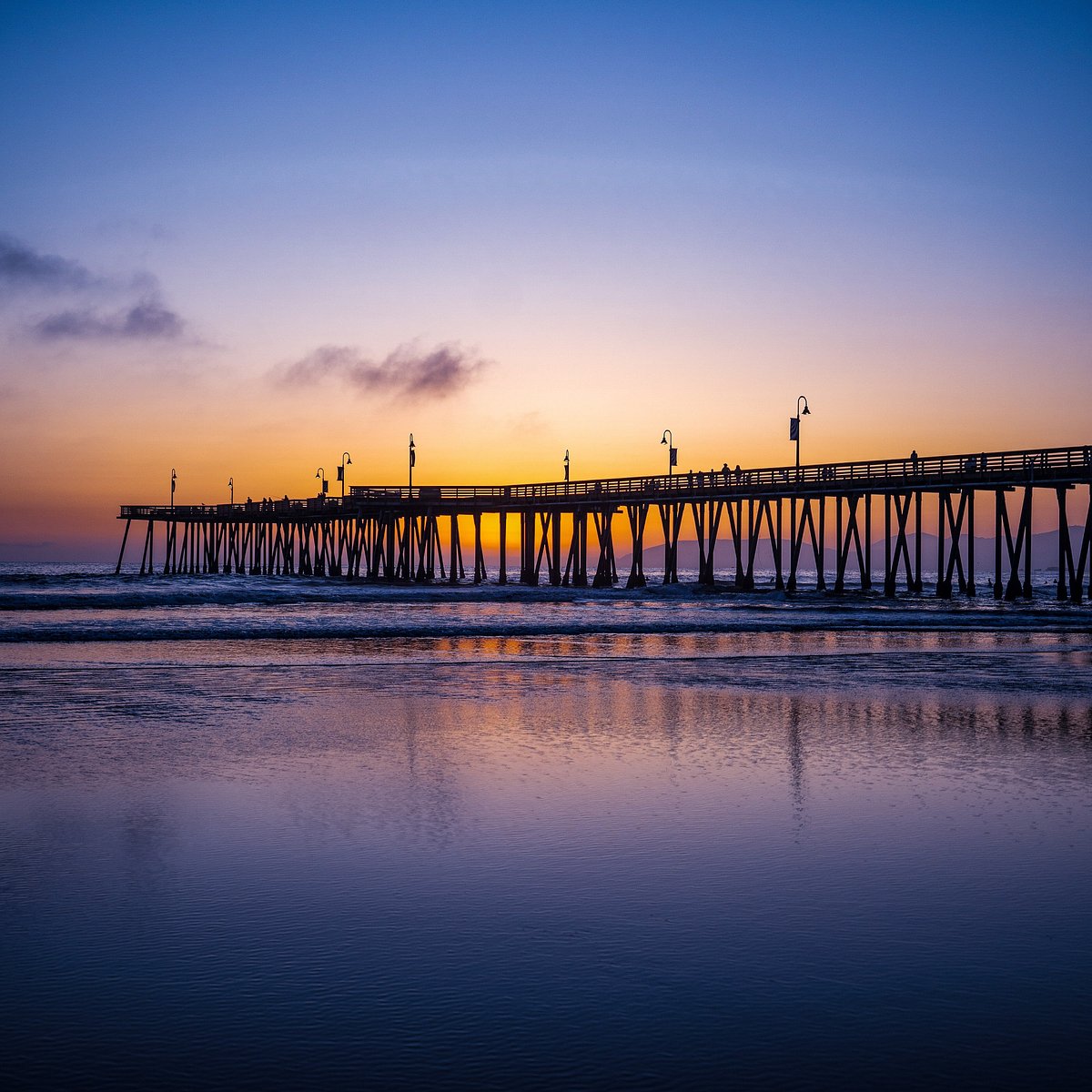 Can't decide how you want to spend your day? Don't worry; Pismo Beach Pier Beach has you covered. Besides the titular pier, this beach is teeming with activities and opportunities. Visitors can do everything from simply strolling to digging for clams.
Folks hoping for a variety of activities need to look no further than Pismo Beach. While there, you can:
Surf
Fish
Bodyboard
Paddleboard
Play volleyball
Walk the beach
Sunbathe
Swim
Kiteboard
Birdwatch
Clam dig
A boardwalk abuts Pier Beach, and visitors can walk its lengths. The attraction offers showers, so you don't have to walk around covered in the sand all day. Additionally, Pier Beach provides visitors with:
Picnic tables
Restrooms
A Lifeguard
Volleyball Courts
A playground
Benches
Leashed pups are welcome to frolic on the beach but must stay off the pier.
Address: Pomeroy Avenue and Cypress Street, Pismo Beach, California
Avila Beach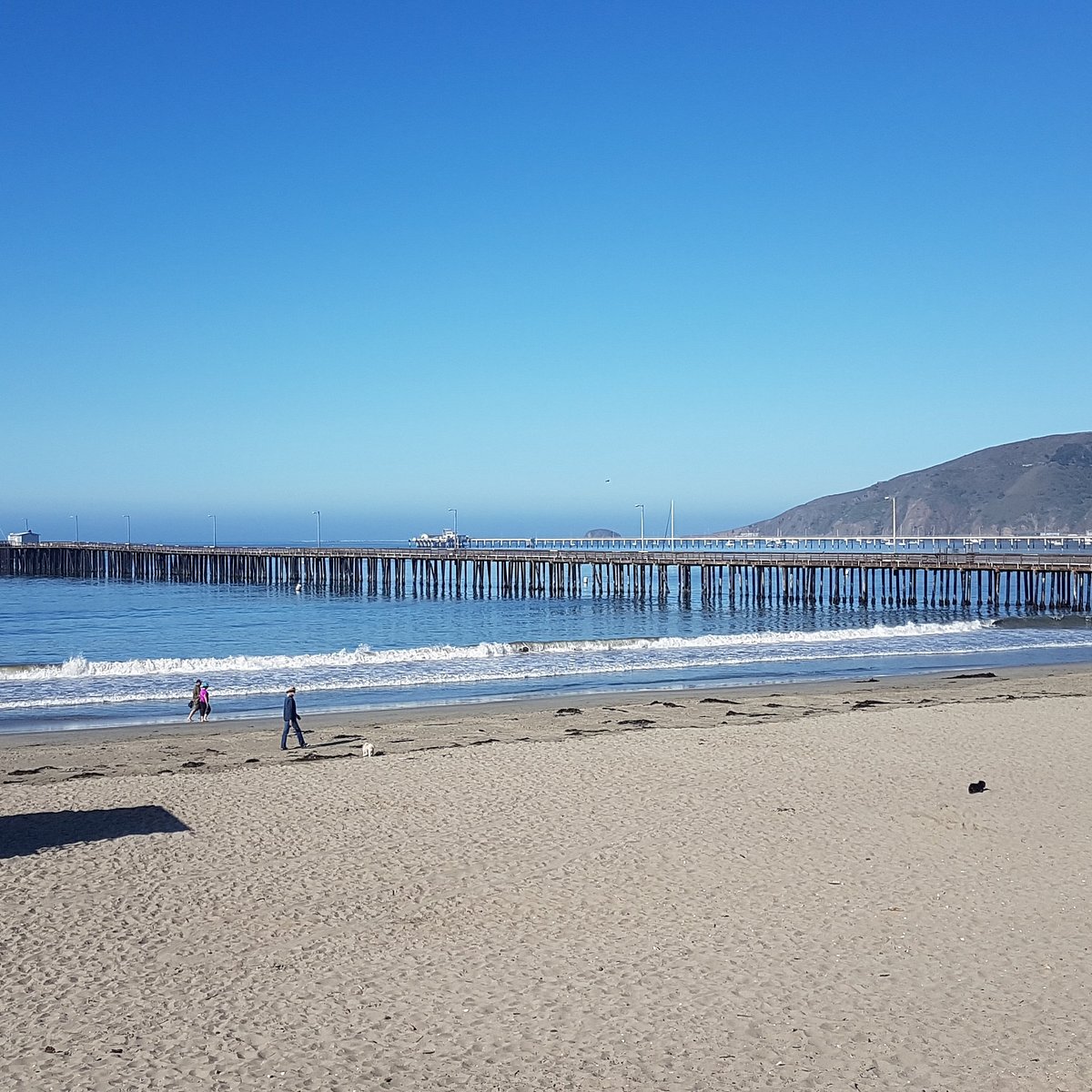 By far the largest beach on our list, Avila covers an entire town's waterfront. Avila has something for everyone. Those hoping to swim and walk the beach have plenty of real estate to do so.
However, Avila offers many other activities if sunbathing and the backstroke aren't your speed. Grab your fishing rod because the sport is allowed, even without a license. Not into fishing?
Visitors can also:
Play volleyball
Play basketball
Bike
Skate
If your furry buddy is on vacation with you, only bring them leased before 10 am or after 5 pm. Avila Beach provides visitors with:
Restrooms
Lifeguards
Picnic Tables
Barbecues
Shops
A Basketball Court
An Aquarium
Make sure to check out the pirate-themed playground for all-ages fun.
Address: Front Street and San Francisco Street, Avila Beach, California
Pirate's Cove Beach
Bring extra sunblock and leave the kids at home because Pirate's Cove Beach is clothing optional. Pirate's Cove isn't for everyone. However, the beach holds many natural wonders for the intrepid few who brave its shores.
Pirate's Cove is rife with sea caves and walking trails. The walk to the beach is steep and challenging, so prepare to put in some effort. However, the hike is worth it to reach a temperate, weather-protected beach with beautiful tide pools to explore.
If you are hoping to achieve an all-over tan, you can't do better than Pirate's Cove Beach. Just watch out for four-legged friends; dogs are allowed on leashes.
Address: Ocean Boulevard and Heliotrope Avenue, Newport Beach, California
Conclusion
Pismo Beach has a park or beach for every need. Whether you're hoping to simply relax somewhere green or planning to surf, you can find a Pismo beach location for every activity. The California city offers something to every visitor. Plan carefully, and you can visit every beach and Park and enjoy your stay!
More about our TFVG Author