Southern California is full of fun family attractions, beautiful natural spaces, and vibrant, exciting cities. A family can easily spend a week or more in SoCal and not even scratch the surface of all that the region has to offer.
After looking through all the options available, we've put together a list of 12 of the best family resorts in Southern California. Each one has something great to offer. You and your family are sure to pack away some great times and fantastic memories at any one of these resorts. Pair this with one of our fabulous family vacation ideas for Southern California and we're sure you'll make memories that will be cherished for many years to come.
On the other hand, if you've not yet decided where to head, you might find our guide to the best family resorts in California a great read!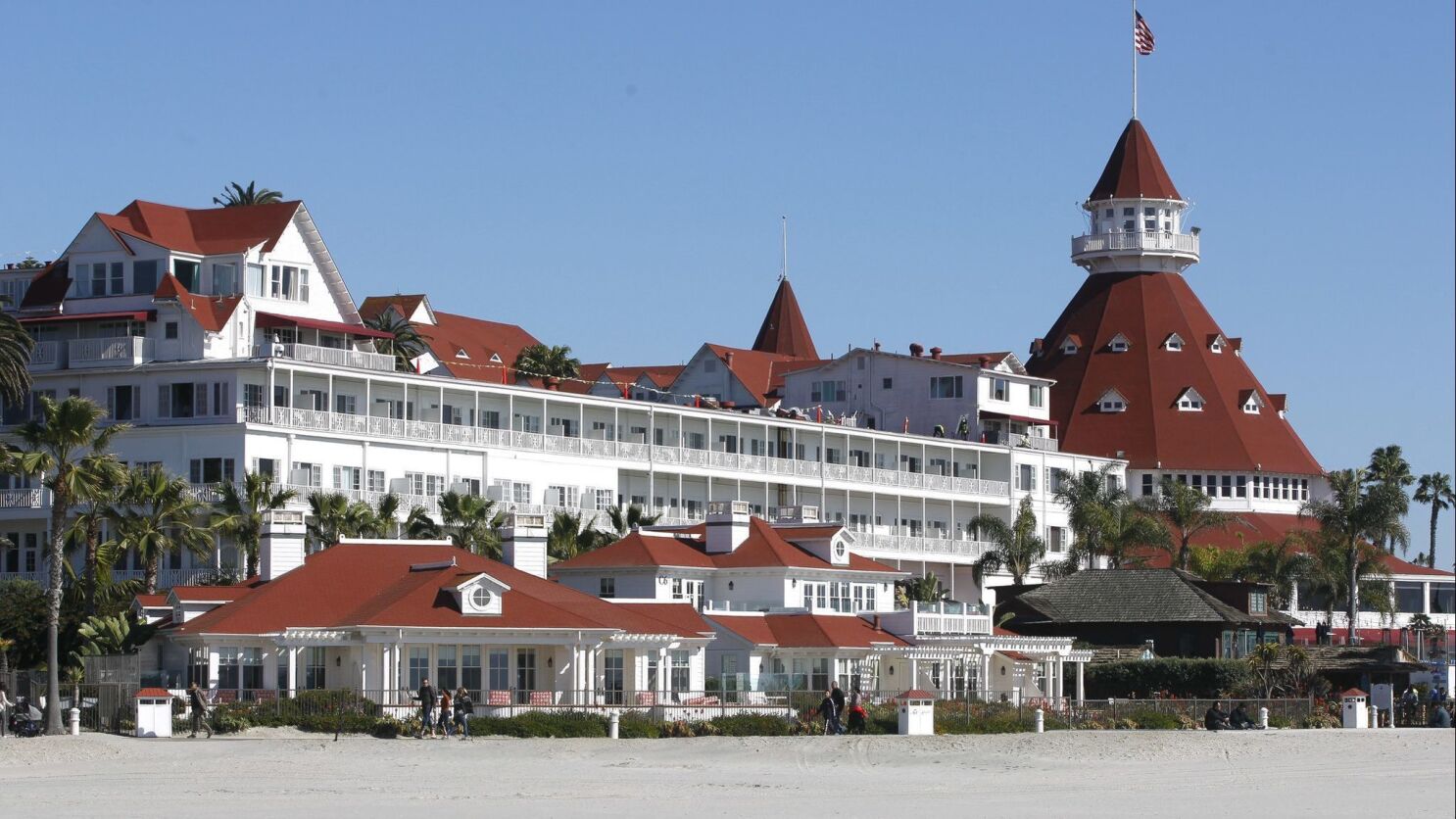 Built in 1888, the Hotel Del Coronado will transport you back in time while still offering all the luxuries of modern-day resort life. It sits on Coronado Island in the San Diego Bay and is a genuine Victorian masterpiece.
For over 130 years, celebrities, heads of state, and titans of industry have come to relax and unwind in its scenic beauty and stately grandeur. Its private beach stretches along the pacific ocean to the west, and to the east is a panoramic view of San Diego.
Everyone in your family will find something to capture their imagination. From surf lessons taught by professional surfers to ghost tours of the main lodge to the fascinating Ice House Museum, Hotel Del Coronado truly has something for everyone.
You can enjoy a spa day at their world-class facility, relax by the pool or explore the expansive grounds and historic buildings. In the evening, wander down to the beach for the nightly bonfire, a hotel tradition.
It's also the perfect spot to land for easy access to all that San Diego offers. Hotel Coronado blends beauty, fun, history, and abundant amenities into every stay.
If getting out and being active (while still getting pampered like royalty) is your family's thing, then Omni La Costa Resort and Spa Carlsbad is worth a look. Located just north of San Diego in Carlsbad, California, Omni La Costa is geared for active fun in the sun.
The Spanish mission-style resort offers two golf courses, abundant tennis courts, and no less than eight pool areas. You can trek over to Swami State Beach to check out the tide pools at low tide. You can go shopping at their enclave of boutique shops or pop into town and check out the farmers market.
The resort has a world-class spa and six different dining experiences, from a high-end steak house to a grab-n-go bistro. It's a short ride to San Diego to the south, and to the north, you are within an hour's drive to Disneyland, LEGOLAND, Knotts Berry Farm, and more.
As for luxury, The Omni La Costa Resort and Spa has you covered. From their standard luxury studio to their 1,800 square-foot deluxe villa, all their rooms offer the finest comforts. If Luxury and outdoor activities are what you like, look no further.
Why not plan ahead for your vacation and check out our handy guide to the best family activities and fun family day trips in Southern California?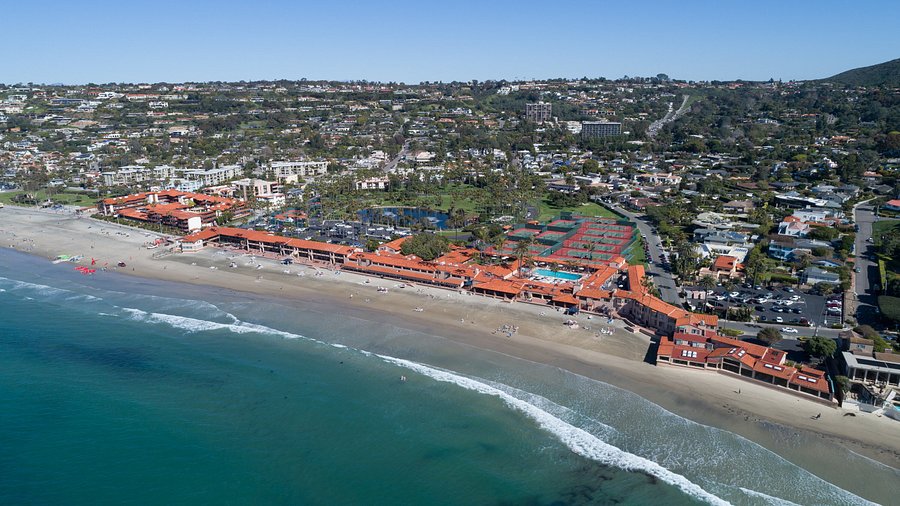 The La Jolla Beach and Tennis Club is an absolute classic. Situated right on the beach just north of San Diego in La Jolla, California, its 80-year history gives it a feel like a west coast version of the Catskills resort experience.
Tennis is the main but by no means the only attraction here. You can immerse yourself with lessons and matches, and they employ a staff of USPTA pros to help you get the most out of your game.
Apart from tennis, the resort also provides the ultimate California beach experience. With rooms available that open up to the sand, you have access to one of California's most beautiful beaches.
They offer all sorts of beach amenities, including setting up your own private beach barbeque. They do all the shopping and set up, and you relax and enjoy the fun.
If you are looking for a more upscale dining experience, you can book a table at the Michelin-rated Marine Room, a landmark of SoCal dining.
They also offer an excellent menu at the Club dining room, where you can enjoy fantastic cuisine on the poolside patio. For more casual fare, cruise down to the Shores beach cafe for burgers and sodas.
The La Jolla Beach and Tennis Club is a true and pure California experience.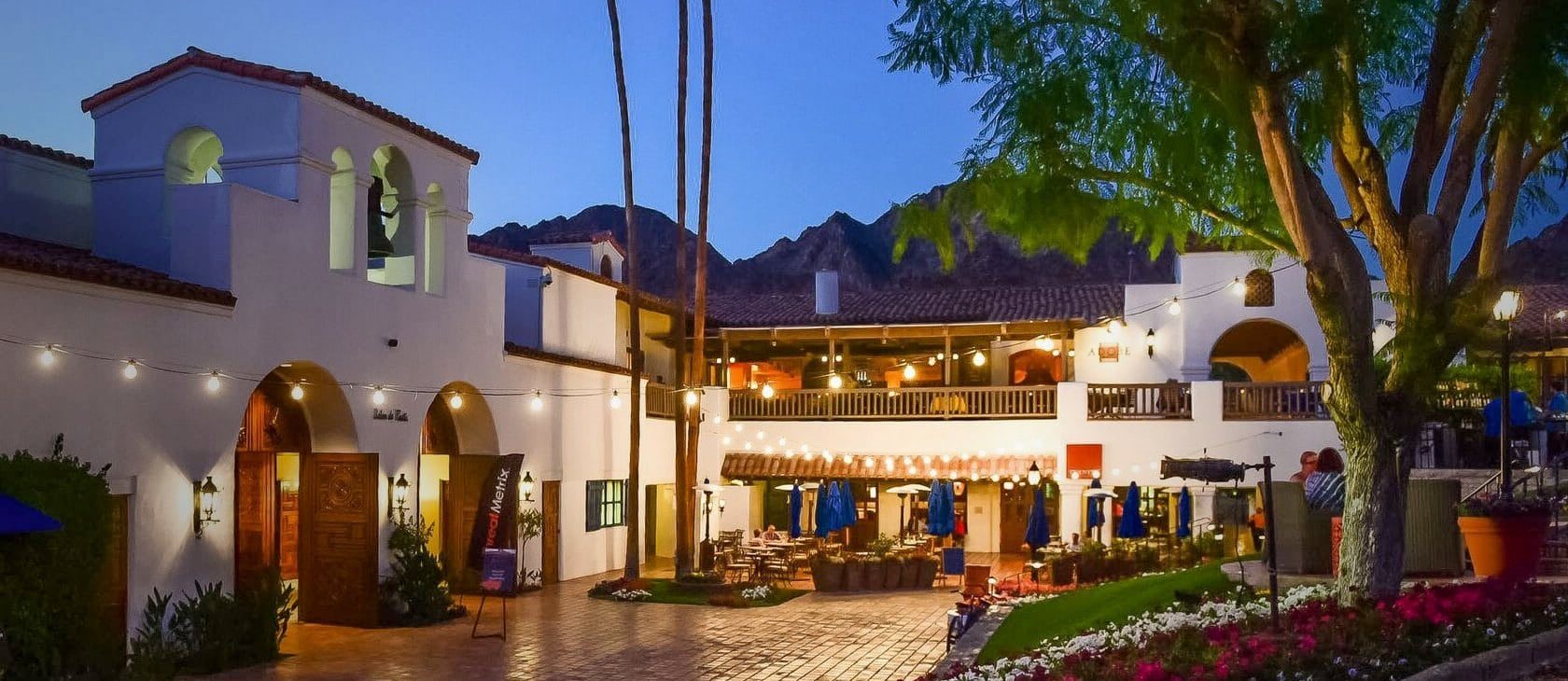 Open and airy in the Striking California desert, the La Quinta Resort and Spa Palm Springs truly is an oasis in the desert. The stark beauty of the palm desert surrounds this gorgeous resort, which features, among other things, an unreal 41 pools, four golf courses, and five restaurants.
The spa and fitness facilities can take you from relaxation and rejuvenation to full-bore workouts. The pool experience offers something for everyone.
Find family fun at the kids' pool, enjoy the 21+ pool with its signature cocktail bar, get a good workout at the lap pool, or find your own personal oasis in one of the abundant Casita pools located throughout the resort.
Dining here is an expansive experience as well. It can be as casual as grabbing something from the in-house marketplace to the comfort food of the Twenty6 Diner to booking a table at the refined Morgans in the Desert.
Palm Springs always has the right weather for outdoor activities, and at La Quinta Resort and Spa Palm Springs, you can get a tee time at any of the four award-winning golf courses. Or, if you are looking to get your tennis game on, La Quinta Resort offers award-winning tennis courts and instruction, as well as eight pickleball courts for family fun.
It's also conveniently located to take advantage of Palm Springs and all that the palm desert area has to offer. It is simply a great desert getaway for the family.
Within reach of Los Angeles and Hollywood, and yet it feels like a world away from the busy noise of the modern world. The Terranea Resort is the perfect place for families who want to immerse themselves in the natural beauty of the Southern California Pacific landscape.
This resort is situated on 102 breathtaking acres on a bluff overlooking the Pacific Ocean.
An attitude of mindfulness towards nature and the ecosystem is the foundation of the luxurious experience at Terranea. After all, the experience focuses on appreciating the grounds as much as the comfort and luxury of the resort. At Terranea, it's all about adventure and discovery.
Enjoy the secluded cove beach or discover the natural wonders around you on a guided nature hike. Visit the Experience Center to book a wide range of outdoor activities for all ages, including art camps, archery, tide pool tours, paddleboarding, and kayaking, just to name a few.
One of the truly magical things about Terranea is that it's at once a place of utter seclusion and natural wonder, while at the same time having the urban attractions of Disneyland, Hollywood, Santa Monica Pier, and countless other destinations within easy reach.
A great blend of both worlds with loads of family-friendly activities both within and outside of the resort.
Another great option for those families who want the seclusion of a resort with the convenience of a downtown stay, Paradise Point delivers that in the heart of San Diego.
Located on an island in Mission Bay and right next to Sea World, Paradise Point is quite literally an island unto itself.
The resort features pools, lagoons, multiple sports courts, bike paths (bikes available on-site), and over a mile of beach. It is a great choice to relax with the family unit and soak up the SoCal vibes.
Paradise point has a decidedly tropical island feel while at the same time being right in the heart of San Diego. The island is also home to over 600 exotic plant species and over 900 birds of paradise.
Dining options range from casual to formal, and guests can book standard rooms, suites, or private lagoon bungalows.
You can explore the island on a beach cruiser, set up a beach barbeque at sunset, or go out for a thrill ride on some jet skis. Paradise Point also offers various kid camps and activities, including Tye-dye and build-a-buddy stuffed animal workshops, putt-putt golf, and lawn game rentals.
If you want a tropical island getaway in the heart of Southern California and all it has to offer, then check out Paradise Point.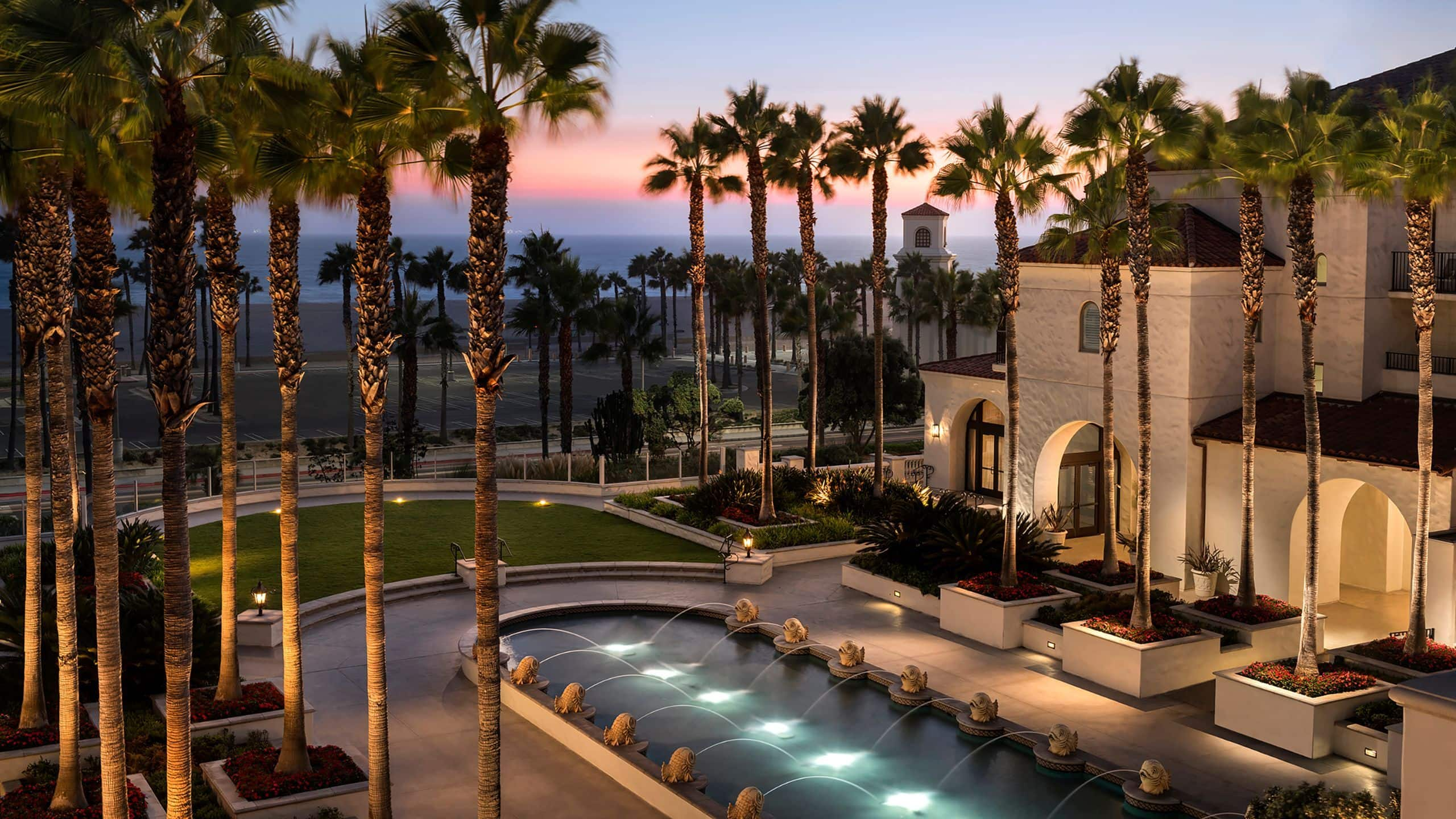 Built with a nod to Hollywood's golden era, the Hyatt Regency Huntington Beach is a classic Southern California resort. It regularly hits top spots on Conde-Nast and other lists for SoCal resorts.
Located in Huntington Beach and just a half-hour ride to Disneyland, The Hyatt Regency enjoys a great location on the famous 10 Mile Beach, and it's just a five-minute walk to Huntington Pier.
Whether it's a relaxing spa day, fun at the pool complete with a magnificent water slide, or unwinding on the beach in the sun, The Hyatt Regency offers up all these in the best kind of way.
It features fine dining at the Watertable and more informal settings at Pete's Sunset Grille or Tower 15 Pizzeria. The resort also features a lovely outdoor shopping rowIt features oversized rooms and suites with private patios and fire pits.
If you want the absolute finest in spacious accommodation, look into booking the 2,500 square-foot Presidential Beach House Suite.
It's a great location to base a Southern California adventure, located halfway between Los Angeles and San Diego. It is also a great place to catch a ferry out to Catalina Island or catch some tasty waves on the Pacific coastline.
This is a great all-around choice for comfort, style, and location for your family's SoCal trip.
Located on the historic Muscle Beach and just steps away from the Santa Monica Pier, Loews Santa Monica is a family-oriented resort hotel in the heart of Santa Monica.
Comfort, luxury, and style are all hallmarks of the Loews family of hotels and resorts. What you will find here is no exception. Loews Santa Monica has all the amenities and comforts you could want in a location that's primed for exploring all the exciting places in and around the Los Angeles area.
Loews Santa Monica also strives to make family stays as accommodating as possible, with adjoining rooms, nightlights, and cribs available and assistance planning family activities from the concierge desk. Also, last but not least, kids under 18 stay for free.
The Santa Monica Pier, Venice Beach, the Hollywood walk of fame, and the Getty Museum are just a few of the many attractions within a short ride from your front door.
If you want a California beachfront experience that is also centrally located for Los Angeles exploration, you should check this one out.
On a bluff overlooking the majestic Pacific ocean and nestled in the artsy Laguna Beach community, the Montage Resort and Spa is a perfect family getaway that beautifully blends comfort, style, and outdoor fun.
Its California Mission-style architecture compliments the sloping bluffs of its 30-acre grounds, and it gives an open and homey feel to your stay. You can find various room styles, from deluxe King and double rooms to suites and villas, all with breathtaking ocean views.
Families are cared for especially here, with ½ and full-day camps available for kids aged 5-12 and hourly and daily childcare services for those aged 2-5. Art classes, tidepool exploration, and other fun outdoor activities await the youngsters.
Laguna Beach is a hub of artistic expression in Southern California. You and the family can walk from the resort into town to enjoy the multitude of boutiques, art galleries, and pop-ups that are a local mainstay.
Montage Resort and Spa is one to look at for quiet comfort, stunning vistas, and artistic inspiration.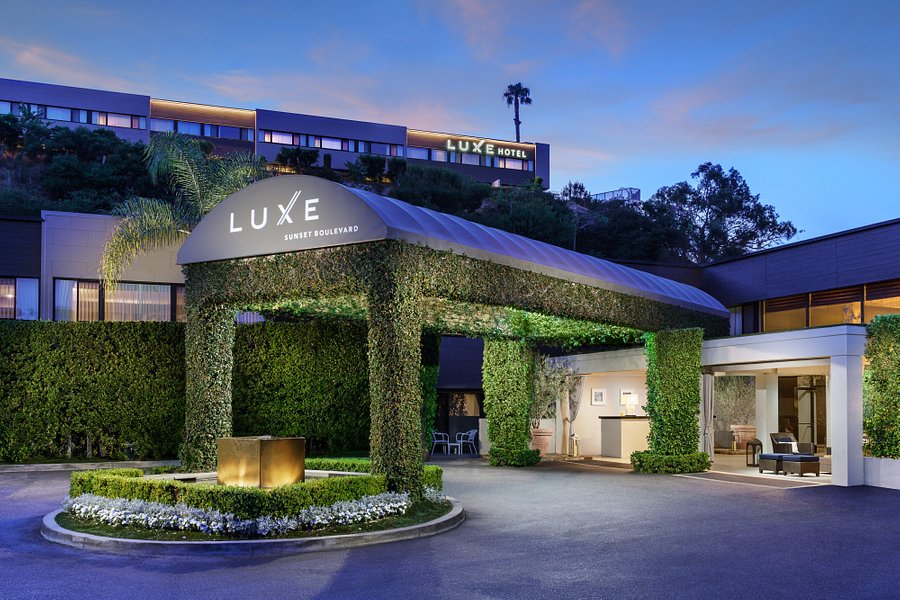 For those families who want to be right in the city's action and still have the quiet luxury and amenities of a spa resort, then the Luxe Sunset Boulevard Hotel might be the one for you.
Sitting on 7 acres at the crosspoint of Hollywood, Beverly Hills, and Bel-air, the Luxe Sunset Boulevard Hotel offers all the excitement of Los Angeles right out of the front door while providing space and luxury within its walls. Its oversized rooms offer the perfect respite from the city's lights and glimmer, and the spa is one of the most exquisite in the Los Angeles area.
Along with the regular spa offerings, their wellness facilities have outdoor yoga classes, meditation, private courtyard enclaves, and a unique Ayurvedic moon sound bath.
When you are well and rested, grab the family and head out the open, airy lobby and into the bright lights of Los Angeles. Explore all that the city has to offer with helpful tips from the concierge desk. You can also walk up the hill to the Getty Museum, just a half-mile away.
Whether you want to go upscale at the Mediterranean-inspired Sirocco or have a more casual bite at the hotel bistro, the dining is exquisite. This is a great resort for those who want to be in the mix of the heart of Los Angeles.
A splendid resort hotel with a great SoCal beach vibe, the Waterfront Beach Resort is a perfect getaway on the shores of the Pacific. With easy access to Huntington Beach, Pacific City, and a half-hour drive to Disneyland, this is a good choice for a family beach vacation.
With its pet-friendly rooms and suites, the Waterfront Beach Resort welcomes family members of all kinds. It features a lagoon-style pool with two waterslides, and private poolside cabanas are available to book, complete with deluxe cabana concierge service.
Dining is a treat, with upscale casual SoCal fare at the Boardwalk restaurant. Or, for small bites and intriguing cocktails, venture to the rooftop lounge that provides an unmatched view of the Pacific.
You can rent beach cruisers to explore Huntington Beach and the pier along its boardwalk. After a day of exploration, the resort can accommodate a sunset bonfire on the beach, complete with firewood, chairs, and s'mores.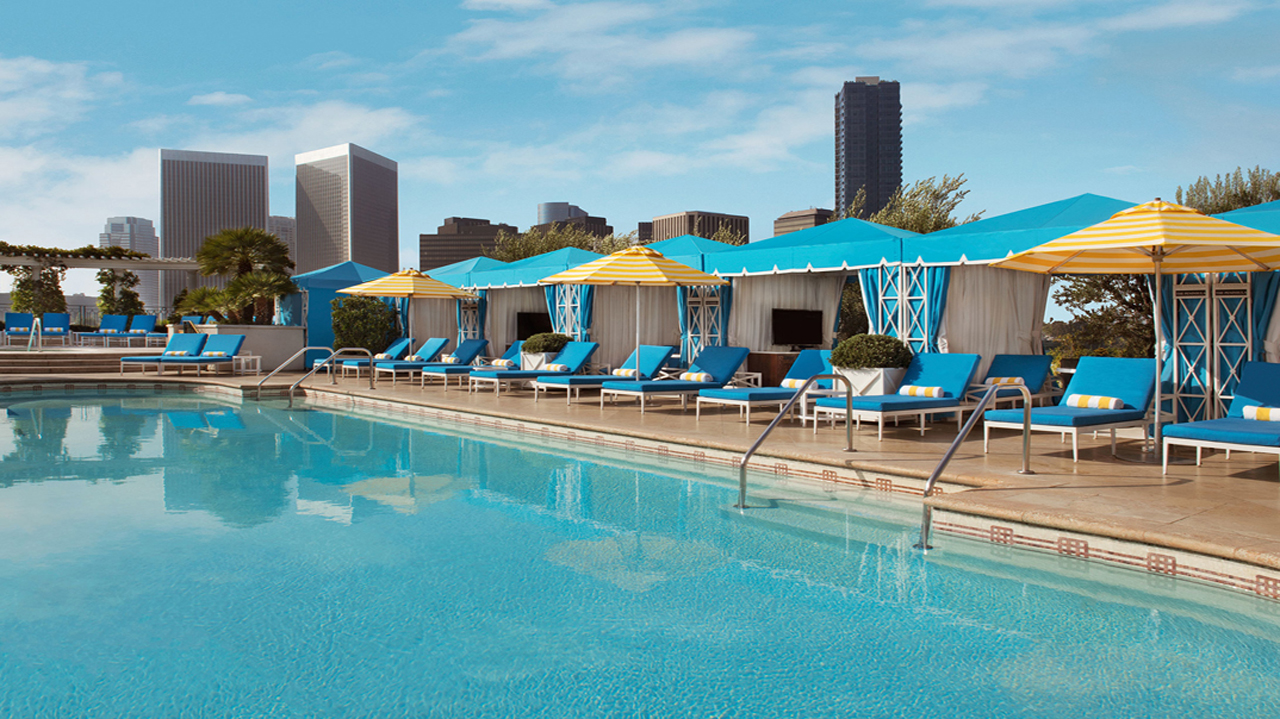 The Peninsula Beverly Hills is the epitome of luxury and appointment in the most luxurious neighborhood around. For those families looking to spend top dollar and receive unmatched service and quality, this is the place to go.
Regularly cited as one of the most beautiful, exclusive, and elegant resorts in Southern California, The Peninsula is a lush garden retreat in the enclave of Beverly Hills. Among the premier amenities offered is the complimentary use of a BMW during your stay.
Also, for guests staying more than two nights, the hotel offers a ride through SoCal's beachside vineyards in a Rolls Royce. Enjoy the sights, take a drive on the sands at Pismo Beach, and wind up at Cullinan Vineyards for a farm-to-table lunch with wine pairings. When you're done, a private jet awaits you to bring you back to your room.
For kids, the hotel also offers a unique cooking class for the young chefs in your family. They explore culinary wonders in the hotel's kitchen, learning to make kid favorites like Pizza Al Pepperoni.
Rodeo Drive is within walking distance, and the city of angels is at your beck and call. The spa is world-class, as is the dining, and the hotel boasts incredible views of the city from its pool and lounges.
An absolute gold standard in refinement and luxury, The Peninsula is an unforgettable experience for those who want the absolute finest.
Hoping to find some beautiful sandy beaches ahead of your trip? You might find our guide to the best family beaches in Southern California handy in helping you plan your vacation!
More about our TFVG Author
A seasoned traveller, Dad, and avid sports tourist, James foundered The Family Vacation Guide to share his expert vacation experiences- especially when it comes to being a travelling family man.
Featured in Travel articles such as Travel + Leisure, TripSavvy and SFGate, you know you're reading some of the best vacation tips online.