In a state overflowing with enticing places to visit, Santa Barbara, California ranks as an exceptional location for a family vacation with kids. Called the American Riveria, Santa Barbara boasts a winning combination of diverse influences from different cultures and time periods. A family vacation to Santa Barbara will leave you refreshed and filled with treasured memories.
Santa Barbara offers a few distinct districts to get to know before planning a visit. In addition to the eclectic neighborhoods of the city of Santa Barbara, nearby towns like Summerland and Goleta offer more family-friendly options.
Continue reading to explore the details of each region of Santa Barbara and the greater area. We include detailed recommendations for planning your next vacation, like the best beaches of Santa Barbara, as well as dog-friendly areas for traveling families.
Neighborhoods in Santa Barbara and Nearby Towns
Santa Barbara and its surrounding region benefit from a beautiful Mediterranean climate. This delivers pleasant weather year-round and limited periods of rain. Santa Barbara claims to experience 300 days of sunshine each year!
This city resting along the Central Coast of California enjoys warmer sea temperatures than its neighbors along the coast to the North, like Santa Cruz, Monterey, or San Francisco. Families can enjoy long days on the sandy, pristine beaches or endless fun in the various districts of Santa Barbara and its nearby towns.
Downtown Santa Barbara
The city of Santa Barbara maintains a population of just under 100,000. This small city balances a cozy, small-town feel with luxurious big-city amenities. Santa Barbara is best known for its ability to balance old and new, American and European, free and high-end.
The city of Santa Barbara includes a vibrant downtown filled with museums and historical markers. A thriving arts culture welcomes families with teens to the Santa Barbara Bowl concert venue or for live theater at the New Vic's Ensemble Theater Company.
Visitors of all ages will revel in the natural beauty of Santa Barbara as Spanish-inspired adobe homes cling to mountainous landscapes before sweeping into spectacular ocean views. Climb unbeatable trails to take in the unbeatable view from above the American Riveria.
Beachcombers, sunbathers, and water sports enthusiasts will love spending time on the beaches of Santa Barbara. Check out popular East Beach or West Beach, separated by Stearn's Wharf and close to downtown.
Downtown Santa Barbara welcomes diners with all tastes through its eclectic combination of restaurants. Families can find old favorites and new cuisines in the artistic Funk Zone neighborhood.
Uptown Santa Barbara
Shoppers flock to the Uptown region of Santa Barbara for high-end stores and mall favorites. Historical buildings hold beloved restaurants with signature items you can't miss.
If your family prefers to skip the shopping, nearby trails offer outdoor adventures for every skill level. Travel to Uptown for a gentle two-mile round-trip stroll through Stevens Park, located in the San Roque Canyon. Looking for something more strenuous? Take your family on an epic hike on the seven-mile Jesusita Trail. Visit during the spring to enjoy an abundance of local wildlife and wildflowers.
Montecito
Ritzy Montecito is best known for being the home to some of the most globally-recognizable celebrities. Public figures like Oprah Winfrey, Prince Harry, and Meghan Markle make their homes in the secluded and gorgeous hills of Montecito.
This luxury enclave lies on the South Beach of Santa Barbara, about five miles away from the city. In addition to homes for the rich and famous, Montecito offers elegant luxury hotels for visitors too.
Summerland
Even the name of this city near Santa Barbara beckons to families with kids looking for a memorable getaway. Summerland lies southeast of Santa Barbara and is best known for its terrific Summerland Beach.
This city dedicates much of its main street to antique shops, from high-end dealers to more practical treasures. Families with treasure-hunting teens may enjoy checking out these stores about seven miles away from Santa Barbara.
Goleta
Nine miles west of Santa Barbara is the bedroom community of Goleta. This slow-paced, small-town environment is nestled at the base of the Santa Ynez Mountains and contains the Goleta Slough wetland. These offer abundant wildlife watching and outdoor activities for families. Explore hiking trails, a butterfly preserve, and bike paths spring up everywhere.
Looking for indoor activities? Goleta offers a wide range of entertainment options, from bowling to ice skating and museums.
Channel Islands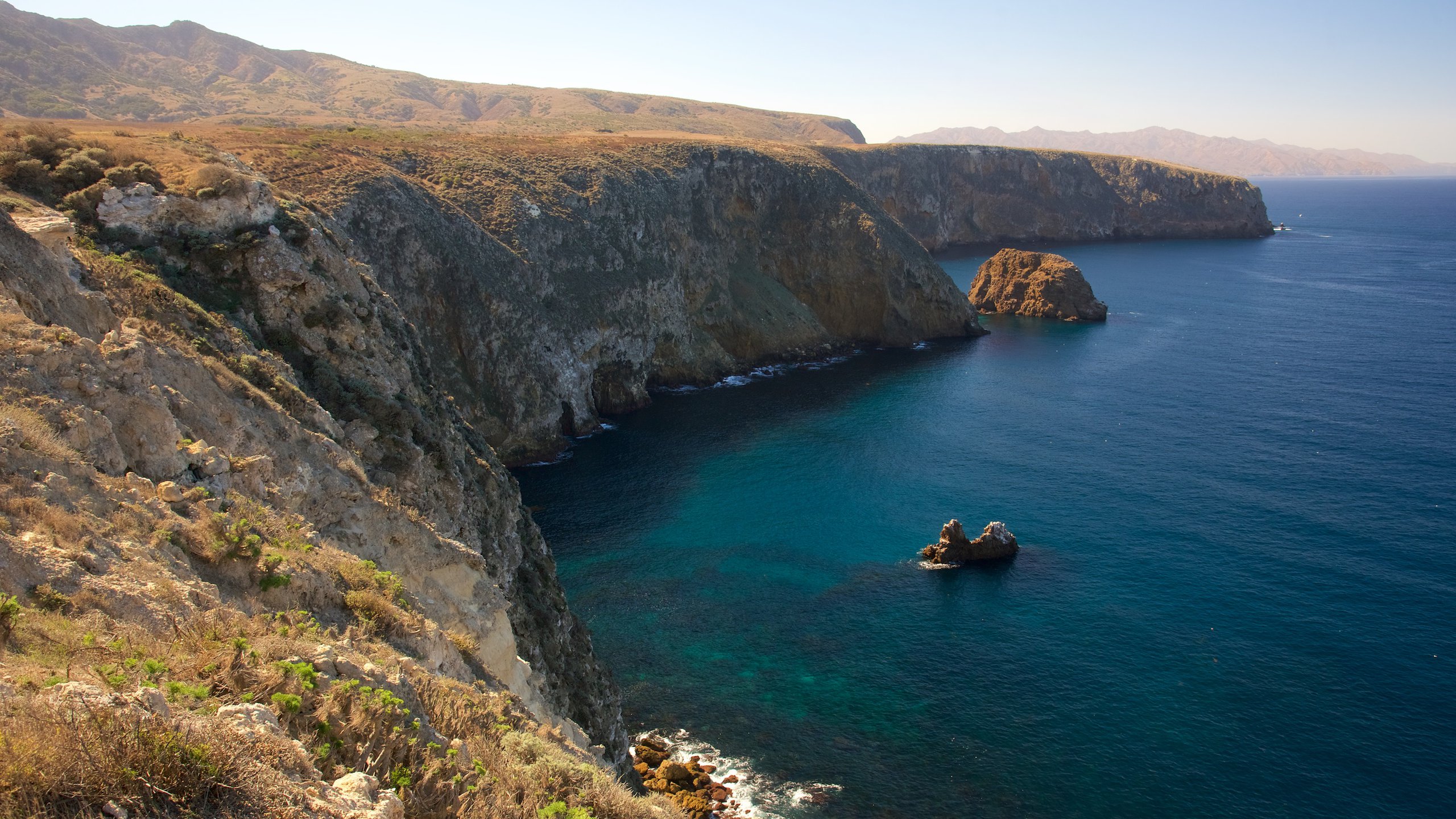 Channel Islands National Park contains five pristine and untouched islands off the coast of Santa Barbara. This preserved ecosystem gives visitors and families a chance to view animals and plants which thrive only on Santa Rosa Island, where the park is located.
Families who plan ahead can take advantage of unforgettable nature opportunities on these islands. Camping, hiking, kayaking, and more activities are available through this network of islands.
Best Places to Stay in Santa Barbara for Families with Kids
While Santa Barbara may be recognized for its glitz and glamor, this city ranks highly for families traveling with kids. Accommodations of all kinds are available throughout Santa Barbara, whether you seek budget hotels, luxury lodging, or something quirky and unique.
Downtown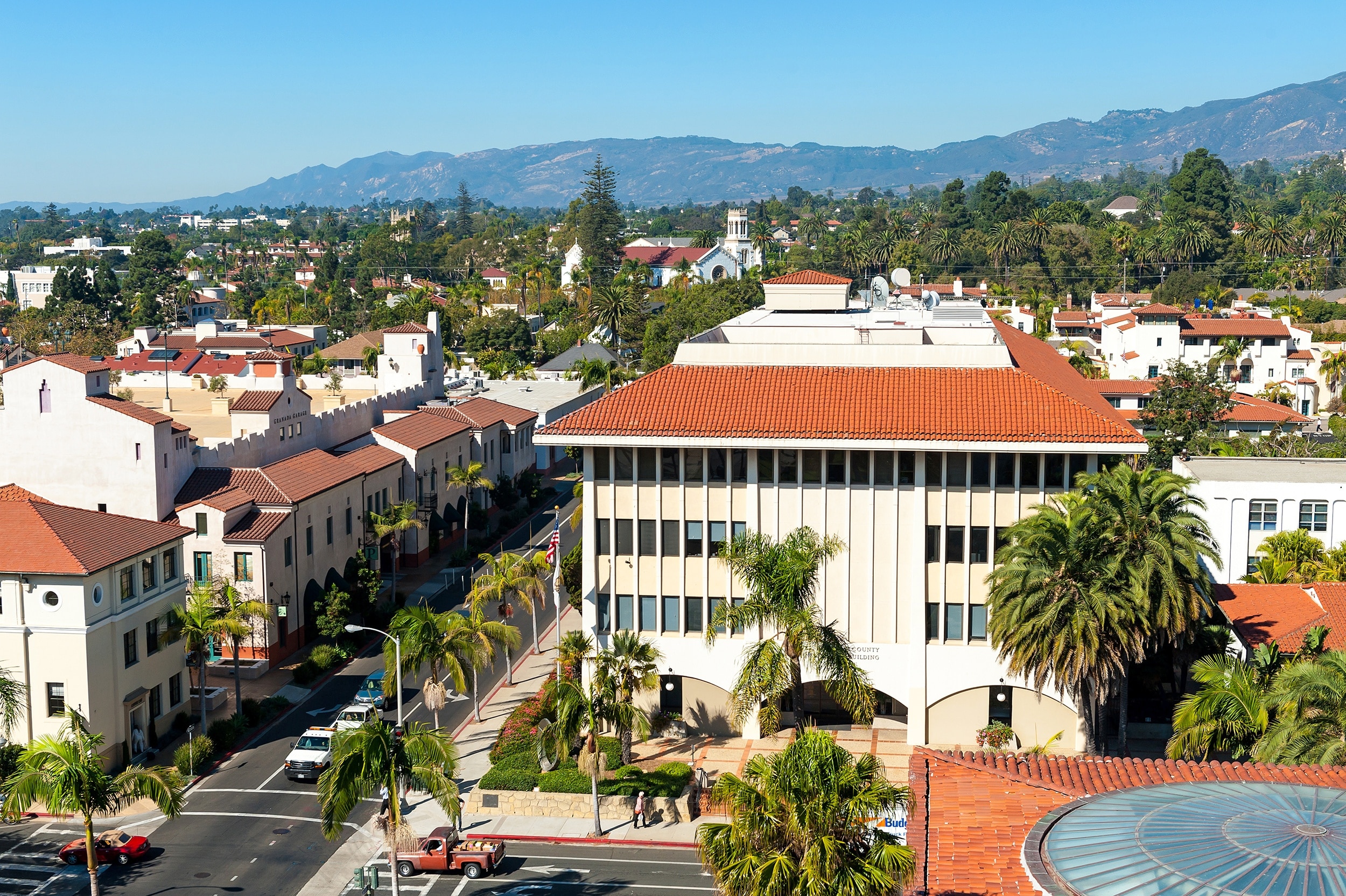 For families looking for a pampered experience, downtown Santa Barbara is home to several luxury boutique hotels. The Canary Hotel offers thrilling amenities like private balconies and a picturesque rooftop pool. Easily walk to the attractions of downtown from this spectacular hotel.
Book a room at the El Encanto Hotel & Garden Villas for a peaceful stay near downtown. This secluded location delivers the Old Hollywood glamor Santa Barbara is famous for. Your family won't believe the special touches at this hotel, from monogrammed linens to jaw-dropping landscaping throughout the extensive grounds.
Another luxury option is the Fess Parker Doubletree Resort. This well-known hotel chain is located directly across Santa Barbara's pristine beaches. Families can enjoy three tennis courts, a well-equipped fitness center, areas to barbecue, and a shuffleboard court.
East Beach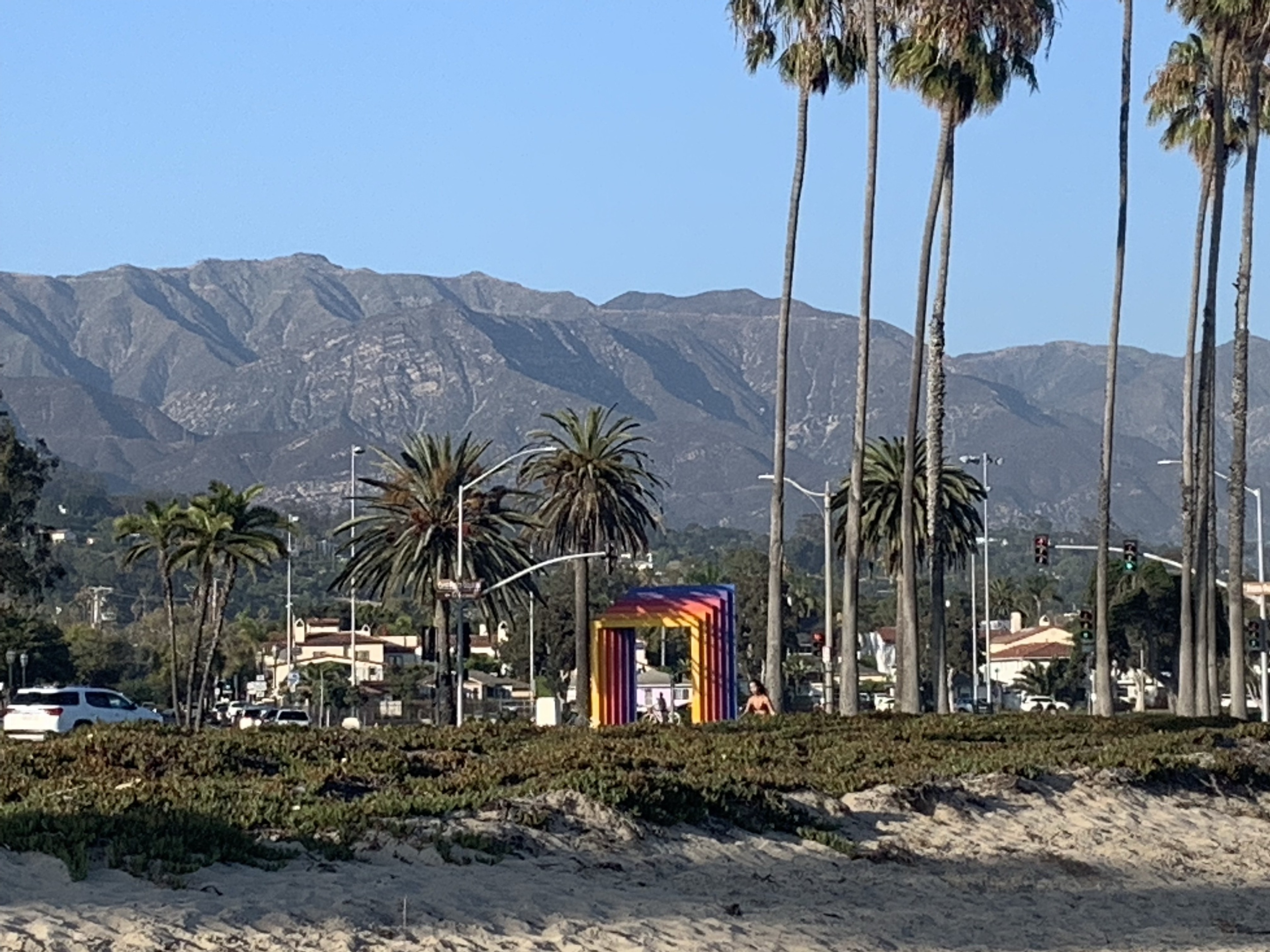 Travel to the beach for more affordable accommodations with great sights and sounds. Stay at the nation's first-ever Motel 6, which first opened in 1962. While the hotel rate is not still $6 like when the place opened, families can't beat the price of this well-kept hotel. Easily walk to the beach or other family-friendly attractions like the Santa Barbara Zoo from this Santa Barbara Motel 6.
The Inn at East Beach provides an option that is easy on the budget but never skimps on customer service. Guests will enjoy grabbing complimentary towels, boogie boards, and sun umbrellas from the front desk for the most convenient way to enjoy the nearby beach. Don't worry. You will only have to carry this hotel-provided beach gear for about a three-minute walk. Get more bang for your buck with the Inn at East Beach's free continental breakfast.
West Beach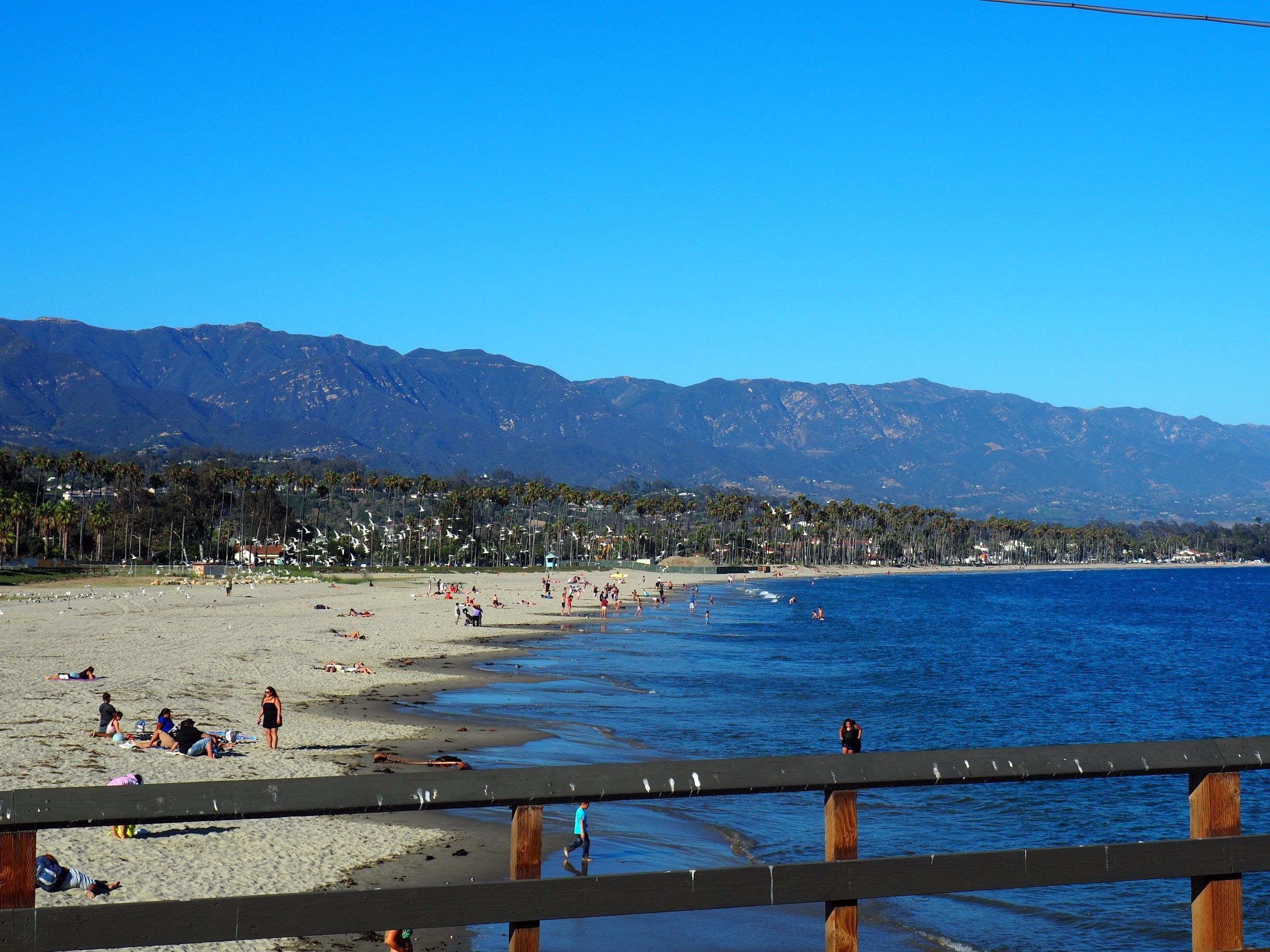 Skip over Stearns Wharf to find more affordable lodging on the West Beach side. Try the Castillo Inn for an affordable motel experience located only a half block from the beach. This inn provides free breakfast and discount rates to the nearby health club.
Get a quirky place to lay your head and a way to move around the city with a reservation at Autocamp. This unique boutique hotel offers families a chance to rent a vintage, refurbished Airstream trailer for the night. These futuristic capsules can fit two or more, and some feature full kitchens. All bookings come with the free use of beach cruiser bikes and helmets to help you explore the city like a local.
Snag a room at The Hotel Californian in West Beach for luxury accommodations mere blocks from Santa Barbara's fine sandy beaches. This stylish five-star hotel features all the amenities of other boutique luxury lodging, like a spa and fine dining.
Montecito
More luxury accommodations are in store for families in Montecito. This secluded town near Santa Barbara contains some of the most elite hotel experiences you can find.
The Four Seasons Resort The Biltmore is a five-star hotel located on the famous Butterfly Beach in Montecito. This luxury resort sets the standard for hospitality and frequently welcomes celebrity clientele to this location. High-end touches like exclusive beaches for guests make this hotel a memorable stay for the whole family.
Like the Four Seasons, Montecito boasts another luxury hotel chain with peerless service and accommodations. The Ritz-Carlton Bacara Resort and Spa takes up 78 acres of Montecito coastline with more than 350 available rooms. Of those hundreds of rooms, every one includes a spectacular view of the region's pristine ocean, manicured gardens, or stunning mountains, and half provides a fireplace.
Both of these luxury hotels offer a "kids club" for guests. This program provides structured and supervised activities for kids to enjoy while parents kick back on their vacation.
Family-Friendly Entertainment Districts in Santa Barbara
In addition to various hotel options, various entertainment districts will help you decide the best place to stay in Santa Barbara for your family.
Presidio Neighborhood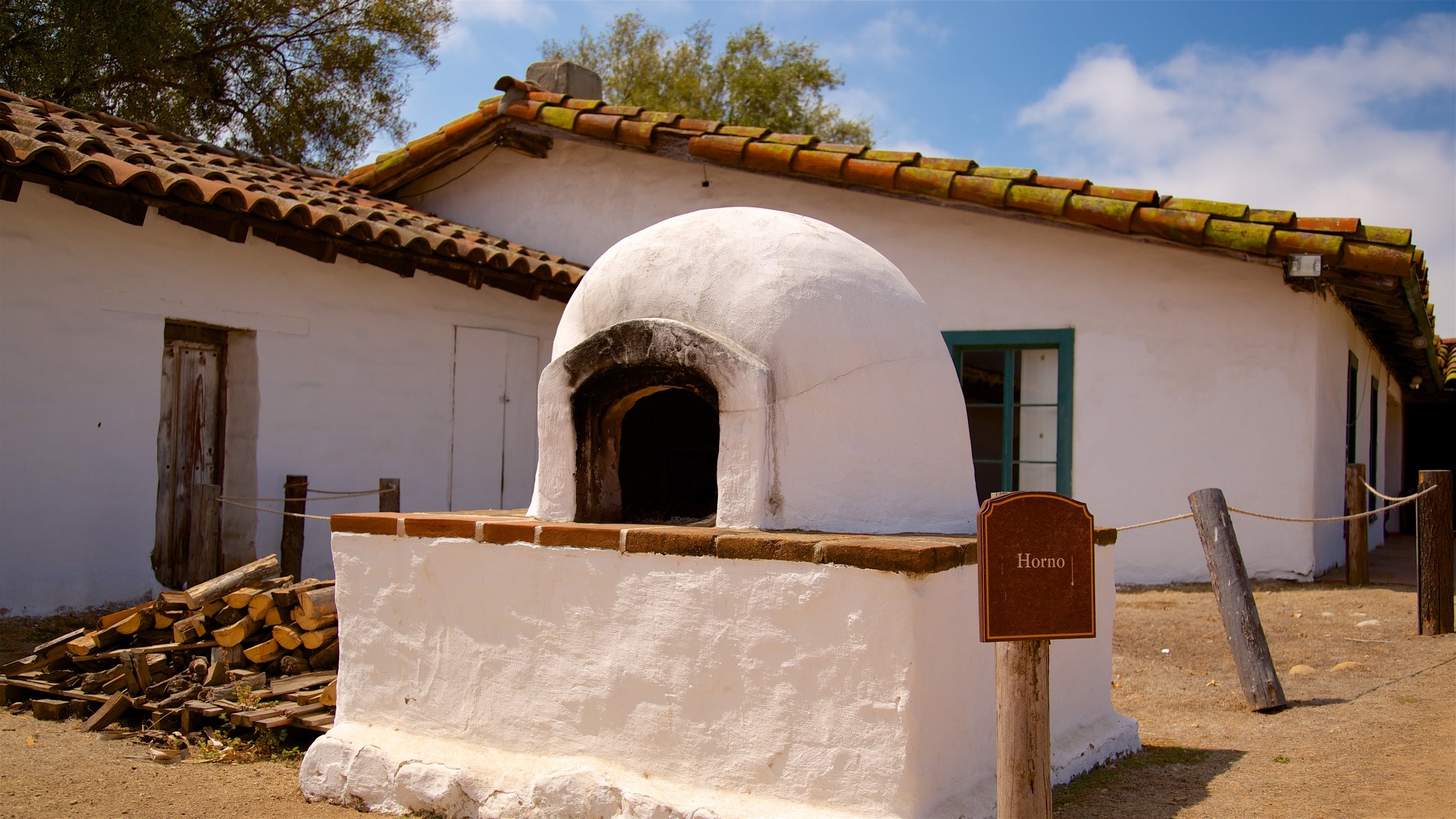 This city celebrates and maintains its history while also welcoming the most in-demand trends of today. Santa Barbara's Presidio Neighborhood rests in the middle of downtown and offers families a convenient chance to learn the history of the city when it joined the United States in the 1840s. Downtown hotels provide unbeatable access to these low-cost or free family activities.
The Casa de la Guerra home still lies where it was built between 1818 and 1828, now downtown Santa Barbara. This home served as the community hub for Santa Barbara while it was a Mexican territory. Visitors and families can experience how early residents of Santa Barbara lived in the early 19th century.
Also located in downtown Santa Barbara is the Santa Barbara Historical Museum. No matter when families visit this museum, they will enjoy fresh artifacts rotated frequently from the city's extensive archives. Admission to this museum is free for all ages.
All members of the family can participate in self-guided or docent-led walking tours throughout the historical district of Santa Barbara. Kids under the age of 16 receive free admission to Casa de la Guerra. Experience even more flexibility with the Red Tile Walking Tour delivered on-demand for families via the Santa Barbara Historical Museum's podcast.
Downtown
A few notable parks transform three city blocks downtown into an irresistible playground. While serious museums and Spanish revival architecture dominate the scene a few blocks closer to the coast, travel a bit further inland to discover these family-friendly parks.
Alameda Park covers two entire city blocks. This extensive acreage boasts an impressive collection of rare trees for the naturalists in the family. Those with kids from ages two to 12 will enjoy crawling all over Kids' World at Alameda Park. Kids' World contains an 8,000-square-foot play area with elaborate wooden structures like a castle, various slides, and a swing set.
Abutting Alameda Park is the Alice Keck Park Memorial Garden. After a long day playing in Kids' World, this adjoining park gives the family a chance to unwind. Enjoy relaxing water features with vibrant koi and a turtle pond. This oasis provides a free, serene ambiance in the hustle and bustle of downtown for families on vacation.
Stearns Wharf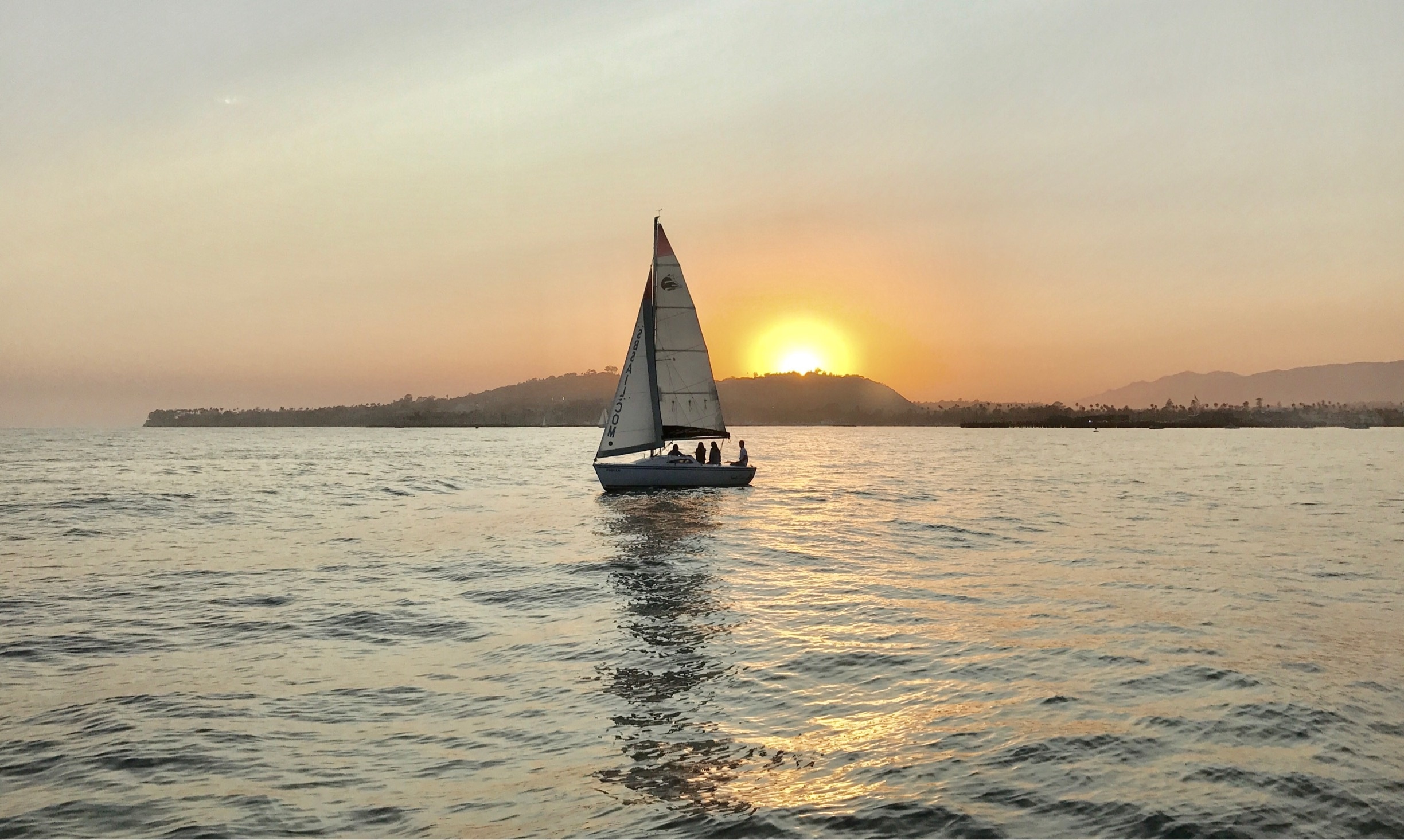 Travel to the coast for a full day's worth of activities on Stearns Wharf and neighboring East and West Beach on either side.
Any of the lodging options located in East or West Beach and downtown Santa Barbara are within walking distance of Stearns Wharf. The Wharf offers delicious restaurants to please anyone's palate, including boardwalk favorites like candy stores and crab shacks. Everyone in the family will enjoy the breathtaking views of the Pacific Ocean from this oceanfront location.
Family-friendly attractions dot the wharf, making this a worthwhile stop during your trip. Learn about the aquatic environment surrounding you with a visit to the Santa Barbara Museum of Natural History Sea Center. Enjoy interactive touch tanks where kids can feel living organisms and learn from educational exhibits.
Book an everyday ferry trip or a luxury cruise from Stearns Wharf to enjoy the beauty of the ocean. The Santa Barbara Water Taxi shuttles visitors and locals continuously, providing an affordable ride between Santa Barbara Harbor and Stearns Wharf. Or reserve a spot for your family on a Celebration Cruise for a memorable themed excursion, like a whale watching, brunch, or sunset cruise.
East Beach
Vast stretches of East Beach remain dedicated to the natural beauty of Santa Barbara. Families will love the huge parks sitting on the ocean, like Chase Palm Park, Cabrillo Park, and East Beach Park. In the summer, families can enjoy free concerts in Chase Palm Park. An elaborate kids' playground is offered year-round.
East Beach contains the legendary Santa Barbara Beach with its white, sandy shores. Both East Beach and Montecito hotels are located near these family-friendly attractions.
Many pro volleyball players have made their mark in Santa Barbara. Today several elite volleyball courts are located on East Beach, and competitions are hosted there throughout the year.
Located slightly inland from the coast is the terrific Santa Barbara Zoo. More than 500 animals live in an open-air, natural environment at this zoo. Feed a giraffe with interactive animal encounters your kids will love. View the thrilling African Cats exhibit or see the endangered California Condor up close.
West Beach
While West Beach takes up the least amount of real estate of any of these Santa Barbara neighborhoods, it remains a popular choice for visiting families.
Visit the West Beach harbor to explore the Santa Barbara Maritime Museum. This museum features exhibits celebrating the fishing culture of the indigenous residents of modern-day Santa Barbara. Visitors can also learn about early 19th-century whalers.
In addition to this museum, another interactive educational attraction adds to the allure of West Beach. The Wolf Museum of Exploration + Innovation, or MOXI, delivers innovative STEM learning for kids of all ages. Special programs for toddlers and kids with autism make this museum a great fit for everyone.
Kids of all ages will love to make a splash at the Los Baños Del Mar Pool. This affordable public swimming pool is located near the harbor. Amenities include a 50-meter pool and nearby splash pads for young swimmers.
Best Areas for Sightseeing in Santa Barbara
Busy families on vacation must make time to take in the famed sights of Santa Barbara properly. Everywhere you turn, the beauty of California's Central Coast comes alive, from the Pacific Ocean to the impressive Santa Ynez mountain range. In addition to the natural surroundings, Spanish architecture adds to the gorgeous landscape of Santa Barbara.
Nature Attractions
Head to the beach to get incredible access to Santa Barbara's aquatic ecosystem. Stearns Wharf is California's oldest operational wharf, first established in 1872. Several nature cruises take off from the Wharf to get families up close and personal with dolphins and whales as well as sea birds.
Numerous hiking paths snake around the terrain surrounding Santa Barbara. The Seven Falls hike covers two and a half miles, providing a moderate challenge with a memorable waterfall at the end. Lizard's Mouth offers a beginner's hike only a quarter-mile in length. Pack a picnic lunch for this hike and look for the rock formation that gives this trail its name.
Families who love nature won't want to miss the Channel Islands during their visit to Santa Barbara. Plan ahead to catch a boat to these islands and explore this pristine national park. Opportunities to hike, kayak, and camp overnight on these islands provide an unforgettable way for families to connect with Santa Barbara.
Architecture Tours
The signature Spanish architecture of Santa Barbara stands as another icon of this unforgettable city. When Spanish Franciscan monks arrived as missionaries in the 18th century, their style of architecture remained. Many of the original missions built during this period still stand in Santa Barbara today.
The Franciscans ultimately built 21 missions throughout California, including Old Mission Santa Barbara. This building is considered the "Queen of the Missions" and has been in continuous operation since it was built in 1786.
Old Mission Santa Barbara lies in Uptown Santa Barbara, on the opposite side of the entertainment district from the wharf. Near the mission are additional family-friendly spots like the Santa Barbara Museum of Natural History and the Santa Barbara Botanical Gardens.
Located closer to downtown are several impressive Spanish-style buildings. In addition to the buildings in the Presidio district, the Santa Barbara Courthouse strikes an impressive profile. Tours of the courthouse's clock tour are open to families willing to climb.
Areas of Santa Barbara for Families to Avoid
Santa Barbara ranks as an extremely safe beachside town in California. Because of the affluence throughout the city, crime is very low. However, families, especially those with young kids, may want to avoid some of the more boisterous parts of downtown.
Funk Town
This eclectic neighborhood keeps the tradition of Santa Barbara's artist community alive. This niche part of the city celebrates exciting works of art, whether the masterpiece shows up on a canvas or a dinner plate. Many global restaurants, breweries, and galleries line the streets in the Funk Town district of downtown.
The main source of nightlife for Santa Barbara exists in Funk Town and other neighboring streets downtown. Families traveling with young children may want to avoid these parts of town, especially late at night. If you choose to reserve a downtown hotel, be mindful of people sharing the streets with you at night or in the early morning hours.
Urban Wine Trail
Santa Barbara, like many regions of California, supports a thriving wine community. The Urban Wine trail offers a self-guided tour of dozens of tasting rooms offering tasty local wines.
While this attraction may sound like fun for a parents' weekend away, the Urban Wine Trail may be an area to avoid while traveling with kids.
Best Santa Barbara Beaches for Families
Santa Barbara County contains several areas of jaw-dropping beaches covering 45 miles of coastline.
Butterfly Beach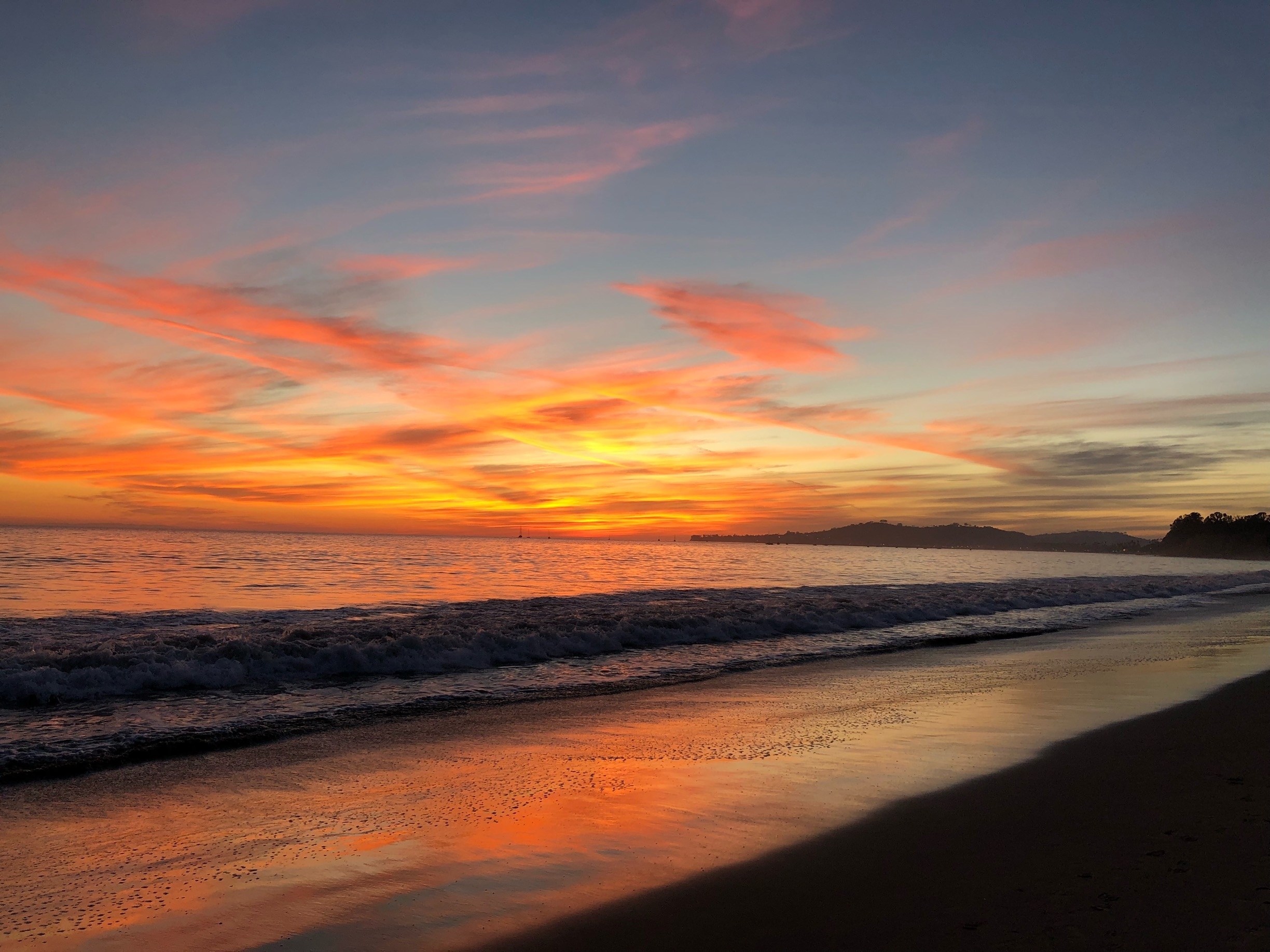 Butterfly Beach lies in Montecito and is easily accessible through the Four Seasons Resort. This welcoming beach offers breathtaking views and endless opportunities for fun. Make sandcastles in the fine sand or relax on a towel while the kids play in the surf.
After a day at the beach, hop on the network of bike paths you can find with ease from Butterfly Beach. These paths link tourists to every part of Santa Barbara.
East Beach
Speaking of bike paths, ride along the Cabrillo Bike Path for three miles to experience the picturesque East Beach. East Beach is a long and narrow stretch that can be very busy during peak seasons. Many aquatic sports like surfing and boogie boarding take place on East Beach for the long stretches of uninterrupted coastline.
You will pass many professional-level volleyball courts before riding through the Andrée Clark Bird Refuge. More than 200 species of birds and have been spotted here, as well as turtles and fish.
West Beach
West Beach provides an excellent opportunity for families to enjoy a day at the beach. West Beach stretches nearly twice as wide as East Beach but is a short stretch of land.
This short and wide space creates a calm swimming cove on West Beach. Families with young kids or beginning swimmers will enjoy the atmosphere of West Beach.
Best Areas to Stay in Santa Barbara for Families Traveling with Kids and Dogs
Montecito and Summerland rank as the most dog-friendly regions for families traveling to Santa Barbara. If you plan to include your furry friend in your vacation plans, avoid East Beach and West Beach, which permit dogs in fewer places.
Beaches in Montecito and Summerland permit leashed dogs on their beaches. Montecito maintains an especially high reputation for allowing dogs in many of its high-end restaurants and hotels.
East and West Beach do not allow dogs on their beaches. Instead, pooches must stay on the pier and paved areas only. The more budget-friendly accommodations in this part of town also do not welcome pets.
If you have access to a car and are looking for off-leash freedom for your pup, explore the Douglas Family Preserve area north of Santa Barbara. Located only three and a half miles from downtown, this spot gives dogs complete freedom to run.
This 70-acre property offers well-maintained trails and spectacular views. Dogs must be safe off-leash on this rugged terrain, however. Douglas Family Preserve includes high cliffs, which can be dangerous for dogs who like to wander away.
Steps away from Douglas Family Preserve are the six-acre Arroyo Burro Beach. This long, flat stretch of beach provides the only local place for dogs to frolic on the beach off-leash. Locals call this beloved spot "Hendry's."
Conclusion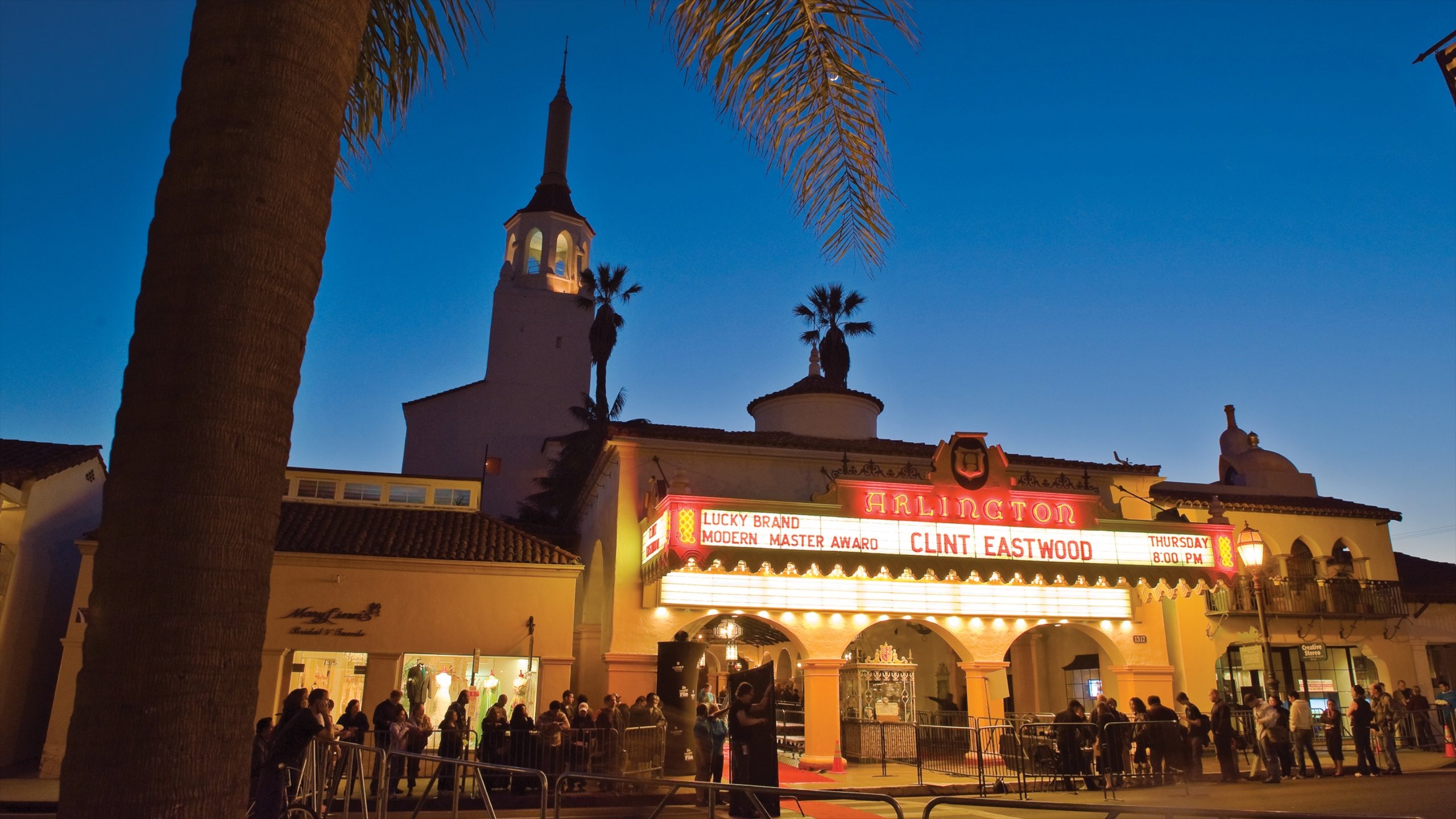 A broad spectrum of family-friendly places to stay exists in the affluent vacation spot of Santa Barbara. While you may expect luxury accommodations, there are also many suitable budget-conscious places for families to enjoy the American Riveria.
Whether you stay in historic downtown or snag a spot in one of Montecito's five-star hotels, there is an abundance of family-friendly activities. From museums to hiking, cruises, and beaches, your stay in Santa Barbara will be a memorable one.
More about our TFVG Author