Along the famed El Camino Real lies one of the great coastal cities of California: Santa Barbara. You'll want to drive a convertible down the palm tree-lined streets, breathe in the ocean air, and feel the relaxation overtaking your mind and body. You'll also want to stay for more than a day or two.
The problem is Santa Barbara has so many hotel selections to choose from you might have a difficult time picking one.
No matter your budget range, or the amount of family members you are planning to take with you, located throughout this coastal city, you are assured to find plenty.
Before you delight in a family trip to the coastal paradise of Santa Barbara, read through this list of the best Santa Barbara family hotels.
Travel is about the experience and Harbor House Inn has decided to give its visitors an intimate one. Only 17 rooms make up this boutique hotel. Each modernly appointed room for 2 or 3 guests includes upscale and continuously updated amenities. They also boast Smart TVs with streaming services, high-speed wireless internet, and fresh local coffees and teas.
Once you've settled in, take the kids out on one of the inn's beach cruiser bicycles. Then make your way to the nearby beach with towels, chairs, and umbrellas furnished by Harbor House. All will come in handy because the beach is only a hop, skip, and step away.
And when you're finished beachcombing, the hotel's owners are more than happy to introduce you to their favorite local spots for eating, drinking, and playing.
Another boutique hotel experience, the Palihouse is located inside the historic Presidio neighborhood of Santa Barbara. Guests are immediately welcomed with a lush courtyard that reminds one of a Mediterranean villa. The pool is sparkling blue, while the on-site garden café and cocktail bar will make your friends green with envy.
Each room has a lavish floor plan with fireplaces, balconies, deep tubs, and custom furnishings. The amenities at this pet-friendly hotel only start there.
Children will love the lemonade and candy the Palihouse offers its guests every afternoon. Parents will enjoy on-demand massage, spa, dry cleaning, and grocery services. Bring your Tesla because the hotel has set up two electric car-charging stations.
And when you arrive, take a moment to download the hotel's personally curated Spotify playlist and immediately ease into your relaxing home away from home.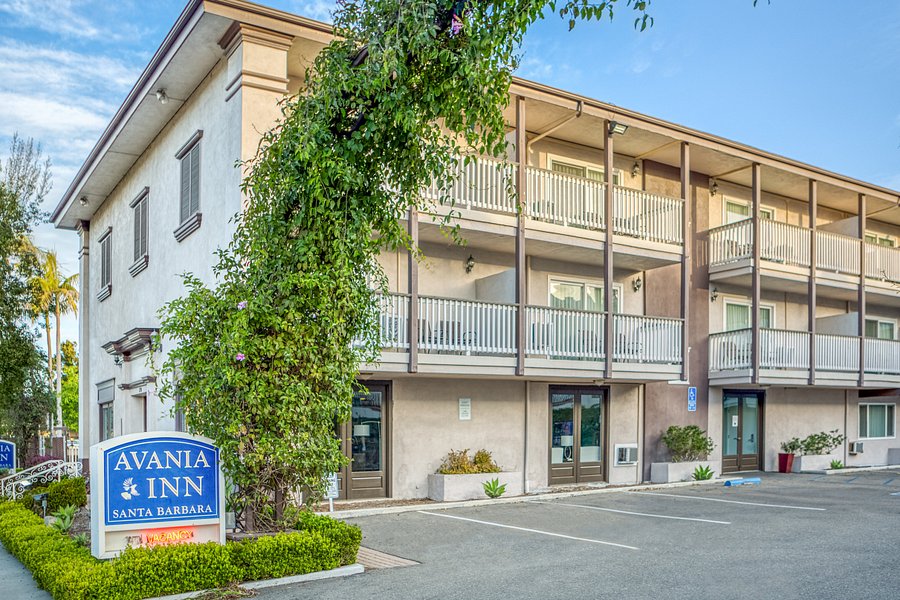 Drive beneath the ivy-covered archway to the three-story Avania Inn. It's conveniently located right off Castillo Street, only a minute or so south of U.S. Highway 101, which rolls throughout town. It's also close to all Santa Barbara beaches. From this upscale motor hotel, guests can easily navigate to Los Padres National Forest, Goleta Beach, or the Santa Barbara Bowl.
Kids will enjoy splashing around in the property's cove-style pool and whirlpool spa, thanks to its powerful jets. Rooms come with king or two queen beds, plush sheets, comforters, sitting stations, mini-fridge, microwave, and Smart TV. The aqua-blue lobby area has plenty of room to relax, and an impressive wraparound wood registration desk. The property also includes plenty of parking.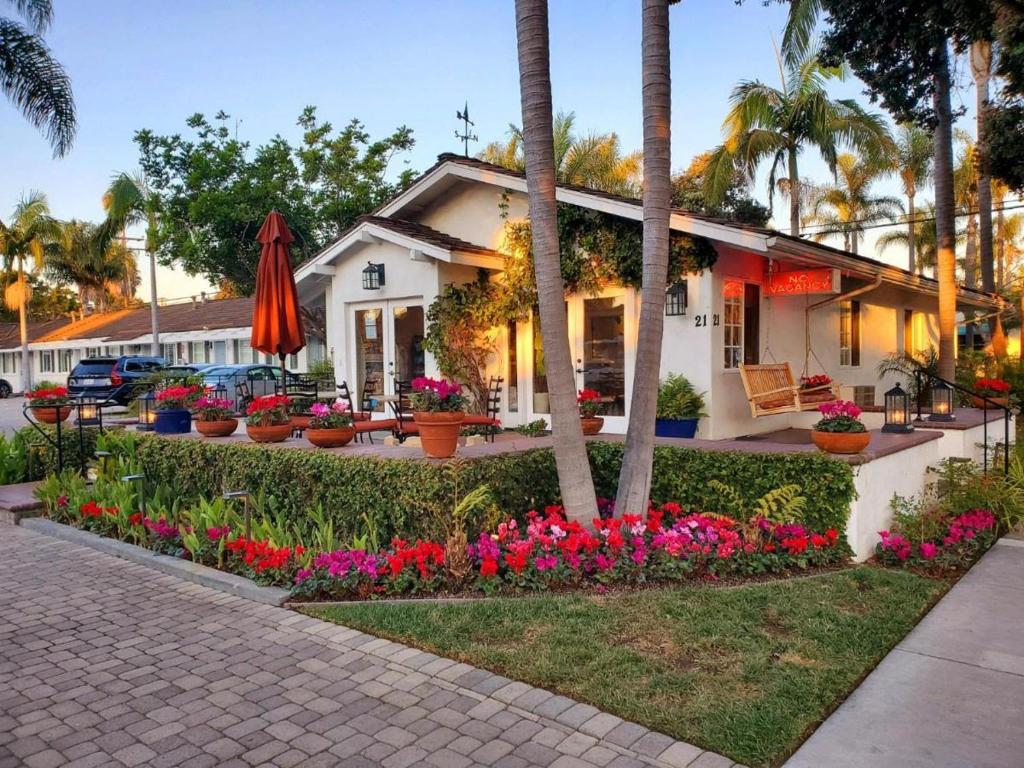 You just have to love a place that tells you it's only 37 steps to the beach from their property. And that's exactly what the family that owns the pet-friendly Marina Beach Motel has done. Opened in 1976, this motel is a mere half-block from the beauty and leisure of Santa Barbara sand inside the beach, wharf, and harbor district.
Rooms sport king or double-queen beds, and some have jacuzzi tubs, kitchenettes, patios, and/or sleeper sofas. Each stay comes with breakfast, free WiFi, and use of the motel's bicycles. Take your children on a tour of the city's bike paths. Then, while they rest you can hit up some of Santa Barbara's shopping districts.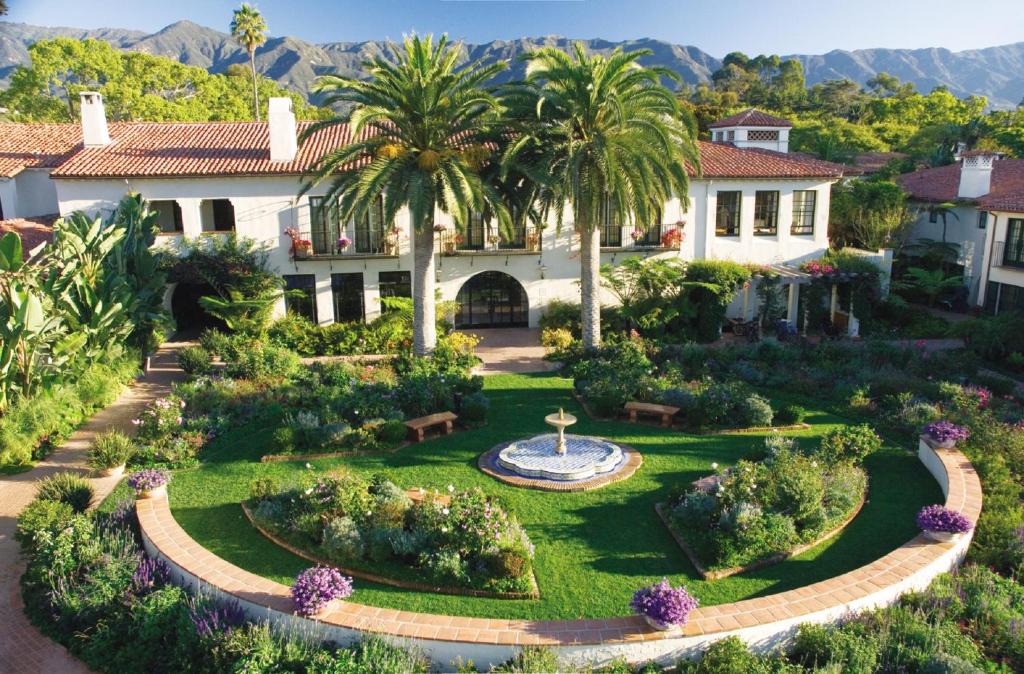 Between the Devil (hiking up Santa Ynez Mountain) and the Deep Blue Sea (Pacific Ocean) lies this historic refuge that has lured Hollywood legends since the age of silent pictures. Outfitted with Spanish-style haciendas, bungalows, and villas, the Biltmore Santa Barbara's expanse of 22 acres includes lush courtyards, brick pathways, and calming fountains.
You'll want to spend much of your time on the grounds, taking in the comforts of Butterfly Beach, the Cabana Club, or the Ty Lounge, where you can order a Moscow Mule and enjoy it by the fire. Or, arrange for a secluded tour of Sunstone Vineyards and Winery. If you want a little more action, set up your kids for a beach volleyball lesson with two-time Olympic gold medalist Todd Rogers.
Don't want to drive? No problem. The Biltmore will whisk you to and from the property on a helicopter from nearby LAX airport.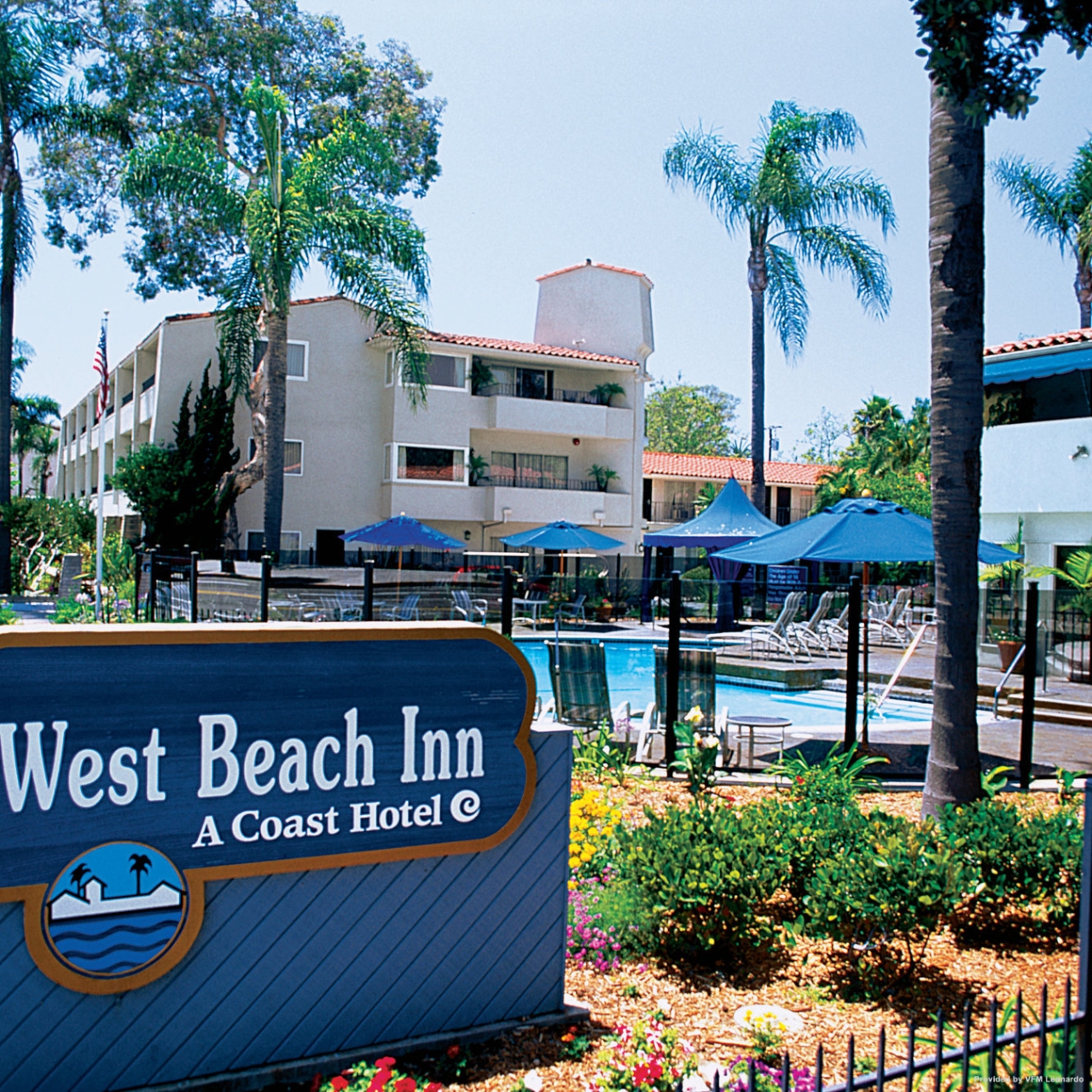 If you want to bring the funk or tour Santa Barbara's famous Funk Zone, the West Beach Inn might be your best lodging bet. Nearby to Stearns Wharf and the Santa Barbara Yacht Harbor, this newly renovated hotel sports a Mediterranean theme and mid-century décor.
All guests can enjoy the daily continental breakfast. But some might prefer to make their omelets from scratch as certain suites come outfitted with kitchens. Either way, relax in a comfy robe or take advantage of the on-site pool. Then grab a free coupon for a two-hour bike ride and discover several other Santa Barbara attractions.
Hola amigos! The Kimpton Canary is a Spanish-influenced hotel that takes its cues from the Riviera. They boast large single bedrooms with four-poster beds, two-bedroom and three-bedroom suites (called nesting suites for larger groups or families) so guests can spread out and relax. Linens come from Italy, while bath amenities are inspired by Dutch flower markets.
Each room includes a work area and writing desk, Bluetooth-enabled clock radio, hardwood floors, and a yoga mat. Yes, a yoga mat. You may need it after a round of drinks and a meal of farm-fresh ingredients at the hotel's on-site restaurant.
Finally, let your kids play in the rooftop pool and watch the sun set behind the Pacific Ocean's horizon.
Another Mediterranean-styled hotel, here's a perfect place to check out Santa Barbara's Certified Farmer's Market or First Thursday, a monthly gathering of downtown art and culture. Brisas Del Mar offers 31 non-smoking guest rooms, an exercise facility, and on-site laundry service.
If your kids are begging you to get started early in the morning, hotel operators will prepare grab-and-go breakfast boxes so you can start the day off right.
Like many others on the list, you can also grab a beach cruiser and bicycle to and from local beaches and neighborhoods. Then, relax in the heated pool and whirlpool. And finish a great day with a complimentary cookie and glass of milk.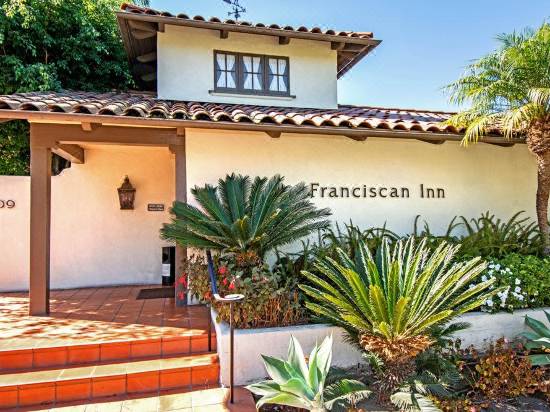 Here's a place that believes if you stay long enough you might just become family. To that end, they provide an afternoon reception every day from 3 to 5 p.m. with an assortment of kid-tested, mother-approved homemade cookies. This way you can get to know your hosts and other guests.
They also have a gift shop, an onsite laundry room, and many items you may have forgotten at home (sewing kits, corkscrews, and first-aid supplies among them). The pool is always heated to 82 degrees, and the hot tub to a comfy 104. Plus, if you stay midweek, the third night is free.
Santa Barbara is a town where laid-back luxury often wins the day. The Harbor View has taken that approach to its family-friendly hotel. It can serve as the base of operation for a couple's romantic getaway, a family's weeklong vacation, or a wedding party's destination nuptials. When bringing the kids, don't forget to stop at the white sands of West Beach, where memories are sure to flourish.
The property boasts a fitness center, business center, gift shop, and spacious pool, mere blocks from the Pacific Ocean. While lounging at the pool, take advantage of the pool-side bar's mixologist and order one of those breezy cocktails with an umbrella in it.
A traditional, two-story motel with upgraded facades and hanging plants, the Best Western Plus is in the Oak Park section of Santa Barbara, about nine miles from the airport and 3.5 miles from the famous Stearns Wharf.
Each room comes with free WiFi, flat-screen TVs, microwaves, and coffeemakers. Meanwhile, some rooms have kitchenettes and/or balconies. The motel also has a few suites with pull-out sofas, living rooms, and full kitchens.
Children will love the bouncy beds. And you can get a loaner DVD movie to settle in for the night. Don't forget the popcorn.
Look for the multi-colored tile steps of the staircase leading to the second floor of this locally-owned, pet-friendly hotel. The owners have dedicated the entire property to local artists and artisans. Your kids will notice the wooden countertops from neighboring forests, novel furniture, and regularly rotating art in the guest rooms, lobby, and meeting spaces.
It's also centrally located. Many local restaurants are an easy walk (or bike ride) away, as are beaches and whale-watching expeditions.
Final Thoughts
Known as the American Riviera for its temperate climate, access to the sea, and laid-back vibe, Santa Barbara has numerous options for new guests or experienced visitors.
And when you finish your day, remember there's a glut of great hotels that make staying here a relaxing and restful experience for adults and children alike.
So, once you've decided to spend a couple of days or more in Santa Barbara use this guide to the best hotels to assist you and your family in experiencing a fun-filled stay. You'll thank us later.
More about our TFVG Author
A seasoned traveller, Dad, and avid sports tourist, James foundered The Family Vacation Guide to share his expert vacation experiences- especially when it comes to being a travelling family man.
Featured in Travel articles such as Travel + Leisure, TripSavvy and SFGate, you know you're reading some of the best vacation tips online.