North California is a state with an incredible landscape. The gorgeous national parks, hills, rivers, mountains, and woods give breathtaking views, making this state an amazing option for nature lovers.
If you are looking to witness the beauty of North California, glamping is a great way to experience nature without giving up modern comforts. This article presents the best spots for glamping in North California that can provide you with an unforgettable adventurous experience.
Explore Northern California
Northern Carolina is a state known for its art and culture, as well as its beautiful landscapes and culture. From massive mountains, beautiful skate parks, and mesmerizing beaches to many tourist attractions, popular cities, and historic sites, North Carolina has a lot to offer for every visitor.
With stunning beaches and redwood forests, Northern California has a beauty that you can witness by going on a glamping trip to some of its top destinations. It is an ideal destination for travelers who like picturesque views, delicious food, and unique places to visit.
While in Northern California, you can visit Yosemite National Park, go to the Redwood National Park, take a trip to Mono Lake and Glass Beach, have a wine tasting in Napa and Sonoma counties, and explore much more.
The beautiful coast at Mendocino Grove can be your ideal spot for a weekend getaway. Here you can get a sophisticated glamping experience with a scenic view of the Pacific Ocean.
Mendocino Grove has deluxe tents equipped with comfortable beds and electric blankets to keep you warm and cozy during chilling nights. The tents also come with clean bathrooms with outdoor spaces for stargazing while taking a shower.
Moreover, there are many on-site activities, such as canoeing, hiking, diving, and yoga, and a gorgeous view of the sunset. This is a dog-friendly retreat that provides many activities for a comfortable stay. Mendocino Grove also has accommodations with free Wi-Fi and private parking.
Price: From $165 per night
Best for: Peaceful glamping experience
Located near the beautiful town of Mariposa and only 45 minutes away from the mesmerizing Yosemite National Park, AutoCamp Yosemite has an excellent location for luxury camping. The spacious tents are equipped with king beds and heated blankets, and there is heating and air conditioning for a comfortable stay.
These custom-made tents also have a mini-refrigerator and bath amenities. The guests also get a private dining area, a fire pit, and a grill, which is excellent for outdoor enthusiasts. The AutoCamp Yosemite is a dog-friendly glamping spot suitable for one up to three adults.
The glamping spot offers stunning views, allowing you to sleep outdoors and enjoy nature in comfort and style. The AutoCamp Yosemite has plenty of perks, including a freshwater pond, a sun deck, bikes for use on-property, and more.
Price: From $269 per night
Best for: Glamping with a family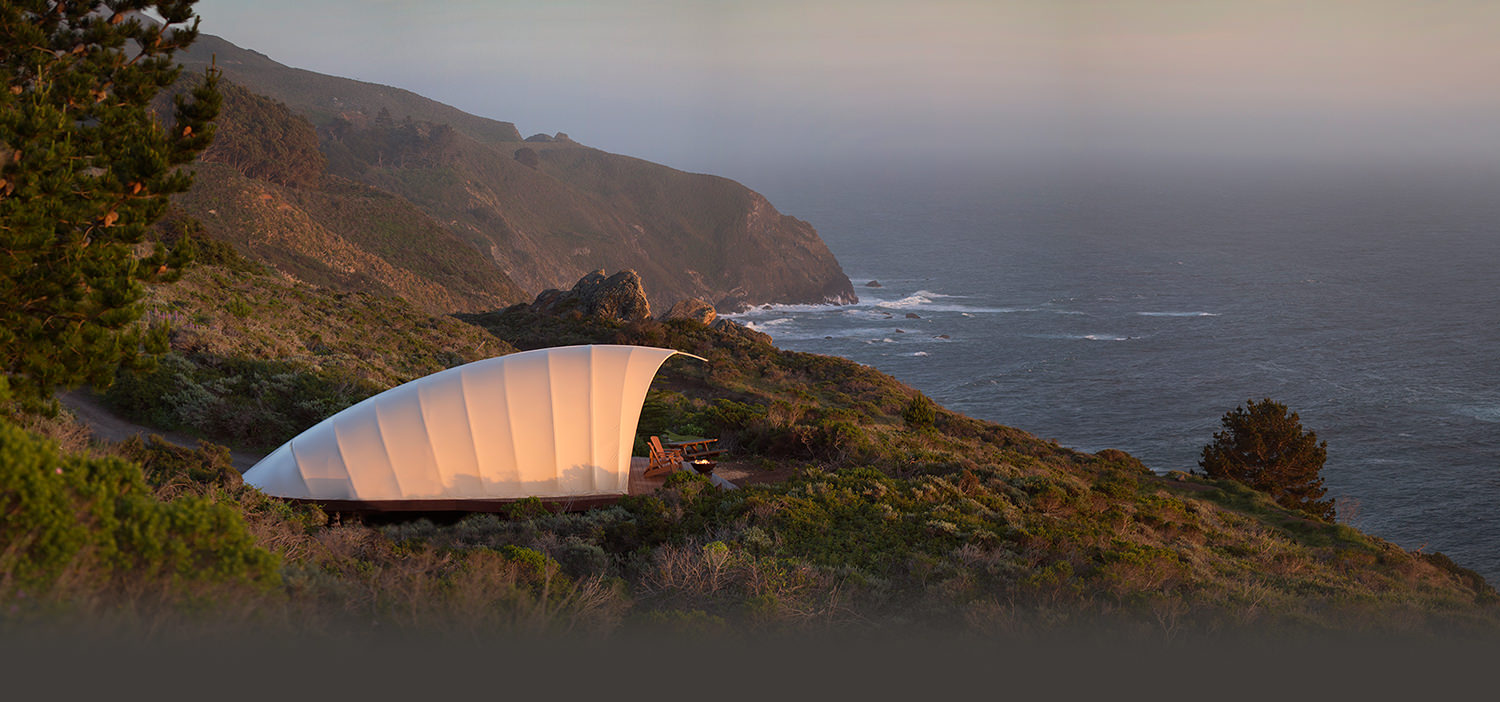 The beautiful Big Sur Coast has breathtaking views you can enjoy while glamping at the Treebones Resort. This glamping resort overlooks the Pacific Ocean and offers a serene ambiance, ideal for relaxing.
The Treebones Resort is ideal for glampers who like to connect with nature and disconnect from the world for a while. This is because the glamping resort is off-grid, producing its own power, and there is also no cell phone reception.
The resort provides several types of accommodation, including traditional campsites and yurts. The luxurious yurts are equipped with comfortable beds and other pieces of furniture and also come with decks and chairs for staying outside.
Treebones Resort has an excellent location, so nearby, you can find a restaurant and a bar, as well as many activities. Among the amenities of the resort are a swimming pool, hot tub, and much more.
Price: From $645 per night
Best for: Relaxing camping experience
Wildhaven Sonoma is located in the bay area of Sonoma County, a short 10-minute drive from downtown Healdsburg. The property offers incredible nature views, making it a great choice for glamping in Northern California.
This glamping spot offers spacious safari-style tent cabins designed to give you comfort and an incredibly relaxing experience. The guests also have access to an outdoor kitchen, showers and BBQ, and many other amenities.
The deluxe tents have comfortable beds, electricity, and heaters for staying warm and cozy during colder evenings. Moreover, the glamping spot gives you access to private rivers and beaches and has many onsite activities such as wine tasting, live music, yoga classes, and more.
Price: From $109 per night
Best for: Riverfront glamping
Only a few moments away from Nevada City, the Inn Town Campground is a glamping resort with about 20 glamping tents. They come with comfortable fluffy beds and heated mattress pads, as well as other luxury amenities for the guests.
The resort has its own swimming pool and a 3000-square-foot communal building with a kitchen, living room, dining area, bathrooms, and a camp store. This is a pet-friendly resort designed for outdoor lovers.
The Inn Town Campground offers outdoor movie screenings, so this glamping spot is designed with relaxation and fun in mind. Nearby, you can also go hiking on the Deer Creek Tribute Trail, go mountain biking in the Tahoe National Forest, and do other outdoor activities.
Price: From $85 per night
Best for: Family camping
Belcampo Farms offer an escape from the busy city life and a picturesque view of nature and the sky at night. The luxurious canvas tents are equipped with a queen-size bed and cozy blankets and rugs for a comfortable stay.
The visitors also have private bathrooms and showers, a kitchen, and a picnic table. Among the amenities of the Belcampo Farms are Wi-Fi and potable water.
As a guest on this glamping spot, you can get insights into farming practices, eat organic food and vegetables from the garden and interact with animals. The luxurious tents under the sky make for one-of-a-kind glamping, and the sunrise over the volcano Mt. Shasta contributes to the experience.
Price: From $125 per night
Best for: A country-like glamping
If you want to spend a peaceful time in nature, you can opt for the Mushroom Dome glamping retreat. The property provides complete serenity, so it is a great option when it comes to glamping in Northern California.
The Mushroom Dome comes with a comfortable queen-size bed and a couch. A small bathroom, shower, and kitchenette are also included, and the guests have access to Wi-Fi. The property is pet-friendly and provides all the essentials for glamping and many amenities for the guests.
The glamping property is secluded, but nearby there is a beach, a grocery store, and shops. There is private property, a patio, a backyard, and a BBQ grill outdoors. The glamping property also has a TV for entertainment and children's books and toys for guests with children.
Price: From $159 per night
Best for: Outdoor enthusiasts
The incredible treehouses in the middle of the redwood forests can make all of your childhood dreams come true. Each of the houses is very spacious and has a queen-size bed, table and chairs, a kitchenette, and a compost toilet.
What makes the Sonoma Treehouse Adventures different is that the treehouses are connected to a zip line allowing you to ascend and descend from the trees. There is a small deck around every treehouse connected to suspension bridges. By staying here, you get a unique glamping experience and a ziplining adventure.
These rustic treehouses are great for adventurers who want to witness breathtaking views of the redwoods. Each house can accommodate up to four people who can expect snacks upon their arrival, as well as a full gourmet dinner and a delicious breakfast.
Price: From $523 per person
Best for: Adventurous travelers
The fully-furnished platform tents give stunning mountain views from the front porch. This private pet-friendly glamping spot is located near the Orr Hot Springs and Montgomery Woods. The peaceful surroundings are excellent for relaxation.
The guests have access to fresh and pure well water without any charges. Within the glamping spot are showers, a picnic table, and a toilet. There is no Wi-Fi in this area, so prepare to connect only with nature once you go to the Glamping Tents in Orrs Springs.
Nearby you will find the Orr Hot Springs with a pool, or try biking, hiking, wildlife watching, and climbing. The clean and cozy tents have antique furniture for a comfortable stay, and the stargazing views from the tent are very beautiful.
Price: From $125 per night
Best for: Glampers with pets
Voted best Hipcamp glamping in the US in 2022, there is no surprise that Twisselman's Glamping by the Pond is among the best spots for glamping in Northern California. Here you can cozy up in a private wall tent fully furnished with a queen bed, side tables, chairs, and a coffee table.
Outside there is a picnic table and chairs to sit and relax while enjoying the beautiful views of nature. The tents are very spacious, so they can accommodate two adults and three children, meaning you can spend quality time with your family and your pet.
An important thing to know is that the Twisselman's Glamping by the Pond is off-grid, and all of the lights and batteries are solar-powered. Some of the onsite activities you can partake in by the pound include fishing, hiking, paddling, and wildlife watching.
Price: from $165 per night
Best for: Relaxing glamping experience
The Costanoa Tent Bungalows is an excellent choice for family glamping. The canvas tent bungalows come with queen-size beds, and there are also bunk beds for the children.
The electric blankets provided can keep you warm and cozy during the night, and each bungalow includes electricity and lighting, and complimentary Wi-Fi. The accommodations also include indoor hot showers, heated concrete floors, a dry sauna, and an outdoor fireplace.
Each Costanoa bungalow is different as they all come with different layouts and views. Moreover, there is a general store on-site as well as a restaurant serving delicious meals for visitors. You can also visit the surrounding beaches or try activities such as hiking and biking.
Price: From $150 per night
Best for: Glamping with children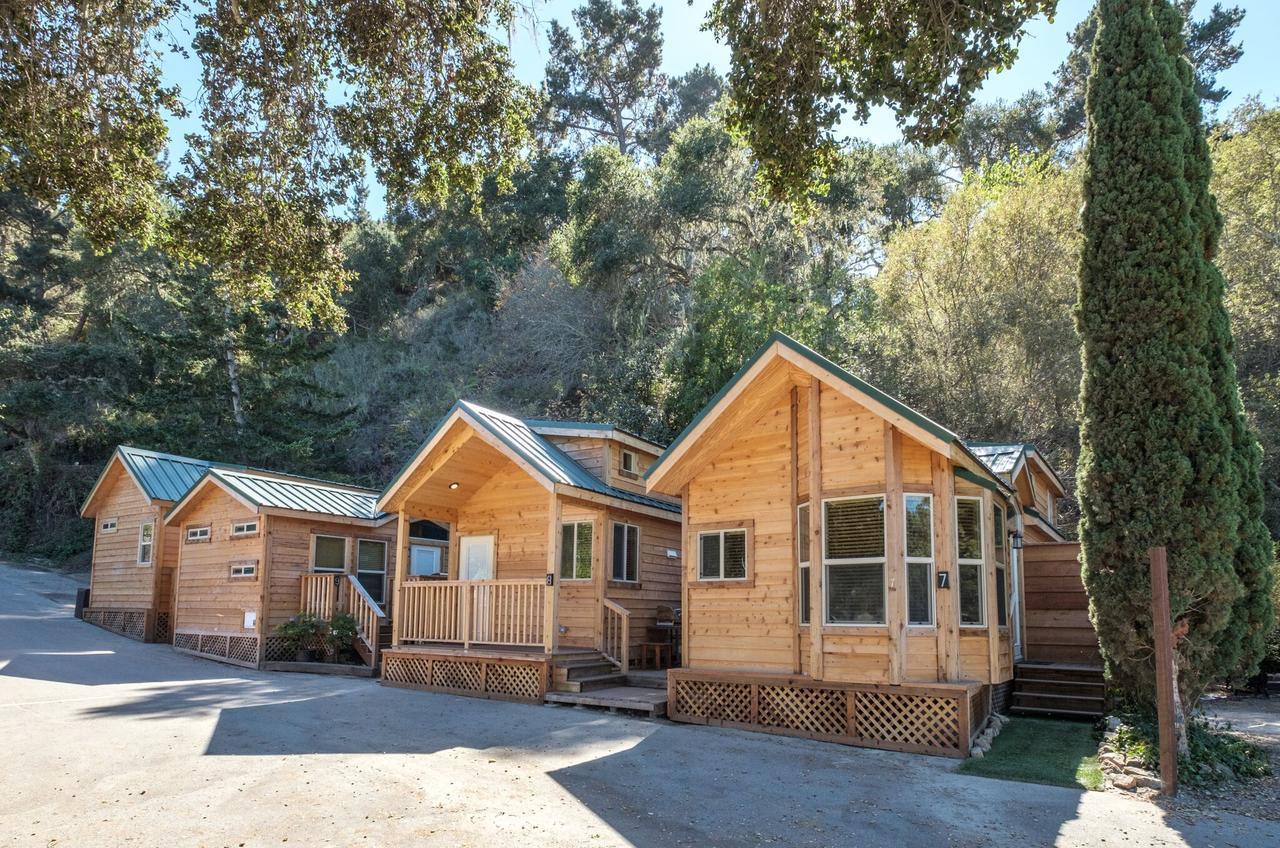 The furnished luxury tent is located on forest land in the small beach city known as Carmel-by-the-Sea. It comes with a comfortable queen bed, and there are electric blankets to keep you cozy at night. This luxury tent comes with outdoor seating and a BBQ. It can accommodate up to two people, including children.
The restrooms and the kitchen are located only several steps from the glamping tent. Aside from relaxing, the ranch offers many fun activities, including a heated pool, hiking trails, horses, a playground, and more. The eco-friendly resort is only 10 minutes away from the white sands at Carmel Beach.
Price: From $168 per night
Best for: Affordable glamping
This hidden gem is situated on the outskirts of Placerville in Gold Country. The campsites overlook the creek and are surrounded by beautiful views of nature. There are several types of accommodation available at Camp Nauvoo, including canvas tents, teepees, and glamping tents for those who like to enjoy the comforts of home.
The dog-friendly camp is suitable for big families as well as wilderness enthusiasts. This camp also has a lounge with games and a ping pong table, a hot water kettle, and multiple picnic tables. In addition, there are plenty of outdoor activities to do while glamping on Camp Nauvoo, such as fishing, hiking, swimming, wildlife watching, playing sports, and more.
Price: From $250 per night
Best for: Outdoor enthusiasts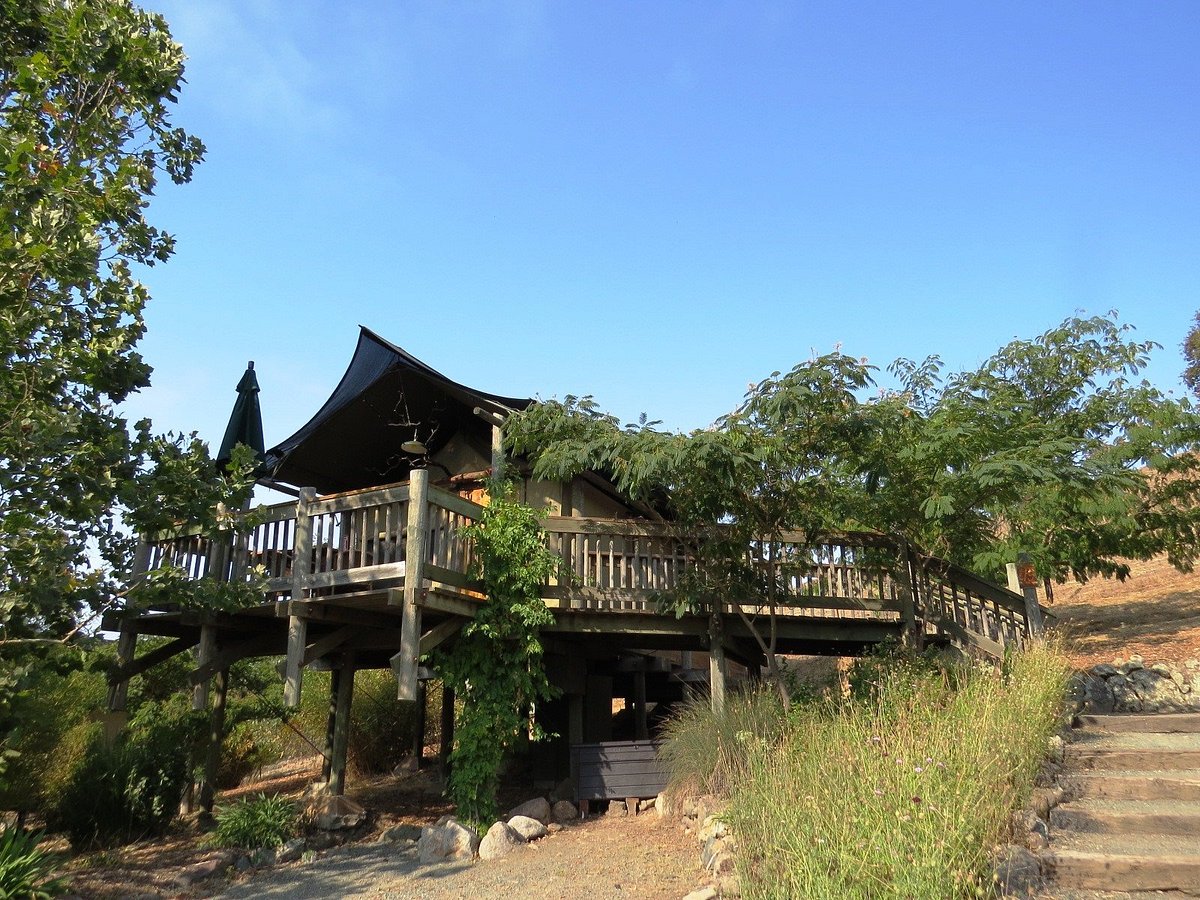 Safari West provides a luxury glamping experience surrounded by wild animals. Each of the tents has a private viewing deck and an en-suite bathroom. The guests also receive a continental breakfast and enjoy the beauty of nature around them.
Safari West, as the name suggests, gives the guests a safari-like glamping experience and is ideal for adventurers who like to connect with nature. Here you can spend the night at the luxury tent and meet some giraffes once you go on a safari.
The entire experience is children-friendly, so if you are an adventurous family who wants to spend time together glamping, Safari West can be a great option for you.
Price: From $350 per night
Best for: Adventurous families
With a location in the heart of Sonoma's wine country, the Russian River glamping site provides year-round activities, making it an excellent vacation spot. Here you can rent a stylish tent and spend your time relaxing or doing outdoor activities.
The guests have access to all bathroom necessities and food options, such as complimentary coffee, tea, and pastries in the morning. The AutoCamp Russian River is family-friendly and dog-friendly, so you can book a vacation for the whole family to get a unique camping experience.
Here you will find bicycle rentals, BBQ facilities, and many other amenities. Each Airstream unit is equipped with a flat-screen TV, a refrigerator, and a microwave. The luxury units also come with a comfortable sofa bed, a walk-in shower, a dining area, and a patio. A private fire pit and outdoor deck furniture are also available at this auto camp.
Price: From $290 per night
Best for: A unique outdoor getaway
If you are planning a weekend getaway with your significant other, you can opt for the couples-only ranch located near the town of Cayucos. The Wellspring Ranch is dedicated to providing comfort and luxury for guests.
Hence, their chic cabana yurts offer comfortable king beds, luxury linens, and memory foam mattresses. The cozy yurts also come with fireplaces, private bathrooms, and many other amenities contributing to the glamping experience.
The ranch has a gallon of spring water pond and many trailers leading to secluded viewpoints ideal for a picnic with your partner. The activities you can do include restorative yoga, massages, stargazing, bird watching, relaxing on hammocks, and more.
You can also opt for a luxurious airstream trailer, each accommodating two people and offering unique scenic views. While there, you can also visit the restaurants in Cayucos and do many other activities.
Price: From $250 per night
Best for: Couples
Final Thoughts
Glamping in Northern California is an exciting experience. All of the mentioned glamping spots provide incredible scenic views and enable you to get in touch with nature and camp with the comforts of modern living at the same time. The camping spots are equipped with all essentials you need for a comfortable stay. So you can choose which one works best for you and enjoy a solo trip or a weekend getaway with your loved ones.
More about our TFVG Author