Pancakes are classic breakfast staples that no one ever gets tired of (right?).
If you're in San Diego, California, there are plenty of places that can satisfy your cravings! And when we say plenty, we mean plenty.
With different pancake spots adding their own twists and signature offerings, you'll surely find a different place to visit every time!
Traditional pancakes are always on the menu, but specialty ones are also available if you're eager for something a bit more unique.
In this article, we'll look at 17 of the best spots to dine on delicious pancakes around San Diego so you know exactly where you'll head next for breakfast.
Are your tastebuds ready to explore them all?
17 of the Best Spots for Pancakes in San Diego
Naked Cafe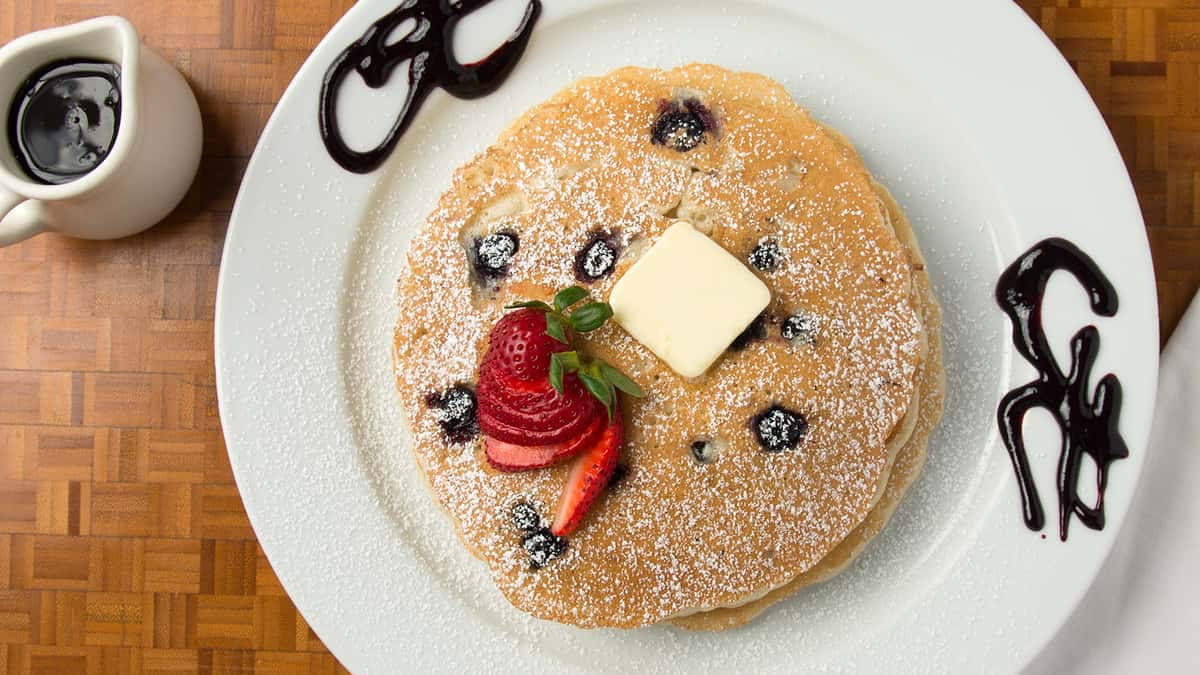 Suite 109, 3555 Rosecrans St., San Diego, CA 92110
The Naked Cafe is a cute little cafe with plenty of organic options that cater to everyone, including those with dietary requirements, food intolerances, and vegans and meat-eaters alike.
Now… back to the pancakes.
The Naked Cafe has a wide variety of flavors to choose from, with equally large portion sizes!
Their hefty custom pancakes come in a multitude of different options. You can't go wrong with the aptly-named "Fuzzy Monkey Pancakes" which incorporate bananas and almonds. There are also scrumptious blueberry and blackberry flavors to choose from.
Currently, the Naked Cafe's most popular pancake dish is the "Strawberry Chocolate Chip Pancakes" which combine delicate strawberry flavors with rich chocolate chips.
For variety, coconut and mango pancakes and simple pancakes are also available on the menu.
And the best part? All of their pancakes can be ordered vegan and gluten-free if you like!
The Original Pancake House
3906 Convoy St., San Diego, CA 92111
The Original Pancake House is an old-school American diner with true-blue American decor, an extensive menu, and plenty of pancakes (of course).
The Original Pancake House was founded in Oregon in 1953 and has been an American favorite ever since. This long-standing, family-owned business is very proud of its recipes—and for good reason!
In terms of pancake flavors, The Original Pancake House has a seemingly endless list to choose from that also includes traditional Swedish pancakes.
If you're not in the mood for a traditional pancake, there are many other unique options available as well. Some of the crowd favorites are the banana nut, blueberry, and pecan pancakes.
Pancakes aside, there's also an extensive list of featured dishes on the menu such as waffles, crepes, omelets, and cereals. A meal at this vibrant restaurant is sure to keep your energy going throughout the day!
Snooze Eatery
3940 Fifth Ave, San Diego, CA 92103
Snooze Eatery is a creative breakfast spot that takes pride in (and is popular for) its non-traditional take on breakfast. Snooze's interior is colorful and decorative with classic comfy booths, but there's also outside seating if you prefer.
Its menu offers a huge variety of meals including— you guessed it— pancakes! You'll never go wrong with Snooze's signature Pancake Flight which gives you a scrumptious serving of sweet potato, strawberry, and pineapple upside-down pancakes.
If you're interested in trying just one flavor, Snooze also makes that possible.
Or, do you like the quintessential pancake without all the fuss? Then, you'll be quite happy with Snooze's buttermilk pancakes!
Other pancake options include cinnamon rolls, chocolate chip, and blueberry. Patrons who like to be surprised will love Snooze's "Pancake of the Week" feature every Thursday.
For guests with dietary restrictions, Snooze also offers vegan and gluten-free options!
Claire's on Cedros
246 N Cedros Ave, Solana Beach, CA 92075
Located in Solana Beach, Claire's on Cedros is a lovely cafe with a shaded courtyard that has a homey, backyard feel to it. The interior is quaint and reminiscent of a comfy cabin that you'd love to spend time in.
Claire's has a wide range of breakfast and lunch meals, perfect if somebody isn't up for pancakes.
However, if you do have a hankering for pancakes, Claire's has got you covered! You can choose between buttermilk, multigrain, and lemon ricotta pancakes, all served with luscious maple syrup.
How many pancakes would you like? Two, three, or even more? Claire's lets you choose as many pancakes as you'd like!
If you have dietary restrictions, Claire's also offers gluten-free pancakes so you don't need to miss out.
The Mission
The Mission has three locations in San Diego, namely:
2801 University Ave, San Diego, CA 92104-2904
3795 Mission Boulevard, San Diego, CA
1250 J St, San Diego, CA.
Described as an Asian-Latin fusion with a twist, pancakes probably didn't immediately come to mind. However, rest assured that The Mission makes some of the best pancakes in San Diego!
Just take one glance at their menu, and we bet your mouth will water. The Mission's pancakes are not only delectable but are offered in a huge variety of flavors!
With options such as blueberry, granola banana, and lemon curd pancakes, you're sure to never go hungry. Seasonal pancakes are also available—an option that you should never miss out on.
All these different choices and locations make The Mission super convenient for pancake lovers across San Diego!
Farmer's Table La Mesa
8141 La Mesa Blvd, La Mesa, CA 91942
Farmer's Table La Mesa is a quaint and colorful spot for American eats in San Diego. This family-owned restaurant has a classic diner feel that definitely offers quite an immersive atmosphere.
As for its pancake offerings, Farmer's Table La Mesa has customizable buttermilk pancakes to which you can add chocolate chips, strawberries, bananas, and mixed berries. Another pancake option you should probably try is the strawberry and cream pancake!
In addition, Farmer's Table La Mesa cooks more than just pancakes. There's also a variety of waffles, French toast, and other savory food you can try!
Richard Walker's Pancake House
520 Front St, San Diego, CA 92101
909 Prospect St, La Jolla, CA 92037
2670 Via De La Valle, Del Mar, CA 92014
In a Reddit thread discussing San Diego's best pancakes, Richard Walker's Pancake House was dubbed as having "some of the best pancakes" they've tried.
The same Redditor also mentioned that Richard Walker's is known for its non-traditional pancakes (to American standards, at least).
These non-traditional, baked specialties include the "Danish Harvest" which is filled with broccoli and tomatoes. Richard Walker's prized specialty pancake is the German pancake: A huge, lemony treat that celebrates the restaurant's Bavarian roots.
Of course, you can also take your pick from the traditional pancakes on offer, such as blueberry, strawberry, pecan, cherry, and chocolate chip pancakes.
Richard Walker's boasts over 100 menu items that are made from scratch every single day. The restaurant has definitely earned its reputation as one of San Diego's finest.
Because of its immense popularity, Richard Walker's has three different locations across San Diego. You're sure to find one near you!
Brian's 24
828 Sixth Ave, San Diego, CA 92101
Brian's 24 is a bar and grill on Sixth avenue in the Gaslamp district that prides itself as the only 24-hour, full-service restaurant in the area.
Aside from a wide variety of meals, the restaurant also offers an all-day breakfast menu.
Craving for some pancakes? Brian's 24 has got you covered with its delicious buttermilk pancakes, chocolate chip hotcakes, and even some s'mores hotcakes to bring back those camping memories!
If you're looking for a truly unique pancake experience, check out the Ultimate Pancake Sandwich on the menu.
Be warned, it's not for the faint-hearted! This dish comes with buttermilk pancakes, eggs, bacon, and sausage patties—all perfect for a hearty meal!
Cafe 21 Gaslamp
802 Fifth Ave, San Diego, CA 92101
Cafe 21 Gaslamp is a bohemian brunch spot in the historic quarter on Fifth Ave that's also popular for its sangria and short ribs. The interior of Cafe 21 Gaslamp is super stylized, with plenty of art displays and decor.
During the evenings, the restaurant displays fairy lights outdoors. Meanwhile, pretty lights dangling from the ceiling illuminate the indoor area as well.
Cafe 21 Gaslamp has a few different styles of pancakes on its menu, with the most popular being the traditional Dutch pancakes. For something just as unique, try the cocoa-laced tiramisu pancake!
Other pancake options include classic and potato pancakes. All pancakes on the menu are also vegan, while some can be made gluten-free!
If you're in the mood for something savory before (or after!) your pancakes, there are lots of delicious crumpets, sandwiches, and other specialties on the menu.
Fig Tree Cafe
The Fig Tree Cafe has a few locations around San Diego.
Pacific Beach: 5119 Cass Street, Pacific Beach, 92109
Liberty Station: 2400 Historic Decatur Road Suite 103, San Diego, 92106
East Village: 695 Sixth Ave. San Diego, 92101
The Fig Tree cafe is a quirky cafe with surfboards hanging from the roof and fun paintings that give the place an indie, beach-like feel at all their locations.
Among the many delicious items on its menu, the Fig Tree Cafe has buttermilk, lemon ricotta, and apple fritter pancakes. The pancakes are quite the treat and receive rave reviews online!
Harry's Coffee Shop
7545 Girard Ave, La Jolla, San Diego, CA 92037
Dubbed one of the oldest restaurants in San Diego, Harry's Coffee Shop has been serving old-school American breakfast to customers since the sixties. The coffee shop is also revered in San Diego for its menu, classic decor, and quick service.
Although it only offers a few types of pancakes, Harry's Coffee Shop's classic oatmeal pancakes prove to be the most popular! There are also other pancake options available, such as bacon pancakes and chocolate chip variations.
For a full breakfast, try the pancake combos that offer two eggs with either two or four pancakes. They're sure to fill you up!
Because of its long history and popularity, Harry's Coffee House is a must-try in San Diego.
The Trails Eatery
7389 Jackson Dr, San Diego, 92119
The Trails Eatery is a locally owned, funky-yet-sleek breakfast restaurant in San Diego.
It's got your classic cinnamon pancakes with cream cheese frosting, blueberry pancakes, and buttermilk pancakes. Also on the menu are pumpkin pancakes (all year round!) to satisfy your autumn-themed cravings.
The Trails Eatery also serves waffles and French toast— and that's not to mention all the savory breakfasts on the menu such as a massive array of benedicts, scrambles, and omelets!
The Trails also has plenty of vegan and gluten-free options, catering to any dietary requirements you may have.
Hash House a Go Go
3628 Fifth Ave, San Diego, CA 92103
Hash House a Go Go is self-proclaimed to serve "twisted farm food." This restaurant makes its mark known by bringing together the old and new in a super stylish way.
It's also known for its huge pancakes that are adorably described as "steering wheel-of-a-tractor sized big". These gigantic pancakes come in a similarly giant range of different flavors, such as chocolate chip, bacon, Snickers, and blueberry.
All Hash House a Go Go pancakes are served with butter, syrup, and strawberries, making for quite a satisfying meal. This spot is known for its huge portions and delicious food—go give it a try!
Flap Your Jacks
3020 University Avenue, San Diego, CA, 92104
A modern, spacious breakfast and brunch spot with a literal griddle on every table so you can flip your own pancakes—how cool is that?!
At Flap Your Jacks, you first choose your batter from a selection of buttermilk, banana bread, chocolate, red velvet, Oreo, and vegan & gluten-Free.
Then, once you're happy with the batter you chose, you'll add other ingredients such as chocolate chips, walnuts, and bacon. Following that, grill the pancake right at your own table and top it with different spreads and syrups!
For guests who are too hungry to make their own pancakes, there are restaurant-cooked options available such as apple strudel and lemon cake pancakes. You can also choose from a variety of classic savory breakfasts.
However, you shouldn't miss out on the flip-your-own-pancake gimmick that's popular with the patrons!
Cafe 21 University Heights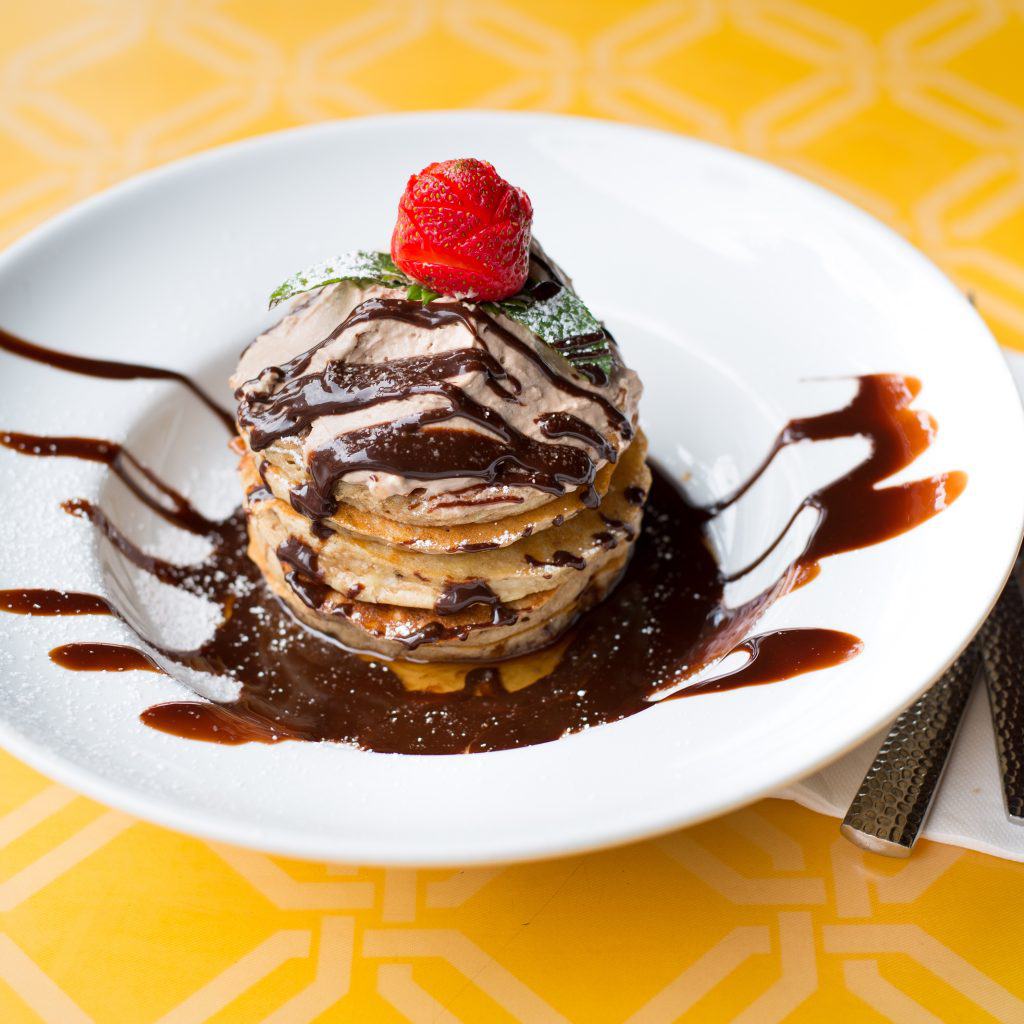 2736 Adams Ave, San Diego, CA 92116
Cafe 21 is a sweet, slightly off-beat, and well-decorated cafe in San Diego— with remarkably good food to boot.
The overall feel of the cafe is one of a rustic garden, with ample indoor and outdoor seating. They have traditional Dutch pancakes, tiramisu pancakes, and classic pancakes that are sure to blow you away!
Cafe 21 is vegan and vegetarian-friendly, and has plenty of options to suit your dietary requirements.
The Cottage
7702 Fay Ave, La Jolla, CA 92037
The Cottage is a more modern breakfast spot in La Jolla, San Diego, that feels like a European bakery. Guests can comfortably settle into the restaurant's spacious indoors and out (if you prefer the open air).
The Cottage serves a selection of three pancakes, namely the cinnamon swirl, lemon ricotta, and buttermilk. If you like to have a more filling meal, you can pair these pancakes with other offerings on the menu like benedicts and omelets!
With its gorgeous ambiance and atmosphere, you'll surely leave The Cottage satisfied!
Breakfast Republic
The Breakfast Republic has nine locations across San Diego! A few are listed below, and a quick Google search should uncover the restaurant nearest to you:
North Park: 2730 University Avenue, San Diego, CA 92104
Liberty Station: 2865 Sims Road, Ste 106, San Diego, CA 92106
East Village: 707 G St, San Diego, CA 92101
Ocean Beach: 4839 Newport Avenue, San Diego, CA 92107
Breakfast Republic restaurants are tastefully decorated with a chic aesthetic popular in many cafes nowadays. The chain has put a lot of thought into its design, which pays off extremely well.
There's usually plenty of inside and outside space, and the environment is very comfortable.
If strawberry cheesecake pancakes sound like something you'd like, then Breakfast Republic might be the spot for you! Depending on the time of year, there may also be winter specials on the menu such as Baklava pancakes.
You can always try out all-year-round favorites such as the Oreo, churro, pineapple upside-down, and cinnamon roll pancakes. Breakfast Republic's pancakes are highly rated, and described as being fluffy and delicious.
The Bottom Line
There's no shortage of pancakes in San Diego. Whether these come from a specialty pancake house or a classic cafe—you'll never run out of delicious pancakes to choose from!
If you're looking for traditional, German-baked pancakes, you could try The Original Pancake House or Richard Walker's Pancake House. Those who crave humongous portions should head straight to Hash House A Go Go!
Maybe you're heading out in a group, and need a place that has something for everyone. In that case, you might want to head to The Cottage or Cafe 21.
All in all, there's a myriad of delicious pancake spots you can find in San Diego. It's doubtful you'll leave disappointed!
More about our TFVG Author