As all regular jet setters know, travel time can take up a sizable portion of your holiday. Whether you're visiting a new place or returning to your family's favourite destination, it's vital to factor in your transportation when planning your trip.
This is more true of Southern California than most other locations. Los Angeles, in particular, is renowned for its traffic.
After you've purchased your theme park tickets for Disneyland and Universal Studios Hollywood, it's important to weigh all of your travel options.
Luckily, you're in the right place! We've compiled all the must-know info about travelling between these two exciting attractions.
Check out our California Vacation Guide to get more exciting ideas for your next family vacation.
How To Get To Disneyland From Universal Studios Hollywood
While many people assume a free shuttle service is offered between Universal Studios and Disneyland, this, unfortunately, isn't the case because different corporations own both theme parks.
Nevertheless, it is important to consider how far Hollywood is from Disneyland, California, and the many options for getting there. These options could include cheaper public transportation to pricier private lifts.
Driving
When visiting Universal Hollywood, Disneyland, or both, most people choose to drive, as this allows maximum flexibility and convenience- perfect for visiting California with kids.
You can either rent a car nearby or drive your car (this is the cheapest option).
Estimated costs
Car rentals start at around $40, though it depends on the type of vehicle. You'll have to pay for gas and parking ($20 per day at Disney and $25 per day at Universal Studios Hollywood).
Estimated travel time
While the 35-mile drive should only take 40 minutes, the highway connection is known for its chocka-block traffic. If you get caught in a jam, your journey can take up to two hours.
Pros:
Flexibility: Rather than worrying about catching a bus at a specific time, driving allows you to set your schedule. You can arrive as early as you'd like and leave conveniently whenever you (or the kids) have had enough.
Comfort: From car journey games to snacks, you can stay stocked up without worrying about carrying it all. This is the ideal arrangement for anyone with younger kids!
Cons:
Traffic: The roads of Los Angeles are notoriously busy. If you're driving from Universal Studios to Disneyland, you'll have to plan to avoid getting caught on the highway for hours.
Take a taxi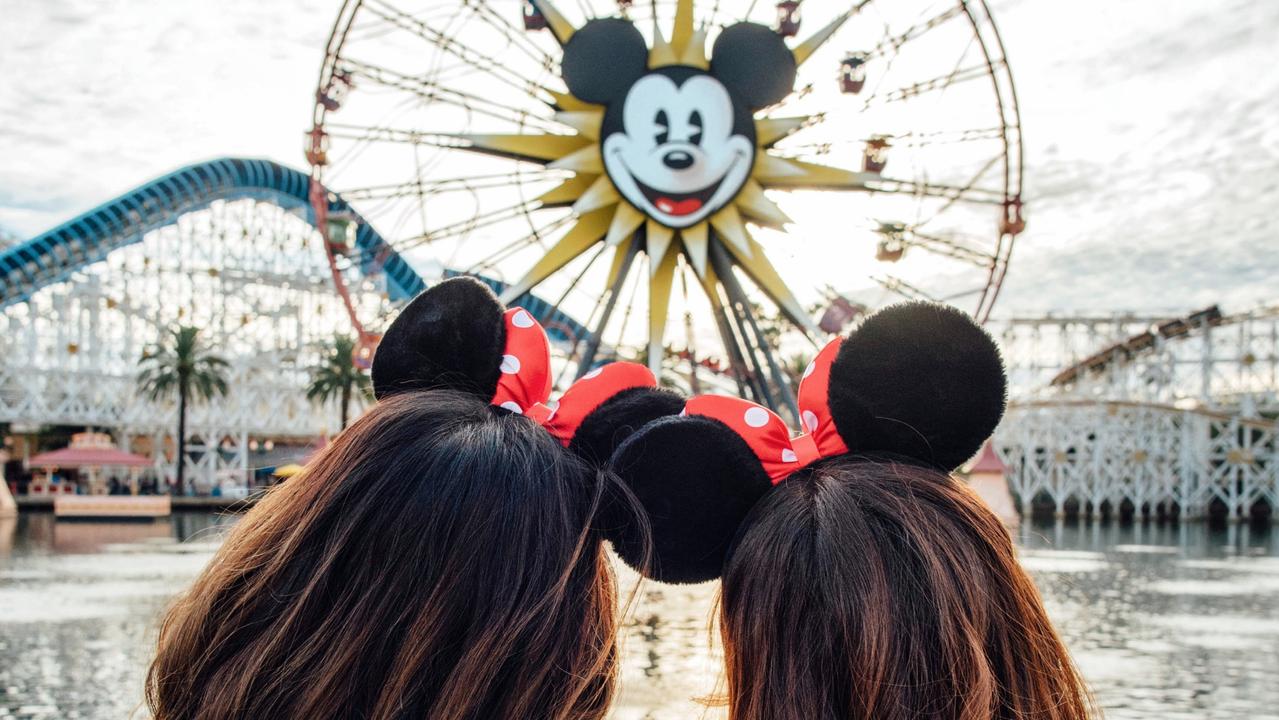 If you like to secure your transportation in advance, booking a taxi between the two parks may be best for you and your family.
There are many local taxi firms that cater to theme park visitors like yourself.
Estimated costs
A round trip will cost you around $125, though it costs more for a minivan/larger car. Price also varies between taxi companies.
Estimated travel time
The journey will take between 45 and 50 minutes by taxi.
Pros:
Speed: Travelling by taxi is the quickest way of getting from Universal Studios Hollywood to Disneyland.
Convenience: You can book a taxi for whichever time suits you best and enjoy the journey without having to drive yourself.
Cons:
Price: Costing over $100, a taxi is one of the most expensive transport options available.
Shuttle services
While no free shuttles are available, companies like Starline Tours run private shuttles between the parks. Be sure to read the terms carefully before booking, as some services require you to buy your theme park tickets through their site.
Estimated costs
Shuttle tickets cost around $45 for an adult and $35 for a child.
Estimated travel time
The travel time depends on which shuttle you choose. It may stop at other attractions in the area, lengthening your journey.
Pros:
Ease of travel: Booking a shuttle with a company such as Starline saves you from having to organise a car rental or navigate the infamous LA traffic.
Tour guide: Like a tour bus, most shuttles provide a narrative guide, so you'll learn about the Los Angeles area on your journey between the two theme parks. If you've got extra time, joining the Hollywood tour may be a perfect break from the rides.
Cons:
Not a direct journey: You'll have to make additional stops as you're dependent on the shuttle's schedule. This will make your journey longer and may prove frustrating if you're itching to get to Disneyland ASAP!
Public bus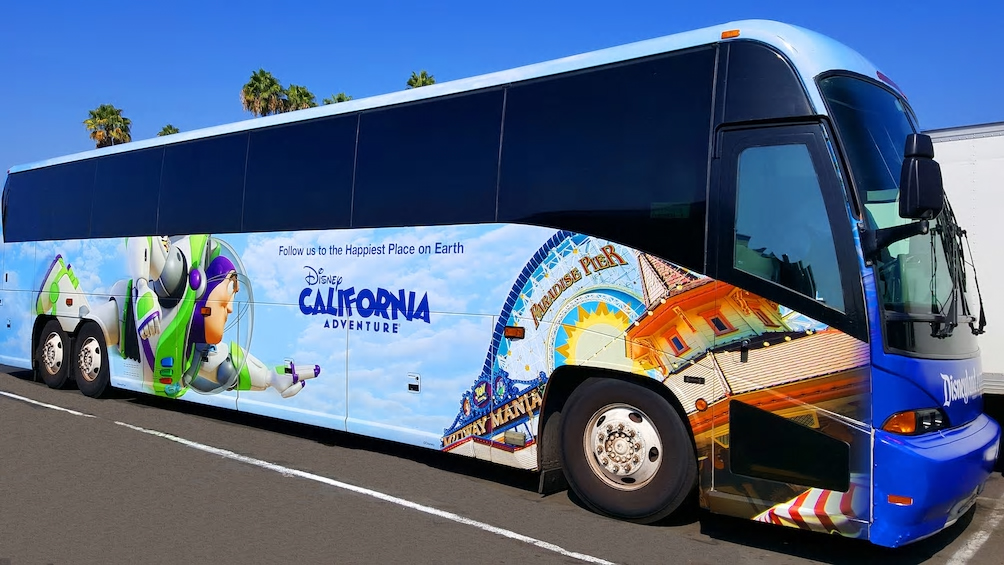 Though it involves multiple changes, you can make the journey between theme parks using the public bus system. The public bus can be a great way to explore Los Angeles.
Estimated costs
As the cheapest option on the list, the public bus costs just a few dollars.
Estimated travel time
Due to the multiple transfers, the journey takes 2.5-3 hours by bus.
Pros:
Affordability: If you're on a budget (and not in a rush), you can save money by taking the public bus instead of private transport.
You'll see the city: When riding the bus from Disneyland to Universal Studios, you can sit back and enjoy the rolling hills of Los Angeles. The bus is perfect for anyone eager to immerse themselves in the hustle and bustle of LA.
Cons:
Inconvenient: There's a reason that people tend to drive in LA. The public transport infrastructure is lacking. A 3-hour bus journey takes patience and considerable effort!
Take the train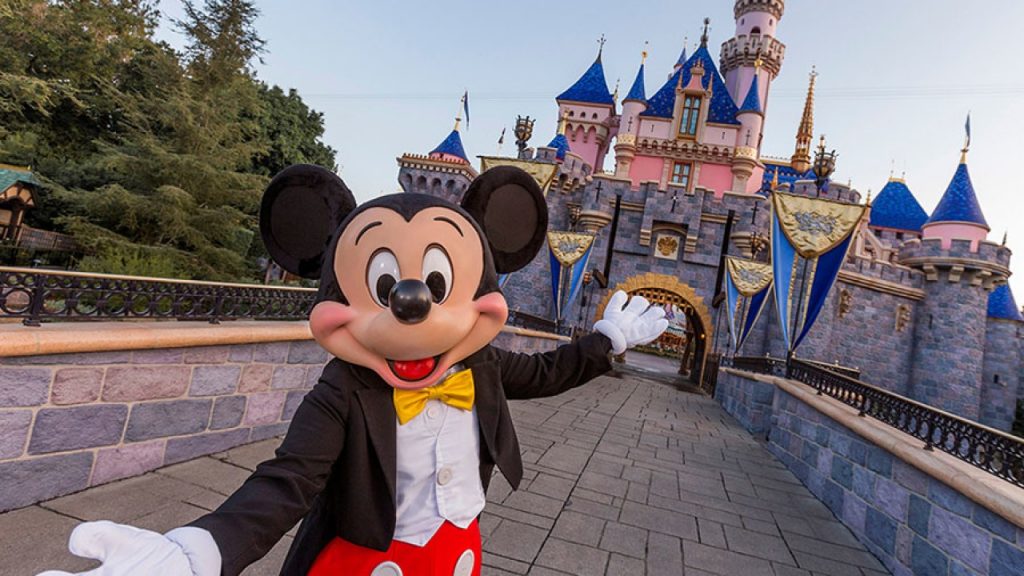 With good links between the Anaheim ARTIC station and Union Station in LA, the train is the preferred type of public transport for most theme park visitors. You'll be pleased to hear that Amtrak Pacific Surferlink trains offer WiFi and power outlets!
Estimated costs
The train will cost between $20 and $30 for adults and less for kids—children under two ride for free.
Estimated travel time
The journey takes around 38 minutes.
Pros:
Reliability: While bus times can be a little hit-or-miss, train timetables are typically reliable. Trains also run very regularly, so you can sit back and enjoy LA's stunning landscape without worrying about your schedule.
No traffic: When taking the train, you don't need to worry about the annoying Los Angeles traffic. You'll have more time to see the entire theme park!
Price: The train is far cheaper than hiring a taxi or rideshare.
Cons:
Additional transfers: Because the train stations aren't located directly outside of the parks, you'll need to think about how to get to the station in the first place. From Union Station, an Uber (approx. 10 minutes) is the easiest way to get to Universal Studios.
Rideshare with Lyft or Uber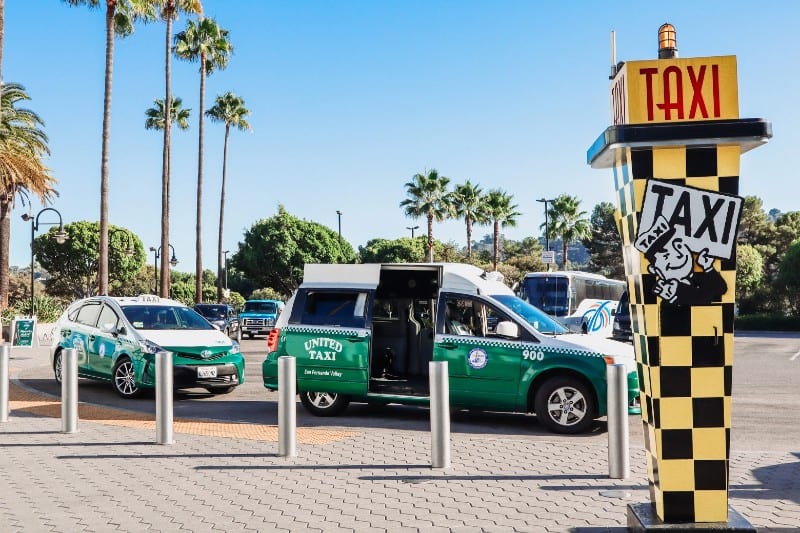 Lyft
Some travellers opt for Lyft over Uber when travelling to Universal Studios because they are considered a more customer-oriented company. Both rideshare companies offer a similar service, bookable via a mobile app.
Estimated costs
You can expect to pay around $125 for a round trip with Lyft. Though this seems like a high amount, it may prove cheaper than buying shuttle (or even train) tickets for the whole family.
Pros:
Customer service: Lyft is known for its excellent customer service, meaning your every need will be taken care of.
Deals: Lyft regularly offers money-saving discounts to its customers so that you may get your journey at a reduced price.
Cons:
Price: Compared to car hire and public transport, Lyft is the most expensive option. It won't be suitable for those visiting on a tight budget.
Uber
While offering a similar service to Lyft, Uber is slightly cheaper. It is the go-to company for quick and affordable rides, and LA is no exception.
Estimated costs
An UberX between Disneyland and Universal Studios Hollywood costs around $90 each way, though prices spike at peak times. Prices can vary massively depending on demand- this is undoubtedly something to budget for.
Pros:
Good last-minute option: While taxi companies will typically require you to book in advance, you should be able to get an Uber at short notice.
Varying vehicle sizes: From UberX to UberSUV, there are five standard vehicles to choose from. Though larger cars cost more, Uber will certainly be able to accommodate even the biggest of families!
Cons:
Price: While Uber offers deals fairly regularly, it is still one of the most expensive transport options on this list.
Subject to availability: If lots of theme park visitors are booking journeys with Uber, it will be more challenging to secure a ride. Booking in advance via the app can help to prevent getting stranded without an available lift!
When Is The Best Time To Travel To Disneyland From Universal Studios?
To plan a carefree journey, it's important to consider the best time to travel around LA.
On weekdays, traffic peaks between 7:30 and 10:00 am and between 3:00 and 6:30 pm.
We'd recommend heading to Disneyland earlier to avoid the rush hour. Though you'll probably arrive before the park opens, you can hit up a local breakfast spot before enjoying the rides!
There are two Starbucks in Downtown Disney, so you can grab a coffee and browse the shops before entering the main theme park.
If you're visiting both parks on the same day, travelling during the early afternoon is a good idea. You'll avoid the worst rush hour traffic and split your time between the two attractions!
FAQs
What are the worst traffic days in Los Angeles?
Because people travel to and from work, traffic peaks in LA every weekday between 7 and 10 am and 5 and 7 pm.
Friday afternoons see the most traffic as residents leave the city for the weekend. To avoid hours of unnecessary delays, avoid major highways and central spots on Friday afternoons.
Are there free shuttles to Disneyland?
The Walt Disney Company offers a free shuttle service between the Toy Story parking lot and the Disney transportation hub.
There are free shuttles inside the Disneyland Resort between Disneyland Park, Disney California Adventure park, and the Parking area.
Is it safe to take the L.A Metro bus to Disneyland from Universal Studios?
Though the timetables can be unreliable, the LA public transportation is fairly safe.
Many Disney visitors board the LA Metro bus with kids and enjoy the extra bit of excitement added to their trip!
Though convenience may be a concern when planning to travel via Metro Bus, safety shouldn't be a big worry.
Final Thoughts
So, what is the best way of travelling to Disneyland California from Universal Studios Hollywood?
It all depends on your travel needs:
If you're on a tight budget…
Drive between the parks. You can hire a car for around $40, though factor in gas and parking.
If you prioritise comfort…
Book an Uber or Lyft between the two parks. Look out for offers, as you may be able to book at a discounted price.
To avoid the traffic altogether…
Jump on the train! The Amtrak regularly runs between Anaheim and Union Station, allowing you to get from one theme park to another within 45 minutes.
Once you've got your park tickets and your transportation sorted, you can get ready to enjoy your carefree visits to Disneyland California and Universal Studios Hollywood.
Check out these other fantastic articles about vacationing in Los Angeles, California:
More about our TFVG Author