If you are planning your next vacation or want to have a fun weekend with the family, then the best place to get your adventure on is Knott's Berry Farm, one of the most popular theme parks in Southern California.
Simply put, this is one of the best vacation spots available due to all the fun you can have, from the live performances to the astounding attractions—and you cannot forget the thrilling rides.
Over five million people visit this theme park each year to experience the four themed areas, which we will be going into further detail below. Keep reading to learn everything you need to know about Knott's Berry Farm Roller Coasters.
History of Knott's Berry Farm
Knott's Berry Farm has been operating for more than a century. In the 1920s, Knott's Berry Farm originated as a roadside berry stand. Yes, the United States' first theme park was only a tiny berry stand with a rich and mysterious history that eventually led to it becoming one of the most popular theme parks in the country.
It all started in December of 1920 when the Knott family relocated to Buena Park to start their lives over with Walter Knott's cousin, a berry farmer. In 1923, Walter started growing berries and was able to construct a roadside stand on Grand Avenue. The roadside would become a berry market named "Knott's Berry Place", serving sandwiches, pies, and other goods.
Early in the 1930s, Walter's berries began to gain popularity, which led George M. Darrow to inform Walter of a superior berry by Mr. Boysen. Due to Darrow's suggestion that Walter should look for Boysen, they eventually discovered Boysen's long-forgotten berry plant in a ditch.
Walter planted the berries in Buena Park after receiving permission from the owners, and they grew a lot the following year. Walter added the berry to the tea room menu, gave it the name boysenberry in honor of its inventor, and introduced it to the public in 1934.
The same year, Walter's wife, Cordelia, would prepare a fried chicken feast that would attract numerous visitors to their farm, which would change their lives. Originally they sat 20, then they expanded to a full-fledged restaurant seating up to 350 people.
Walter sought to amuse the waiting customers, who typically wait for more than three hours. His efforts to produce anything amusing eventually developed a life of their own and became the center of attention.
The farm would develop a variety of entertaining attractions over time, eventually turning into a full-fledged theme park with thrilling rides and other attractions. What began as a berry stand transformed into a restaurant, a ghost town, a fiesta village, and ultimately the theme park you know today. And if you didn't know, you will below.
Four Themed Areas
Attractions, rides, and other enjoyable activities are now available for everyone to enjoy at Knott's Berry Farm. From the kid-friendly theme park Camp Snoopy to the famous ghost town that inspired the creation of this amusement park, there is something for everyone to enjoy.
Old West Ghost Town
The Ghost Town was a significant contributor to Knott's Berry Farm's rise to fame. Originally constructed in the late 1930s, this is the core of Knott's Berry Farm. To honor the pioneering spirit of the 1880s, Ghost Town was modeled after the Old West boom town.
From cowboys and gunfights to a steam train and much more, this region has everything you could imagine. Visitors are invited to enjoy live entertainment, drinks, and other amenities in this area. You can take pleasure in thrilling rides like the steel-inverted Silver Bullet roller coaster or a variety of sights that will transport you into the past.
Additionally, the Wild West Stunt Show's showdown between the local gunslingers is not to be missed. You and your family will have an unforgettable experience, whether you choose to visit the Ghost Town School or hear Sad Eye Joe lament his incarceration.
Fiesta Village
The late 1960s saw the creation of Fiesta Village, one of the first themed areas. The architecture and cuisine featured in this theme are influenced by Mexican cuisine, honoring California's Hispanic heritage. Park favorites like Montezooma's Revenge and La Revolución are among the attractions in Fiesta Village.
The heart-pounding thrills of Fiesta Village's rides, including Sol Spin and others, are available to daring visitors. This area is lively and vibrant in every way—from the food and artwork to the lighting and general ambiance of it all. You will undoubtedly consider this to be one of your favorite attractions at Knott's Berry Farm.
The Boardwalk
The Boardwalk honors the well-known beach culture of Southern California and is the place to be if you want a more laid-back getaway. You can visit the Charles M. Schultz Theatre along with your family, which hosts live performances all year long, seating up to 2,100 people. Fans of Peanuts will also love the outlandish outfits and performances when the gang arrives.
But fear not, there are plenty of other exhilarating rides for you thrill-seekers to discover, including HangTime, Coast Rider, and the Pacific Scrambler. Not to mention the Xcelerator, which will accelerate you from 0 to 80 miles per hour in less than 3 seconds. The rides at The Boardwalk will exceed your expectations.
Camp Snoopy
Knott's Camp Snoopy is one of the most popular children's play areas. This is the first-ever theme park area created specifically for children. The Peanuts gang lives on these six acres of land, where you and your family can spend a day at camp along with your favorite characters.
Camp Snoopy has it all, featuring over 15 attractions filled with fan favorites, including Charlie Brown's Kite Flyers, Pig Pen's Mud Buggies, and Linus Launcher. Each is a thrilling experience that any child would be eager to repeat as soon as possible.
And bigger kids can join in on the fun too as they traverse through the modern Camp Snoopy classic and Sierra Sidewinder, which will send riders for a loop—literally! Additionally, for seasonal performances, the Camp Snoopy Theater features family-friendly entertainment with Snoopy, Charlie Brown, and the rest of the Peanuts Gang.
Roller Coasters
As you can see, Knott's Berry Farm is home to a wide variety of fantastic rides. Whether you want a low-key family outing or want to raise your adrenaline, there is something for everyone. Some of the top rides that Knott's Berry Farm has to offer will be highlighted here. Let's begin with the most exhilarating rides in all of Knott's Berry Farm.
GhostRider
The GhostRider, a wooden roller coaster that debuted in 1998, is Knott's Berry Farm's largest attraction. With a height of 118 feet and a length of 4,533 feet, this wooden roller coaster is also one of the longest and tallest in the world.
Take on the GhostRider and explore the mysterious mine if you have the fortitude. The nearly three-minute journey will be filled with tons of fun as you traverse the unknown.
Height: 118 Feet
Speed: 56 MPH
Length: 4,533 Feet
Duration: 2:40
Coast Rider
The Coast Rider, a steel wild mouse roller coaster, is the next ride we'd like to talk about. Wild mouse rides are roller coasters driven by a single car that goes through unbanked, sharp turns. In 2013, Knott's Berry Farm decided it was out with the old and in with the new as they replaced the former plot of Perilous Plunge with the Coast Rider, Surfside Gliders, and Pacific Scrambler.
Coast Rider's name was based on the park's GhostRider roller coaster and will take riders on a 52-foot ascent at up to 37 mph. Take this journey down the 1,339 feet of track along with your family for an unforgettable experience.
Height: 52 Feet
Speed: 37 MPH
Length: 1,339 Feet
Duration: 2:30
Hangtime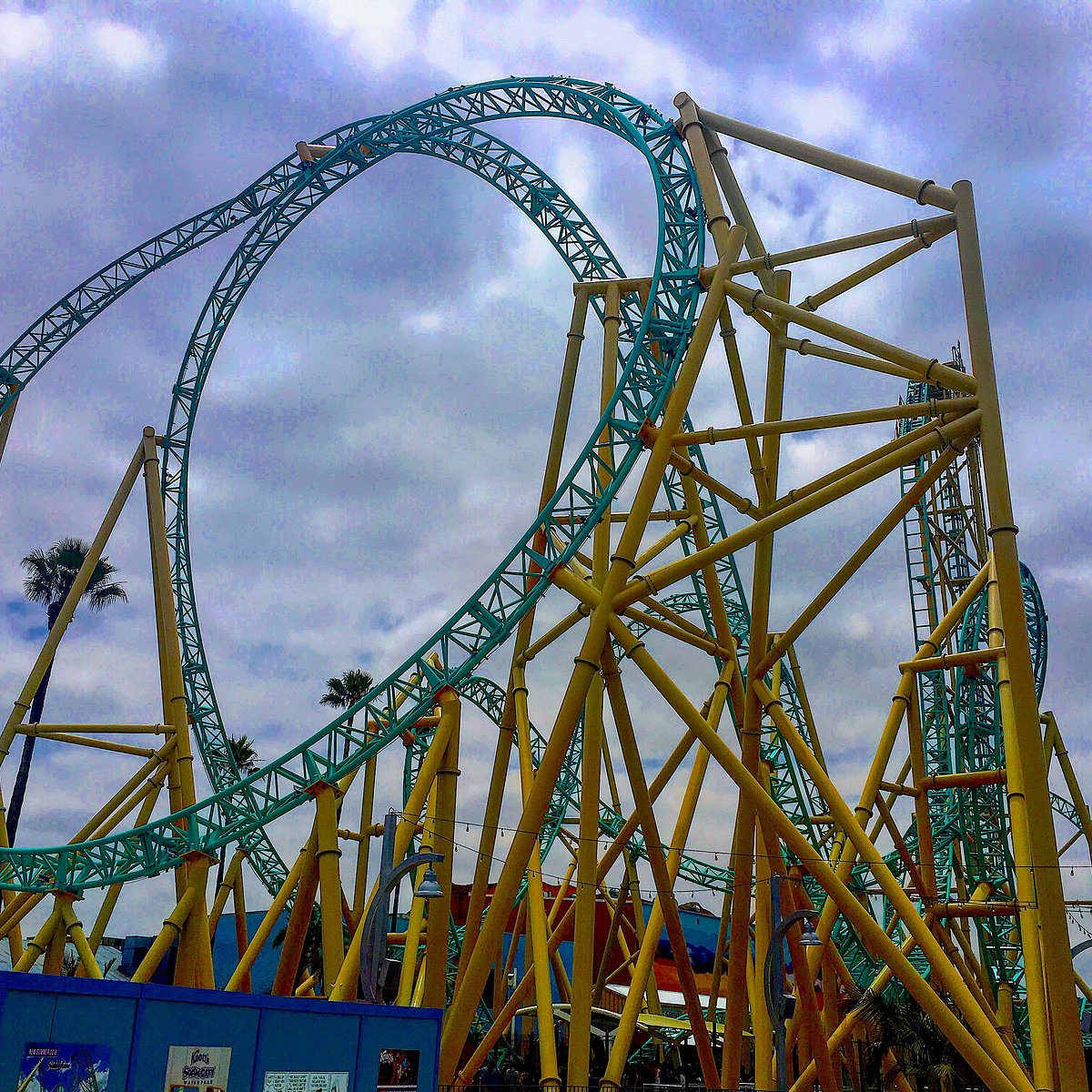 Riding Hangtime is quite possibly the most fun and thrilling ride you can experience at Knott's Berry Farm. Hangtime is the first dive coaster in California and it is the most gravity-defying experience you will have at Knott's Berry Farm.
Due to the rider being suspended and inverted in the air, this rollercoaster will quickly become a personal favorite. The heart-pounding exhilaration that comes from the steepest vertical drop will make you want to ride it again. Everything from the Negative-G Stall Loop to the Cobra Roll will have you ready for more.
Height: 150 Feet
Speed: 57 MPH
Length: 2,198 Feet
Duration: 2:30
Silver Bullet
Another one of the most thrilling rides at Knott's Berry Farm is The Silver Bullet. During this two-minute roller coaster ride, daring passengers are shot up to a height of 146 feet before being launched downward. Throughout the entire ride, riders will experience overbanked curves, spirals, loops, and breathtaking views of Knott's.
Speed: 55 MPH
Height: 146 Feet
Length: 3,125 Feet
Duration: 2:10
Xcelerator
The Xcelerator is one of the fastest rides at Knott's Berry Farm. Visit the Boardwalk to experience this exciting ride that will take you 205 feet in the air and straight down at up to 82 mph. Furthermore, this station will immediately transport you to the time of the greasers. Therefore, if you decide to take on the Xcelerator, get ready for the ride of your life.
Speed: 82 MPH
Height: 205 Feet
Length: 2,202 Feet
Duration: 1:02
Montezuma's Revenge
Montezuma's Revenge is an oldie but a goodie that everyone can enjoy. This roller coaster opened in 1978 and was named after the band "Montezuma's Revenge".
Passengers will experience being launched from the station at a speed of 55 mph in just 4.5 seconds thanks to the propulsion system being modeled after the launch system of an aircraft carrier. On this thrilling ride, they will also get to take in the views from the 148-foot tower. Despite being a quick ride, you will find this experience invigorating.
Speed: 55 MPH
Height: 148 Feet
Length: 800 Feet
Duration: 35 Seconds
Jaguar!
The Jaguar opened back in 1995 and is Knott's Berry Farm's fourth roller coaster. The Jaguar is a sit-down family roller coaster, which is just another way of saying that it is made of steel and doesn't have a specialized riding position.
Take on this amazing journey if you dare to investigate the Temple of Jaguar's ancient mysteries. The Montezuma's Revenge loop is just one of the many places you'll get to travel along this 2-minute ride. This will undoubtedly be a thrilling experience for the whole family.
Speed: 30 MPH
Height: 65 Feet
Length: 2,602 Feet
Duration: 2:00
Sierra Sidewinder
2007 witnessed the debut of the spinning roller coaster, the Sierra Sidewinder. This roller coaster is the first to use a train of free-spinning cars as opposed to individual spinning cars.
On the Sierra Sidewinder, which combines speed and spin, you will experience a fresh take on the traditional roller coaster. This ride has a top speed of 37 mph and rotates as you experience the dips and turns while along for the ride.
Speed: 37 MPH
Height: 62 Feet
Length: 1,410 Feet
Duration: 2:00
Conclusion
It's crazy to think how such a simple berry stand has grown into a massive extravaganza with tons of activities for the whole family to enjoy. Knott's Berry Farm has everything you could ever want for a fun-filled weekend. In addition to the invigorating rides it has to offer, there are also a variety of restaurants to get your grub on and live performances to keep you entertained.
You can enjoy everything from the Bluegrass Duo's toe-tapping classics to the Peanuts' Great Pumpkin Palooza. Then, after living it up at any or all of the four themed areas, you can have a relaxing night's rest at the Knott's Berry Farm Hotel. This offers many amenities to ensure the ultimate level of comfort for your stay.
You now know all there is to know about Knott's Berry Farm roller coasters. However, if you want to check out other rides they have to offer, visit the Knott's Berry Farm website if you're interested in learning more.
More about our TFVG Author