Florida is truly unlike any other state in the US. Its location straddling the Gulf of Mexico and the Caribbean Sea creates a unique blend of cultures and provides a home for flora and fauna not seen anywhere else in the United States.
Thanks to its tropical location, theme parks, and sandy beaches, Florida is a premier vacation destination. Hotels can feel impersonal, and costs can skyrocket, especially in major cities. Instead, why not stay at a cabin?
We've scoured the web for some of the best vacation cabins in Florida. Whether you're traveling as a group or for a couple's getaway, visiting Orlando or Key West, there's a vacation cabin perfect for you. Here are our favorites.
Key West
At the far end of the Florida Keys sits Key West, a beautiful, historic island full of spectacular sights and countless attractions. Travelers can visit one of the many museums, visit the Key West Butterfly and Nature Conservatory, or try snorkeling and scuba diving at one of the stunning coral reefs.
Atlantis House Master Suite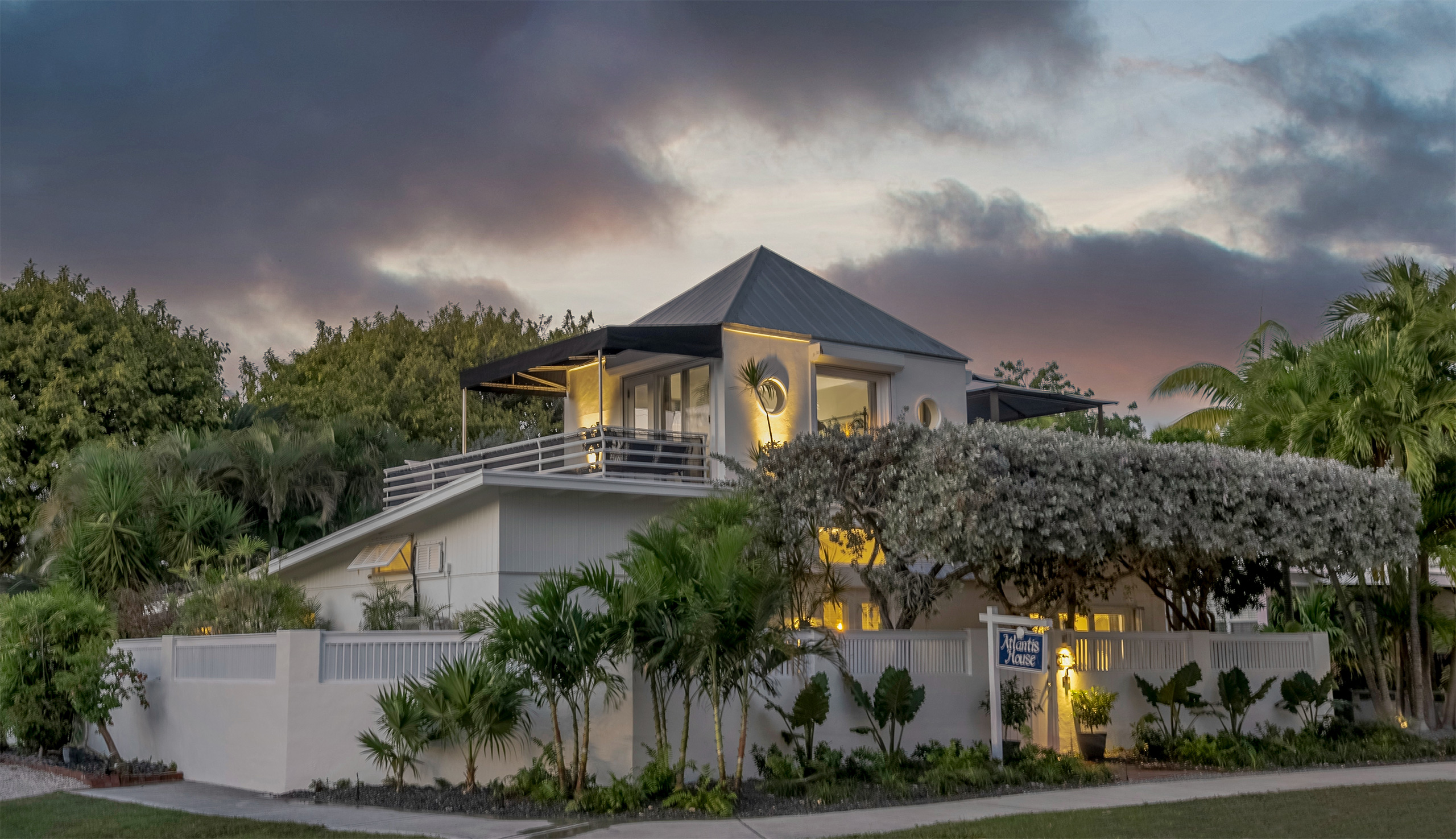 For those wanting a romantic getaway, look no further than the Atlantis House Master Suite. It's no surprise this two-bedroom guesthouse was rated a 2021 Travelers' Choice Award by Tripadvisor, given the luxurious decor and lush backyard.
This suite is made for two, with a king-sized bed, jacuzzi tub, spacious walk-in shower, and dual bathroom sinks. The room has a kitchenette and wet bar, and French doors open to a tropical patio.
Just across the street is Rest Beach, and down a block, you'll find the Edward B. Knight Pier. The Key West Wildlife Center is located nearby, and several more attractions are within walking distance.
Mermaid Cove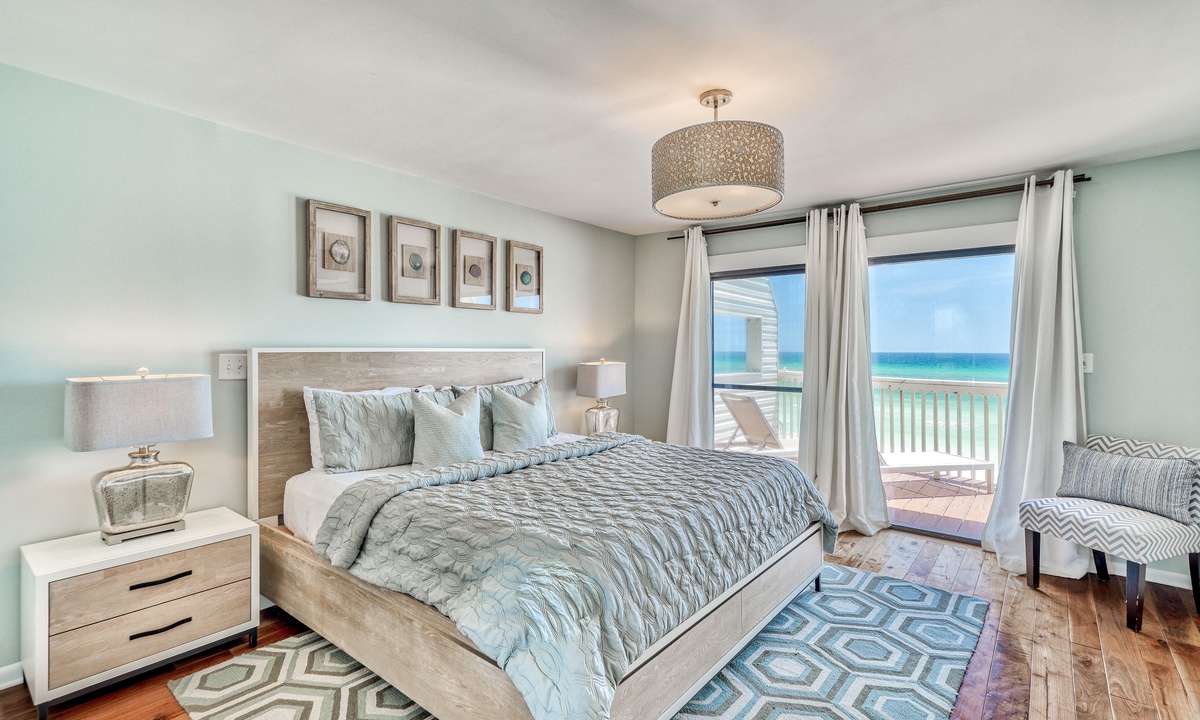 Travelling with a large group? Mermaid Cove is the perfect option, made up of four cabins with a shared courtyard. Each cabin is decorated in an eclectic beach and ocean theme, blending perfectly with the ocean just a few blocks away.
In total, the compound sleeps ten guests. Each cabin has one bedroom and one bathroom, a kitchenette, and air conditioning. The courtyard offers a central gathering place for your group, with a patio set, grill, and stainless steel sink. Here, you may be visited by a large iguana named Dino.
Mermaid Cove is on historic Duval Street. Guests are mere steps away from a smoothie shop, and you'll find several other restaurants down the block. Not far away is the Key West Butterfly and Nature Conservatory, while a few blocks in the other direction takes you to the Hemingway Home and Museum and the Key West Lighthouse.
Airbnb users have given this location 4.93 stars from 134 reviews. Reviews praised the location and said it was perfect for trips with friends. This host is rated as a Superhost.
Miami
Miami is known for its beaches and nightlife, making it a perfect getaway whether you plan to party or just want to shop and relax. This city is buzzing with stuff to see and do, including Little Havana, Bayside Marketplace, Miami Seaquarium, and Zoo Miami. The area also has a wealth of museums, gardens, and parks and is only a short drive from the majestic Everglades.
Beautiful Brickell Cottage
Located in the trendy Brickell neighborhood, this guest cabin combines the glam of the surrounding skyscrapers with a comforting, cozy vibe. You'll feel like you're in The Secret Garden as you take a brick walkway up to the french doors, while the Brickell City Centre and Vizcaya Museum and Gardens are only a mile away.
With two bedrooms and two full baths, this rental is perfect for a family trip. Kids will love the bunk beds, and you'll feel comfortable with them in the secure, fenced-in yard. You'll have access to a full kitchen, air conditioning, washer and dryer, smart TV, and WiFi. All in all, you might feel too cozy to leave!
This part of Miami straddles the line between beach and business. A little more than a mile away is beachfront access from Alice Wainwright Park and Hobie Island Beach Park North. To the northeast, you'll find limitless shopping, dining, and museums. Cap off your night on the Skyviews Miami Observation Wheel at Bayfront Park and get a view of the whole city.
Guests on Vrbo consistently give this rental and its premier host five stars. They typically highlight the central yet tranquil location and comfort of the space.
Bungalow With Pool, Hot Tub, and Backyard
Whether you're craving a romantic retreat or a getaway with friends, you'll find tropical luxury in this Biscayne Park cabin.
The rental sleeps six with a king-sized bed in the bedroom as well as a daybed with a trundle and a pull-out couch. You'll find a full bathroom and amenities like a kitchenette, air conditioning, and WiFi. The backyard is where this gem really shines, with a relaxing patio, hot tub, and pool.
This cottage is ideally located in northern Miami. Walk a few blocks north to the Museum of Contemporary Art, or head east and try one of the many restaurants on Biscayne Boulevard. Not too far is the Enchanted Forest, and Miami Beach is just across the bay.
The host for this cottage has been given a Superhost title from Airbnb, and reviewers rave about the service. This bungalow holds a 4.92-star rating from 77 reviews, most gushing about the beautiful and relaxing backyard.
Ocala
Ocala is renowned as the "Horse Capital of the World," thanks to over 400 thoroughbred farms and training centers. Whether you want a getaway or are attending a horse race, there's something for everyone. Kids will have a blast at The Canyons Zip Line and Adventure Park and the Wild Waters Theme Park, and the multitude of national parks and forests surrounding the city are perfect for nature lovers.
Cottage with Pool on Horse Farm
This bright, eclectic cabin is the perfect oasis whether you're traveling for business or pleasure. This renovated barn sits on a sprawling horse ranch, allowing you to watch the ponies from the pool.
It comes with one bed and bath but is just spacious enough for a couple's getaway. Aside from the fenced-in pool, this rental offers a compact kitchenette, washer and dryer, air conditioning, WiFi, cable, and even an EV car charger. What's more, pets are welcome!
While the ranch is somewhat rural, it's only a 20-minute drive into Ocala and thirty to Gainesville. The area has an abundance of national parks, including Silver Springs State Park, where you can kayak and ride horses.
The Vrbo rating for this cabin is at 4.9 for 109 reviews. Many reviews loved the relaxing atmosphere and kind hosts, but most mentioned the gorgeous surroundings and the memorable views.
Orlando
Orlando is world-famous for its parks, boasting Disney World, Universal Studios, and Seaworld. Unfortunately, that means a vacation here can be on the pricier side when going through a resort hotel. Instead of staying on-site, try one of these cabins so you can save money for mouse ears and wizard wands.
Cozy LakeFront Treehouse
Are you looking for a romantic cabin getaway? Not a fan of heights? If you answered yes to the first question and no to the second, this cabin treehouse is a must-see. Nestled in the arms of an Oak Tree overlooking Lake Martha, this is one of the most serene cabins in Florida.
Ideal for a couple's retreat, this cabin has one bedroom with a queen bed and one bathroom. A kitchenette holds the necessities, and there's a dedicated workspace, but you won't want to spend your time indoors. Relax in a hammock on the deck, or enjoy the shared pool and hot tub. Other amenities include WiFi, air conditioning, and a washer and dryer.
This cabin is remote enough to feel cozy and secluded but is still only about a 30-minute drive from Disney and Universal and 20 minutes from the airport. You'll find the Orlando Science Center even closer, along with parks and golf courses.
While only added to Airbnb and Vrbo recently, the treehouse has five stars across both platforms. Visitors enjoy the unique experience, breathtaking views, and helpful hosts.
Jedi Cottage
We've got a good feeling about this Star Wars-themed getaway. This cabin is bright and modern; no dark side here! Traveling with younglings anxious to get to Galaxy's Edge? They'll delight in the Star Wars decor and Grogu bedding.
The bedroom holds a queen-sized bed, while the pull-out sofa sleeps two more. The tub/shower combo and available pack 'n play are ideal for families traveling with a child or two, as are the outdoor play area and nearby communal pool. In addition, you will have access to high-speed WiFi, air conditioning, and a washer and dryer.
Ready to hit the parks? Disney, Sea World, and Universal are all within ten miles. The airport is less than 20, meaning you won't waste any time getting where you want to go. The RV park this home is in is just off W. Irlo Bronson Memorial Highway, giving you dozens of options for food nearby so you can avoid eating high-priced park food for every meal.
It's not a trap; reviewers give this rental 4.9 stars. Many praised the quiet neighborhood and Star Wars touches. The force must be strong with the host, who has a premier status on Vrbo.
Manor at Lake Barton
For those planning a group getaway, look no further than this spacious cabin on Lake Baldwin. With room for 14 guests, lake access, and a commercial sound system, it's tailor-made for family reunions, bachelor/bachelorette parties, and many other group vacations.
This mini-resort has five bedrooms and three bathrooms, a full kitchen, and separate office space. None of that may matter, though, because you'll want to spend all your time in the show-stopping backyard with a private patio, outdoor kitchen, fire pit, hot tub, and lake access.
Lake Barton is near the heart of Orlando, right next to the Orlando Executive Airport. Disney, Universal, SeaWorld, Ripley's Believe It or Not, and the International Airport are all less than a 30-minute drive away.
St. Augustine
St. Augustine is a gorgeous historic city on Florida's east coast. Spanish architecture and sandy beaches sit side by side, giving visitors the opportunity to see the sights and unwind by the water. It is well-known for its historic homes and churches, wealth of museums, and Anastasia State Park wildlife sanctuary.
Anastasia A-Frame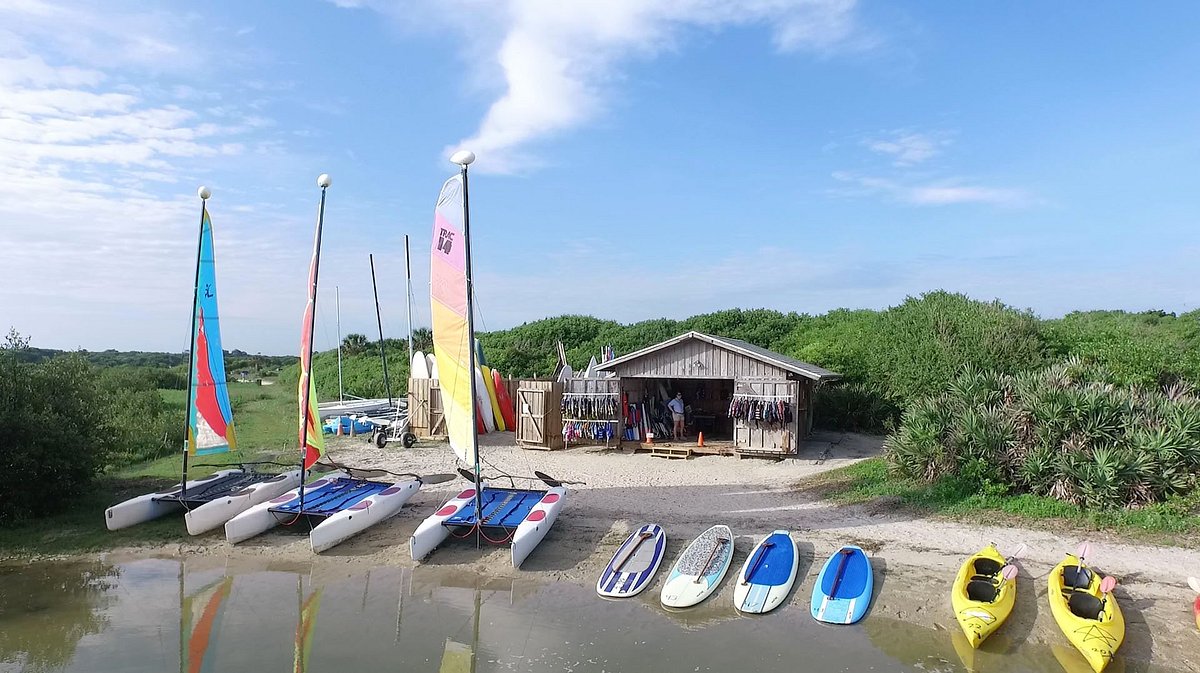 This St. Augustine A-Frame is equal parts charming and modern. With a fully fenced backyard, you will find a little oasis that feels secluded and private but is within walking distance of coffee shops, restaurants, and the beach.
It has two bedrooms, two bathrooms, and sleeps six. The kitchen is stocked with dishes and cookware, so you won't have to go out for every meal. There are plenty of modern appliances, too, like a dishwasher, washing machine, and dryer. You can take advantage of the provided beach equipment to spend some time in the sun, then come home and relax with the WiFi.
The convenient location means a short drive to historic downtown St. Augustine and a short walk to the beach. Stop by The Kookaburra coffee shop for breakfast, then enjoy your day at Crescent Beach before a seafood dinner at the World Famous Oasis Restaurant.
Guests on Airbnb give this rental 4.97 stars across 63 reviews, with plenty raving about the convenient location, well-stocked amenities, and responsive host.
Artsy Cottage
If you're more excited about St. Augustine's history instead of its beaches, look no further than this updated artsy cottage in downtown St. Augustine. This wheelchair-accessible rental seamlessly blends Greco-Roman architecture with a beach aesthetic, creating a light and airy getaway in the heart of the historic district.
Kids will adore the family-friendly setup of this three-bedroom, two full bathroom cabin. With two king beds and two twins, six can sleep comfortably here. You'll enjoy the open-concept kitchen, backyard fire pit, and jacuzzi bathtub.
Ready to explore? The Castillo de San Marcos, Old City Gates, and Ripley's Believe It Or Not are a short walk away. In addition, you can take a short car trip to museums, the Saint Augustine Distillery, or the Black Raven Pirate Ship.
The Artsy Cottage has a Vrbo rating of five stars from 32 reviewers. Many reviews point out the colorful decor, prime location, and excellent hosts.
Tampa
Tampa is a flawless mix of family-friendly attractions, historic landmarks, and public parks. You can visit Busch Gardens, see over 20,000 types of plants and animals at the Florida Aquarium, stroll the Riverwalk, or learn new things at the Museum of Science and Industry.
Enchanted Rustic A-Frame
Are you itching to be close to nature without wanting to itch from mosquitos? This tiny A-frame cabin is what you need. Situated on a five-acre glamping site, you'll quickly forget that you're technically in the middle of the city.
The inside is more tent-like, with a bed and side table. Guests have access to on-site bathrooms, a lounge area, a fire pit, a grill, kayaks, canoes, and WiFi. Spend your days visiting nearby attractions and spend your nights watching the lights dance off Tenmile Lake.
While technically in the suburb city of Brandon, you're only a short drive away from all of the attractions Tampa has to offer, including Ybor City Center Fountain and Cracker Country Museum.
On Airbnb, the cabin has 24 reviews and 4.88 stars, while on Vrbo, it has three reviews and five stars. Many reviewers cited the excellent location and charming atmosphere as standout aspects of their stay. The host has Superhost status on Airbnb and premier host status on Vrbo.
Tropical Bungalow
Situated on Ballast Point in Tampa, this cabin is perfect for family trips. The spacious, fenced-in backyard is well-suited for pets and kids, and the central location means no long car rides for the little ones.
This three-bedroom, two-bathroom cottage sleeps up to seven. The home has a full kitchen, a washer and dryer, WiFi, and air conditioning. Kids will love the bunk beds and spacious backyard, while you'll love the patio and grill.
All the typical Tampa attractions are within a 20-minute drive. If you're looking for activities geared toward kids, you have many options nearby. Try out the Glazer Children's Museum next to the Tampa Museum of Modern Art, or drive a little out of town for the Croc Encounters or the Dinosaur World outdoor Museum.
From five reviews on Vrbo, the bungalow has a solid five stars. Reviewers loved that it was family-friendly, safe, and that the host was responsive.
Final Thoughts
Florida is a vibrant state and every part of it is unique in its own way. Whether you're planning a week at Disney World, a hike through one of the many national parks, or just wanting to get away and relax, these 12 incredible cabins in Florida are waiting for you.
More about our TFVG Author