Florida's climate means that the state is perfect for pretty much year-round camping, and for this reason it's perhaps no surprise that it's such a popular destination for families looking to enjoy the great outdoors.
This also means that Florida is home to a fantastic collection of family campgrounds, each of which have something unique to offer visitors.
But where can you find the best family campgrounds in the Sunshine State?
We're firm believers that the best recommendations come from past visitors, which is why we've rounded up the following campgrounds based on the sites that our team have visited.
In this guide, we'll reveal our recommended list of stunning family campgrounds in Florida.
There's something for every family, whether you're looking to stay close by to the Disney parks, fancy taking advantage of bike or kayak rentals, walking trails, horseback riding, a fishing pier, sit around fire pits in the evening or even want to camp close to a natural lazy river.
Florida has the perfect campground for every family and we're excited to share our top picks with you.
Florida campgrounds offers facilities for everyone, whether you're looking for tent sites, RV sites or even cabin rentals. Camping comes in all different shapes and sizes and the state's campgrounds cater for each of these.
The most important thing is that you find the campground with what suits your family best and make sure it has plenty of activities for kids, as well as adults and that as the sun goes down, you can get cosy with the family and relax by roasting marshmallows over an open fire.
Have fun!
Our Top Rated Family Campgrounds in Florida
St. Augustine Beach KOA Holiday
The St Augustine Beach KOA Holiday is placed in Anastasia Island within a walk of the beach and offers a large selection of tent pitches, RV sites and deluxe cabins. All year round your child can enjoy the site's outdoor pool and games area and there's even a dog park available!
The camp is in the planning stages of converting to a new bathhouse. You can book bus trip reservations with the camp office for the Old City tour or the Ghosts & Gravestones tour. All two trips have points of entry to KOA. and a wide variety of eateries, a souvenir shopping complex and historic sites.
Find the campground at:
525 W Pope Rd, St. Augustine, FL 32080
---
Hontoon Island State Park Campground
Hontoon Island State Park is situated on an island in the St. Johns River and is only open to private boats or ferry services. It's the perfect space to escape as a family to truly enjoy the great outdoors.
On site, there's a concession stand that sells ice, firewood, snacks, and souvenirs and children can enjoy supervised programming including walks with the rangers, fishing, and the use of campfires. As is true for younger adventurers: you can also enjoy boating, canoeing, kayaking, and fishing.
The park has 42 available docking places for boat use – the largest dock can house a yacht up to 60′ if you're a camper or a hiker who is lucky enough to own one!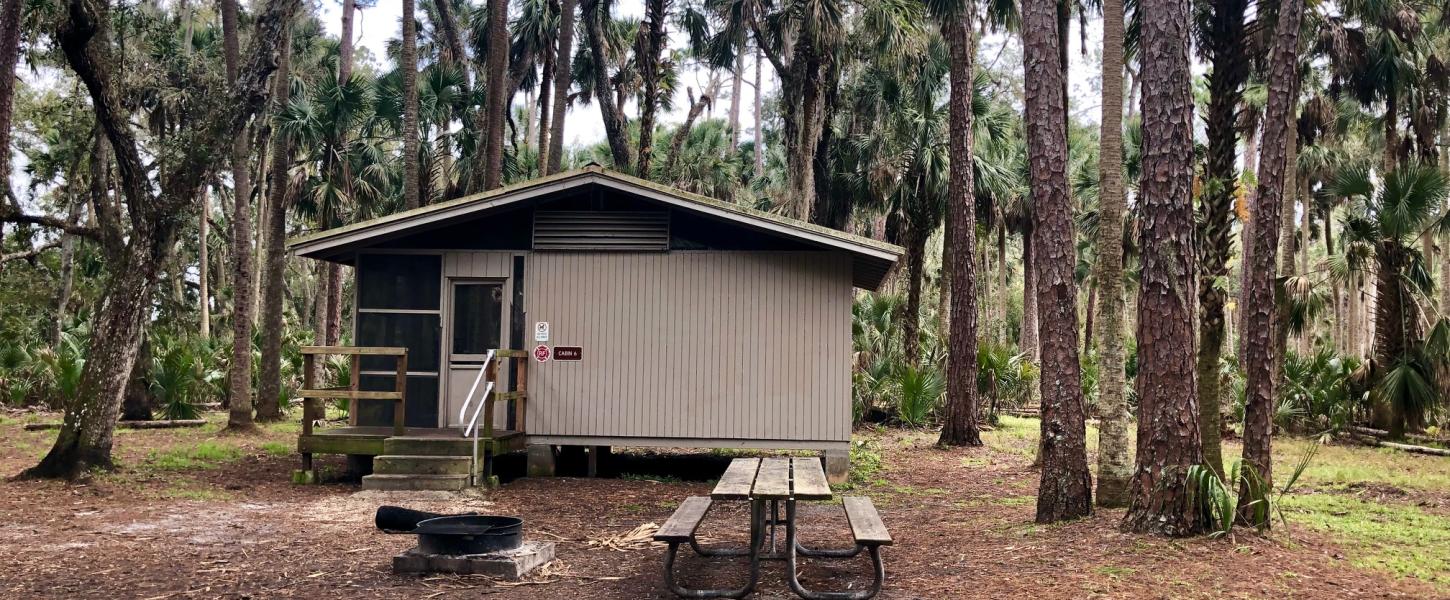 Find the campground at:
2309 River Ridge Rd, DeLand, FL 3272
---
The Campsites at Disney's Fort Wilderness Resort
The Campsites at Disney's Fort Wilderness Resort offer a tranquil retreat from the theme parks.
Aside from a waterpark, families can enjoy a swimming pool, boat rental, golf carts, archery, and canoeing as well as horseback riding.
The Fort Wilderness campground provides full-size camping sites accommodating both tents and RVs and each pitch offers a picnic table and a grill and each campsite has a waterslide and a water-life walk. The campground is located in an ideal location at a park close by to the Magic Kingdom located at the main entrance of Disney World.
Find the campground at:
4510 Fort Wilderness Trail, Lake Buena Vista, FL 32836
---
Lake Magic RV Resort
Lake Magic RV Resort is a fantastic RV resort in Orlando featuring everything a family wants.
The RV parks offer kids tons of activities, including a swimming beach, tennis, and basketball surfaces and for adults, the campground also offers pickleball, washrooms, and Wi-Fi.
Lake Magic regularly hosts on-site entertainment and events for the whole family including dancing games, play crafts, potluck dishes, and even potluck dinners.
The park is located on beautiful Lake Davenport in Central Florida and is part of the Thousand Trails Collection.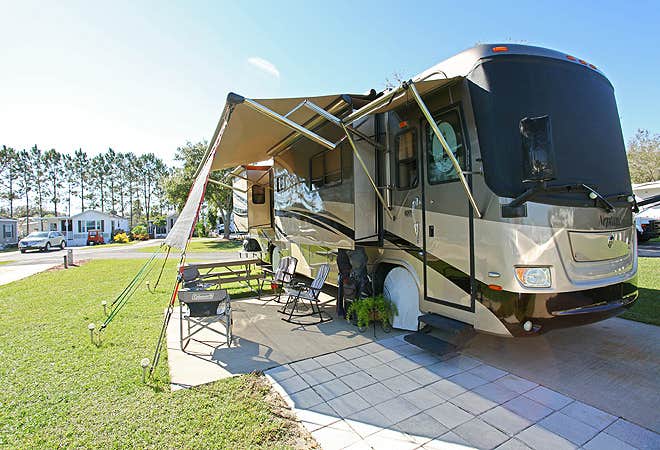 Find the campground at:
9600 Hwy 192 West, Clermont, FL 34714
---
Orlando RV Resort
Orlando RV Resort is a Thousand Trails RV Park and members can camp free of charge while at the resort.
The campground offers a swimming pool and hot tub, a miniature golf course, boat rental, a play-grounds, pickleball, and horseshoe pits. Other on-site amenities include laundry and a business centre.
The resort is less than an hour from the theme parks but offers a peaceful setting on the shores of a spring-fed lake with sandy beaches.
Find the campground at:
2110 Thousand Trails Blvd, Clermont, FL 34714
---
Lake Louisa State Park Campground
Lake Louisa State Park is located in Clermont, 30 minutes west of Orlando.
At the park, three lakes offer campers activity options including fishing, swimming, canoeing, watercraft, kayaking, and stand up paddle surfing. Family-friendly activities inside the park include hiking, biking or geocaching.
Cabin Rental and glamping tents can also be rented at the park.
The campground offers 60 RV sites with full hookups and can have a reservation of up to 11 months.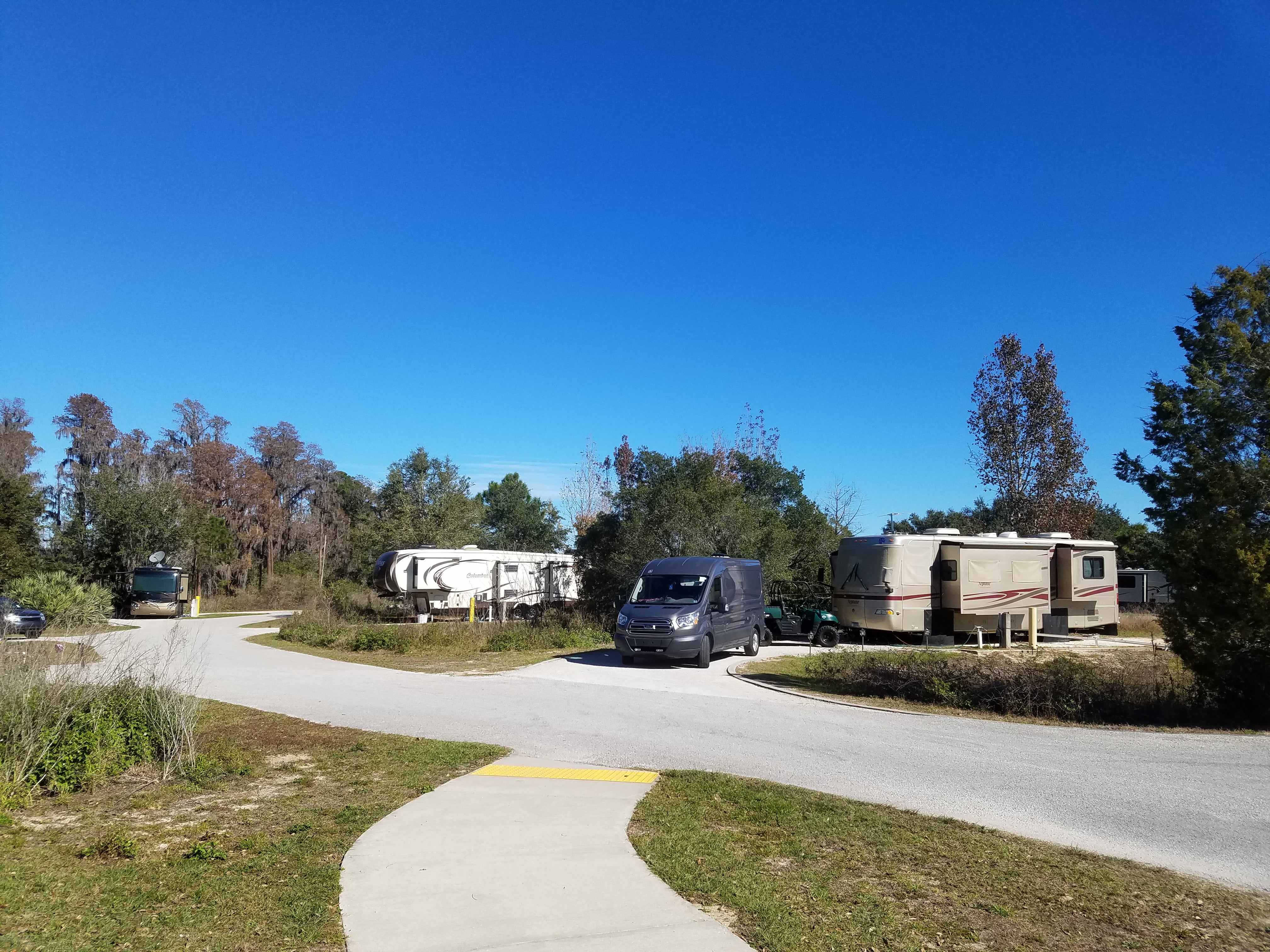 Find the campground at:
7305 US-27, Clermont, FL 34714
---
Colt Creek State Park Campground
Colt Creek is a newer campground that offers camping facilities and RV campgrounds. On site, you'll find 27 full-facility campsites and six tent-only sites nestled in the pine flatwoods, each with 30- and 50-amp hookups.
Children can take advantage of more than 15 miles of hiking, horseback riding, biking trails with lots of wildlife and the park's lakes offer sightings of wading birds or alligators as well as the accessible dock for fishing at 75 feet long.
In addition to educational programs, there are plenty of interactive activities including guided walks and tours by a ranger as well as tram tours.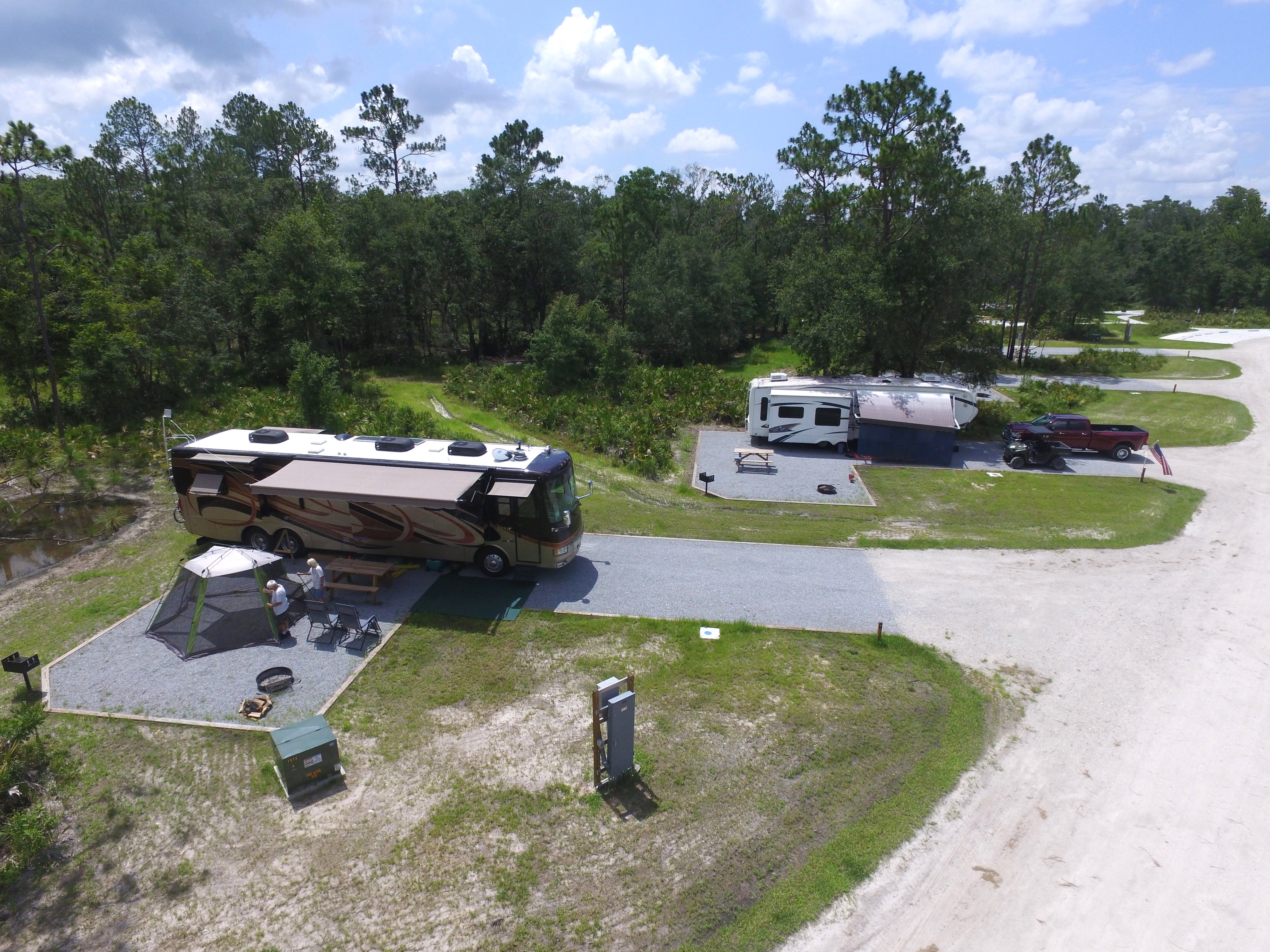 Find the campground at:
16000 FL-471, Lakeland, FL 33809
---
Great Outdoors RV Nature & Golf Resort
Great Outdoors RV Nature & Gold Resort is perfect for the whole family to enjoy!
On-site, guests can enjoy swimming pools, golf courses, tennis pitches, 2 restaurants, dog parks, a dog boarding pool, pickleball courts, a catch-and-release fishing lake with a docking park.
The campground is also situated close to Kennedy Space Center where you can spend an entire day learning about the American Space program!
Find the campground at:
125 Plantation Dr, Titusville, FL 32780
---
Periwinkle Park & Campground
Periwinkle Park is centrally located on Sanibel Island and is home to a whole host of wildlife and even parrots.
Every few days a volunteer carries out an entertaining bird show which delights our visitors.
The site is located just ten minutes from the sparkling white sandy beaches where families can enjoy a whole host of water activities or simply spend a relaxing day together.
The campground is close by to Sanibel's shops and restaurants.
Find the campground at:
119 Periwinkle Way, Sanibel, FL 33957
---
Larry and Penny Thompson Memorial Park Campground
Larry & Penny Thompson Memorial Park campground is located right beside Miami Zoo and sits in 270 acres of natural South Florida woods.
The campground offers a total of 240 campsites for RVs, each of which has a full electrical and water hook-up, as well as four large restroom and laundry facilities including hot showers.
Also on-site is a camp store, picnic shelters, a large freshwater lake with its own beach and jogging and bike trails.
Find the campground at:
12451 SW 184th St, Miami, FL 33177
---
Flamingo Lake RV Resort
Flamingo Lake RV Resort is one of the best RV parks in Florida and is the perfect spot for the whole family.
Visitors can set up camp amongst North Florida's stunning wilderness, with a selection of full hookup RV sites available, alongside lake view and lakefront upgrades.
On-site amenities include a playground, a shop and a swimming pool and guests can enjoy a restaurant serving breakfast, lunch and dinner.
Find the campground at:
3640 Newcomb Rd, Jacksonville, FL 32218
---
Miami Everglades RV Resort
Everglades RV Resort is situated just 10 miles from Everglades National Park, and this campground in South Florida offers full hookup RV sites, tent sites, and cabins.
On-site amenities include a large pool, mini-golf, basketball, a dog park, volleyball, horseshoes, and more.
If you needed any more convincing, you'll be pleased to know that the resort was selected as 2010's "Best Campground in Miami."
Find the campground at:
20675 SW 162nd Ave, Miami, FL 33187
---
Grayton Beach State Park Campground
There are 160 Florida State Parks to enjoy many of which offer full-facility camping – perfect for a family getaway and Grayton Beach State Park is a hidden gem that lies at the southernmost point of Florida.
If you're looking for something off the beaten path, this park should be on your must-go list!
You'll feel like you've stepped into paradise when gazing upon its white sand and clear blue water and the beaches are listed as ones with beautiful beaches of the country.
More than 4 km of nature trails mean that people can explore coastal forests on foot and The Western Lake is perfect to fish and paddle.
The water is clear with beautiful views, not just during good days but all year round when you can see stingrays lurking below or turtles resting on logs in the shallows – they're so close that you could touch them if it weren't against regulations.
What to remember when camping with your family in Florida
When staying at one of Florida's family campgrounds, be sure to pack necessities like lanterns, flashlights, and water for both adults and children. Remember to bring bug repellent, sunscreen, and a comfy camping chair – they're all crucial for making the experience more comfortable with small children or babies.
The most important thing when camping with kids is making sure they don't get bored so it's recommended you plan activities such as reading books together before bedtime, playing games like Yahtzee or Monopoly (if the campground doesn't have wifi!), watching movies or trying out some of the other fun things for families.
—
The best family campgrounds in Florida are waiting for you and your kids to enjoy.
If you're looking for a place to spend time with your loved ones outdoors, then these campgrounds are just perfect!
Each of them offers something unique that will keep everyone engaged throughout their stay; whether that's exploring nature or fishing at a lake, our list has got something for everyone.
The Florida peninsula is a wonderland of beautiful natural scenery, from the panhandle to the Florida Keys (everywhere in the Florida Keys need a strategic reservation since most are always fully booked all year ensure you reserve in advance) there are plenty of camping options for people who love exploring and experiencing nature firsthand.
Whether you're just passing through or looking for an outdoor oasis with kids during your vacation in Florida, there are plenty of campgrounds that can turn your trip into amazing memories!
More about our TFVG Author
A seasoned traveller, Dad, and avid sports tourist, James foundered The Family Vacation Guide to share his expert vacation experiences- especially when it comes to being a travelling family man.
Featured in Travel articles such as Travel + Leisure, TripSavvy and SFGate, you know you're reading some of the best vacation tips online.