You have your plane tickets booked, and you're ready for your magical vacation at Disney World. The next challenge is finding the best resort that will fit your family's needs. The hotel-booking experience may seem overwhelming due to the large number of hotels available. So, let's take a deeper look at one of your options.
Disney's Coronado Springs Resort has everything you need and more! They have a variety of rooms available to fit every family size and a range of entertainment options to keep you busy while you're away from the parks. It's the perfect family-friendly oasis for relaxation and fun between Disney park visits. Let's see what this resort is all about.
Coronado Springs Resort: The Specifics
Situated in Lake Buena Vista, Florida, Disney's Coronado Springs Resort sits inside the Animal Kingdom's resort area. The resort surrounds the beautiful 22-acre Lago Dorado (Golden Lake), offering stunning water views from many of the hotel rooms.
This hotel is a moderate resort that celebrates themes of Mexican, Spanish, and Southwestern American cultures. You can see these cultures represented in the architecture of the resort and much of the interior design.
You'll find elaborate tile designs, archways, and stucco commonly used to represent architectural elements from these cultures. Lanterns hang from the two-story lobby ceilings, and Spanish-inspired designs cover the walls.
If you arrive during the day, be sure to check out the outside of the resort at nighttime to get a peek at the mesmerizing outdoor lighting. Seeing the lake water glisten with the bright lights is truly a sight that you need to see.
Disney's Coronado Springs Resort has four sections of the property where you can rent rooms of all different sizes. The resort offers multiple pools to swim in, a list of dining options, activities to keep everyone in the family busy, and even transportation to the Disney parks.
Types of Rooms
Disney's Coronado Springs Resort sections include the Gran Destino Tower, the Casitas Village, the Cabanas Village, and the Ranchos Village. Here are the rooms you can book at any of these resort sections on your next Disney vacation.
Standard Rooms
Most standard rooms can fit two to four adults comfortably. Your options include either a room with one king bed or a room with two queen beds. You also have a choice between a lakeside view or a courtyard view. Each standard room comes with the following:
A bathroom containing a hairdryer and makeup mirror
Free WiFi, a phone, and a TV
A mini fridge and a coffee maker
An iron and ironing board
All rooms and suites in the entire resort have these amenities available.
Suites
If you have a larger group of people, or simply want more room, a suite would be the next option as the rooms are much bigger and can house more people. There are one-bedroom suites located around the resort and executive suites in Casitas Village.
The one-bedroom suites can accommodate four to six guests and views can either be of the courtyard or the lake. They come with two to three beds, all standard room amenities, a small dining room area, and a living room area where you'll find couches and another TV.
Casitas Village Executive Suites
The executive suites in the Casitas Village offer accommodations for up to eight people and have views of the courtyard. These suites are rather large, so think of them as apartments without a kitchen. Along with the standard room amenities, these suites include:
Two full bathrooms
Two bedrooms (one of the beds is a sleeper sofa in the living room area)
A living room and dining room
A bar area with a sink
This suite is especially great if you have children or a large group of guests as they can spread out and everyone can relax in their own space after a busy day at the parks.
The large dining room area can seat all eight people comfortably, so it's perfect for nights when you'd rather eat dinner in your pajamas than go out to eat. One of the bathrooms connects to the main bedroom and has a whirlpool tub and a walk-in shower. It's essentially a master bedroom suite. Having two bathrooms can cut the morning routine down significantly.
Gran Destino Tower Club Access Rooms
In addition to the traditional rooms and suites available at the Gran Destino Tower, some special rooms and suites can give you a few extra perks. The tower has club access standard rooms, deluxe suites, one-bedroom suites, and presidential suites.
The club access standard rooms are similar to other standard rooms located around the resort, as they sleep up to four adults. The primary difference is the number of amenities you have access to. These extra amenities include:
Disney Signature Services access
Free access to the health club
Access to the club lounge, which serves nighttime refreshments
Personal concierge services
Daily housekeeping
Gran Destino Tower Club Access Deluxe Suites
The deluxe suites in the Gran Destino Tower are slightly similar to small apartments as they accommodate up to four people, and the suite divides into multiple rooms. Deluxe suites have club access amenities, standard room amenities, and the following:
A bedroom with a king-size bed
One full bathroom and one half bathroom
A living room, equipped with a small dining table for two, and a queen size sofa sleeper
Both the bedroom and the living room have TVs, and the full bathroom is only accessible through the bedroom.
Gran Destino Tower Club Access One-Bedroom Suites
The one-bedroom suites in the Gran Destino Tower essentially have the same elements that the deluxe suites have, but the rooms are more spacious. They can accommodate up to four adults. Along with the club access and standard amenities, the one-bedroom suites have:
A very large bedroom with a king-size bed
One full bathroom (in the master bedroom) and one half bathroom
A spacious living room with a dining table for four people, a bar area, and a queen size sofa sleeper
There are TVs in the living room and the bedroom.
Gran Destino Tower Club Access Presidential Suites
The presidential suites at the Gran Destino Tower are the true essence of luxury with a spacious primary room consisting of a massive living room and dining area that can seat up to eight people. This apartment-like suite has two large bedrooms, accommodating up to 6 people at bedtime. Along with the club access and standard amenities, you can expect:
Two full bathrooms and one half bathroom
One bedroom with a king-size bed and one with two queen-size beds
A bar area
Plenty of beautiful cultural decor, lighting fixtures, and designs
The king-room bathroom has a massive tub that's great for a relaxing soak at the end of the day or a fun bathtime for the kids. There are full-size showers available in the king bathroom and the queen bathroom.
Amenities
Disney's Coronado Springs Resort has the typical amenities you'd expect from any hotel. This includes complimentary WiFi, smoking areas, mail services, online check-in, housekeeping, and concierge services where you can buy park tickets and make dinner reservations. However, they have a whole list of other amenities available.
Parking
If you decide to drive to Florida for your Disney vacation or you are renting a car, self-parking for overnight stays is available at Disney's Coronado Springs Resort. The resort will charge you a fee for each night you stay, and they also offer valet parking for another fee if you don't want to roam the parking lot looking for your car.
Transportation
If you don't have transportation when visiting, the resort has two options for you to choose from. You can hop on a bus that will take you to and from any of the Disney parks, and it's even complimentary! The buses will also take you to Disney Springs and Disney's Winter Summerland Mini Golf Course.
The resort also offers what they call Minnie Van Services. This van service is in affiliation with Lyft, and a cast member will drive you to all your Disney destinations! While this service isn't included in travel packages, you can easily access it on the Lyft app. Operation hours of the Minnie vans are from 6:30 AM to 12:30 AM every day.
ATM and Banking
Disney's Coronado Springs Resort offers an ATM for all your cash needs, as well as banking services if you need to exchange currencies. They allow these exchanges at the front desk or the lobby concierge.
Business Center and Meeting Space
If you need to do some business work while visiting the resort, there is a business center located in the convention center. You can use the computers and printers, and even ship things from here. There is a long list of other office-related services available as well.
If you need to hold a meeting at the resort, there are 220,000 square feet of space available at the convention center. It can hold 6,500 people.
Laundry and Dry Cleaning
If you're visiting Disney World, you know that your clothes can get dirty quite quickly due to rides, sweating, and dropping food. Disney's Coronado Springs Resort offers a self-serve laundry room that you can visit at any time. There are also dry cleaning services available if you have some fancy clothes that can't go in the washing machine.
Merchandise Delivery
If you don't want to carry your souvenirs while walking around Disney World, Disney's Coronado Springs Resort offers complimentary pick-up and delivery. This service is for specific Disney World stores and purchases made on the app.
Disney Signature Services
If you are staying in a club room, you get access to Disney Signature Services. You can plan your vacation through these services to make it more personalized.
Dining
After having some magical fun, your stomach is sure to be hungry, and luckily you have plenty of dining options at the resort. Here are the ten dining options available to you during your stay at Disney's Coronado Springs Resort.
Toledo – Tapas, Steak, & Seafood
If you're looking for some tasty surf and turf options, Toledo has some delicious appetizers, meat dishes, seafood dishes, and little desserts. The flavors of the dishes on the menu are highly influenced by Spanish cuisine and surrealist and avant-garde artwork. They also have a selection of over 50 Spanish wines to enjoy with your meal.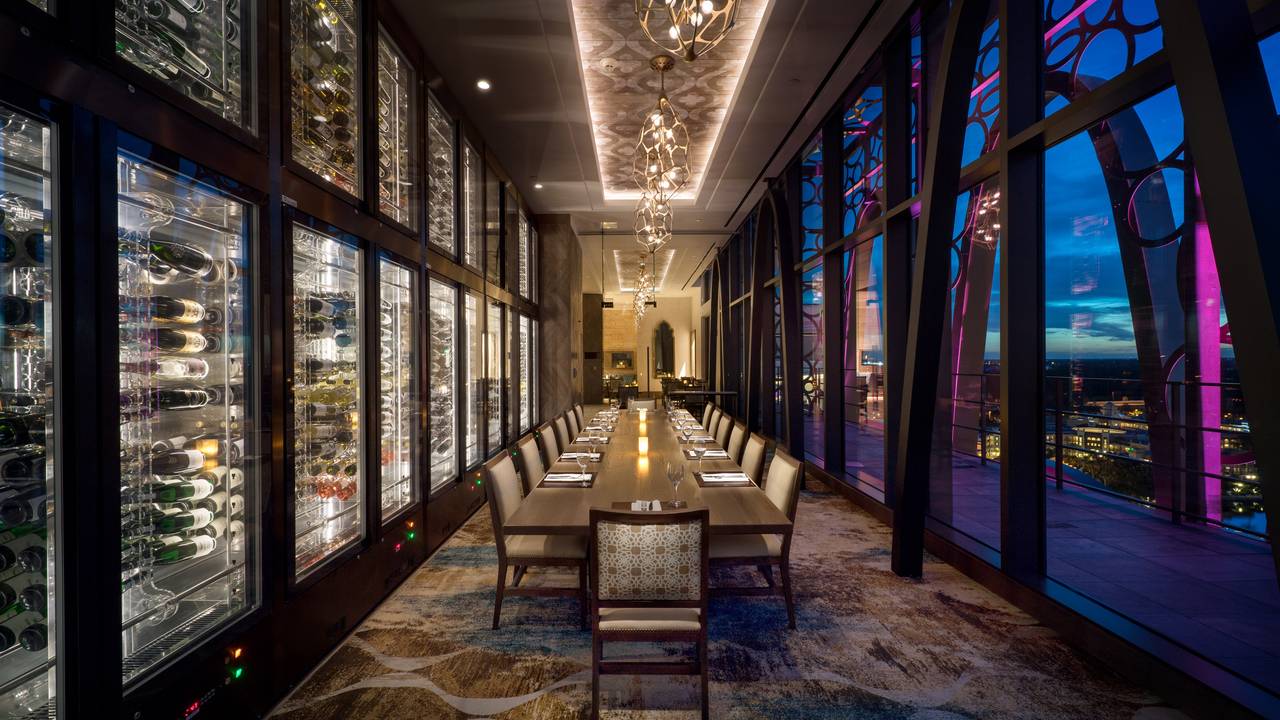 Three Bridges Bar & Grill – Villa del Lago
This restaurant is right in the middle of the lake, providing stunning lakeside views from every angle. Three Bridges takes interesting, well-known dishes, and adds a little spin to them. You can find anything from burgers to poke bowls. There's something for everyone here!
Rix Sports Bar & Grill
Rix Sports Bar & Grill is the perfect place for some tasty cocktails and familiar bar food such as nachos, wings, and burgers. And since it's a sports bar, you'll get to watch your favorite team on 31 televisions scattered throughout the restaurant while you eat.
Siestas Cantina
If you're looking for quick-service food, Siestas Cantina offers a small menu of tasty favorites. They have appetizers such as pretzel bites and nachos, salads, and entrees like burgers and chicken fingers. They also have a kid's menu and a cocktail menu.
Maya Grill
When your stomach is hungry for some Mexican food, the Maya Grill has all your favorites, ranging from tacos to enchiladas. Enjoy your Southwestern meal while surrounded by decor elements that encapsulate the sun, fire, and water.
El Mercado de Coronado
The El Mercado de Coronado restaurant offers quick-service food for American and Mexican cuisine. You can visit this eatery for breakfast, lunch, dinner, and even dessert and drinks. They offer a variety of tasty menu items ranging from breakfast omelets to delicious pasta dishes. Don't forget about their margarita menu!
Café Rix
If you're in the mood for something sweet, Café Rix is the perfect spot! They offer some beautiful pastries, fruit, smoothies, gelato, and energizing coffee drinks. If sweet isn't your thing, they also have sandwiches and salads available.
Laguna Bar
Laguna Bar is a little eatery area located by the lake. They offer quick-service American food and some refreshing drinks and cocktails to fuel you through your Disney trip. Their menu is small, but they have:
Appetizers such as nachos and wings
Burgers
Salads
Normal and frozen cocktails
Dahlia Lounge
The Dahlia Lounge is the perfect spot to have some tasty cocktails while admiring Spanish realism-inspired decor. This lounge has a full bar where you can get anything ranging from good wine to a handcrafted cocktail. They also offer appetizers with a Spanish flare.
Barcelona Lounge
After a long day at the parks, the Barcelona Lounge is the best place to get a little espresso or cocktail pick-me-up. This lounge offers a versatile menu of specialty espresso drinks, wines, cocktails, and even small bites. You can stop by for a coffee and breakfast sandwich in the morning, and come back to finish the night with a cocktail and appetizers.
Recreation
Your Disney World vacation might not include visiting the parks every single day. That's why Disney's Coronado Springs Resort offers plenty of recreation options to keep you busy.
Pools
To experience some water fun, the Lost City of Cibola pool surrounds a 50-foot tall pyramid and offers a water slide stretching out to 123 feet long. If a water slide isn't something you're interested in, there are also three leisure pools available throughout the resort.
Campfire Fun
There's nothing better than a fresh s'more. Like the other Disney resorts, Disney's Coronado Springs resort allows you to make gooey s'mores by a campfire every night from 7 PM to 8 PM.
Outdoor Movies
You can enjoy your favorite Disney movies outside under the stars every single night. Grab a blanket, popcorn, and candy, and head down to the movie by 9 PM.
Painting
Every Friday afternoon, you can head down to Toledo from 1 PM to 3 PM and enjoy a painting class provided by local artists. You'll get to paint a Disney-related piece of art that you can take home as a souvenir!
Spanish Mosaic Art
The Dahlia Lounge offers a fun experience for everyone with Spanish-inspired mosaic art classes. You can join a class from 1 PM to 3 PM on Mondays, Saturdays, and Sundays. Create your colorful Disney mosaic and take it home as a souvenir to proudly display.
Iguana Arcade
To play some video games and other classic arcade games like pinball, you can visit the Iguana Arcade. This arcade room is appropriate for all age groups and is sure to keep everyone entertained.
Jogging Trails, Volleyball, and a Playground
If you'd like to get a little exercise into your Disney trip, Disney's Coronado Springs Resort has a 0.9-mile trail that circles the lake. There's also a volleyball court and a playground to keep the kids busy.
Spa and Fitness Center
Another exercise option is the fitness center, where you can find all kinds of workout equipment. Then finish off your workout in the spa with a massage and a facial. You can even get a new haircut and get your nails done!
Final Thoughts
Disney's Coronado Springs Resort is a great resort for families looking for a fun place to stay during their Disney World trip. The best part is that most of the Disney theme parks are less than a ten-minute drive away!
Enjoy the resort's inviting, beautiful hotel rooms and suites, delicious dining options, and fun activities that the whole family will enjoy. Whether you want to relax and rejuvenate during your off days from Disney or keep the busy fun going, Disney's Coronado Springs Resort will accommodate you and your family.
More about our TFVG Author