If you're heading to Florida on vacation, you're probably wondering where you can see alligators.
But, in many ways, it's more a question of where can't you see gators in the Sunshine State.
Florida is home to more than 1.3 million alligators, and it's certainly not uncommon to see these reptiles sunning themselves on golf courses, in freshwater lakes or even by the roadside. And for those of you worrying about the safety of seeing gators, don't forget that there has been just 33 fatal gator attacks in the whole of the US since 1970.
Want to see alligators whilst on vacation in Florida?
In this guide, we'll share some of the most recommended spots to go gator watching, whether you want to do so in the wild or at an attraction.
1. Everglades National Park
The Everglades National Park is the third-largest national park in the USA and these subtropical wetlands that encompass swamps, marshes and thick mangrove forests spans from southern Miami-Dade County northward into central Broward County.
More than 200,000 wild gators call The Everglades their home and it's the only place in the world where you'll find both American crocodiles and American alligators living side by side.
One of the best places to see alligators in The Everglades National Park is Shark Valley.
2. Wakulla Springs State Park
Wakulla Springs State Park offers more than 2600 acres and is home to one of the largest populations of American Alligators in North America. This Florida national park can be found in North Central Florida and is a great place to see these creatures in their natural habitat.
The park has miles of bike trails, hiking paths and camping areas with freshwater springs, it is a great place to spot alligators because the animals are used to people and can be seen sunning themselves on the shore or in the water, you can also go on an airboat tour and see these wild alligators up close and personal.
3. Myakka River State Park
Alligator sightings are possible year-round in all water bodies in the Myakka River State Park and it is widely regarded as one of the best places to see alligators in their natural habitat in Florida.
Myakka River State Park is located half an hour south of Tampa.
The State Park is filled with wetlands, cypress swamps, and freshwater marshes that are perfect for alligator viewing and the park has a boardwalk connecting many different trails through the marshy forest; from here you can spot gators at pretty much any time of day and you can even rent a kayak if you want to get up close and personal.
The park has plenty of other wildlife such as otters, woodpeckers, bobcats, ibises and egrets that are all located in their natural habitat; all of which are stunning to see.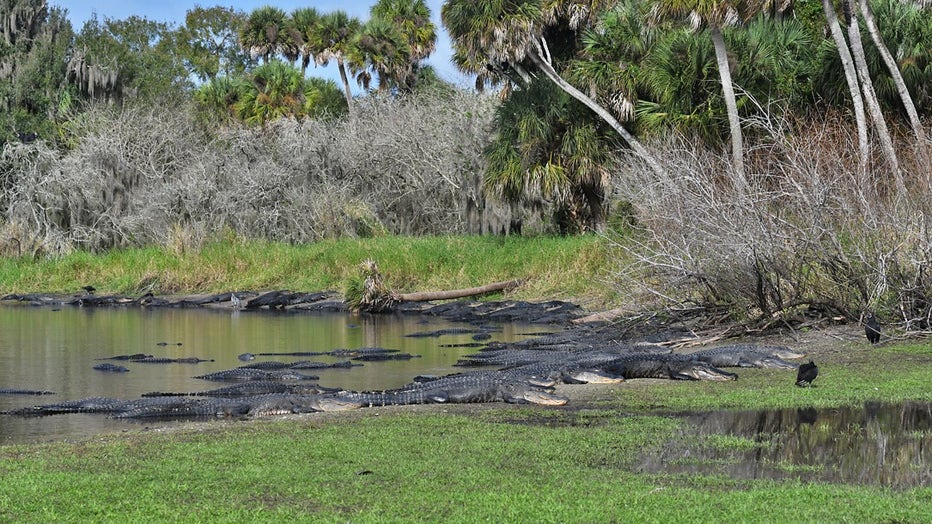 4. Hillsborough River State Park
Hillsborough River State Park is located in Tampa and is by far one of the best places to see alligators in Florida.
The park has a large number of trails that are perfect for hiking or biking with plenty of natural habitat areas at which visitors can often spot an alligator.
This state park has a marshy, lush environment full of water features that are also perfect for viewing reptiles such as turtles and snakes as well as birds.
The area is also home to many other types of wildlife including otters, bald eagles and coyotes.
The best place to see these creatures up close is at the centre's visitor-friendly gator pond where you can take guided tours on weekends from noon until dark if they are not sold out ahead of time (no reservations necessary).
Bring your own binoculars or borrow one from the visitors' centre so that you don't miss anything
5. Lake Kissimmee State Park
Lake Kissimmee State Park in Central Florida is Florida's fourth-largest lake and is located near to Disney World.
The park has many different trails for hikers to explore and is home to a wide variety of wildlife. You can see alligators and other wildlife along the shores of Lake Kissimmee and in the marshes.
The best time to hike this park is during the winter when temperatures are cooler and wildlife congregate near the water's edge to search for food and you'll see alligators and water birds in abundance.
6. Circle B Bar Reserve
Circle B Bar Reserve is located in Lakeland, Florida and it is home to over one hundred American wild alligators.
The reserve also has a boardwalk where you can walk right up close to these amazing creatures in their natural habitat without risking an attack.
The Circle B Bar Reserve offers visitors the opportunity to see various other animals as well such as white-tailed deer, bobcats, wild pigs, and black bears.
There are two trails at the preserve that will take visitors through different habitats for each species of animal living there so they have plenty of chances to get acquainted with all sorts of wildlife on this property.
7. Ocala National Forest
Ocala National Forest is located near Orlando, Florida and is home to some of the biggest and oldest alligators in Florida.
Locals come here for a variety of outdoor activities including picnicking areas with BBQ grills (no campgrounds), hiking trails to waterfalls as well as an observation deck that overlooks a natural wetland area where alligators can be seen basking in the sun during midday hours or stalking prey along riverbanks under shadows cast by tall cypress trees.
Visitors are advised not to feed any wildlife they encounter at Ocala National Forest because this could lead them to be too close to humans or run into problems with aggressive males defending their territory.
Wild alligators can be seen basking in the sun during midday hours or stalking prey along riverbanks under shadows cast by tall cypress trees.
8. Smugglers Cove Adventure Golf
Smuggler's Cove Adventure Golf is a one of the best mini adventure golf courses in Florida that is located in Fort Myers and is home to between 20 and 30 young alligators.
It's a great place to learn about alligators and their habits and has 19 holes, each one with its own theme.
It's not just the water hazards or putting challenges at this location that will test your skill- if you make it to Hole #15 without losing a ball (or two), then you are in for an "awesome" surprise!
You never know what type of interesting creatures (including the resident alligator) might show up during play, providing everyone with plenty of laughs as they take their turn through mixed terrain and scenery during the day or night.
9. Audubon Corkscrew Swamp Sanctuary
Audubon's Corkscrew Swamp Sanctuary is situated 30 miles east of Naples in Florida and provides the perfect environment for spotting gators, with nine miles of hiking trails and over four hundred acres of wetlands, creeks and bayous which are also home to manatees, otters, deer, bobcats and American bald eagles.
Walking the 2.25-mile Boardwalk gives you your best chance of seeing alligators in the wild as you meander through the pine flat woods and over marshy areas into the largest ancient grove and woodland.
Audubon offers many guided tours that allow visitors to get up close up with these creatures while learning about them in their natural habitat. The self-guided tour option also allows guests more time at leisure to explore the sanctuary on your own terms.
Due to its proximity from Miami, this makes it an excellent day trip location or stopover along your journey through southwest Florida.
10. Naples Zoo
Naples Zoo and Wildlife Reserve is a privately-owned zoo situated in the heart of Naples, Florida.
Spread over an area of 35 acres, this animal theme park holds more than 600 animals belonging to 150 species.
The Alligator Show where visitors get up close with these giant reptiles happens every Wednesday, Friday and Saturday at 11 daily. It takes place near "Crocodile Lagoon" right next door to Floridians' Land and Sea.
The Park is open from Mon to Sun from noon until the evening.
11. Black Bear Wilderness Area
The Black Bear Wilderness Area covers 1,650 acres of marshes and the swampy plain of Sanford, Florida and is known for being the home of Florida's largest black bear. This area is also one of the spots where you can find alligators in the wild and has become one of Florida's most popular destinations for recreational hiking and camping.
It offers an interesting and unique opportunity to observe these large reptiles at their most relaxed state. Here you will find several trails made for walking on foot or horseback as well as waterways perfect for canoeing along with extensive woodlands where gators are known to roam freely by day and night.
The best time to visit the area would be during the summer months when temperatures are typically warmer leading up to fall which provides ideal weather conditions for outdoor activities such as camping and hiking among other things.
12. Everglades Alligator Farm
The Everglades Alligator Farm is a wildlife park located in Miami-Dade County, Florida.
The farm was established by Arthur Hertz and opened to the public on November 22, 1949 and has been run as a non-profit organization since it first opened its doors; with admission fees going towards feeding the alligators that are kept at the zoo.
At this particular location, you can see over 400 live alligators; from babies to adults of up to 13 feet long!
It's not just alligators that you'll see either; there are also many species of other animals residing here including crocodiles, otters, snakes and turtles – even some birds such as macaws and owls!
Visitors will also have access to a museum with all sorts of information about the Everglades and their animals.
The farm is open from sunrise to sunset, Monday through Saturday- every day except for Christmas Day.
13. Alligator Alley
Alligator Alley, also called Interstate 75, is located in Southern Florida between the Everglades National Park and Big Cypress National Preserve.
This 80-mile road runs right through the Everglades between Naples and Fort Lauderdale, but tourists are often disappointed to see that the roadside is fenced off (to protect both the wildlife and to prevent accidents from happening, which used to be a more frequent occurrence).
That said, many travelers pull up by the side of the road on Alligator Alley to view the gators and other wildlife that they've passed up a little bit closer.
The nearby Tamiami Trail that runs parallel to Route 75 also comes recommended for those looking to see gators in their natural habitat.
---
We hope you enjoyed our post about where to see alligators in Florida.
With so many great gator watching spots, why not take the time to do something a little different on your Florida vacation and see some of the state's most fascinating wildlife up close in their natural habitat.
More about our TFVG Author
A seasoned traveller, Dad, and avid sports tourist, James foundered The Family Vacation Guide to share his expert vacation experiences- especially when it comes to being a travelling family man.
Featured in Travel articles such as Travel + Leisure, TripSavvy and SFGate, you know you're reading some of the best vacation tips online.