It's vacation time. Your destination? The fantastic family venue of Walt Disney World in Florida.
There's so much to do at this amazing venue, so you must be researching which of the available parks and wide choice of attractions will suit your family best. That's why you're here, right?
You've decided to look at Disney's Animal Kingdom as an option, and with good reason. Many rides and attractions will suit the family, and a day out together is a perfect way to kick-start your vacation.
Today we'll suggest a specific ride at Animal Kingdom that's perfect for a hot day in the water. Yes, you'll get wet, but it'll be well worth it! Let's look at the Kali River Rapids thrill ride in the Asia part of Animal Kingdom as the ideal way to start your Florida vacation.
Kali River Rapids Build-up
Kali River Rapids is found in Asia alongside the Maharajah Jungle Trek and just across from the Yak and Yeti Cafe. The long queue for the Kali River Rapids ride is an experience all on its own. It begins outside, with a winding trek through a forest.
After experiencing the sights and sounds of the rainforests, including several Asian bird breeds, your party will arrive at the rafting offices of Kali Rapids Expeditions. In the same way as the Expedition Everest ride, the fictional Kali Rapids Expeditions offices provide a perfect build-up for what's to come.
The offices are immersive and designed to provide a detailed introduction to the story on which the ride is based. Your family will enjoy this brief period in the shade before you once again move outdoors as you reach the loading platform.
Kali River Rapids Experience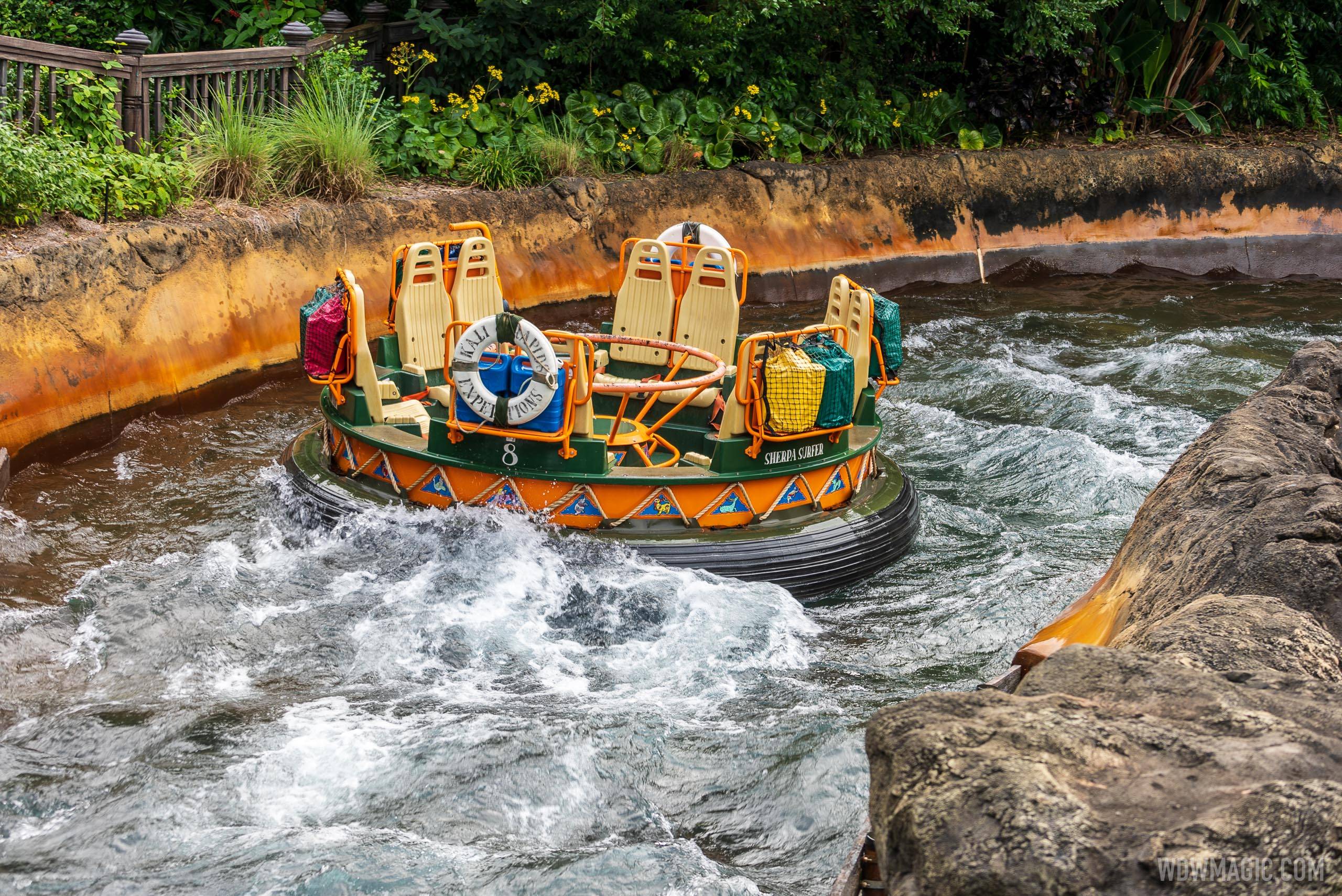 From the loading platform, your party will climb onto a large spinning disc that takes you to your raft. When you've boarded your raft and secured yourself with the safety harnesses, the raft moves slowly forward and upwards. The anticipation builds as riders wait for a massive drop into the river, but it doesn't happen, yet!
Instead, your raft dips as you land in the turbulent Chakranadi river, with a nearby waterfall and geyser providing a bit of a splash. The raft sloshes to and fro as you negotiate the river, through temple ruins and surrounded by rainforests on either side of you. The smell of smoke hits your nostrils – illegal loggers have set the forest alight!
You and your fellow rafters negotiate some jostling and bumping between rafts. You bounce and sway down the river through a forest ravaged by illegal logging. Next, you enter a logging site that displays the dangers of the illegal logging trade and the devastation it causes to the environment.
Then the moment you've all been waiting for arrives as the rafts are picked up by the current and accelerate down a 20-foot slope. Hold on to your hat, as the result is an incredible splash as you level out on reaching the bottom.
You'll continue to raft downward through sets of rapids while encountering a cave. As if you aren't already wet, people standing on a bridge shoot water through elephant trunks as you pass under it. Then you arrive at the landing station to disembark. The Kali River Rapids experience lasts around 10 to 12 minutes in total.
Is Kali River Rapids Safe for Children?
If your children are taller than 38 inches, they can enjoy Kali River Rapids. There's no doubt that the ride is safe enough for children of all ages, but a child should not be afraid of getting wet or experiencing a sudden drop. You, as a parent, can choose to sit alongside your child and ensure that the safety harnesses are tight enough.
If you may not be happy about your child getting wet, you should consider bringing a poncho and a change of clothes. There are lockers near the attraction entrance that you can rent. Typically though, the Florida sun will dry you out within a quarter hour after your Kali River Rapids experience.
Consider the shoes your family party is wearing, though. You won't be allowed to take off your footwear during the ride, so bring some flip-flops to wear while riding.
Kali River Rapids has a tremendous ecological storyline for kids. It combines some spectacular scenery and wildlife, including gibbon monkeys in the forest, a thrilling raft drop, and enough chances to get drenched! Your kids will love their trip down the Chakranadi river.
Kali River Rapids Guidelines, Facts, and Tips
We can give you several facts and guidelines about Kali River Rapids, along with a few tips which will help enrich your family's ride experience:
Lightning Lane access is available for Kali when you buy Genie+.
The attraction is most in demand on a hot day, with a waiting time between 30 minutes and an hour.
Kali River Rapids is an outdoor attraction, so it may be closed on short notice due to inclement weather conditions. The ride will close if there is lightning around. As such, its operating hours are not cast in stone.
If you use a wheelchair or ECV, you must transfer from the chair or ECV to the ride. As the attraction takes place in water, no service animals are permitted on the ride.
You will not have much time to place your personal items in the zippered area on the raft. This provided area is not the most suitable anyway, as although it is protected with a plastic enclosure, it tends to get wet as the day's rides progress. It makes sense to protect your electronic items in a personal Ziploc bag or to leave them with somebody not riding.
The Kali River Rapids featured drop is not the steepest. It is much the same as the Magic Kingdom's Pirates of the Caribbean boat ride.
You should not ride if you suffer from high blood pressure or neck, back, or heart issues. Those who struggle with motion sickness could be adversely affected. Expectant mothers are advised not to ride Kali River Rapids.
The raft will occasionally face backward and be subject to spinning, bumping, dipping, and jerking for the ride's duration.
Nearby attractions include the Maharajah Jungle Trek and Mandala Gifts, which happen to sell towels!
The Kali River Rapids ride was originally going to be called Tiger Rapids Run. The Tiger Rapids Run never happened as the attraction opened with its current name on 18 March 1999. This was only a year after Disney's Animal Kingdom's opened to the public. The nearby Maharajah Jungle Trek does have live tigers, though!
FAQs
Can service animals be left with somebody at Disney World while riding where they're not permitted?
Unfortunately not. Cast members cannot take care of the animals. Service animals must be controlled by the owner at all times and must be leashed or harnessed.
When is Kali River Rapids closing for refurbishment?
The refurbishment should start on 9 January 2023. No reopening date is available yet, but the attraction typically remains closed until April.
How many people does a raft at Kali River Rapids take?
A single raft in the attraction takes twelve people during a ride.
What are some of the best things to see during the ride?
There are exotic Asian birds and gibbons in the forests and centuries-old temple ruins. Elephants also shoot water from an overhead bridge.
More about our TFVG Author