Often referred to as the happiest place on earth, Walt Disney World Resort in Florida has everything a person could dream of experiencing. What's fantastic about this resort is that it's enjoyable for all who visit and isn't limited to just children.
We know that Walt Disney World Resort includes its fair share of fun rides, character appearances, and shows. But what most don't realize is that there's a great deal of information you should have in mind before visiting the parks to make your experience seamless and full of incredible memories.
To help you propel forward in the planning process for your visit to the theme park resort, we have compiled everything you need to know before visiting. Continue reading below to find out what information you need to have in your back pocket before setting out on your adventure!
A Quick Intro to Walt Disney World Resort
With a primary focus on the first character created by Walt Disney, Mickey Mouse is plastered everywhere the eye can see when you are in one of the parks that make up the Walt Disney World Resort. You will frequently catch a glimpse of the infamous mouse ears, whether they are atop someone's head or adorning a light fixture on the park's Main Street.
Walt Disney World Resort comprises four parks and a centrally located shopping and dining area. Under the Disney umbrella, you will find Magic Kingdom, EPCOT, Animal Kingdom, and Hollywood Studios. Additionally, you can visit Disney Springs, which has a surplus of restaurants and shopping for all.
Other attractions affiliated with the resort include Typhoon Lagoon and Blizzard Beach, two water parks catered to families. You will also see ESPN's Wide World of Sports and a smaller shopping area called Disney Boardwalk. All areas of the resort have something to offer that provides an excellent time for all visitors.
Visiting Walt Disney World Resort is a completely immersive experience with many moving parts. The rides are one component at the forefront of people's minds when they plan a visit. However, the high-quality productions, seeing the character parades through the park, visiting the different characters at their picture locations, shopping for unique souvenirs, and eating at top-notch restaurants are also part of the memories.
The fun doesn't end there. Disney has many resort accommodations for parkgoers to stay in, and each has its own unique theme and amenities. Many have restaurants that have competitive reservation lists that fill up months ahead of time.
As you can see, a visit to the world-renowned theme park resort doesn't come with just a ticket and a few rides. There are many items to consider when trying to get the most out of your experience.
Walt Disney World Resort: A Brief History
The family of Walt Disney initially opened Walt Disney World to the public in 1971. Since then, it has grown to theme park resort status with the development of Epcot, Hollywood Studios, Animal Kingdom, Disney Springs, and much more.
Originally, Disneyland was the central location for all Mickey Mouse and friends-related fun. This park, located in Anaheim, California, saw so much success after opening in 1955 that the corporation decided to open a second location in Orlando, Florida, to supplement the fun.
The resort occupies over 25,000 square feet. It utilizes only half the space – allowing room for expansion in the future. In 2018, the resort was designated the most visited vacation destination in the world, with over 58 million visitors yearly.
Its founder, Walt Disney, passed away before the Orlando parks were created. In order to make his dream come true, Walt's brother Roy came out of retirement to help make the Orlando resort complex a reality. Roy passed away shortly after opening Magic Kingdom.
Getting to Walt Disney World Resort
With its location in Kissimmee, Florida (within the larger area of Orlando), the Walt Disney World Resort is easy to access. The resort is served by the Orlando airport, and many flights come in and out each day. Some visitors also choose to utilize the smaller Tampa airport and drive to Orlando.
If you choose to utilize this method of transportation, you will need to secure a way to get from the airport to your hotel. While Walt Disney World Resorts once offered a complimentary shuttle service, they phased that out in 2022. However, there are still various methods for getting from points a to b.
Paid Shuttle
Rental Car
Lyft or Uber Car Share
Taxi
While many take to the skies to get to Disney, it's common for visitors to take a road trip and see an expanded area of the United States on their way to the resort. When you choose this route, it often allows you to take additional family members or friends.
However, it's important to note that you will likely need to pay a parking fee when staying at hotels or Disney resorts. This rule will apply to those who choose to obtain a rental car at the airport to get around during their time in Orlando.
Additionally, when using a car, you will need to pay a fee at the parks per vehicle. This charge does not allow for in and out privileges, so you will incur the cost again if you leave the park midday and return later.
Another option for getting to Walt Disney World Resort is via train. Amtrak has routes that take you to the area, and although the trip can be lengthy, you can often reserve sleeper trains for maximum comfort. Depending on your origin, taking a train can be a multiple-day event. However, you will have free reign to walk around, view the scenery from all over the country, and relax.
Once you arrive at the train station, you will need to secure transportation to your hotel and, later, back to the train station for your departure. Your best option for this need is to reserve a ride-sharing service like Lyft or Uber. Additionally, you can call a cab. However, those are harder to come by than the previous option.
Walt Disney World Tickets & Reservations
There are several ways to obtain Disney World tickets and reservations for your upcoming vacation to the parks. The unique thing about Disney is that they have a travel agent service that helps you to plan out every aspect of your trip for no additional cost.
Walt Disney travel agents obtain a commission from the company when they plan vacations for clients. These agents will gather information on your preferences and budget and put together several quotes and itineraries for you to review.
These itineraries will include all the pieces of the trip that you have requested. Often this consists of a Disney resort stay, dining plans, restaurant reservations, and park tickets. Additionally, the agent will be able to pinpoint days that experience high traffic within the parks or provide a heads-up when scheduled private events limit your access within a specific park.
One of the best parts about working with a Disney agent is that they have access to all the latest promotions and can keep an eye out for any upcoming deals that could reduce the cost of your stay. Additionally, they will recommend specific dining plans, restaurants, or even rest day activities.
Other ways to acquire reservations and park tickets include:
You'll notice that there isn't an option listed that permits you to buy Disney park tickets at the gate. While that used to be an option for visitors to utilize, the company phased this feature out in mid-2022 to decrease the amount of contact between individuals in light of the Covid pandemic.
If you don't feel comfortable using a Disney-specific travel agent, you can also plan most aspects of your trip through a typical travel agent. Both options will provide assistance and guidance regarding a budget, specific dates, flight reservations, and more.
However, if you choose to go with a regular agent, it's worth noting that Disney agents can book dining reservations. Additionally, they have immediate access to scheduling fluctuations, policy changes, and new promotions.
Walt Disney World Resort Parks
While the Magic Kingdom is the park that started it all in Orlando, Florida, it was quickly followed by adding three additional parks, two water attractions, one sports attraction, and two shopping and dining destinations.
The main parks that comprise the Walt Disney Work Resort include:
Magic Kingdom
Animal Kingdom
Hollywood Studios
EPCOT
Each park has its own unique focus and attractions and rides that speak to its theme. Animal Kingdom is the newest addition, with the inclusion of an African safari and education about the different animals.
In addition to the four parks listed above, Disney has incorporated two different water attractions:
Typhoon Lagoon
Blizzard Beach
Both attractions vary in their offerings, although there are some similarities. Some say that Typhoon Lagoon is geared more toward adults, but features are available for all ages at both establishments.
Another addition to the resort was the ESPN Wide World of Sports. This venue is unlike the others on the list as they don't provide the arsenal of rides and attractions you are used to with Disney parks.
Instead, the ESPN Wide World of Sports offers various training programs and competitive events for athletes of all types and ages. Non-athletes can come to support their favorite players or take in a match in a sport of their choosing.
Finally, the Walt Disney World Resort includes two public-facing shopping and dining locations that don't require a ticket for entry and offer a wide variety of restaurants and stores for your benefit.
Disney Springs (previously known as Downtown Disney)
Disney Boardwalk
These locations have extended hours, so you can stroll through before or after a park visit or check it out on a non-park day when you want something to do.
Magic Kingdom
For first-time visitors to Disney World Resorts, Magic Kingdom is typically the first stop when making the rounds of all the parks. As the park that started it all when it comes to the Orlando resort, the timeless classics are housed behind their gates.
At Magic Kingdom, you will have the opportunity to experience many rides that are at the top of the list when visiting the resort. These attractions include:
Peter Pan's Flight
Tom Sawyer Island
It's a Small World
Dumbo the Flying Elephant
Astro Orbiter
Big Thunder Mountain Railroad
Jungle Cruise
Buzz Lightyear's Space Ranger Spin
Pirates of the Caribbean
Liberty Square Riverboat
Country Bear Jamboree
The Many Adventures of Winnie the Pooh
Mad Tea Party
Mickey's PhilHarMagic
Prince Charming Regal Carousel
Seven Dwarfs Mine Train
Splash Mountain
Tomorrowland Speedway
The Peoplemover
Under the Sea – Journey of the Little Mermaid
Space Mountain
The Barnstormer
The Magic Carpets of Aladdin
Haunted Mansion
The Magic Kingdom park is home to Cinderella's Castle, which also serves as a backdrop for many performances and shows that are put on daily, including the famous fireworks. During your time in the Magic Kingdom, you will be able to take in a unique show with multiple daily performance times and numerous parades at different times of the day.
The park has various restaurants to enjoy during your visit. Many of the higher-end establishments require a reservation, which can be made no more than 60 days in advance and often sell out within minutes.
However, it isn't necessary to make restaurant reservations to eat while in the park. There are many options for meals that are considered quick serve and allow you to stop in when you want to eat. You can find these eateries in various cuisines and price points. You can also find snack stations throughout the park that offer ice cream, popcorn, and other fun treats.
If you are interested in enjoying some of the finer dining options, check out a few of these:
Be Our Guest
Cinderella's Royal Table
The Crystal Palace
The Diamond Horseshoe
Skipper Canteen
Liberty Tree Tavern
The Plaza
Tony's Town Square Restaurant
If you'd rather forego reservations, you can take part in a quick-serve option. When you pick one of these eateries, you get your food items quickly and can choose a place within the restaurant or general area to sit and enjoy your meal.
Cheshire Cafe
Columbia Harbour House
Cool Ship
Cosmic Ray's Starlight Cafe
The Friar's Nook
Gaston's Tavern
Golden Oak Outpost
Liberty Square Market
The Lunching Pad
Pecos Bill Tall Tale Inn and Cafe
Pinocchio Village Haus
Prince Eric's Village Market
Storybook Treats
Sunshine Tree Terrace
Tortuga Tavern
For some of the incredible snacks within the park, stroll past the following:
Aloha Isle – serves the popular Dole Whip!
Main Street Bakery – enjoy all the yummy cookies and cakes!
Auntie Gravity's Galactic Goodies – everyone needs ice cream!
Plaza Ice Cream Parlor – more cool treats for a hot day!
Sleepy Hollow – for all your funnel cake needs!
Westward Ho – stop in for a frozen lemonade!
Magic Kingdom takes a significant amount of time to get through due to the massive amount of rides, attractions and shows that the park offers. If it's your first visit, getting tickets for two days to see everything may be worth it. You can also purchase a multi-park ticket and go back to Magic Kingdom on another day after visiting one of the other parks.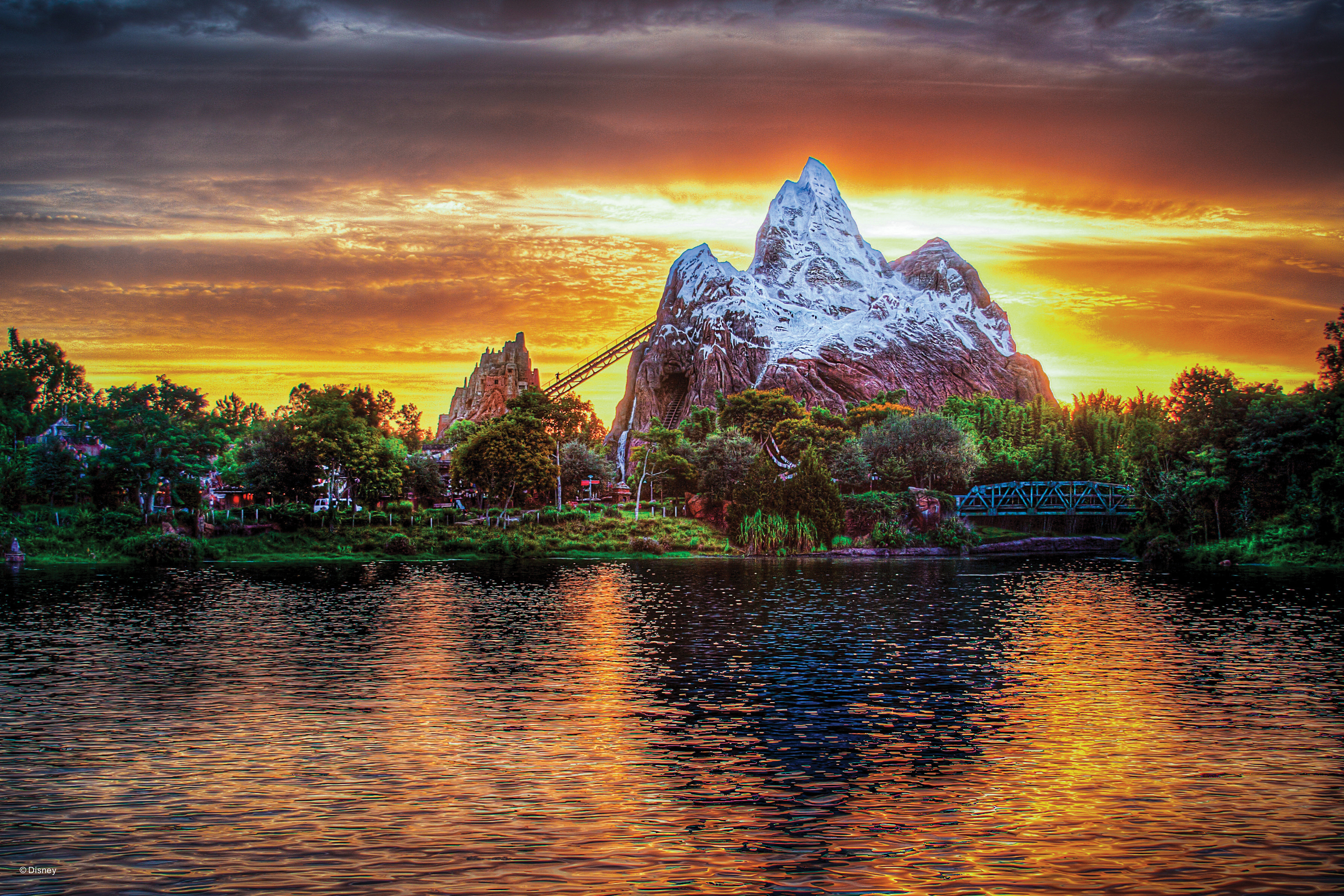 Animal Kingdom
The addition of Animal Kingdom to the Walt Disney World Resort has brought a different aspect to the franchise that didn't previously exist. When visiting the newest park, you can enjoy typical Disney-style rides, but you also get to see African-native animals up close by way of an African safari.
Children young and old can earn their Wilderness Explorer badges (inspiration from the class Disney film "Up"). Visitors can also see a live-action Festival of the Lion King show and watch Disney Kite Tails, where professional kite flyers engage in a choreographed performance to high-energy music.
You can visit Animal Kingdom on a single park ticket or purchase a multi-park option where you can see more than one location on any given day. While Animal Kingdom has many rides and activities, it doesn't require as much time to get through as Magic Kingdom. Remember that you may experience longer wait times due to fewer attractions.
In terms of the rides available at Animal Kingdom, you will find:
Avatar Flight of Passage
DINOSAUR
Expedition Everest – Legend of the Forbidden Mountain
Kali River Rapids
Kilimanjaro Safaris
Navi River Journey
TriceraTop Spin
Wildlife Express Train
You'll find several fun activities that will speak to a variety of senses for people of all ages:
The Boneyard Fossil Fun Site
Maharaja Jungle Trek
Affection Section
The Animation Experience at Conservation Station
Discovery Island Trails
Gorilla Falls Exploration Trail
Visiting Animal Kingdom means you have access to African-inspired cuisine, available through various restaurants. You can enjoy these dishes in a reservation, table-style fashion, or through quick serve. Some of the top restaurants include:
Rainforest Cafe
Tiffins Restaurant
Tusker House
Yak and Yeti
Nomad Lounge
Pizzafari
Restaurantosaurus Burgers and Sundaes
Anandapur Ice Cream Truck
Caravan Road
Creature Comforts
Dawa Bar
Dino Diner
Dino-Bite Snacks
Drinkwallah
Eight Spoon Cafe
Flame Tree Barbecue
Harambe Fruit Market
Isle of Java
Kusafiri Coffee Shop and Bakery
Mahinda
Pongu Pongu
Satu'li Canteen
Tamu Tamu Refreshments
Terra Treats
Thirsty River Bar
Trek Snacks
Trilo-Bites
Warung Outpost
Animal Kingdom is an excellent option if you want to try a new park style. You'll combine education with entertainment while learning about animals, Africa, and preservation methods and techniques.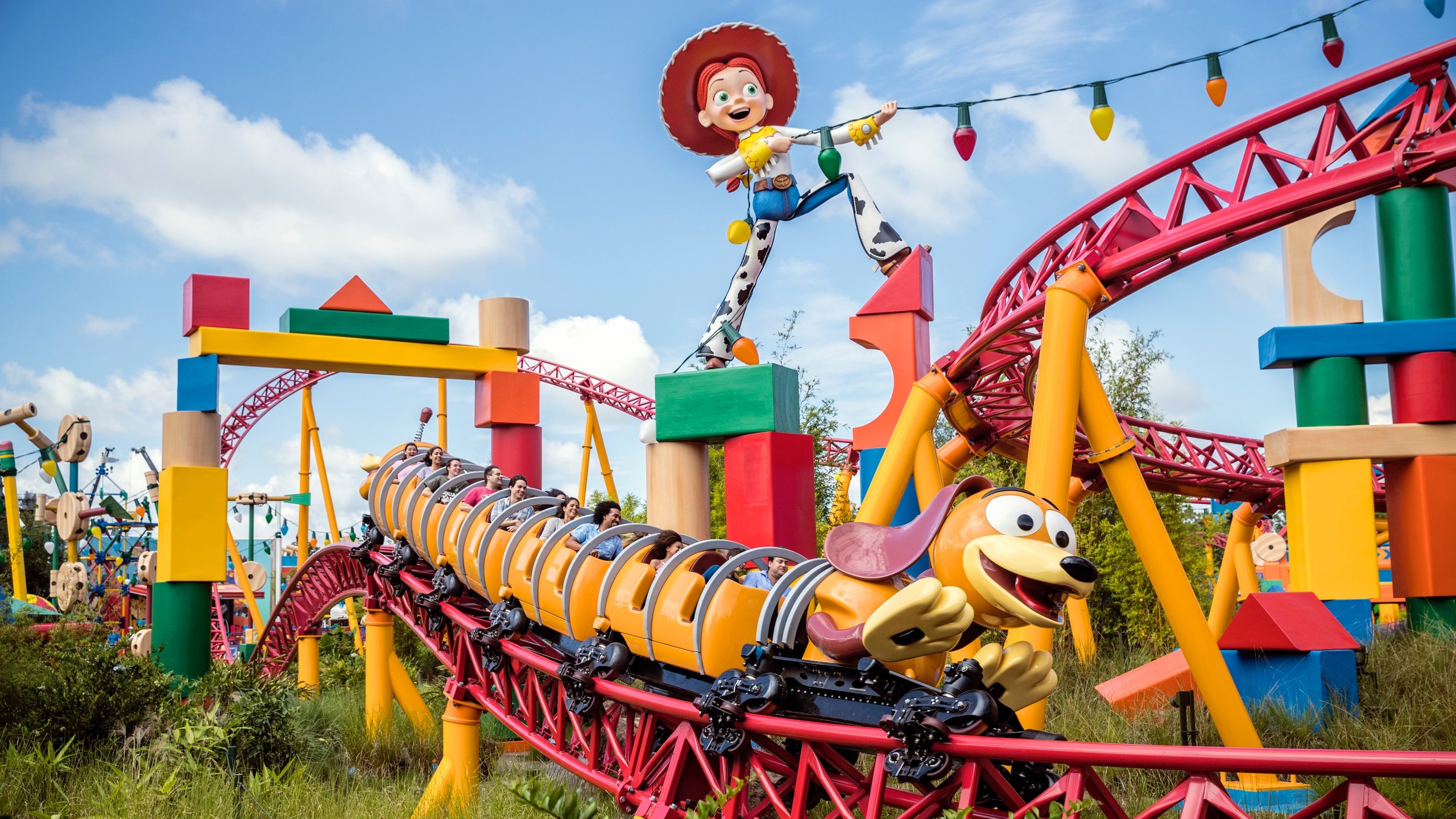 Hollywood Studios
Not to be confused with Universal Studios, Hollywood Studios has a different style of rides and attractions. You will see a lot of tie-ins with Disney and Pixar movies, with rides focusing on Toy Story, The Incredibles, and Cars.
Like the other parks that fall under the Disney umbrella, your entrance ticket to the park comes with access to a wide array of shows and attractions. Some of the most popular at Hollywood Studios include the Frozen Sing-a-long, Beauty and the Beast, Indiana Jones Stunt Show, and MuppetVision 3D.
For those who are keen on rides, Hollywood Studios won't disappoint. They have a variety of entertainment that speaks to all styles. For those who enjoy thrills and dips, there are rides that meet that need and when you have younger travelers, you can find slower but fun options.
Millennium Falcon: Smugglers Run
Rock 'n' Roller Coaster Starring Aerosmith
Slinky Dog Dash
The Twilight Zone Tower of Terror
Alien Swirling Saucers
Disney Junior Play and Dance
Lightning McQueen's Racing Academy
Mickey and Minnie's Runaway Railway
Star Tours: The Adventures Continue
Star Wars Launch Bay
Toy Story Mania
You'll notice that, like Animal Kingdom, Hollywood Studios has fewer attractions. While this means that you are likely to accomplish everything in one day, you may experience longer wait times due to having fewer attractions throughout the park.
If you want to enjoy the park in total, taking a full day through a one-day ticket is sufficient. If you are limited on time, you can also purchase a multi-day ticket and spend a few hours or half a day in Hollywood Studios before or after seeing another park in the line-up.
While fewer rides and shows may be available, Hollywood Studios does not have a shortage of incredible food options. You can choose to make a reservation at one of the high-end restaurants, grab something from quick serve, or snack from one of the many stands throughout the park.
50's Prime Time Cafe
ABC Commissary
Anaheim Produce
Backlot Express
BaseLine Tap House
Catalina Eddie's
Docking Bay 7 Food and Cargo
Dockside Diner
Epic Eats
Fairfax Fare
Hollywood and Vine
The Hollywood Brown Derby Lounge
Hollywood Scoops
Kat Saka's Kettle
KRNR The Rock Station
Mama Melrose's Ristorante Italiano
Market
Milk Stand
Neighborhood Bakery
Oga's Cantina
PizzeRizzo
Ronto Roasters
Rosie's All American Cafe
Sci-Fi Dine-In Theater
The Trolley Car Cafe
Tune-In Lounge
Woody's Lunch Box
A visit to Hollywood Studios, the third park to be created in the Disney World Orlando Resort franchise, gives a calmer approach to a theme park vacation. The crowds are typically lower than in the other locations, but the fun is still top-notch.
EPCOT
EPCOT was the second park to be opened in the Walt Disney World Orlando complex. The acronym stands for Experimental Prototype Community of Tomorrow. The theme for the park is the future and trends that are taking us forward.
When visiting EPCOT, you will see a focus on culture, technology, and innovation. Walking into the park, you will be greeted by a host of countries represented in a circular layout. As you approach each area, you can learn more about the culture, walk through shops with country-specific items, and dine on foods that are relevant in those areas.
EPCOT has more attractions than rides, but the latter exists within the park. In addition to shows like Harmonious, Matzurisa, The American Adventure, Awesome Planet, Beauty and the Beast Sing-a-long, Bruce's Shark World, and the Disney and Pixar Short Film Festival, the rides and experiences that excite visitors the most are:
Advanced Training Lab
Canada Far and Wide in Circle-Vision 360
Frozen
Gran Fiesta Tour Featuring the Three Caballeros
Guardians of the Galaxy: Cosmic Rewind
Awesome Planet
Coral Reefs
Frozen Ever After
House of the Whispering Willows
ImageWorks
Journey Into Imagination With Figment
Kidcot Fun Stops
Leave a Legacy
Living With The Land
Mission: SPACE
Project Tomorrow: Investing in the Wonders of the Future
Reef Fish
Remy's Ratatouille Adventure
SeaBase
The Seas With Nemo and Friends
Soarin' Around the World
Spaceship Earth
Test Track
Turtle Talk With Crush
If you are venturing to the EPCOT park, make sure you go hungry. You'll want to try out all the different cuisines offered within the different countries represented. What countries will you encounter?
Canada
United Kingdom
France
Morocco
Japan
United States
Italy
Germany
China
Norway
Mexico
To best prepare yourself, be sure to review the following list of eating establishments that EPCOT offers to guests. Several require reservations, so you will want to be mindful of that need and try to obtain a spot 60 days before your trip.
Akershus Royal Banquet Hall
Biergarten Restaurant
Chefs de France
Coral Reef Restaurant
Garden Grill
La Creperie de Paris
La Hacienda de San Angel
Le Cellier Steakhouse
Monsieur Paul
Nine Dragons Restaurant
Restaurant Marrakesh
Rose and Crown Dining Room
Spice Road Table Fireworks Dining
San Angel Inn Restaurante
Space 220 Lounge
Takumi-Tei
Teppan Edo
Tokyo Dining
Tutto Italia Ristorante
Via Napoli
Suppose you find yourself short on time and need to find something to eat while on the go or without the lengthy ordering process. There are many options available. Within these quick-serve restaurants, you can order fast food of various types or a quick snack.
Block and Hans
Choza de Margarita
Connections Cafe
Connections Eatery
Cool Wash
Crêpes À Emporter by La Crêperie de Paris
Funnel Cake Quick Service
Gelateria Toscana
Joy of Tea
Kabuki Cafe
Katsura Grill
Kringla Bakery Og Kafe
L'Artisan des Glaces
La Cantina de San Angel
The Land Cart
Les Halles Boulangerie-Patisserie
Les Vins des Chefs de France
Lotus Blossom Cafe
Refreshment Outpost
Regal Eagle Smokehouse
Sommerfest
Sunshine Seasons
Tangierine Cafe
UK Beer Cart
Yorkshire County Fish Shop
As you can see, you'll never go hungry when you're exploring EPCOT. If you're visiting the park to try all the different restaurants, you should purchase tickets for several days! Those who stay will typically spend one full day and may come back through on a multi-day pass to take advantage of the diverse food options.
Typhoon Lagoon
For a day of fun in the sun and endless laughs in the water, purchase a separate ticket to visit Typhoon Lagoon when at the Disney Orlando Resort. Florida can get extremely hot, especially in the summer. Having a day where you can cool off in a multitude of water activities will hit the spot.
Although it's only a fraction of the size that a standard Disney park is, Typhoon Lagoon packs a lot of attractions into its limited space.
Bay Slides
Crush n' Gusher
Castaway Creek
Gangplank Falls
Humunga Kowabunga
Keelhaul Falls
Ketchakiddee Creek
Mayday Falls
Miss Adventure Falls
Storm Slides
Typhoon Lagoon Surf Pools
Be sure to check for any specific height or condition requirements before entering the line for the attraction of your choice. The last thing you want is to get to the front of the line only to discover that your child doesn't meet all the guidelines for the ride!
For the inevitable hunger that comes with a day in the sun, you will have several quick-serve eateries to choose from during your visit. For picky eaters, there are a wide variety of food options.
Happy Landings Ice Cream
Leaning Palms
Lets Go Slurpin'
Lowtide Lou's
Snack Shack
Surf Doggies
Typhoon Tilly's
When visiting Typhoon Lagoon, you don't have to worry about hauling everything around the park. While there, you can take part in a towel rental and obtain a locker for a small daily fee.
Regarding safety, the park employs many lifeguards to monitor guests while in the water. Although it's still vital to supervise your family while they enjoy the attractions, you can rest assured that there are extra eyes on your loved ones at all times.
Blizzard Beach
As another water park option to beat the heat on hot summer days, Blizzard Beach is an excellent choice with attractions that appeal to all ages. With both Typhoon Lagoon and Blizzard Beach, you can choose to gain admission to the park by purchasing it as a separate ticket, as part of a multiple days package, or as a multi-park hopper option.
While both are water parks, a few differences correspond with each. Additionally, they have several similarities that overlap. When it comes to Blizzard Beach, various opportunities for fun exist.
Chairlift
Cross Country Creek
Downhill Double Dipper
Melt-Away Bay
Runoff Rapids
Ski Patrol Training Camp
Slush Gusher
Snow Stormers
Summit Plummet
Steamboat Springs
Tike's Peak
Toboggan Racers
Toddler Fun Zone
When you stop to break for lunch or a quick snack, you can enjoy a meal or morsel from one of the many fast-serve stations throughout the park. You'll build your energy back up in no time and find yourself in line, ready to go immediately.
Arctic Expeditions
Avalunch
Cooling Hut
Frostbite Freddy's Frozen Freshments
IC Expeditions
Lottawatta Lodge
Mini Donuts by Joffrey's Coffee
Polar Pub
Warming Hut
Like Typhoon Lagoon, you can rent towels and lockers at Blizzard Beach. Lifeguards on duty also help you monitor your family's safety while at the water park. It's typical for guests to spend an entire day playing on all the water attractions the park includes.
Disney Springs
When on vacation, some days call for a simple stroll, lunch out, and some shopping. Disney Springs is the perfect place to do all of those things. Not only will you find top designer stores, but you'll also find fun options like:
The Lego Store
Disney Store
Bibbidi Bobbidi Boutique
Coca Cola Store
Disney's Candy Cauldron
Disney's Days of Christmas
Disney's Pin Traders
Goofy's Candy Company
M&M Store
Once Upon a Toy
Rainforest Cafe Retail Store
Wondermade
Additionally, you will find over 60 restaurants to choose from while in Disney Springs. There are various concerts and events that take place in the large on-site venue, and you can even engage in a quick game of bowling while there!
Disney Boardwalk
Disney Boardwalk offers various shopping options, dining, and entertainment like Disney Springs. The boardwalk near the EPCOT park is easily reachable by Disney shuttles. Also, like Disney Springs, you don't need to hold a Disney park ticket to visit.
The classic arcade offers visitors one of the most popular amenities on the boardwalk. You can play some of the most popular games from years past. You can also dance a jig at the designated boardwalk dance hall.
Two restaurants on the boardwalk require reservations, Flying Fish and Trattoria al Forno. However, other dining establishments are considered quick serve and don't require prior reservations.
Abracadabar
Big River Grille and Brewing Works
Boardwalk Deli
Boardwalk Ice Cream
Boardwalk Joe's Marvelous Margaritas
Funnel Cake Cart
Pizza Window
The To-Go Cart
Something worth noting is that limited parking is available at the boardwalk. It's encouraged to use the various shuttles available or a ride-sharing service to reach the location. Available shuttles include the water taxi, people mover, and buses.
ESPN Wide World of Sports
As an attempt to build sports into the Disney brand, the corporation created the ESPN Wide World of Sports complex in 1997. Since opening, the venue has offered various training programs for people of all ages, specialized conditioning for sports teams, and extravagant sports competitions, including professional team matches.
The venue was not labeled initially with the ESPN name. In 2010 the company entered into an agreement with Disney to be a sponsor, and the complex was relabeled with the ESPN name as a co-brand.
You won't find much in the way of restaurants in the venue. One establishment, the ESPN Wide World of Sports Grill, and concessions are only available during events.
Character Meets at Walt Disney World Resort
When you are in any of the four parks, you can encounter a Disney character or two. Character meets are often available on a schedule and in specific locations throughout the park. If there's a particular individual you or your child are hoping to see, it's best to refer to the schedule provided by the resort and see what locations and what times they will be at during your time at the park.
You aren't limited to seeing your favorite cartoon stars in the parks. It's also possible to book a reservation to share a meal with Mickey, Minnie, and all their friends! If you are interested in this option, log into your Disney account precisely 60 days before your park visit and secure a reservation at one of the experiences.
1900 Park Fare
Akershus Royal Banquet Hall
Chef Mickey's
Garden Grill Restaurant
Hollywood and Vine
Story Book Dining at Artist Point
Topolino's Terrace
Tusker House Restaurant
Some of these options are located within Disney resorts, but a few reside in-park restaurants. If you choose to dine at one of the park restaurants, you must have a ticket for admission for that day, along with your reservation.
Walt Disney World Resort Hotels
Multiple resort hotels were built to accommodate the masses of people that visit all the Walt Disney World Orlando parks. Over the years, the company constructed more to fit varying price points and guest needs.
Campgrounds
The Campsites at Disney's Fort Wilderness Resort
Value Resort Hotels
Disney's Pop Century Resort
Disney's All-Star Music Resort
Disney's All-Star Movies Resort
Disney's All-Star Sports Resort
Disney's Art of Animation Resort
Disney's Caribbean Beach Resort
Disney's Port Orleans Resort – Riverside
Disney's Coronado Springs Resort
Disney's Port Orleans Resort – French Quarter
The Cabins at Disney's Fort Wilderness Resort
Disney's Animal Kingdom Lodge
Disney's Polynesian Village Resort
Disney's Grand Floridian Resort & Spa
Disney's Wilderness Lodge
Disney's Beach Club Resort
Disney's Contemporary Resort
Disney's Yacht Club Resort
Disney's Boardwalk Inn
Deluxe Villas
Disney's Saratoga Springs Resort and Spa
Disney's Old Key West Resort
Disney's Polynesian Villas and Bungalows
Bay Lake Tower at Disney's Contemporary Resort
The Villas at Disney's Grand Floridian Resort and Spa
Disney's Animal Kingdom Villas – Kidani Village
Disney's Boardwalk Villas
Disney's Beach Club Villas
Boulder Ridge Villas at Disney's Wilderness Lodge
Disney's Animal Kingdom Villas – Jambo House
Copper Creek Villas & Cabins at Disney's Wilderness Lodge
Disney's Riviera Resort
Your stay at any of the Disney hotels includes complimentary transportation to each park and Disney Springs. Each resort will have its own types of programming, dining, activities, and amenities.
Restaurants at Walt Disney World Resort
While many of the Walt Disney World Resort restaurants are listed above by the park they reside in, others have their location in the Disney hotel resorts. Each accommodation has a cafeteria and quick-serve options, but many also have restaurants available by reservation.
Citricos at Disney's Grand Floridian Resort and Spa
Sebastian's Bistro at Disney's Caribbean Beach Resort
Kona Cafe at Disney's Polynesian Village Resort
BOMA at Disney's Animal Kingdom Lodge
Geyser Point Bar and Grill at Disney's Wilderness Lodge
Victoria and Alberts at Disney's Grand Floridian Resort and Spa
Narcoossee's at Disney's Grand Floridian Resort and Spa
Yachtsman Steakhouse at Disney's Yacht Club Resort
Crew's Cup Lounge at Disney's Yacht Club Resort
Jiko the Cooking Place at Disney's Animal Kingdom Lodge
These restaurants are much preferred by many of the guests to the Disney resorts. The high-quality menu items and the aesthetic of the establishments make them an excellent place for splurging on vacation.
Getting Around Walt Disney World Resort
Once you arrive at your resort, you will have complimentary shuttle service to each park and Disney Springs. While you won't have a direct mode of transportation to Disney Boardwalk, it is located next to EPCOT and is just a short walk away.
Some of the higher-end hotels have additional transportation options. For some, you will be able to use a water taxi to get to the parks but will need to use the shuttle for other locations. Others are part of the monorail system that gives you a direct trip between the hotel and the park.
If you'd rather secure your own transportation, you can take a car, taxi, or ride-share. However, you will incur parking charges when you go this route. Some places, like Disney Springs, offer free parking. However, most sites will come with an additional fee.
For those who want to visit different resorts, you will need to transfer shuttles to a park or Disney Springs. For example, if you are staying at an All-Star resort and want to visit the Grand Floridian, you will need to take the shuttle to a central location and then wait for the bus that goes directly to the resort of your choice.
Walt Disney World Resort Seasonal Events & Experiences
Depending on when you visit the parks, you will be able to participate in various celebrations and events that Disney puts on for its guests. While they may vary, most commonly, they include options similar to the following:
Mickey's Not So Scary Halloween Party
Mickey's Very Merry Christmas Party
EPCOT International Festival of the Arts
EPCOT International Flower and Garden Festival
EPCOT International Food and Wine Festival
EPCOT International Festival of the Holidays
Each year will have a different stream of programming with each event. Additionally, you will likely see decorations throughout the parks for holidays like Easter and Independence Day. However, there won't be any formal programming that takes place during those times.
Golf at Walt Disney World Resort
At Disney, they consider everything when planning a fun and entertaining time for their guests. The thought process includes top golf courses throughout the Orlando area that also provide golf lessons and foot golf activities.
There are four courses available for booking tee times:
Disney's Oak Trail Golf Course
Disney's Lake Buena Vista Golf Course
Disney's Magnolia Golf Course
Disney's Palm Golf Course
You can book times directly from the golf course website. Each location has on-site retail where you can purchase Disney-themed apparel and merchandise. As you make your way through the holes, you may notice a few Mickey Mouse designs in the landscaping!
Walt Disney World Resort: Top Tips for Enjoying your Visit
Before embarking on your vacation to Walt Disney World Orlando Resort, you should take into consideration the following elements to make your process as seamless and enjoyable as possible.
Research the use of a Disney travel agent to help plan your trip and secure all possible promotions.
Decide if you want to stay in a Disney resort or a chain accommodation, keeping in mind that complimentary shuttles are only available with some non-Disney hotel options.
Decide which parks you want to visit and whether you wish to schedule any non-park days to explore your hotel or places like Disney Springs.
If you want to avoid long lines, research the Disney Genie Plus add-on for your park tickets.
For those who plan to eat most of their meals in the parks, adding a dining plan to your reservation may prove to be beneficial financially.
Once deciding how you will get to Orlando, be sure to secure transportation from the hotel or train station.
Take inventory of the different restaurants and character experiences and decide whether you want to make reservations for some of the more in-demand options.
If you decide to go for a dining reservation, be sure that you get online as early as possible, precisely 60 days before your park day.
If you are traveling to the parks during the in-season months, expect long wait times for rides and attractions.
Download the Disney parks app to your phone so that you can view wait times, schedules, and character locations.
While there are many moving pieces to a Disney vacation, the overall result is an excellent time for all. Each park has ample opportunities for people of all ages, and all will enjoy their experience at Disney.
In Summary
A vacation to Disney World Orlando Resort is at the top of every person's bucket list. While it may seem that all you need to do is purchase the tickets and show up, there is more that needs to be taken into consideration to make your vacation as memorable as possible.
Whether it's the transportation route you use to get to Orlando, the accommodations you use for lodging, which parks you visit, or the restaurants you eat at, there are many things to decide before you leave.
Taking the time to sort through all these key points will save you a lot of stress once you set foot on Disney soil. Complete the leg work now to have a seamless experience later.