Are you planning to visit Kilimanjaro Safari Disney World with your family or loved ones and want to learn more about it? Then you have come to the right place!
In this article, we will provide you with an overview of everything you need to know about Kilimanjaro Safaris. This safari ride at Disney's Animal Kingdom park will transport you across the globe into an African Wildlife setting.
In this Ultimate Guide, we will cover all the basics from the history of the Safari, how to ride it and some further frequently asked questions about the wildlife park. Read on to find out more!
About Kilimanjaro Safaris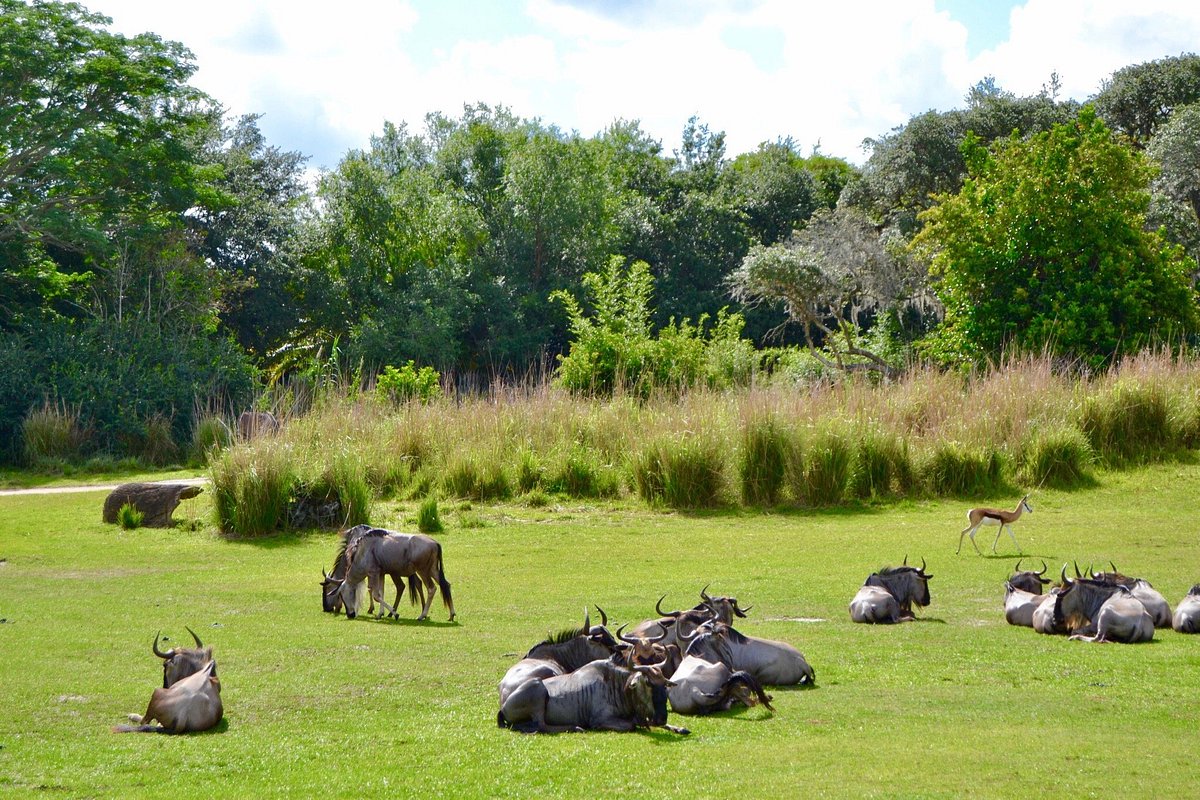 Walt Disney had a lifelong dream of adding live animals to his Jungle Cruise. Back then, this was not possible until the Kilimanjaro Safaris opened its gates in Disney's Animal Kingdom park in April 1998.
The park in Walt Disney World wanted to differentiate itself from a zoo from the beginning. While it had live animals, it was more focused on conservation and experiencing the animals in their (somewhat) natural habitat.
Since 2016, visitors can enjoy special sunset safaris where they get to enjoy African animals after dark.
You will find Kilimanjaro Safaris located in Disney's Animal Kingdom park, which is part of Walt Disney World.
Make your way past the Tree of Life to the back of Africa, all the way past Mombasa Marketplace and Dawa Bar. As you cross the bridge, you will get to Kilimanjaro Safaris.
The queue will lead you through the Harambe Wildlife Reserve before you enter your safari vehicle and head out to experience the African Savanna without leaving the States!
The Kilimanjaro Safaris Ride
The Kilimanjaro Safaris vehicles are open-air trucks that can accommodate up to 35 guests. Each vehicle can seat three to five guests in one row.
The Savanna provides a bumpy ride along a dirt trail and is different from the other smooth theme park rides at Disney. So buckle up.
You will be provided with a game-spotting guide. Be on the lookout, as not all wildlife will be visible at all times.
A Kilimanjaro Safaris ride is approximately 20 to 30 minutes long and leads through 100 acres of Savanna. During this time, you will be able to spot about 34 different species. Among these, you will find famous members of the African Animal Kingdom:
Hippopotamus
Lions
Giraffes
Baboons
Rhinos
Crocodiles
Elephants
Cheetah
Hyenas
Zebras
Sable Antelopes
Thompson's Gazelles
Wildebeest
Cattle
African Wild Dogs
Termite Mounds
Each expedition through the Harambe Wildlife Reserve is completely unique. The animals are all free roaming and are, therefore, always in a different place or sometimes in hiding.
If you are looking for a specific unique experience, you can visit Kilimanjaro Safaris at night! During those nighttime safaris, you will be able to experience the wildlife in a completely different setting. Some animals tend to be more active during the night, so we recommend trying out both times.
Kilimanjaro Safaris Accessibility
The ride with Kilimanjaro Safaris is longer than some other rides at Disney's Animal Kingdom, so factor that into your time at the park, so you don't miss other rides.
Since you will be dealing with real animals, we recommend behavior that suits the setting. No loud noises or erratic behavior as this can scare the wildlife. Small children are to be watched at all times. In general, this might be a better experience for children above the age of six.
Fastpass/ Lightning Lane: Yes
Time: 20 -30 minutes
Height Restrictions: None
Age Restrictions: None
Handicapped Accessibility:
Kilimanjaro Safaris is Wheelchair Accessible
To access the safari ride, you can wheel up a ramp and ride into the truck itself. Your wheelchair will be tied down and secured, so you do not have to worry about bouncing around during the ride through the wilderness.
Other guests need to take a small step into the safari vehicle.
Guests are advised to be in good health. This includes:

no high blood pressure
no heart, back, or neck problems
no motion sickness
no other severe conditions
Disney does advise against expectant mothers or people that aren't in good health riding with Kilimanjaro Safaris, as the rides can get bumpy, and there is also no option for an emergency exit while in the safari vehicle.
Service Animals:
Kilimanjaro Safaris allows service animals to be taken into the premises and on rides. However, the park advises visitors to do so with caution. The animals might be completely new to this wildlife experience and might act differently.
Interesting Facts
In the beginning, Kilimanjaro Safaris included a lot of information about poaching in their ride and even had a specific section in the park set up to educate about the illegal hunting of wildlife.
These days, Kilimanjaro Safaris is more focused on the educational part of the conservation of the African Savanna and its wildlife.
The ride is designed to be as realistic as possible. Therefore, the roads are quite rough (as mentioned previously in this article). You need to be ready for some rough and rugged terrain during your safari adventure at Kilimanjaro Safaris.
FAQs
How big is the Kilimanjaro Safari Park?
Including the Harambe Wildlife Reserve, the Kilimanjaro Safaris Park is about 1.5 miles.
While this might not sound too lengthy, keep in mind that you will follow winding roads that are extremely bumpy. On top of that, the Kilimanjaro Safaris area is about 110 acres big. Plus, the safari trucks will drive extremely slow. This is also to ensure you will see enough wildlife.
Can you pet animals at Kilimanjaro Safaris?
This is a clear no. You are dealing with wildlife from the African animal kingdom at Kilimanjaro Safaris. These animals are wild. They are no pets. A direct encounter with lions is to be treated with respect and can end in a dangerous situation should you mistake them for a house cat.
Should you or your children wish to pet animals, we recommend visiting the petting zoo at Rafiki's Planet Watch.
Are all animals real at Kilimanjaro Safaris?
Yes, the animals are all real. The tour however does include some fake elements, such as:
Ostrich Eggs
Moonlight during the safari ride after sunset
Tusk marks
Termite mounds
When Is The Best Time To Ride Kilimanjaro Safaris?
We recommend purchasing your Harambe Wildlife Reserve pass early in the morning and heading straight to the open-air safari experience. The animals tend to be more active during the morning hours as well as after sunset.
During midday, most animals will hide in the shade or be less active because of the heat. It will also be more strenuous on visitors, as this is an open-air vehicle and you might not feel too comfortable in the hot climate.
Does the Weather influence the Safari?
Kilimanjaro Safaris is an open-air safari. So the rides are in some way influenced by the weather. The animals might not be bothered by the rain, but they might be less active in extreme heat. So plan your visit accordingly.
Since this is an open-air safari, we recommend dressing for whatever weather you might encounter. If there is a possibility of rain, dress warm and take a raincoat. Should the weather be pleasant with sunshine, we recommend a hat, sunscreen, and sunglasses.
Check your forecast and come with the necessities to make the ride enjoyable.
More about our TFVG Author