The fun starts when you get your feet off the ground and your head in the clouds, and there are exciting options for almost everyone here in the Old Line State. Here are six great venues for ziplining in Maryland. Buckle your safety harness and let's go!
These suggestions are not rated and appear in alphabetical order.
Go Ape TreeTop Adventure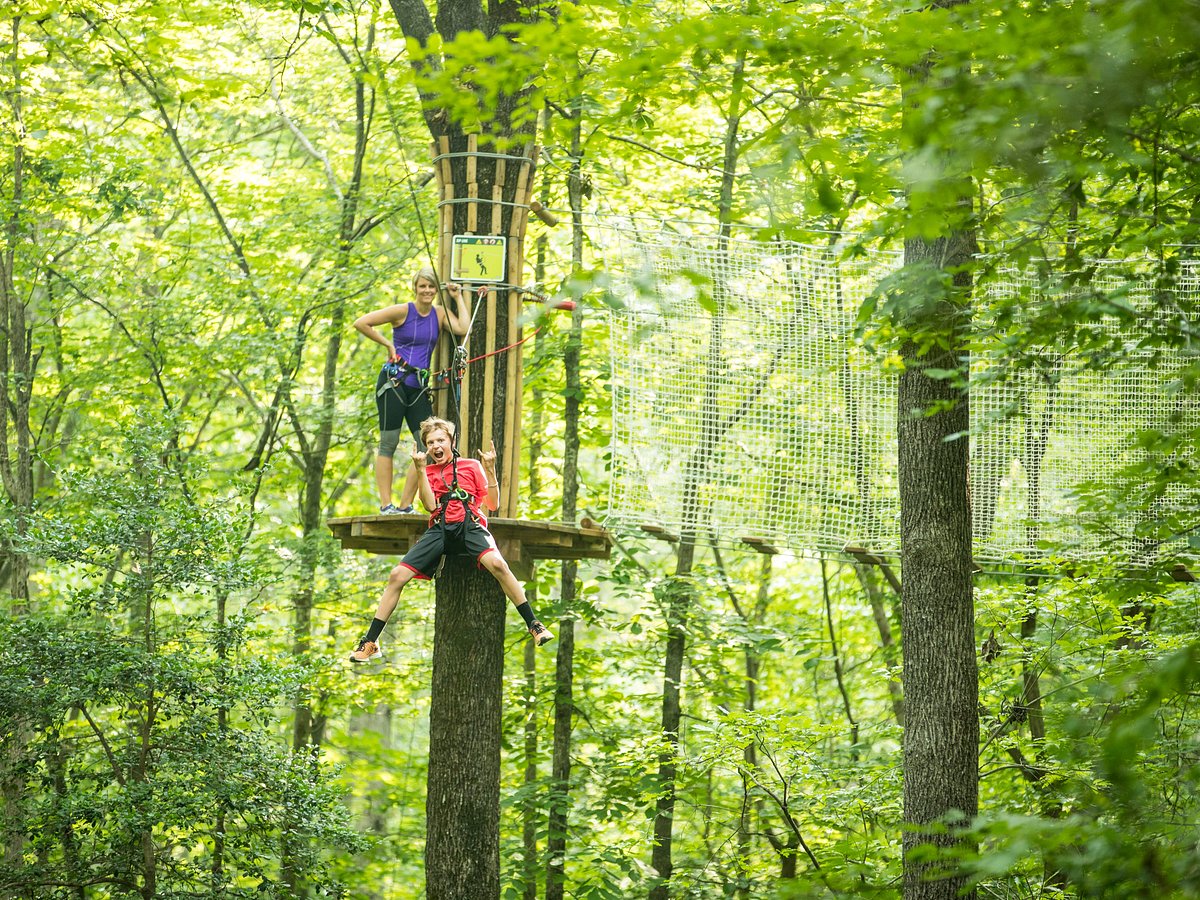 Go Ape is an aerial adventure chain with ten other locations across the country, but for ziplining in the great state of Maryland, visit Rock Creek Regional Park in the Derwood/Rockville area, where treetop escapades await those 10 and up. In addition to ziplines, rope climbing, and treetop obstacle courses, Go Ape boasts Tarzan swing lines and even a skateboard zipline.
Tickets for the 3-hour experience are $64.95. A 90-minute option is available for $44.95. Children must be ten years old and four feet seven inches tall.
The Rock Creek Regional Park also offers traditional activities like fishing, hiking, archery, golf, and bird watching, which may help you wind down after that stint as Tarzan at Go Ape.
Monkey Business Adventure Park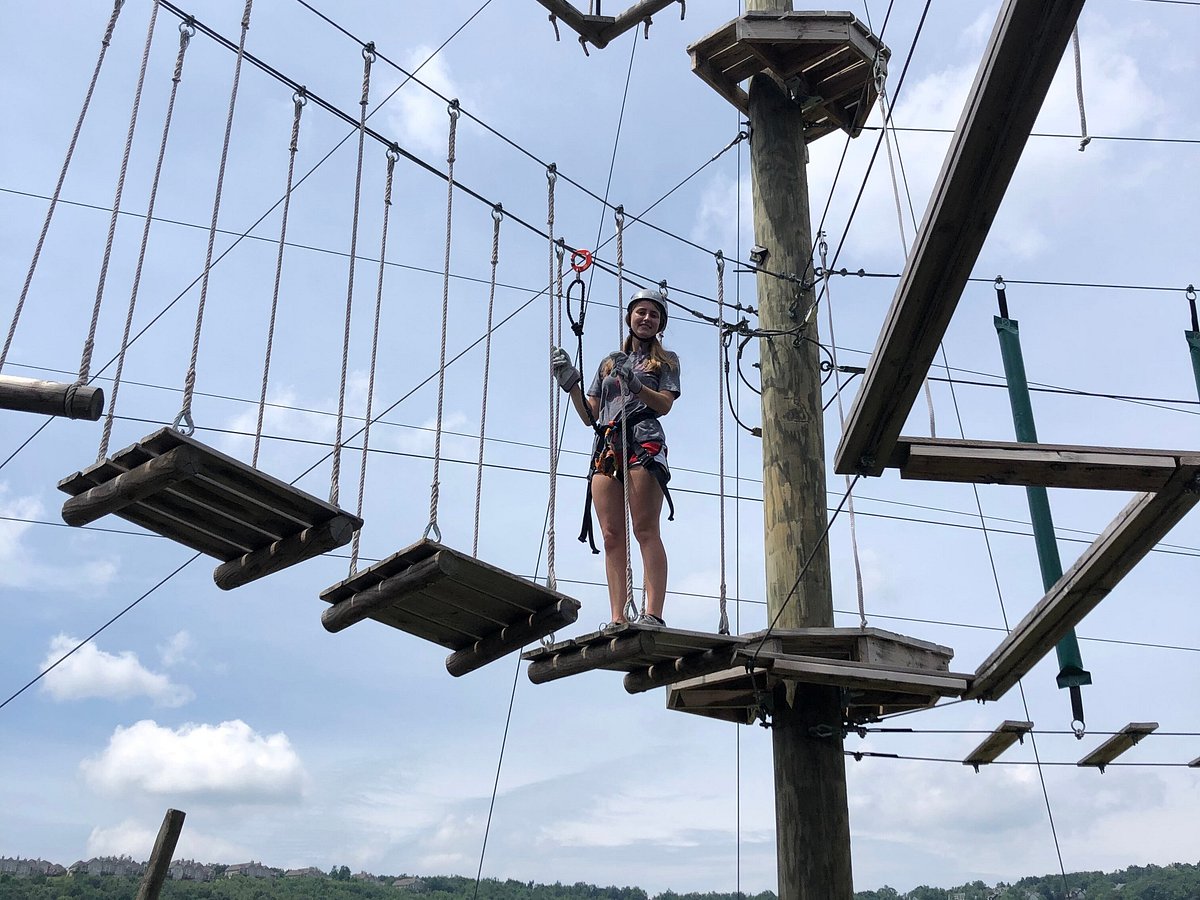 Even the smallest adventurers will go bananas at Monkey Business Adventure Park in McHenry, MD. The "mini-monkey" course is designed for those four years old and up. There are three tiers of difficulty for those over seven, each with two adventure courses.
Another attraction is the "FreeFall," which is exactly what it sounds like. Thrill-seekers welcome!
Monkey Business offers three tiers in their ticket pricing that range from $59.95 to $79.95. The upper tiers are not recommended for children under 12. Expect a two to three-and-a-half-hour stay.
The park is located on a property with other attractions like laser tag, go-karts, and an arcade. Kids of all ages will find something fun to do at Monkey Business.
Terrapin Adventures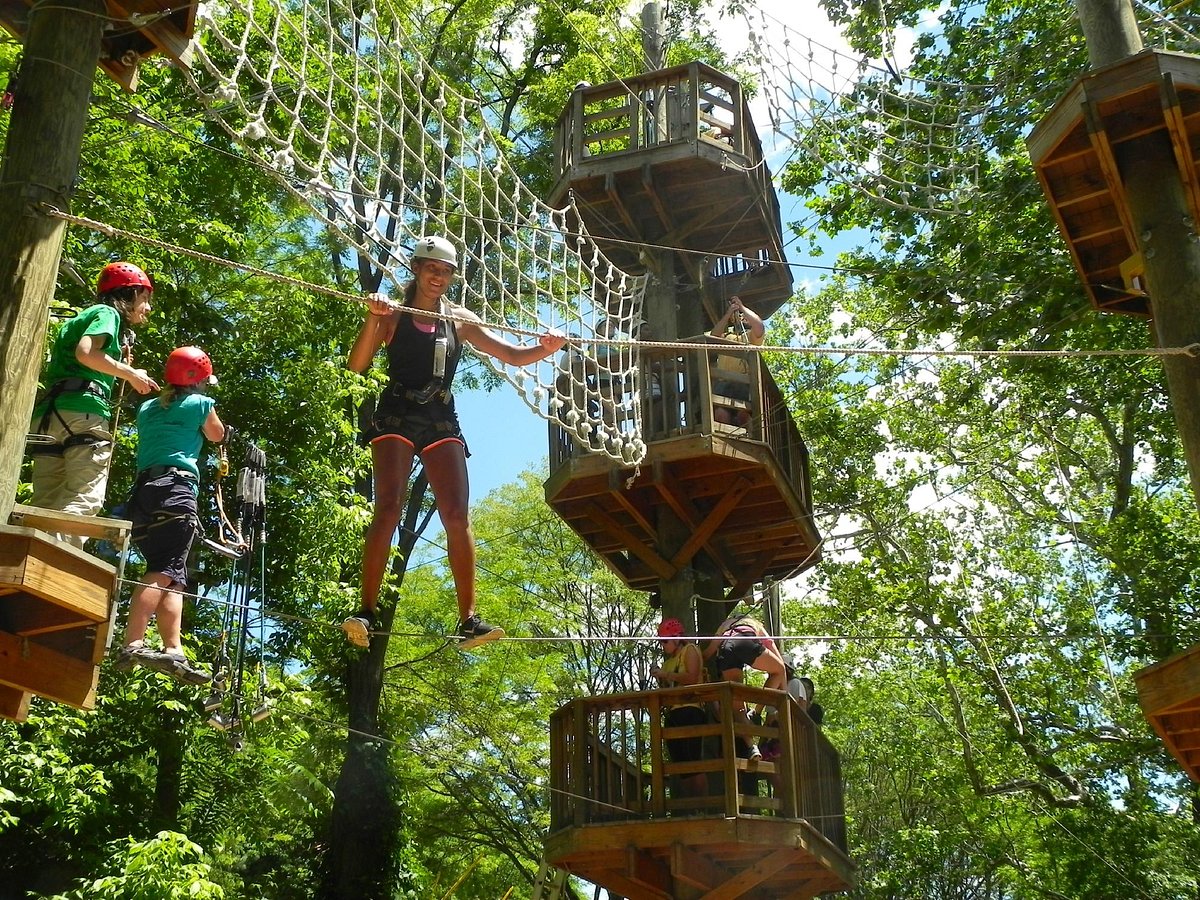 Located a short drive away from Washington, DC, in Savage, MD, Terrapin Adventures has courses and activities for "kids from 5 to 85!" There are programs for corporate team-building, youth camps, and school groups. Tearrapin Adventures also offers day-rates for families. After flying down the 330-foot zip line, catch your breath and give the ropes course and Terrapin Tower climbing walls a go.
A guided three-hour stay for ages eight and up (must be four feet tall) is a flat $75 per ticket and includes all the available activities.
For family members who enjoy the gentler side of nature, Terrapin offers guided bike, kayak, hiking tours, and even cave exploration. You can also request transportation to the historic Savage Mill area for shopping and restaurants.
The Adventure Park at Sandy Springs Friends School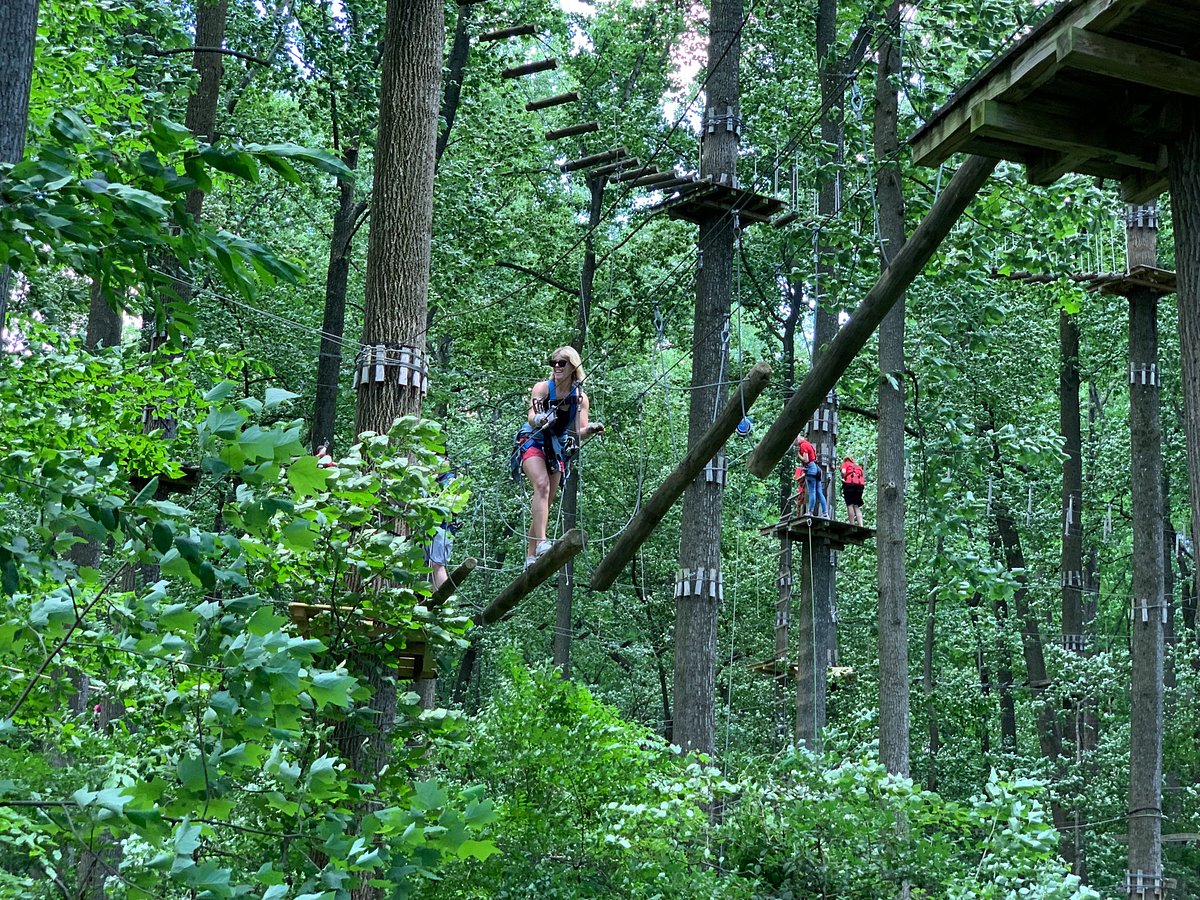 The Adventure Park is one of the first Swiss-style aerial parks in the U.S. and has grown to be one of the largest in the world. In addition to various climbing, zipping, and confidence-building activities, The Labyrinth pole-climbing course is also available for party rentals. The incorporation of natural forests makes The Adventure Park an eco-friendly option.
Pricing for the three-and-a-half-hour adventure varies by age. Ages 12 and up will pay $64, "juniors" (seven to 11) $54, and five and six-year-olds are just $20 but must be with an adult.
On select summer evenings, The Adventure Park decorates the venue with neon lights and plays music throughout the park for a unique, family-friendly "Glow in the Park" nighttime event. An adult-only version, "Keep it Lit," is offered on separate nights. Check out the Events page on their website for these and other special events.
Tree Trekkers Outdoor Aerial Adventure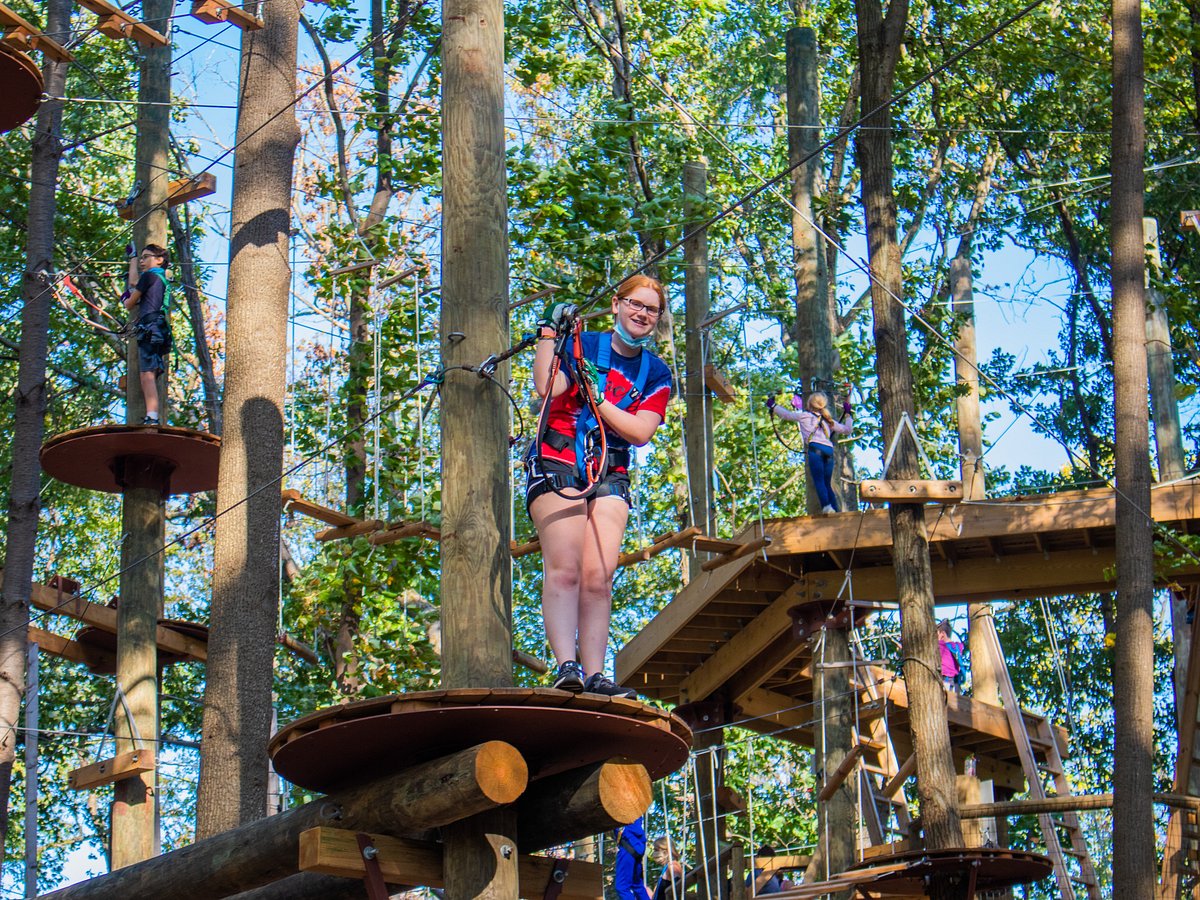 Both the newest and largest venue for ziplining in Maryland, Tree Trekkers in Frederick has 14 different trails with eight levels of difficulty, from a walking trail designed for young children to a "Ninja warrior" trail with strength and experience requirements. There are campgrounds on site with picnic areas and pavilions suitable for parties.
The Timber Trek Adventure package (which includes a 30-minute on-the-ground training in addition to three hours of climbing and zipping fun) is $59 and is recommended for ages seven and up. However, children four and over can attend if they stay with an adult the entire time.
Summer camp programs are available for children between seven and 13. Also of interest to area families is an after-school "Climbing Club," which meets once a week for six weeks in the spring.
Upward Enterprises
Ziplining and aerial adventuring isn't just child's play or a vacation destination. It can be a confidence-building and a team-building experience for corporations. Upward Enterprises in Adamstown, MD, specialize in this. Take your company retreat to the next level (literally) and build teamwork and camaraderie from the treetops.
Upwards Enterprises will also bring the experience to you with their "Portable Events." Even if you cannot take your entire company away for a weekend, a company picnic can be enhanced with the same benefits that come from working together and building team spirit.
Practical Considerations
Now that you're ready for your aerial adventure, there are a few guidelines that will make your day in the sky easy-breezy. Prepare to wear closed-toe shoes, comfortable clothing that is not so loose-fitting as to pose a safety hazard, and to keep any long hair confined in a braid or ponytail.
Many adventure parks require gloves and will expect you to purchase them on-site if you have not brought your own. Safety equipment like helmets and harnesses are provided.
The Fine Print
Check each park's website for specific details on age, height, weight restrictions, current ticket pricing, and cancellation policies. Give yourself extra travel time as some online reviewers have complained of losing their spots after arriving late due to traffic.
Children require adult accompaniment (in some cases at a 1:1 ratio), and a liability waiver must be signed for each participant.
Safety first, with fun as a close second. Happy flying!
More about our TFVG Author