Las Vegas, Nevada might be low on your list when you think of family-friendly destinations. Nicknamed "Sin City," this oasis in the desert is known for gambling, drinking, and debauchery.
At the same time, Vegas wants to attract visitors of all types, including families. In addition, it's a regular city off the Strip where families live and play. For those reasons, there are many things to do and places to stay in Vegas with kids.
Below, read about the best places to stay in Las Vegas if you're traveling with kids. We'll break down what makes these neighborhoods appropriate, things to do there, where not to stay, and more. That way, you can plan the perfect family vacation in Las Vegas.
The Main Strip
If you've heard of Las Vegas, you've undoubtedly heard of the Strip. You'll find most of Vegas's famous casinos, shows, restaurants, and nightclubs along this 4.2-mile stretch of Las Vegas Boulevard.
The Strip begins at Sahara Boulevard in the north (just past Circus Circus) to Russell Road, just south of Mandalay Bay. Because it's such a jam-packed part of the city, we'll look at it in pieces, with the heart of the Strip–the Main Strip–first.
Things To Do for Families
Most people consider the Main Strip to begin at the Venetian in the north and stop at the MGM Grand in the south, and those are the parameters we'll use here, too. This may look like a small stretch on the map, but it's jammed with things to do.
The entertainment for adults is obvious, and much of it isn't very kid-friendly. But you might be surprised by how much you can do with your kids.
Make your first stop at the Bellagio fountains. These enormous fountains come alive several times throughout the day and almost continuously at night. Made possible by powerful hydraulics, the choreographed fountains appear to dance to various tunes. Everyone will be amazed.
You should head inside the Bellagio, too. The ceiling of the lobby is made of giant Venetian glass flowers. You can also explore the Conservatory and Botanical Gardens.
The unbelievable displays of flowers and plants change with the seasons and holidays, so there's always something new to see.
You'll find the Miracle Mile Shops across from the City Center, and there you can see Popovich Comedy Pet Theater. This show is perfect if your kiddos love pets. It's also ideal for little ones with sensitivity to loud noises or bright lights since it's relatively calm.
Located at the Linq Hotel, the High Roller is the name of the enormous observation wheel with private, temperature-controlled cabins. The ride offers a spectacular 360-degree view of Las Vegas, the valley, and the mountains beyond.
Your whole family can take a gondola ride together at the Venetian. These replicas of the famous boats that glide along the canals of Venice take you on an indoor and outdoor ride through the piazzas and shopping areas of the casino.
Madame Tussaud's Wax Museum is located at the Venetian. You'll find astounding wax re-creations of some of your favorite celebrities and pop culture icons. You can pose with them for fun pictures.
At Treasure Island casino, you can visit the Marvel Avengers STATION. You'll see cool artifacts from the films, and then your whole family gets to embark on a superhero adventure of their own!
If your kids like exotic animals or getting up close to wildlife, head to Siegfried and Roy's Secret Garden and Dolphin Habitat. Your family can see dolphins, white tigers, leopards, panthers, and more here.
There is a dolphin show to watch (check the website for showtimes), special programs and events, and they even do kids' birthday parties.
Speaking of shows, Mystere at Treasure Island is one of the best Cirque du Soleil shows for kids, even young kids. See bright lights, dazzling acrobatics, and a rainbow of color as this show delights all ages.
Alternatively, The Beatles LOVE plays at the Mirage. It's a traditional Cirque du Soleil show set to original Beatles music and mixes. They weave the acrobatics into sights and colors you associate with the band and the era they helped define.
Places to Stay
Most of the casinos on the strip have things for kids to do, especially the ones listed above. Those are the Bellagio, Linq, the Venetian, Treasure Island, and the Mirage.
In addition, consider the Paris casino, especially if you have kids interested in the City of Lights or fashion. Of course, Caesar's Palace looms large over the entire strip, and there's much to do there.
The South Strip
The South Strip is one of the best places to stay in Las Vegas. Part of the reason for this is the fantastic themed hotels. While some of them are on the older side, you can't beat staying in an Egyptian pyramid or medieval castle.
Things To Do for Families
One of the most appealing things about the South Strip for families is the range of activities. There's wildlife, thrills, playgrounds, shows, and more.
At Mandalay Bay, the Shark Reef Aquarium houses more than 2000 incredible marine animals, including many species of sharks. See sea turtles, dangerous piranha, and even a komodo dragon.
If you haven't had enough animals, head over to the wildlife habitat at the Flamingo, featuring flamingos, of course. They also have exotic birds, fish, and turtles in their sanctuary. It's free to enter and a quiet, peaceful, natural escape from the rest of the Strip.
The Excalibur Tournament of Kings dinner show is very popular with families and has been for many years. Similar to Medieval Times, your family gets sorted into a knight's section, and you cheer for that knight through a series of quests.
Get ready to scream while riding the Big Apple Coaster at New York, New York casino. This thrilling attraction sits outside and overlooks Las Vegas Boulevard and much of the rest of the Strip. You'll undoubtedly get a startling view from the top of the coaster's loop!
Your family can enjoy a meal and some friendly competition at Topgolf behind the MGM Grand.
Chocolate lovers rejoice! Back on the strip in front of the MGM Grand, you'll find M&M World. Here, you can create custom M&Ms. Take some home as a souvenir from your trip or eat them as you explore the rest of the Main Strip.
Especially if you're traveling with older kids, you might want to check out a show. After all, it's one of the things that makes Vegas unique. The Blue Man Group at the Luxor is a riveting, sensory, and hilarious experience. For especially bold families, you can sit in the splash zone.
For believers of magic, the legendary David Copperfield has a residency at the MGM Grand. His show is appropriate for ages five and up and has some loud sounds and startling moments.
Just south of the South Strip, you'll find Town Square. This massive shopping and entertainment district feels a bit more normal and can be a convenient, close place to escape the hustle and bustle of the strip.
Besides shopping, there's a Children's Park, a fantastic playground with trampolines, and a splash zone in the summer.
Places to Stay
The South strip has many of the best hotels for families.
Some families overlook Mandalay Bay because of its lack of theming, but the pool–Mandalay Bay Beach–more than makes up for it. There is an actual beach, complete with sand and zero entry.
In total, the aquatic area covers 11 sprawling acres. There are shops, restaurants, and bars there, too. While it's open to the public, they have to pay a fee; hotel guests have unlimited free access.
The Luxor is right next door to Mandalay Bay, and it has an ancient Egyptian theme. Another exciting hotel for kids is Excalibur. It's themed like a Medieval Castle. It has the Fun Dungeon, the kind of arcade you'd expect to find in Vegas.
There are over 200 games, and more than 50 of them are classics. Introduce your kids to the games you used to play when you were their age!
Finally, New York, New York is another heavily-themed casino and hotel on the South strip. Whether or not your kids have visited The Big Apple, they'll get a kick out of the false skylines and yellow cabs.
Downtown Las Vegas
Here's a fun fact: the Strip as we know it today isn't actually in the city of Las Vegas. That means you'll find Downtown Las Vegas elsewhere. It's an excellent place for families to stay on vacation in Las Vegas.
Things To Do for Families
While we don't recommend staying Downtown, we highly recommend visiting! There's a lot for kids to see and do here, including a zipline over the main thoroughfare. It's also where you'll get to see the old, iconic casinos.
The area around Fremont Street has a lot going on, too. The Las Vegas Museum of Natural History has displays of mummies, dinosaurs, and more. There are other museums downtown, including the Discovery Children's Museum.
One of Vegas's most unique attractions is the Neon Museum. This one-of-a-kind indoor and outdoor museum tells the history of Las Vegas through defunct, retired, and antique neon signs. If your kids are a little older, visit at night when many signs light up.
Local parents will tell you to visit Container Park. Your kids will have a blast climbing, sliding, and exploring this giant playground made from old shipping containers. Places to grab a bite or beverage surround the park, too. Just be sure to visit during the day; it's adults only at night.
Once you have your dates nailed down, see what's playing at the Smith Center. Depending on your kids' ages and interests, there might be a world-class performance for them. It's the home of the Nevada Ballet and the Las Vegas Philharmonic. They host Off-Broadway and other theater productions.
Places to Stay
Most places to stay in Downtown Las Vegas are on Fremont Street or part of the Old Strip. Several of them, like the Golden Nugget and Fremont Hotel, are brightly decorated and have fun amenities.
When you book or before your arrival, speak with your hotel about getting a quieter room so you'll be out of earshot of the chaos.
Summerlin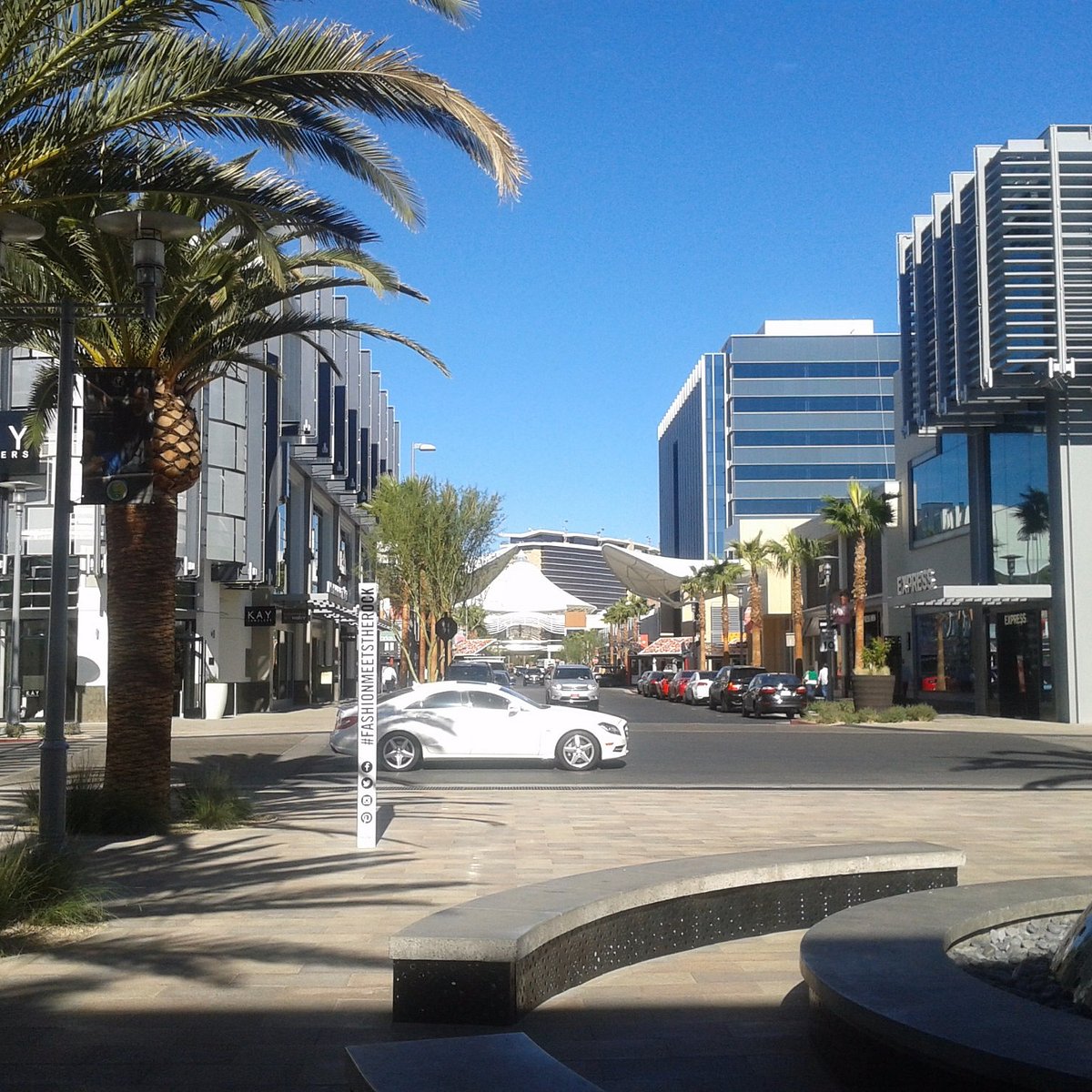 If you want to be away from the Strip and all its chaos but still want high-end amenities, Summerlin is a great place.
Things To Do for Families
One of the best things about staying in Summerlin is your proximity to Red Rock Canyon National Conservation Area. The rock formations and mountains that make up this protected land are breathtakingly beautiful.
There are several trails you can take that are kid-friendly or on the easier side. On many of them, you'll encounter wildlife and beautiful views of your surroundings and the valley below.
For more outdoor immersion, look into Evolutions Expeditions Kayak Tour. You can schedule a guided trip on the Colorado River if your kids are eight or older. Your guide will tailor your experience to the group's skill level, pointing out interesting things along the way.
If you aren't familiar with them, SeaQuest Aquariums have opened around the country, and there's one in Summerlin. They offer interactions and educational experiences for kids of all ages. You can also pet a sting ray, feed a shark, and more.
If you want some good, old-fashioned fun in the sun, head to Wet 'n Wild Waterpark. It's a traditional waterpark with slides, fountains, splash zones, pools, and more. It's relatively new and well-maintained.
If your family's into NASCAR, visit the Las Vegas Mini Grand Prix Family Fun Center. The best thing to do here is go-kart since they have four courses. In addition, there's a roller coaster, other rides, and a giant arcade.
If you head toward Downtown Las Vegas, you'll pass the Springs Preserve – this is a terrific place for kids to run around and explore. There are also several activities for kids of different ages and interests.
First, there are four miles of preserved trails and archaeological digs to explore. Plants and other things are well-tagged with descriptions kids can grasp. There's also a butterfly sanctuary and an indoor exhibit with live animals in the Origen Museum.
In addition, you'll find the Nevada State Museum on the Preserve's grounds. Your kids can see fossils and other fascinating artifacts. They can also learn about Las Vegas's history by exploring preserved and recreated structures from the early 20th century.
Places to Stay
As you might expect, the Red Rock Casino is near Red Rock Canyon. It's very close to a massive shopping, dining, and entertainment center with tons to do for kids. There's a movie theater, bowling alley, and much more. If you choose to stay there, they also have a spectacular pool.
The J.W. Marriott located in Summerlin is massive. It often hosts conferences, so it has a lot to keep families entertained. That includes great swimming and play areas.
Henderson
Henderson is located southeast of the Las Vegas strip. It's a quieter suburb, so there are good family activities.
Things To Do for Families
If you're looking for a fun park for your kids to run around, check out the Shangri-la Prehistoric Park. There are dinosaur statues everywhere that also make for great photo opportunities.
At the Ethel M Chocolate Factory (founded by the Mars Company), your kids can learn all about how they make chocolate, as well as the history of chocolate and chocolate consumption. Tours are self-guided, so you can go at your own pace. It all finishes with the best part: a tasting room!
The Botanical Cactus Garden is on the grounds of the chocolate factory, and it's a good place to experience some nature after your indoor tour. You'll see a dazzling array of cacti and other desert plants here.
If your family is into history, be sure to check out the Clark County Museum. You'll learn a lot about the history of Las Vegas, the growth of the surrounding area, and Nevada itself.
If you're looking for somewhere to stay with a lot to do on-site, then Green Valley Ranch might be perfect. Kids love their pool, which comes complete with a sandy beach. They offer Kids Quest, which has hourly activities and more for kids to enjoy with their peers.
Green Valley Ranch has other recreational opportunities. The rooms are also reasonably priced and amply sized.
Places to Stay
We already mentioned Green Valley Ranch, but there are other entertaining accommodations for kids in Henderson.
You'll feel far from the city at the Westin Lake Las Vegas Resort and Spa. They have fun outdoor swimming pools and a full-service spa for parents. They're all about relaxation here, so if you need a break, this is the perfect place.
Boulder City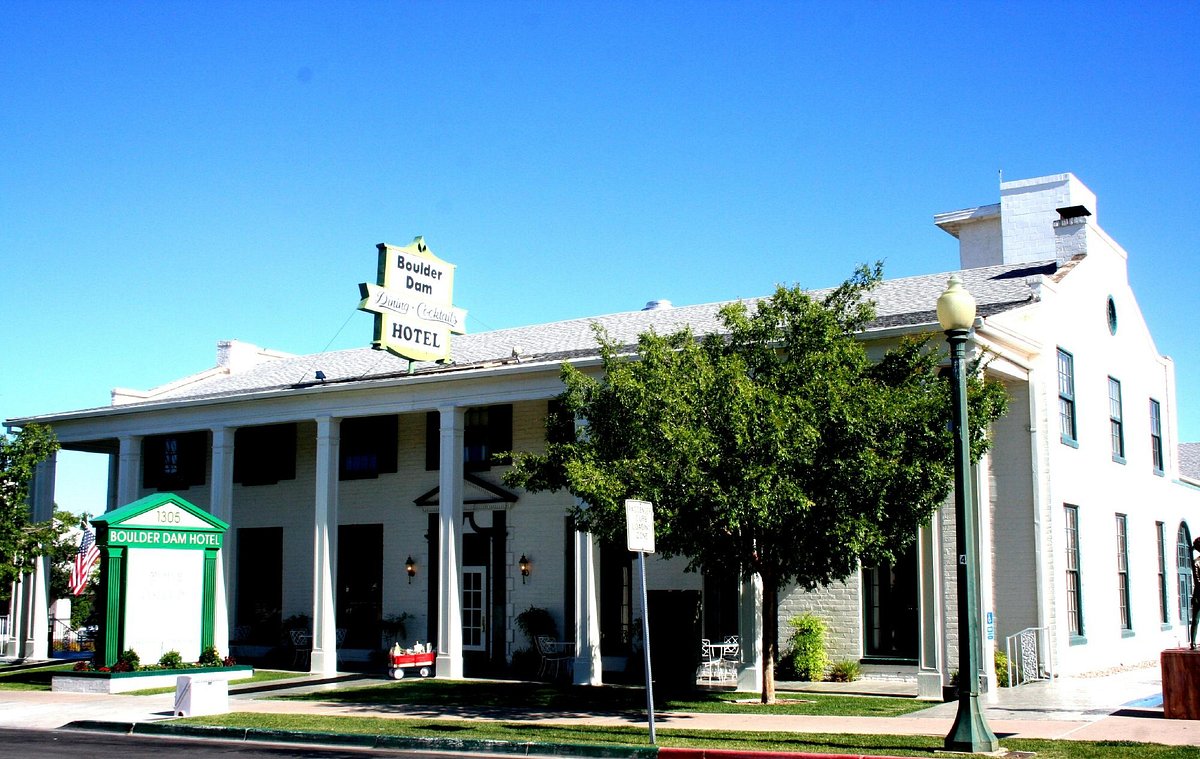 Many people don't realize that Las Vegas has a ton of outdoor activities. If that's your family's favorite type of activity, consider staying out of Vegas in nearby Boulder City.
Things To Do for Families
Boulder City's main attraction is the Hoover Dam, without a doubt. There are a few ways to experience it. The most popular is the Memorial Bridge Pedestrian Walkway, which takes you (safely) alongside the bridge to get the best view of the dam.
You can also tour inside to see how the dam works up close. You'll learn about the history of the dam, its construction, and what it does today. If you have a budding engineer in your family, it's a must-do.
For the ultimate zip-lining experience, head to Flightlinez Bootleg Canyon. You'll soar over the Mojave Desert for 8,000 feet, taking in the mountains around you and the valley below.
There are tons of other places to get astounding vistas and experience nature. Explore the trails at Sloan Canyon National Conservation Area. There's also the Historic Railroad Hiking Trail, which allows dogs so that you can bring your four-legged family members.
Finally, Lake Mead and the Colorado River are right outside Boulder City. Both have multiple businesses that offer watersport equipment rentals, tours, and much more.
Places to Stay
If you want to truly experience the great outdoors, Boulder City has several campgrounds with RV hookups. Many families on cross-country treks make Boulder City a stop.
Otherwise, check out the Boulder Dam Hotel. It specifically accommodates visitors to the area's main attraction. It also has spacious rooms and a lovely swimming pool.
Places to Avoid Staying (but Should Visit!) in Vegas With Kids
There are two tourist-friendly neighborhoods in Las Vegas that are not as good for accommodations for families. They're more adult and noisy. That being said, they still have amazing attractions that you'll want to check out!
Fremont Street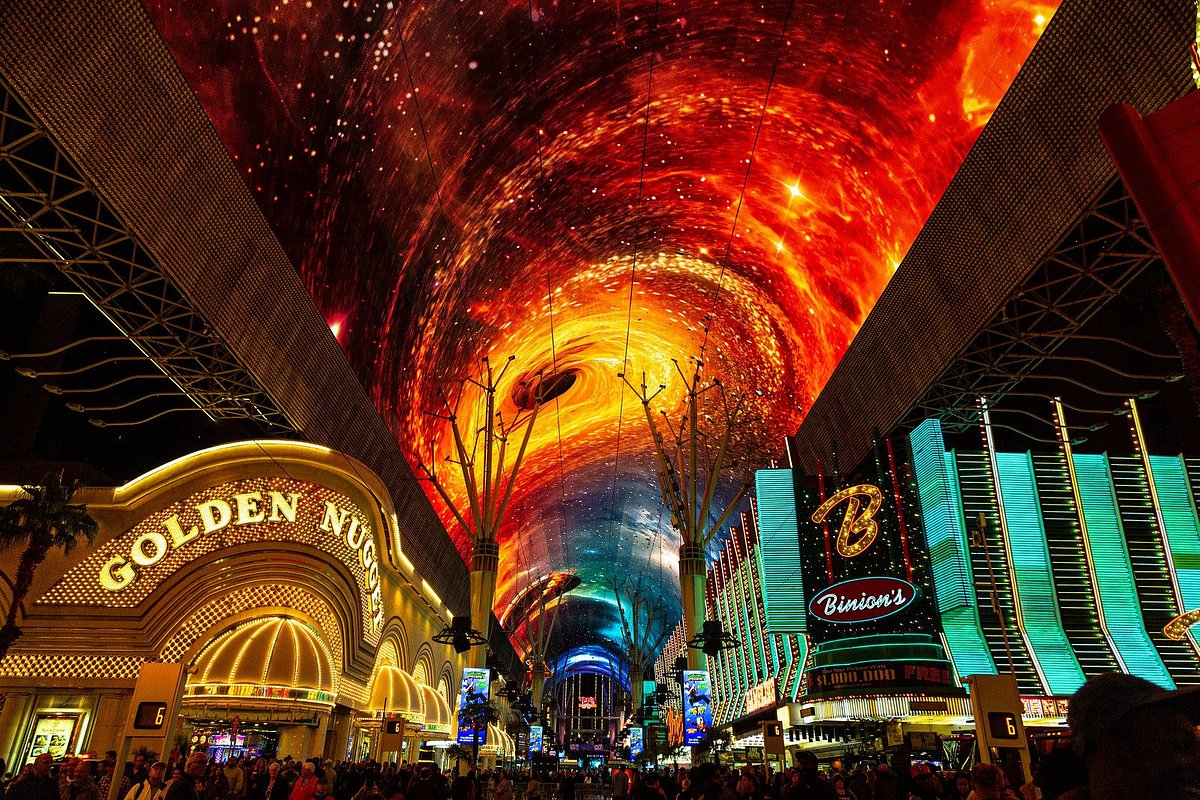 Fremont Street, also known as the old Strip, is the heart of downtown. But by nightfall, this area turns into a party.
Loud, bright shows illuminate the canopy overhead, which can be overwhelming for little ones, even if you're just passing through on the way to your hotel.
Between the people and the performers, it's deafening. Kids may have a hard time falling and staying asleep. You'll also encounter many adults who have had a little too much fun. While that's unavoidable in a city like Las Vegas, you can minimize it.
The North Strip
The North Strip isn't the best place for kids, but for a different reason. This is where you'll find many of the most luxurious, high-end hotels. These include the Wynn, Encore, and Resorts World.
Most hotels here have a more refined atmosphere and cater to an adult clientele. You'll feel the need to hush your kids much more here than you would in most of the places above.
Things To Do on the North Strip With Kids
One of the best places on the North Strip to take your kids is the Circus Circus casino. As the name implies, the theme is super kid-friendly. While they can't go out on the gambling floor, they may still be able to see aerial performers and other circus-like sights.
In addition, Circus Circus houses Adventuredome, a massive indoor amusement park. It's perfect for getting some thrills when it's cold in the winter or too hot in the summer.
If the thrills at Adventuredome aren't enough, head over to the STRAT. Atop the high tower, you'll find some of the most thrilling rides in the world, perched at perilous heights. If you still want more thrills after that, check out Las Vegas Indoor Skydiving.
Tips for Traveling to Vegas With Kids
Before we go, here are some expert tips for taking your kids to Vegas.
The Best Time of Year to Visit Las Vegas With Kids
Many families agree that spring or fall is the best time to visit Las Vegas with their kids. You get more moderate temperatures and smaller crowds.
Peak season in Las Vegas is summer, especially for the party scene. You can expect higher hotel rates, even off the Strip. You should also expect to run into more revelers. Winter is much quieter, but it's pretty cold.
Weather
Even though Las Vegas is in the middle of the desert, it has distinct seasons. Many visitors who assume it's warm year-round have to buy warm clothes when they discover that it gets quite cold in the winter.
From late November-February, you can expect low temperatures (especially overnight) in the 40s or even 30s. Some days don't reach past the 40s, though the 60s are standard. Of course, it's always sunny.
When you compare those temperatures with the summer, it's a drastic change. By July, daily temperatures reach the 90s, sometimes topping 100 degrees. It cools off at night without the sun, but don't expect it to get lower than the high 70s.
The weather is most temperate in the spring and fall, especially in April, May, and October.
Unique to Vegas
Be realistic in your expectations about where you're taking your family. Even if you avoid the Strip and Downtown altogether, there are commercials on television for gambling and other questionable activities. If you can't handle a little smut, consider other destinations.
Bring masks if anyone in your family is sensitive to cigarette smoke. Patrons are allowed to smoke on many of the gambling floors, and you may have to walk through them on your way somewhere else.
Finally, if you plan to walk around on the Strip, be aware that there are a surprising number of escalators. You'll have to wait for the elevator if you have a large stroller. Bring an umbrella stroller if your kiddo is big enough to hop in and out.
Enjoy Vegas With Your Family
Las Vegas is an action-packed, exciting destination for families with kids of all ages. There are several distinct places to stay, each offering families something different.
Now that you know the best places to stay in Las Vegas, you can plan the perfect family getaway!
More about our TFVG Author