You can call it Sin City or The Marriage Capital of the World. Whatever moniker you place on Las Vegas, know that it can be an expensive place to spend your hard-earned vacation dollars.
You can stay on the Strip, off the Strip, near Fremont Street, or out in the boonies.
You can eat lavish meals in five-star restaurants or try some of the street food roaming around the city.
You can ride roller coasters with the kids or try your hand at a poker or blackjack table.
And you can attend family-oriented concerts and shows or wait for more adult-themed ones when the kids are down for the night.
We have studied the best that Las Vegas offers and will give families of four looking for a weeklong stay three vacation options: budget, intermediate, and splurge. Of course, you can pick and choose from any of the choices we mention or find your own.
Just know there are ways to make your dollars stretch in Vegas, and ways to let it ride.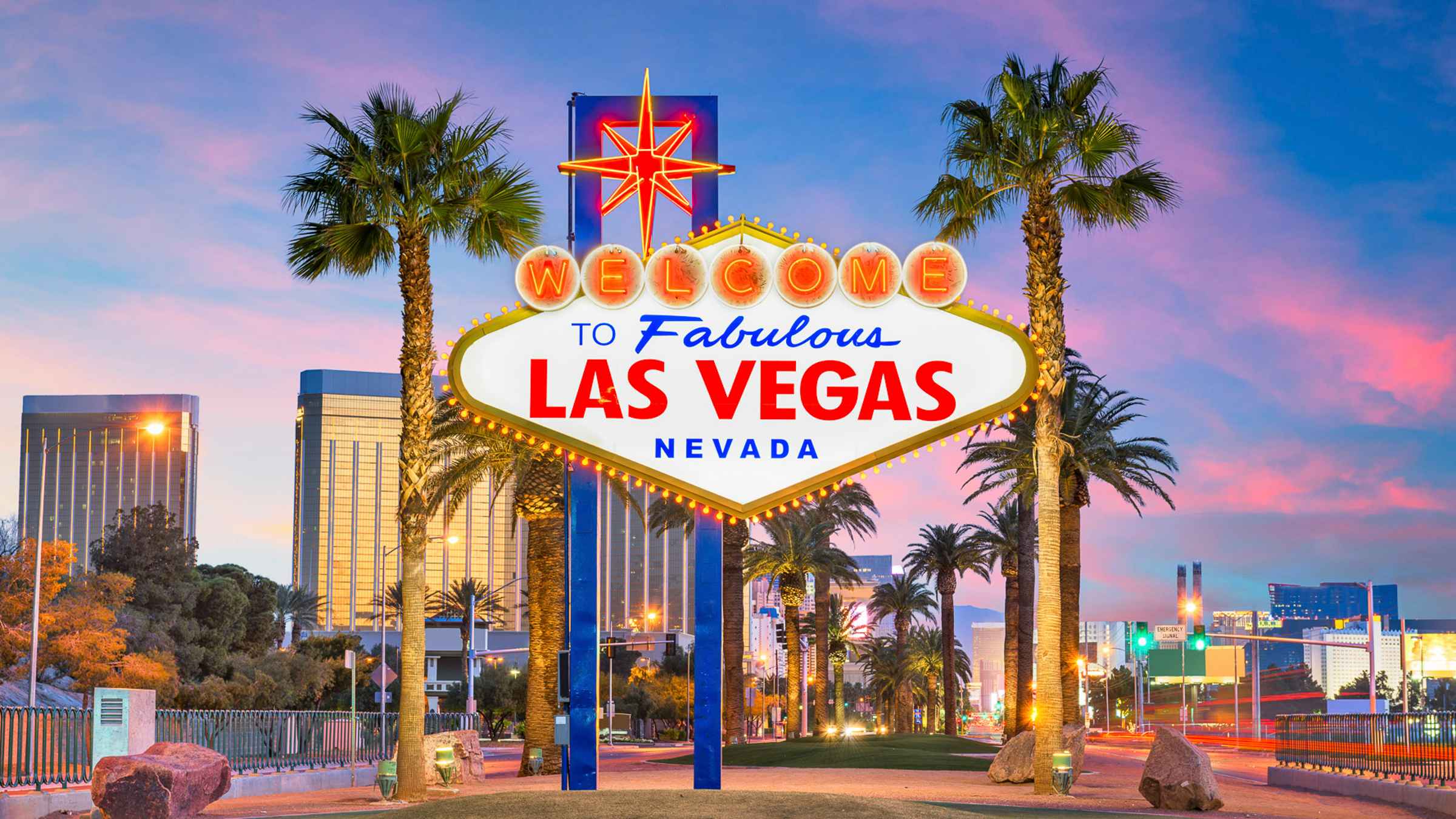 Travel
For this section, we looked at various travel options from San Francisco, California.
Amtrak does not serve Las Vegas by rail. If you like to travel by train, Amtrak will only take you so far and then the final leg of the trip will be in an air-conditioned bus. From San Francisco, you must get to Oakland, take the train to Bakersfield, then board a six-hour bus to Vegas.
The train and bus trip will take approximately 14 hours. A coach seat costs $110 per adult and $55 per child under 17. That's one way. So, the total for a family of two adults and two children will be $660 if you choose to take the train/bus.
Greyhound has four buses each day that link the Bay Area with Las Vegas. Each trip takes approximately 16 hours. The cheapest fare we found is $81 per person per way or $648 for the family.
Meanwhile, McCarran International Airport is one of the country's busiest, as people from around the world descend on Vegas. Several national and international airlines fly to and through McCarran.
The least expensive flight we found was on Frontier Airlines for $52 per person each way. That means a family of four can take the 95-minute flight from San Francisco to Vegas and back for $416. So, not only will it take far less time, it will also cost far less money to fly to and from Las Vegas than any other form of transportation.
If you want to fly in a bit more comfort than a no-frills airline, you can try Alaska ($138 each way) or Delta ($202 each way).
Or you might try to find a seat on a personal jet through a jet brokerage service. We found a jet rental company that will take your family for $2,500 per hour. Figure three hours of total airtime back and forth, and you'll pay $7,500.
Budget option: $416
Intermediate option: $808
Splurge option: $7,500
Accommodations
Choosing a place to stay in Vegas comes with a smorgasbord of options. A quick search will locate more than 350 available hotels and motels.
No matter where you choose to stay, be forewarned: you will be stuck with one of the highest transient-occupancy-tax rates anywhere in the U.S. That's the extra "hotel-motel" tax the city of Las Vegas adds on top of the sales tax rate to pay for street maintenance and keep the police funded.
In addition, many hotels add a "resort" fee that covers such extras as the rooftop pool or concierge services. You will also be expected to pay for the right to park your rental car at many hotels.
We've accounted for all these expenses in our choices.
Budget
The Hostel Cat Las Vegas is worth a shot. It's on the northern end of Las Vegas Boulevard (AKA the Strip) and provides dormitory-style accommodations with bunk beds, private lockers, and free Wi-Fi. They furnish a women's-only dorm room with six bunk beds, a mixed-gender dorm room with six bunk beds, and a family room for four.
Guests have access to onsite amenities such as an outdoor foosball table, cornhole boards, and the hostel's kitchen. It's a 15-minute walk to The Strat, which is considered the northernmost Strip hotel and casino. The hostel is also less than a mile from the Fremont Street Experience.
Hostel Cat charges $24 per person. Las Vegas tax is $3.18 per person. The hostel then adds a property service charge fee of $14.09 per person. The total is $41.27 per person. Considering a family of four, that's $165.08 per night or $1,155.56 for the week.
If hosteling isn't your family's thing, you could stay at a Travelodge for $109 per night, plus taxes and fees. All totaled, that would be $876.43 for the week, a savings of nearly $300.
If you don't mind staying in someone else's house or condominium, you can certainly book a homestay through an online service. We found a centrally located house in Vegas with two bedrooms and two baths for $120 per night. After fees, the total came to $1,108.
Or you might try the family-friendly Circus Circus hotel and resort. The published rate for a week with two adults and two kids in the Skyrise Tower is only $485 before taxes and fees. Kids will enjoy the indoor theme park Adventuredome, with a roller coaster and ongoing circus acts. They will also want to experience the waterslides of Splash Zone. Circus Circus offers onsite restaurants, a swimming pool and spa, and a fitness center. Once you add in the taxes and resort charges, it costs $773.89 for the week.
Intermediate
If you want to spend a little more on a hotel room and have some nice perks to go along with it, you'll probably want to try one of the other Strip hotels that also cater to families.
One such place is Trump International. The property is an all-suite hotel with spa services for the parents, a pool for the kids, and a few kitchenettes for families who want to save a little on meals. The hotel offers two on-site restaurants as well as a full room-service menu.
In addition, Trump International has built a kids' program throughout its hotel empire that provides each child a pint-sized robe and slippers, bubble bath oil, a flashlight, and a special kids menu. Your children will have a terrific time. The standard cost for a week in Trump International Las Vegas is $1,864.07 after taxes and fees.
Resorts World is another highly rated Strip hotel for families. One of Las Vegas' newest resorts, the tall, red, hotel complex provides 550-square-foot guest rooms with a flat-screen TV, in-room fridge, and streaming services. Resorts World also provides no less than seven pools throughout the property. After taxes and fees, your family will spend $2,345.63 to stay here for a week.
If you want a more spacious house to rent, we found a larger two-bed, two-bath house about five miles south of the Strip that includes a pool and hot tub for $260 per night plus fees. All in all, it's cost $2,234, including surcharges.
Splurge
You have numerous options to live large in Vegas. All Strip hotels have suites and penthouse rooms that charge well over $1,000 per night.
For example, if you want to watch the Fountains of Bellagio water dance from high atop the hotel, you can rent the Penthouse Suite for $1,098 per night. It comes complete with mood lighting, automatic curtain controls, stocked minibar, whirlpool tub, living room, and separate dining room for four. With taxes and fees, that comes to $9,033.92 for the week.
Meanwhile, the Wynn Las Vegas offers a Tower Suite Salon with almost 2,000 square feet of living space. It includes a granite wet bar, walk-in closets, and a whirlpool tub. The maids clean the apartment twice per day and turn down the beds at night. Guests in the Tower Suites enjoy a dedicated concierge and can access a private pool.
Each stay comes with a daily breakfast credit of $50 to be used in one of the hotel's restaurants or via room service. The average cost for this room is $1,141 per night. With taxes and fees, your family will spend $9,370.66.
If you want to live it up in a Las Vegas mansion, you can spend $1,721 per night to rent a 4,500 square foot home with a heated spa, lazy river, grotto, fire pit, and putting green in a festive backyard. It comes with six bedrooms, a full kitchen, and a movie/game room. The total with taxes and fees is $14,987.85.
Budget option: $773.89
Intermediate option: $2,234
Splurge option: $14,987.85
Meals
Once again, dining options in Las Vegas are varied in both style and price. You can find tasty, inexpensive options at food trucks, small diners, and out-of-the-way establishments. You can dine on hotel food in on-site restaurants or through room service. You can enjoy a meal at one of the celebrity chef's restaurants. Or, you can splurge on having a culinary-trained chef prepare your family a one-of-a-kind meal at your house rental.
Budget
Breakfast isn't as cheap as it used to be. Sure, you can get a Danish and coffee at just about any café in town and be ready to take on the day. But if you want something more substantial, you'll pay for it almost no matter where you go.
That said, your best bet for an inexpensive, yet hearty breakfast is an egg-and-meat burrito. Luckily, they can be found all over this city. We like Tacos El Burrito Loco for its bacon breakfast burrito with a lively salsa. It costs $4. You read that right. Plus, the restaurant looks like an old pueblo with a Spanish tile roof and festive Latin colors inside. This place can be crowded, but it's worth the wait.
At lunchtime, we recommend CaliBombs and Burgers, a burger and fried onion establishment that has drawn a lot of attention on social media.
The burgers are juicy and flavorful and the fried onion concoctions are simply the bomb. They make a signature dipping sauce, which brings out the medium sweet onion's natural flavors. They deep fry it just long enough to get a good crunch on the outside while keeping the inners nice and moist. Burgers run $8 and Cali Bombs are $11 and can easily feed the family.
We're also fans of the Olive Garden on the Strip. Five floors above street level, you can people-watch while eating endless soup and salad for $10. Hard to beat that.
If you want to stick with a cheap, fast-food vibe for dinner, we think one of your best bets is Raising Cane's chicken fingers. For $9 you receive four fingers, a small tub of coleslaw, a generous helping of French fries, a slice of bread, and a drink. It's a healthier option than many others and at a fair price.
Intermediate
We like Eat, a breakfast and lunch joint that chef Natalie Young opened a few years back. She has added several spins to traditional breakfast items, and they are packed with flavor. Try the shrimp-and-grits plate that comes with smoked bacon, over-easy eggs, and a side of pico de gallo ($19) or the huevos motulenos dish of over-easy eggs, red and green Mexican chiles, black beans, sauteed bananas, and chive potatoes ($15). Yum!
For lunch, try the Palm inside Caesar's Palace. You can people-watch while feasting on the $29 three-course tasting menu. The first course is soup or salad. Next is the entrée with four options, including linguine with clam sauce, chicken parmigiana, or the catch of the day. A dessert of key lime pie or cheesecake finishes the meal.
Because of the pandemic, not as many buffets are open as there used to be. The Excalibur Hotel still offers a brunch buffet five days per week (Thursday through Monday) for $27 on weekdays (kids $15) and $30 on weekends ($16 for kids). It's hard to go to Vegas and not eat at least one buffet meal.
For a moderate-priced dinner, we suggest trying some of the many restaurants that serve ethnic cuisine. Le Thai offers traditional Southeast Asian options. Esther's Kitchen will take care of all your pasta needs. Osaka Japanese Bistro can handle your craving for sushi and ShangHai Taste will provide all the Chinese dishes you could ask for. Expect to spend about $25 per person at each of these establishments.
Last but not least, you must take the kids to pizza at least once. Pizzeria Francesco's offers all the usuals plus some homemade concoctions that should please any palate.
Splurge
For an elegant breakfast, you might try Jardin, inside the Wynn Encore hotel. Its Maine Lobster Benedict dish with sauteed spinach and hash browns runs $32. Steak and eggs with brown butter romesco sauce is $29. Jardin also offers a special French Toast dish made with strawberries, chocolate brioche, and Grand Marnier, which will set you back $19.
Chicken pot pie ($24), New York strip steak ($31), or Atlantic salmon ($30) are all on the lunch menu at the Triple George Grill. Noted for its classy décor and as the place to make business deals, Triple George Grill recently reached its 15th anniversary at the Downtown Grand Hotel & Casino on 3rd Street. The restaurant offers an extensive menu of seafood, steaks, homemade soups, and daily specials.
For upscale dinner options, we like trying the various celebrity chef restaurants that are now situated throughout Vegas. You can try Emeril Legasse's Delmonico Steakhouse inside the Venetian hotel, where the wagyu steak with trumpet mushrooms costs $140 and the boneless ribeye is $65.
Or how about Gordon Ramsey's Hell's Kitchen experience at Caesar's Palace? Here the three-course prix fixe menu of seared scallops or beet salad, beef wellington with a red wine demi-glace, and sticky toffee pudding is $90 without wine and $149 with wine.
If you like to venture off the Strip, we think you'll like Lawry's. The company that makes its famous steak salts has opened a restaurant that features prime rib cut at your table with mashed potatoes, Yorkshire pudding, and creamy horseradish.
Plus, your server will create a salad for your table by dumping all the ingredients in a large silver bowl and spinning it on a block of ice. As the bowl spins, the server drops in the house dressing to create a one-of-a-kind sensation. Kids might go for the California Cut ($48), while most hearty eaters opt for the Lawry cut ($58).
And if you've rented one of the mansions mentioned above, why not stay in for at least one night and hire a personal chef to create a unique meal for your family? Chef Creon Mallett has developed a loyal following over the past four years. His price starts at $90 per person.
Budget option: $525 (based on $75 per day)
Intermediate option: $1,050 (based on $150 per day)
Splurge option: $2,800 (based on $400 per day)
Attractions
Not only is there much to eat in Las Vegas, but there is also much to do and see. Why not take a look at our guide to the best fun things to do with kids in Vegas for inspiration?
Budget
Free activities abound in Vegas. Take a photo in front of the world-famous Welcome to Las Vegas sign. Watch the Fountains of Bellagio from street level.
Our bet for the most enjoyable free activity is the Fremont Street Experience. People from everywhere meander under what must be the world's largest video screen four stories above old-town Vegas. It provides a shady and cool spot to walk during the hot summer as well as a dazzling visual ceiling. When you arrive in the middle between the streets, just stop and look up for a few minutes to enjoy the techno display.
Another freebie is Area 15. This large warehouse right off the main Interstate is an artistic venue in blacklight and psychedelic color. More than a dozen artisans offer their wares at kiosks or small spaces inside the pulsating, new wave take on a mall.
Kids of all ages will love the Pinball Museum and Hall of Fame. It's free to enter but bring a roll of quarters and play several of the 2,000 vintage pinball machines. Try not to tilt.
Finally, drive to Lake Mead and visit one of the country's most impressive engineering marvels: Hoover Dam. The drive and the first-glance view are free. Once there, take the $10 self-guided tour. It's the only one currently available due to COVID-19.
Intermediate
Moderately priced entertainment flourish throughout Vegas as well. Fly Over is one of the Strip's newest adventures. Tucked near the Hard Rock Café, families are strapped into a seat and sway to a movie of various scenes from the Western United States. It's all timed to make you feel as if you are the one filming the breathtaking scenery below you. Adults can enter for $34, while children cost $24.
Ride the Coney Island-style roller coaster atop New York New York casino and hotel ($15). Take the kids to Shark Reef at Mandalay Bay and witness the up-close-and-personal 1.6-million-gallon seawater aquarium ($20 adults, $14 kids).
Splurge
Adrenaline junkies with money to spare also have some fun options in and above Las Vegas.
Try Operation Red Flag, a true-to-life Top Gun experience where a stunt pilot will take you for barrel rolls, spins, and loops high above the desert. ($2,000 per person)
Want to stay grounded? Go to Speedvegas and drive a series of exotic, high-performance autos like Lamborghini, McLaren, and Ferrari. ($12,000)
You can grab a howitzer at Machine Gun Vegas. For $1,100, travel into the Mojave Desert and blow stuff up. Really. Add in a car for another $3,000.
Or let your kids try their hands at construction projects in a life-size sandbox known as Dig This. Kids 8 and older can learn to operate mini bulldozers and excavators. ($185 per hour) –
Budget option: Free
Intermediate option: $700 (based on $100 per day)
Splurge option: $14,000 (based on $2,000 per day).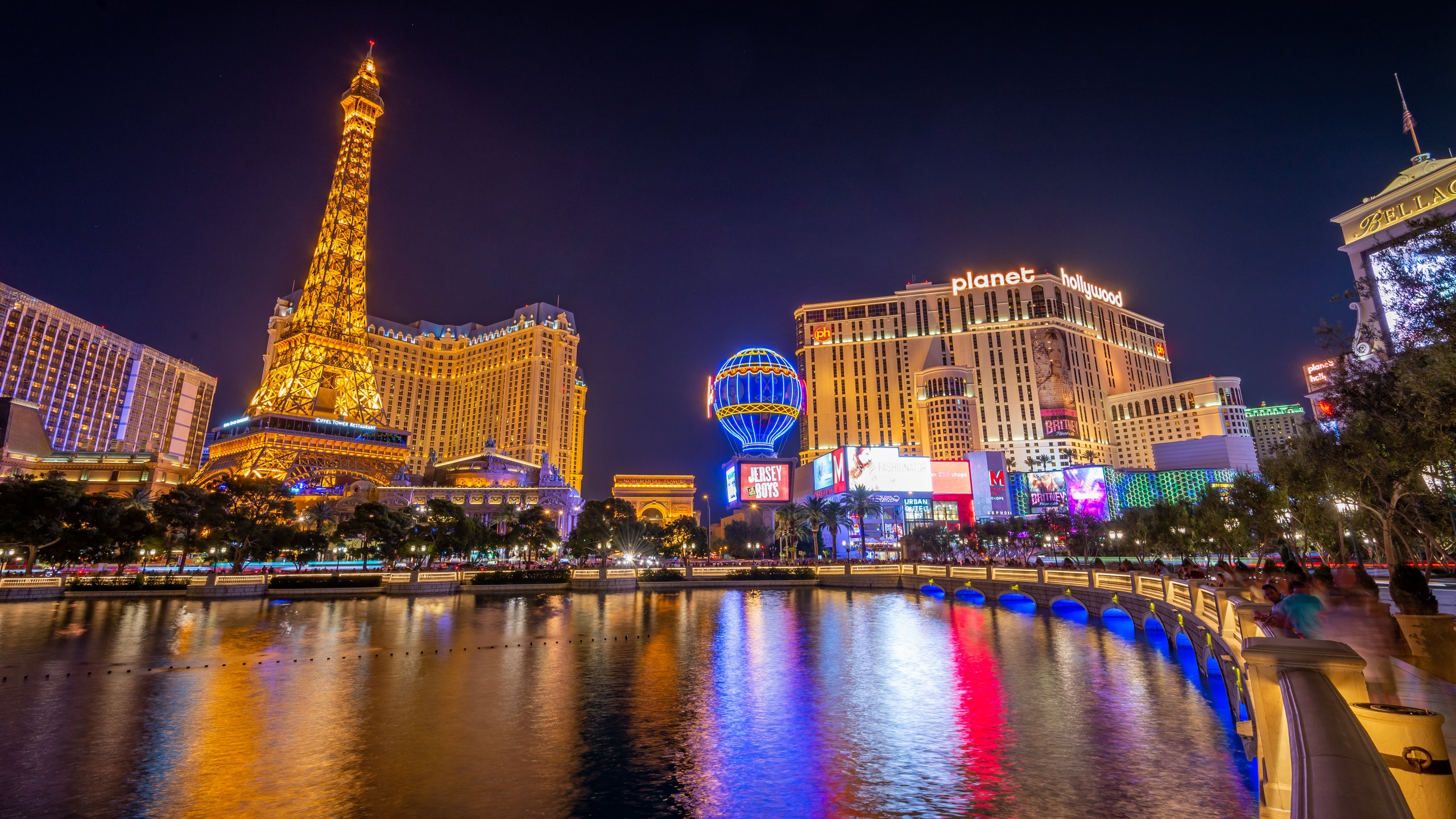 Entertainment
Families have many choices when it comes to entertainment as well.
Budget
Take in a matinee or rent a family movie at your hotel. Go bowling or ice skating. Hit the pool. And don't forget to bring a deck of cards and some board games for family fun. All can be done for less than $10 per person.
Intermediate
Several shows appeal to kids and adults in Vegas. The Popovich Family Pet Theater uses trained rescue animals to delight audiences. ($39) Nathan Burton's Magic Show is kid-friendly and parent-approved. ($21). And silent performer Tape Face, who wowed audiences on America's Got Talent, gives a show approved for all ages. ($39).
Splurge
More expensive shows that are also good for kids include V – The Ultimate Variety Show ($65), Mystere by Cirque de Soleil ($81), and Extravaganza ($65).
Budget option: $280 (based on $40 per day)
Intermediate option: $840 (based on $120 per day)
Splurge option: $1,820 (based on $260 per day)
Total
When you add everything together – travel, accommodations, meals, and entertainment – it's easy to see the vast difference in possible costs. We've computed all options to determine what we think it will cost a family of four traveling for a week to Las Vegas from San Francisco (traveling from elsewhere will likely result in different travel costs).
Budget option: $1,995
Intermediate option: $5,632
Splurge option: $41,108 (or more)
Conclusion
As you can see, a family vacation to Las Vegas offers numerous possibilities from the inexpensive to the ridiculously costly. Based on a family of four for one week, you can go the budget route and spend less than $2,000 for airfare, meals, accommodations, and entertainment.
If you decide to take the intermediate option, you'll spend almost triple that.
And if you decide to go big and splurge, the sky's the limit. Based on our projections, you can drop a cool $40,000 or more for a high-end weeklong family vacation in Vegas.
No matter which you choose, please remember that the memories your family makes will be the ones you can't put a price tag on.
More about our TFVG Author
A seasoned traveller, Dad, and avid sports tourist, James foundered The Family Vacation Guide to share his expert vacation experiences- especially when it comes to being a travelling family man.
Featured in Travel articles such as Travel + Leisure, TripSavvy and SFGate, you know you're reading some of the best vacation tips online.