Anyone that has taken a vacation with kids will know how expensive it can be. Entrance fees to parks, souvenirs, and food and drink can all add up. We haven't even mentioned the cost of travel or accommodation!
One way to cut costs without cutting down on the fun is by finding great free things to do. While many of the top attractions in vacation destinations will have fees, there are also a lot of great free activities to explore.
This article will explore the best free things to do in Las Vegas with kids. This should help you plan an itinerary that is packed with fun, free things to do to help bring costs down.
The Best Free Things to do In Las Vegas with Kids
To make sure you enjoy your Las Vegas vacation, some planning is typically required. Planning an itinerary can be an eye-opener about the expense of a family vacation in Sin City.
These expensive attractions can be interspersed by a range of wonderful free things to do in las vegas with kids. This will make budgeting an easier task.
To help you enjoy your holiday, here are the best free things to do in las vegas with kids on your vacation.
1. Welcome to Fabulous Las Vegas
No trip to Las Vegas would be complete without the obligatory photo in front of the famous Las Vegas sign. Depending on the age of your kids, they may have social media. This is the ultimate social media photo for a trip to Vegas.
The famous sign is easy to find. It is at Las Vegas Boulevard's south end. You will also find a lot of free parking nearby.
Getting there early can be worthwhile. This is because so many people want their picture taken here, and queues can build up at busy times.
2. Bellagio Hotel & Casino Botanical Gardens & Conservatory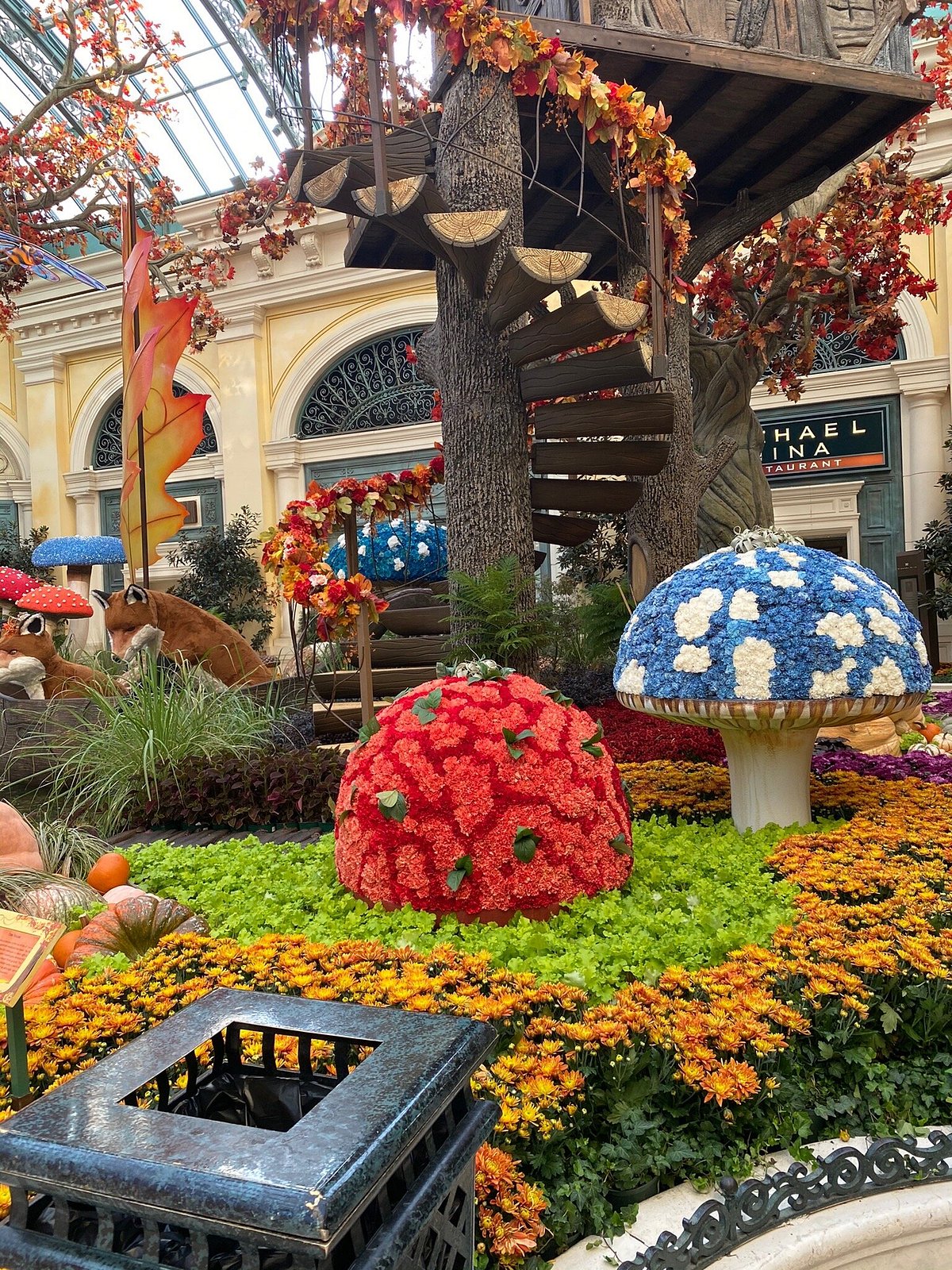 A Casino might not sound like it will be one of the best free things to do in las vegas with kids. However, the botanical gardens and conservatory offer an educational and fun way for you and your kids to spend the day.
The free attraction has seasonal changes. It is worth checking what will be on the show before visiting. Every season offers benefits, including;
Vibrant summer floral displays
Spring blossoms
Autumnal color changes
Christmas-themed decor and displays
3. Flamingo Hotel & Casino Wildlife Habitat
The Flamingo Hotel Las Vegas is another hotel and casino that goes to lengths to entertain guests and visitors. The 15-acre wildlife sanctuary is an excellent way for families to enjoy a free day out.
There is an excellent range of exotic birds, flamingos, and fish. Families will love the beautiful gardens that boast winding streams and dramatic waterfalls.
The free attraction opens every day from 8:00 am. It usually closes around dusk, but it may be worth checking before your visit. Visitors can also enjoy a live morning feed at around 8:30 am. The afternoon feed takes place at 2 pm.
4. The Bellagio Fountains Hotel Water Show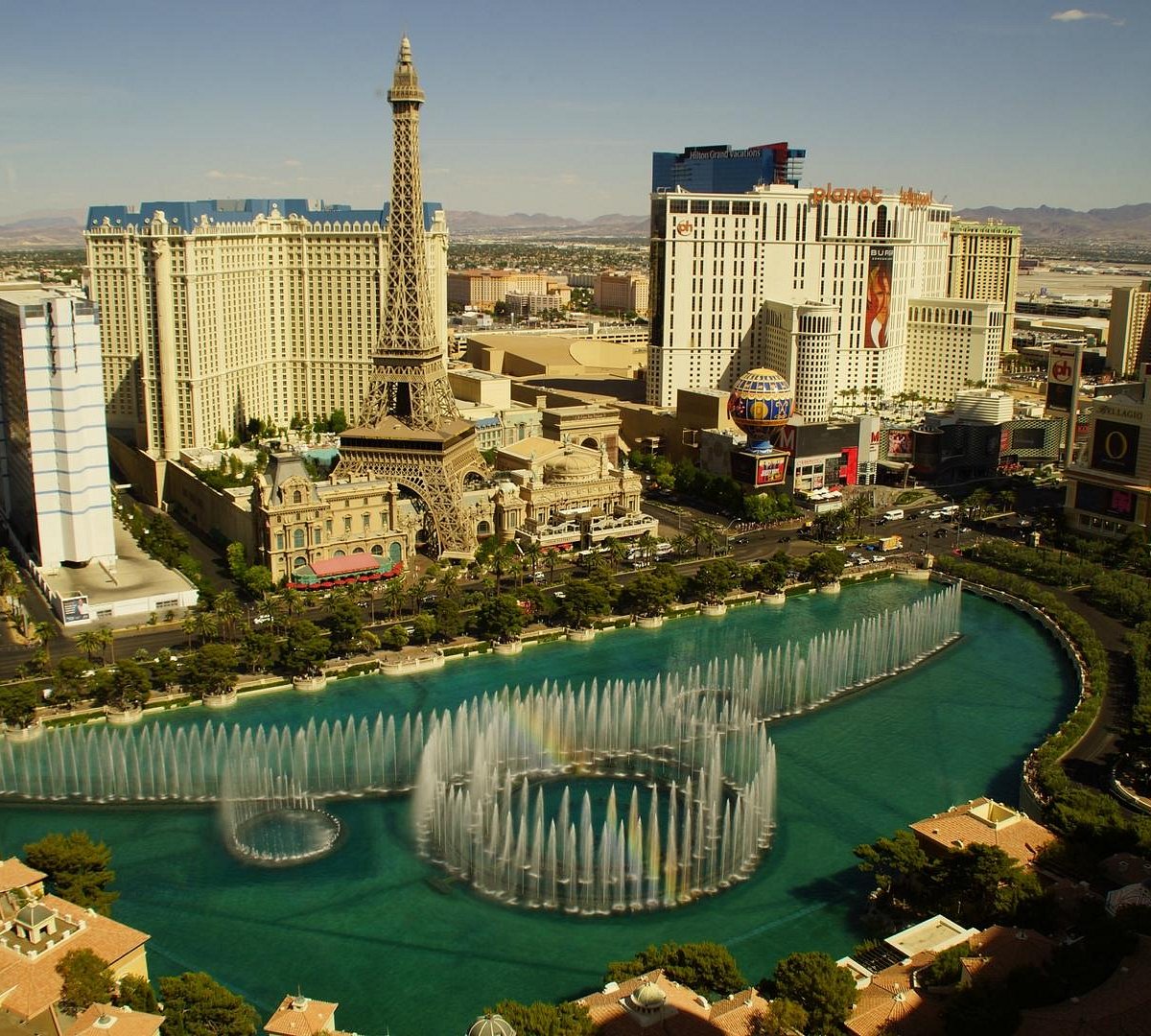 If you have taken in the Bellagio's botanical gardens and conservatory, you might want to plan your trip to enjoy the water show.
The Bellagio fountains are found outside the hotel and combine light, music, and water.
Weekday shows run from 3 pm until 8 pm every half hour. From 8 pm until midnight, the shows are every 15 minutes.
Saturday and holiday timings differ slightly, with shows running from midday to midnight. They run every half hour until 8 pm. After this time, they run every 15 minutes.
Sunday shows run from 11 am to midnight. The shows are every thirty minutes until 7 pm when they shift to every 15 minutes.
The Bellagio's location in the center of the Las Vegas Strip makes it easily accessible.
5. Caesars Palace Aquarium & Fall of Atlantis Show
The world-famous Caesars Palace runs an hourly show telling King Atlas's story of Atlantis. The show starts on the hour and makes the most of special effects and animatronics.
There is also a 50,000-gallon salt-water aquarium that houses hundreds of species of fish.
Parents might enjoy the great shopping on offer, and you can also grab a bite to eat. The show and aquarium are totally free for visitors to enjoy.
6. Mirage Hotel Tropical Rainforest
The atrium of the Mirage Hotel is home to another incredible scene. If you haven't realized by now, Las Vegas does things bigger and better. The hotels typically go all out to impress guests and visitors.
Visitors will love the large aquarium that is home to saltwater fish. There is also a large dome that houses a variety of plants, palm trees, and tropical flowers.
Kids will also love the erupting volcano located out front. Shows are on the hour and run from 7 pm to 11 pm.
7. Downtown Container Park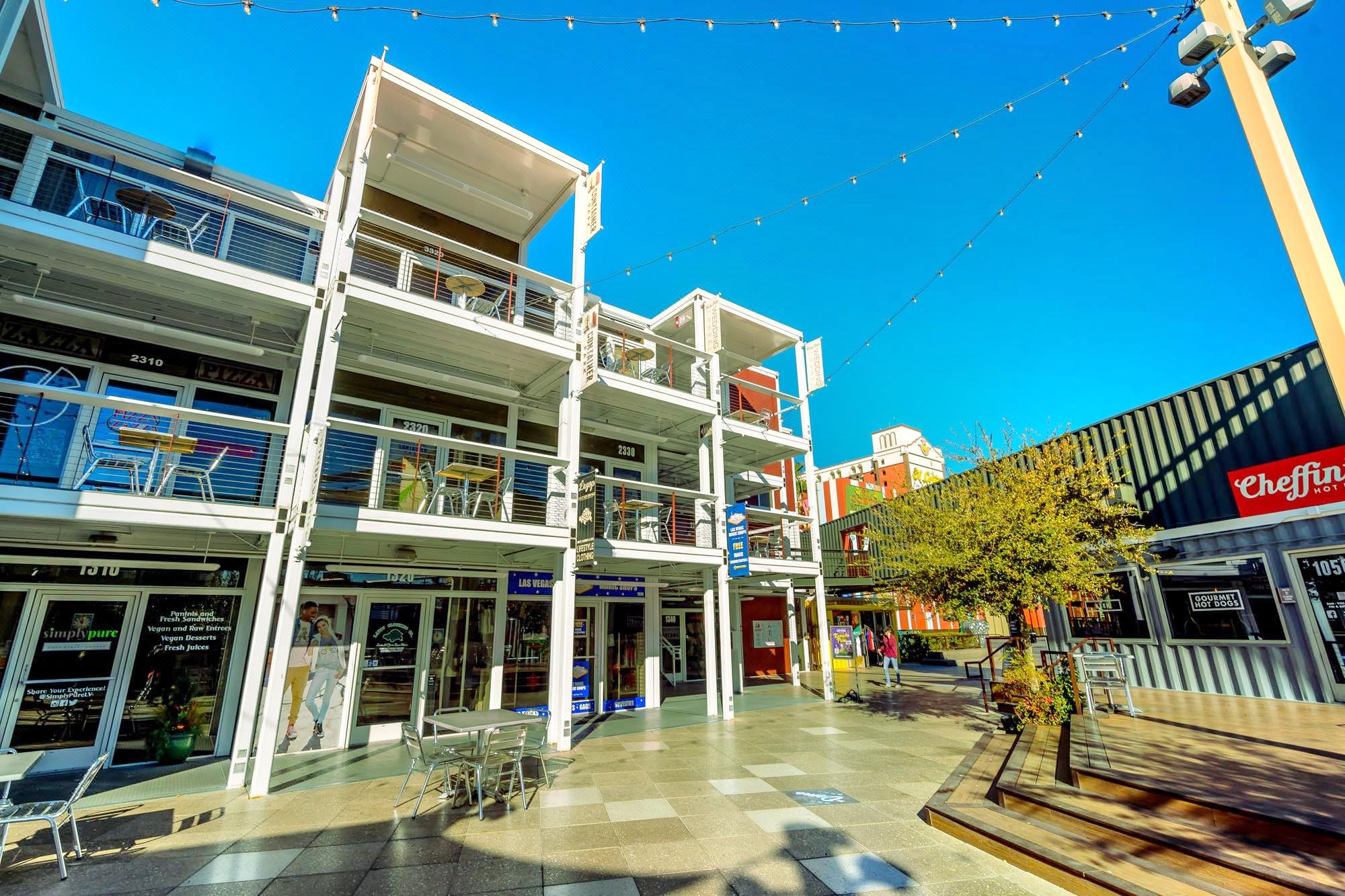 Downtown Container Park is a great shopping and eating destination in Downtown Las Vegas. The unique style centers around the use of shipping containers.
In the middle of the park, you will find the Treehouse Playground. This free playground will appeal to kids of all ages with large slides and interactive experiences.
Special events are designed to entertain visitors. You will get to enjoy movies, concerts, and celebrations.
This is a wonderful free option that allows your kids to run off some steam. With lots to see and do for the whole family, parents will also love this option.
8. Ethel M Chocolate Factory
This is about as close to living in 'Charlie and the Chocolate Factory' as you can get. Free self-guided tours let you enjoy watching the chocolate-making process. The free samples along the way are an added bonus.
The location also boasts a 4-acre cactus garden with an extensive range of succulents and cacti.
After your tour, you can invest in some wonderful locally-made chocolate to enjoy for the rest of your trip. Just make sure the kids don't fill up on it before dinner!
9. Bellagio Patisserie Chocolate Fountain
Another great option for chocolate lovers is the world's largest chocolate fountain. We have already mentioned the Bellagio a few times. Taking a day from your itinerary to explore everything it has to offer can be a great idea.
The Bellagio Patisserie is a great option for picking up decadent and delicious snacks and treats. The fountain is a mesmerizing display. You will be able to watch more than 2100 pounds of chocolate pass through the fountain throughout the day.
This is another wonderful photo opportunity for family photo albums and social media lovers.
10. Fremont Street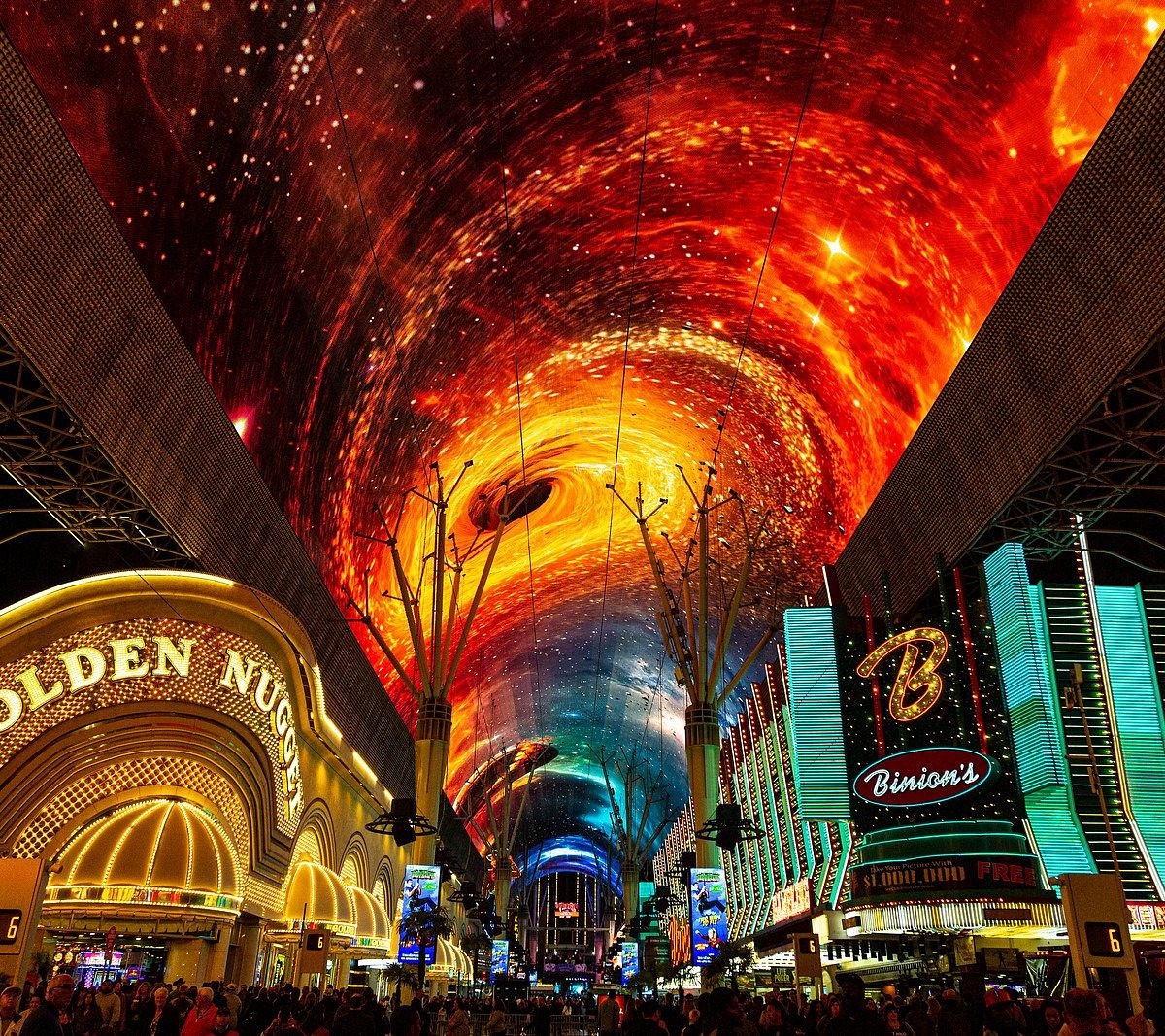 Fremont Street is one of the most famous streets in Las Vegas. It is home to a number of famous sites and neon signs.
The ceiling is an incredible visual experience that is lit up to entice crowds. Synchronized displays are projected on the 12.5 million LED lights that stretch 90 feet across and 1375 feet down the street.
It is worth noting that it is not the most child-friendly environment at night, so you should proceed with caution. Fremont Street is closed to kids under 21 after 9 pm on the first Friday of the month.
11. Free Tram Rides
Las Vegas provides free tram service between certain hotels and casinos. This can be a great way to see more of the city, and it is loved by kids.
Anyone with kids will have heard them moaning about walking somewhere at some point. The free trams can be used to get you around the city. They are also a great way to take the weight off your feet.
12. Springs Preserve
The bright lights of Las Vegas can sometimes be a bit overwhelming for little minds. Taking them to more natural surroundings can help to calm them down again.
Springs Preserve is an option that offers free options. You will be able to explore the natural habitats and trails from 10 am to dusk.
Hiking the trails in the Nevada heat can be tough. Ensuring you have hats, water, and sunscreen is essential.
13. Mermaid Show
The Silverton Hotel & Casino is great for free things to do in Las Vegas with kids. In particular, the Mermaid Show is perfect for kids.
The aquarium holds 117,000 gallons of water and is also home to some wonderful tropical fish. Fish feeding shows run every day at 1:30 pm and 4:30 pm.
Mermaid Shows run through the afternoon on Thursdays, Fridays, Saturdays, and Sundays.
14. Circus Circus Hotel Shows
The Circus Circus Hotel is located on Las Vegas Boulevard and boasts a wide range of entertainment for families.
Roller Coaster rides, bumper cars, and other funfair rides are available to enjoy at a cost. However, there are free circus shows featuring clowns.
As well as clowns, there are acrobats, jugglers, and trapeze artists. Shows run for just 10 minutes and start from 1:30 pm on Mondays to Thursdays. Shows begin at 11:30 am on Friday, Saturday, and Sunday.
15. Hotel Entertainment
This next option might seem obvious, but you would be amazed at how many people ignore the great entertainment their own hotels offer.
Spending a day enjoying your hotel's amenities can be a great way to relax and save money.
Most Las Vegas hotels will have a pool. Letting your kids enjoy a pool day can be a great way for them to have fun while you unwind at the poolside.
Some hotels may also offer play parks and other facilities for kids to enjoy. This should always be a consideration when booking a hotel.
16. M&M's World
Candy lovers won't be able to resist the wonderful tribute to M&M's. M&M's World of located beside the famous MGM Grand and offers four floors of delicious treats and souvenirs.
As well as candy and souvenirs, there are also exhibits, displays, and interactive experiences to enjoy.
There are great photo opportunities in the store and the opportunity to get personalized goodies.
While the store is free to enter, you may end up spending money on candy or souvenirs, so you should be prepared for this.
17. Calico Basin
Calico Basin is a section of Red Rock National Park that you can visit for free. This is another excellent, natural option that gets you away from the neon flashing lights.
Visitors will love walks along the boardwalk. The incredible sandstone cliffs are worth taking in. Natural springs and local vegetation make this a fascinating day out for the whole family.
18. Hershey's Chocolate World
As you might have noticed, Las Vegas is home to a number of attractions that are perfect for chocolate lovers.
Like M&M's World, Hershey's Chocolate World is dedicated to its own brands.
The two floors are home to a range of chocolate, candy, and souvenirs. Customizable candy bars are always popular. The Chocolate Statue of Liberty is worth checking out as well.
19. Town Square Children's Park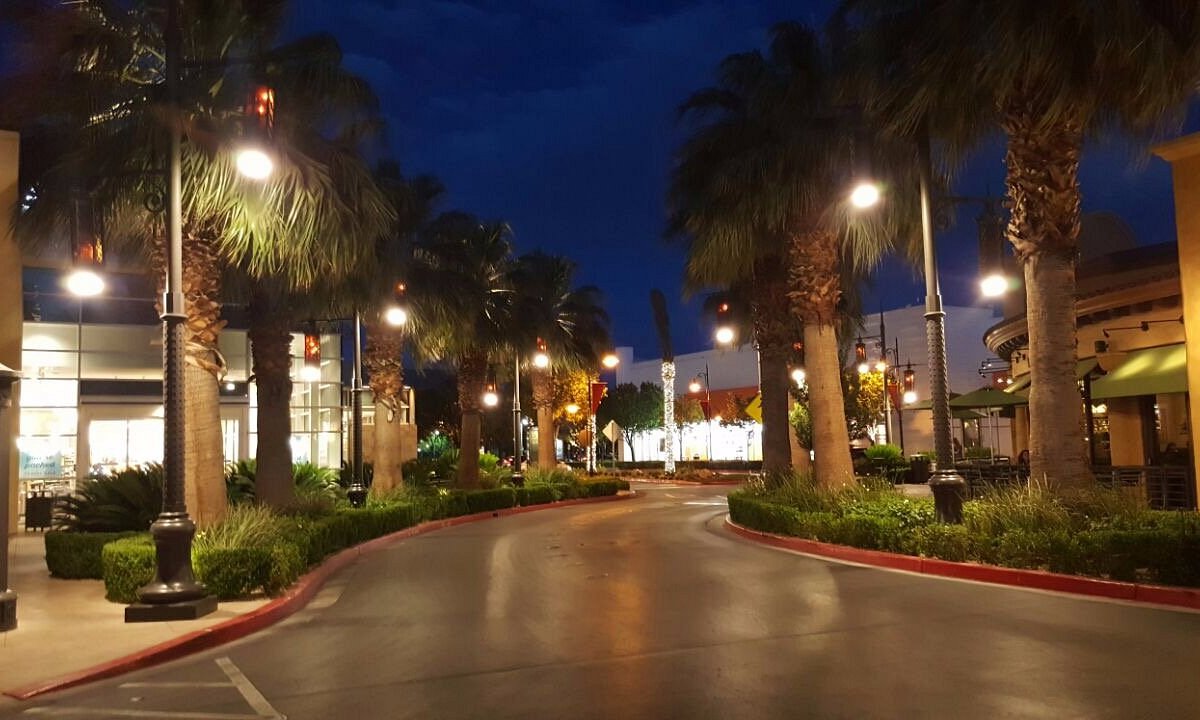 Taking your kids to Children's Park in Town Square is another great way to let them enjoy themselves for free.
There are lots of fun activities that include a hedge maze, tree house, and splash pad.
There are benches placed around the sides of the park for parents to relax while watching their kids.
20. Coca-Cola Store
The Coca-Cola store is another big brand store that has made the most of its iconic status.
As well as all the usual souvenirs, Coca-Cola fans will also get to enjoy variations on their favorite drink.
The store has an iconic bottle out the front that reaches several stories high. This can be an excellent photo opportunity for families.
21. Pinball Hall of Fame
Pinball fans will love the Pinball Hall of Fame. The exhibit has a range of vintage machines that feature some of the most iconic movie and TV character graphics.
22. Laser Light Show
The laser light show at Mystic Falls Park is an excellent display. The show makes use of water, animatronic animals, and sounds to create a unique atmosphere.
Located in the incredible and spacious Sam's Town Hall, the lights and lasers are free to stretch as high as ten stories.
Shows run four times a day over weekends and three times a day during the week.
23. Lake of Dreams
The Wynn Las Vegas is home to the Lake of Dreams water show. It runs every half an hour from dusk until 12:30 am.
Holograms and light are projected onto the water to create an incredible show. Puppets are also used in the show, which is totally free and loved by visitors.
24. Miracle Mile Rainstorm
Miracle Mile Shops is a vast enclosed shopping mall located on Las Vegas Boulevard. It is more than 1-mile long and is home to 15 restaurants, entertainment venues, and over 170 stores.
The Rainstorm is a 5-minute, free show that is aimed at children but loved by people of all ages.
The show makes use of water and light effects to create a dramatic show. The use of color and fog gives it an atmospheric feel. The soundtrack is specially designed to heighten the senses and is delivered by a surround sound system.
25. Streetmosphere
The Grand Canal Shoppes are located in The Venetian Hotel and The Palazzo. The Las Vegas Strip location makes it an excellent choice for visitors.
The luxury shopping location is great for adults looking for high-end goods. As well as great shopping options, there is also a unique display to enjoy for visitors.
Actors, musicians, and singers perform throughout the day. There are always different performances happening. This makes it ideal to visit at any time of day.
26. Eataly Las Vegas
The wittily named Eataly Las Vegas is home to a number of Italian eateries. Found in the Park MGM Hotel, families can explore the different restaurants and watch food demonstrations.
Watching fresh pasta being made might make you a bit hungry, though. If you wish to sample some of the marvelous food available, you will have to pay.
27. Court Jester's Stage
Excalibur Casino offers free performances in their Medieval Village. Shows start at 11 am and last for 45 minutes. Visitors are able to see jugglers, magicians, and a range of other performers completely free of charge.
28. Seven Magic Mountains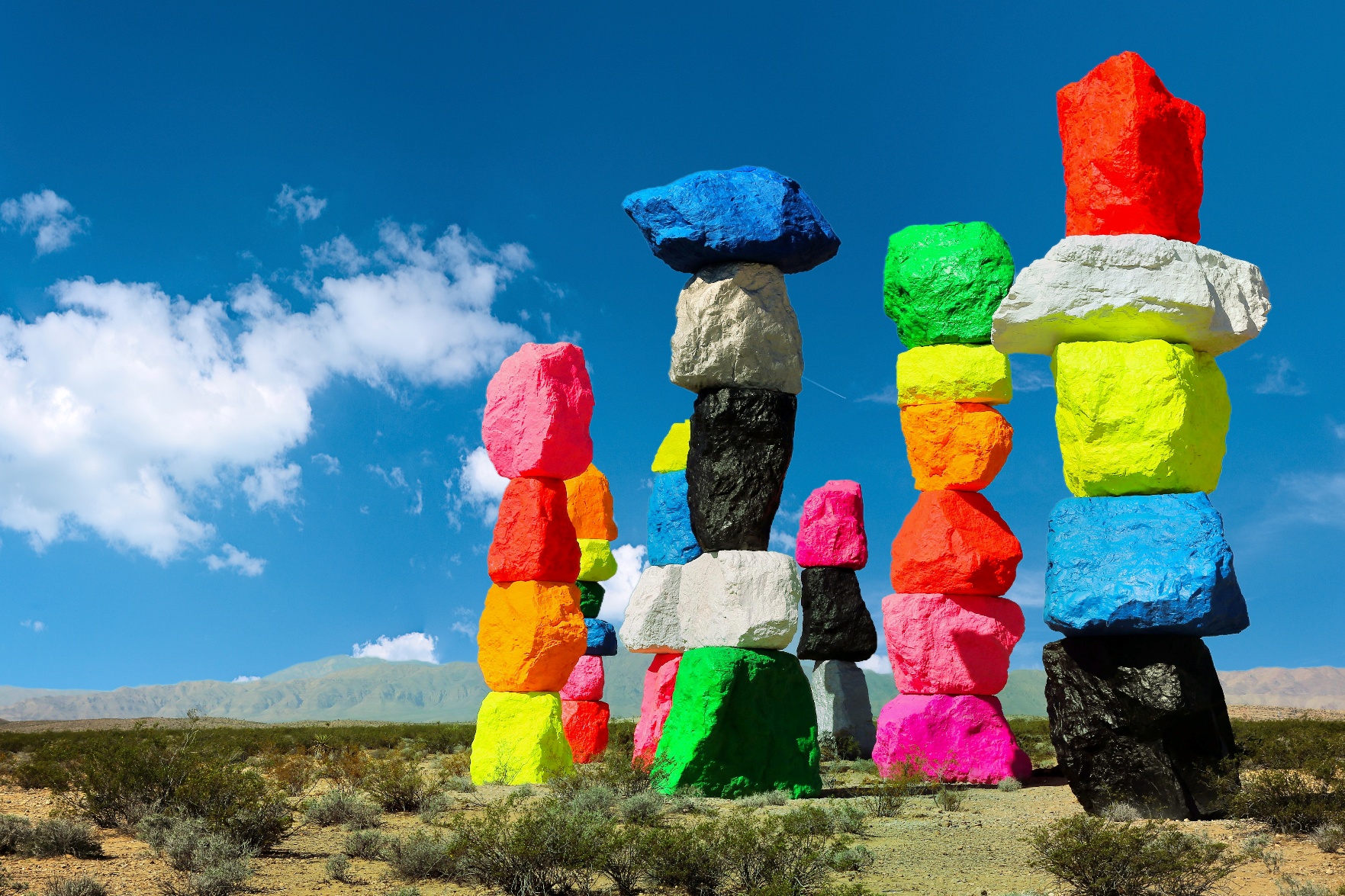 Seven Magic Mountains offers visitors a way to explore Las Vegas' surrounding areas. The art installation is located 10 miles to the south of Las Vegas. It features seven brightly painted boulder stacks.
The unique art installation allows visitors to move among them. Standing over 30 feet high, they are a wonderful eye-catching experience.
Parking and admission to the site are completely free, making it a welcome addition to our list of free attractions to enjoy in and around Las Vegas.
29. Museum of Natural History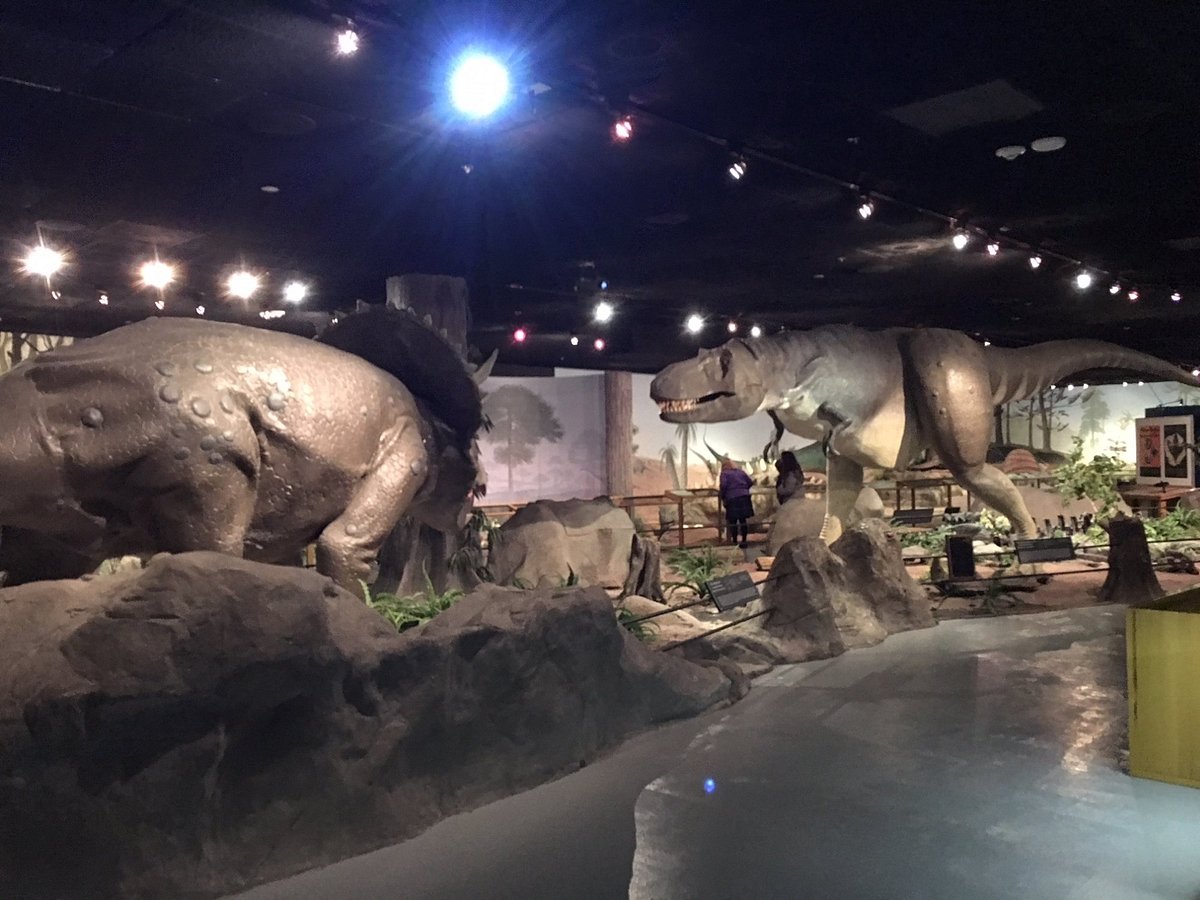 Las Vegas is home to lots of great museums. The Marjorie Barrick Museum of Natural History is an excellent free museum option. It teaches visitors more about local history, ancient Mexico, and native Indian tribes.
The museum opens at midday on Saturdays and at 9 am during the week.
30. Las Vegas High Roller Observation Wheel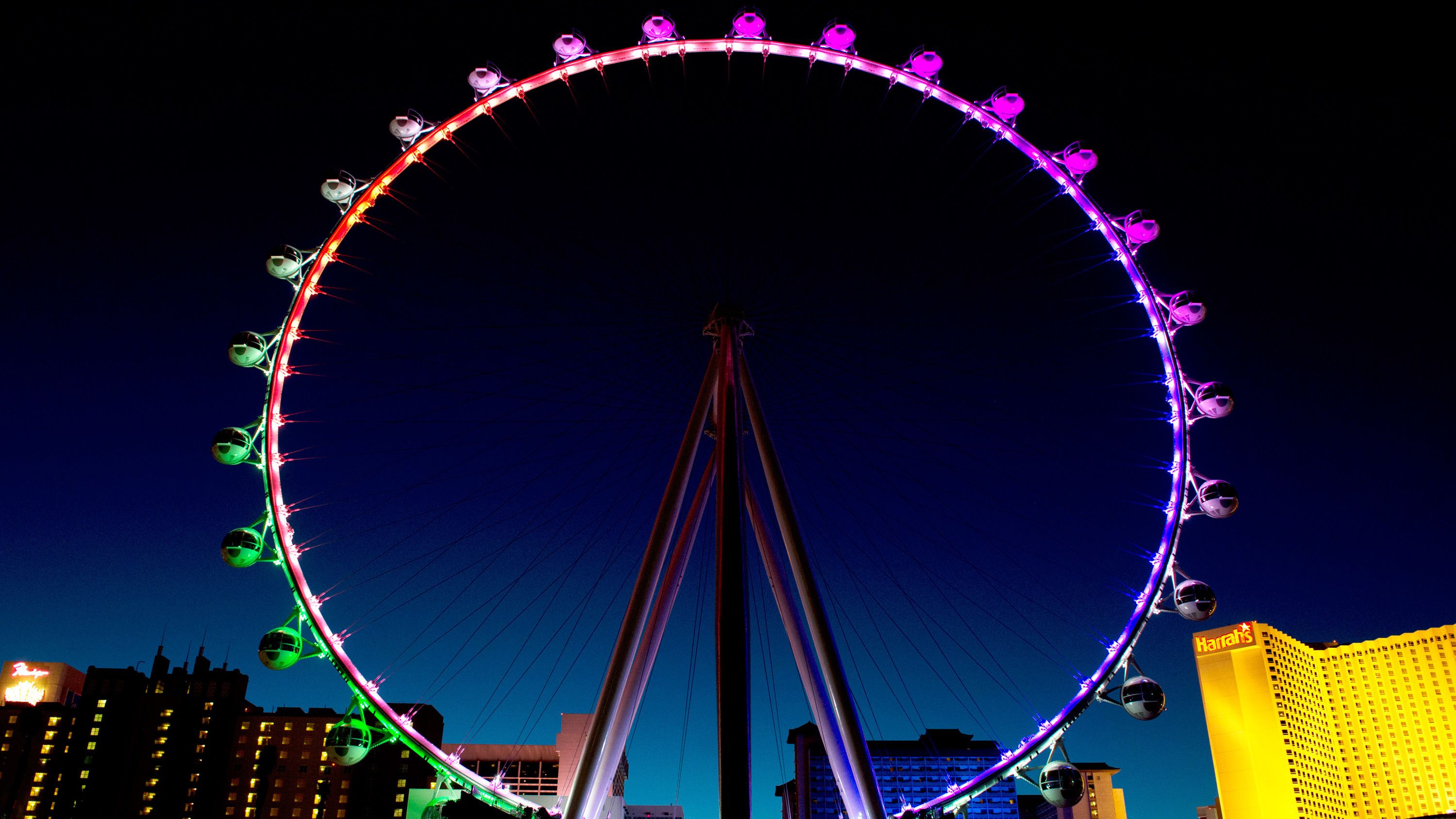 The Las Vegas High Roller Observation Wheel is a Ferris wheel that stands 550 feet high. The air-conditioned pods have space for as many as 40 people.
You will enjoy excellent views across the city for around one hour at this excellent attraction.
You will have to pay for admission. However, it is free for kids under six. Prices drop after 6 pm, giving families a great way to watch the sunset.
31. Neon Museum Urban Gallery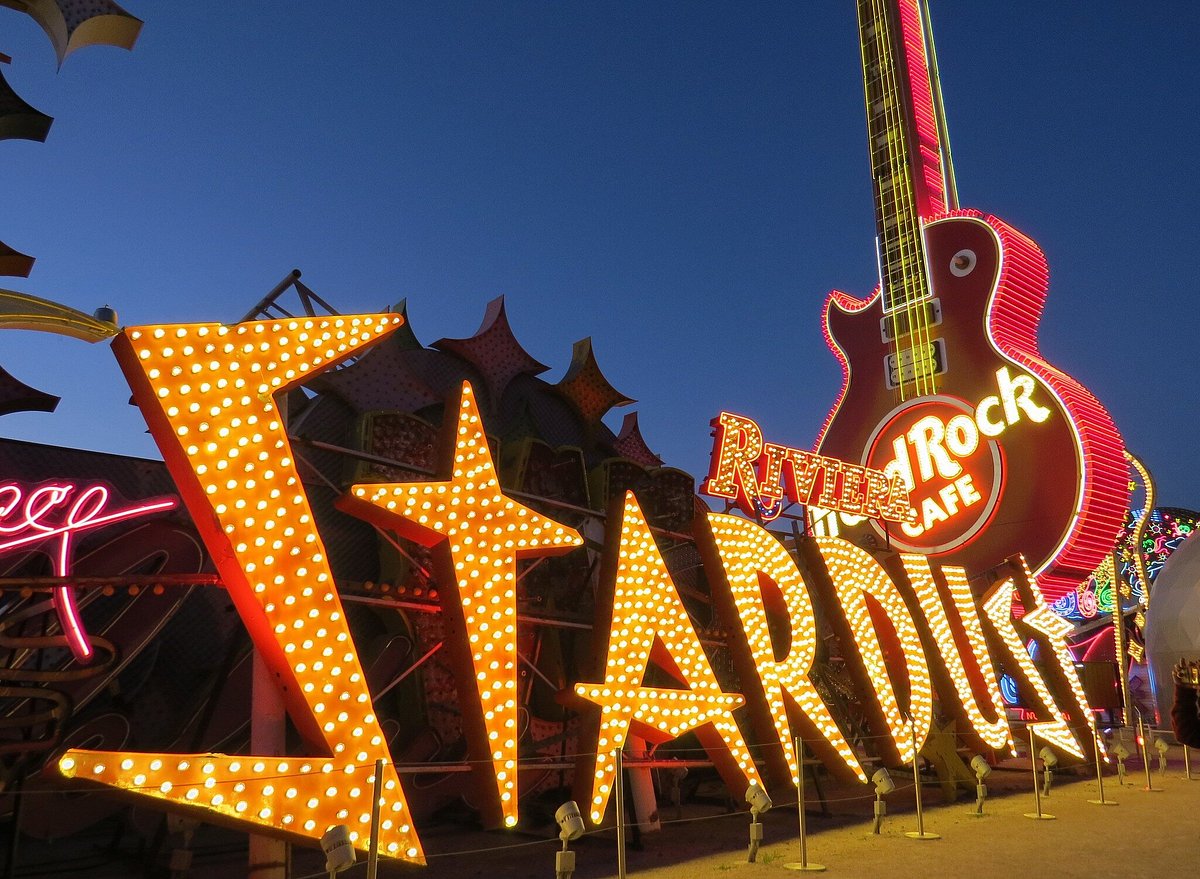 The full Neon Museum has an admission price. However, the Neon Museum Urban Gallery is free.
It features refurbed neon signs that have been transformed into modern art installations.
Older kids will love this cool option that can be viewed for free.
The Neon Sign Museum is just 15 minutes from the Las Vegas city center.
32. Hoover Dam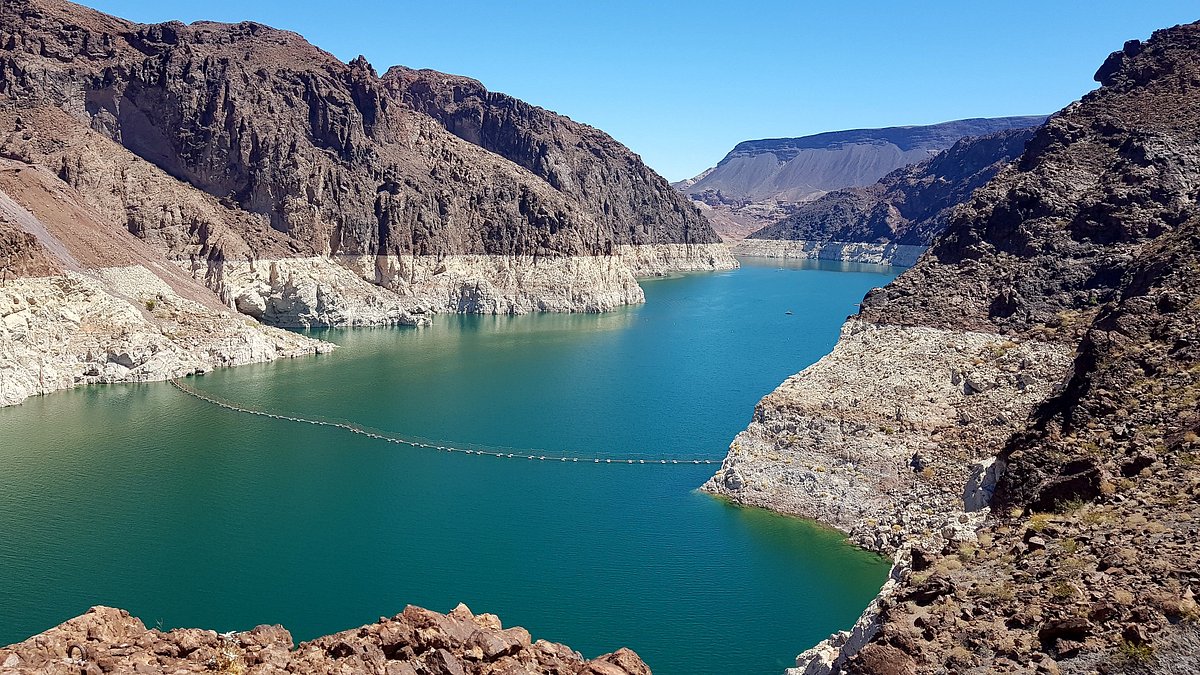 Since the completion of Hoover Dam in 1935, it has been a popular tourist spot.
The dam is 60 stories high. The dam helps to irrigate more than 1,500,000 acres of farmland and generates power for more than 500,000 homes. More than 16 million people enjoy the water the dam provides.
It is free to visit, and free parking is provided. Free parking can fill up relatively quickly, so heading off early can help you secure a spot. Paid tours are also available if you want a guide.
33. Visit Paris
Of course, we don't mean hopping on a flight to France. For one thing, that wouldn't be free. You can enjoy the sights of Paris in Las Vegas, though.
Visiting the Paris Casino provides great photo opportunities for the family. Replicas of famous Paris landmarks are popular among visitors and free to visit.
34. Brooklyn Bridge
You would have to travel to New York to enjoy the real Brooklyn Bridge. However, New York-New York in Las Vegas is home to great replicas that can make impressive backdrops for family photos.
This version of Brooklyn Bridge is also a location suitable for holding events, making it popular among visitors and locals.
35. Big Elvis
Viva Las Vegas! Harrah's Piano Bar is home to the longest-running Elvis tribute in Las Vegas. Big Elvis performs on Mondays, Wednesdays, and Fridays at 2 pm, 3:30 pm, and 5 pm.
Elvis has long been associated with Las Vegas. This is despite a slow start after a less-than-successful debut in 1956. He went on to perform there, get married there, and even had the film Viva Las Vegas in 1964. His final appearance came in 1976.
The performances are completely free and family-friendly. This makes it an excellent way to celebrate being in Las Vegas with kids with a song and a dance.
More about our TFVG Author